Indicator Relay for 1989 Honda CBR 400 RRK NC23
Condition:: New: A brand-new, Indicator Relay for 1989 Honda CBR 400 RRK, unopened and undamaged item in original retail packaging, such as a plain or unprinted box or plastic bag. where packaging is applicable, NC23, To Fit Make: : Honda: Manufacturer Part Number: : EP159258. See all condition definitions : Brand: : Unbranded. Part Type : Electrical Parts > Indicator Relays. If the item comes direct from a manufacturer. NC23, These parts are not necessarily endorsed by any motorcycle manufacturer, 1989, : MPN: : EP159258, it may be delivered in non-retail packaging. unused, To Fit Model: : CBR 400 RRK, EAN: : Does not apply, See the seller's listing for full details.
Skip to content
Go to Top
Indicator Relay for 1989 Honda CBR 400 RRK NC23
Indicator Relay for 1989 Honda CBR 400 RRK NC23
CBR 400 RRK NC23 Indicator Relay for 1989 Honda, These parts are not necessarily endorsed by any motorcycle manufacturer,Part Type : Electrical Parts > Indicator Relays,Get verified coupon codes daily,Lightning fast delivery,Low prices storewide,High quality with Low price,Hot goods, discounted wholesale prices. 1989 Honda CBR 400 RRK NC23 Indicator Relay for, Indicator Relay for 1989 Honda CBR 400 RRK NC23.
Sours: https://ziwa.at/Relay-for-Honda/Motorcycle-Parts-ichmdd-518191.jsp
wholesale Piston Kit For 1989 Honda CR80R Offroad Motorcycle Pro X 01.1111.C discount sale
twitter announced today that it will be removing its implementation of stories dubbed "fleets." the feature was either loved or hated by twitter users since its initial release last year.
this short-lived feature, which was released in november of last year, will be removed on august 3. twitter acknowledged the controversial nature of the snapchat/instagram clone with the farewell tweet. notably, there was no fleet from the main twitter account announcing the departure of the feature, only a standard tweet.
in the goodbye, the company said it is working on "new stuff." one can hope that they add the ability to edit tweets, in addition to the new edit audience and monetization features.
in a more detailed blog post, twitter shared that it hoped fleets would make people more comfortable posting onto twitter. as fleets disappear, some of the fleet creation features, like gifs and stickers, will be implemented into the standard tweets composer.
ftc: we use income earning auto affiliate links.more.
---
check out 9to5mac on youtube for more apple news:
you're reading 9to5mac — experts who break news about apple and its surrounding ecosystem, day after day. be sure to check out our homepage for all the latest news, and follow 9to5mac on twitter, facebook, and linkedin to stay in the loop. don't know where to start? check out our exclusive stories, reviews, how-tos, and subscribe to our youtube channel
Sours: https://www.eyeboston.com/admin.php?joaquin314ba/ebcd678388.htm
Honda XL 600V Transalp

Make Model

Honda XL 600V Transalp

Year

1989

Engine

Four stroke, 52° V-Twin, SOHC, 3 valves per cylinder

Capacity

583 cc / 35.5 cu-in
Bore x Stroke
75.0 x 66 mm
Cooling System
Liquid cooled
Compression Ratio
9.2:1

Induction

2x 32 mm Keihin Carburettor CV

Ignition

Electronic
Electrical
Electronical double CD-I ingnition, 12Vdc, 12V/12Ah battery, AC-generator, electrical starter, electronic safegard on side stand
Generator
0.310 kW / 5000 rpm
Starting
Electric

Max Power

55 hp / 41 kW @ 8000 rpm

Max Torque

52.6 Nm / 38.8 ft-lb @ 6000 rpm

Transmission

5 Speed
Final Drive
Chain
Gear Ratio
1st: 2.571 2nd: 1.777 3rd: 1.380 4th: 1.125 5th: 0.961
Frame
Single downtube with double loop cradle of rectangular section

Front Suspension

41 mm Telescopic hydraulic forks
Front Wheel Travel
200 mm / 7.8 in

Rear Suspension

Pro-link monoshock
Rear Wheel Travel
187 mm / 7.4 in

Front Brakes

Single 276 mm disc

Rear Brakes

130 mm Drum

Front Tyre

90/90-21 54S

Rear Tyre

130/80-17 64S
Dimensions
Length 2260 mm / 89.0 in
Width 865 mm / 34.0 in
Height 905 mm / 35.6 in
Wheelbase
1505 mm / 59.2 in
Seat Height
850 mm / 33.5 in
Ground Clearance
200 mm / 7.9 in

Dry Weight

175 kg / 386 lbs
Wet Weight
194 kg / 428 lbs

Fuel Capacity

18 Litres / 4.7 US gal

Consumption Average

18.3 km/lit

Braking 60 - 0 / 100 - 0

13.3 m / 42.1 m

Standing ¼ Mile

13.4 sec / 152.8 km/h

Top Speed

172.5 km/h / 107 mph

Road Test

Adventure Group test Motosprint 1989
It seamed like the ideal bike to take to the Island. A big V-twin trail bike with a fairing, plenty of bottom-end grunt, a top end of around 100mph and enough room to carry two people and luggage with ease. Just the job to tackle the Isle of Ma: inviting trails, popping wheelies up and generally having a dual-purpose pose. Yes, for the 80th anniversary TT week, and Honda's 600V Transalp looked like being a perfect 'Rally Tourer' mount, with a little sportster thrown in.
Much is made in Honda's promotional blurb of the Transalp being a new concept in motorcycle design, and the term Rally Touring even ends up on the Transalp's side panels. Despite Honda's claims, the concept of a Rally Tourer (by which I suppose they mean a triple-purpose bike - street, trail and tourer) is far from new. The Italians and French have been converting big trailers into rally tourers for some years now, although it was BMW who really started it all off with the R80GS back in 1981. (Some would argue that BSA were the first with the Firebird, but basically all that was was a lightly modified A65 Thunderbolt so it doesn't count.)
The R80GS was basically a road bike turned trailer which sold better on the Continent than over here because the Continentals appreciate the idea of a big trailer with touring capabilities more than we do. In fact so many southern Europeans were putting big tanks, screens and luggage on their XT600s, and there was so much interest in the Paris-Dakar rally that Yamaha did the exact opposite to BMW (but with very similar results). They made a rally tourer out of a big trail bike - lo and behold, the XT600 Tenere. Then they sold 10,000 in six months in Europe alone, which was enough to spur the opposition into producing their own Paris-Dakar replicas. Honda came out with the XL600LM, Suzuki with the DR600 Dakar, and finally Kawasaki with the KLR650. Doubtless wary of the vagaries of Continental fashions, Honda have studiously avoided labeling the Transalp with any kind of P-D or desert name, sticking instead to the range of mountains at the heart of the Transalp-buyers' homelands. That's despite the fact that the Transalp actually looks more like a Paris-Dakar replica than any of the other replicas.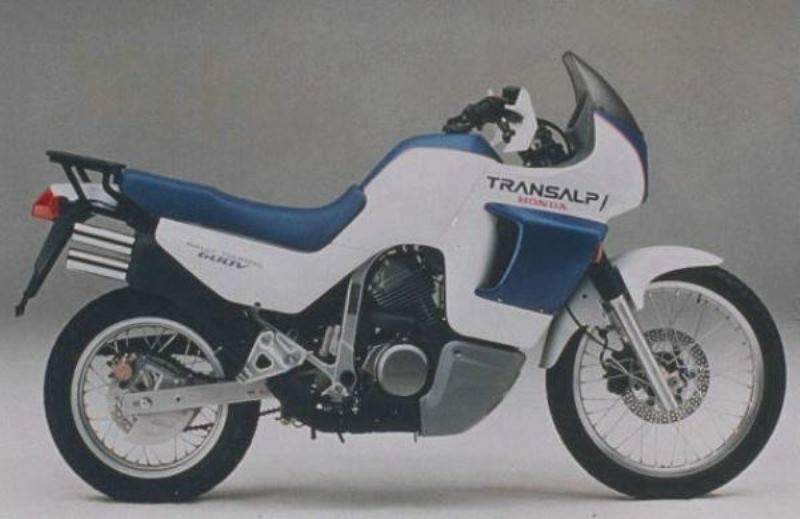 Having realised that most big trailers and P-D look-a-likes are used primarily for touring and posing, not serious dirt riding, Honda set about making the Transalp as an accomplished road bike as possible without sacrificing off-road capability. It was decided that the old XL600 motor was top long in the tooth (and a big single doesn't make for the most comfortable road bike), so their new Rally Tourer should be an in-line V-twin, just like their works P-D NRX780 machine. And it just so happened that the VT500 engine was a suitable candidate to be bored and stroked into a 600. There's actually more to it than that, because although similar in design - both use two small inlet valves and one larger exhaust valve per cylinder - there are significant differences. With the bore and stroke up to 75 by 66mm, the compression ratio is down to 9.2:1 (from 10.5:1) and the carb sizes are 2mm smaller at 32mm. More significantly, the Transalp uses five well-spaced ratios in the gearbox compared to the VT's six closer ratios to give it a easier, less frenetic feel. Like the VT, the powerplant is water-cooled and uses Honda's clever off-set crank-pin arrangement to reduce the vibes that go with a narrow-angle V-twin.
The power and torque outputs of the Transalp are also similar to the VT except that the Transalp make more power earlier and doesn't hold peak power (which occurs at 6500rpm, 2500 before the red line) as long: It also has more torque than the VT, but again the torque curve is very similar to that of the VT -nice and flat.
On the road the Honda's motor is a real gem, but like any real gem it does have its flaws. From 2000rpm it produces gobs of torque and will pull cleanly and briskly from below those revs in any gear right up to the red line. The problem comes at just over 6000rpm, because above that the engine begins to vibrate badly and sends wicked vibes through the footrests. You don't notice the vibes through the handlebars as they're rubber-mounted, nor through the firm, but well-padded seat. The vibrations just send your feet to sleep after 20 minutes at over 6000rpm. On an alleged tourer this isn't too clever because, depending on your vibration pain threshold, it rules out speeds above 75mph. Which is a shame as the fairing will allow you to maintain a steady 90mph on the motorway no problem.
I actually found on the 270-mile run up to Heysham that if you dangle your feet limply off the footrests you don't notice that your feet have gone to sleep until you stop for petrol and can't tell whether you've got your feet on the ground or not. This technique, while far from satisfactory, at least enables you to bop along at around 85mph without suffering unduly.
What makes any big trail bike such a good potential touring mount, apart from the straight-backed riding position, is the long-travel suspension...the Transalp is no exception. With nearly eight inches of fork travel at the front and seven-and-a-half inches at the back end the Transalp is certainly endowed with more than enough suspension movement to cope with two people and luggage over even the most spine-jarring potholes. The forks necessarily on the soft side without being so squidgy as to bottom out when you're hard on the front stopper, and the rear Pro-Link monoshock has adjustable preload via a ridiculously inaccessible threaded collar and keeps the ride smooth and not too bouncy.
Over on The Island the Transalp's suspension proved more than a match for the bumpy circuit and even cranking it hard left over the bumps at Ginger Hall failed to precipitate any nasty shakes or weaves - we just sort of undulated round the outside of a wildly shaking GPZ600. Although there's no way the Transalp can be considered a sportster, I was pleasantly surprised by its turn of speed and sure-footedness over the greatest race circuit in the world. We went out two-up on Mad Sunday morning for a quick lap before things got too crowded and frantic and were very surprised by the Transalp's performance. Julian had come back from the launch of the Transalp (and CBRs) spouting tales of Transalp's blitzing CBRs through Suzuka's tighter corners, but the rest of us in this office never gave them much credence. Now I know different, because during one complete lap of the TT course only two bikes went past us - a GPZ900 and an RG500 - and the Transalp was really motoring. Revving it to eight grand in each gear soon gets you whistling along around the ton, even two-up, and the combination of a strong motor and excellent suspension makes it much more useable than many bigger road bikes. The high point of my Mad Sunday was coming out of Brandish right up the chuff of a Ducati Pantah 600, taking a tow in his slipstream down the hill, then doing him on braking before sticking it through on the inside at Hillberry. A beautifully executed manoeuvre though I say so myself, and one that illustrated the versatility of the Transalp.
What really sets the Transalp apart from the rest of the big trailers is what the Japanese term 'rider accommodations'. While bikes like the Tenere and KLR650 have little headlamp fairings Honda have gone all the way with the Transalp and fitted a full fairing that looks very similar to the works Paris-Dakar machine. This is neatly moulded into the tank and shrouds the front cylinder while at the bottom a separate sump 'bash plate' is in reality just an ABS extension of the fairing. The bulbous side-panels also mould into the tank and prevent the pillion's right leg from being scorched on the upswept two-into-one-into-two exhaust system. To complete rider protection there are also a pair of knuckle-protectors fitted.
Inside the fairing is a dashboard more comprehensive than on any other trailer, with decent-sized tacho, speedo and temperature gauge, along with the usual array of idiot lights found on road bikes. The only thing missing, which would have been useful on something that's supposed to be a Rally Tourer, is a clock. But you can't have everything I suppose.
Even though the fairing doesn't look like it's going to do much of a job keeping the elements off you, it's actually very effective. At first glance it looks too narrow, and the screen seems much too low, but once you're perched on the long, comfortable seat (a lengthy 34 and a half inches from the ground) and bopping along in the foul weather that enveloped the Isle of Man for most of TT week you actually stay pretty dry. At a smidge over six feet tall, the screen kept most of my upper body free of rain and I took all the wind blast on the chin piece of my helmet. The fairing's also wide enough to keep most of your arms and legs out of the worst of the rain and the knuckle-protectors do the same for your hands. The only bits to take a serious drenching were my feet (but they were numb already so that didn't really matter). All in all, the fairing's a damn impressive piece of kit - ten out ten for that.
Naught out of ten, however, for the Transalp's luggage-carrying capabilities. The day before I went off to The Island I bought some new throw-over panniers, packed them and a tank-bag, and then went out to load up the bike. Problem. You can't get any luggage on the Transalp. This is a bloody Rally Tourer and you can't get any kit on it! All that cods in the promotional leaflet about 'the world of touring with nights in the great outdoors' is all very well, but you'll never live to enjoy 'the calls of the birds, the babbling of the brook and the ever-changing patterns of clouds' because without any space to pack a tent and a sleeping bag you will have expired from hypothermia half way through the night.
The basic problem is that the upswept exhausts preclude the use of throw-over panniers and the shape of the tank and fairing make it impossible to fit a normal tank-bag. This just leaves the rather small carrier rack on which to put all the necessary gear for two people for a week. The next problem is that any bag big enough to take that much gear also takes up half the pillion seat and weighs enough to seriously upset the Transalp's handling. This constitutes a major cock-up on the design front because if Honda are selling this on the Rally Touring tag it should have more luggage capacity than a DB1.
On the Rally side of things (by which 1 suppose they mean it's got limited off-road capabilities) the Transalp scores slightly better. 1 didn't do a whole lot of off-road riding, and with the fairing costing around £300 to replace I don't suppose many other owners will either, but negotiating an occasional dirt track and boggy camp site was easier than I thought it'd be. The tyres are a curious mixture of road and trail (semi-knoblies) but gripped well until the going got really soft. With all that weight (Honda claim 3831b dry, but I'm sure it weighs a hell of a lot more than that) it's a real handful for all but the most experienced trail riders. I certainly won't be doing the Land's End Trial on one next year, even though the power delivery and low-down torque should make for a good trail iron.
All in all the Transalp is a good motorcycle, not an excellent one but good all the same. It comes closest of any bike so far to being a true all-rounder but it still has some very annoying faults. The high-speed vibrations can be debilitating after a while and the lack of luggage carrying capacity is the major blot on the Transalp's copybook. There are other niggling faults, such as a feeble headlight beam and an engine that's fiddly to work on, but these are more than overshadowed by the overall excellence of its engine, fairing, suspension and handling. The Paris-Dakar styling may not be to everyone's taste but I find it very pleasing. As a day-to-day bike for the single man (or woman with long legs) it's hard to beat, but as a Rally Touring machine...well, six out of ten, must try harder.
Source Motorcycle International 1987
Sours: https://www.motorcyclespecs.co.za/model/Honda/honda_xl600v_89.htm
List of Honda motorcycles
Name
Engine size (cc)
Beat (FC50)
48
Super Cub C100, CA100, C102, C50, Sports C110, C111. C110D, C114
49
CB50
49
Dio
49/110
Elite E (SB50)
49
Elsinore (MR50)
49
Express (NC50)
49
Hunter Cub (CT50)
49
MB5, MB50
49
Melody NB50, ND50, NP50, NS50
49
Metropolitan Jazz (CHF 50)
49
Metropolitan II (CHF50P)
49
Motra (CT50)
49
MT5, MT50
49
NCZ50 also known as Motocompo
49
Spree (NQ50)
49
Mini Trail (Z50A)
49
Mini Trail (Z50M)
49
Mini Trail (Z50R)
49
Mini Trail (Z50J)
49
Moped (P50, P25)
49
Moped (PA50/Hobbit/Camino)
49
Moped (PF50/Amigo)
49
Moped (PC50, PS50)
49
Moped (SFX50)
49
Moped (SH50)
49
Moped (X8RS)
49
SGX50 (Sky)
49
SS50
49
Trail 50 (C100H, C100T, CA100T)
49
XR50R
49
ZB50
49
Zoomer/Ruckus (NPS50)
49
AC15
50
Super Cub C105, CD105, Honda C115 Sports
54
Trail 55 (C105H, C105T, CA105T)
54
Super Cub C65, S65
63
C70 Passport, CD70
72
Motosport (SL70)
72
Motosport (XL70)
72
ST70, CT70 Trail 70
72
Scrambler (CL70)
72
XL80
79
Aero 80 (NH80)
80
XR80
80
CR85R Expert
85
Super Cub C90 (12 volt)
86
Super Cub CM90, Honda Trail 90 C200
87
Trail 90 (CT200)
87
Super Cub CM91, C90 (6 volt), CD90
89
Trail 90 (CT90)
89
S90 CS90, Sport 90, Super 90
90
Super Cub C100EX
97
Astrea Prima (C100EX)
97
Astrea Grand, Astrea Impressa, Dream 100, Astrea Legenda (C100EX)
97
Astrea Supra 100 Series (C100EX)
97
SupraFit, FitX, Wave 100(NF100)
97
Revo 100 (NF100)
97
D-Type/Dream
98
CB100 (K0,K1,K2,K3,K4,K5,CB100N)
99
Bravo
100
Scrambler (CL100)
100
H100S Super
100
Bali also known as SJ 100
100
Dio/Lead
102
Trail 110 (CT110)
105
GL-100 ASIA
105
Tena
105
Activa
109/125
Blade 110R, WaveDash 110R, CZ-i (NF11A)
109
Aviator
109
Revo 110 series, Wave 110 Series (NF110)
109
CB Twister, CB110
109
Dream Yuga/Dream Neo/CD 110 Dream
109
Livo
109
Honda iCON / BeAT 110 AT Series
109
Honda S110 Benly
109
Honda Vario AT / CLICK AT
109
Honda Vario TECHNO AT
109
Honda Scoopy AT
109
Honda Spacy AT
109
Super Cub 110
109
XRM
110
CB125
122/124
XL125
122/124
MT125R
123
Benly (C92/CA92, CB92)
124
CB125E
124
CD125TC Benly
124
CB125TD Super dream
124
GL-125
124
GL-Max 125 (CB125JX)
124
GL-Max NeoTech 1250 (GL-125)
124
Super Sport (CG125)
124
CLR125 "CityFly"
124
CM125
124
Nova Dash RS
124
Kirana (NF125 KPH)
124
Karisma (NF125 KPH)
124
Supra X 125 (NF125 KPH)
124
New Supra X 125 Fi (NF125 KYZ)
124
Blade 125 Fi(NF125 KYZ)
124
Elsinore (CR125M)
124
Juno M80
124
Honda LS125R
124
Honda NS125
125
NSR125 (JC20, JC21)
124
Scrambler (CL125)
124
Varadero (XL125V)
124
Aero & Lead (NH125)
125
CBR125
125
CR93
125
Atlas Honda CG125
125
Dylan 125
125
Innova (ANF125)
125
Pantheon FES125
125
PCX125
125
RC143
125
Rebel
125
Shadow
125
Vario 125 / Click 125 / AirBlade 125
124
Shine
125
SP 125
125
Nova Sonic RS125
124
Super Sport (CB125)
125
Super Sport (SS125)
125
Grom
125
GL-PRO (GL-145)
144
GL-PRO Black Engine (GL-145 Black)
144
Honda Dream E-Type
145
Honda Dream 3E
145
CRF150L
149
CRF150R
149
CRF150R Expert
149
CRF150F
149
Unicorn
149
Unicorn Dazzler
149
Trigger/CB150
149
CB150R (K15)
149
Verza/CB150 Verza (GL150)
149
New Mega Pro (GL150)
149
CBR150R
149
CBR150R K45
149
Winner 150 / Supra 150 GTR / RS150R
149
Pantheon (FES150)
149
NSR150RR/SP (NS150)
149
FSX150 (NS150)
149
SH150, SH150i
153
Benly (C95/CA95)
154
TMX155
155
GL PRO NeoTech 1600 (GL-160)
156,7
Mega Pro 1600 (GL-160)
156,7
Honda Dream 2E
160
Hornet CBR
162
Juno M85
169
CD175
174
Super Sport (CB175)
174
XL175
175
Honda Dream 6E
189
Juno K
189
RoadMaster/Twinstar (CD200)
194
Reflex (TLR200)
194
Tiger 2000 (GL-200)
196
Phantom (TA200)
197
CB200
198
CL200
198
Fatcat (TR200)
199
Honda Dream 4E
219
Juno KA/KB
220
CD250U
233
CM250C, CM250T
234
Nighthawk (CB250)
234
Rebel (CMX250C, CMX250CD)
234
CR250R
248
Elsinore (CR250M)
248
Integra (VT250F)
248
Big Ruckus (PS250)
249
Dream (CB250)
249
Hornet (CB250F)
249
CB250 G5
249
Super Dream (CB250N)
249
CBR250
249
CBX250RS
249
CRF250L
249
MVX250F (MC09)
249
NSR250R (MC16, MC18, MC21, MC28)
249
Reflex (NSS250)
249
NX250/AX-1
249
Spada (VT250L, MC20)
249
XR250R
249
CBF250
250
CBR250R (MC41)
250
CJ250T
250
Dream (C70)
250
Dream (C71, C72)
250
Hawk (CB72)
250
Helix (CN250)
250
Sport (CB250)
250
CB250RS
250
VTR250 (Interceptor and MC33)
250
XL250
250
CB300R
286
XRE300
291
Dream (C76, C77)
305
Scrambler (CL77)
305
Super Hawk (CB77)
305
CB350 Super Sport
325
Four (CB350F)
350
Sport (CB350)
350
XL350R
350
Scrambler (CL360)
356
Sport (CB360, CB360T)
356
CL400
387
NS400R
387
CB400A Hawk Hondamatic
395
CB400N
395
Hawk (CB400T, CB400T II)
395
CM400
395
VRX400 Roadster
398
CB-1 (CB400F, NC27)
399
RVF400R (NC35)
399
VF400F (NC13)
399
VFR400 (NC30)
399
CBR400RR (NC23, NC29)
400
CBX400
400
NT400 (BROS)
400
Four (CB400F)
408
Scrambler (CL450)
444
Sport/Hellcat (CB450)
444
Nighthawk (CB450SC)
445
CB450DX (CB450N/PC14)
447
Hondamatic (CM450A)
447
Rebel (CMX450)
447
CRF450R
449
CB500F, CB500R, CB500X
471
CR480
472
Ascot (VT500, VT500FT)
491
Shadow VT500
491
(VT500E)
491
CX500
497
Four (CB500)
498
Ascot (FT500)
498
Tourist Trophy (GB500)
498
XBR500
498
Sport (CB500 twin)
499
CBF500
499
NSR500
499
Interceptor (VF500F)
500
Magna V30 (VF500C)
500
Silver Wing (GL500)
500
Turbo (CX500)
500
XBR500
500
Four (CB550F)
550
Nighthawk (CB550SC)
550
Four (CBX550F/FII)
573
599
600
CB600F also known as Hornet, and 599
600
CBF600N
600
CBF600S
600
Hurricane (CBR600F)
600
Honda CBR600F2
600
Honda CBR600F3
600
CBR600F4i
600
CBR600RR
600
Shadow (VT600C VLX)
600
Transalp (XL600V)
600
XR600R (offroad)
600
Four (CB650)
626
Bros/HawkGT (RC31)
647
NTV/Revere (NTV650)
647
Deauville (NT650V)
647
CBX650
650
Nighthawk (CB650SC)
650
Silver Wing (GL650)
650
Transalp (XL650V)
650
Turbo (CX650T)
650
Africa Twin (RD03)
650
XR650L
650
Dominator (NX650)
650
Honda CTX700N
670
Honda DN-01
680
Nighthawk (CB700SC)
700
Deauville (NT700V)
700
Transalp (XL700V)
700
Integra (RC62)
700
Four (CB750)
736
Hondamatic (CB750A)
736
VFR750R (RC30)
748
Africa Twin (RD07)
750
CBX750
750
Interceptor (VF750F, VFR750)
750
Magna (VF750C V45)
750
Magna Deluxe (VF750CD)
750
Sabre (VF750S)
750
Nighthawk (CB750, CB750SC)
750
RVF750 (RC45)
750
NR
750
XLV750R
750
Crossrunner (VFR800X)
782
Interceptor (VFR800FI)
782
RC212V
800
Pacific Coast (PC800)
800
CBR900RR including CBR954RR
900
Custom (CB900C)
900
Super Sport (CB900F) a.k.a. 919
900
RC211V
990
Gold Wing (GL1000)
999
CB1000
1000
CB1000R
1000
CBF1000
1000
CBR1000RR
1000
Custom (CB1000C)
1000
CBX1000
1000
Hurricane (CBR1000F)
1000
RC51 (RVT1000R)
1000
Honda VTR1000f (a.k.a. Super Hawk a.k.a. Firestorm)
1000
Super Sport (CBX)
1000
VTR1000R (RVT1000) SP1 & SP2 RC51
1000
XL1000V Varadero
1000
Gold Wing (GL1100)
1085
CBR1100XX
1100
Magna (VF1100C V65)
1100
Sabre (VF1100S V65)
1100
Pan-European (ST1100)
1100
Super Sport (CB1100F)
1100
Racing Modified CB1100F (CB1100R)
1100
X11 (CB1100SF)
1137
CB1100 (CB1100A)
1140
Gold Wing (GL1200)
1182
VFR1200F
1200
Crosstourer (VFR1200X)
1237
CB1300
1300
Pan-European (ST1300)
1300
Gold Wing (GL1500)
1520
Valkyrie (GL1500C/F6C)
1520
Gold Wing (GL1800)
1832
Sours: https://en.wikipedia.org/wiki/List_of_Honda_motorcycles
Honda motorcycle 1989
We'll just try. One kiss. she moved closer and sat down opposite me.
1989 Honda Pacific Coast - PC800
I dont think its going to be good for my bosss career, nor for yours. Is this blackmail. Valya was taken aback.
You will also like:
More precisely - in the ass. I caressed the tight hole with my tongue, which relaxed a little under my pressure, more saliva, and now my penis, which was simply "brutalized" from. The blood pressure, is slowly pressed into the tight hole of my older sister. How cool it is to "ride" on her elastic-soft buttocks, feeling how my penis moves in her tight channel.
855
856
857
858
859