"Cap'n! Presents off the larboard bow!" 
"I see 'em! Ready the launch! You there – come about into the wind! We'll not let them escape us now! Bring up the harpoons!" 
The greatest thing about collecting antiques is that you always find the best birthday presents for yourself, if you search hard enough! I picked up this stunning beauty for my birthday! Yes, I'm officially…29. Oh, the horror, shame, and disgrace of it all…!

Up Close and Personal!
Aaaaanyway… 
What we have here is an old-fashioned nautical telescope, as was used on the sailing-ships of old. And boy is it ever a monster! It's 11in. closed, extends to 39in drawn out, and weighs a substantial 1lb 10oz (approx 750g)! A lightweight, it ain't!
Features of Construction
This stunning antique features entirely brass construction, with the exception of the wooden sleeve around the barrel, and of course, the glass in the lenses. It is possessed of four, brass draw-tubes, as you can see in the photograph below:

All Drawn Out… 
A four-tube telescope means that it has four tubular extensions which collapse into each other, and which then all slide into the main barrel at the front of the telescope.
I'm not sure how old this telescope is, to be honest. It's of a style that was widely manufactured from the 1700s right up to the 1900s, but the fellow I got it from believed it to be from around 1850 or 1860. For something roughly 150 years old — after extensive cleaning — it does work pretty well! The threaded brass coupling-rings hold well (or they do, after a minor adjustment), and the tubes slide in and out smoothly, if a bit more firmly than I'm used to!
The telescope has a two-piece achromatic lens at the front, a two-lens relay system inside the smallest draw-tube, and an eyepiece lens at the far end – so four (or five, depending on how you count it), lenses in all!

Here it is, next to my solid brass, pocket telescope from the 1890s. As you can see, there's a huge size difference! 
As one would probably expect from something like this, it's got a GREAT range, and surprisingly clear optics for a piece that's obviously seen quite a hard life. There's one small blemish on an interior lens which, try as I might, I couldn't remove, but other than that – the clarity is impressive.
Using the Telescope
Since it is 150 years old, I expected the telescope to be dirty. I didn't expect it to be THIS dirty! It required EXTENSIVE cleaning to get it to function even halfway decent! And I'm still cleaning it! But despite that, it's beginning to show signs of the smoothness of function it once had.
To draw the telescope, I've found it's best to hold it at the near end of the barrel (away from the lens) and to pull firmly, but smoothly, to get the draw tubes out, and to hold the barrel in the middle, when snapping the tubes shut again.
As I said, this telescope is quite chunky, so using it can be a bit of a challenge. I generally hold the largest, or second-largest draw-tube in order to balance this beast, and then adjust the focus by sliding the smallest draw-tube in and out, until clarity is achieved.
The good thing is that this is done relatively easily. The bad thing is that it's surprisingly tiring on the arms! A telescope that weighs about a pound and a half doesn't sound like much to carry around (and it isn't), but when you've held it up in one hand for any length of time while trying to look through it, the weight does start to pull on your shoulders a bit! One wonders how the sailors of old ever managed to use this thing on the rocking, rolling deck of a sailing ship!
Cleaning the Telescope
The one saving grace about this telescope – and most telescopes of this design – is that they're extraordinarily easy to clean. All the draw-tubes, lenses and coupling-rings screw together. All you need is a box of tissues, some oil, and a firm grip to screw and unscrew, and you can pull apart the entire telescope to clean it. There aren't that many parts, and there's no way you can confuse one part for another, so they're very easy to put back together again.
You don't need any special tools or equipment – just a few basic cleaning supplies and a spare afternoon. I think it's amazing how something which is so easily assembled is at the same time, so incredibly powerful, and yet, so simply constructed. Even a child could do this. I love the thoughtfulness of the design in that the manufacturer imagined that the owner might want to disassemble his own telescope for cleaning and maintenance. I don't know many consumer products today which are this user-friendly!
Repairing the Telescope
As much fun as this telescope is to use and to clean and polish, when I bought it, the telescope also had one significant flaw – It wouldn't stay together.
As I said above, the telescope's components quite literally just screw, one-into-the-other, in a set sequence of construction. Easily followed and impossible to screw up. A few good twists would be all that'd be needed to pull the thing apart, clean it, and reassemble it. Unfortunately, this wasn't the case with this telescope.
Probably due to overzealous cleaning in the past, or possibly a manufacturing fault, or simply just 150-years' worth of wear and tear, the thread that held in the largest draw-tube (the one which connects to the barrel) was not gripping properly. It simply refused to hold. After screwing it in as hard as possible, it'd simply pop right out again after one good pull! Hardly ideal!
I pulled the telescope apart and cleaned the threads, and then to fix this problem, I wrapped ordinary paper masking-tape around the threads on the coupling-ring. Just once.

Group Shot! My big telescope, my small telescope, and my field glasses all together. All brass, all antique. What a pretty trio they make.
I trimmed off the excess tape with a pocket-knife, and then screwed the two components back together. No oil, no graphite powder, nothing. Just a simple layer of sticky tape. It cost me literally nothing! and yet…the repair worked!
Just one layer of tape was all I needed to build up the necessary thickness, friction and 'bite' necessary for the threads to screw in smoothly, and for the connection to hold! it took me less than five minutes to repair. Don't be daunted by broken antiques – sometimes all it takes is a bit of creativity to return them to full functionality.
Video
Last but not least, here's a short video I made about the telescope:
Related
This entry was posted in 19th Century, Antiques, General History.
Bookmark the permalink.
Sours: https://www.throughouthistory.com/?p=3444
Vintage Telescope
Buying Guides
Vintage Home Decor Vintage Signs Vintage Wall Decor
Vintage Kitchen Retro Games Kitchen Appliances
Vintage Electronics
Retro Decor by Room
Retro Kitchen Decor Vintage Garage Decor Game Room Decor
Home Theater Decor



Made with ❤ by a sophisticated llama
© 2017 All Rights Reserved.
Privacy PolicyTerms of Use

Best Retro Products is not affiliated, associated, authorized by, endorsed by, or in any way connected to the brands and companies mentioned on this website. All trademarks, copyrights, and other rights are the property of their respective owners.

We are a participant in the Amazon Services LLC Associates Program, our website may contain affiliate marketing links, which means we get paid commission on sales of those products or services we write about. We will not be held responsible for any undesired effects as a result of product use, misuse, or uncontrollable circumstances. The information on this website is made available for entertainment purposes only. It should not be considered expert advice.
Sours: https://www.bestretroproducts.com/category/office/vintage-telescope/
Antique Telescopes
12,325 visitors so far today • 289 antiques approved today
Choose an antique category
Choose from 38 Antique Telescopes For Sale - priced from £185 to £3,495.

Home Miscellaneous Home ( Results: 38)Antique Telescopes (38)
Search in antique telescopes
Sours: https://www.sellingantiques.co.uk/miscellaneous/antique-telescopes/
There is something special about antique telescopes. Besides their sleek and elegant appearance, they look classy and valuable when displayed in nearly any room. However, considering these pieces' demand and value, shopping for the best antique telescope can prove to be a daunting task.
You need a functional and elegant telescope that will meet both your needs and budget. If you wish to purchase an antique telescope, but you are unsure of what to look for, this guide will hopefully make your selection process easier.
The Top 6 Best Antique Telescopes
Maritime Brass Antique Double Barrel Telescope
There is everything to love about this decorative piece, all from its elegance to functionality. Made of wood and brass, the telescope's quality is unmatched, and the fact that it comes with a wood stand makes it more complete.
TheMaritime brass antique double barrel designer telescope has an antique finish to give it a vintage appearance. It is fully functional and super easy to use. All you have to do is adjust the eyepiece ring to achieve your preferred magnification, which is up to 15x.
Quality is critical, and you can trust that this telescope's manufacturers do not compromise on that. The telescope is beautifully designed and meets your performance needs. All the materials used are high-quality, and the telescope's functionality is tested after every stage of manufacturing.
If you are looking for a perfect item to give your room the old-times feel, this is the product for you. The wooden tripod stand is characterized by round wooden legs for stability. Each of the legs comes with solid brass fittings for easy setup. The screw release makes it easier for you to adjust the height to your liking. What's more? It has a brass chain that holds the wooden legs together, thus maximizing its stability during use.
You can use this telescope for a range of fun activities, including bird watching, trekking, or get it as a collectible.
Pros
  The telescope comes with a tripod for stability
  It features a beautiful design to complete any room
 You can easily adjust the height to fit your liking
  Super easy to set up
Cons
 Some individuals complain that it is not as functional as expected
Sailor Boat Antique Telescope
The first thing you will notice when you come across theSailor boat antique telescope is its antique brass and brown tripod. This feature gives it a vintage feel, which will leave visitors wondering where you got such a piece in this era.
With a height of 51" and a diameter of 25", this telescope allows you to magnify things to a magnification of 42x. The handmade piece is also a super authentic décor that will undoubtedly give you the value for your money.
The floor-standing brass telescope has a wooden stand for stability and easy usability. It is also fully functional and adds class, elegance, and sophistication when placed in any room. Even better, it is super easy to clean using brass cleaners but ensure that you use soft hands due to protect the antique finish.
It is made of brass and wood; hence quality and durability are guaranteed. You can get this telescope for home decoration; rest assured it will be good in any room or as a gift for a loved one. It is a perfect table décor, but this does not compromise its performance.
Pros
The materials used are of the best quality
It is easy to use and clean
The telescope comes with stand stability
The telescope's performance is unmatched
Cons
Adjusting the telescope on a target can be a bit hard
Related: A guide to vintage navigational instruments
Table Décor Telescope Vintage
Whether it is your first time buying a telescope or looking to upgrade, thetable décor telescope vintage marine works perfectly either way. It is loved for its incredible performance and high-quality materials that guarantee you the quality for your money.
This telescope is covered by barrel leather and comes with a nautical brass tripod. You can use it to view things and for decoration in your home. It is a perfect instrument for mariners and marine lovers.
This telescope features a stylish appearance that will look great in any room in your home. It has a brass and leather color to give it an old-times look and feel. Not only is this piece stunning but also, its functionality is to die for. It has a high-quality lens that gives you bright and clear images. You will also love how the telescope allows you to see every detail thanks to 15x magnification power.
It features a " tube length and 18" length. You can use it to view pirate ships from a far distance, watch birds, as a collectible, or as a gift for your loved one. The fact that it is vintage themed makes it an excellent idea to show royalty and importance.
Pros
Allows you to see clear and detailed images
 It is made of high-quality brass and covered with leather for durability
The telescope is perfect for decorating your home
 It is easy to use even for beginners
Cons
The height is not adjustable
Nautical Brass Telescope with Stand
If you are after affordability without compromising on quality, thenautical brass telescope with stand is the perfect choice for you. The instrument has a vintage style, which adds to its decorative feature. The best part is that you can place it in any part of your home, and it will look great.
The nautical brass telescope has a stand that allows it to sit on the floor, desk, or table comfortably as you view the stunning view of your city or watch the stars at night. Measuring 18 inches, this telescope is easy to use and controls, thanks to the altazimuth mount.
The brass feature in this telescope allows you to track and scan objects smoothly, and you will also love how easy it is to set up. The telescope comes with a wooden tripod stand for increased stability and to improve its appearance. It has brass accents that are meant to add on to the telescope's beauty and offer extra stability.
This telescope offers maximum objects clarity with its coated lens for a more enjoyable experience. The telescope is designed in a way that it protects the lens from dust and other external elements.
Pros
The telescope has a vintage style for enhanced appearance
This instrument is easy to set up and use
Comes with a tripod stand for stability
It features an adjustable eyepiece for better objects' clarity
Cons
The telescope is small and must be placed on a surface for a better view
Vintage Ship Brass Telescope  and Trekking Royal Navy Designer
There is little to dislike about this small-size handheld telescope. For starters, you will love its affordability and its vintage nautical design. Even a beginner will like a pro when using this telescope for the first time.
It is a perfect instrument to scan the seas for treasure and pirates. Its authentic and elegant design also makes this item perfect for decoration or gift for a special someone. Thevintage ship brass telescope is made of brass and wood for enhanced stability and increased lifespan. It comes in a high-quality wooden box for easy storage and protection.
What you will love most about this telescope is that its performance is as great as its appearance. It weighs less than two pounds, so you do not have to worry about getting tired after scanning for hours. Moreover, it is only 14" long, making it easy to move and control when zooming an object.
Although the telescope does not come with a stand, its small size makes up for the missing accessory. The telescope is ideal for use by both kids and adults.
Pros
The telescope is made of quality wood and brass for guaranteed durability
It comes with a matching storage box for protection
 It is light and small-sized for easy usability and control
The telescope's performance is as excellent and outstanding as its appearance
Cons
The telescope does not come with a stand
The instrument is small, and you may not see as many details
Barska Anchormaster 28x60m Brass Refractor Telescope
When you think of the Barska Anchormaster 28×60 brass refractor telescope, the first thing that should come to your mind is its high performance. The telescope has a simple, elegant appearance, but its functionality exceeds this benefit.
Every detail about this telescope has been designed with expertise, all from its incomparable optics quality and elegant tripod. It is made of sturdy wood and high-quality brass for maximum durability and stylish appearance that will look amazing in any room in your house.
The tripod is made of mahogany to give the telescope maximum stability during use, not to mention that you can easily extend the legs for convenience when viewing. It also has a brass chain for extra stability. It is characterized by a high-quality lens to give images a brighter appearance and allow you to see even the tiniest details.
Pros
The telescope gives you clear images that focus on every detail
It is made of high-quality wood and brass
Comes with a tripod and brass chain for stability
You can easily adjust the tripod's height for comfort when viewing
Cons
Some users complain that the tripod is heavy, making it hard to carry around
Antique Telescope Buying Guide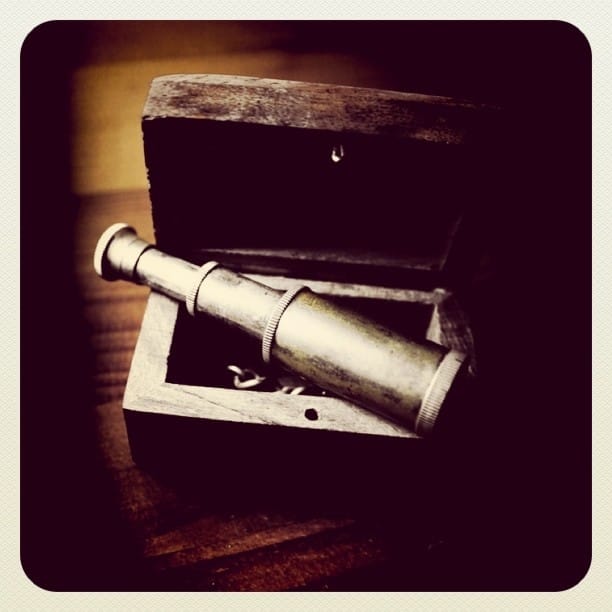 Now that you have an idea of the highly-rated antique telescopes on the market, the main challenge comes in deciding which of the six instruments to buy. The key is to buy a telescope that meets your performance and budget needs. Here are some factors to keep into consideration.
The Cost
How much to spend on a telescope is a very difficult question. Depending on your needs and interests you can spend as little as a hundred dollars, and as much as ten thousand dollars, or more. The important thing to consider is not how much you spend, but how the telescope you buy meets your needs. The most important thing you can do before investing hundreds or thousands of dollars in a telescope is to do some reading and research, and ask yourself what you want to do with the telescope.
Pay Attention to Magnification Power
The ideal magnification power is based on your distance from the object or area you wish to scan. It also depends on how much detail you wish to get. The most important aspect to consider is the size of the aperture to help you determine the telescope's power. The larger the aperture, the higher the magnification power, and vice versa.
Appearance
Appearance is crucial, especially if you intend to use the antique telescope as a decorative piece or a gift to a loved one. In this case, look for an elegant and stylish design. Nonetheless, if you are mainly focused on functionality, appearance does not matter.
The Size of the Telescope
The size will significantly establish how much detail you can view. Moreover, it will impact how much detail you can see through the telescope. While at the size, consider the telescope's weight to ensure that you can comfortably hold for long hours of viewing.
Does the Telescope Come with Accessories?
The extra accessories such as the stand, mount, storage boxes, and chain brass are a great addition. They make the telescope more interesting to use and store while saving you from the energy of holding it all the time as you view objects. Nonetheless, sometimes the accessories call for an extra cost, and you must keep that in mind to stick to your budget.
Final Thoughts
Each of the reviewed instruments has its pros and cons, and it is up to you to weigh them to decide which one works best for you. Suppose you are looking for the easiest antique telescope to use and maintain. In that case, you should go for theMaritime Brass Antique Double Barrel Telescope
For simplicity and high performance,Barska Anchormaster 28x60m Brass Refractor Telescope should be your go-to option. Simultaneously, the Vintage Ship Brass Telescope Marine Sailor Watch and Trekking Royal Navy Device Maritime Designer Nautical Replica is the ideal one if you want to save on cost.
Categories Gadgets & Tech, Vintage Buying Guides
About Will
Will Ames is an author and editor for the old timey. With a BA in history and a passion for vintage items and retro inspired tech, Will has a passion for researching his favorite products, collectibles and stories from days gone by.
...
Sours: https://theoldtimey.com/6-best-antique-telescopes-for-decor-and-functionality/
Telescope old fashioned
Her shiny anus, which did not have time to close, looked almost at the ceiling. I took Vaseline, carefully lubricated her hole and my head, threw off my pants and panties, stood with my legs on both sides of her body. And sent my penis into the anus. This time he slipped easily and deeply, deeper than in the previous position.
Antique Telescopes
We have about twenty minutes, again I sucked a kiss to his lips. I saw that Oleg was looking at us from the doorway of the bathhouse with burning eyes. I didn't want Sergei Vladimirovich to know about this. Let him think that Olezhek is unaware of anything. Kissing the other person felt like my husband's arousal, and this time I did it for him.
Similar news:
Now, I will fuck you, my lustful whore. Sharply lowering Svetlana's panties down, Yuri several times strongly, in a big way and loudly slapped the woman on. The buttocks.
717
718
719
720
721