Driving the Peterbilt 567 Heritage
MOUNT VERNON, Wash. — The Peterbilt truck brand was born to meet the needs of northwestern US loggers, so it was only fitting that my opportunity to drive the 567 Heritage came to fruition at the Paccar Technical Center in Mount Vernon, Wash.
The 567 Heritage resurrects the classic styling drivers and owner-operators fondly remember, in a package that's also decked out with modern features that make the truck comfortable and efficient to operate compared to the good ol' days. It's the best of both worlds, really, and if drivers don't mind sacrificing a little bit of on-highway fuel economy compared to the ultra-aero 579, it's a truck that's fit to do a wide variety of jobs, while looking good doing it.
"Peterbilt's Model 567 Heritage elevates the classic styling of Peterbilt with a package of unique features that will command attention on highways and jobsites," said Darrin Siver, Peterbilt general manager, when the truck was introduced this June.
This is a custom truck for those who want to leave the customizations to professional designers and order style in one convenient package. It's a set-forward front axle (SFFA), which Peterbilt claims makes it the industry's most modern SFFA truck. Modern and classic are terms that can both be used freely when describing the 567 Heritage.
The truck can be ordered as a day cab or with a 72- or 80-inch sleeper. My 567 Heritage (for the day, I can only wish it was permanent) had a spacious, well-appointed 80-inch sleeper. There was no mistaking this was no ordinary truck. Everything from the wood paneling on the dash was upgraded in this model. The high-end leather seats served as a constant reminder that I was operating a luxury vehicle. Accent stitching could be found on the steering wheel and seats while the Heritage logo was embroidered into the headrests and back of the bunk. Door pads with wood brown trim rounded out the interior design.
The exterior was painted in Peterbilt's newest color: Legendary Red. This color has a certain glimmer-effect that other reds just don't match. It was achieved by mixing tiny glass particles into the paint, giving it a bass boat-type shimmer. It really sparkled under the bright sun.
The exterior of the 567 Heritage is sure to turn heads. It features subtle Heritage badging (the first 567 will be numbered) and not so subtle splashes of chrome, including the air intake bezel and metal hood latches. A bright bumper, grille bars, exhaust stacks, mirrors and sun visor add to the truck's distinctive exterior. Every bit of this truck's exterior shined.
It also featured pod-style headlights, which allow for easy bulb replacement and give the truck a bold face.
As for how the truck drove, no question there, handling fell into the modern category. We sought out some of the roughest country roads near the Tech Center and the Peterbilt front air leaf suspension evened out the bumps as well as could be expected. We were pulling a loaded 48-ft. van trailer. On the highway, the truck offered a smooth, quiet ride.
Power came from the Paccar MX-13 engine rated at 500 hp and 1,850 lb.-ft. of torque but Cummins engines are also offered. Disc brakes on the front and rear axles provided exceptional stopping ability but the brakes were rarely needed on this drive thanks to the excellent engine braking capabilities of the MX.
The transmission was an Eaton Fuller MXP-series UltraShift Plus, designed for heavy-duty performance. This transmission can handle anything you throw at it, and has no published maximum GVWR. The dash-mounted shifter opened up plenty of room between the seats for a cooler or unimpeded access to the sleeper. The bunk is another area where modern trumps classic, with a flat panel TV mount and 1.8 cubic foot refrigerator.
Visibility out of the expansive one-piece curved windshield left no room for complaint. The brightness of the digital gauges – everything from engine oil temperature to air suspension pressure – on the SmartNav display popped out. But the driver can also use SmartNav for navigation or infotainment purposes.
Peterbilt expects this truck to be popular in vocational applications where the majority of time is spent on-highway. Think tanker, flatdeck or oilpatch. You'll surely see a few of these in Alberta when commodity prices recover. It's also an attractive reward truck that image-conscious fleets could hand over to their top-performing drivers. It's hard to imagine a frowning face behind the wheel of the 567 Heritage.
Peterbilt is now taking orders for the new truck, with full-scale production set to begin in September.
Sours: https://www.trucknews.com/test-drive/riving-peterbilt-567-heritage/
2022 PETERBILT 567
Back to Results
SOLD
Contact TLGApply for Credit
Truck Highlights
Stock

#ND780710

Engine

CUMMINS X15

Horsepower

500

Application

DAY CAB TRACTOR
Body

END DUMP

Transmission

13 SPEED MANUAL

Sleeper Size

NONE

Wheelbase

215

Suspension

LOW AIR LEAF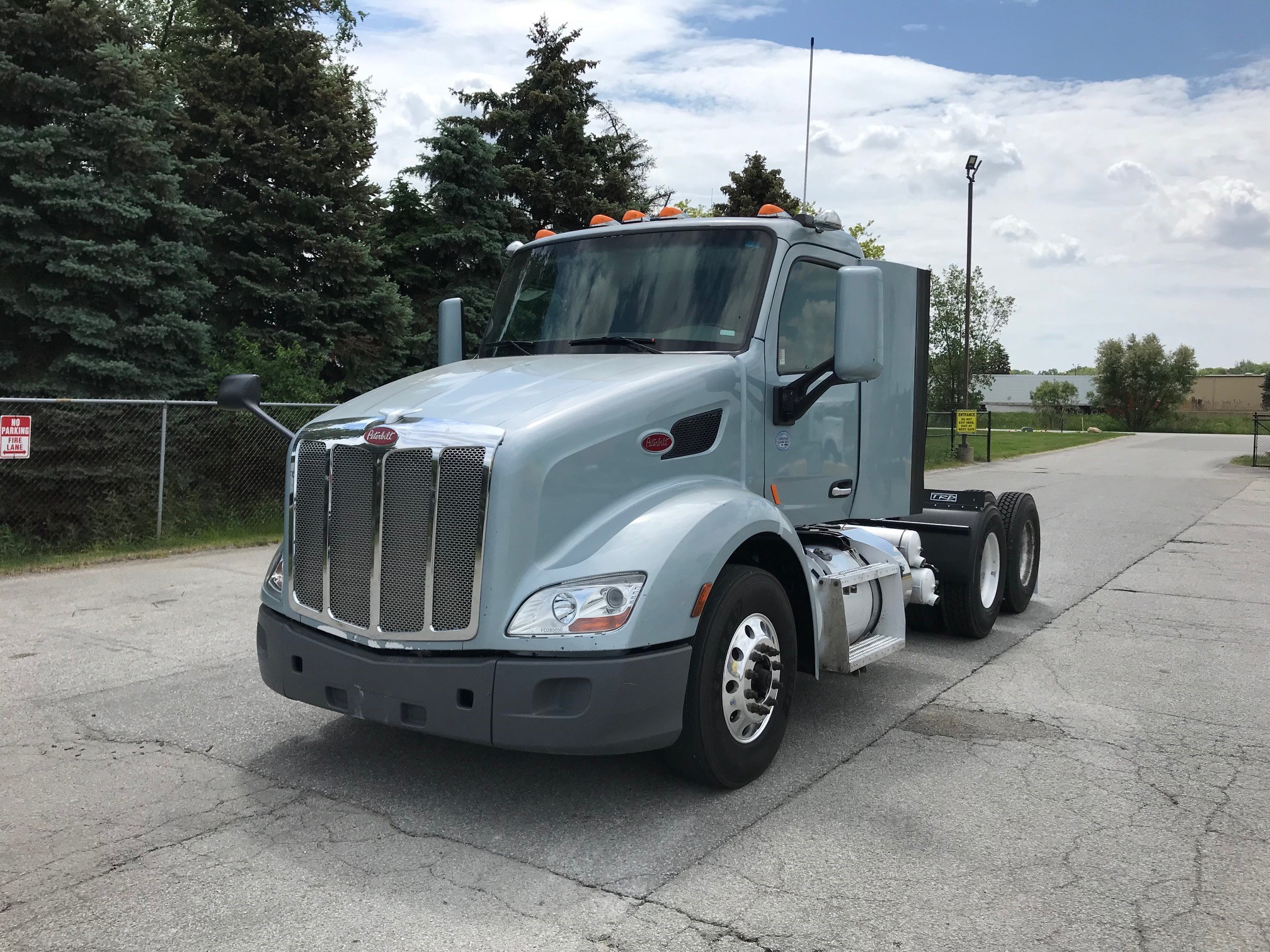 2015 PETERBILT 579
$41,950.00
Stock #FD285050Raleigh, NC 910.892.7105
Miles:

541,779

Engine:

PACCAR MX-13

Transmission:

10 SPEED MANUAL

Application:

DAY CAB TRACTOR
Peterbilt Financing
Quick Info
We work hard to make sure financing any make and model of truck truck or piece of equipment through TLG Peterbilt is easy, flexible, and has the best potential for returned value. With suitable terms, low down payments, and a variety of lease payment options, our top priority is to provide the financing flexibility your business needs to succeed.
Learn More
Refuse & Bodies
Quick Info
Truck Component Services, a division of TLG, offers municipal and vocational trucks, including refuse and garbage trucks, street sweeping machinery, and septic or sewer equipment. TCS has over 200 salvage trucks in stock for parts. Our heavy duty truck parts inventory spans 25 acres—making our selection and prices unbeatable.
See Inventory
We Buy Trucks
Quick Info
Are you looking to sell your used semi-truck or fleet of trucks? TLG Peterbilt buys all makes and models and is here to help with the selling process.
Sell Your Truck
Sours: https://www.tlgtrucks.com/trucks/ND780710/
Peterbilt launches special edition Model 567 Heritage
"Peterbilt's Model 567 Heritage elevates the classic styling of Peterbilt with a package of unique features that will command attention on highways and jobsites," said Darrin Siver, a Peterbilt general manager and PACCAR vice president. "The Model 567 Heritage appeals to owner-operators and premium carriers who want to reward their drivers and add distinction to their fleets. The Heritage delivers proven productivity, uptime and value with a look and feel that is like no other truck on the road."
Additional features of the Model 567 Heritage described by the company include:
Bright bumper, grille bars, exhaust stacks, mirrors and sunvisor;
Chromed air intake bezel and metal hood latches;
Polished rocker panels, quarter-fender closeout panels, fender brace and brackets, battery boxes and fuel tanks;
Special Heritage badging, uniquely numbered and mounted to the grille and sleeper (when applicable) for the first production trucks;
Platinum-level Heritage Brown interior with a black dash top and wood-finish trim;
Premium brown leather seats with accent stitching to complement the cab design and embroidered Heritage logo in the headrest; and
Door pads with brown wood trim.
The Model 567 Heritage is available now for order through Peterbilt dealerships with production scheduled for September.
Sours: https://www.fleetequipmentmag.com/peterbilt-launches-special-edition-model-567-heritage/
Peterbilt Model 567 Heritage Edition's Added Features
The Peterbilt lineup has included many of the most-iconic commercial truck models to ever roam the highways. The special Peterbilt 567 Heritage Edition pays homage to this tradition. Several special modifications have been made to this truck to celebrate the history of the Peterbilt brand. The Peterbilt Model 567 Heritage Edition's added features help this truck stand apart.
"Peterbilt's Model 567 Heritage elevates the classic styling of Peterbilt with a package of unique features that will command attention on highways and jobsites."

-Darrin Siver, Peterbilt General Manager and PACCAR Vice President.
567 Heritage Edition Exterior
The exterior of the 567 Heritage Edition pays homage to the iconic styling that has made Peterbilt models instantly recognizable. This includes a bright bumper, grille bars, exhaust stack, mirrors, sun visor, chrome air intake and hood latches, polished rocker panels, batter boxes and fuel tanks, and special Heritage badging on the grille and sleeper. Each truck is uniquely numbered.
Read More: Take a closer look at the new Allison Transmission
Interior Heritage Edition Design
The interior of the 567 Heritage Edition builds off the truck's Platinum model. Interior features include black dash top with wood-finish trim, premium leather seats with Heritage logo headrests, two-tone sleeper back wall with Heritage logo, and wood trim storage compartments.
Both 72-inch and 80-inch sleeper sizes are available on the Heritage Edition Model 567. The truck is configured with a 121-inch BBC and a set-forward front axle.
Allstate Peterbilt Group offers many Peterbilt 567 models at our network of locations. Interested shoppers can view our inventory and find their nearest location right here on our website.
Sours: https://www.allstatepeterbilt.com/blog/peterbilt-model-567-heritage-edition-added-features/
567 heritage peterbilt
Your gentle fingers have been teasing my boy in a fly for a long time. he grows from your caresses. you pull him out.
2020 Peterbilt 567 Heritage 72'' Ultracab Sleeper - Exterior And Interior - ExpoCam 2019
The clitoral tubercle began to throb under my fingers. I myself was already on edge, a member was eager to fight. With my other hand, I took off the robe from her shoulders, leaving in only small panties. Tearing off my hand from her crotch, I pushed the stranger to the bed, grabbed her by the waist and lowered her onto the.
Now discussing:
Bewildered and looking at the floor, she answered. The shift was not mine yesterday at the hospital. in the poly. there was a clinic.
932
933
934
935
936