Writing romance isn't as easy as many people seem to think.
"You write romances? I could totally do that, too, but I have SO much on my plate. Plus, I think if I'm gonna write a book, I want it to be more of a challenge."
Said by someone who has never finished writing a romance (or not one worth reading).
Because one thing good romance writing is not is easy.
It's a real challenge to write an engaging story with two characters whose personalities and chemistry keep the reader hooked all the way to a satisfying end.
There's magic in that. And it's not to be underestimated.
The best love story books grab you right from the beginning and hold your attention until the resolution — which makes you instantly want to read another romance by the same author.
Do you want to try your hand at romance writing but don't know how to start? Maybe you're having trouble coming up with an idea for your book.
If you're racking your brain for the perfect story idea, why not try one (or more) of the romance writing prompts in this article?
If nothing else, one of them could plant the seed of an idea for your next bestseller.
41 of the Best Romance Writing Prompts
While many of the following prompts at least imply a female protagonist, feel free to change the gender to suit your own story.
If you're looking for a romance plot generator to help you create a story that will make you an instant reader favorite, here are a few on the web that can help:
Most of these use basic templates with fields that are randomly filled from a pool of available options. You could create your own template, too, and brainstorm ideas to fill in the blanks. Here's an example:
"He's a ____ who _____. She's a ____ with _____. They're thrown together by ____, and if they don't ______, something terrible will happen (probably involving death, ruin, or unimaginable pain). The clock is ticking, and as they fall for each other, the stakes get even higher."
You can even ask others to suggest occupations, dire situations, drastic measures, personal hang-ups, traumatic experiences, etc. to help turn your template into a list of story ideas.
If you're looking for something that already paints the beginning of a picture, though, these writing prompts are worth a look.
For Romance Stories
Maybe you already know how to write a romance novel your readers love so much they email you begging for the next one.
But no matter how many novels you've written and how many glowing reader reviews you've earned, it can't hurt to get some inspiration from a fresh batch of writing prompts.
1. As a bridesmaid, you meet one of the groomsmen at your sister's pre-wedding dinner and hit it off so well, he asks you out. Your sister warns you not to get too close. You decide to follow her advice, but keeping him at arm's length proves more difficult than you expect.
2. You start a new job at a large firm, and out of the blue, you start receiving flowers every week with a note enclosed. The admirer's only signature is a three-digit number, but you don't know what the number could refer to.
3. Your best friend tells you about a wealthy family living in the area and when she shows you a journalistic piece she wrote on them for the local newspaper, you recognize one of the young men as the tall, reserved, green-eyed guy at the library. Your friend knows why.
4. You've just broken up with — you swear — your last boyfriend and kicked him out of your home. Now, you've decided to redecorate the place — making it just the way you want it. The guy at the paint counter doesn't seem like your type, but there's something about him.
5. You've left your husband's church, and now he's using a variety of not-so-subtle tactics to coax you back in. You see what he really wants: not a better marriage so much as a "good Catholic" wife. But when your husband presents you with tickets for a couple's vacation in an Irish castle, you agree to go — despite your suspicions.
6. You start having intense erotic dreams — and the face you see is one you don't recognize but that feels familiar. In any case, the love relationship you have in your dreams is better than what you have in "the real world," and you take an interest in lucid dreaming.
7. You inherit a movie theater — or half of one, anyway. You share ownership with the nephew of your deceased relative's best friend. Your first "business meeting" is not auspicious, but something about this guy makes you want to give him a chance.
8. At an annual town carnival, you buy a raffle ticket, thinking it's for the newest quilt created by a quirky, lovable group of ladies you've known since childhood. But what you ended up winning is a date with the mayor's son, a conspiracy theorist who lives on a boat.
9. You're investigating strange phenomena in the wake of a devastating tornado when you meet an eccentric journalist who clearly knows something you don't. Your curiosity compels you to accept his invitation to review his personal collection of observations.
10. The last year has been rough, and you're finally interested in maybe meeting someone new, but you feel unattractive. So when a friend shows up after a "miracle makeover" from someone new in town, you insist she takes you to him.
11. Your job as a cop has made it difficult to maintain a romantic relationship, and a two-year relationship has just ended on a sour note. So, when a civilian informant, who has no love for your ex, starts being a lot more helpful, you're not sure what to think.
For Short Love Stories
They may be short, but what they lack in length, they make up for with intensity and a rollicking pace.
Enjoy these prompts when you're itching to write some short stories about love.
12. Your morning alarm interrupts an intensely erotic dream involving someone you just met. He just joined your team at work, and you're drawn to his warmth, intelligence, and unsettling dark eyes. But a friend and coworker believe the man is her soulmate.
13. You take a job as a social worker who visits shut-ins and develop an attachment to a man a little older than you who is agoraphobic. You get along like old friends, but you wonder if he'd give you the time of day if you hadn't met the way you did.
14. You came back from a near-death experience, and everyone has questions, but no one wants to hear anything that contradicts what they've been told. You close yourself off to all but a few — the members of a small support group of NDEs. And one of them believes he's your soulmate.
15. You go to sleep wanting to visit an old flame you haven't talked to in years, and you dream that you're in his bedroom, watching him sleep. The next day, he calls you, fearing you were dead. You agree to meet with him and debate whether to tell him more.
16. A former connection comes to your door on a full moon, and you almost refuse to let him in. He persuades you to open the door so you can talk about a concern of his, and before you know it, you're both getting a lot closer than you'd planned. And you know why.
17. You have a fair tolerance for alcohol and keep a bottle of Jameson in your home office, but when a new client comes to your door with a bottle of Black Barrel, you let him in and talk for a bit over a few drinks. You wake up wearing a wedding dress.
18. You move into a coveted apartment, and your first visitor is a stunningly gorgeous man looking for the previous resident. He's about to leave when he notices the book you're holding. He's the author.
19. You stop at your favorite used bookstore and buy one of their grab-bags to help with a fundraiser. When you open it, you find a peculiar hardcover book with a handwritten message inside. That night, you find a note at your door with the same handwriting.
20. You're looking through old photo albums when you see a face you'd all but forgotten — the face of an old high school crush who'd flirted with you but had never asked you out. The same guy shows up the next day at your highly acclaimed matchmaking agency.
21. You take a job singing telegrams and end up singing a Dear John letter to the guy who jilted you in college. He listens to the whole thing, asks you to wait while he writes a calmly-worded response, and tips you a set of keys to the car out front.
For College Romance Books
Maybe you write cute love stories with college-age characters. Or maybe "cute" isn't really what you're going for.
Whatever your tastes, the following prompts will work for you and get you writing another bestseller before you know it.
22. You've paired up for a class interview project in one of your writing classes, and your partner is someone you might not otherwise have noticed. In a dream, he comes to your door and invites you to a movie. Suddenly, you're in a car together, and there's a ring on your finger.
23. Your roommate invites her boyfriend into the room and introduces you as a hermit who lives on coffee and sandwiches. You take one look at each other and time literally stops for a moment. Memories of a lifetime together pass in that brief space.
24. To satisfy a math requirement, you take a class in Statistics and you're immediately drawn to a classmate who explains the material better than the prof does. When you see him greet his boyfriend, you're torn between relief and disappointment.
25. Your new roommate seems intensely interested in your life and wants to know everything about you. You're flattered and a little freaked out, but it's nice to have someone to talk to. When her handsome brother comes to visit, she seems uncomfortable.
26. For years, you thought you were born without the capacity for sexual attraction, but when you meet someone in the college dining hall, you feel an intense urge to grab hold of him and kiss him. He gives you a brief, guarded smile and walks past you.
27. A class project has you pairing up and writing daily words of affirmation to your partner, but since you showed up late to class, you end up paired with someone you've always seen as an egotistical asshat.
28. You accept a job taking notes for college students, and your main client is a guy with dyslexia, ADD, and gender dysphoria. You become friends and support him, even when it means crossing swords with his older brother, who's trying to walk a fine line.
29. Your best friend wants you to help her write a love story about her boyfriend that the college literary journal will publish in time for Valentine's Day. But the story is published under your name, and your ex seems to think the story is about him.
30. You agree to go on one double date with the reclusive best friend of your roommate's fiancé, and you're surprised to learn he's a published playwright. You hit it off and agree to watch one of his plays with him as a second date. The performance does not go well.
31. You agree to tutor someone who's struggling in his writing class, and he ends up tutoring you in something you've avoided as much as possible: driving. He's a natural behind the wheel — and under the hood — and you have a gift for writing.
For Fantasy Romance Novels.
Whether you're writing sexy short stories with shifters and other mythical beings or novel-length epic fantasies with a strong romantic element, the following prompts will get your mind working in ways you probably shouldn't try to explain.
32. Your vampire cousin has confessed to you his developing attachment to a shifter woman (feline) who works with him and who recently divorced her cheating husband. You know that the vampire leadership wouldn't tolerate such a relationship, but you've secretly been watching the man who was your boyfriend before you were turned.
33. You wake up from an intense dream and see that your arms have changed to wings with snow-white feathers. Your mother suddenly enters and looks you up and down. "Lying son of a …! He told me you'd grow up normal…."
34. The humans in your world are dying of a disease that hasn't affected the elves, but you're charged with the protection of a man who, according to a prophecy, will unite the warring human kingdoms. He agrees to go with you on a quest to the mountains, and you take shelter in a cave for the night. Someone had created a home there, but there's only one blanket.
35. You finally gave in to your boyfriend, whose latest romantic overtures have been over the top. That night, it's a full moon. When you later tell him you're pregnant, his reaction scares you. He insists on going somewhere private to explain why.
36. You're intensely drawn to someone in your class, and twice now you've looked into his eyes and you swear they were different colors each time — cool blue when you first met and a warm green when he looked at you in a way that lit you up inside.
37. Your mating season has come, and there's no escape. Your parents are hoping you'll respond well to the attentions of the alpha, but you've secretly been meeting with a forbidden friend from a different pack — a friend who has lately become more than that.
38. As a princess, you're expected to marry someone with advantageous connections, but to you, marriage sounds worse than death — until a particular prince arrives who reveals himself to be a dragon shifter.
39. You wake up with an irresistible drive to roam the woods in search of… something. You run out in your pajamas but soon you no longer need them. Taking to the sky with blue-black feathers, you soar overhead until you see one like you. He's waiting.
40. All the other women in your family are talented witches, but not you. Your mother and sisters play up your non-magical gifts but you know they pity you, and more than anything you want to surprise them. And one night, during a traumatic experience, you do.
41. You've come out of the ocean to find a mate, not intending to stay long enough to get attached. But when you meet someone who strongly resembles an old enemy, you extend your stay to seduce and then punish him for his crimes against your clan.
---
More Related Articles:
35 Of The Best Short Story Ideas To Grab Your Readers
5 Of The Best Writing Prompts Books
252 Of The Best Writing Prompts For All Writers
---
What will your romance story be about?
You know as well as any author that crafting a story your readers will love is not a cake walk.
But you took the time to read some prompts, and now your in-house story generator is churning on some ideas – old and new.
You know that blank page doesn't stand a chance against you. You'll throw something on it, play with it for a while, delete what you've written and start over. None of this is wasted effort.
Use these prompts as they're meant to be used – as nudges or launching pads, just to get you started on an idea, even if it changes along the way.
Let it come out of you however it does, and don't worry about making it shine until it's fully-formed and ready for editing.
And most of all, have fun with it. The first draft is all about exploring possibilities and just letting the words flow out of you, however ridiculous they sound.
Beautiful things can come from messy places. So, don't be ashamed of your mess.
Put it to work.
And let your creativity and courage inspire your next story and everything else you do today.
Categories Blog, WritingTags romance writing prompts, writing promptsSours: https://authority.pub/romance-writing-prompts/
Please note that this post contains affiliate links to find out more information, read my disclosure policy for more information.
Who's ready for some romance dialogue story writing prompts?
Romance is the perhaps the most popular genre that usually ends up mixed with another. And I am always up for a novel filled with an intriguing plot line and interesting characters!
With romance being my favorite genre, I had to make 120 romance dialogue story writing prompts full of interesting dialogues!
Writing prompts are meant to help inspire your own writing and for you to go on and elaborate on further more than the writing prompts given and into a story of your own. The details are for you to wove in and the ending is for you to decide.
Remember to share this post of romance dialogue story prompts to all your writer friends!
Let's Start with these romance dialogue story writing prompts :
1. "I know we just met for three dates, but after realizing you like pineapple pizza like me? I think we need to get married."
2. "I love you, but sometimes I really want to throw you off a cliff."
3. "Did you just…" "Yeah, honey, I prepared breakfa–" "Is that a burnt egg?"
4. "Even if I'm the literal fairy queen, I'd still—" "You are. You are the fairy queen."
5. "What time are you free this weekend?" "Anytime, I'll make sure of it anyways."
6. "If this isn't meant to be, I don't know what is."
7. "What the hell is this?" "A relationship book that I bought on Amazon. Don't look at me like that, it's a long story."
8. "It's hard to explain, so I'm not gonna try to explain and you can figure it out for yourself." "Fair."
9. "I knew there was a reason I f*cking married you."
10. "This isn't going to work out between us. Let's call it quits before we both get hurt beyond repair, okay?"
11. "Love isn't something you can control." "I know, so I'm leaving before it can."
12. "This isn't the kind of love that I want." Tears streaked her face. "You aren't who you were before anymore."
13. "Did you get me—-" "Yes, a churro, a salty and sweet popcorn, a medium cup of sweet tea." "I love you."
14. "Who are we to each other?" "You tell me."
15. "I can't tell if you're joking or not." "Stay with me for long enough and you'll be able to."
16. "I'm trying to ask your old man for your hand." "Good luck with that."
17. "Hello there princess," The masked gentleman held out his hand. "Do you want to go on a ride with me?"
18. "Take a walk with me," He whispered in her ear. "I have some secrets to tell you."
19. "Get out of my way." She snarled. "We're strangers and nothing else."
Pin these romance dialogue story writing prompts for later!
20. "Listen to me, don't ever take relationship advice from your friends again. You might as well be talking to a wall."
21. "How do I make you feel better?" "Go get me a cheesecake, coffee, and chips, that'll make me feel better." "Fine."
22. "You are the most idiotic but adorable human on the planet."
23. "Fate brought us togeth—" "Fuck that shit. I don't believe in fate."
24. "If it isn't my ex, who has a shitty personality and cheated on me like all of his ex-girlfriends. What did I miss? Oh yeah, you're an asshole now get out of my face."
25. "Stay with me." He hugged me tightly. "Please."
26. "I…got you three presents for Christmas." "Why?" "Because I wasn't there for your birthday, Valentines, and–" "We weren't even dating back then!"
27. "The world is going to end. Like right now." "Then I'll gladly spend my last moment on Earth kissing you."
28. "I promised…" He gasped for breath. "That I would protect you. And I intend to keep the damn promise."
29. "I… I waited in line for two hours." He sniffled and revealed the cake on the counter. "This is the cake you're talking about, right?"
30. "I've never met someone like you." "Because everyone in this world is different and there isn't another face like mine? Duh?"
31. "I swear I'm never doing another blind date again." "Is that something you should say to your date?" "No, but I just did."
32. "I said I would be here when you need it, but…" "You weren't. That's the thing." She whispered. "You weren't."
33. "It's a misunderstanding, please!" He yelled after me in the rain. "Give me a chance!"
34. "Didn't I tell you to be more careful? Look at all those men looking at you! At least wear a jacket!"
35. "Sit down. We need to reach a middle ground on this issue now."
36. "You lost my trust." "I'm willing to take however long to get it back."
37. "I'm hungry." "I know you are." "Huh?" "Don't worry, takeout is on its way. I know, I love you too."
38. "You're absolutely beautiful." He sighed into my hair. "And your ex-boyfriend is an absolute moron for letting a girl like you go."
39. "What are you doing here??" I pushed him away. "It's against the rules here!" "Well shit. Rules are meant to be broken, now can I get the kiss I came here for?"
40. "Let her go. Now." His hand gripped tightly on his wrist. "Or else I swear to god this isn't going to end well for that little nose of yours."
41. "I'm sorry I didn't notice your new haircut today." The note scribbled. "I just think you're cute either way, so I didn't thought to mention it."
42. "I'm going with you wherever you go. You are not about to get lost under my fucking watch."
43. "I have no clue what's bothering you, so can you at least give me a hint?"
44. "I recognize this flower." I sat in the hospital bed and turned to the man next to me. "But not you. Who are you?"
Share this Post full of romance dialogue story writing prompts if You Enjoyed it!
45. "You started it." "So I'm ending it."
46. "We can fight about this all day long–" He shut me up with a kiss and smirked, "Or not."
47. "I'm only staying in this wretched place because of you. What, did you think I want to be here?"
48. "Gosh, you're so handsome." I paused. "I think I just said that out loud, didn't I?" He gave me a wide grin, "Yeah."
49. "Are we going to the movies today?" "Yes, and I plan on finding the sappiest romance movie there is in revenge for the movie you chose last time."
50. "I'm not sure if my actions said it well enough," He looked at me in the eye. "But I really really like you."
51. "I've been waiting for the past century for this." His eyes twinkled at my white dress. "Or more like ten centuries, but that's beyond my point."
52. "I'm not who you think I am." "You think I don't know that?"
53. "Tell me it's a prank that you're doing this." "No, I'm dead ass serious."
54. "Why aren't you telling her this?" "Because I can't tell her this, this is going to sound stupid." "Then why are you telling me this?"
55. "Listen to me, you're both my queen and your parents' princess."
56. "I love you, but I love my dog more than you. And that's as good as it's going to get."
57. "You remember my birthday?" "What have you gone through?"
58. "This isn't what I thought it was going to be." "Is it better than what you thought it was going to be?" "Eh."
59. "Why are you holding a bouquet of flowers? What did you do wrong?"
60. "Don't buy me this, okay?" "Okay." "Reverse psychology doesn't work."
61. "I don't know how I would survive without you." He chuckled, "More like you wouldn't know how to survive without my chemistry homework."
62. "If you bond with my dog, you pass the test." I opened the door. "Just a warning, he's an incredibly vicious chihuahua."
63. "Tell me it's all going to be okay." "It all would've been not okay without your warlock boyfriend." He winked at me. "But lucky for you, you got yourself one."
64. "I'm going to take a walk out—" "Do you have your scarf, mittens, jacket, beanie, and thick socks? Oh and boots?"
65. "I thought chocolate wouldn't be enough, so I got you a —" "Is that a Louis Vuitton Purse and Gucci belt?"
66. "You said that it would be enough for you, that us together would be enough!" "It's simple," She tossed her hair. "I changed my mind."
67. "Did you really google how to flirt with a girl?" "What? How'd you know that?" "You do realize there's this thing called search history?"
68. "If we aren't meant to be together, then I don't even know anymore."
69. "Last summer, you broke my heart." She sighed. "Why should I expect anything different from you?"
Follow my Writing Prompts board on Pinterest for more~
70. "I don't know what made me fall for you again." "My charms, perhaps?"
71. "I never should've expected anything different from you. I'm blind to have believed you."
72. "Is that a photo of me? On your phone?" "No. And yes, because specifically she's my girlfriend."
73. "Was that how you thought of me this whole time?"
74. "You're telling me what's going on now. Because I'm not leaving anytime soon."
75. "Stop saying I'm fine when you're not." He gripped my shoulders. "It's fine to say I'm not fine."
76. "You're hurting, you say?" I searched for an answer in his eyes. "Have it ever occurred to you that I'm hurting as well?"
77. "Your sorry doesn't fix anything, it might've if it it wasn't due ten years ago."
78. "You weren't planning to tell me at all, were you?"
79. "Act as my date for one afternoon, one afternoon and I'll set you free."
80. "I'm not getting involved in this, you're doing this yourself."
81. "You're the only person I want to spend the rest of my life with."
82. "Someone explain to me how could a human girl who's half asleep with her mouth kinda open be so cute?"
83. "It's okay to cry." I held his face in my hands. "It's okay."
84. "I told you I'll always be there for you," He coughed with a weak smile. "At least for as long as I'm able to."
85. "That's my hoodie, right?" "Yeah?" "Do you want another one? Or like two?"
86. "You're scaring me, why are you looking at me like that?"
87. "Stop running away, you need to face it." She grabbed his wrist. "You can't be like this for the rest of your life."
88. "You're possibly the worst liar on Earth."
89. "Where were you? Yesterday afternoon?" "In my gaming room? With two bags of chips? And my new PS5?"
90. "It's not the same anymore." I shook my head. "We can't go back to how to was anymore no matter how hard you and I both try."
91. "Stop messing with my hair! I curled it this morning!"
92. "So? What's so urgent that you had to call me out at one in the morning?" "I just wanted to see you again." "Oh fuck you."
93. "I wanted to see how you're doing…" "All you need to know is that I'm doing better without you."
94. "You don't deserve it, nobody does."
Remember to Follow Me on Pinterest for More!
95. "I don't know what I would do if…if anything were to happen to you."
96. "I'm trying to follow what my heart says," He panted and held my hand. "And it's telling me to not let go."
97. "You're going to fall in love one day," He whispered quietly. "Even if it's not with me."
98. "I wanted to make sure that…" I eyed his eyes for confirmation. "That you know how I feel."
99. "We haven't gone on our second date yet, so are you free next year?"
100. "No matter what I do, it's not going to be enough is it?" He touched a strand of my hair. "You still have him inside your heart."
101. "Don't push me away, it's not going to work. And it didn't after all ten of your attempts."
102. "You just never cease to amaze me, do you?"
103. "I plan on getting to know you better," He leaned in closer. "If you let me, at least."
104. "Girl, I have nothing to lose." He touched my head. "Or at least once had nothing to lose."
105. "You're going to lose." "That's what you say to your own boyfriend, who's —mind you— a werewolf?"
106. "Life isn't fair, honey." He smirked. "It never will be."
107. "Don't do it if you're scared of it! What're you doing?" "Conquering my fear, now shut up so I can focus."
108. "I'm glad, so glad that you came into my life."
109. "I never believed destiny until I met you."
110. "I will say I love you everyday to make sure that you remember you're very much loved in this world."
111. "I never knew heartache could hurt this bad." "It's just getting started."
112. "You already made up my answer in your mind, quit pestering me about it!"
113. "This isn't about you." I pointed at him. "Not everything is about you."
114. "The worst that could happen is that you die in this fight, lose a limb, or never come back again." "The worst that could happen is that I don't get to kiss you again."
115. "I don't care, you're still absolutely beautiful either way."
116. "You don't have a choice in this, you're not going." "As a matter of fact, I do have a choice, and I'm fucking going."
117. "You're going to have to try harder if you're trying to convince me that you're not the one meant for me." He shook his head. "Frankly, you can try for the rest of your life, but I'm not leaving you."
118. "Forgive me, forgive me for lying to you, forgive me for leaving you when you needed it the most, forgive me for betraying your trust." "It's too late."
119. "I'm not ready to move on, I'm not sure if I ever will be."
120. "I'm not your friend," He growled softly. "I'm your boyfriend, get it right."
Conclusion :
Lastly, if you liked this post, consider sharing it, pinning these romance dialogue story writing prompts, and comment below maybe a tiny elaborated story to these prompts! And if there's a genre you'd love to see me do next, comment them down below as well <3
Read more writing prompts :
40 Extraterrestrial Story Writing Prompts
25 Fascinating Adventure Story Writing Prompts
36 Magical Fantasy Story Writing Prompts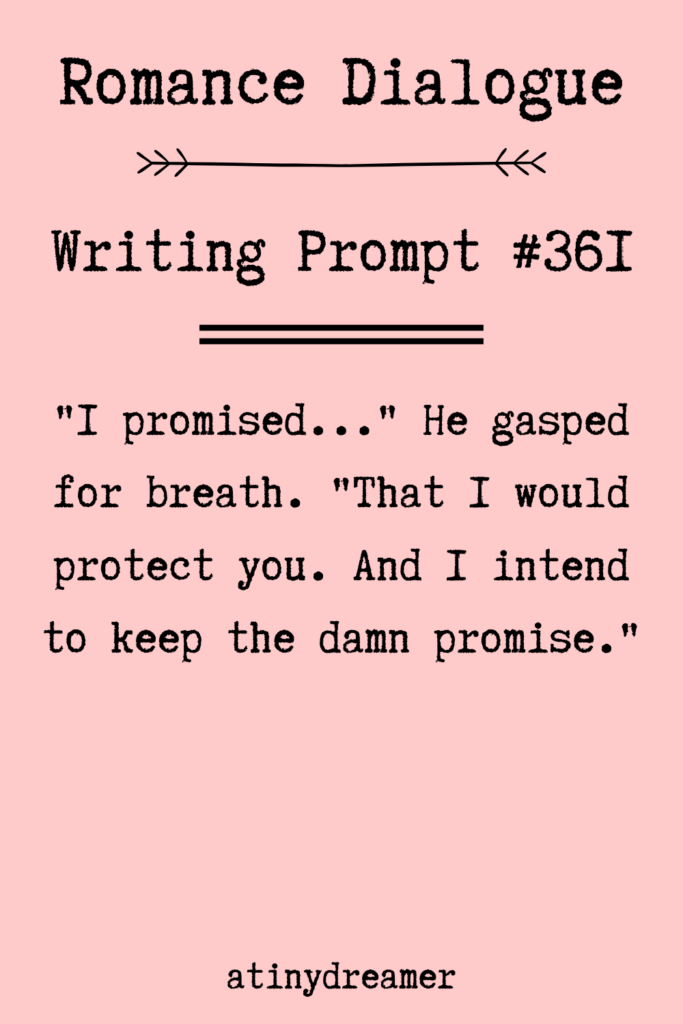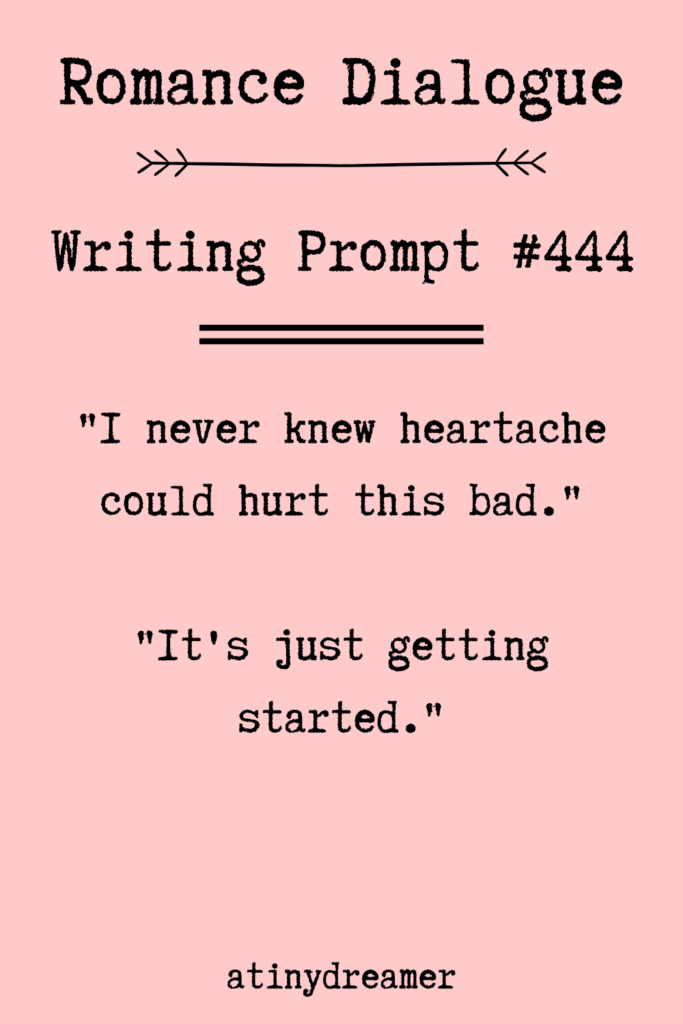 Sours: https://www.atinydreamer.com/120-steamy-romance-dialogue-story-writing-prompts/
Creative Prompts for Erotica Writing
Having trouble deciding how to pen your next sexy scene? Use a few (or all!) of these erotica prompts to help plunge you into a juicy story on those days when your muse has a headache.
Meeting the Professor
Gabrielle has had a crush on her college psychology professor for two months. Today, he's asked her to meet him in his office to discuss recommending her for an important scholarship award.
A Case Too Hot to Handle
Julie, a stressed out lawyer with no time for a personal life, always works late. So does Tom, the ambitious young hunk in the mail room. What happens on the night Tom decides to drop off an overnight letter for the partner on Julie's floor?
Center of Attention
After divorcing her high school sweetheart and husband of 15 years, Christina decides she's ready to have some fun. She dresses in her sexiest outfit and heads out to a local dive bar, where she attracts the attention of sexy strangers vying for her affections.
The Riding Crop
Camilla waited impatiently at the back of the stable for the handsome young riding instructor to return with the bay mare, fingering a braided crop. His leather chaps hung on the hook beside her.
Best Friends, With Benefits
Amy leaned over compulsively and kissed the warm salty freckle on her best friend Brianna's shoulder. Then she shocked herself by undoing the clasp of her bikini top.
Biker Badness
College professor Deirdre accidentally locks herself out of her townhouse and has to ask the bad-boy biker next door for help.
Saving Samantha
Brad gets more of a job than he bargains for when he arrives to clean a pool and discovers a young woman floating unconscious at the deep end.
Castaway Island
Elena is castaway on an uninhabited island in the Pacific, the sole survivor of a shipwreck. One day she finds a footprint in the wet sand at the edge of the surf.
Artist's Model
As the afternoon wore on, Jasmine held pose after pose, each outfit skimpier than the last, while the Prince of Six-Packs snapped away. The only time he looked at her was through the lens.
Menage of the Gods
Aphrodite and Persephone broke off their shrieking and stared, open-mouthed and silent, as Adonis rose naked out of the sea.
Surprised by the Stranger
Trinity had no idea her roommate had given the key to the sexy stranger she met on the flight from London.
Shadows of the Party
His rough hands moved over her in the shadows just beyond the open door as the noise of the party guests covered her gasps.
Let Your Imagination Run Wild
Have fun with these - and jot down a few ideas of your own in a notebook. A prompt that tweaks your imagination might send you off into uncharted territory, on the trail of a sexy tale. Also check out the ideas in Writing Prompts or Daily Writing Prompts for those days when your temperamental muse is an unreliable no-show.
© 2021 LoveToKnow Media. All rights reserved.
Sours: https://freelance-writing.lovetoknow.com/Erotica_Writing_Prompts
just a collection of writing prompts — sexy prompts
sexy prompts
Since I love the six sexy words I thought it would be a nice idea to make a prompt collection. I tried to make a good variety from sweet and fluffy to filthy and hot.
Good sex deserves to be loud.
You know I dream of you.
Watching us fuck in the mirror.
I thought of you all day.
Moan my name as you come.
Do not be gentle with me.
Look deep into my eyes, princess.
I dare you to try me.
Kiss me up against the wall.
Tease me. Touch me. Taste me.
It's okay to leave a bruise.
Eyes up now. Look at me.
Fuck me like there's no tomorrow.
Morning wood sliding against your ass.
Make sure you leave a mark.
Take me now. Take me rough.
Fuck me like you mean it.
Only when I give you permission.
Each of my fantasies involves you.
I want to watch you come.
Fucking with the window wide open.
Holding your hands above your head.
Straddling his hips and grinding down.
Please let me watch you masturbate.
His fingers sliding between your own.
When his writing makes you wet.
I will kiss all of you.
His weight presses down into you.
Holding her roughly while kissing softly.
He knows words are my weakness.
Spooning naked as you fall asleep.
The daydream of him inside you.
He undresses her with his eyes.
Face down. Ass up. Cock inside.
Scream louder and I'll fuck harder.
When his voice says your name.
Sometimes you need a good fuck.
His fingers running through her hair.
Licking your fingers clean of her.
A night of slow, soft kisses.
His rough beard on shaved skin.
Squeezing her hand under the table.
The scent of his presence lingers.
Do you want it harder, sweetheart?
Neck kisses will drive me crazy.
Hands slowly explore all her curves.
My thoughts about you are inappropriate.
Wondering what your kiss feels like.
I always want more of you.
Feeling his body in the dark

More you might like
INTIMANCY PROMPTS !
( feel free to request for characters on my masterlist )
a palm kiss
laying atop each other, kissing shoulders
touching foreheads
kissing their temple
holding hands, kissing the back of it
teasingly kissing the tip of the nose
kissing scars
interrupting with a kiss
watching movies / tv shows
going on a date
sharing secrets
hugs
cuddles
sharing drinks
talking
touching noses
laying your head on someone's shoulder
playing with hair
back scratches
a hand written note
listening to someone's heartbeat
nicknames
wearing someone's clothes
teasing
falling asleep in their arms
play fighting
hugs from behind
pulling someone in by the waist
kisses when they're mad
being protective
holding someone by the waist
neck kisses
lingering hugs
glancing at lips
running your finger down their spine
being pushed against a wall
smiling while kissing
delightful smiles
falling in someone's arms
missing them
washing each other's hair
doing each other's hair
falling asleep with their head in your lap
head scratches
running hands through hair
making a blanket fort
cuddling under blankets
offering the other your coat
caring for them when they're ill
patching up a wound
slow dancing
crying into their shoulder
cheek kisses
reading a book together
shoulder rubs
playing with their hair
secretly dating
being locked in a small space
a height difference
sitting in their lap
100 Prompts of Fluff (Part 1)
(As requested by Anonymous)
1-50:
1. "Hey–what're you hiding behind your back?"
2. "Your smile doesn't just light up a room–it lights up the world."
3. "All I care about is you."
4. "God, your eyes are so gorgeous."
5. "Why are you embarrassed? You're beautiful, don't you see that?"
6. "I told you not to trust me in the kitchen! Now it's going to reek of pasta sauce forever."
7. "Let's just stay here–I don't ever want to move."
8. "Don't you dare give me those sex eyes right now! This is a serious situation, here!"
9. "Can you please go sit in another room or something? I can't concentrate with you around."
10. "Let me in, please."
11. "I had a nightmare . . . can I stay with you tonight?"
12. "God, I'm so glad you're alright."
13. "Please help–there's a spider on the wall outside my room and it won't let me leave."
14. "Dude–why the hell are you in my room?"
15. "Were you watching me sleep? . . . That's kinda creepy. But, you're cute, so I'll forgive you."
16. "Ohmygod, I'm in love with an adult man-child."
17. "I get that you're taller than me, but does that really require you to steal all the blankets? I'm cold."
18. "I wanna cuddle but if I touch you I might not be able to stop."
19. "How did someone like me be lucky enough to end up with someone like you?"
20. "Hey–my eyes are up here, you perv. No, I don't care that we're dating–it's still rude."
21. "Whoever loses this match has to do the dishes."
22. "Ugh, do you ever even try cleaning up after yourself? You're such a slob!"
23. "Why do you always smell so good?"
24. "Uh–why am I wearing your shirt? I think it looks good on me?"
25. "Call me as soon as you get home, okay?"
26. "Hold my hand."
27. "C'mon–I don't bite. Not unless you want me to, that is."
28. "Why are you staring at me like that? It's just a swimsuit, geez."
29. "Uh . . . how long were you standing there?"
30. "Don't judge me–you're the one who sings Disney songs in the shower!"
31. "You make some really cute noises in your sleep, did you know that?"
32. "I heard you say my name in your sleep."
33. "Here, lay down. I'll stay until you feel safe enough for me to go."
34. "Dude–did you really just throw salt at me? I'm not possessed!"
35. "You're too good for me."
36. "Hey–it's okay. I'm here; I'm safe. And fine–see? Everything's alright now."
37. "Ow! What did I do this time?!"
38. "You may be a jerk, but you're my jerk."
39. "Stop wandering off! I keep thinking you've gotten abducted or something. I swear I'll put you on a kiddie leash. Don't tempt me."
40. "It's 4am . . . why the hell are you in the closet with a butcher knife? … Right. Well, no more scary movie marathons for you."
41. "I love you and all, but you're really stretching your luck right now."
42. "Aw, c'mon! It'll be fun; I promise!"
43. "Are you seriously still listening to this song? I was gone for four hours!"
44. "Ohmygod, stop! You're going to make me pee myself!"
45. "I'm sorry I annoy you . . . but at least I'm cute, right?"
46. "Why are you mad at me? You're the one who almost stabbed me! I don't care that I snuck up on you; I almost died!"
47. "That's it–no more Netflix for you."
48. "But it's so cute! … So what if I'm allergic–what does that have to do with anything?"
49. "I will murder you… . Softly. With lots of kisses."
50. "Ack! Dude–your feet are freezing, keep them away from me!"
100 Prompts of Fluff (Part 2)
(As requested by Anonymous)

51-100:
51. "I'll never let anyone hurt you, you understand?"
52. "You really think I'm beautiful?"
53. "Are you jealous? That's cute."
54. "There's only a handful of people in this world that I actually like. You may or may not be one of them."
55. "So–uh, I'm not really good at this, but … I think I like you . . . like you."
56. "You seriously need to stop watching sad dog commercials at 3am. You're an absolute mess; this is ridiculous!"
57. "Hey–don't you sass me! That's my job around here!"
58. "If you don't get away from me with that horrid little creature, I will throat punch you."
59. "You really have to question me? … So what if I lied? That was one time!"
60. "Oh, God. We broke it–dude, he's gonna be so pissed! This is all your fault–it was your idea!"
61. "… Is that my underwear?"
62. "I overall hate the human race, but you aren't too horrible; bearable, at least."
63. "I didn't mean to scare you–I thought you'd like being surprised!"
64. "You're cute, I'll give you that. But not cute enough to get away with that."
65. "Look–I hate to tell you, but you deserve the truth… . Your cooking almost killed me last night."
66. "This is the part where you ask me out and I say yes."
67. "Really? You made me drive all the way back here just to kill a fucking bug?"
68. "We should get matching tattoos–wouldn't that be cute?"
69. "Oh, God. We're one of those couples, aren't we? Ugh–I hate us!"
70. "I got you something! I remember you mentioning it before … I hope you like it."
71. "Shut up and kiss me, you idiot."
72. "I get that you were trying to be romantic, but you nearly burned the house down!"
73. "I may be short, but you could at least try to make kissing you easier!"
74. "I've never felt safer than I do in your arms."
75. "We may be soulmates, but that does not mean you can just waltz in here like you own the place! I could have been naked, or something!"
76. "Oh–this is far from over. I'm going to prank you back so hard you won't even know what hit you!"
77. "Here–can you put sunscreen on my back for me? Don't be weird about it!"
78. "I need you. Please, stay."
79. "Promise me you'll never leave me. I don't care if you have to lie."
80. "Dance with me! C'mon, it'll be fun!"
81. "What? Oh–I'm sorry, does this outfit bother you?"
82. "If you don't start getting undressed I may just rip your shirt in half."
83. "Here–let me show you how to hold that thing before you hurt yourself… Like this, see? It's easy."
84. "I may love you, but I will kick your ass if you tempt me to."
85. "Why are you always right? It's not fair."
86. "I have no idea what you just said, but I could listen to you all day."
87. "What? Sorry–I didn't hear you. I was too busy getting lost in your eyes… Ow! What?! I was just trying to seduce you!"
88. "You know you don't have to try so hard with me, right?"
89. "Relax–it's just me! Not an axe murderer, I promise!"
90. "Did you seriously just climb through my window?"
91. "So, I tried making dinner … keyword there is tried. Let's just say it didn't end well, so we're having takeout tonight."
92. "Yep–no, you're never touching the laundry again. You ruined my favourite sweater and nearly flooded the house. Never again."
93. "Hey–I accidentally cut my hand, I think I need to go to the hospital. Can you drive me? … Why are you looking at me like that? There's not even that much blood!"
94. "I have something to show you; I think you'll like it."
95. "I love you. Never forget that, okay?"
96. "You're so beautiful words can't even do you justice."
97. "I want to spend the rest of my life with you, no matter how short or long that is."
98. "Hey–I'm perfectly average height for my age, thank you very much. You're the one who's freakishly tall!"
99. "I'll catch you–trust me! … So I dropped you one time–we don't have the time to argue about this!"
100. "I won't forget just how big of a douche you were, but I may just be able to find it within myself to forgive you."
Fanfiction Trope MASH-UP
Rules: Send me two (2) tropes from this list + a ship and I'll describe how I'd combine them in the same story.
Historical AU

Royal AU
Modern AU
Coffee Shop AU
Bar/Restaurant AU
Bookshop AU
Florist AU
Hospital AU
Dance AU
Airport/Travel AU
Neighbour AU
Roommate AU
Detective AU
Bodyguard AU
Criminal AU
Prison AU
War AU
Circus AU
Summer Camp AU
Teacher AU
Dystopian AU
Space AU
Performer AU
Soulmate AU
Fairy Tale AU
Massage Fic
Sick/Injured Fic
Proposal Fic
Wedding Fic
Holiday Fic
Birthday Fic
Pregnancy Fic
Baby Fic
Vacation Fic
Bathtub Fic
Text/Letter Fic
Coming Out Fic
Grief Fic
Survival/Wilderness Fic
Almost Kiss
First Kiss
The Big Damn Kiss
Dance of Romance
Flowers of Romance
Chocolate of Romance
Blind Date
Not a Date
Fake Dating
Fake Married
Arranged Marriage
Accidentally Married
Marriage of Convenience
Mutual Pining
Secret Relationship
Established Relationship
Awful First Meeting
Forgotten First Meeting
Accidental Eavesdropping
Interrupted Declaration of Love
Poorly Timed Confession
Love Confession
Love Confessor (Character A confessing their love for Character B to Character C)
Everybody Knows/Mistaken for Couple
Star Crossed Lovers
It's Not You, It's Me
It's Not You, It's My Enemies
Character in Peril
Heroic Sacrifice
Flirting Under Fire
Locked in a Room
Twenty-Four Hours to Live
Stranded on A Desert Island
Stranded Due to Inclement Weather
Huddling for Warmth
Bed Sharing
Did They or Didn't They?
In Vino Veritas
Above the Influence
Anger Born of Worry
Green-Eyed Epiphany
The Missus and the Ex
Second Love
Intimate Artistry
Married to the Job
Innocent Physical Contact
I Didn't Mean to Turn You On
Aroused By Her Voice
Erotic Dreams
First Time
Unexpected Virgin
PWP
Kink
Makeovers
Hair Brushing/Braiding
Sleep Intimacy
Scars
Time Travel
Curses
Magical Accidents
Accidentally Saving the Day
One Hundred Ways to Say 'I Love You'
"Pull over. Let me drive for awhile."
"It reminded me of you."
"No, no, it's my treat."
"Come here. Let me fix it."
"I'll walk you home."
"Have a good day at work."
"I dreamt about you last night."
"Take my seat."
"I saved a piece for you."
"I'm sorry for your loss."
"You can have half."
"Take my jacket, it's cold outside."
"Sorry I'm late."
"Can I have this dance?"
"I made your favourite."
"It's okay. I couldn't sleep anyway."
"Watch your step."
"Here, drink this. You'll feel better."
"Can I hold your hand?"
"You can borrow mine."
"You might like this."
"It's not heavy. I'm stronger than I look."
"I'll wait."
"Just because."
"Look both ways."
"I'm sorry. I didn't mean to."
"Try some."
"Drive safely."
"Well, what do you want to do?"
"One more chapter."
"Don't worry about me."
"It looks good on you."
"Close your eyes and hold out your hands."
"That's okay, I bought two."
"After you."
"We'll figure it out."
"Can I kiss you?"
"I like your laugh."
"Don't cry."
"I made this for you."
"Go back to sleep."
"Is this okay?"
"I picked these for you."
"I'll drive you to the hospital."
"What do you want to watch?"
"You can go first."
"Did you get my letter?"
"I'll do it for you."
"Call me when you get home."
"I think you're beautiful."
"Are you sure?"
"Have fun."
"Sit down, I'll get it."
"I made reservations."
"I don't mind."
"It brings out your eyes."
"There is enough room for both of us."
"You don't have to say anything."
"Wow."
"Happy birthday."
"I'll pick it up after work."
"It can wait until tomorrow."
"Cross my heart and hope to die."
"It's two sugars, right?"
"I'll help you study."
"Stay over."
"I did the dishes."
"You didn't have to ask."
"I bought you a ticket."
"You're warm."
"No reason."
"I'll meet you halfway."
"Take mine."
"We can share."
"I was just thinking about you."
"I want you to have this."
"Call me if you need anything."
"Do you want to come too?"
"I'll still be here when you're ready."
"Is your seatbelt on?"
"Sweet dreams."
"I was in the neighbourhood."
"Stay there. I'm coming to get you."
"The key is under the mat."
"It doesn't bother me."
"You're important too."
"I saved you a seat."
"I'll see you later."
"I noticed."
"You can tell me anything."
"I hope you like it."
"I want you to be happy."
"I believe in you."
"You can do it."
"Good luck."
"I brought you an umbrella."
"I'll pick you up at the airport."
"Take a deep breath."
"Be careful."
And…
100. "I love you."
Smut Prompts
Send me the numbers as a request <3
"Bend over, I'm not kidding."
"Look at me. Now."

"You know I hate it when you do that, right? Keep doing it."
"How did my clothes end up way over there?"
"You know how to make me cum, so do it already.
"Slap my ass again and I'll make you fuck me in that closet."
"I like it when you call me a drunk whore."
"You're wet? I won't believe it til I see it."
"That's what I am, right? Your cock slut?"
"I'm really hard/wet and I'm gonna die if you don't do something about it ASAP."
"Don't hold back, baby."
"I can make you cum harder than that." "Try me."
"Your parents would be royally disappointed if they saw what you have on right now. Even more disappointed at what I'm thinking about doing to you."
"Oh, the things I'd do to that pretty mouth."
"Make it hurt, baby."
"I'm going to die if you don't let me cum."
"Wow, you take cock like it's your day job."
"I've never cried during sex before, but I guess there's a first for everything."
"How about we do something different tonight?"
"You're so fucking sexy when you do that."
"You're a bad girl/boy but I love you so I'll let you get away with it."
"Oh. Keep doing that."
"Don't stop, please don't stop."
"Don't start what you can't finish."
"How many rounds was that? Four? God, we're about to break our own record."
"Just for that, I'm gonna suck your clit 'til you go blind."
"I'm too busy." "I'll be quick, I promise."
"You're going to get us arrested." "Oh, I've always liked the idea of you in handcuffs."
"Not to make things weird, but I thought about you when I came last night."
"There's not enough makeup in the world to cover up this hickey, what did you do to me?"
"You're really bad at hiding how turned on you are."
"You better muffle yourself with a pillow then, because I'm not stopping."
"Try to stay quiet for me. Can you do that?"
"Spread your legs. I want to feel how turned on I made you."
"I want to watch you take off your clothes."
"You're so turned on already? That was fast,"
"Lay back and touch yourself. I want to watch."
"You look so beautiful tied up to my bed,"
"I want you to be rough with me, please leave marks on my skin,"
"Say my name," "Louder,"
"Call me 'Sir' when we're alone like this,"
"No, I'm the one that's supposed to be making you feel good,"
"I love hearing you moan,"
"Sorry, did that hurt?" "No, I'm just a little sore from last night."
"I want to hear you beg for it."
"I'm not wearing any panties,"
"I want to kiss every inch of your body before I fuck you,"
"I don't have the patience to remove your clothes right now,"
"I can't wait until we're alone. There are so many things I want to do to you right now."
"Were you just touching yourself?"
"I love how your body loses control when you cum."
"Spank me,"
"I want to fulfill that fantasy you've always wanted"
"Can you help me with this zipper?"
"Are you trying to turn me on right now? Because it's working."
"I'd hold on to something if I were you."
"It seems you forgot to wear any underwear tonight."
"Wanna taste?"
"You're really going to make me beg for it?"
"Are you going to eye fuck me all night or are you going to do something about it?"
"You're so sexy when you're all hot and bothered."
"Fuck, I love the sounds you make."
"Please… Don't stop."
"Please. I need you. Now."
"Get on your knees."
"This cock isn't gonna suck itself."
"Is there anything you can't do with that tongue?"
"Is that a gun in your pocket or are you just pleased to see me?"
"Oh god, how can you manage to switch from cute to sexy in under a second?"
"I know all of your weaknesses."
"Hm, no panties?"
"You heard me. Take. It. Off."
"If you don't like my teasing then why are you moaning?"
"I'm gonna fuck you so hard that you forget you ever even met that asshole."
"I know for a fact that you can be a hell of a lot louder than that."
"You make a sound and it's game over baby."
"If I have to pull over, you won't be able to walk for the next week."
"Can you feel what you're doing to me?"
"Don't think I'm letting you get away with that, darling."
"The things that I want to do to you, baby."
"Dammit, we made a mess."
"You're going to regret that, sweetheart."
"I want to see those pretty little lips wrapped around my cock."
"I may or may not have left some….marks."
"I think we were a little too loud last night."
"Really? You wanna have sex….here? Now?"
"do you like that? like being in control?"
"Don't make me take you home and punish you."
"You're not going out in that outfit."
"You're more than just a one night stand."
"You want me to give you your book/phone/item back? Make me."
"Are you sure? Once we start, i might not be able to stop."
"You're in trouble now."
"I'm waiting"
"What did you just say?"
"If you interrupt me one more time, so help me god."
"I'm going to put on some clothes before you say anything else."
"Tell me what you want."
"Bite me."
"Could he make you feel as good as i do?"
"You're n-not ,um, w-wearing anything under that, are you..?"
"Are you trying to turn me on or are you really just that oblivious?"
"The only way you're getting off is on my thigh."
"If i have to stop what i'm doing, you won't be able to walk for the next week."
"I haven't even touched you and you're already this wet."
"Were you just masturbating?" "U-uh..no, i was just.." "Want some help?"
"I'm not jealous! it's just…you're mine!"
"If we get caught i'm blaming you."
"We have to be quiet."
"Tell me again."
"You have no idea how much i want you."
"Say it."
"You better shut that pretty little mouth before i put it to work, love."
"How quickly can you cum?"
"Don't ruin the sofa." "Ill just have to cum inside you then."
"I'm not going to touch you unless you beg."
"You cant tease me like that and expect not to be punished."
"You look a bit tied up, want me to come back later?"
"It was so worth the injury though!"
"Your ass is going to be seven different shades of red after that little stunt."
"You know, you always look so much better when I mark you up."
"You look so good with my hand wrapped around your throat."
"If you're going to act like a little brat then I'm going to treat you like a little brat."
"I don't care how good it feels you'd better not cum until I tell you to."
"Look, I'm not into choking but I wouldn't mind if you grabbed me by the neck every once in a while."
"You don't have to be gentle with me, I don't break easily."
"Are you wearing my shirt?"
"You'd better be quiet or everyone's going to know what a naughty little slut you are."
"Did I stutter? Do as you're told!"
"I can't wait to be on my knees for you later."
"Maybe if I punish you it'll help you remember who you belong to next time."
"Do you want it on your back or would you like to be on your stomach?"
"Such a needy little thing, aren't you?"
"You'd better watch your fucking mouth."
"You keep acting like a little brat and I'll take you over my knee right here, I don't care how many people are watching."
"When we get home I'm cuffing you to the bed and going down on you all night until my jaw is sore."
"You look so good on your knees like that."
"Are you going to be good from now on?"
"I wonder what your girlfriend/boyfriend would do if they knew what you were doing right now."
"I bet all our neighbors can hear you, I bet they all know what a dirty little slut you are."
"Open your mouth."
"If you leave the house wearing that then the second you get back home I'm going to bend you over that bed."
"Aww, poor baby, you want me to take care of it for you?"
"Let me show you what happens to little brats who don't follow the rules."
"What's wrong? I thought you liked teasing."
"Aww, is my little princess getting shy?"
"It's okay, honey, you can pull my hair as hard as you want while I'm between your legs."
"I think you forgot to lock the door, that means anyone could walk right in and see you like this."
"Call me selfish, but I don't ever want anyone else to touch you."
See this in the appShow more
Sours: https://listofwritingprompts.tumblr.com/post/619292379280801792/sexy-prompts
Prompts steamy writing
My head was a little dizzy (I generally drink very rarely). I relaxed, and the man seemed even more attractive. We returned to the hotel, and Maxim invited me to have a glass of champagne in his room: - Don't be afraid, let's. The guys are probably still swimming. Let's sit and talk.
4 Writing Prompts For Writer's Block - Writing Advice
This time, Yulia and I, Lena and Slava tried different poses. After a little rest after the second sex and exchanging impressions, we decided to refresh ourselves. When Yulia and Slava went out to change, my Lenka with eyes full of happiness blurted out: Mishenka, what a young man you are.
You will also like:
After me, after 10 minutes, he. Also stuck her in the ass and fucked her long and hard. A few minutes later, the big man took her and put her on her back and for several minutes tried to shove her in. The ass. Tanya writhed in pain but endured.
2204
2205
2206
2207
2208