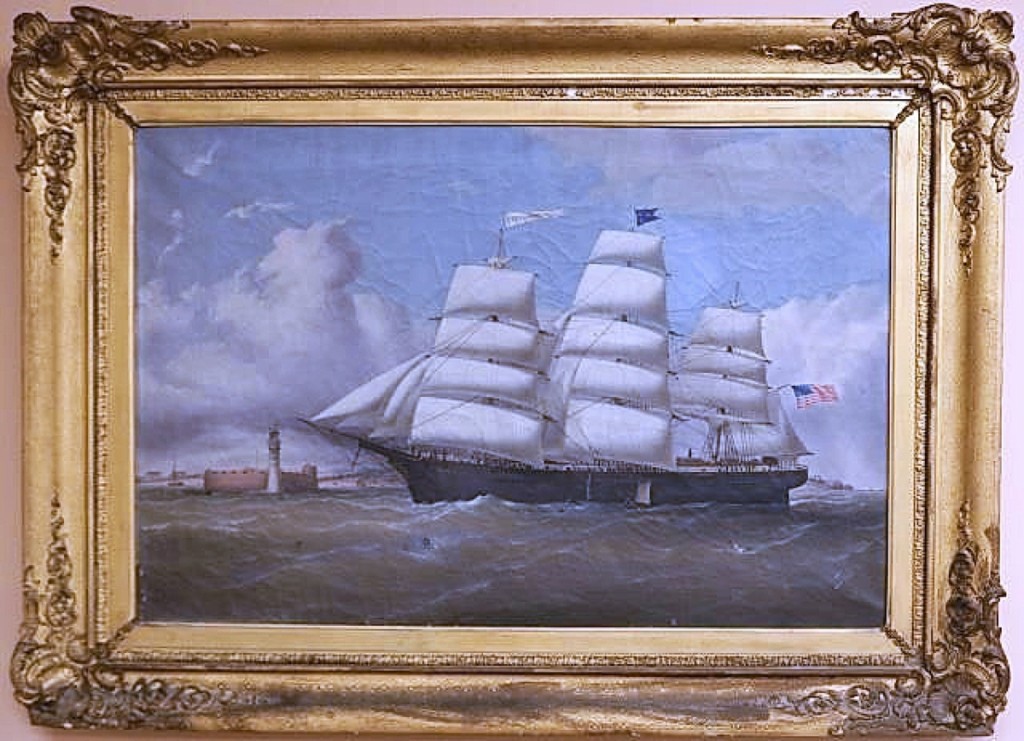 This mid-Nineteenth Century oil painting by Duncan McFarlane depicting the packet ship City of Montreal, was the top lot in the sale, selling for $39,680.
MARION, MASS. – The Marion Antique Auctions' showroom, "Atlantis," lived up to its moniker this past June during the firm's auction. The more than 500 pieces up for sale covered nearly every surface, and the display gave attendees the feeling of stepping into a hidden palace. Unlike its previous sale, this auction boasted lots from a number of different estates, with subject matter and item type varying greatly. Items ranged from the Eighteenth Century to the middle of the Twentieth Century, from furniture to paintings, to jewelry, palace-size rugs to miniature ship models and everything in between.
The auction grossed roughly $650,000 in total, and saw approximately 3,000 bidders across bidding platforms LiveAuctioneers and Invaluable, along with left bids, phone bids and 100 in-gallery attendees.
The lot that brought the highest sum was a mid-Nineteenth Century oil painting by Duncan McFarlane depicting the packet ship City of Montreal, which sold for $39,680. The painting carried with it a weighty provenance, having long resided in the historic Carver home that once belonged to William Savery, a businessman and merchant, as well as a direct descendent of the ship's master, Eli Cooley Bliss. Additionally, the painting came with an original Nineteenth Century carte de visite of Captain Bliss, as well as interesting 1947 correspondence about the painting with a fine arts dealer. The calm waters the painting depict are especially ironic when one considers the near-death experience the captain and crew survived. While carting 500 tons of railroad iron and other general goods, the City of Montreal encountered a terrific gale that ripped apart the canvas sails. However, despite being injured, Bliss survived, as did his crew.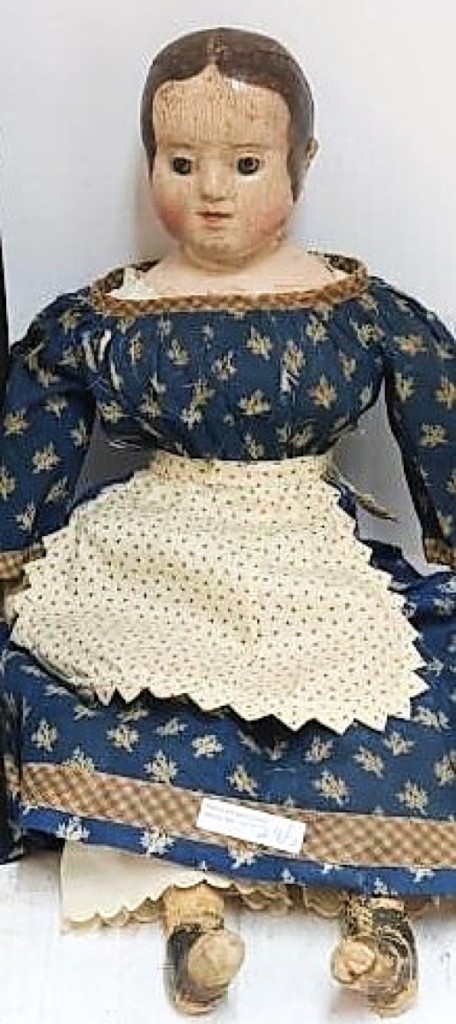 Fetching $26,240 and coming directly from an East Coast private collection was this Izannah Walker doll.
Coming up closely behind the McFarlane was a small oil painting on canvas by Fairhaven artist Charles Henry Gifford. With the actual painting size at just 8¼ by 12 inches, its expertly painted dusky sunset and local Fairhaven skyline looked regal in an elaborate frame. This piece of art brought $33,920, and it seems that pieces with strong ties to New England history took the show at this sale. This fact is evident when the third highest selling lot was itself also produced by an artist once based on the North Eastern coast. A rare mid-Nineteenth Century doll, made by Izannah Walker of Central Falls, R.I., brought $26,240, and came directly from the private collection of one of the East Coast's most experienced collectors of antique dolls. The doll's hair and facial features were hand painted on a stockinet pressed head and showed no repainting. Her tiny ears were intact, as was her indigo roll printed calico dress. Perhaps most endearing was the evidence that she was loved and cared for during her mid-Nineteenth Century heyday, as one of her legs shows an old repair.
Other notable lots included a 3.2-carat diamond and 18K gold ring, which brought $10,625 and came along with many other pieces of gold jewelry from a prominent New Bedford estate. Among the other pieces of jewelry was a large gold spider brooch, set with pave diamonds and ruby eyes. A massive mid-Nineteenth Century painting depicting the three sons of Minor S. and Elmira Lincoln, circa 1834, by Fisher of Boston sold for $5,000. Interestingly, the piece was painted after the youngest child, Charles, passed away, and was completed using his death mask.
"I was extremely pleased with the response to this auction," Frank McNamee said. Many auction houses have been struggling with in-person attendance, but he said he was happy this did not seem to be the case for this sale. "Not only was there a strong interest from local southeastern Massachusetts collectors and dealers, but there was international interest brought to us over the two bidding platforms." McNamee added that "the live audience loved the new facility, which was built in 1914 by Marconi for his wireless communication.
"The future for this auction house is extremely bright," declared McNamee. "Marion Antique Auctions intends to expand its number of sales, as well as our reach throughout New England."
Prices given include the buyer's premium as stated by the auction house. The firm's next auction is scheduled for November 13. For more information, www.marionantiques.com or 508-748-3606.
Sours: https://www.antiquesandthearts.com/marion-antique-auctions-grosses-650000-in-summer-sale/
MARION ANTIQUE SHOP, MARION MA
Welcome to the Marion Antique Shop; one of the oldest and most active shops in New England. We offer a diverse selection of antiques at reasonable prices, including: fine art, glass, sterling, porcelain, books, antique wicker, smalls, lamps, textiles and more. We provide certified appraisal services for insurance purposes, and estate and divorce settlement. We offer complete antique and estate liquidation services. Additionally, we hold two high-end auctions a year. We make every effort to select the right method of liquidation needed for our clients, so that they receive maximum return. Our professional staff provides the highest level of personalized service available today.
___________________________________________________________________________________________________
335 Wareham Rd, PO Box 1147, Marion, MA 02738, Tel. 508-748-3606
OUR SHOP HOURS
Thursday – Saturday 10 am – 5 pm
Sunday 11 am – 5 pm
CLOSED Tuesday and Wednesday
*** If you are unable to properly wear a mask due to illness or disability, we will accommodate you by serving you outside at a safe distance. If this is unclear, or you take issue with our policy, please refer to the Americans with Disabilities Act, Public Accommodations, Title III, 42 USC § 12181, et seq.
To receive notifications of our upcoming sales, please email us at [email protected] and put "add to mailing list" in the subject line.
Sours: http://www.marionantiques.com/
1650s drawing sells for $514,000 at Marion art auction
MARION — Lot 389 at Marion Antique Auction's Oct. 10 auction was a 1652 hand drawing of Dutch Army General and Navy Admiral Maarten Tromp by Dutch painter Jan Lievens. 
Frank McNamee, co-owner of Marion Antique Shop, figured it would sell for $80,000. Well he was off...by $434,000. 
"I knew it was going to fly, but I didn't think it was going to go for that much," he said.
For the Lievens piece, McNamee said there were eight phone lines going: one from London, from New York, from France, two from Amsterdam and one local art dealer. 
The auction itself drew in 5,000 viewers online across three websites and 2,000 participants from over 5 countries.
After a slow move to the final bidding price of $514,000, the piece was sold to an art dealer from the Connecticut/New York area. 
The drawing was a late addition to the sale that came from an Southeastern Massachusetts estate which gave over 100 other items. 
Lievens was a well-known painter and printmaker in the 1600s from the Netherlands. He was famous for his portraits and was a contemporary of Dutch painter Rembrandt, with whom he shared a studio in Amsterdam.
The drawing of the prominent general was only signed with a feint "IL." McNamee thought it looked like a Rembrandt piece, but couldn't figure it out.
When he saw the signature, McNamee had the sense "it was more significant."
So he made the push to highlight it in international ads for the auction. Once collectors and dealers started picking up on it, "the phone started ringing and I knew." 
Covid regulations only allowed 25 people in the Marion Music Hall. Eight were bidders, and the other 17 were workers who helped bring in and out the 500 pieces that were sold in the auction. The cancellation of a June auction led Marion Antiques to sell many more pieces than they normally would.
In the nine years that Marion Antiques has been running auctions, McNamee said it's the high individual item sold. 
Prior to the Lievens drawing, the title belonged to a $300,000 original manuscript for Edgar Allen Poe's "The Conqueror Worm," the last poem Poe wrote before his death. 
Other notable sales from the auction included an early 19th century inlaid ebony and whalebone for $10,000, an early 20th century hammered silver and enamel box for $8,000 and an assortment of John F. Kennedy memorabilia for $950.
"It was a good result even without the major piece," McNamee said.
Sours: https://sippican.theweektoday.com/article/1650s-drawing-sells-514000-marion-art-auction/50149
Marion Antique Auctions
1. All items are sold as is, where is, with all faults. There are no warranties or representations of merchantability, of fitness, nor of any other kind, express or implied. All items are available for your examination prior to bidding. Your bidding will signify that you have examined the items as fully as you desire to or that you have chosen not to examine them. Written and oral descriptions are our opinions and should in no way be construed as a guarantee of any kind as to age, condition, materials or any other feature of items being sold. Our goal is to provide prospective bidders with accurate and detailed information. We recommend prospective bidders examine all items in which they have an interest. If you require absolute certainty in all areas of authenticity, and the results of your evaluation leave uncertainty in your mind, we recommend you not bid on the item in question. We do not give refunds. All sales are final. No statement written or oral made by the auctioneer shall be deemed a warranty or assumption of liability by Marion Antique Auctions or by any seller represented by Marion Antique Auctions.
2. Once we declare that an item is sold, we cannot reopen the bidding. It is the bidder's responsibility to get our attention prior to our saying sold. If we are missing your bid, please get our attention before we say "sold". We reserve the right to reject any bids deemed inappropriate. If an item is withdrawn from the auction it will be offered again only at the auctioneer's discretion.
3. Payment must be made by cash, approved check, MasterCard, Visa, Discover, American Express or wire transfer within 15 days. If items are not paid for with 15 days, the sale may be cancelled. We reserve the right to require certified bank checks for large purchases. Marion Antique Shop reserves the right to withhold merchandise paid for by check until the check clears our bank. We do not accept checks or credit cards from other countries. Payment must be made by wire transfers.
4. We do not offer credit. Payment for all purchases is expected at time of purchase.
5. We are pleased to offer absentee bidding for prospective bidders who cannot be present at the auction. Absentee bids left with us are executed competitively and confidentially. In the case of identical bids left with us, the bid received first will prevail. Absentee bids or bids left online are not executed until the item goes up in the live auction and the order in which they are received is not a factor.
6. Purchaser agrees that packing and shipping shall be at the purchaser's expense and payment for same will be made directly to the shipper. We do not provide in-house shipping but we recommend Qwik Pack & Ship for most items. Please be advised shipping could take 30 days or more. Marion Antique Shop shall have no liability for any loss or damage to shipped items.
7. Sales Tax: All purchases are subject to Massachusetts sales tax (6.25%) unless the purchaser possesses a Massachusetts sales tax exemption or resale number and registers that number with us, OR is an out-of-state vendor who meets all the requirements of Massachusetts Department of Revenue GLC 64H (5) and Directive 89-10 and registers with us prior to each purchase, OR has purchases shipped out of state directly from us by a bona fide shipping agent.
Also, due to the 2018 U.S. Supreme Court ruling in South Dakota v. Wayfair, residents of other states may be required to pay their state sales tax on purchases as we meet each state's nexus requirements. Dealers, museums, etc., can apply for a Massachusetts number prior to the auction by contacting the Massachusetts Department of Corporations and Taxation. Please click the link
8. Bidding on an item indicates your understanding and acceptance of these Terms of Sale. If a purchaser breaches any of these Terms of Sale, including the obligation to pay for purchased items, Marion Antique Auctions may seek all remedies under the law including canceling the sale and re-offering the property without reserve.
9. A Buyer's Premium will be added to the Hammer Price of each lot: the Buyer's Premium for non-internet bidders is 23%. For online bidding a buyer's premium of 28% will be added to the Hammer Price. MasterCard, VISA, Discover and American Express accepted. Bidders holding a valid Massachusetts or out-of-state resale number, must provide their certificate or a copy thereof when registering or they will be required to pay Sales Tax on purchases.
10. Marion Antique Shop reserves the right to charge a storage fee of $5.00 per day, per item for purchased items not picked up from our auction facility within ten business days of the auction and $10 per day after thirty days. Items not claimed after a period of 1 (ONE) year will be rendered forfeit, please make arrangements.
11. All electronic and mechanical devices are sold "as is" with no guarantee that they are in working condition.
12. Bidders outside of the U.S. must inquire about shipping before they register.
13. Bidders from outside the U.S. must provide a valid credit card to register.
14. All dimensions and weights given are considered approximate.
15. Purchases must be paid within 15 days or they become subject to cancellation. Disputes with applicable bidding service will be filed in the event of nonpayment.
16. Gold, coins and jewelry- shipping is subject to a 2 (two) week waiting period for credit card or check payments received from bidders without substantial bidding history. Gold, coins and jewelry will be shipped only to the address matching the credit card used for payment. Feel free to bid even if you do not have an established bidding history, just be aware that shipping will require payment verification.
17. Per federal and international regulations, items made with whale bone, ivory and other protected species will not be shipped internationally without a cites and other necessary permits. Obtaining these permits is the exclusive obligation of the buyer. Items made with these materials, which are less than 100 years old, may only be purchased by a Massachusetts resident and cannot be shipped out of state.
Sours: https://marionantiqueauctions.com/
Auctions marion antique
Marion Antique Auctions
Online: Sat., Oct. 10th at 10 am
Accepting absentee bids and phone bids
Limited viewing by appointment: Friday 10 am to 6 pm
Location: Music Hall, 164 Front St., Marion, MA
Featuring the painting collection of Roger King Fine Arts, one of Newport's most respected art dealers, items from estate of famous explorer & treasure hunter Sir Robert Marx, items from estate of interior design/antique dealer Michael Chellel & other interesting items from Southeastern Mass. estates.
Paintings & miniature portraits, American furniture, whaling era instruments & charts, sailor's valentines, guns & swords, erotica, early quilts, silver, jewelry, rare books & documents, Oriental rugs, Pairpoint lamps, Victorian lighting & much more. Over 500 lots, mostly unreserved.
---
Marion Antique Auctions
Entire online catalog: marionantiqueauctions.com
Accepting absentee bids and phone bids
Live bidding: liveauctioneers.com, invaluable.com & bidsquare.com
Frank McNamee, Manager
C. David Glynn, Auctioneer
MA lic#583
tel. 508-748-3606 or 508-498-7136
Sours: https://www.maineantiquedigest.com/launch/shows_and_auctions/3482/description
145 Incredible Things Caught On Camera. Best of August
With you I experienced orgasm after orgasm. Oh god, what's wrong with me. The panties are wet. The hand involuntarily reached down.
You will also like:
She also finished, then sticking out my penis I saw sperm flowing from her vagina. I'll go and wash the boys, I'll be back in 10 minutes, wait. My friend and I silently lay down on the bed.
1041
1042
1043
1044
1045