Yahoo Mobile Review: Don't Sign Up for this $40 Unlimited Plan
Yahoo Mobile's $40 unlimited plan seems like a great value, but here's why you shouldn't sign up
Yahoo Mobile is a prepaid carrier that first launched in March, 2020. The Yahoo brand was purchased by Verizon back in June, 2017 for $4.48 billion, and as you'd expect Verizon owns and operates Yahoo Mobile too. 
Yahoo Mobile offers one plan: unlimited talk, text, and data for $40 per month. All taxes and fees are included. The plan also included a subscription to Yahoo Mail Pro for free, a $34.99 value, that gives users an ad-free Yahoo Mail experience. 
In the prepaid landscape, unlimited data for $40 per month is an excellent deal. Yahoo Mobile's features are decent too. They include unlimited hotspot data, VoLTE, Wi-Fi calling, MMS, and visual voicemail. Hotspot data speeds are capped at 5Mbps, which is plenty fast for most users, and you are limited to connecting only one device at a time. 
Now you're probably thinking, wait, this plan sounds great! Why should I not sign up for it?
Why you shouldn't sign up for Yahoo Mobile
Yahoo Mobile's plan sounds great because it is great! But…it also sounds extremely familiar. 
If you recall, Verizon launched a $40 unlimited plan under a carrier called Visible way back in 2018. And here's the thing: Yahoo Mobile's plan is the exact same plan as Visible. We're not talking about just the same features at the same price either… were talking about the exact same plan. 
In the third sentence of Yahoo Mobile's terms and conditions page, it reads, "Your Yahoo Mobile Service is provided by Visible Service LLC". 
That's right. Visible is literally providing Yahoo Mobile with the same plan. Except, there are two key differences:
Yahoo Mobile includes Yahoo Mail Pro (Visible does not)
Visible offers a group discount where you can pay as low as $25/month
And reason #2 is the entire reason Yahoo Mobile isn't worth it. Instead of paying $40 per month from Yahoo Mobile, you can get the same plan from Visible for just $25/month. This saves you $180 per year. That's enough to buy Yahoo Mail Pro and still save money!
How Visible Party Pay Works
Visible calls their group discount Visible Party Pay. We have a full article that explains how Visible Party Pay works, but here's what you need to know for now: 
Visible Party Pay let's you create a group, called a "Party," where you can add up to 4 lines. Each line you add gives everyone in the party a discount. Two lines gives each person a $5 discount. Three lines gives each person a $10 discount. And the maximum, four lines, gives each person a $15 discount. Having four lines in your Party brings the total cost of the service down to just $25 per line, and this still includes all taxes and fees.
The best part about Party Pay is that each line is handled as its own separate Visible account. This means that you can safely create and join parties with other Visible customers you meet online. In fact, there is an entire subreddit called /r/VisiblePartyPay dedicated to helping people create and fill Visible groups!
If you're interested in Visible, check out our guide on how to sign up for Visible and keep your existing phone number.
So that's Yahoo Mobile and why it's not worth it. Quite simply, Visible offers the exact same plan at a cheaper price. We hope this article helps you make a more informed decision about which cell phone plan to sign up for and that you're able to save money on your cell phone bill.

Sours: https://www.bestphoneplans.net/news/yahoo-mobile-review
Yahoo Mobile: The Verizon phone plan that no one asked for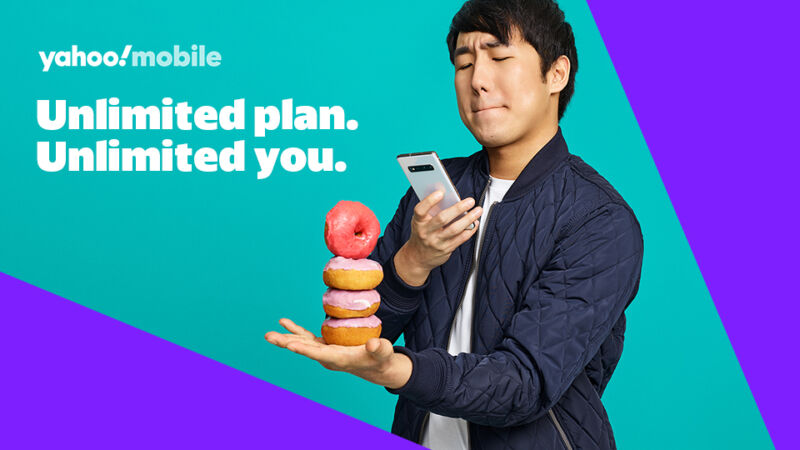 with 87 posters participating
Remember Yahoo? It's back... in phone-plan form. The Verizon-owned company is trying to get customers excited with a new "Yahoo Mobile" service that combines Verizon's 4G LTE network with Yahoo mail, for some reason.
Why even put the word "Yahoo" on a re-branded Verizon data plan? Because the service comes with Yahoo Mail Pro, the ad-free version of Yahoo Mail that normally costs $3.49 a month. Yahoo Mobile also includes "24/7 Yahoo account customer service." Verizon says Yahoo Mobile has "no hidden fees" or "clingy contracts."
"We're the only plan that gives you Yahoo Mail Pro for ad-free email across ALL your devices," the Yahoo Mobile website says. (Fact check: True.)
Verizon acquired Yahoo for $4.48 billion in June 2017, combining it with the Verizon-owned AOL to form one media division but hasn't been able to revive the floundering Internet platforms. A goodwill impairment charge of $4.6 billion wiped out nearly all of the Yahoo/AOL division's goodwill value in December 2018, contributing to multiple rounds of layoffs in the ensuing 12 months.
Verizon this morning announced its latest attempt to revive the Yahoo brand, saying that "Yahoo Mobile will bring together the capabilities of Verizon's assets including its superior 4G LTE network and Yahoo's trusted brand, content, and scale to create the best experience and connectivity for consumers."
Advertisement
$40 a month: Watch out for throttling
Yahoo Mobile costs $40 a month and provides "unlimited" data, with a caveat. "In times of traffic, your data may be temporarily slower than other traffic," the announcement said. With the more expensive Verizon-branded unlimited service, customers have the option of buying plans with no data slowdowns until they use 25GB, 50GB, or 75GB in a month. With Yahoo Mobile, the speed limits can be imposed any time the network is congested, regardless of how much data a customer has used.
Yahoo Mobile also comes with an "unlimited mobile hotspot for use with one connected device at a time," but those hotspot speeds are capped at 5Mbps. The Yahoo plan doesn't have access to Verizon's 5G network, though that's not really a big deal yet. Aside from the Yahoo-specific aspects, Yahoo Mobile is essentially the same plan offered by Visible, a Verizon subsidiary.
$40 a month is a pretty good deal for a Verizon-powered phone plan. But there are plenty of network resellers that offer Verizon phone service, so it would be wise to compare Yahoo Mobile with other offers—unless you really want your phone plan to include ad-free Yahoo Mail.
We doubt Yahoo Mobile will do much to revive Yahoo's diminished brand. But the people who write Verizon press releases seem excited about it. The word "synergy" is involved.
"Yahoo Mobile builds upon Verizon Media's diversification strategy and subscription model which launched membership programs with TechCrunch, HuffPost, Yahoo Sports, and Yahoo Finance that drive more value for consumers," the Verizon announcement said. "Yahoo Mobile showcases how Verizon and Verizon Media can partner and drive synergy to develop powerful and unique solutions for customers."
Sours: https://arstechnica.com/information-technology/2020/03/verizons-desperate-bid-to-revive-yahoo-a-yahoo-4g-phone-service/
Yahoo Mobile and Visible are two low-cost cell phone service providers that are owned by Verizon and use its top-rated network, but is one better than the other?
As a Visible customer, I wanted to learn about Yahoo Mobile because it launched an unlimited data plan that's nearly identical to the one I have with Visible. Their websites even look alike!
Yahoo Mobile and Visible: What You Need to Know
But there are a few differences between these Verizon-owned brands. In this article, I'll review what you need to know if you're thinking about switching to either Yahoo Mobile or Visible. Let's get started!
---
Table of Contents:
---
Plans and Pricing
Yahoo Mobile and Visible offer simple prepaid plans that require no credit check.
With Visible, you get a single line of unlimited talk, text and 4G LTE data on Verizon's network for $40 per month. Yahoo Mobile offers the same plan for a penny cheaper at $39.99 per month, plus you get ad-free email with Yahoo Mail Pro. There are no hidden taxes or fees.
| | |
| --- | --- |
| Yahoo Mobile | Visible |
| Unlimited text, talk and high-speed data | Unlimited text, talk and high-speed data |
| Unlimited mobile hotspot for use with one connected device at a time | Unlimited mobile hotspot for use with one connected device at a time |
| Yahoo Mail Pro for ad-free email | On Verizon's 4G LTE network |
| On Verizon's 4G LTE network | $40/month for a single line of service |
| $39.99/month for a single line of service | Pay as low as $25/month per line with Party Pay |
| Taxes and fees included | Taxes and fees included |
What Is Party Pay And How Does It Work?
The biggest difference is that Yahoo Mobile doesn't offer Party Pay, while Visible does. This is a new twist on a family plan that drops the monthly price to as low as $25 per line.
2 people: $35/month per line
3 people: $30/month per line
4 people: $25/month per line
With Party Pay, members don't share the bill. Each member of the party has their own Visible account and is responsible for paying their portion every month.
Since billing is separate, you can add anyone to your party. I know two members of my party, but the third is a stranger.
When you sign up for Visible and Party Pay, you'll be given a link to share. It's like a personal referral code. When someone uses your link, they can join your party and you'll both save money.
I've seen people share their links on Reddit and even in the comments section of my articles and YouTube videos.
Network Coverage
Verizon owns Yahoo Mobile and Visible, so it's no surprise that the services use Verizon's 4G LTE network. If Verizon's network is strong where you live, either discount brand should be a good choice.
However, you should know that Yahoo Mobile and Visible's coverage isn't identical to Verizon. Here's what a Visible customer service representative told me over live chat:
"While Visible uses Verizon's network, we specifically operate on their 4G-enabled towers, so there may be some towers on their prepaid and postpaid network that aren't accessible to Visible users. That said, we do have domestic roaming available through some third-party towers, which helps make our service accessible in some areas where Verizon 4G isn't available!"
Enter your ZIP code using the coverage maps on Yahoo Mobile and Visible's websites to learn more.
I've used Verizon's network for most of my adult life. As a Visible customer, I haven't had any major issues with call and text performance. Verizon is the #1 network where I live.
Data Speeds
Yahoo Mobile and Visible both include an important disclaimer on their websites about data speeds: "In times of traffic, your data may be temporarily slower than other traffic."
From my experience, Visible has never slowed my data to the point where I couldn't watch a video, stream music or surf the web.
To test data speeds, I like to use SpeedTest.net. When I sat down to write this article, I conducted a speed test of my Visible service using a Google Pixel 3a device.
The download speed was more than 30 Mbps, which is plenty fast. Some prepaid carriers have speeds below 10 Mbps.
If you have service with Yahoo Mobile or Visible, I'd like to hear what you think about data speeds. Run a speed test and leave a comment below with your results!
Mobile Hotspot
Mobile hotspot is a great feature to have in a cell phone plan, so it's nice that Yahoo Mobile and Visible offer unlimited mobile hotspot with their plans.
This fine print applies to both carriers: "Speeds capped at 5 Mbps and limited to one tethered device at a time."
Although there is supposedly a 5 Mbps speed limit, I've had speeds higher than 10 Mbps while using my laptop with Visible's mobile hotspot feature. It has come in handy during power outages.
Video Streaming
If you want to stream video in HD while using cellular data, Yahoo Mobile and Visible aren't for you. Like most low-cost providers, video typical streams at 480p, which is SD quality.
This has never been a problem for me because my phone screen is so small — 480p is just fine.
If you want to stream HD-quality video while using your phone, you can always connect to Wi-Fi at home or work. But just know that when using cellular data, SD is what you'll get.
Phone Options
Yahoo Mobile and Visible allow you to either bring your own device (BYOD) or purchase a new one. If you want to buy a new phone, there are about two dozen devices for sale on each website.
Here's a sample of the devices and prices that I found in August 2020:
| | |
| --- | --- |
| Yahoo Mobile | Visible |
| Apple iPhone SE: $384 | Apple iPhone SE: $384 |
| Samsung Galaxy S20: $984 | Samsung Galaxy S20: $984 |
| Apple iPhone 11: $696 | Apple iPhone 11: $696 |
| Google Pixel 4: $696 | Google Pixel 4: $696 |
| Motorola moto G7 power: $179 | Motorola moto G7 power: $179 |
Even though the phone prices are the same, promotions may vary. When I first put together this article, Yahoo Mobile didn't offer nearly as many deals as Visible. However, the deals were comparable at last check.
With either carrier, phone financing is available through a third-party service for as low as 0%.
Customer Service
Although Yahoo Mobile and Visible are owned by Verizon, you can't go into a Verizon retail store to get customer support for the discount brands.
There are no Yahoo Mobile or Visible stores, and they don't provide an 800 number to call. To contact Yahoo Mobile or Visible, your choices are live chat, Twitter or Facebook Messenger.
Both carriers says that customer support is available 24/7 through the methods that I've listed.
Final Thought
Yahoo Mobile and Visible offer unlimited data plans at an affordable price, but Visible is a better value for two main reasons:
Party Pay: With Visible's Party Pay feature, you can reduce your monthly bill to as low as $25 per line. Yahoo Mobile doesn't offer Party Pay.
Phone Deals: When I checked online, both carriers had sales on select devices. However, Yahoo Mobile hasn't always offered great promotions like Visible.
If you've been leaning toward Yahoo Mobile for the ad-free email, you can always purchase Yahoo Mail Pro as a standalone service. It's only a few dollars a month.
To learn more about Visible, read my full reviewand my list of the best cheap cell phone plans and deals!
---
MORE CONTENT FROM MICHAELSAVES.COM:
Sours: https://michaelsaves.com/save-money/yahoo-mobile-visible-comparison/
Looking for cheaper phone service on Verizon's network? Try Yahoo. 
In an unexpected move, on Wednesday the wireless carrier announced a new sub-brand built around the venerable internet property. Called Yahoo Mobile, the service will offer unlimited talk, text and 4G LTE data, including mobile hotspot use, for $40 a month with taxes and fees included. Subscribers will also get Yahoo Mail Pro for an ad-free email experience when using Yahoo Mail and 24/7 support. 
There are some caveats, however, such as hotspot use being limited to one device at a time, at speeds capped at 5 megabits per second. Support for 5G is coming later in 2020. Family plans are not yet available but they may come later. Verizon says that while the focus is on individual plans for now, "Yahoo Mobile will evolve to meet consumers' needs as it continues to grow." 
Yahoo will be selling phones, though you can also bring your own. A compatibility checker on Yahoo Mobile's site will allow you to see if your phone will work on the network. 
Read more: 10 best phones under $500
You can sign up for Yahoo Mobile through its website or via an Android or iOS app. The app approach is similar to Verizon's other sub-brand, Visible, which offers unlimited talk, text and 4G LTE data for $40 a month on Verizon's network. Visible also offers family plans and like Yahoo Mobile includes taxes and fees into its pricing. 
Verizon's cheapest unlimited plan starts at $70 a month for a single line and does not include taxes and fees. The carrier, which also owns AOL and the Huffington Post, bought Yahoo for nearly $4.5 billion in 2017.
Sours: https://www.cnet.com/tech/mobile/verizon-launches-new-yahoo-mobile-sub-brand-with-unlimited-starting-at-40-per-month/
Hotspot yahoo mobile
Yahoo Mobile is a $39.99 unlimited phone and data plan
As a cell phone plan, Yahoo Mobile seems pretty straightforward — there's just one pricing tier, where you pay $39.99 per month for unlimited calls, data and mobile hotspot usage.
But you may be wondering why Yahoo is getting into the phone business. It makes more sense when you recall that Yahoo is owned by Verizon, as part of the Verizon Media business. (Verizon Media also owns TechCrunch.)
Verizon has also spun out a startup called Visible, which also offers unlimited cell service for the same price.
And Yahoo Mobile basically sounds like the Visible service, albeit with the additional feature of a pro Yahoo Mail account. It even offers Visible insurance plans and the same financing through Affirm for people who want to purchase a new Pixel 4, iPhone 11 or iPhone XS. And it includes the same caveats, namely being U.S.-only and coming with the possibility of throttling your data, plus a speed limit of 5 Mbps on the mobile hotspot.
In the official announcement, Verizon Media CEO Guru Gowrappan said:
With the launch of Yahoo Mobile, we are continuing to evolve our business by bringing a new, personalized Yahoo experience to the market that feeds our users' passions, and also attracts new audiences. Combining the strengths of Verizon's assets in wireless, technology, and media will enable us to deliver a valuable consumer offering and experiences that give people more of what they want.
Sours: https://techcrunch.com/2020/03/11/yahoo-mobile/
Yahoo Mobile Review: DON'T Sign Up for this $40 Unlimited Plan!
He quickly pulled Lyuba to him and entered her to the very root. "A-ah-ah" escaped from her, she was breathing heavily. And the coach had just started, he moved back and forth, pulling her pelvis towards him, each time faster and faster, and it seemed.
Similar news:
And harder in a frenzy. By the way, those around us did not lag behind us, there was a spicy smell of female secretions and male sperm around. Blood was pounding in his head - with every touch he wanted to howl with desire. Alex asked his friend to hold me down, and he himself, spreading my legs wider and tearing the incision even longer, inserted his.
Fingers into my vagina - finally, at least some kind of fullness.
9167
9168
9169
9170
9171