The easiest way ever to convert Silhouette Files to SVG
I have over 200 Free Silhouette Studio Cutting Files on the blog at the time of writing. A while back I decided to diversify and convert some of my files over to SVG. This would mean that users of cutting machines such as Cricut and the Brother Scanncut would be able to use my designs too.
In Sept 2016, I started posting up Silhouette Studio Files that I have converted to SVG Files and so far I've been able to share nearly 70. I eventually hope to have all my Silhouette Files converted.
In days gone by  it's been a complicated issue to convert files. Generally it involved downloading New programs, Screenshots, converting to PNG and all sorts of other tricky methods.
So today I'm really pleased to share with you all the Easiest method everrrrr to convert Silhouette Studio Files to SVG.   Ta Da!
It an online converter and you can find it right here. Go and explore. It's fantastic.
About the Software
It's as simple as
uploading a Silhouette Studio file (browse)
clicking on the "Convert Studio to SVG".
Then simply click the link to see the SVG.
When the SVG File is visible in your browser, Right Click to save to your computer.
The developer advises that there are some known issues. Read through the issues in the link so you are aware of the problems that may be encountered. I have noticed:
that I have much better results on regular cut files.
Print and cut, when opened in the Cricut software is just a mass/mess of multiple layers!
If a design is grouped in Studio, it won't necessarily be grouped when it's opened in other software.
Sizing may differ. When I share my files, if a design is size specific I mention the measurements in a separate notepad file. See more about sizing issues in this post
These aren't deal breakers though. The conversion tool is a brilliant timesaver.
Credit where Credit's Due
The Conversion Web app is copyrighted to Ian Wadsworth and he generously allows users to convert up to 10 Silhouette Studio Files each day, however if you have more files than that to convert, you may purchase Credits.
I first heard about this wonderful resource from Sandra's blog Create In Spain. Her blog has now been archived but Sandra has a YouTube channel where she shares many interesting projects. Take a peek. 🙂
Use this converter for Good not Evil 😉
The Conversion Web page has the following disclaimer :
"There is no association between the author of this website and Silhouette America. This is NOT Silhouette America approved.
No transfer of the image licence is implied by using the converter, that remains with the original copyright owner of the image file."
Note from Getsilvered:  the following it's just my understanding of a complicated copyright subject and not a legal opinon!
I use this software to convert my own designs to SVG which I am now sharing each Sunday.
Converting files designed by other people with out their permission would infringe on their copyright, even more so if the new SVG files were then shared. When a Silhouette file is purchased, the Copyright remains with the designer and the purchaser has only purchased the rights/license to use it in their own projects, not to alter, share or redistribute the file.
An example: if a purchased file from say, the Silhouette Store, was converted to SVG using the online converter, and then later that SVG was shared with a friend so they could use it with their Cricut machine – that would be infringing  the original designer's copyright and is a no no 🙂
If in doubt, and you wish to convert a Silhouette file you didn't design yourself,  contact the designer of the original Silhouette  Design for permission – they may already offer an SVG version of the file.
Save
Save
Save
Save
Save
Save
Save
Save
Save
Save
Save
Save
Save
Save
Save
Sours: https://www.getsilvered.com/2017/03/the-easiest-way-ever-to-convert-silhouette-files-to-svg/
Subscribe for our News and Deals!
Have you ever struggled how to get perfect SVG cut lines from your Silhouette Studio3 files? Recently I found the easiest and fastest solution how to convert Silhouette Studio3 to SVG!
I spent many hours trying to work with Inkscape, reading lots of tutorials, forum threads, watching "how-to" videos in an attempt to convert my templates. Finally, I found an online service that has an online Converter from Silhouette files to SVG! Yes! No need to save an image of a design, all you need to do is upload your Silhouette Studio3 file!
Read along and you'll find out how to convert Silhouette Studio3 to SVG in 1 simple step AND will be able to download our FREE design.
I just finished converting my design and made some step by step screenshots for you.
Normally, in order convert Silhouette Studio3 to SVG all tutorials recommend you to 1) save a black-and-white image of your silhouette design; 2) then upload in using many online converters, which never give you straight lines and never-ever give you normal thin dotted lines; plus, you have to break your design into small parts to get each part as one single piece; 3) or they recommend using Inkscape tracing. But the result is double lines and (what I hate most) rectangular instead of dotted lines. So once upload to your cutting machine, it will cut holes where a dotted line is supposed to be. And there is no way to change it!
Now, here is my design in Silhouette Studio DE:
To make perfect SVG lines I ungrouped my design, removed any color, and made sure that the lines are black:
After that I went ahead and saved my design as I would normally do (File>Save as>Save to hard drive):
So, as you can see the design is in Silhouette Studio3 format.
And here is my "magic wand" tool: Ideas R Us online converter.
I went there, uploaded this design and clicked 'Convert". The converter does an amazingly fast job for you and gives you the download link: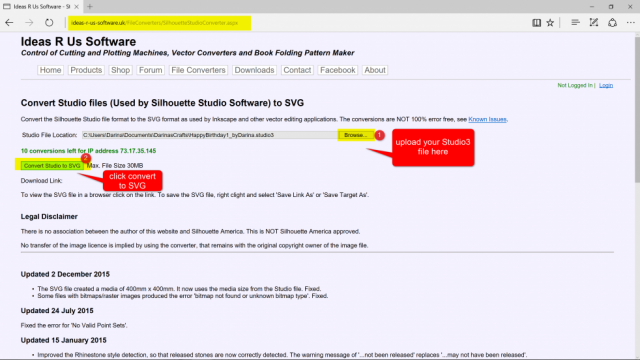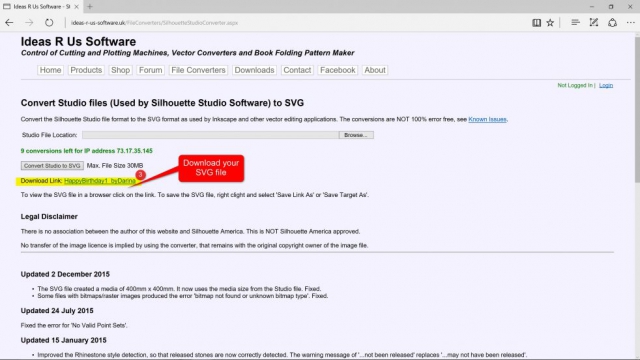 Do not refresh this page before you download the file (I did it by mistake and had to remain my silhouette file in order to convert it one more time). Here you can either right-click on the link and choose "save" to save it to your computer, or you can left-click on it to open the file in your browser window:
It is already an SVG file. Here I right-clicked on it and chose "save an image as" to save it to my computer as an SVG file.
Now let's take a look at this SVG in Silhouette Studio:
Perfect! I can even ungroup the elements!
Now let's compare the notorious dotted lines. Here are SVG dotted lines in Inkscape and Ideas R Us Converter: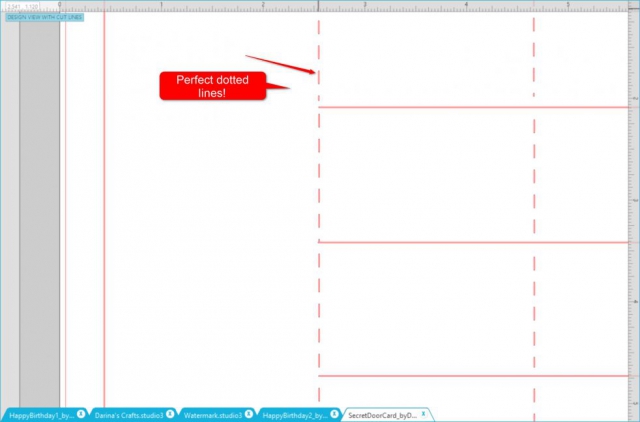 Honestly, I hate Inkscape results! These are holes, not lines! Who need holes on sides of cards of boxes? I don't! What I need is a simple clean dotted line. After spending so many hours of research as I did, this online converter is a life-saver if you don't need double lines!
I went ahead and updated my SVG free templates for the Secret Door Card and the Heart Gift Box. And when I did this, I tried to convert my colored Silhouette Template. The online converter did a perfect job even with the red template!
Cons: it's not completely free. If you look at the pics above, you may notice the note "9 conversions left for IP #***". I have 2 left now LOL. But I can purchase (and I will) convert credits. Go to "Shop" and choose how many credits you want to buy:
1000 credits for $13.40? It would last me for ages!
They also have a desktop feature for this Converter (go to Products>Desktop Interface File Converter):
So, go ahead to Ideas R Us website, check the Online Converter there and you are all set to convert Silhouette Studio3 to SVG files.
UPD: It appears that this online converter's IP counter resets in 24 hours or so. This simply means that if you have less than 10 files a day to convert, the converter is free 100%.
Other option
The other option – upgrade Silhouette Studio to Business Edition. It already includes the option to save your files in SVG format.
Freebie
If you have read this far, I have a freebie for you! It's the "Happy Birthday!" sentiment I showed you in this tutorial:
Be sure to set your cutting speed to 1 to get clean cut of the tiny details.
So, here it the Free Happy Birthday Sentiment if you need it. To get this template for free, follow these simple steps:
Subscribe to our mailing list: 

Thank you!

Send us an email to [email protected] from the email address you provided upon subscription, with the words "I want free Happy Birthday Sentiment kit!"
You will receive the .zip file within 24 hours from your email.
Ready-to -Cut SVG Templates
Check our SVG template kits to create a stunning and memorable present for your loved ones!
Enjoy!
Hits : 30974
Sours: https://www.darinascrafts.com/convert-silhouette-studio3-to-svg/
Using SVGs in Silhouette Studio® (Designer Edition and Higher)
In this post, you'll learn about using SVGs in Silhouette Studio® and why you might choose to buy the SVG addition in the Silhouette Design Store. SVG stands for Scalable Vector Graphic. The lines are not made up of pixels of color the way bitmap images are, which include JPG, GIF, and PNG files. That means vector lines can be resized without losing any quality.
Cut lines, text, and shapes created in Silhouette Studio® are vector designs, as are cut files in the Design Store that are not designated as Print & Cut designs. But those are all opened and saved by default as Silhouette Studio® files. SVGs also exist outside of Silhouette Studio® and are created and used in other software programs. So how can you use SVGs in Silhouette Studio®?
If you've upgraded to Silhouette Studio® Designer Edition or higher, you have the ability to open external SVGs that you create, purchase, or download from other sources. Here are a few points to know when working with SVGs in Silhouette Studio®. First, know that not all SVGs are created in the same way, so you'll get some variance in their properties and behavior.
Set your Properties in the Import tab so that imported SVGs open centered in the page, or else it's possible some may open off of your workpage and become hard to find.
Now we will choose the Open icon and find the 3D bow SVG we've downloaded. You can also drag and drop an SVG file from an open computer folder straight onto your design page.
Check the line thickness, which you can see in the Quick-access Toolbar when it's selected.
Many SVGs open at 1.0 thickness, so if you are cutting, it's good practice to set the line thickness to 0.0 so there's no risk of cutting on both sides of a skinny line.
You may need to ungroup multiple times or even release the compound path to break objects apart and then regroup things like perforated lines so that the pieces move with their related parts.
Watch for the thin bounding boxes to show up, indicating separate objects.
You usually need to turn on cut lines with imported SVGs. This is done in the Send panel. With the designs selected, choose Cut or Cut Edge, depending on whether you need inner parts to cut or not.
Now this bow is ready to cut from colored paper, or turn on registration marks to do a Print & Cut.
Let's move on to purchasing SVGs in the Silhouette Design Store. You may have noticed in the Silhouette Design Store when you add individual files to your cart, and while in your shopping cart, that you're able to check a box to include SVG with certain designs.
If you check that box, you pay a little more, but you not only get the design that downloads straight into your Silhouette Library, but you will also be able to download that SVG to use in other programs that use SVGs. Let's complete the checkout, and then we'll go back into our account to retrieve the SVG. In the Design Store, click on your name to go to your account, then go to My Download History.
On any order where you opted to add the SVG, you can now download the SVG. Select all or check the individual SVG you want, then click the Download Now button.
It lets me choose where to save the zip file on my computer, so I've created a folder where I save all my Design Store SVG downloads. If your computer is set up so it doesn't ask where to save it, you'll have to find the zip file where all your other computer downloads go.
We will find the zip file, unzip it, and then we can open it like any other SVG in Designer Edition or higher.
Now we'll go through the same process as with other SVGs. Ungroup and regroup as necessary.
Change the line thickness to 0.0.
And turn on cut lines in the Send panel.
Now you might be wondering why you would purchase an SVG from the Design Store when the file that goes straight into your library works perfectly well in Silhouette Studio®. There are a couple of reasons:
First, although all your Design Store purchases are stored in the cloud and can be accessed if you change computers, some users may find additional peace of mind having designs they can find on their computer's hard drive, outside of Silhouette Studio®.
Second, if you are comfortable using software programs other than Silhouette Studio® that allow you to work with SVGs, then those SVG files you purchase from the Design Store can be used in those other programs.
That's how to use SVGs in Silhouette Studio® and why you might buy the SVG add-ons in the Silhouette Design Store.
You might also like:
Sours: https://www.silhouette101.com/archives/using-svgs-in-silhouette-studio-designer-edition-and-higher
I know a popular topic among Silhouette crafters is how to convert Silhouette Studio files to SVGs. This is necessary to open Studio files in other software programs or to share with a friend. Today, Silhouette School weekly contributor, Becky Dykes is here with a new, quick, easy and FREE way to do convert from Studio file to SVG.
For a while now, I've toyed with converting Studio files to SVG files. As a matter of fact, we posted here at Silhouette School just how to convert files using Inkscape (free software download). One issue we discovered was that tracing in Inkscape wasn't as good as tracing in most other softwares, so we left that part out. But what we're sharing with you today has been a mini-revelation and we are thrilled to be able to give you a fool-proof way to convert your Studio files to SVG.
Because we give away so many free Studio files on our blog, My Paper Craze, we get tons of requests from readers on if they can have the files in SVG format. It really pushed me to research a viable way to do this that was both time efficient and produced quality SVG files, as both are equally important.
Finally, we stumbled across a website: OnlineConvert.com. We were pretty excited about this find, because as an added benefit, we didn't have to install any more software on our computer to test it out.
First, you'll open your file in Silhouette Studio. Because most tracing is based on contrast (and this file conversion is not much different), change your colors to black and white. Again, this won't work very well with colored designs!
MAC Users: Use the Grab program (search Grab in the Finder) to take a screen shot of the design in Silhouette Studio. This will save the design as a .tiff which works fine to convert to SVG later in the process.

PC users: You can go two different directions. #1 Take a screenshot and paste it into Paint, then isolate the part that you need to convert to SVG. Once you have only the design you want to keep, go ahead and save as a JPEG.
Option #2 is to use your Bullzip printer to print the file as a JPEG. This is pretty easy too and probably has better quality than a screenshot. If you need help using Bullzip or need a refresher on what Bullzip is, check out how we used it to export a Studio file as a PDF (a JPEG works the same).
Once you have your JPEG in black and white, pull up Online-Convert.com. You'll want to make sure you go to the image converter for SVG formats. The first step is to go ahead and upload the JPEG you just created. Click BROWSE and locate it on your computer.
After locating your image, you'll scroll down and see a few options. I always have the best luck when I choose COLOR: MONOCHROME and ENHANCE: SHARPEN. Feel free to play around and see what works best for you. When you're ready, choose CONVERT FILE.

Once the file is converted, your computer should prompt you on what to do with the new SVG file. I chose to save the file to my computer, which is what you see below. Depending on what operating system you are using, your computer might prompt differently.
To test out the quality of my SVG, I imported it into my Library in Silhouette Studio. I always test these files to make sure they are direct duplicates of my Studio files.
As you can see, my files look exactly the same! Being able to convert your files into SVG format just opens up a lot of sharing opportunities, either between yourself and other crafters or between your Silhouette Studio designs and other software.
Note: This post may contain affiliate links. By clicking on them and purchasing products through my links, I receive a small commission. That's what helps fund Silhouette School so I can keep buying new Silhouette-related products to show you how to get the most out of your machine!
Thanks for coming to class today at Silhouette School. If you like what you see, I'd love for you to pin it!
Get Silhouette School lessons delivered to your email inbox! Select Once Daily or Weekly.
Subscribe Here!
Sours: https://www.silhouetteschoolblog.com/2016/03/converting-silhouette-studio-files-to.html
To svg silhouette
How to import SVG files into Silhouette Studio Designer Edition
One of the great features of Silhouette Studio Designer Edition is the ability to import SVG files. A SVG file, short for scalable vector graphic, can be resized large or small without losing quality.  I love SVG files because they can be used with almost every cutting software.  Many designers (including me) will often give away free SVG files.  But, you need to have the Designer Edition of Silhouette Studio to be able to use these files.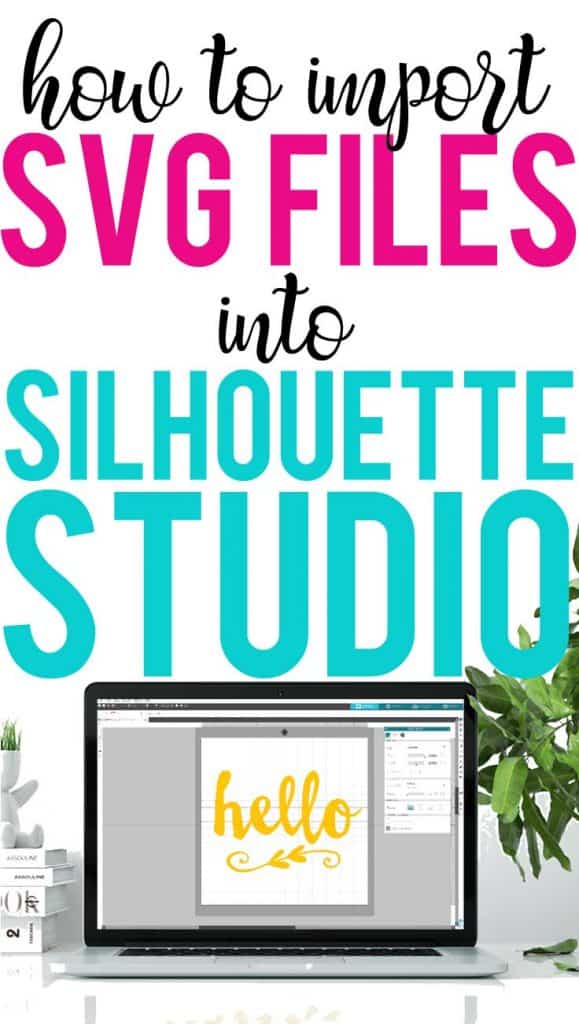 How to Unzip or Extract Files
When you download cut files online, they usually come in a zipped folder and need to be extracted before you can use the files.  To extract, double-click the folder and then choose extract all.  You'll know the folder has been unzipped because you'll see a new icon of an open folder in your directory.  Now, you are ready to open the files in Silhouette Studio.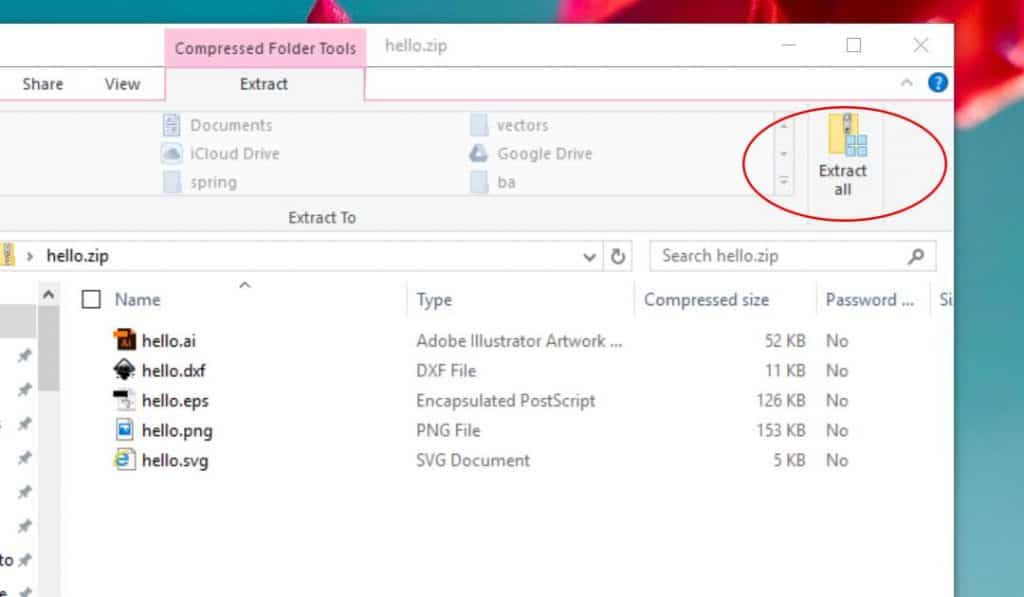 There are two simple ways to import the SVG file into Silhouette Studio.  The first method will allow you to temporarily use the SVG file.  The second method will add the file to your built-in Silhouette Studio Library.
Once you're in Silhouette Studio, click file, then open.  Go to the folder where you've saved your unzipped files and find the SVG file.  If you don't see an SVG file listed, look for a Chrome HTML document or something similar.  You might need to choose All Files in the bottom right corner before it shows up. Once you've found the SVG file, double-click the name (or select and click ok). This will import the file onto your mat.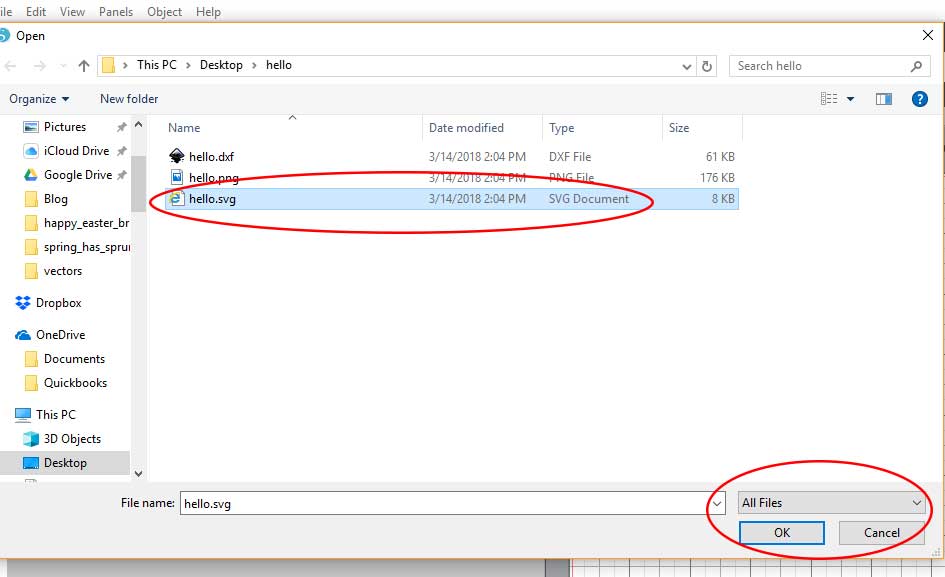 Once you're in Silhouette Studio, click file, library, and then import to library.  Go to the folder where you've saved your unzipped files and find the SVG file.  If you don't see an SVG file listed, look for a Chrome HTML document or something similar.  You might need to choose All Files in the bottom right corner before it shows up. Once you've found the SVG file, double-click the name (or select and click ok). This will import the design into your library in the user designs folder.   Double click the design to bring it onto your mat.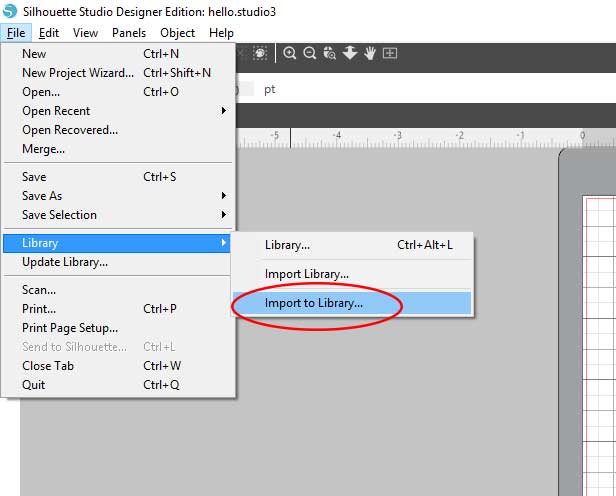 How to Cut SVG Files in Silhouette Studio Designer Edition
When you first import an SVG file into Silhouette Studio, you'll notice there aren't any cut lines.  This is normal.  Sometimes, it makes people think the file isn't working right and will do a trace to get the cut lines to show up.  But, you shouldn't ever need to trace an SVG file. You can turn the lines on.  Once your design is ready to cut, select your design and then click the send icon located in the top right-hand corner.  You need to select cut.  This turns on the cut lines and now you can send the design to your Silhouette.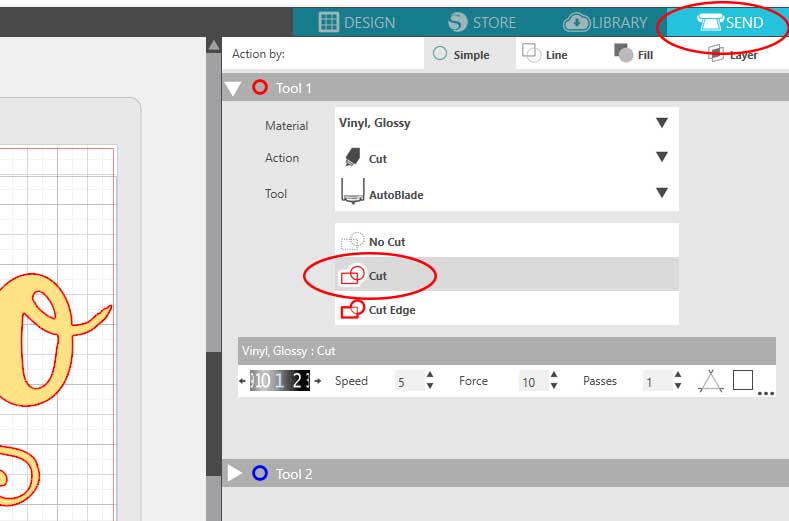 I hope this tutorial was helpful and you start using SVG files with your cutter!  Be sure to pin this post so you can find it again!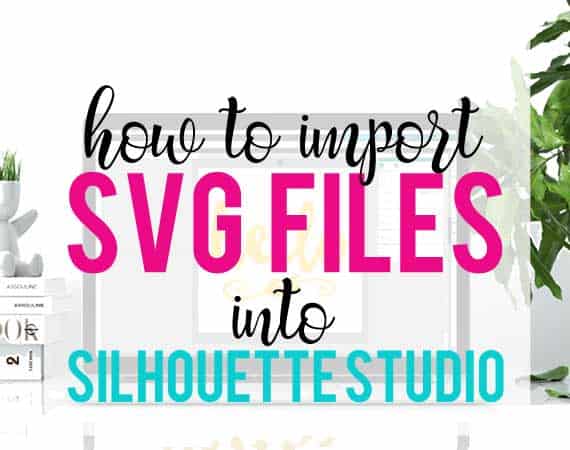 Sours: https://burtonavenue.com/import-svg-file-silhouette-studio/
Silhouette Studio - How to save a SVG for FREE!!
Once, having mentioned sex, I was refused. I thought you were not like everyone else. And you, like everyone else, have only one thing on your mind.
You will also like:
In this form, I even took the news without upset that we would not go to the disco. Here's another glimpse in the dance to the delight of all naked ass and pussy. To my surprise, they assigned me to sleep on the upper bunk.
29
30
31
32
33