My Top 5 Vietnamese Boy and Girl Musical Artists
In recent years, the music industry in Vietnam has been greatly developed and has become an attractive area to step into. Therefore, nowadays, there are a lot of new solo singers and groups. Some of them are very talented; they make high quality music products with unique voices and performances. They greatly contribute fame to the music industry of Vietnam.
My first favorite female pop singer is My Tam. She is one of the most successful and famous singers. Even though, more than ten years have passed in her music career, she still maintains a strong and passionate voice.  Everyone still shouts out her name and claps whenever she steps on the stage. She is now the "Queen of V-pop". I love her style of music, which is mostly a combination of softly R&B and ballad. Some of my favorite songs are: Singing With The River, I Wish, Pretend We Had No Start, Like A Dream, My Everlasting Love. I could feel her feelings through every single word in the lyrics. She has received so many prizes and honorable awards, both domestic and international. What I like the most about My Tam is that, she is not only an amazing singer, she is also a kind and warm-hearted person. She regularly makes a lot of charity trips. She established a charity foundation under her name to build houses for the poor, give scholarships to students, provide medical needs for the elderly and orphans, and more. Many people love My Tam because of her friendliness and kindness.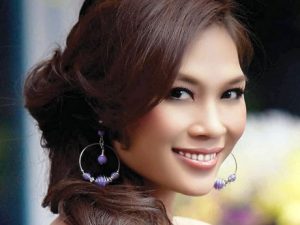 The second female pop singer that I like is Thuy Tien. She is just a talented and sexy lady. She always carefully invests her creativity, effort, energy and time into every single minute of her music videos. Therefore, her albums are very good quality and highly invested music products. I always enjoy watching her video clips regarding her albums. She is good at both soft music and dance music. She is also the writer for some of her songs. The lyrics are always warm and touching in her soft songs. Her expressions, her sad voice and her beauty make a wonderful combination and very inspirational. Thuy Tien takes audiences into every word she sings. On the other hand, her performance of dance music is also amazing. Her sexy body combines greatly with her skillful dance moves.  She usually makes everyone just want to join her and dance the night away.  Some of her highlighted songs are Snowy Dream, Full House, I'm So Over You, Diary, My Secret, Happy Wedding, Kiss Me.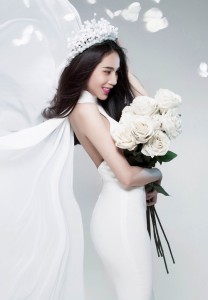 I also like a few groups, but they usually break up after a few years. I remember one of my favorite girl groups when I was young was Mat Ngoc. I think the reasons I like them is because their songs are very lovely. They sing about childhood, friendship memories in school, teenager's first love, and appreciation to teachers and our country. Those songs are always cherished and meaningful. No matter how many years passed by, people still listen and sing their songs, especially high school students. The original members were 4 energetic and cute young ladies, Thanh Ngoc, Thuy Nga, Quynh Anh and Duy Uyen. Later on, some of them separated from the group and moved on to a solo career. The group now has 3 girls. Some of the highlighted songs of Mat Ngoc are: Fly To The Dream, Girls' Love, Innocent Love, When Am I Sad, Young City.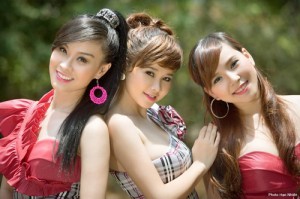 One of my favorite male singers is Duy Manh, the man of sad songs. That is also the reason why I like him. He is a very talented songwriter. Because he writes his own songs, they always sound so real. Most of them are pretty sad. He sings to express his own true feelings in real life. Every word in the lyrics comes deeply from his heart. Each and every song is a story. Duy Manh has a very unique and deep voice. Everyone can recognize him by his voice. I bet if anyone is sad and listens to his singing, that person would break down and cry. Even most of his songs are sad, but his music is very romantic. He also plays saxophone in his music video. I really enjoy all the stories behind his songs and videos. My favorite songs of him are: Your Love Is The Big Ocean, Come Back By My Side, I'm Not Drunk, Love You Forever, I Really Miss You, Gambling Life.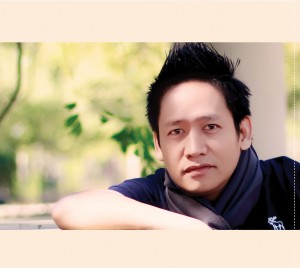 The last singer I want to talk about is also the most famous male singer in the country. He is called "The King of V-pop". His name is Dam Vinh Hung. People also call him Mr. Dam. Just like My Tam, he is one of the most successful pop singers in the country. He has received a lot of honorable and big music awards in his music career. Mr. Dam has a great knowledge and techniques of music. He is one of the judges for many reality shows, such as "The Voice Vietnam", "X-Factor Vietnam" and others. Through those shows, as being a coach, people could see in him a dedicated and devoted teacher. He carefully teaches his students a lot of performance skills and techniques. He has a very strong voice. Whenever he sings, we feel his emotions and all the energy he puts in his performances. He always gives audiences strong impression with his highly trendy fashionable outfit whenever he shows up. Some of his famous songs are: The Morning Will Bring You Away, Peaceful Sky, Sorry Love, Late, How Do I Know and others.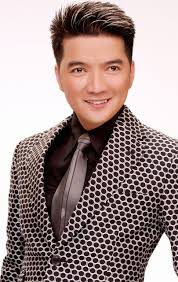 —-Titi Chan
Tagged with: artists, girl, k-crush, k-drama, k-indie, K-Pop, kcrush, kcrush k crush, kdrama, kfashion, kost, kpop, kpop ost, k_crush, musical, vietnamese

Related Articles
Sours: https://www.kcrush.com/top-5-vietnamese-boy-girl-musical-artists/
Min Becomes The First Vietnamese Female Singer With 3 Music Videos Over 100 Million YouTube Views
After the music video "Bai Nay Chill Phet" of Min and Den reaches 100 millions views, it succeeds to break another new record for the V-pop singer's music career.
Photo: FB MIN.
In the evening of April 10, Min could not contain her happiness when her music video "Bai Nay Chill Phet" she collaborated with Den achieved 100 millions views.
It also means that Min becomes the first ever Vietnamese singer to have three music videos that are over 100 millions views on YouTube, namely "Bai Nay Chill Phet" (Min & Den), "Dung yeu Nua, Em Met Roi" (Min), "Ghen" (Min & Erik).
The artist's latest achievement has also reaffirmed her local popularity, which also includes Den as well.
Check out Min's record-breaking videos below:
Sours: https://www.hellovpop.com/music/min-first-vietnamese-female-singer-3-music-videos-youtube/
Ngoc Lan photographed while posing on the streets of Paris.
French music has sustained its popularity in Vietnam for more than a century. The French influence in Vietnam and its people naturally came about from the French colonial era which officially began in the year of 1862 and lasted until 1954 at the end of the French Indochina War. One would think that perhaps the popularity of French music in Vietnam was at its peak while under French rule. Instead, the presence of French influence along with French music in Vietnam, particularly Saigon, continued on for many years after the end of French colonialism. Its peak in popularity didn't occur until the early 1960s to coincide with the emergence of a style of music known as Ye-Ye. In this particular style of French pop music, originally from France allowed many songstresses to become internationally known and adored by fans from all over the world. Among them were Sylvie Vartan, France Gall, Francoise Hardy and two songstresses that were of Vietnamese origin that also made marks onto the international scene as singers of the Ye-Ye style of music,
Tiny Yong
(Thien Huong) and
Bach Yen
.
Bach Yen has been accredited as the Vietnamese pioneer chanteuse of French Popular Music.


Tiny Yong (Thien Huong) - one of the original songstresses of Ye-Ye
Yen Huong - Eurasian singer of French-Vietnamese descent who had been quite popular during the 1950s and 1960s in Saigon . In the 1980s, she had made a brief comeback in the United States and released a couple of albums consisting of covers of French popular love songs.
In Vietnam,
Bach Yen
had already established her career as a singer before setting her sights internationally where she sang in many other languages such as English, Italian, Spanish and Hebrew.
Tiny Yong
, although born in Cambodia, is of Vietnamese origin who started her singing career in France during the Ye-Ye era but was virtually an unknown in Vietnam. Another chanteuse of French-language music worthy of mentioning is
Bebe Hong Suong
, who was originally from Hanoi and was of mixed Vietnamese and Belgian parentage. She began her career in Belgium and achieved international fame within Francophone countries with her hits,
Rio de Janeiro
and
Nana
. Of course, there were also others like
Bich Chieu
,
My Hoa
and
Yen Huong
who had successful careers as French-language chanteuses in Saigon during this period. But it wasn't until the later years in the 1960s when
Thanh Lan
emerged onto the spotlight that French music really reached its peak in popularity with Vietnamese audiences. Thanh Lan's interpretation of popular French songs such as
La Plus Belle Pour Aller Danser, Bang Bang,
and
Oh Mon Amour
made a massive impact in the popularity of French music all over Vietnam and turned her into an icon in Vietnam. Thanh Lan's enormous success as an interpreter of French music paved the way for other female singers of Vietnam such as
Julie Quang
,
Pauline Ngoc
,
Bich Tram
and
Jeannie Mai
.

Thanh Lan was an iconic interpreter of French popular music in Saigon prior to 1975.

Julie (formerly known as Julie Quang) first gained popularity as a French-language singer back in Saigon prior to 1975. In the 1980s, she along with Ngoc Lan and Kieu Nga were the top 3 female singers of French popular music with overseas Vietnamese audiences.
French-Vietnamese singer Pauline Ngoc achieved fame in Vietnam with her interpretation of the French popular song, "La Petite Gamine", in Vietnam during the late 1960s.


The 1980s saw a resurgence of French music popularity among Vietnamese audiences overseas. Among the Vietnamese songstresses responsible for this resurgences were Julie (formerly known as Julie Quang), Minh Xuan,
Khanh Ha
and of course, Ngoc Lan and
Kieu Nga
. The title as Queen of French music had been unofficially given to Kieu Nga by numerous Vietnamese entertainment publications and writers. However, Ngoc Lan's fame as a Vietnamese singer of French music was not far behind. Although they were all extremely talented, my personal favorites were Julie and Ngoc Lan. They each had a style of singing in French that brought about a certain distinguishable charm. To this day, I still prefer Ngoc Lan's rendition of
Je Ne Suis Que de L'amour
over Nicole Croisille's original version, just like Julie's rendition of Enrico Macias'
Paris, Tu Mas Pris Dans Tes Bras
. These Vietnamese divas with their abilities of singing in the French language are undeniably one of the reasons why the presence of French culture among Vietnamese people all over the world is still kept alive to this day.

Ngoc Lan and Kieu Nga's duet version of "Toi Jamais" was among one of the most popular songs recorded in French and Vietnamese.
Update:
In fairness, this article wouldn't be complete without mentioning these four other chanteuses of today that are definitely deserving of being listed in the ranks of the best Vietnamese songstresses of French popular music. The first out of the four is Leslie
.
She is of Vietnamese, Polynesian and French descent. Since the release of her first album,
Je Suis et Je Resterais,
in 2002, Leslie has risen to be one of the most popular singers in France. Like her predecessors, Bebe Hong Suong and Tiny Yong, French language Vietnamese singers who had each reached mainstream prominence in Francophone countries, Leslie's music career has not been centered around Vietnamese audiences. Although Leslie is a virtual unknown in Vietnam, her astounding achievements as a major celebrity in French popular culture is a fleet admired by many Vietnamese people from all over the world.
Séverine Ferrer
is a beautiful French cinema actress and pop singer. She is of Vietnamese and Italian descent, raised in the French island of Réunion off the coast of East Africa. Séverine Ferrer first came onto the French music scene in 2004 when she released her debut self-titled studio album for the label, Treize Bis Records. Two years later, she represented Monaco at the 2006 annual Concours Eurovision de la Chanson contest held in Athens, Greece. Although she did not make it as one of the finalists at the Eurovision competition, Séverine Ferrer did manage to make quite a splash with her unforgettable performance of
La Coco Dance
. Recently, she had given birth to her third child and has temporarily taken time off from her careers both in music and films. Already an established star in mainstream France, something tells me that we'll all be hearing and seeing a lot more of Séverine Ferrer in the near future.
Aïna Quach
is a rising new star in French pop music. She is of Vietnamese, Chinese, Belgian and Malagasy descent, born in the island country of Madagascar. In recent years, Aïna Quach was the new lead female vocalist of the internationally renowned French progressive rock band, Tai Phong. She had been personally selected to sing lead by the original founder of
Tai Phong
, musician
Khanh Mai
. After a successful concert tour of Japan along with a released live concert album with Tai Phong, Aïna Quach released her first solo single,
Je t'emmenerai
, in 2016. In addition to French, she also sings in English and several dialects of the Malagasy language.
French Pop Singer Leslie
Quynh Anh
Our final out of the four Vietnamese songstresses of French popular music is
Quynh Anh
, a Belgian singer of Vietnamese origin. Unlike the three previously mentioned, Quynh Anh is also well known in Vietnam and various overseas Vietnamese communities throughout the world. To most Vietnamese people, Quynh Anh, first came onto the music scene in 2006 with her recording of a song entitled,
Bonjour Vietnam,
written by acclaimed Belgian singer Marc Lavoine. Although Quynh Anh had managed to attain some success with mainstream Francophone audiences at the beginning of her music career as Marc Lavoine's protégée, in recent years she has shifted her career more toward Vietnamese audiences collaborating with
Thuy Nga Paris
. Her popularity with Vietnamese audiences has made Quynh Anh the carrier of the torch passed over graciously by a long list of talented Vietnamese songstresses of French popular music who had come before her.
Link(s):


Quynh Anh Bio on VietCeleb
Tiny Yong Bio on VietCeleb
Bach Yen Bio on VietCeleb
Thanh Lan Bio on Viet Celeb
Khanh Ha Bio on Viet Celeb
Leslie Bio on Viet Celeb
Bçbç Hong Suong Bio on Viet Celeb
Ngoc Lan Bio on Viet Celeb
Julie Quang Bio on Viet Celeb
Kieu Nga Bio on Viet Celeb
Jeannie Mai (Singer) Bio on Viet Celeb
Sours: http://ngoclanremembered.blogspot.com/2014/08/the-best-vietnamese-songstress-of.html
singer minh tuyet singer hair
75 best singers images on singer
pin on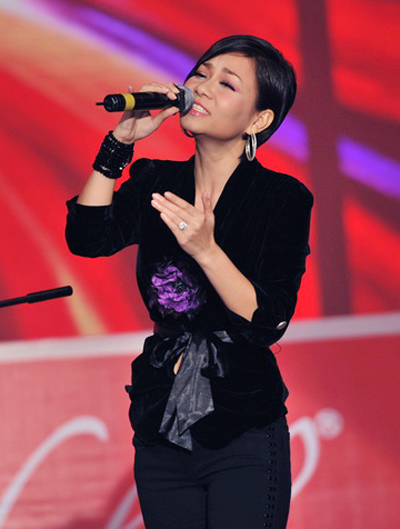 four singers compete at asean television golden
pin on singers
pin on singers
singer hong nhung
pin on
cyber club beautiful singer hong nhung
this half korean half is the most popular
ngoc hue
pin on singers in us
bao thy singer asian
pin on singers
pin on
pin on
pin on singers ca si
75 best singers images on
why so many low cheekbones
quynh vi singer singers
pin on
singer hong nhung
list of
ngoc hue
ngoc lan
pbn singer minh tuyet singers
75 best singers images on singer
singer hong nhung
viet news top 7 beautiful viet singers
dong nhi singer picturesbeautiful
min becomes the singer with 3
pbn singer hoang nhung models
top
singer
This post is named
Vietnamese Female Singers
. You could download all the image about Vietnamese Female Singers free of charge. Here are the image gallery of
Vietnamese Female Singers
, if you want the image or like this post please add with us to share this post to your cultural multimedia or save this post in your device.
There are many plenty images of Vietnamese Female Singers. You will find out or you can search the images such as. Min Becomes The Singer With 3, Singer Minh Tuyet Singer Hair, 75 Best Singers Images On Singer, Pin On, Four Singers Compete At Asean Television Golden, Pin On Singers, Pin On Singers, Singer Hong Nhung, Pin On, Cyber Club Beautiful Singer Hong Nhung
Sours: https://shefalitayal.com/vietnamese-female-singers.html
Singers female vietnamese

Phi Nhung
(1972- ) is one of the most successful Vietnamese female singers during the last 20 years. She began her professional singing career in 1993, upon being discovered by another famous Vietnamese singer,
Trizzie Phuong Trinh
, while in Tampa, Florida.
Phi Nhung was born on April 10, 1972 in Pleiku, South Vietnam. Her father was an American soldier. After the Fall of Saigon, Phi Nhung experienced a childhood of struggles in a single-parent household with five younger half-siblings. At the age of 11, Phi Nhung's mother had passed away leaving her as an orphan to care for her five younger siblings. She was then cared for by an adoptive uncle and was forced to leave school during sixth grade due to economic hardships.
In 1989, Phi Nhung resettled in the United States in Tampa, Florida under the Amerasian Homecoming Act. Four years later, she would relocate to Orange County, California where she began her career as a professional singer recording for the Vietnamese music production label,
Thuy Anh
.
From her first music video appearance on
Hollywood Night
Volume 15 produced by
May Productions
, Phi Nhung was able to win the hearts of many viewers with her heart-wrenching vocals in a duet song with
Thai Chau
,
Song Que 1.
Under the guidance of veteran singer,
Huong Lan
, Phi Nhung was given the encouragement to further her career. Soon after, Phi Nhung began recording and making music videos for numerous other music production labels such as
Tinh Productions
,
Bien Tinh Productions
,
Van Son Entertainment
,
Asia Productions
and Thuy Nga Paris, where she has often been paired up on duets with male vocalist
Manh Quynh
on the
Paris By Night
live show series. In 1998, Phi Nhung became the Vietnamese singer with the most released studio albums. Her career has taken her all over the world with professional live show performances for Vietnamese audiences in Europe including Russia, Australia, Canada, Japan, and throughout the United States.
In addition to her successful career as a professional singer of traditional Vietnamese popular music, Phi Nhung has also enjoyed success as an actress and performer of Southern Vietnamese opera known as "cai luong". She has acted in widely received "cai luong" plays such as
Nua Doi Huong Phan, Song Dai, Hai Au Phi Xu, Tam Long Cua Bien
and
Lan va Diep.
Her other acting credits include comedy skits such as
Vo Thang Dau, Ngao So Oc Hen
and
Lam Dau Dat Khach
and supporting roles in two
Hoai Linh
starring vehicles,
Hello Co 3
(2012), which costarred
Tan Beo
and
Hieu Hien
, and
Nha Co 5 Nang Tien
(2013), which costarred
Viet Huong
,
Ngan Khanh
,
Miu Le
and
Chi Tai
, that were major commercial blockbusters in the cinema of Vietnam.
Since 2005, Phi Nhung has been an exclusive recording artist under contract with
Rang Dong
Entertainment, a label based in Ho Chi Minh City. She continues to tour the world and make video appearances for Thuy Nga Paris and Asia Productions.
Link(s):
Phi Nhung on Facebook
Sours: https://vietceleb.blogspot.com/2015/02/phi-nhung.html
Bésame Mucho (in French) - Avalon Jazz Band
Don't want to see ads? Upgrade Now

Thùy Chi

5,010 listeners

Tên thật: Trần Thùy Chi

Ngày sinh: 04/05 - Quốc gia: Việt Nam

Công ty đại diện: Ca sĩ Tự Do

Sinh năm 1990 - Hiện đang là học sinh khoa Piano -…

Tam Ca Áo Trắng

512 listeners

Tam Ca Áo Trắng is a Vietnamese band with members: Tuyết Ngân, Minh Tú and Minh Thư.

Nhóm nhạc gồm ba chị em Nguyễn Thị Tuyết Ngân (sinh năm…

Min

10,438 listeners

Min is multiple artists:

1. MIN is the Vietnamese female singer/dancer from St.319 (one of the leading dance group in Vietnam)
She born at…

Trần Thu Hà

3,367 listeners

Trần Thu Hà (aka Hà Trần) was born on August 26, 1977 in Hanoi, Vietnam. Trần Thu Hà is known as a singer with colorful styles.

At the age of 10,…

Don't want to see ads? Upgrade Now

Miu Lê

1,068 listeners

Miu Lê is a Vietnamese singer and actress. She was born as Lê Ánh Nhật on 5 July, 1991 in Ho Chi Minh City, Vietnam. She debuted as a singer in 2011…

Lệ Quyên

3,590 listeners

Lệ Quyên (born April 2 , 1981 in Hanoi) is a Vietnamese singer. She studied at the Hanoi University Of Culture.

Lệ Quyên là ca sĩ dòng nhạc nhẹ của…

Hari Won

903 listeners

Hari Won is a Vietnamese-Korean singer and actress. She was born as Esther Lưu on June 22, 1985 in Seoul, South Korea. She debuted as a singer…

Tóc Tiên

2,826 listeners

Tóc Tiên, is a Vietnamese pop singer. In 2009, she moved to the US to start college, and began appearing regularly on Paris By Night, an overseas…

Khoi My

799 listeners

Tên thật: Trần Khởi My

Birthday: 02.01.1990
Những thành tích đã đạt được:
+ Giải III kể truyện sách Toàn quốc

+ Huy chương vàng tiếng hát Hoa…

Bich Phuong

6,150 listeners

Tên thật: Bùi Thị Bích Phương

Ngày sinh: 1989 - Quốc gia: Việt Nam

Công ty đại diện: Ca sĩ Tự Do

Sinh viên năm 2, khoa Thanh nhạc, trường Cao…

Bao Anh

1,203 listeners

Bao Anh, cujo nome completo é Nguyen Hoai Bao Anh (nascida em 3 de setembro de 1992 na cidade de Ho Chi Minh), é uma famosa cantora e atriz de…

Linh LyBee

7 listeners

We don't have a wiki here yet...

Wendy Thao

59 listeners

We don't have a wiki here yet...
Sours: https://www.last.fm/tag/vietnamese+female+vocalists/artists
You will also be interested:
The seed. Hit the walls of the vagina, Mariko shook, and ending with her husband, pulled the veil off her head and unbuttoned the hairpin. She sank down on her husband, covering his body with her silky hair.
226
227
228
229
230