Taking a Marco Island sunset cruise is one of the best ways to enjoy this sleepy, but swanky retirement community on the Gulf of Mexico. However, if a sunset cruise sounds a bit too romantic, there are plenty of other fun options to get out on the water.
Of the thousands of islands surrounding Florida, Marco is distinct in that it is the largest, measuring 6 miles by 4 miles. It's conveniently connected to the mainland by two bridges. Recently, Marco Island was ranked as the best island in the US and the fourth-best in the world. Anyone looking for the perfect peaceful and relaxing vacation will surely enjoy a visit to Marco Island.
Marco Island—Ideal Vacation Destination
For many people, like us, Marco Island is the ideal vacation destination⁠—it's really nice, let us emphasize nice. During the day, it's all about living the beach life and enjoying the water.
With its white-sand beaches, Marco feels surprisingly exotic. However, it does seem that most visitors treasure their time out on the water, especially while taking a Marco Island sunset cruise.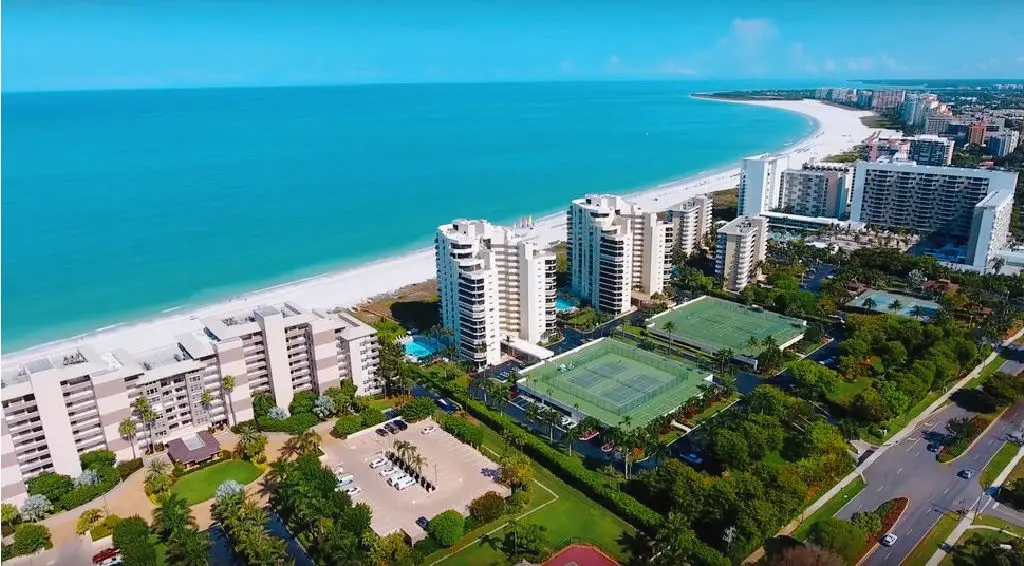 There are tons of options to get out on the water. From, Craigcat tours to shelling tours, there's literally something for everyone. Also, for daredevils, there's a variety of extreme and adventure sports options.
For dinner, there are plenty of restaurants to enjoy a great meal. During the evening, a few pubs and a comedy club operate for night owls. Therefore, if you're looking for a crazy party scene, you won't find it here, which is exactly why we like it.
Where to Stay on Marco Island
Other than the large Marriott and Hilton hotels, there are no chain hotels on Marco Island. Also, the high season is from mid-December to mid-April, and rates drop quickly in the off-season.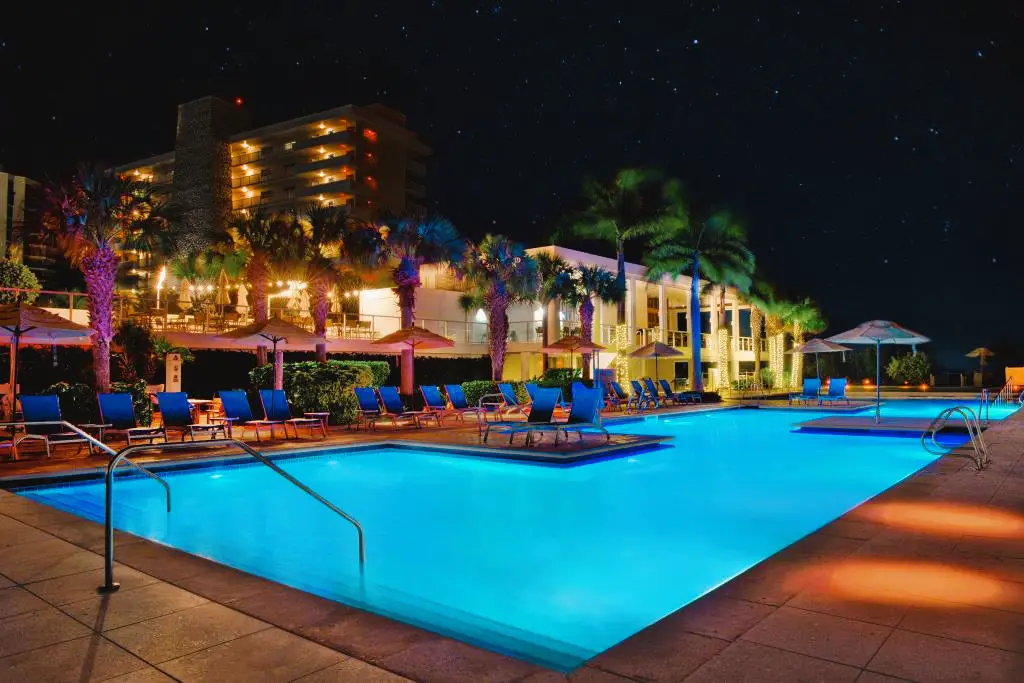 Travelers looking for ultra-budget accommodation should head to Naples, a city next to Marco Island. Below are the best places to stay on Marco Island.
Budget: The Boat House Motel (unique & comfortable)
Mid-Range: Marco Beach Ocean Resort (great location!)
Luxury: Marriott's Crystal Shores (jaw-dropping!!)
Best Marco Island Sunset Cruise
There's little doubt that a Marco Island sunset cruise is the best way to experience the most magical part of the day. There are four main tour operators and making a reservation is as easy as clicking on the links below. The highlights of each tour are listed below.
1. Sightseeing and Sunset Catamaran Sailing Excursion
The Sightseeing and Sunset Catamaran Sailing Excursion takes place on a large catamaran and at about USD 70 per person offers great value. Allowing only 20 guests, there's plenty of room to find the perfect place to seat.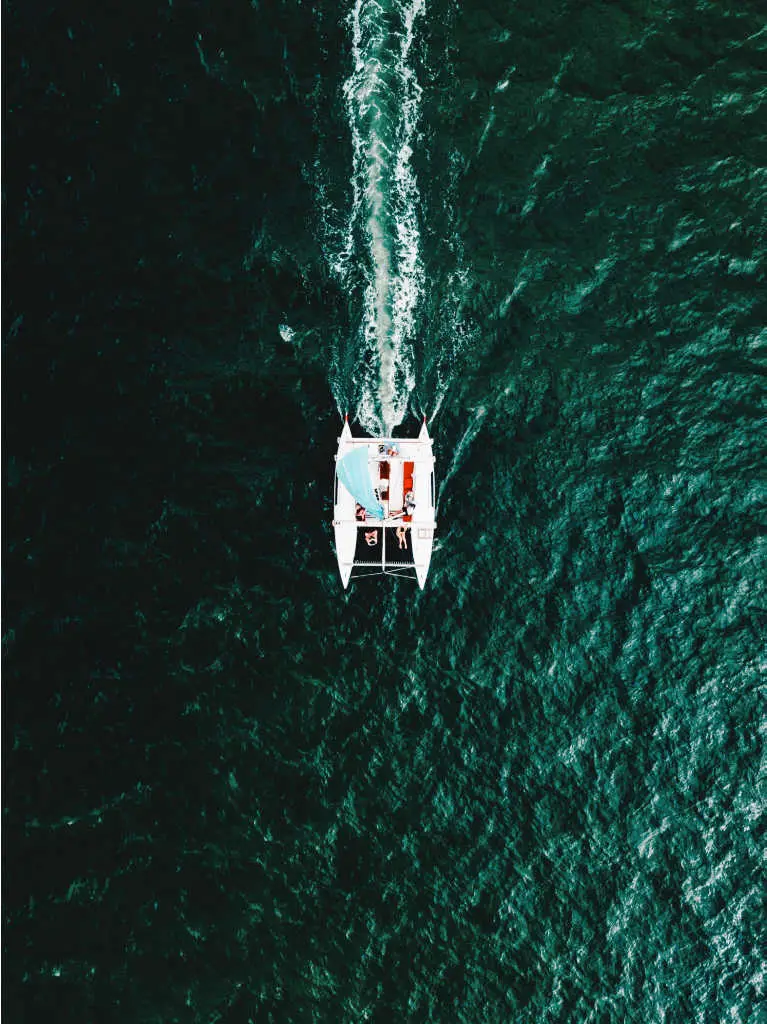 When the weather's ideal the captain will raise the sails, making the experience ever so extraordinary. Also, guests are allowed to bring their own food and drinks on board.
The tour route includes sailing past Hideaway Beach, Keewaydin Island, and Rookery Bay National Estuarine Research Reserve. Water, soda, beer, and white wine are included. Finally, the sunset cruise also includes a glass of champagne.
Departure Details
Cool Beans Cruises
377 Capri Blvd, Naples, FL 34113, USA
Located in South Naples, just 2 miles north of Marco Island off of Collier Blvd.
Duration: 2 ¾ hours
2. Gulf of Mexico Sunset Cruise from Naples
At about USD 50 per person, this Gulf of Mexico Sunset Cruise is the most budget-friendly way to get out on the water. Passengers susceptible to motion sickness will enjoy a Marco Island sunset cruise aboard this large double-deck ship.
Holding a maximum of 125 passengers, the ship cruises by the Gordon River Greenway and Keewaydin Island. Food and drink are not included in the price, however, you are allowed to bring your own.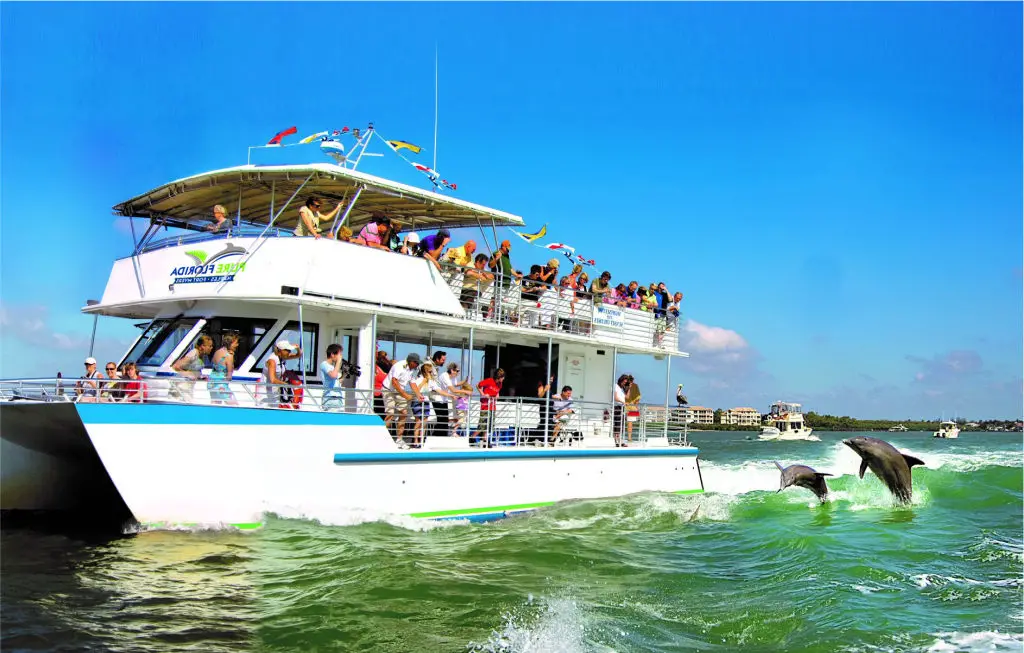 If you'd like to take a Marco Island cruise during the daytime (instead of at sunset), Pure Florida offers a Naples Sightseeing Boat Tour. The tour lasts 1½ and is a great way to see celebrity real estate, wildlife, and learn about local history.
Departure Details
Pure Florida
1200 5th Ave S, Naples, FL 34102, USA
The boat departs from Tin City Waterside Shops at the area of docks closest to the US 41 Road Bridge. Boarding begins 30 minutes before departure time.
Duration: 1½ hours
3. Private Sunset Sailing Tour through the Ten Thousand Islands
Whether you're celebrating a special occasion or just looking for a bit of privacy, the Private Sunset Sailing Tour is the ideal way to explore Marco Island from the water. Also, the 30-foot sailing catamaran holds up to six guests.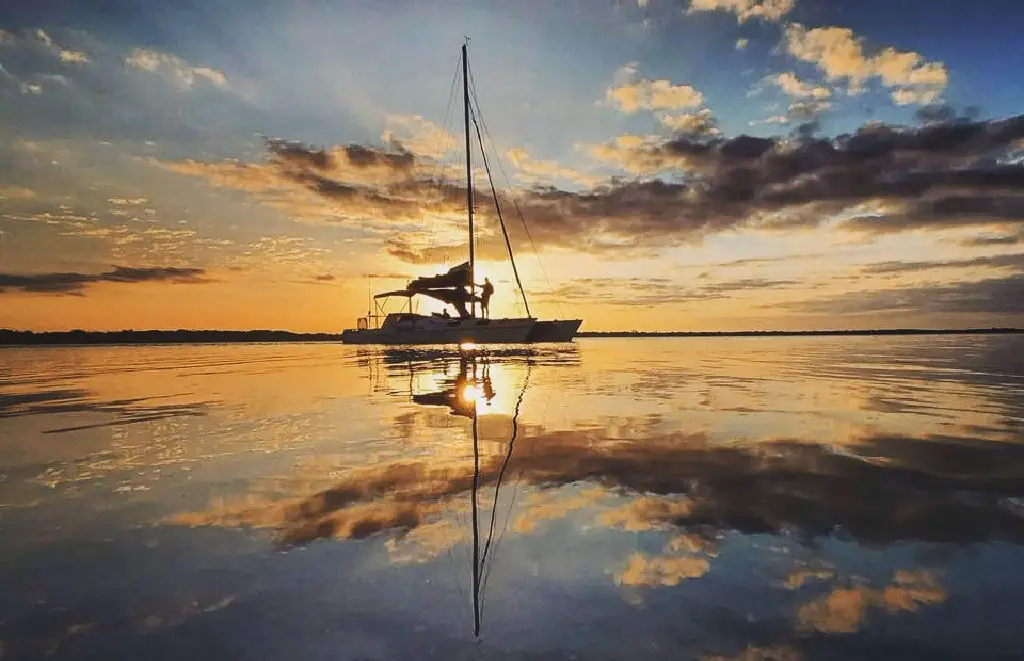 Captain Nick navigates the waters to ensure guests experience one of the most beautiful sunsets in the US. Finally, the tour includes water, however, feel free to bring your own food and drinks. Check out pricing here.
Departure Details
Easy Breezy Charters
740 Palm Point Dr, Goodland, FL 34140, USA
The captain will be waiting at the ship store.
Duration: 2 hours
4. Captain Party Hard Boat Tour & Beach Party
If you're looking for a Marco Island sunset cruise that provides tons of fun, look no further than Captain Party Hard Boat Tour & Beach Party. Captain and owner Brent Wilson, provides guests with the guarantee, "Best value on or off the island for this amount of fun or your money back."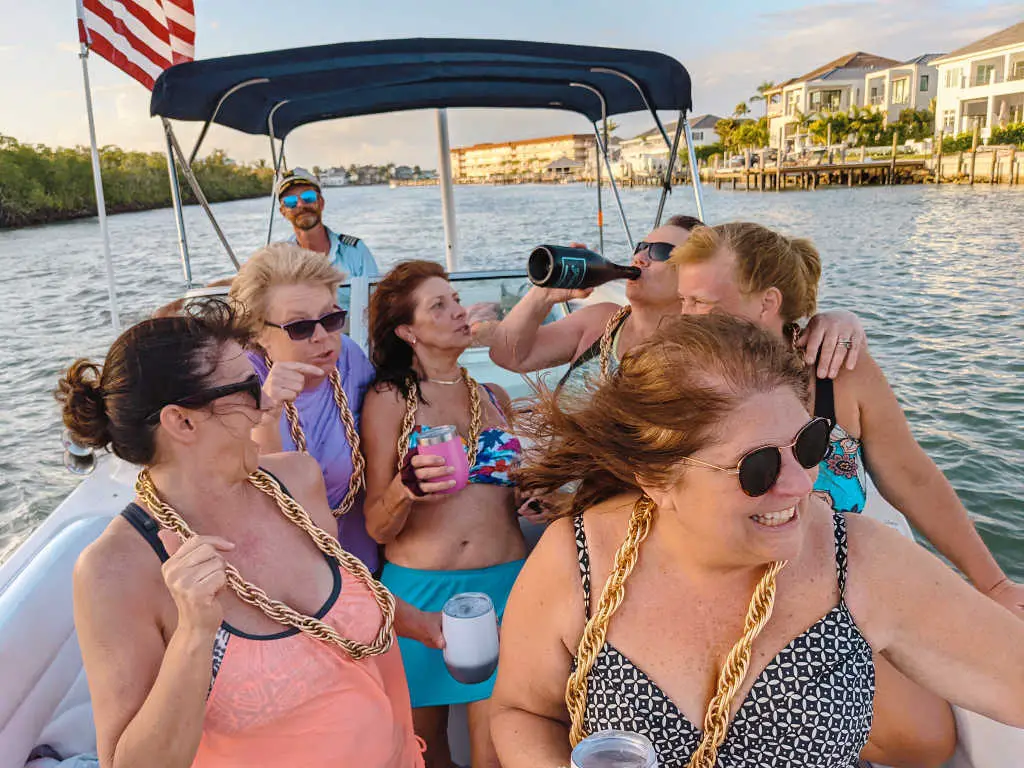 Captain Party Hard's $100 boat tours are filled with great music and a unique 'party atmosphere.' Finally, beach chairs, games, non-alcoholic beverages, and snacks are included. Finally, feel free to bring your own drinks, food, and a towel!
Departure Details
Captain Party Hard
2171 San Marco Rd, Marco Island, FL 34145, USA
Offers three locations on Marco Island, Florida for pickup. They will contact guests regarding the exact pick-up location when confirming the booking.
Duration:  4 hours
Other Marco Island Boat Cruises
Whatever you want from your vacation in Florida, then you won't be disappointed with a trip to Marco Island, especially if you decide to take a boat cruise. There are a variety of activities for you to do and sights to see, and guaranteed you won't want to miss out on them—no matter how long the length of your trip. Below are some of the other best Marco Island boat cruises to take.
Inshore  & Offshore Fishing Charters
Fishing around Marco Island is one of the most popular activities in southwest Florida due to the endless catches, massive games, and abundance of tours. There are two main types of fishing experiences for tourists to enjoy.
1. Inshore Fishing Charters
Inshore fishing charters take place in water that's no more than 100 feet deep. When compared to deep-sea fishing, the calmer waters create a more comfortable fishing experience, which is ideal for novices. Inshore charters typically catch red and black drums, pompano, tarpon, and snook.
Departure Details
Naples Florida Fishing Charters
909 Collier Ct, Marco Island, FL 34145, USA
Duration: 4 hrs

2. Offshore Fishing Charters
If you're looking for an adventure then you mary enjoy taking an offshore fishing charter. Catch the famous snapper and grouper that will become tonight's dinner or challenge yourself with monster gamefish. Offshore charters typically catch various species of shark, grouper, goliath grouper, permit, cobia, little tunny, and mackerel.
Departure Details
Naples Offshore Fishing Charters
13535 Vanderbilt Dr, Naples, FL 34110
Duration: 4 to 10 hrs
Cape Romano Shelling Boat Tour
Not far from Marco Island are a series of eye-catching dome structures, officially known as the Cape Romano dome houses. Built in 1980, they're one of the most popular attractions in the area.
During the Cape Romano Shelling Boat Tour passengers will see the small white domes rise from the sea, making for a dramatic sight to visit. They've survived multiple storms, as well as hurricanes.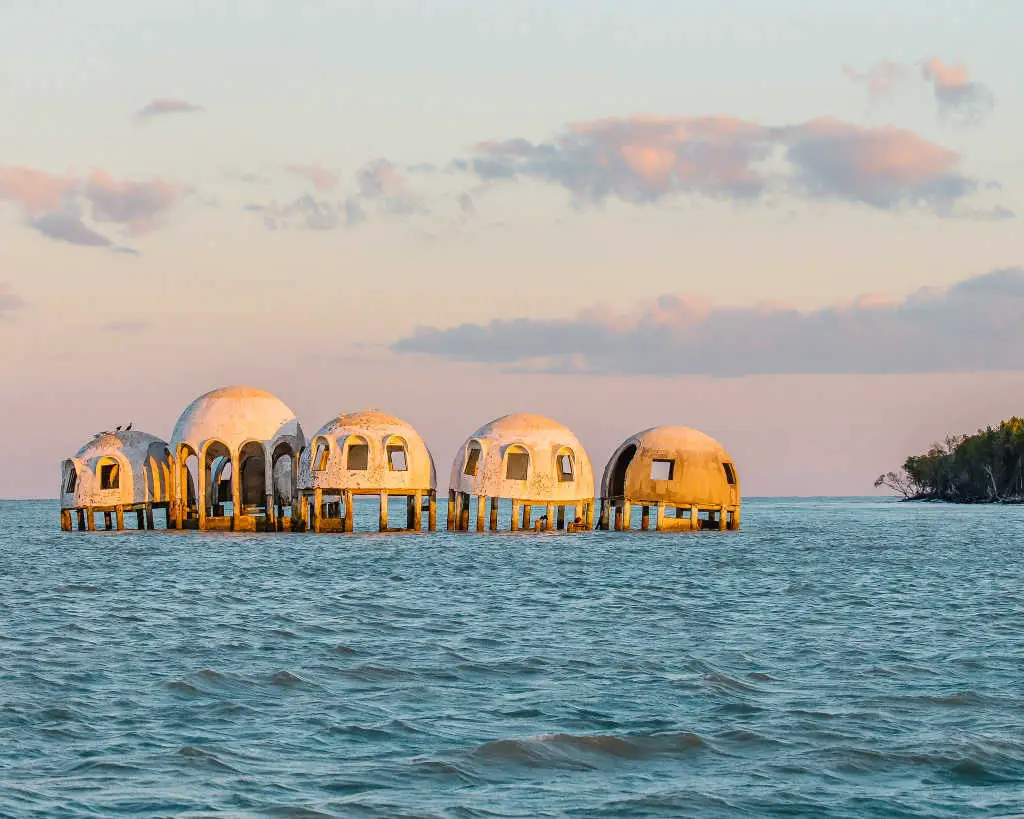 For most passengers, the highlight of the tour is visiting Shell Island and going shelling! Guests are provided ample time to explore Shell Island and look for unique shells, which they can take home as souvenirs.
Departure Details
Florida Adventures and Rentals
909 Collier Ct, Marco Island, FL 34145, USA
Duration: 2 hours
Backwater Adventure's CraigCat Tours
The Backwater Adventure's CraigCat Tour interactive boat tour seeks out wildlife, adventure, and beauty. The best part, guests get to drive their own boat! Of course, a guide leads the way in their own boat, pointing out interesting sights and sealife. Guests especially enjoy spotting manatees, dolphins, and many species of birds.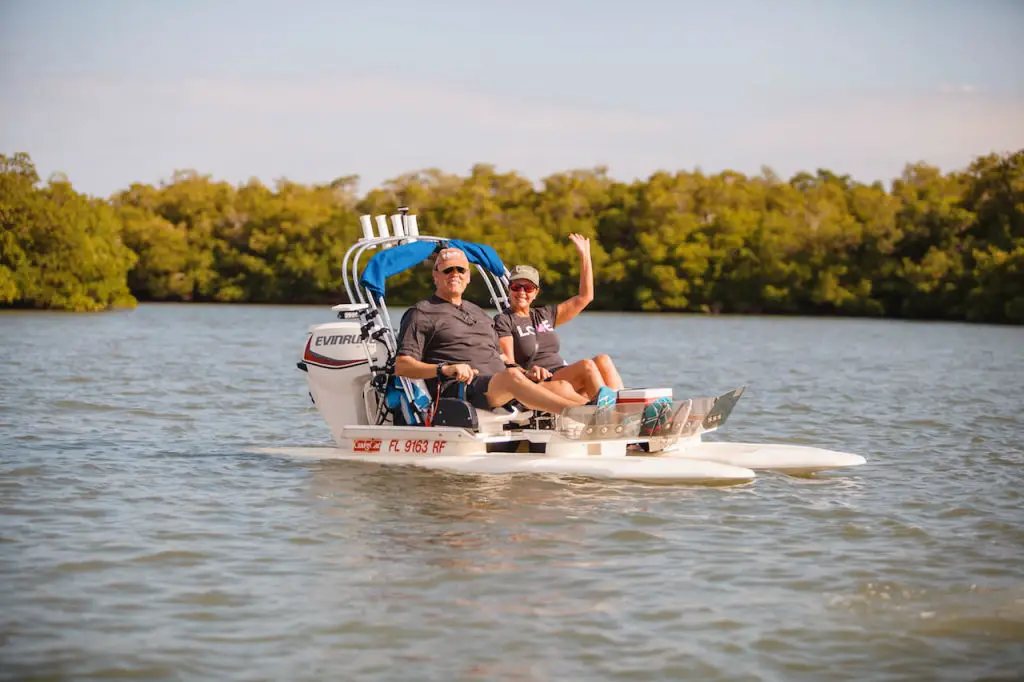 CraigCats are an exceptionally unique and fun watercraft to drive. With only two seats and 30 horsepower, passengers quickly reach speeds up to 30 mph. Also, CraigCats are extremely comfortable, making touring in them pure pleasure. Finally, complimentary water is included, along with a souvenir picture.
Departure Details
Backwater Adventures
Little Bar Restaurant, 205 Harbor Pl N, Goodland, FL 34140, USA
Located at the docks behind The Little Bar Restaurant.
Duration: 2½ hours
Marco Island Dolphin-Watching Tour
The Marco Island Dolphin and Wildlife Tour is a wonderful adventure for the entire family, as well as providing an introduction to the area. Travel in comfort to the islands for an interpretive tour in the company of a certified Master Naturalist guide.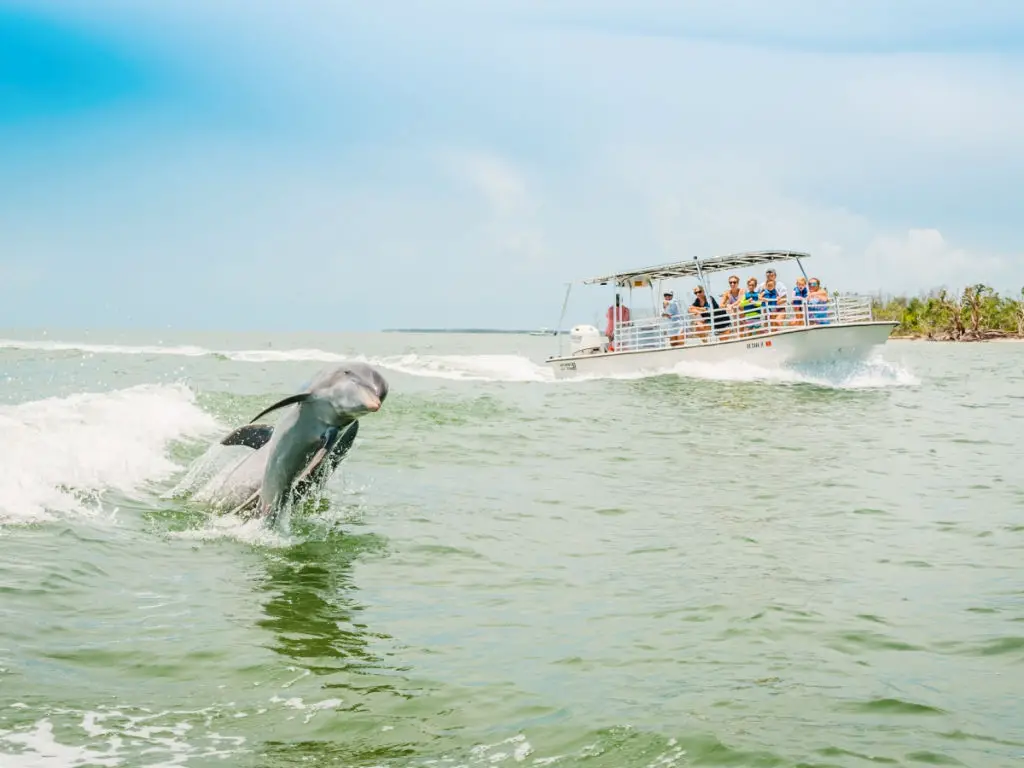 This two-hour guided eco-tour is custom-made to immerse passengers in a chain of mangrove islets and islands just off the southwest Florida coast. Additionally, they offer a money-back guarantee. If you don't see dolphins you get your money back!
Departure Details
Florida Adventures and Rentals
909 Collier Ct, Marco Island, FL 34145, USA
Caxambas Park Marina
Why Should You Take A Marco Island Sunset Cruise?
Taking a Marco Island sunset cruise to explore Marco Island is definitely an experience that you won't forget in a hurry. While on tour, passengers experience unique and breathtaking views, have the opportunity to spot wildlife, and absorb those end-of-day warm summer rays in utter tranquility.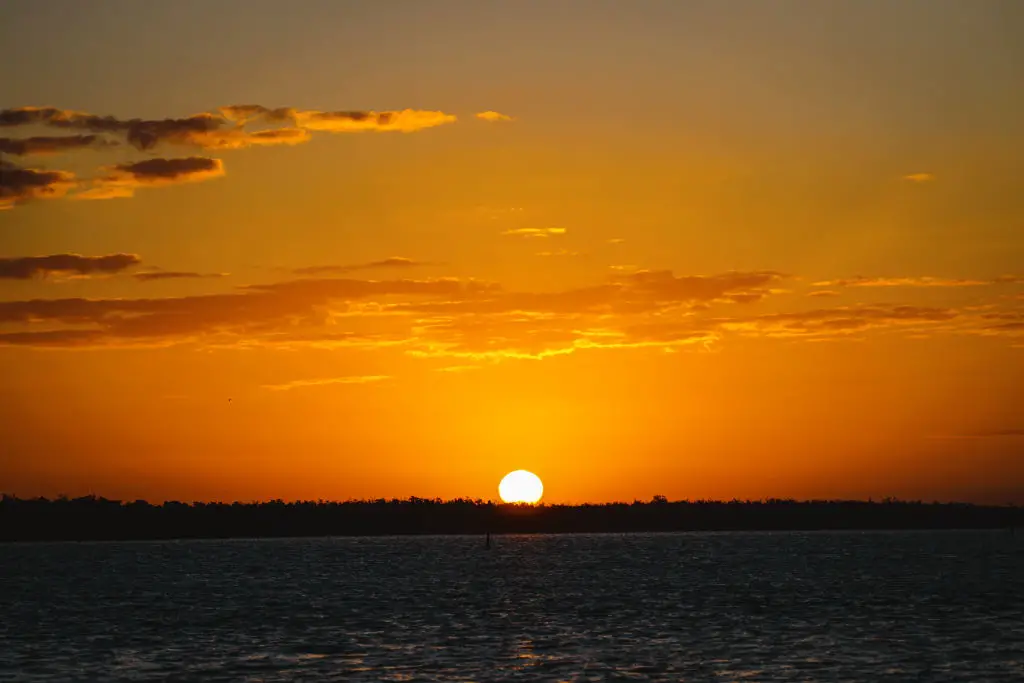 A Marco Island sunset cruise allows passengers to explore secret locations that can't be reached by land. Also, a short boat tour allows passengers to enjoy the tranquility of Marco Island while avoiding the hustle and bustle of the heavily touristed areas.
Sours: https://www.thebudgetsavvytravelers.com/marco-island-sunset-cruise/
3 Dreamy Naples Sunset Cruises on Catamarans to Sail Away On
When it comes to Naples sunset cruises, there's not just one but three great choices. There's nothing like it to make your trip to Naples Florida all you ever dreamed.

Your Naples vacation is finally here! The weather is gorgeous and you've already been in the water at one of your favorite Naples beaches. Now it's time to get on the water and see Naples and Naples Bay in a whole new way on a Naples sunset cruise.
There's just nothing like watching the sun set around you, lulled by the gentle waves slapping against the hull, some tropical music playing on the breeze, and a boatload of new friends to share in the tropical island vibe.
There are more than several boat tours in Naples to take a sunset cruise with, but there's something about a catamaran, isn't there? And if you've never been aboard a super wide two-hulled sailboat, it's a must-do in Naples and Marco Island.
These three catamarans are spacious, beautiful, and perfect for watching the sun go down.

Top 5 Reasons to Take a Naples Florida Sunset Cruise


There are many choices to get out on the water in Naples, Florida. Rent a boat, charter a private tour, take a boat tour, or cruise with your family on a luxury yacht. But when it comes to relaxing and enjoying the scenery and sunset, nothing beats the quiet of .
It's a great way to house hunt for your Naples mansion!

Sunset cruises are addictive — one is never enough.

It's the perfect way to say I Love You.

It's the best way to catch a Naples sunset!

Can you think of a better way to cap your trip to southwest Florida?
Uncork your bottle of wine and enjoy the last of the day's sun. The boat will gently move as the sails are furled or the engine stopped. Sunsets from sailing catamarans can be mesmerizing and peaceful. It a great way to finish the days activities before going to dinner.
This article may contain affiliate links. If you click through and make a purchase we may earn a small commission at no extra charge to you.


Naples Sunset Cruises
On all of these catamarans, you'll be on deck and free to move around to view the scenery and wildlife, and to get great photos. Sailboats are quiet by design with only the sound of the rigging and the water moving along the hull.
If there's not enough breeze, they all have an engine — not nearly as quiet as the wind, but you'll still be able to take in the sights and the natural world. They are all spacious and comfortable and specially built for these types of outings, and the Captains and crew are always ready to answer your questions.
3 Great Choices for a Naples Sunset Cruise


Sweet Liberty
A sunset cruise aboard this beautiful 53' Gold Coast Yacht sailing catamaran should be on your list of top things to do in Naples — it's one of the most popular Naples sunset cruises.

Operating from the Naples City Dock, the cruise will take you along the Gordon River and Port Royal passing by the beautiful and luxurious estates. The Sweet Liberty offers shelling, sightseeing, and sunset cruises. If you only opt for one we recommend the sunset cruise.

As you leave Port Royal behind the waterway is surrounded by the protected pristine mangrove forest. A variety of shore birds, ospreys, pelicans, wading birds, and eagles dot the mangroves so don't forget binoculars. And watch for dolphins!

Entering the Gulf is like breathing a sigh. You can't help but to be lulled into relaxation as you enter the beautiful Gulf water along with the late day sun.

Everything becomes quiet as you await the sunset celebration. You are welcomed to bring a cooler onboard for snacks and whatever you prefer to drink. So open your beverage of choice, sit back, and watch. Soon you can say goodbye to the day as the sun lights the sky with a fiery sunset.

The trip takes about 30-40 minutes each way, and the boat can be chartered for special events and weddings, and offers a unique private memorial service for a burial at sea.
Capacity: 49 passengers

Admission: Ages 13 and up $40, ages 4-12 $20, 3 and under sail for free.

Location: 880 12th Ave. S. Naples, FL
Miss Naples Catamaran Cruise
The newest sailing catamaran in Naples is the custom built 48 foot Miss Naples catamaran. The boat comfortably accommodates up to 48 passengers for year round cruises, and operates daily from her dock at Port O Call Marina.

As with most sailing vessels the boat is open-air, but does provide a canopy for those who want to get out of the sun. Tours can be booked for sight seeing, shelling, and our favorite, sunset cruises. Private charters are also available for weddings and special occasions.

All cruises are narrated as you pass through Port Royal with its multi-million dollar waterfront mansions and out to Naples Bay and the Gulf of Mexico, weather permitting. The scenery is beautiful and dolphins are sure to appear. Pelicans, ospreys, egrets, and herons add to the show as you sit back and relax.

Enjoy the beautiful natural environment of southwest Florida and of course the sunset. It's not guaranteed, so you never know when there will be a green flash at sunset.

Capacity: up to 48 passengers

Admission: Adults $34.50, children over 2 $14.50. (*Price does not include port charge or tax.)

Location: 550 Port O Call Way, Naples, FL
Cool Beans Catamaran Cruises

Cool Beans is a 42 foot sailing catamaran accommodating up to 20 passengers and the boat sets sail 2 hours before sunset for their Sightseeing and Sunset Catamaran Sailing Excursion. You are invited to bring along snacks or sandwiches. The price of admission includes complimentary beer, wine, and non-alcoholic beverages (hard liquor is not permitted). And at sunset you'll toast the day with a glass of complimentary champagne.
You'll find the Cool Beans docked off of Capri Boulevard, 1 mile north of the Marco Island bridge. This catamaran might be a bit smaller than others but is still a very comfortable experience.

There is plenty of room for sunning and sightseeing. The cockpit and salon are combined for comfortable seating in or out of the sun, and there's even a dinette that will seat six.

Capacity: up to 20 passengers

Admission: $60 per person when paying with cash; $65 per person when paying with a credit card.

Location: 377 Capri (Osteria Capri Restaurant) on the Isle of Capri
What to Bring on your Naples sunset cruise:
Sunglasses

Sunscreen

Maybe a sun hat, especially for the 'Gram

If it looks like rain or is midsummer, bring rain gear.

Most importantly, bring binoculars if you have them

Last but not least, bring a camera to capture the moment
Things to DoAngelo Sorrentinosunset cruise, Naples, Sweet Liberty, Miss Naples, Cool Beans, catamaran, nature & outdoors, family fun with kids
Sours: https://www.naplesfloridatravelguide.com/blog/naples-sunset-cruises

All of our delicious meals are prepared fresh on board for your enjoyment. Our professional and friendly crew will attend to your every need. Two full service cash bars serving up all of your favorite drinks!
Don't miss our Famous Prime Rib Dinner or join us for our Nature & History Lunch Cruise fully narrated by your Captain. You will learn all about Marco and the 10,000 islands. Fun for all ages!
NATURE & HISTORY LUNCH CRUISE - $35.00* per adult
This awesome two hour cruise includes a delicious lunch served buffet style with a fresh deli platter, assorted salads, chips and fresh baked cookies. Fully narrated by your Captain highlighting points of interest along the way; providing interesting facts about Marco and the 10,000 islands, as well as educational information about the History and Nature of Marco Island and Southwest Florida. You may see dolphins, nesting osprey, a variety of shore & wading birds, rays, sea turtles and even manatee!
Fun and educational for all ages! Don't forget your camera!
ADMIRAL'S SUNSET DINNER CRUISE - $60.00* per adult
Delicious Double Entrée Buffet featuring Chef Carved Prime Rib au jus complimented with a second entrée of poultry or seafood. All dinners include a fresh Caesar Salad, Fresh Baked Rolls, Vegetable d'jour, Roasted Red or Garlic Whipped Potatoes, Dessert and Coffee.
Enjoy the spectacular sunset on the Gulf of Mexico as you dine in our climate controlled salons on the main or upper deck! Don't forget your camera!
Our two hour Sunset Cruise times vary throughout the year as we sail around the time of the setting sun! Departure times range from 5:00 PM in mid-winter to as late as 7:00 PM in the Summer.
Departing from Rose Marina, 951 Bald Eagle Drive, Marco Island, FL. Just minutes from anywhere on Marco - and only 15 miles from downtown Naples. CLICK HERE FOR MAP, DIRECTIONS & WEATHER.
Call (239) 642-5415 today to learn more about your many options, to reserve a date, or to speak with our event planning professionals.

*Prices and menu items are subject to change*
*Prices do not include tax, service charge and port charge*
*Children ages 4 - 11 are 1/2 price, under 4 are FREE*
****3 hour cancellation notice for all public cruises
Sours: http://www.themarcoislandprincess.com/lunchdinnersunsetcruises/
Marco Island Guided Eco Boat Tours
Explore Marco Island's backwaters and the beautiful mangrove tunnels of The 10,000 Islands on a 2-person power catamaran boat. This 3-hour guided eco-tour adventure is a one of a kind experience that you'll want to include in your Naples or Marco Island vacation.
The boats are safe, quiet, smooth riding, fun, and easy to operate–even for folks with little or no boating experience! Each driver will receive a brief explanation on how to drive the boats prior to embarking on the tour.
Your guide will lead the tour and point out wildlife and other points of interest. You'll have an opportunity to see native birds, dolphins, and other wildlife.
Tour includes a stop on a private island for swimming and shelling. Learn more about what to expect on your tour with Backwater Adventure in this blog article.
A cooler with bottled water is provided for each boat. Guests can bring snacks and other beverages if they wish. You must be 18 years old with a valid drivers license to drive the boat, and 5 years of age or older to be a passenger. Handicapped persons should call to be sure they can accommodate. There is a maximum weight limit of 300 lbs. per person.
Backwater Adventure eco boat tours depart from Maureen Moran Marina which is located just under the Goodland Bridge on Marco Island, Florida.
Reservations are required for all tours and can be made by phone or online. 
Sours: https://www.mustdo.com/fl/naples-bonita-springs-marco-island-everglades/tours/backwater-adventure/
Marco island catamaran
Our Response to COVID-19 to Ensure the Safest Environment for You. Learn more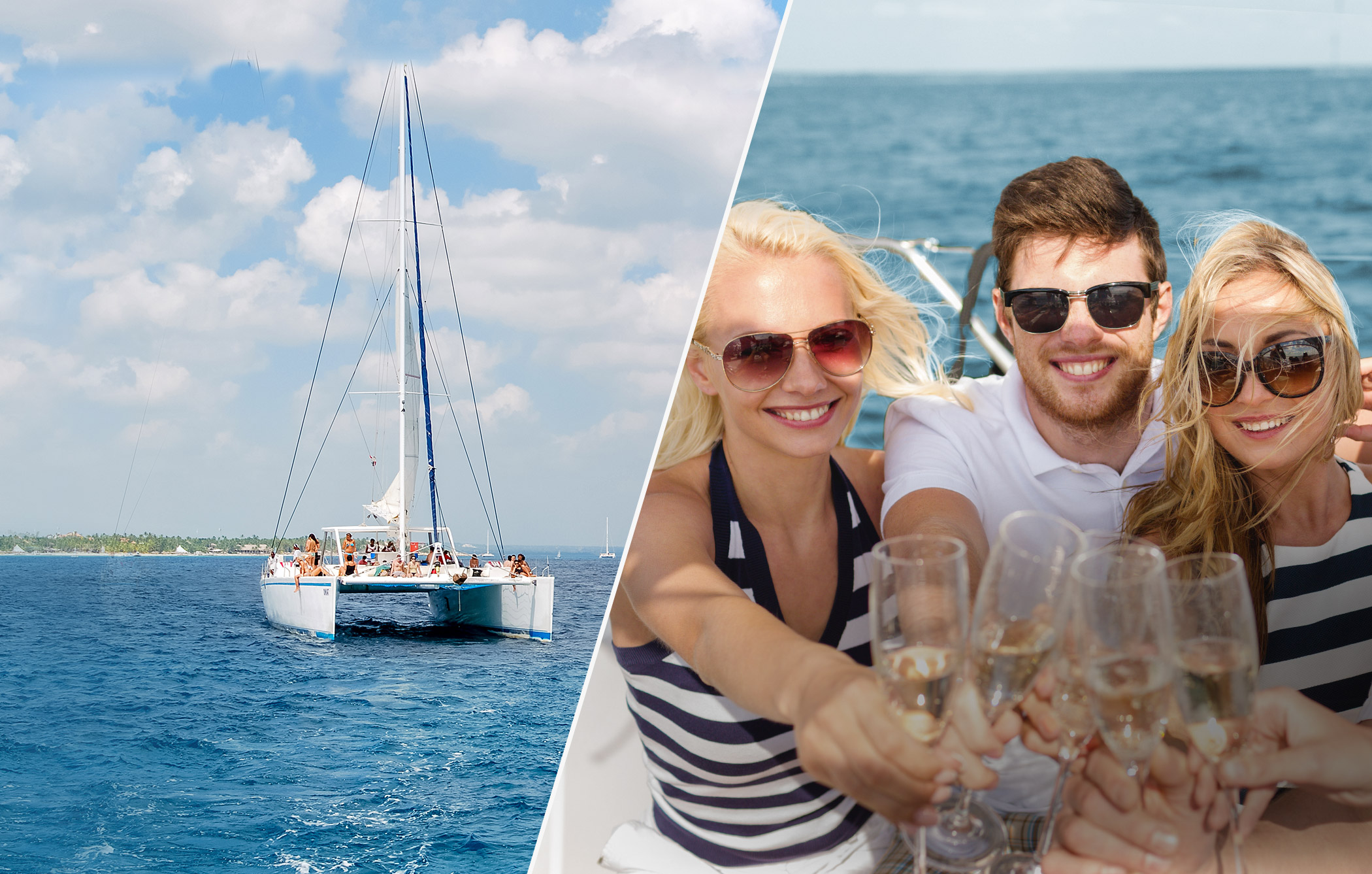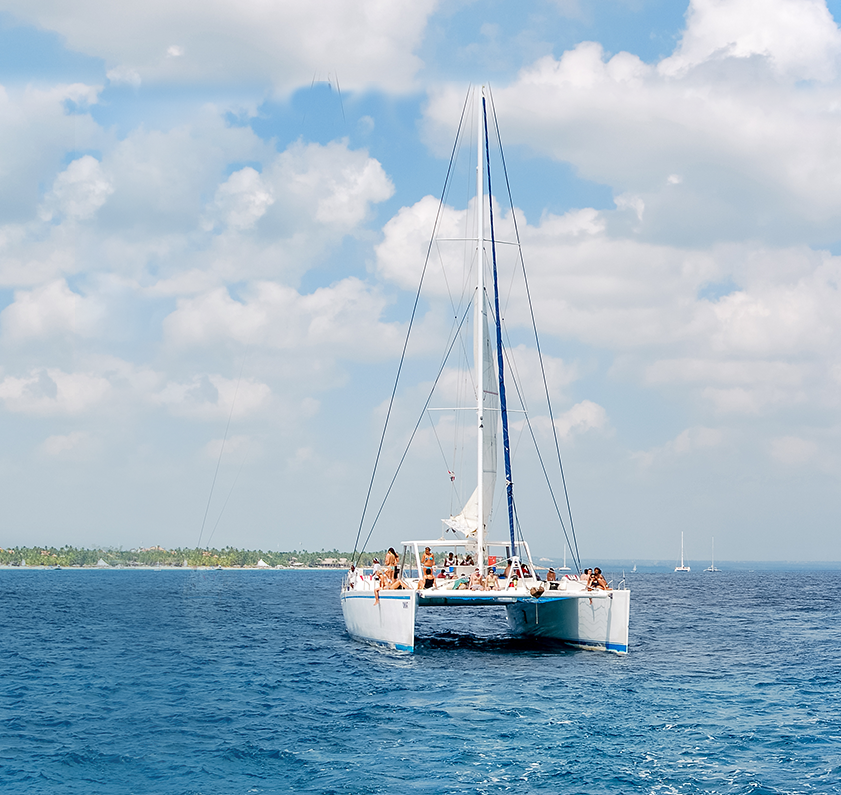 public cruises
Come cruise and sail with
us on any one of our daily
public cruises.
Book a Cruise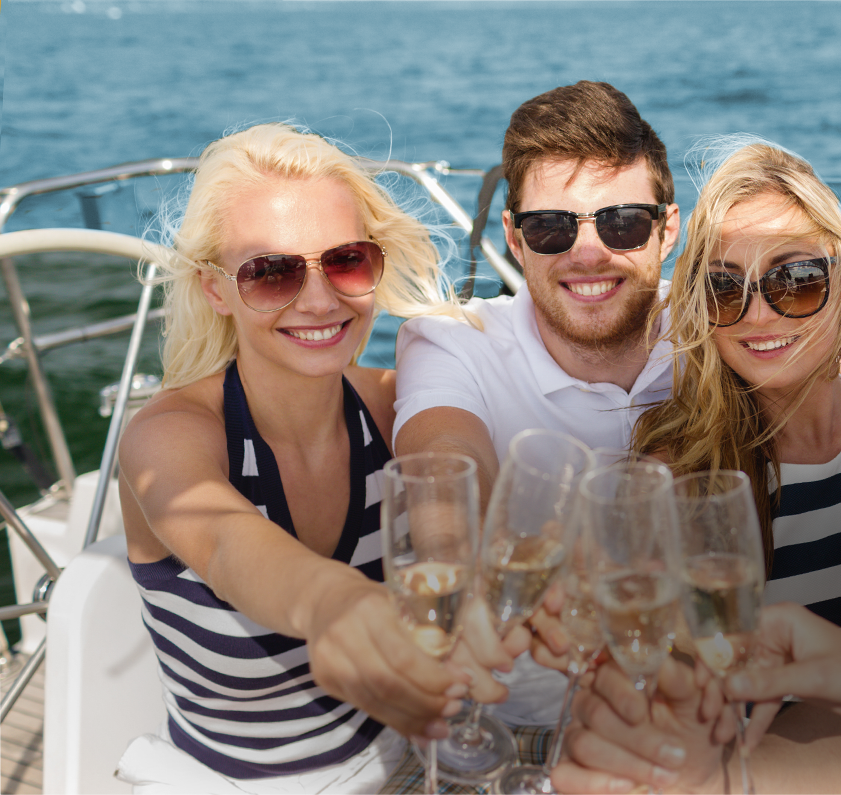 private charters
Looking for something fun
and different to do for
your next event?
Book a Charter
Beach Shelling Cruises

Beach Shelling Cruises

Explore Paradise on one of the most beautiful beaches in the world…bringing home that little something to remind you of the adventure you had with us!

Sunset Cruises

Sunset Cruises

Surrounded by water, friends
and family, drink in hand…
Experience the most
breathtaking spectacle of
Naples's most popular
attraction…the sunset.

Dream
Weddings

Dream

Weddings

Effortless planning, stunning views, and lifetime memories…we host rehearsals, welcome parties, ceremonies and receptions.

Sightseeing
Cruises

Sightseeing

Cruises

Sightseeing Cruises Relax, breathe and enjoy the beauty of Naples Bay and all that surrounds it…playful wildlife, magnificent homes and natural beauty.

Corporate
Charters

Corporate

Charters

Your pleasure is our business…..let us take care of your next meeting, office and holiday parties, or team-building events.

Private
Parties

Private

Parties

Welcome aboard to celebrate any social occasion; birthdays, anniversaries, reunions, graduations – we host them all.
Cruise Calendar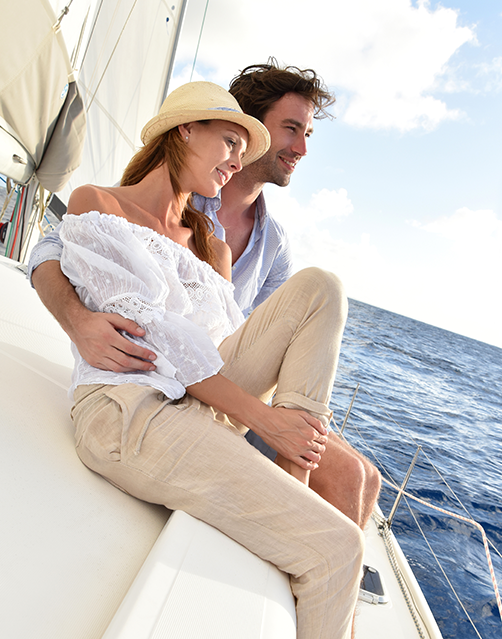 the best experiences are on the
Come sail with us aboard the newest Catamaran in Southwest Florida, Miss Naples. Our 48' custom built Catamaran can accommodate up to 48 passengers and is your perfect ride to experience the beauty of Naples. Join us for one of our daily trips which include beach shelling, afternoon sightseeing and sunset cruises. You will experience the spectacular homes, breathtaking sites and natural beauty of Naples Bay and Port Royal. Weather permitting, we will head out to the Gulf and sail along the coast, getting a full picture of the beauty that surrounds us and the ever-popular sunset. If you watch carefully you might even spot the green flash!
Whether you want to bask in the sun or under shade we have both spots for you to realx and let the salty breeze take you away.. Get up close and personal to see some of your favorite marine animals such as dolphins, manatees and turtles. Enjoy a selection of wine, beer, water and sodas from our onboard bar as well as a variety of snacks to enhance your trip. Miss Naples is also available for private charters, corporate gatherings and weddings. The event team is ready and waiting to help plan your perfect event handling all the details to make it easy and convenient on you. Miss Naples is owned and operated by the same team as the Naples Princess which has been serving customers locally for over 26 years and is docked/sails from Port O Call Marina located right downtown Naples, directly adjacent to the shopping of Tin city, Naples, Florida.
read more
Let's Make This Inbox Official
Join our newsletter for exciting upcoming events, special offers, and more!
May We Introduce Our Siblings
Sours: https://www.naplescatamaran.com/
Naples \u0026 Marco Island - The Paradise Coast
The huge bright office, the walls of which were completely tiled, looked more like an operating room. There were a lot of cabinets, bedside tables, a couple of gynecological examination chairs, and two huge tables of different shapes, apparently really operating rooms. Problems. The doctor washed his hands thoroughly, listened to me with a serious look and washed his hands again and again.
You will also like:
No, it was Lenka who was running around there hoping to meet some prince on a white horse, while I was sitting in my room and reading or watching. Lenka is still such a fool, she seems to know everything about guys, but sometimes she asks me stupid questions about. Sex, but such that my hair stands on end.
I still want to have an educational conversation with her, but I can't make up my mind, I need some kind of visual aid, Tanya said busily. Following her daughter with a glance.
5639
5640
5641
5642
5643