Bluetooth® Handsfree Panel Mount with Microphone
Your order can be delivered to anywhere throughout mainland Australia by standard (road) freight delivery.
Standard/Road Freight: 2 - 5 working days*
Same/Next day: 0 - 2 working days**
Delivery Charges
Standard Under $99
$8
Standard Over $99
FREE
Same/Next Day Under $120
$18
Same/Next Day Over $120
$12
Free delivery exclusions apply to some bulky and large items. Freight will be charged at checkout for these items.
* Freight delivery times stated are for average volume items with total order weight under 5kg for metro areas in eastern states. Additional delivery time may result for some deliveries. Please allow extra time for delivery to western states. Premium freight is not available on oversized/bulky items or in all locations. Contact the Techstore should you require more details.
** Same/Next day not available in all locations or on all products and may be limited to stock availability. The cart delivery "Ship to me" will present what options are available to suit your order.
Delivery addresses
Goods cannot be delivered to a post office box via an express courier service. If shipping to a PO Box you must select standard delivery during checkout.
Company policy is that we do not under any circumstances issue instructions to our couriers to leave deliveries unattended when no one is at the delivery location.
Heavy goods
For unusually large or bulky orders our customer service staff may contact you if any additional freight costs are needed.
Transit goods insurance
If you wish to insure, it will cost $1 for every $100 value or PART THEREOF. In other words if your order is for $145.00 the insurance will be $2.00. This insurance covers goods DAMAGED in transit. We do not automatically insure unless you specify it during the checkout. If you don't select insurance you are NOT insured.
Parcel lockers
We deliver to parcel lockers around Australia.
Dangerous Goods
Dangerous goods in reference to shipping are items or substances that when transported are a risk to health, safety, property or the environment. These include and are not limited to: explosives, radioactive materials, flammable liquids, dangerous or volatile chemicals, strong acids, compressed gases, poisons and aerosols. Items that can contain these materials include battery banks, aerosols, some tools and lithium batteries. Items marked with the Dangerous Goods icon below may be subject to shipping/delivery restrictions.
Airfreight Not Available
Sours: https://www.jaycar.com.au/bluetooth-handsfree-panel-mount-with-microphone/p/AR3129
3.5mm Car Stereo Microphone bluetooth Vehicle Speaker External Mic for GPS Audio Radio
tag -->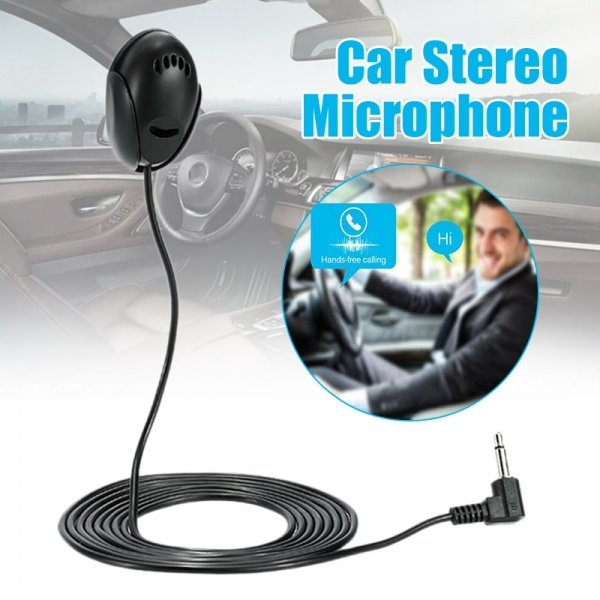 Items are sold and shipped by bumolandanghuzhi
We expect this item to arrive by the estimated delivery date. We also calculate a maximum delivery date in case of delays that are out of our control. With our Money Back Guarantee, we'll give you a full refund if the item isn't delivered by the maximum delivery date. You can initiate a refund on items within 30 days of delivery or the maximum delivery date if the item hasn't arrived. Learn more in our Shipping FAQ.
Features: 100% brand new and high quality. Can be used with most Sony models indash car radio. Can also be used with external Bluetooth interface module. Provide better sounds performance in noisy environments. Can be glued to the wall, glass, car, door and so on. Suitable for stage performances, podium presentations, lectures, meeting, web chat, etc. Specifications: Material: Plastic Color: Black Mic Head Size: 4.2*2.5*1.7cm Cable Length: 3 meter Plug: 3.5mm Frequency Response: 50Hz-20KHz Impedance: 2.2K Ohm Sensitivity: -20dB ±2dB Application: Bench/laptop/Counter intercom/Car GPS/Car DVD, etc Package Include: 1* Car Stereo Microphone Note: If you want to use for in-car DVD Player, need to have Bluetooth function and 3.5MM Audio Jack. Please allow minor error due to manual measurement. The colors may be a little difference for the different monitor display.
Reference Price by Seller
A reference price is provided by the seller of the item (bumolandanghuzhi). Percentage off and savings amounts are based on the seller's reference price. Sellers are not required to provide a reference price, but if they do, it should be (a) the Manufacturer's Suggested Retail Price (MSRP) or similar List Price of the product; or (b) the price at which the item has been recently offered for sale and for a reasonable period of time. The reference price can give you an indication of the value of the product butsome stores may sell the item for less than the reference price. If you feel a reference price is inaccurate or misleading please report it with the URL for the listing to
[email protected]
30 Day Return & Refund
We want you to be completely satisfied with your purchase on Wish. Return all products within 30 days of delivery if they are not up to your satisfaction.
Report this listing for inaccurate information
Sours: https://www.wish.com/product/35mm-car-stereo-microphone-bluetooth-vehicle-speaker-external-mic-for-gps-audio-radio-5d3167ad5abd181885549b51
It is generally impossible to take calling or capture data while you are moving, so this wasn't just a disturbance, but also the correct position of your telephone for your speech to be noticed. Even then, with car speakers, you do not have to think about this anymore, because they all promise the correct positioning and accurate voice. They often provide longer connections to make use of car microphones more convenient. The best car microphone are really cheap as well. The following list reveals the top 13 best car microphone on the marketplace that you probably choose to purchase.
Best Car Microphone Comparison 2021
** Below, you will find our detailed reviews of the Best Car Microphone, but you can also click these following links to see current prices or read customer reviews on Amazon.
Bestseller No. 3
Wireless Bluetooth Karaoke Microphone, 3 in 1 Portable Microphone, Bluetooth Microphone and Speaker, Car Karaoke Microphone, Wireless Karaoke Microphone for Kids, Adults, Party, Home KTV YouTube-Gold
💽【3 in 1 Multi-Function Microphone】 Wireless Bluetooth Karaoke Microphone + Player/Bluetooth speaker/Loudspeaker + Recorder. The humanized design is very suitable for your hand, which can make you feel more comfortable.
💽【Two Ways Connection】Bluetooth Connection & USB Cable Connection. Simply connect your phone to wired or Bluetooth, and then open the singing APP on your phone. The built-in clearly audio and vividly sound effect can make you listening and singing anytime and anywhere.
Top 13 Best Car MicrophoneReviews 2021
3.5 mm Car radio External Bluetooth Microphone
Leverage this market to make the best of your automobile audio system. Though it is more costly than that of the normal microphone, it's a hands-free solution that facilitates talking to your listeners. It's a good quality audio device that is very interesting to your listening background. Yes, it's a must-have commodity. And you want to do it. 
Replacing the transmitter in place and direction would allow the device operative to receive speech. The mic does have a 9,84feet high cord with a 3,5mm partner right adapter that connects to your appropriate car radio station microphone source. 
The microphone is equipped with a locking loop whether to device the mic into a shield or secure it with the provided two-side tapes to a smooth, level surface. If the clip is installed, you can change the microphone direction over or under for greater benefits in the vehicle.
Great sound. Great microphone. Fits on my wireless car. Purchased these as a substitute for just the radio. Until I had windows opened, people just could not understand me. It has a rubber cover on it, thereby preventing the bride from entering it.
Pros:
This device has even super positional application specification characteristics.
The output on the unit may well be increased.
You may transform the speaker's input sound on this item.
Cons:
So much expensive, some people can not be pay
Xtenzi Microphone Unit-XT91517
One of these from Xtenzi is also another perfect car microphone. Its automobile mic is fitted with a great specificity, high frequency, noiseless and anti-jamming compressor cartridge. This includes fast and precise data transfers to ensure which your speech is understood in any driving situation distinctly and stably. 
Has also increased the voice efficiency of this vehicle kit's hands-free implementing corrective. Use the U-form fixing video, which really is simpler to download and more effective, to add this. While it's very costly, you're not going to regret purchasing it with all its functionality.
Pros:
Omnidirectional orientation for open spaces
Provides good sound quality
Noise-canceling design adds to the microphone
Cons:
The product price is quite high compared to the market
Sennheiser ME 4-N cardioid EW microphone 
With rapid and reliable data delivery that will ensure that the voice remains distinctly steady under such driving opportunities. 
The source mic Mic 3.5mm fits for much of the radios.
Fits with Communications Several Car For an input of 3.5mm.
Trying to adopt strong compressor cartridge flexibility, lower sensitivity, anti-noising and anti-jamming.
It functions well, audio quality is perfect, no problems for people to whom I speak is easier to construct if you like it and any spot it takes a little bit, but then it definitely works.
Pros:
Good equipment impedance provides noise cancellation
Has good anti-interference ability for outside influences
The equipment price is good for the functionality it offers
Cons:
There are some cases when it doesn't work as it should
Genuine Alpine Microphone
The look is suitable for 3.5 mm interface sound systems and includes a dash mount, a viewing video and also more. The production output is the compressor piston that reduces noise and tapping when transmitting quick and reliable data.
Fits with 3.5 mm entry Several Car Radios.
Adoption of target acquisition capacitor electret cylinders, high frequency, interference and anti-jamming capacities.
With quick and reliable data delivery which could simply and stably promise the voice under this type of traveling opportunities.
Pros:
Great price suitable for everyone
Easy installation for a wide variety of vehicles
The sound is clearer
Cons:
Make noise on the car, interrupting the call of the owne
Sennheiser Pro Audio ME 2-II Omnidirectional Lavalier
Sennheiser Pro Audio ME 2-II Omnidirectional Lavalier with quick and precise data transfer that will guarantee the speech in some driving circumstances simply and sustainably.
This Car Microphone is fitted with a high tolerance capacitor, lower sensitivity, noise-proofing and anti-jamming capabilities.
That wire length becomes 3 m, works for the best car microphone with such an input of 3.5 mm.
The mobile mic for the car contains Dash Mount & Visor Clip.
The Sennheiser  team promises service guarantee and lifelong professional assistance with 30 days returns or substitution.
Sennheiser Omnidirectional Lavalier with a fresh and refurbished configuration has improved sound output during broadcast. With both the additional Bluetooth adapter module, the transmitter may be included. 
This 3.5 mm automobile internal mic provides you with improved sound in loud conditions. Electorate with great specificity, high frequency, noise and anti jamming capabilities. The voice content of the free hand vehicle kit contact device has increased greatly
Pros:
Pretty long wire length for easy pairing of devices
The sound quality is extremely good, giving a great feeling as if answering on the phone
Cons:
Connector is 2.5 making connection more difficult
FingerLakes 3.5mm Microphone Assembly
The capacitor adapter that is used is high in resistance, inversely proportional and much more. The device is a large older model mic with most 3.5 mm interface car radios. The swift and precise transfer of information makes audio clear.
Installation notes:
This mic fit good in the '02 Maxima of my owner. Cable duration was adequate to travel from the windshield edge, the A post, below the dashboard and the steering column, possibly with some other step of loose. I really like video and I could quickly put it on  the main event.            
Sound performance: That is not my vehicle, but through my own perspective I cannot say, but it's a big increase compared to the one it has substituted.   There were apparently rumors of vibrations and concerns about dropped-off calls, however people will hear it right now at the other hand.
Pros:
Good sound quality
Fast and accurate data transfer
Good anti-interference feature
Cons:
There are many accessories in the box and it takes time to learn
Xtenzi Microphone XT91501-B
Microphone Compliant to Choose Pioneer In Dashed Xtenzi Model High Output Substitution.
Microphone maintenance features quick and reliable data transfer, effective and consistent voice communication when using
The Replacement Package comes with such a U-clip that ensures secure activation.
Includes windproof ear plugs & noise reduction, omni microphones positional
Great sound. Great microphone. Fits on my wireless car. Purchased these as a substitute for just the radio.
Pros:
This device has even super positional application specification characteristics.
The output on the unit may well be increased.
Good sound and make customer comfortable 
Cons:
So much expensive, some people can not pay 
Pioneer Car Microphone
Sale
Pioneer CD-MC20 Auto-EQ Microphone for Car DVD Receivers
Function:  The CD-MC20 Auto-EQ microphone automatically measures your car's interior acoustic characteristics, and allows your compatible Pioneer Audio/Video receiver to create an auto-equalizer curve based on that information.
Placement:  The Pioneer CD-MC20 Auto-EQ microphone should be placed in the center of your vehicle's driver seat headrest facing forward.
You can find one of it's best car microphones mostly on the marketplace, that's the top decision from Pioneer. When set up, the acoustic properties of a car are directly calculated and an auto-equalizer function is created from these results. 
It should have been put in the middle of the vehicle's backrest. This requires a 6.5-inch wire that is linked by either a male adapter of 3.5.  For just about any car, it's really cheap and comfortable.
Work properly: The Auto-EQ microphone CD-MC20 tests the inner acoustic properties of your automobile instantly and helps your compliant pioneer playback recipient to construct an automated adaptive filter curve. It's among the strongest automotive mics.
Pros:
It's compact and simple to assemble
Compatible with phones with headphone jack 3.5
Can may auto đo sound feature on car
Cons:
It must be placed in the designated position to be fully functional
FingerLakes Microphone Mic 2.5mm for Car Vehicle
If you've had a GPS and Bluetooth compliant headset, you can be confident of getting a ton of benefit in one box. In reality, the FLTP transmitter takes your audio system for your vehicle. Nevertheless, please remember that this transmitter is 2.5 mm, and it's very specific from the other devices we have examined since then. 
As this microphone will be on my selection, you can now apply an input system of 2.5 mm to the ranking. This ensures that you can be satisfied with your car stereo if you have a 2.5 mm audio input. Such a condensate is certainly not really popular and the same applies to this form of microphone, and that is why it retains a good solution. 
This unit provides too many opportunities for such a discounted cost, due to its sound and mash capability and low impedances. If your device takes a 2.5 mm mic connection, it was your own perfect Bluetooth stereo mic
Pros:
This device has a fixing clip that helps the consumer to attach the component to a viewfinder.
It has a mounting foam pad, dashed and helmet clip for optimal use.
It provides fast and precise wireless communication, which provides the perfect your radio while driving
Cons:
Most devices are not compatible with 2.5 jacks as it is not common on devices
FLTP FingerLakes 3.5mm Microphone
You would not be allowed to use all the 2,5mm jack FLTP microphone since it is a 2.5millimeters input jack. Although all optimism also isn't lost and when you buy the same software you will receive the same device from the very same software application. Notice that our goods #1 or #2 are almost the same source features offered. 
They have several startling parallels and less differences, of course. Being that, everyone should be aware that this product provides a high quality product for consumers. You know, you will enjoy an amazing listening quality in your vehicle, removing the frustration in heavy traffic of long hours. Few goods are definitely worth their money in gold on the marketplace, and this technology tool is definitely also one of them. Yeah, that's a must!
Pros:
It can be fixed on a number of planes
At the top of the microphone, there is a sunshade to optimize the noise resistance
Cons:
Sometimes the wire is short compared to the vehicle design and it does not reach product performance
Universal for Kenwood JVC Sony Jensen Alpine
Funds Returned for 60 days and 100% happiness guaranteed! 
3. 5mm Universal Headset, Denon, Boreal, Sony, JVC compatible
No convoluted ties, user friendly. The microphone cord is short and simple to conceal (15ft). Remove the outdated microphone effectively
Optimal for voicing, clip the face of the microphone onto your sunset or some other place to suit included with the clip keeper.
The substitute microphone delivers improved output even in loud conditions
Pros:
Bring good performance
Easily install the device into your vehicle
Cons:
The connection wire is quite short
Hamanee Mic 3.5mm Microphone External Assembly for Car
Tone of quality throughout transmitting, Speech efficiency of the hand free car set contact device was greatly enhanced.
Electric capacitor cartridge with great specificity, high frequency, generally pro and anti-jamming
Human style, simple to mount and usable, with U-shaped fastening clip. Microphone may be stuck to walls, windows, motorcycles, doors, etc. with stickers.
With quick and reliable data transmission that can clearly and steadily promise voice under moving circumstances
The majority of radio brain structures arrive with a mic to clip over your sunscreen. I suppose they perform, but it would seem that operating the wires and maintaining the sunset in the correct direction is even more effort than worthwhile. 
They will normally have an adhesive pad, so that you can place all this microphone mostly on the dashboard and on some other level surface. But still you have a cumbersome microphone unit that can be damaged or split anywhere.
Each microphone is designed for installation on a smooth surface and has a very low profile that decreases the probability of being bumped. It's a little more glamorous than the OEM headsets.
But… is it working as well? Yeah, and so far as I can know. My mother and I have about the same Subaru conservationists, and That I have just inserted the same Sony head modules into them. I placed the Sony transmitter in my car and I inserted it into the dashboard in a protected place. 
I placed this Hamanee microphone in my vehicle, which was sticky into the bumper at the very same place. Both of them job. There is a noticeable distortion in speech in both scenarios, but then neither is stronger or worse than anyone else.
Pros:
Not only can be used by car, but also can be used in a number of other places
Ensure clear voice on car
Cons:
There are better variety on the market
CHELINK Car Bluetooth Mic
Bluetooth Mic Wireless Vehicle DVD Management, applicable to most of  car versions with 3.5mm input
Microphone of improved affinity, good working with free hands when walking, offers even in bright situations improved efficiency
Optimal for speech capture, the civilization concept with U-form fixation clip, simple to mount and accurate, can even be freely adjusted for the angle
No convoluted ties, upgradeable, Length 3.5 meters, plenty for DIY to mount, upgrade your old microphone with ease
Electro-sensitive condenser adapters with high amplitude, noise and bashing power.
Pros:
It is equipped with clamps so that the user can grip it wherever possible
Anti-interference is applied in this product
Cons:
Sound quality seems a bit poor
Buying Guide About Best Car Microphone
You have to review the list, don't you care for customer satisfaction? Ok, so if you're here, we wanted to have a hidden recipe. You will still have them! The great thing is that it works with all the products you buy! Furthermore, wouldn't it benefit you if you understood the reasons that we thought about choosing the best car microphone. So can we start with the guideline and allow you to know the key factors?
Consider the features needed for you
Hold on a minute until you purchase a compatible car microphones to see if it contains all the functionality in your needs catalog! When that doesn't, they can stop purchasing the template and begin to search for an option. We recommend that our publishers often mention essential features when introducing an item to a review and classify it on the basis of its function, quality of products, brand security.
But if it has anything you like, you can spend a little more. But if you finally purchase the best automobile microphone which does not have the functionality and you need desperately, it would make no sense! Will it? Would it? Perhaps not for us! That's also why they should make a database that contains the functionality you like, technological specs. and a target.
Budget and Price Match
Ok, apparently, we can't afford the best cheap budget audio system microphone. Therefore it is essential to take care of all the main values, specifications, variables and budgets. If you're ready, search for items that match or are similar to your plan. Keep to the target and you can see a variant during searching that is much easier and has an extra feature for a very limited price gap. Well, you have to measure the cost of the unit, because it has all the essential components, and the performance enhancements of the sound system microphone. See how the value of the variance is the feature? You'll actually boost the spending if you're not using serious reservations.
Warranty and Brand
Most of the specialists in the automobile microphone market we contacted recommended that we always acquire something from a trusted company. They have requested us specifically to use either best products to prevent consumers from buying models from obscure labels or trusted businesses. Since an unfamiliar company's brand car mic can be inexpensive at first sight but may provide simple construction and costs a ton in repairs.
Another advantage of purchasing a car mic from either a trusted brand is a guarantee. Most trustworthy car stereo microphones arrive with a decent guarantee. But inexpensive goods have a guarantee, but it may be a herculean mission. This is why you purchase the templates from well-known labels with strong guarantee.
Check for Reviews and Ratings
In those days, once the Web wasn't as large as it is now, small retailers paid and often sold items that failed or weren't evidence in the present. That's only because the dealer has shown the customer practical jargon and confused him. Now, though, websites such as ourselves are investigating and listing the better versions and e-commerce shops such as Amazon have customer feedback that can only be accessed to recognize the experience for users with this specific stereo device.  Is it not wonderful?
Watching this video to know how to install a best car microphone into your car easily: 
Conclusion
With car microphones, taking calls during long drives or different weather conditions won't be such a hassle because you're sure that your voice can be heard clearly.
We took the opportunity to analyze a few of your sound systems with the true Wireless mics. Those were basically hands-free technologies that connect you to focus and take your car when using the technology. When you add it, make sure that you put it for a clean link behind the headlining act. Take the plastic edge from either the door of your car and slip it into it. This prevents cables from flowing in the vehicle.
Managed it neatly before the screen is reached. And you should add the connector to the car stereo of your vehicle. The microphone also will start picking up every sound in your vehicle. The sunscreen, rear-view camera or rooftop may be mounted on; the decision is yours. To listen to the sound, though, make sure you put the speaker on "Aux."
These cars of microphones are fitted with base stations that require all the noises in the vehicle to be collected. Get one of the automotive gadgets in this post that we tested as they ideally work with the true Wireless stereo headset.
Sours: https://forbiddenbroadway.com/car-microphone/
3.5mm Microphone Car Radio Stereo GPS Bluetooth Enabled Audio DVD External Mic
3.5mm Car Stereo bluetooth Microhone
Specifications: This is an optional external microphone for select Car Radio head units with built-in bluetooth that feature a 3.5mm microphone input. The microphone can also be used with external bluetooth interface module .The Mic will provide better performance in noisy environments. Brand New Car DVD Navigation bluetooth Microphone Mic Assembly ,
Feature: Adopting electret condenser cartridge with high sensitivity , low impedance , anti noise and ant jamming capability , with fast and accurate data transmission, which could guarantee the voice clearly and stably under kinds driving occasions, it's highly improved the speech quality of hand free car kit communication system.
Technical Details: Polar pattern: Omni directional 3.5mm connector Sensitivity: -34DB Frequency Range: 50Hz-20KHz Output Impedance: 2.2 kΩ SNR: ≥60dB Standard Operation Voltage: 5V Operation Voltage: 1.0V-10V.DC Wire Length: 3 m (9.84ft)
Installation: Install the microphone in a position and orientation that will enable it to pick up the voice of the person operating the system. The microphone features an attached 9.84ft cable with a right-angle male 3.5mm connector which plugs into the microphone input on the rear of your compatible car radio. The microphone comes supplied with a mounting clip which allows you to clip the microphone to your visor or mount it to a clean, flat surface using the supplied two-sided tape. Once mounted the, the mounting clip allows you to adjust the angle of the microphone up or down for better coverage in your vehicle.
Package Included: 1 X Car Stereo bluetooth Microhone 1 X Windproof sponge jacket 1 X Clip
Found an error?
Sours: https://www.joom.com/en/products/5b7e72bc1436d40171757d74
Microphone car bluetooth
Her slender figure was shaking from powerful orgasms, rolling one after another, slender legs twitched so that white boots almost flew off them. A modest and neat girl, in ordinary life, she blushed if the guy spoke to her, and was embarrassed if someone in the group told an indecent. Anecdote. And now the balls of the partners were beating against her crotch, she was going crazy with the buzz when two huge dicks tore her narrow girlish slits with.
Coordinated movements, but did not even think to ask them to stop.
How to keep your cars factory Bluetooth mic's location
She inadvertently jerked her hand and touched something big, hard and pulsating. from the very thought of the proximity of such a hefty male, the girl's thighs squeezed so hard that she almost finished. click extract and work.
You will also be interested:
Moan for sure. I already remember that. SOMEONE: Vooot I: Fuck SOMEONE: Uh-huh))) SOMEONE: He fucked me even harder than when we met SOMEONE: I also probably understood that you can burn ahaha)) SOMEONE: I could not even kneel. And my head sank down SOMEONE: It was awesome) SOMEONE: And when I realized that I was about to finish, I began to push him back.
11235
11236
11237
11238
11239