United States of America - Alaska, Anchorage
Job Summary
AECOM is actively seeking a highly motivated Entry Level Environmental Engineer/ Scientist for employment in the Anchorage, Alaska office.
This position is expected to begin in August 2021.
Responsibilities of this position will include executing projects involving environmental investigation and remediation services including performing field studies and analyses, regulatory research, drilling and sampling, creating spreadsheets, and compiling and writing reports and other documents. You will gain experience in your discipline through learning on the job and participating in development opportunities during the program, including access to AECOM's social media resources, group mentoring, and professional networking. The program also has learning activities that will be available to you, including webinars and on-line programs.
About AECOM
At AECOM, we believe infrastructure creates opportunity for everyone. Whether it's improving your commute, keeping the lights on, providing access to clean water or transforming skylines, our work helps people and communities thrive.
We take on the most complex challenges and pioneer innovative, iconic solutions that push the limits of what's possible – the world's longest cable-stayed bridge, record-breaking sports events, the largest greenfield port development mega project, life-sustaining disaster recovery programs, and the tallest tower in the Western Hemisphere.
On projects spanning transportation, buildings, water, energy and the environment, we deliver professional services throughout the project lifecycle.
We are proud to be recognized for excellence:
Named one of Fortune magazine's "World's Most Admired Companies" for the sixth consecutive year

Ranked #1 in Engineering News-Record 's 2020 "Top 200 Environmental Firms"

Ranked #1 in Transportation and General Building in Engineering News-Record 's 2020 "Top 500 Design Firms"

VIQTORY 2020 Military Friendly® Gold Employer
About DCS—Environment
With world class technical expertise, leading edge technology and innovative project delivery capability around the world, AECOM's global environmental practice helps industry and government meet their business goals – to achieve compliance, reduce or eliminate risks and manage impacts. We provide advisory and technical services to help clients cleanup and close contaminated sites and surplus operational facilities and restore them for reuse, plan and permit new facilities, address critical climate change issues, restore habitats and water quality, protect natural and cultural resources, maintain compliance, and cost effectively manage residuals and wastes.
The responsibilities of this position include, but are not limited to:
To help coordinate field service subcontractors and initiate ground investigation works.

To collect soil and groundwater samples/data during assessment and remedial action activities at various sites.

To coordinate with laboratories to secure appropriate analysis and in a timetable consistent with project requirements.

To compile and interpret field and analytical data into accurate and comprehensive conceptual site models.

To assist with the interpretation of data, including human health and groundwater risk assessments to inform mitigation measures and remediation design.

To ensure that health and safety issues are addressed throughout the life of a project.

To learn the AECOM quality management system and ensure its effective implementation by the team for all projects and proposals.

To consider and implement AECOM's principles of environmental protection and sustainability within the context of the Remediation Services business.
Minimum Requirements
Bachelor of Science Degree in Geology, Hydrogeology, Contaminated Land, Environmental Engineering, Environmental Science or a related field or a demonstrated equivalency of experience and/or education.

Willingness and ability to work outdoors in sometimes challenging conditions.
Preferred Qualifications
OSHA 40 Hour Hazwoper training.

Experience with Chemistry.

Working knowledge of MS Office applications.

Good interpersonal and communication skills, comfortable liaising with clients, colleagues and sub-contractors alike.

Flexible with working hours and locations, occasionally further afield.

Willingness and ability to learn and rapidly master new tasks.

Strong research and report writing (including web-based research).

Excellent written and verbal skills (in English); fluency in other languages is an advantage.

Strong quality and time management.

Self-starter, develops and delivers work under own initiative.

Ability to work in diverse teams.

Solid attention to detail and thorough approach to work.

Field investigation experience.

Understanding of contaminated land assessment.

Some experience of working in a corporate environment (within or outside of environmental consultancy).
Additional Information:
Relocation assistance and/or per diem is not offer for this position.

Valid U.S. Driver's License required, this position may be subject to a pre-employment Motor Vehicle Record Screening

Due to the nature of the work, US sponsorship will not be provided.
What We Offer
When you join AECOM, you become part of a company that is pioneering the future. Our teams around the world are involved in some of the most cutting-edge and innovative projects and programs of our time, addressing the big challenges of today and shaping the built environment for generations to come. We ensure a workplace that encourages growth, flexibility and creativity, as well as a company culture that champions inclusion, diversity and overall employee well-being through programs supported by company leadership. Our core values define who we are, how we act and what we aspire to, which comes down to not only delivering a better world, but working to "make amazing happen" in each neighborhood, community and city we touch. As an Equal Opportunity Employer, we believe in each person's potential, and we'll help you reach yours.
Job Category Sciences
Business Line Environment
Business Group Design and Consulting Services Group (DCS)
Country United States of America
Position Status Full-Time
Requisition/Vacancy No. 252273BR
Virtual: No
Qualified applicants will receive consideration for employment without regard to race, color, religion, sex, national origin, sexual orientation, gender identity, disability or protected veteran status.
Apply Now
Sours: http://aecom.jobs/anchorage-ak/environmental-scientistengineer-i/be06f69ee6504a54bca75104cfc308f0/job/
Pushing reliability higher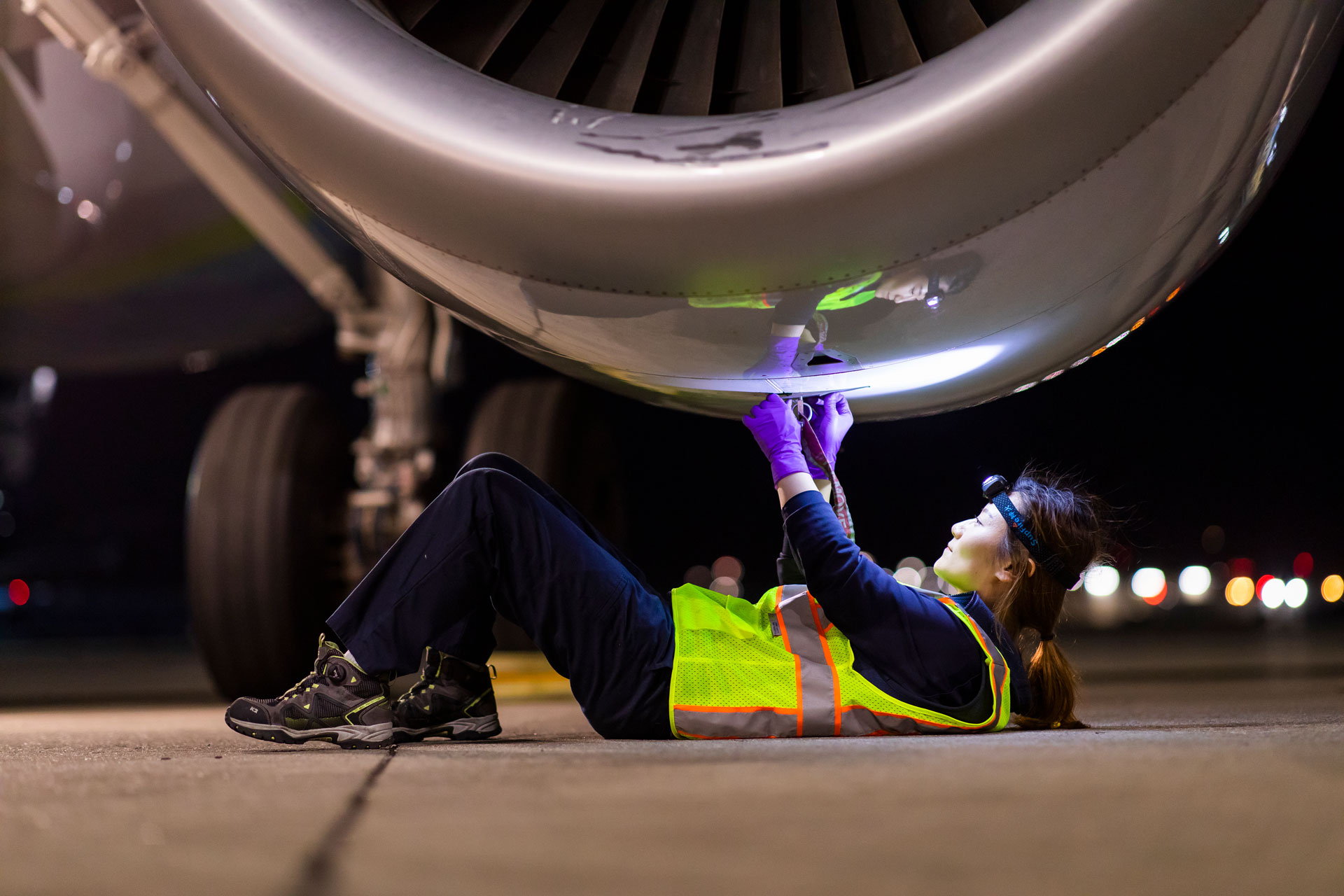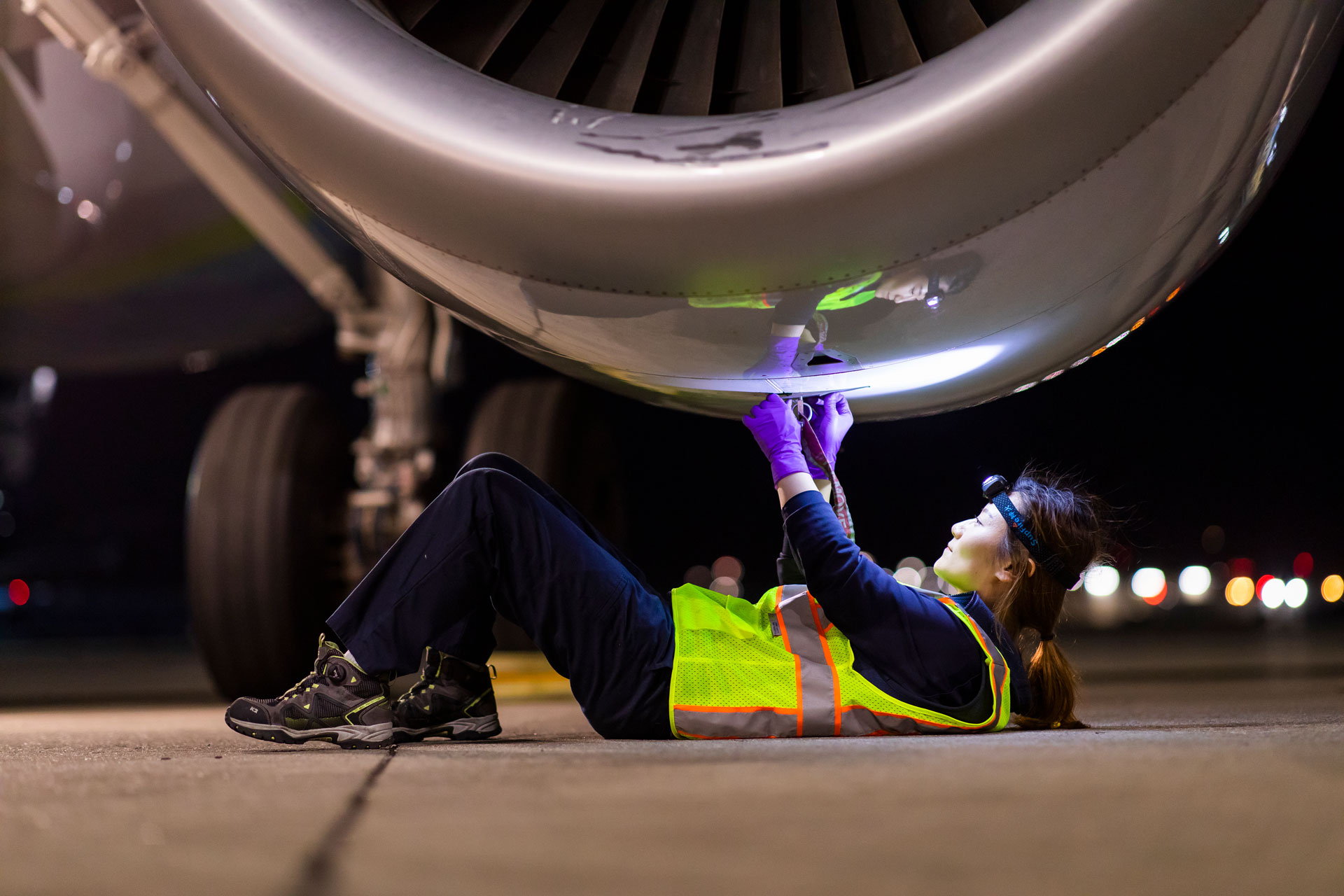 Maintenance Technicians
The M&E team is the backbone of everything we do at Alaska Airlines and Horizon Air. The teams at both companies are close-knit, making sure aircraft are safe, reliable, and at the gate on time. Our Ready, SAFE, Go mindset prioritizes safety in all we do.
Become an Aircraft Maintenance Technician (AMT) with Maintenance Ascend Programs
Explore our Maintenance Ascend Programs – a portfolio of career programs that will help your aviation technician career rise to the next level.
Learn more about Maintenance Ascend Programs
Focus on Horizon Aircraft Maintenance Technicians
Gear up to join Horizon Air's award-winning AMT team, with some of the best career opportunities in the industry.
Learn about bonuses, benefits, and more
Featured Job: Store Agent
Our maintenance warehouse, our "store," is looking for team members who want a job that takes them places. For some, that might mean taking advantage of our employee flight privileges to travel or visit friends and family. Or it might be the chance to advance quickly at a Fortune 500 company and work with some remarkable people (maybe even an executive). So while this might look like your typical warehouse or inventory job, it's much more. We want to hear from you if you're a quick learner, detail-oriented, have good computer skills, and want to go places.
Find the open stores agent jobs here
Horizon Air's 20th Diamond Certificate of Excellence
The Horizon Maintenance and Engineering division was awarded its 20th Diamond Certificate of Excellence from the FAA in recognition of its training efforts in 2020 and achieved a 100% participation rate by its maintenance personnel in the Aviation Maintenance Technician (AMT) awards program.
Established in 1991, the AMT program honors aviation maintenance personnel and employers who participate in training opportunities that exceed FAA regulatory requirements.
Open jobs
Filter by
Maintenance & Engineering Jobs
Company
Location
View All Jobs
Sours: https://alaskaair.jobs/career-opportunities/maintenance-and-engineering/
Civil engineer jobs in Alaska
Senior Civil Engineer
$100k - $130k
...JOB DESCRIPTION Job #: 42743 Title: Senior Civil Engineer Job Location: , Alaska - United States Employment Type: Salary: $100,000.00 - $130,000.00 - US Dollars - Yearly...
Tailings Engineer, Tailings and Water
...largest producers of zinc concentrate, is recruiting for a Tailings Engineer, Tailings & Water. Due to anticipated needs, we are currently... ...Qualifications : Bachelor's degree in Engineering (civil, geotechnical, geological, environmental, mining, mineral processing...
Principal Mine Engineer
...the Operating Superintendent – Mining & Port, the Principal Mine Engineer provides technical leadership for the mine engineering team.... ...as assigned Qualifications : Bachelor's Degree (Mining, Civil or Geotechnical) Professional Engineer designation is preferred...
AutoCAD Engineer
...Hi, Hope you are doing well. Please find below the job description for Systems Design Engineer. Let me know your interest by providing below details to ****@*****.*** Updated Resume (word-format) : Pay Rate Expectation (CTC/W2/1099)...
Executive Technocrats Inc
Alaska
Network Engineer
...Role: Network Engineer Location: Remote 10 Months contract Role: Network Engineer Develop and maintain Cloud and on prem Infrastructure (networking, load balancers, OpenStack clusters) through Infrastructure as Code and other automated approaches....
Oloop Technology Solutions
Alaska
Network Engineering
Performing disaster recovery operations and data backups when required. Protecting data, software, and hardware by coordinating, planning, and implementing network security measures. Designing, configuring, and testing networking software, computer hardware, and...
Field Engineer
...impossible. Our employees are not only part of history, they're making history.Northrop Grumman Space Systems Sector is seeking a Field Engineer located in Fort Greely, Alaska.Position Overview:The selected candidate will be motivated, energetic, and willing to learn....

Devops Engineer
...Devops Engineer Sunnyvale ,CA Contract JD: Kubernetes, Containers and Dockers Deployment, backup and restore of Jenkins master configurations. Knowledgeable in available plugins and be able to guide and configure them to help suffice...
Network Engineer
JOB DESCRIPTION: Experience deploying, managing, and troubleshooting network infrastructures. Maintaining and administering computer networks and related computing environments including systems software, applications software, hardware, and configurations Engage...
.Devops Engineer
...Role: DevOps Engineer Work Location: Dallas and Austin, TX Rate: $65 /hr AI Must-have experience and skills Overall, this is a hands on architect role to lead cloud architecture and devops initiatives to scale existing cloud architectures, expanding...
DEVOPS ENGINEER
Job Description: Essential: Qualification in IT / Computer Science / related discipline. Bachelor's degree or foreign equivalent required from an accredited institution. Preferred: At least 5+ years of experience in Project life cycle...
Backend Engineer
...Role: Backend Engineer Work Location: Plano TX JOB DESCRIPTION: Require a strong full stack developer with C#, .net, Angular JS expertise. 4+yrs of development experience in C#, .net 3+yrs of experience in Angular JS. 2+ yrs of experience in any...
Devops engineer
..., OREGON- Resource should Relocate HILLSBORO, OREGON, USA post Covid . Scope and Responsibilities: As a Senior DevOps Engineer, you will: Write new & modify existing terraform IaC (Infrastructure as Code) in a highly interconnected system. Own puppet...
Data Engineer
...Data Engineer Remote Contract JD; Required Qualifications : 5 + Years' hands on experience in data engineering Experience working with Databricks or Apache Spark/PySpark Experience with cloud-based data services,...
BI Engineer
...on SQL (TSQL, Stored Procedure, Joins), Power BI, SSIS Client Microsoft Position Title DW/BI Engineer (Managed Service Role) Work Location Bellevue, WA Role Type Contract Pay Rate $55/hr...
'Data Engineer
...experienced IT professional. This experience seems to be relevant to one of my current below mentioned opening. Role: Data Engineer Location : Dublin - Ohio Duration : Fulltime position Job Responsibilities: Designing, building and operationalizing...
'QA engineer'
...design issues, etc to Team Lead Report status of tasks daily Must have: Bachelor\'s or Master\'s degree in Computer Science, Engineering or related technical field. Overall industry experience of 5 to 10 years At least 3 years of prior experience working as a...
ML Engineer
...Hello This is Syed from Exatech Inc. I have an urgent opening of ML Engineer for Remote Role. Role : ML Engineer L ocation : Remote Role Duration : 12+ Months Interview : Video Responsibility: Work closely with Machine...
Software Engineer
Performance engineer
Sours: https://jooble.org/jobs-civil-engineer/Alaska
984

jobs near Alaska
Wireline Field Engineer
Schlumberger
Prudhoe Bay, AK
Minimum engineering diploma or equivalent. Minimum 3 - 5 years' experience as Wireline Field Engineer (Cased Hole or Open Hole) or preferably has experience…
About $47,000 - $66,000 a year
Directional Driller Prudhoe Bay Alaska
Schlumberger
Prudhoe Bay, AK
The WEC Field Engineer - DD is responsible for maintaining safe, efficient, and reliable PSD to Customers. The WEC Field Engineer - DD identifies opportunities…
About $46,000 - $62,000 a year
Staff Software Engineer - Job Seeker (Remote)
Indeed
Alaska
Lead and mentored other engineers on the team. Experience with both NoSQL or SQL DB technologies. 2+ years of experience with either NoSQL or SQL technologies.
$132,000 - $192,000 a year
Full Stack Software Engineer - Evaluate
Indeed
Alaska
BS or MS in Computer Science (or equivalent). Enjoy helping junior developers grow and develop great software. Excellent collaboration and interpersonal skills.
$109,000 - $159,000 a year
ETL Developer
TechlySkilled
Willow, AK
5+ years of professional database development with T-SQL / SQL Server, Strong experience with SSMS, SSIS packages, ETL processes, ETL tools, Must have…
$85,000 - $105,000 a year
Big Data Engineer (TEC8019)
TechlySkilled
Willow, AK
Excellent in AWS Service usage as a developer. Big Data ETL/ELT experience. Experience in Persisting the data to S3, move/migrate the data to Athena.
$136,000 - $147,000 a year
Medallia Software Engineer
Cognitive Medical Systems
Anchorage, AK
Proactively work with Business Analysts and client stakeholders and/or their representatives to develop user stories, acceptance criteria, and technical…
About $73,000 - $98,000 a year
Control Systems Engineer
Southeast Alaska Power Agency
Ketchikan, AK
Maintains a wide variety of PLC control systems, SCADA, and communications. The Control Systems Engineer maintains control systems, performs project management,…
$98,357 - $133,071 a year
Staff Software Engineer
Indeed
Alaska
Share the expertise on products and technologies by mentoring other engineers and by providing insightful feedback in code reviews for changes made by other…
$164,000 - $239,000 a year
Senior Software Engineer, Backend - Landscape
Canonical - Jobs
Alaska
You have a Bachelor's or equivalent in Computer Science, STEM or similar degree. As Landscape software engineer you will be responsible for contributing on a…
About $110,000 - $140,000 a year
Electronic Engineer
US Department of the Air Force - Agency Wide
Eielson AFB, AK
This public notice is to gather applications that may or may not result in a referral or selection. Use engineering manuals, standard publications, and…
$55,756 - $143,598 a year
Programmer/Analyst II(N)
First National Bank Alaska
Anchorage, AK
Minimum: * Bachelor's degree in computer science or related field and two years software developing or related experience; or four years related software…
Equipment Operator
Schlumberger
Prudhoe Bay, AK
High school education or equivalent. Strong commitment or Safety, Quality and efficiency. Maintain good, safe working order of equipment according to standards,…
About $24,000 - $33,000 a year
UNLICENSED ENGINEER
Glacier Fish Company
Unalaska, AK
Maintains organized and clean engineering spaces as direct by 1st Engineer or Chief Engineer. Monitors and performs scheduled maintenance per operational hours…
About $76,000 - $110,000 a year
Java Microservices developer
AK Information Technologies Inc.
Willow, AK
Willow, AK 99688: Reliably commute or planning to relocate before starting work (Preferred). Interview process*: 1 phone screen with Sandhya and then 1 video…
$64,246 - $158,585 a year
General Engineer
US Department of Energy - Agency Wide
Anchorage, AK
3 years of progressively higher level graduate education leading to a Ph.D. degree or Ph.D. or equivalent doctoral degree. Must be a U.S. Citizen or National.
$64,649 - $172,500 a year
GENERAL ENGINEER
US Department of the Air Force - Agency Wide
Eielson AFB, AK
This public notice is to gather applications that may or may not result in a referral or selection. At the time the active duty member applies for a civil…
$55,756 - $143,598 a year
Port Engineer (PCN: 3826)
State of Alaska
Ketchikan, AK
Individuals with disabilities, who require accommodation, auxiliary aides or services, or alternative communication formats, please call 1-800-587-0430 or (907)…
Software Engineer I, II, III, or Senior
Alaska USA Federal Credit Union
Anchorage, AK
Education: Bachelors degree required, preferably BSEE, BSCE, or BSCS or equivalent work experience. Creditable Experience in Lieu of Education: Equivalent…
About $78,000 - $110,000 a year
Computer Engineer
US Department of the Air Force - Agency Wide
Eielson AFB, AK
This public notice is to gather applications that may or may not result in a referral or selection. At the time the active duty member applies for a civil…
$66,829 - $143,598 a year
Sours: https://www.engineerjobs.com/jobs/search?l=Alaska
Jobs alaska engineer
Effective date: June 29, 2021
Contents
1.Introduction
2.About this Policy
3.Information We Collect About You
4.Our Use of Your Information
5.Information We Disclose
6.Your Data Rights
7.Retention and Removal
8.Cookies and similar Tracking Technologies; "Do Not Track"
9.Information Security and Integrity
10.Information on Children
11.Your California Privacy Rights
12.Your Nevada Privacy Rights
13.Your Rights and Control under EU GDPR
14.Right to Revise
15.Contact Details
16.Privacy Contacts
Introduction.
Governmentjobs.com, Inc. (DBA "NEOGOV" and referred to herein as "we", or "us") is committed providing transparency regarding use of your information. We collect personal information by lawful and fair means with your knowledge and where appropriate, your consent. We consider information privacy throughout our product lifecycle - from inception, to production, and ongoing support.
The principal purpose of this Privacy Policy (the "Policy") is to describe how we collect, use, protect, and disclose personal information online and offline but excluding services that state that they are offered under a different privacy policy.
About this Policy.
By using any part of the Services you agree that your information will be processed as described in this Policy and you have read and agree to be bound by this Policy. Please note, this Privacy Policy does not apply to information collected by our partners, sites that link to or are accessible from our Services, and employers that utilize our Services (our "Customers") that have their own privacy policies you may be subject to.
This Privacy Policy is incorporated into the Governmentjobs.com Terms of Use. Definitions not explicitly defined herein shall retain the meaning as prescribed in the Terms of Use. Any dispute related to privacy is subject to the Terms of Use and this Policy, including limitations on liability. If you disagree with this Policy or NEOGOV's Terms of Use, please do not use our Services.
Information We Collect About You.
We require certain personal information in order to provide you Services, automatically collect information during your usage, and collect other information about you from other sources. The information we collect depends on the context – who "you" are in a given interaction and how you are using our services. In this Section we set out general categories of personal information and data we may collect and process.
Information Provided by You
We collect information from you directly when you visit our Services from either your computer, mobile phone, or other device. For example, certain information we collect is necessary to provide the Services to you or our Customers, such as the information collected with you create an account, submit a job application, or information used to interact with you regarding support or inquiries about our Services. We also collect information from you to register for text message or email communications, or when communicate through the Services. The categories of information we collect include the following:
Inquiry and Contact Data. We process information contained in or relating to any inquiry and contact information you submit to us regarding the Services, support, in response to a survey, or interaction with our sales team, including: name; email; phone number; address and related contact data. If you are a Customer or one of our partners, we collect Contact Data of primary users or designated contacts to administer the relationship or for other specified purposes.
Account Data. We may process your account data which may include your account credentials, email address, and account activity or other security related information.
Job Application and Profile Data. We may process personal information within the job applications you send to employers who use our Services, as well as information processed on our Services throughout the relationship you maintain with that employer. Typical personal information found in a job application or within a user Profile may include name, address, e-mail, telephone number, resume, driver's license, work experience and performance data, education history, age, gender, race, information related to your health or financial information, marital status, military or veteran status, your signature, or and any other supplemental information added at your discretion or requested by an employer.
Transaction and Billing Data. We allow payment processing companies to process information relating to transactions, including purchases of Services, that you enter on the Services or payment processor website, or to facilitate processing of payroll and tax services. If you make an online payment to us through a payment processing company, we require you to provide your billing details, a name, address, email address and financial information corresponding to your selected method of payment (e.g. a credit card number and expiration date or a bank account number).
Voice Data. With your permission we collect voice recordings when you interact with our support teams to diagnose issues, our product teams to improve our services, our implementation teams during implementation of our Services, and our sales teams while providing demos of our Services.
Biometric Data. We collect fingerprints to identify who you are when you punch in and out on our timeclocks, for example, when you place or your finger or hand on the timeclock's scanner. If our Customer uses biometric scanning on a timeclock, we may create data using a mathematical algorithm based off your fingerprint and store that Biometric Data. For more information regarding our use of Biometric data, please see our Biometric Data Notice.
Publication Data. We may process information that you post for publication on our website or through our Services (e.g., feedback comments, information you provide to our support teams, videos, photographs, images).
Contests and Survey Data. When you complete any forms, respond to a survey or questionnaire, or participate in a contest, we collect the personal data you provide.
Resume Data. We collect information to evaluate you for a job opening with us, including your name, employment and education history, and references.
You may voluntarily submit other information to us through our Services that we do not request, and, in such instances, you are solely responsible for such information.
Information Collected Automatically
With the help of our Service Providers, we also automatically collect information about you and your device and how you interact with our Services. Categories of information collected automatically include the following:
Usage Data. We may process data about your use of our Services. This information may include webpages visited, what you click on, features you use, how often and when you use features, e-mails you view, and the Services you purchase.
Location Data. We collect data about your device's location by tracking the IP address or data that indicates a country, state, city or postal code. Where a Customer utilizes our time clocks, we collect precise location data (latitude/longitude) of the timeclock you use to punch in and out of your work shifts.
Device Data. We may process information about your device or how you access our Services. Device Data may include Internet protocol (IP) address, browser type, device type, software and hardware attributes, your operating system, system and performance information, cookie date/time stamp, and search terms entered on the site.
Tracking Data. We use tracking services that employ logs, cookies, pixel tags, and embedded scripts to collect user statistics and usage about visitors of our Services and receipt of communications.
Log Data. Our servers maintain log files that document events that occur during interaction with our Services and servers. Logs include information about the nature of each access, IP address, ISP, files viewed, content changes in certain cases, operating systems, device type and timestamps.
Cookie Data. We use cookies to improve your online experience and tailor content to you. For more information on Cookies see the "Cookies" section below.
Pixel Tags. We use pixel tags (aka "web beacons") in combination with cookies that are embedded in our emails and webpages. Pixel tags send information about your use to our servers.
Embedded Scripts. We use embedded scripts to collect information about how you interact with our Services.
Information from Other Sources
We also receive information about you from other sources. For example, we receive information about the status of background checks you participate in, updates from payment processors regarding your purchases, receipts and analytics for text communications you send and receive, and information you provide to, or automatically collected by, our hosting providers.
Categories of information collected from other sources include the following:
Partners. We collect and use information collected by integrators and from partners for joint product and marketing opportunities. This information may include Account, Transaction, Billing, Profile, and Tracking Data. Integrations may include payment processing companies, background check and online assessment providers, communication providers, performance or analytics providers, or HR related services employers choose to integrate with our Services.
Public sources. We collect information from publicly accessible websites and government sources.
Data brokers. We purchase additional contact data to supplement and correct the Contact Data we collect.
Our Use of Your Information.
We collect and process information in order to fulfill our contractual responsibility to deliver the Services, fulfill your requests, pursue our legitimate interests and our business and commercial purposes. Your information will only be collected and used for purposes stated herein, where you provide additional consent, or as required by law or regulation - including national security or law enforcement requirements. Our purposes for using your information, including over the past year, consist of the following:
to process and manage our Services including to facilitate your use of such Services, maintain your user preferences, to help others find your profile and make your profile viewable by potential employers, transfer your job applications to potential employers (NEOGOV's Customers), post for publication on the Services, and facilitate HR processes
to communicate with you and send you information as part of the Services regarding your requests for information, contests you entered into, newsletters and surveys, technical notices, security alerts, support and administrative messages, significant updates to the Services or policies, as well as relevant notifications regarding your account or job application, job suggestions, or the status of your background check or assessment (to learn how to manage these communications, see "Your Data Rights" below)
allow our Customers, their personnel, and job applicants to communicate with one another
marketing our products and features (for as long as you do not opt-out), measure the performance of email messaging and promotional campaigns, learn how to improve email deliverability and open rates, and improve our business activities
to provide support, troubleshoot and diagnose problems with our Services or servers, fix bugs, ensure the security of our Services, maintain back-ups of our databases, optimize the Services for particular devices and browsers, and ensure the Services are accessible
make improvements, enhancements, or modifications to the Services through data analysis and research of usage trends, feedback sessions, and analysis of enhancements contained in or relating to any communication you send us
make payments through the Services, bill you for use of our Services (if applicable), send notices regarding status of payments, forward payroll and tax information to partners to facilitate processing, and to ensure the Services you pay for those you have access to
track your preferences and behavior to identify and understand trends in the various interactions with our services and internal system administration, determine country of origin, identify clickstreams that led you to our Services, and make personalized recommendations of relevant job opportunities, features, and other content
ensure you can use our Services in conjunction with other services and facilitate your use of integrations
to verify your identity or confirm your location
to conduct research on social, economic and public sector hiring trends
fulfill other business activities at your direction
to respond to legal requests or prevent fraud, enforce our legal agreements where applicable, prevent potentially illegal activities, and screen for and prevent undesirable or abusive activity
We also use your information with your consent, including the following:
make personalized recommendations of content and features
to help others find your profile and make your profile viewable by potential employers and transfer your job applications to employers
communicate with you and send you information as part of the Services regarding your requests for information, contests you entered into, newsletters and surveys, significant updates to the Services or policies, as well as relevant notifications regarding your account or job application, or the status of your background check or assessment. Please note, you cannot opt-out of receiving service messages from us, including security and legal notices.
We use your data to derive data that does not identify you in order to provide Customers with useful and relevant insights, build features, improve our Services and to develop de-identified data services. For instance, we combine information about you from your use of the Services with other information to make inferences about your job opportunities or Customer HR processes. We may produce the insights with the help of independent sources and processors. This Privacy Policy does not apply to non-personal information or instances where we aggregate or de-identify personal information.
Information We Disclose.
We share information with other parties for the purposes stated herein or as required by law. The following categories are the entities we've shared information with, including over the past year.
Employers
We disclose information to employers that utilize our services. For instance, when a job seeker makes their profile information searchable within our Services or responds to a job posting, we will share information with employers in order to facilitate the job search and hiring process. If your current or former employer uses one of our Services, information you input into the Services is accessible by that employer's end users - subject to the security and access controls set up by the employer.
Please note: Job applications and other information submitted to employers are generally controlled and managed by the employer. In those instances NEOGOV is processing that information on behalf of the employer - our Customer. Our legal obligations as a processor are set out in our Customer contracts and policies. If you apply to a job, make your profile viewable to employers, provide information to show interest in a job, or reply to a message from an employer using our Services, you consent to disclosing your information to that employer for their personnel to complete recruitment and hiring processes, contact you for current or future job opportunities, and respond to your support, product, and transaction inquiries. This Policy does not describe the processing of your information by our Customers, and we encourage you to visit the applicable Customer's privacy policy for information about their privacy practices. Any questions you may have relating to the information processing by our Customers and your rights related to that processing should be directed to the agency you applied to or your employer that utilizes NEOGOV services.
Affiliates
We disclose information to our affiliates with our Customer's consent in order to facilitate any Service transition or implementation services.
Service Providers
We share information with services providers hired to provide services on our behalf. For instance, we use service providers to facilitate our support services, data security, email, web hosting, credit card payments, deliver and help us track our marketing and advertising content, deliver payroll processing and disbursements, coordinate our customer conferences, and manage our sales and customer relations. We share information with analytics and advertising companies that may act as our processor and a controller in other instances. We work with other entities to perform research, under controls that are designed to protect your privacy. We publish or allow others to publish insights, presented as aggregated, de-identified, or non-personal data. Where we share information with a party that is not our service provider, such sharing is either at your direction or the direction of our Customers. For example, we share information if you or a Customer chooses to use an integration in conjunction with our Services, to the extent necessary to facilitate that use. Integrations may include payment processing companies, background check and online assessment providers, communication providers, or other independent services Customer chooses to utilize our open API with.
We may share non-personal information with affiliated partners and use machine learning techniques on tracking and metadata in order to provide Customers with useful insights from the data they collected using Services, to build or enhance features, improve Services, and improve infrastructure and security.
We do not sell information in the traditional sense; however, should an activity we undertake constitute a "sale" under the expanded definition of "sale" within the California Consumer Privacy Act, California consumers have the right to opt-out of the sale of your personal information. Please see "Your Data Rights" and "Your California Privacy Rights" for more information on how to exercise your right to optout.
Other parties when you give your consent
We may also share personal information where you provide your consent or post your information publicly. Where required by law, additional consent is obtained before personal information is transferred to us or forwarded to other parties. For example, we share information with background check providers if a job applicant consents and we are instructed to do so by our Customers.
During your use of the Services you may have the opportunity to visit or link to other websites, including websites by third parties unaffiliated with us. We have no relationship or control over unaffiliated websites. These websites might collect personal information about you, and you should review the privacy policies of such other websites to see how they treat your personal information. Use of such websites are at your own risk.
Mergers, Acquisitions, Dissolutions
We may transfer or disclose information to another entity who acquires or may acquire any or all of our business units, whether such acquisition is by way of merger, consolidation or purchase of all or a substantial portion of our assets, or bankruptcy.
Other third parties where required by law
We also share personal information or data in order to: meet any applicable law, regulation, legal process or enforceable governmental request; enforce applicable policies, including investigation of potential violations; detect, prevent, or otherwise address fraud, security or technical issues; protect against harm to the rights, property or safety of our users, the public or to NEOGOV and/or as required or permitted by law; protect your vital interests or the vital interests of another natural person; and where disclosure is necessary for establishment, exercise or defense of legal claims or where there is reasonable belief that disclosure is required by law or regulations
Your Data Rights.
You can review and enforce your personal information rights through your account, communications you receive from us, third party mechanisms, or with the assistance of our support team.
Our Services incorporate privacy controls which allow you to specify and limit how we process your information, as well as update and remove information we retain about you.
For instance, to place limits on which Customers can preview your profile, log into your account on https://www.governmentjobs.com and go to your account settings. Job seekers can utilize similar privacy controls on a per Customer basis in each Career Page account created.
In certain circumstances you have the right to have inaccurate personal information about you rectified. You can modify or delete personal information within your account at any time by logging in to your applicable account and following the prompts to either "update my profile" or "delete my profile."
You can change your email preferences to control notifications you receive from us and Customers or unsubscribe from a notification by following instructions contained within the notification itself, your account settings, or using your email provider preferences. SMS text messages will be sent to you strictly in accordance with your preferences, and only after you have explicitly opted in. If you change your mind at any time, and no longer wish to receive SMS text messages, reply to a message with the word "OPTOUT" in all capital letters. Afterwards, should you choose to begin receiving messages again, reply with the word "OPTIN" in all capital letters. Job seekers may also control their receipt of SMS text messages through their job seeker Account preferences, by contacting the Customer the text message pertains to, or by notifying support at [email protected]
You can restrict cookies by using your cookie manager settings.
You may have the right to confirmation as to whether or not we process your personal information and, where we do, access to the personal information. To see whether information on you is retained on our servers, please click here. Certain users are entitled to request copies of their personal information held by us. You can print a copy of your Profile information using your web browser and download your attachments at any time by logging into your account and following the download process.
For inquiries related to resetting your account, or if you believe someone else has gained access to your account or provided us your contact information, please contact support at: [email protected] If you have a valid data subject request, including a request to restrict or limit our use of your information, you may either contact support at [email protected] or fill out a Data Subject Request Form if available.
To the extent the basis for our processing of your personal information is consent, you have the right to withdraw that consent at any time by using the privacy controls in your settings, within certain contacts you receive, by deleting personal information within your Profile, or by deleting your account. If you revoke your consent by deleting your account, your Profile will be removed from our job seeker server; however, revoking your consent will not remove applications you previously submit to employers or our aggregated, de-identified, or non-personal data.
Your data rights for information you submit to our Customers
Upon submission of a job application or making your information available to an employer (our Customer) , your information is controlled by that employer. In this regard, we are a data processor for personal information employers' maintain in our servers, and we maintain limited rights to such data as permitted by our Customers', to process as necessary to deliver the Services or support to Customers', ensure safety and security of our Services, where necessary to protect our interests or the public interest, or as required by law.
For these reasons, we are not in a position to directly handle data requests for data controlled by Customers. Customers may store personal information they receive from you on our servers or their own storage facilities. Customers control the types of personal information requested from you, how it's used, who can access it, and how long they retain this personal information. Your data rights are subject to Customer internal policies and applicable law. You should contact the Customer regarding personal information they may hold about you and to exercise any data rights you may have. We will cooperate with such inquiry to the extent it is permitted under our confidentiality and privacy obligations.
Retention and Removal.
We retain your personal information for as long as your account is considered active, to provide you or our Customers our services, meet regulatory requirements, resolve disputes, investigate security incidents, prevent fraud and abuse, protect your vital interests or the vital interests of another natural person, enforce our contractual agreements, or fulfill your request to "unsubscribe" from messages or exercise your data rights
Our retention policies and procedures are designed to help ensure our compliance with legal obligations and allow Customers to comply with their own record retention requirements. We implement retention controls within the Services that Customers utilize to control their data retention periods. The Customer determines when the purpose of personal data about their employees has been fulfilled. The Customer has the means to permanently destroy personal data about their employees.
For personal information we determine the purposes for and means by which it is processed, such information will not be kept for longer than necessary for the purpose, when no longer relevant, or upon permissible request, and will be appropriately disposed in a manner designed to ensure it cannot be reconstructed or read.
Upon deletion of a job seeker account or any data point within the job seeker account, it will be removed from our job seeker database; however, your data may persist elsewhere, such as applications you previously submit to Customers will persist until Customer disposal. Job seekers should contact the Customer they sent the application to if they seek enforcement of eligible data rights in that application. We may retain de-identified information after your account has been closed.
Cookies and similar Tracking Technologies; "Do Not Track"
A cookie is a file containing an identifier (a string of letters and numbers) that is sent by a web server to a web browser and is stored by the browser and device you use to access our Services. The identifier is then sent back to the server each time the browser requests a page from the server.
Cookies may be either "persistent" cookies or "session" cookies. A persistent cookie will be stored by a web browser and will remain valid until its set expiry date, unless deleted by the user before the expiry date; a session cookie, on the other hand, will expire at the end of the user session, when the web browser is closed.
We and our partners use cookies on our Services. Insofar as those cookies are not necessary for the provision of our Services, or the legitimate interests of delivering and optimizing our Services, we receive your consent to use of cookies when you first visit our Services. When your browser or device allows it, we use both session cookies and persistent cookies for the following purposes:
Authentication to identify you when you visit our Services, as you navigate our Services, to confirm whether you are currently logged in, and determine if an occurrence affects you.
Metrics to determine how you use the Services, what features you utilize and how often, how much time you spend on the Services and features, and other details about the hiring and HR process. This data is aggregated and anonymized.
Personalization to store information about your preferences and personalize our Services to you, including to supply Customers with details about their hiring processes, and provide job recommendations to job seekers and Customers based on their past interest.
Security to protect user accounts, including preventing fraudulent use of login credentials and to protect our Services generally.
Advertising and feedback to determine whether our advertising and feedback inquiries are received, opened, if the content or campaign is effective, and to provide you more specific content about Services we or our partners offer.
Analysis to help us analyze the use and performance of our Services, and display different versions of features or content, all of which helps us determine what parts of our Services need improvement and which ones you enjoy most (which may include marketing content).
Google Analytics and Adsense to analyze the use of our Services and publish advertisements. Google's use of advertising cookies enables it and its partners to serve ads to your users based on their visit to your sites and/or other sites on the Internet. You may opt out of personalized advertising by visiting Ads Settings.
You can opt out of vendor use of cookies for personalized advertising by visiting www.aboutads.info. In addition, most browsers allow you to refuse to accept or delete cookies. The methods for doing so vary from browser to browser. Please refer to your browser instructions on how to manage your cookies. Blocking all or some cookies may have a negative impact upon the usability of the Services, and there is no industry consensus as to what site operators should do with regard to these signals. Accordingly, unless and until the law is interpreted to require us to do so, we do not respond to the browser "Do Not Track" signal if enabled by the end user in their web browser. When other parties we integrate with set or read their own cookies, they may or may not respond to the DNT signal.
Other data gathering mechanisms, such as web beacons, HTML Storage Objects, and web tags, are used by us and our service providers to gather more specific information on your use. A web beacon (also called a web bug or clear GIF) is a graphic on a webpage or in an email message that is designed to monitor who is reading the page or message. Web beacons are often invisible because they are typically only 1-by-1 pixel in size. Web beacons are often used alongside cookies to track activity. Web beacons may be used to add information to a profile about a site visited, provide an independent accounting of how many people have visited a website, gather statistics about usage, among other things. HTML Storage Objects are program code that collects information about your activity on our Services. The HTML is temporarily downloaded onto your device while you are connected to our Online Services.
Data Security and Integrity.
We implement physical, technical, and administrative safeguards designed to maintain data accuracy, integrity, and security, prevent unauthorized access, and facilitate correct use of personal information. These safeguards include limiting access to data, storing personal information on secure servers and computers, encrypting personal information at rest and in transit, periodically testing our security technology, and training our employees in information security.
In addition, we seek to maintain contractual data security, confidentiality, and privacy obligations with our partners and vendors, and our employees that have access to personal information are subject to access, use, and confidentiality policies. Only authorized employees with a reasonable need related to their job duties have access to Customer and job seeker personal information. Employees who violate our policies are subject to disciplinary action, up to and including termination.
Although we maintain the controls listed herein, transmission of data is not without risk and we complete security of your information cannot be guaranteed. Please note, you are responsible for keeping your username and password secret at all times.
In the event we believe the security of your personal information in our possession or control may be compromised, we may seek to notify you by e-mail and you consent to our use of e-mail as a means of such notification.
Information on Children.
These Services are not directed at children under the age of thirteen (13) and we do not knowingly collect personal information from children under the age of thirteen (13). If we become aware that we have inadvertently received personal information from a person under the age of thirteen (13), we will delete the information from our records. If you believe that we have collected personal information from a child under 13 without parental consent, you may report this to us at [email protected]
If you are a California resident under 18 years old, you have the right to remove information you have posted to our Services. Please contact us at [email protected] and describe what information you've posted that you now want removed. We will use reasonable efforts to remove such information in compliance with the law and our other obligations stated herein. We do not sell the personal information of consumers we actually know are less than 16 years of age, unless we receive affirmative authorization from either the consumer who is at least 13 but not yet 16 years of age, or the parent or guardian of a consumer less than 13 years of age.
Your California Privacy Rights.
If you are a California resident, you have additional data rights including:
Right to notice of collection

We've provided details on what information is collected about you in Section 4 "Information We Collect About You". However, to ensure compliance with CCPA, the following categories of information as defined by the CCPA have been collected over the past year:

Direct identifiers such as your name, User ID, and email.
Commercial information such as your transactions and purchases.
Employment and education history information including when you submit a job application through our services or apply to a job at NEOGOV.
Demographic data including your race, ethnicity, gender, marital status and any other demographic information requested by our Customers.
Internet or other electronic network activity including your search history on our job board, analytics regarding your use, and device identifiers for location and security.
Audio and electronic data including your signature and voice recordings collected with your consent while speaking to our support, sales, or product teams.
Information inferred and derived from other categories to determine your preferences and trends.

Right to notice of your data rights

Right to opt out of sale ("Do Not Sell My Information")

NEOGOV allows select companies to place tracking technologies like cookies on our sites, which allow those companies to receive information about your activity on our Services. The companies may use that data to serve you more relevant ads on our sites or others. Sharing data for online advertising like this may be considered a "sale" of information. California consumers have a right to opt-out of these sales. You have control over whether these technologies work on your devices. You can disable them using browser Do Not Track features or Cookie Settings provided by us.

Right to know the categories of personal information collected about you and the business or commercial purpose of collection, the categories of collection methods and sources, categories of entities your information is sold or disclosed for a business purpose or disclosed to third parties for a business purpose - as well as the purpose of such disclosure (provided in the preceding sections of this Privacy Policy)
Right to access certain specific data fields stored about you and the right to delete such data
Right to non-discrimination by us for the exercise of any of your rights. on price or our Services based on your exercise of data rights
Right to have an authorized agent exercise your rights on your behalf. Note that we will require written proof of the agent's permission to do so and will verify your identity directly.
To exercise these rights, you can either contact our support team at [email protected] If you exercise your rights through emailing our support teams, please title the email "California Privacy Rights Request", and within the body of the email specify what right you seek to invoke. Please note, if we cannot verify your identity we may deny certain data right requests.
You can designate an authorized agent to submit requests on your behalf, but we require written proof of the agent's permission and verify your identity directly.
California Civil Code Section 1798.83 permits our visitors who are California customers to request certain information regarding our disclosure of personal information to third parties for the third parties' direct marketing purposes. To make such a request please send a letter to: Governmentjobs.com, Inc., 300 Continental Blvd. Suite 565, El Segundo, CA 90245 Attn: Privacy Department. Requests must include "California Privacy Rights Request" in the first line of the description and include your name, street address, city, state, and ZIP code. Please note Governmentjobs is not required to respond to requests made by means other than through the provided mail address.
Your Nevada Privacy Rights
A sale under Nevada law is the exchange of personal information for monetary consideration. We do not currently sell personal information as defined under Nevada law. If you want to submit a request relating to our compliance with Nevada law, please contact us as at [email protected] and include the words "Nevada Rights" in the subject line.
Your Rights and Control under EU GDPR.
Data Controllers and Processors
Our Customers use our Services to post job opportunities, evaluate job applicants, manage their human resource activities, and train their workforce. In conducting these activities, the Customer maintains control over what information is collected, how it is used, how long it is retained, and who it is disclosed to. For purposes of the EU GDPR, the Customer is considered a data controller in these respects and NEOGOV is a data processor. In other instances, such as when NEOGOV uses cookies or sends you Contact about our Services, NEOGOV will determine the means and purpose of processing.
Lawful Basis for Processing.
For personal information subject to GDPR, we rely on multiple legal bases for processing, including:
Consent (which can be revoked by utilizing privacy controls, deleting Profile or Account Data, or contacting support).
When processing is necessary to perform a contract (e.g. delivering you the Services).
Legitimate business interests such as developing the Services, marketing new features or products, proper administration of our website and business, ensuring safety and security.
Where necessary to protect vital or public interests.
As required by law.
EU Data Subject Rights
Data subjects in Europe whose information we receive through appropriate safeguards have legal rights to determine whether we hold personal data about them, to access personal data we hold about them, and to obtain its correction, update, amendment, or deletion in appropriate circumstances. In particular, your rights may include:
Data Access Rights
Right to Restrict Processing
Right of Rectification
Right to be Forgotten
Right to Object to Processing
Right to Withdraw Consent; and
Data Portability Rights
Some of these rights may be subject to exception and limitation. In any case, we will respond to your request to exercise these rights within a reasonable time but no later than within 30 days of receiving a request. To request to exercise your rights, you may contact us at [email protected] Some of the rights are complex, and you should read the relevant laws and guidance from the regulatory authorities for a full explanation of these rights. You may also have the right to make a GDPR complaint to the relevant Supervisory Authority. A list of Supervisory Authorities is available here: https://edpb.europa.eu/about-edpb/board/members_en
If you visited our website and you want to exercise any of the above rights please contact our support team or privacy team at the contacts listed herein. If your request is for the right to be forgotten as it relates to our use of cookies, you can achieve this by clearing the cookies in your browser settings.
International Transfers
For personal data transferred from the European Union, the United Kingdom, or Switzerland, we will provide appropriate safeguards, such as through use of standard contractual clauses.
Governmentjobs.com, Inc complies with the EU-U.S. Privacy Shield Framework and the Swiss-U.S. Privacy Shield Framework as set forth by the U.S. Department of Commerce regarding the collection, use, and retention of personal data from European Union member countries, the United Kingdom, and Switzerland transferred to the United States pursuant to Privacy Shield. Governmentjobs.com, Inc has certified that it adheres to the Privacy Shield Principles with respect to such personal data. If there is any conflict between the policies in this privacy policy and data subject rights under the Privacy Shield Principles, the Privacy Shield Principles shall govern personal data processed in reliance on Privacy Shield. To learn more about the Privacy Shield program, and to view our certification page, please visit https://www.privacyshield.gov/. Governmentjobs.com, Inc. will use appropriate safeguards to comply with the judgement issued by the Court of Justice of the European Union on July 16, 2020 declaring the EU-U.S. Privacy Shield Framework as invalid.
We will provide an individual opt-out choice, or opt-in for sensitive data, before we share your sensitive data with third parties other than our agents, or before we use it for a purpose other than which it was originally collected or subsequently authorized. To request to limit the use and disclosure of your personal data, please submit a written request to [email protected]
In certain situations, we may be required to disclose personal data in response to lawful requests by public authorities, including to meet national security or law enforcement requirements.
Where Governmentjobs.com, Inc. relies on Privacy Shield Principles for onward transfers of personal data from the EU, the United Kingdom, and Switzerland, including the onward transfer liability provisions, Governmentjobs.com, Inc. remains responsible under the Privacy Shield Principles for third-party agents processing personal data on its behalf.
Where Governmentjobs.com, Inc. receives personal data under the Privacy Shield and then transfers it to a service provider acting as agent, Governmentjobs.com, Inc. has certain liability under the Privacy Shield if both (i) the agent processes the personal data in a manner inconsistent with the Governmentjobs.com, Inc. and (ii) Governmentjobs.com, Inc. is responsible for the event giving rise to the damage. With respect to personal data received or transferred pursuant to the Privacy Shield Framework, Governmentjobs.com, Inc. is subject to the investigatory and enforcement powers of the U.S. Federal Trade Commission.
Governmentjobs.com's accountability for personal data that it receives in the United States under the Privacy Shield and subsequently transfers to another party is described in the Privacy Shield Principles. In particular, where where Governmentjobs.com transfers personal data in reliance on Privacy Shield, Governtmentjobs.com, Inc. remains responsible and liable under the Privacy Shield Principles if any agents that it engages to process personal data on its behalf do so in a manner inconsistent with the Principles, unless Governmentjobs.com proves that it is not responsible for the event giving rise to the damage.
In compliance with the Privacy Shield Principles, Governmentjobs.com, Inc commits to resolve complaints about your privacy and our collection or use of your personal data transferred in reliance on Privacy Shield to the United States pursuant to Privacy Shield. European Union and Swiss individuals with Privacy Shield inquiries or complaints should first contact Governmentjobs.com by email at [email protected]
Governmentjobs.com, Inc. has further committed to refer unresolved privacy complaints regarding personal data transferred in reliance on Privacy Shield Principles to an independent dispute resolution mechanism, the BBB EU PRIVACY SHIELD. If you do not receive timely acknowledgment of your complaint, or if your complaint is not satisfactorily addressed, please visit https://bbbprograms.org/privacy-shield-complaints for more information and to file a complaint. This service is provided free of charge to you.
Governmentjobs.com, Inc. has further committed to cooperate with the panel established by the EU data protection authorities (DPAs) and the Swiss Federal Data Protection and Information Commissioner (FDPIC) with regard to unresolved Privacy Shield complaints concerning human resources data transferred from the EU, the United Kingdom, and Switzerland in reliance on Privacy Shield and in the context of the employment relationship.
If your Privacy Shield complaint cannot be resolved through the above channels, under certain conditions, you may invoke binding arbitration for some residual claims not resolved by other redress mechanisms. See Privacy Shield Annex 1 at https://www.privacyshield.gov/article?id=ANNEX-I-introduction.
Right to Revise.
We reserve the right to revise our Privacy Policy to reflect changes in our online information practices or to comply with the law by publishing a new version on our website. In circumstances where we materially change the way in which we collect or use personal information, we materially change the terms of this Privacy Policy, or where personal information is no longer used consistently with a previously named purpose, we will provide notice and publish the new version on our website.
You should periodically check this page to remind yourself of the rights herein.
Contact Details.
This website is owned and operated by Governmentjobs.com, Inc. (DBA "NEOGOV"). Our principal place of business is at 300 Continental Blvd., El Segundo, CA 90245. You can contact us by email, telephone, or regular mail using the contact information listed herein.
Privacy Contacts.
If at any time you have questions or concerns about this Privacy Policy, please feel free to e-mail us at the appropriate contact relative your jurisdiction:
Users who have a visual disability may be able to use a screen reader or other text-to-speech tool to review the contents of this Privacy Policy. If you experience any difficulties assessing the information here or you wish to obtain a copy of this Privacy Policy, please contact us using the details above.
Effective date: September 24, 2020
The following terms and conditions, together with any documents they expressly incorporate by reference are the terms (collectively, these "Terms of Use"), under which all job seekers, employers or other users ("you") may use the NEOGOV Services including any content or functionality offered on or through websites under our control, including www.neogov.com, www.governmentjobs.com, the subdomains and subdirectories of each and any Add-On Service purchased within a website (collectively referred to as the "Services" for purposes of this Terms of Use), but excluding services that explicitly state they are subject to different terms and conditions. These Terms of Use are entered into by and between you and Governmentjobs.com, Inc. (referred to as "NEOGOV", "we", or "us").
Excluding purchases of Add-On Services, if you are an employer that holds a separately negotiated commercial contract with us (our "Customer") that explicitly supersedes or prohibits any end user license or online terms of use, the terms and conditions within such commercial contract shall control to the extent of any direct conflict.
Please read the Terms of Use carefully before you start to use the Services.
Provision of Services. By using the Services, executing a document that references them, or by clicking to accept or agree to the Terms of Use when this option is made available to you, you accept and agree to be bound and abide by these Terms of Use and our Privacy Policy incorporated herein by reference. If you do not want to agree to these Terms of Use or the Privacy Policy, you must not access or use the Services. Also, by agreeing to this Terms of Use you waive, to the extent permitted under applicable law, any rights or legal requirements that require an original (non-electronic) signature or the delivery or retention of non-electronic records in order for a contract to be legally binding. You represent and warrant that you are of legal age to form a binding contract with us and meet all of the foregoing eligibility requirements. If you do not meet all of these requirements, you must not access or use the Services.

We reserve the right to withdraw or amend the Services, and any service or material we provide on the Services, in our sole discretion without notice. We will not be liable if for any reason all or any part of the Services is unavailable at any time or for any period. You are responsible for ensuring that all persons who access the Services through your account are aware of these Terms of Use and comply with them.

Accessing Services and Account Security. Subject to your compliance with these Terms of Use, we grant you a non-exclusive, limited, revocable, personal, non-transferable license to use the applicable Services. Unless NEOGOV has entered into a commercial agreement with an employer permitting you to use the Services for transactions on behalf of another person, you may only use the Services for transactions on your own behalf. If you use the Services on behalf of a Customer or natural person, you represent and warrant that you have obtained all required authorizations and consents.

To access the Services or some of the resources it offers, you may be asked to provide certain registration details or other information. It is a condition of your use of the Services that all the information you provide on the Services is correct, current, and complete. You agree that all information you provide to register with the Services or otherwise, including but not limited to through the use of any interactive features on the Services, is governed by the NEOGOV Privacy Policy https://www.neogov.com/privacy-policy and you consent to all actions we take with respect to your information consistent with our Privacy Policy. Terms not defined herein shall retain their meaning as set forth in the NEOGOV Privacy Policy.

If you choose, or are provided with, a user name, password, or any other piece of information as part of our security procedures, you must treat such information as confidential, and you must not disclose it to any other person or entity. You also acknowledge that your account is personal to you and agree not to provide any other person with access to the Services or portions of it using your user name, password, or other security information.

You agree to (i) notify us immediately of any unauthorized access to or use of your user name or password or any other breach of security, investigate such breach or such potential breach, (ii) assist us using commercially reasonable efforts in maintaining confidentiality, and (iii) assist us as reasonably necessary to enforce our rights and to enable us to comply with any state or federal law requiring the provision of notice of any security breach with respect to any personally identifiable information of the affected or impacted data subjects. You should use particular caution when accessing your account from a public or shared computer so that others are not able to view or record your password or other personal information. We have the right to disable any user name, password, or other identifier, whether chosen by you or provided by us, at any time if, in our opinion, you have violated any provision of these Terms of Use.

Termination; Changes to Terms of Use. You may terminate your account at any time. If you violate any provision of these Terms of Use, your permission from NEOGOV to use the Services will terminate automatically. In addition, NEOGOV may in its sole discretion terminate your account on the Services or suspend or terminate your access to the Services at any time for any reason, with or without notice. NEOGOV may alter, suspend or discontinue the Services or any portion of the Services without notice. NEOGOV will not be liable whatsoever for any change to the Services or any suspension or termination of your access to or use of the Services. NEOGOV reserves the right to revise, change, or update these Terms of Use at any time in its sole discretion on a going-forward basis. All changes are effective immediately when we post them and apply to all access to and use of the Services thereafter. Your continued use of the Services after updates are effective will represent your agreement to the revised version of these Terms of Use. Your continued use of the Services after the effectiveness of such changes will constitute acceptance of and agreement to any such changes. You further waive any right you may have to receive specific notice of such changes to these Terms of Use. You are responsible for regularly reviewing these Terms of Use.

Intellectual Property Rights. The Services and its entire contents, features, and functionality (including but not limited to all information, software, specifications, text, displays, images, video, and audio, code that NEOGOV creates or displays to generate or display content, and the design, design marks, trademarks, service names, slogans, selection, and arrangement thereof)(the "NEOGOV Content") are owned by NEOGOV and are protected by United States and international copyright, trademark, patent, trade secret, and other intellectual property or proprietary rights laws. These Terms of Use permit you to use the Services for your personal, non-commercial use only, and in the case of Customers, for internal business use only. You are granted a revocable, non-exclusive, non-assignable, and non-transferable license to access use the Services. Nothing in these Terms of Use shall be construed as granting to you a license to NEOGOV Content under any copyright, trademark, patent, or other intellectual property right except as expressly set forth herein.

Re-use of any of NEOGOV's Service Specifications for any purpose is strictly prohibited without our prior written permission. Please direct any requests for permission to [email protected]

You must not:

Modify copies of any materials from the Services or modify, create derivative works from, distribute, publicly display, publicly perform, or sublicense the Services except as expressly permitted by this Terms of Use.
Use any illustrations, photographs, video or audio sequences, or any graphics separately from the accompanying text.
Delete or alter any legal notices, copyright, trademark, or other proprietary rights notices from copies of materials from this site.
Reverse engineer, decompile, disassemble, or otherwise attempt to discover or directly access the source code or any underlying ideas or algorithms of any portions of the Services or any underlying software or component thereof.
Aggregate, copy, or duplicate in any manner any of the content or information available from any our Services, including expired job postings, unless authorized by us.
Access or use for any commercial purposes any part of the Services or any services or materials available through the Services.
Reproduce, distribute, modify, create derivative works of, publicly display, publicly perform, republish, download, store, license, transfer, sell or transmit any of the NEOGOV Content or material on our Services.
Reproduce, display, publicly perform, distribute, or otherwise use the NEOGOV Content in any manner that is likely to cause confusion among consumers, that disparages or discredits NEOGOV, that dilutes the strength of NEOGOV's property, or infringes NEOGOV's intellectual property rights.

No right, title, or interest in or to the Services or any content on the Services is transferred to you, and all rights not expressly granted are reserved by us. Any use of the Services not expressly permitted by these Terms of Use is a breach of these Terms of Use and may violate copyright, trademark, and other laws.

‌Trademarks. "NEOGOV," "NEOED," "GovernmentJobs.com," "CareerNow," "Career Pages," "Touchless Forms" and certain other names or logos are our trademarks, and all related product and service names, design marks, and slogans are our trademarks or service marks, excluding the marks of our partners. You must not use such marks without our prior written permission. We also retain the rights in the designated color schemes and column names provided within the Services. The "look" and "feel" of the Services (including color combinations, button shapes, layout, design, and all other graphical elements not uploaded or implemented by Customers) are also our trademarks or copyrights.

Prohibited Uses. You may use the Services only for lawful purposes and in accordance with these Terms of Use. You agree not to use the Services:

In any way that violates any applicable federal, state, local, or international law or regulation (including, without limitation, any laws regarding the export of data or software to and from the U.S. or other countries).
For the purpose of exploiting, harming, or attempting to exploit or harm minors in any way by exposing them to inappropriate content, asking for personally identifiable information, or otherwise.
For the unlawful use of any personally identifiable information of other users of which you may be exposed to.
To transmit, or procure the sending of, any advertising or promotional material without our prior written consent, including any "junk mail", "chain letter", "spam", or any other similar solicitation.
To send unsolicited mail or email, make unsolicited phone calls or send unsolicited texts, tweets or faxes promoting and/or advertising products or services to any user, or contact any users that have specifically requested not to be contacted by you.
To impersonate or attempt to impersonate NEOGOV, a NEOGOV employee, another user, or any other person or entity.
To engage in any other conduct that restricts or inhibits anyone's use or enjoyment of the Services, or which, as determined by us, may harm NEOGOV or users of the Services or expose them to liability.
Use the communication features in a manner that adversely affects the availability of its resources to other users (e.g. excessive shouting, use of all caps, or flooding continuous posting of repetitive text).
Use the Services in any manner that could disable, overburden, damage, or impair the site or interfere with any other party's use of the Services, including their ability to engage in real-time activities through the Services.
Use any robot, spider, or other automatic device, process, or means to access the Services for any purpose, including monitoring or copying any of the material on the Services.
Use any manual process to monitor or copy any of the material on the Services or for any other unauthorized purpose without our prior written consent.
Aggregate, copy or duplicate any of the NEOGOV Content or information available from any Service, including expired job ads, other than as permitted by these Terms of Use or other commercial agreement with NEOGOV.
Use any device, software, or routine that interferes with the proper working of the Services.
Introduce any viruses, Trojan horses, worms, logic bombs, or other material that is malicious or technologically harmful.
Attack the Services via a denial-of-service attack or a distributed denial-of-service attack including via means of overloading, "flooding," "mailbombing," or "crashing,".
Post any incomplete, false, or inaccurate résumé information or information which is not your own accurate résumé.
Respond to any employment opportunity for any reason other than to apply for the job.
Access the Services in order to build, assist, or facilitate the assembly of a competitive product or service, to build a product using similar ideas, features, functions, or graphics of the System, or to copy any ideas, features, functions, or graphics of the Services.

If your use of the Services requires you to comply with industry-specific regulations applicable to such use, you will be solely responsible for such compliance, unless NEOGOV has agreed with you otherwise. You may not use the Services in a way that would subject NEOGOV to those industry-specific regulations without obtaining NEOGOV"s prior written agreement. For example, you may not use the Services to collect, protect, or otherwise handle "protected health information" (as defined in 45 C.F.R. §160.103 under United States federal regulations) without entering into a separate business associate agreement with NEOGOV that permits you to do so.

Your level of access should be limited to ensure your access is no more than necessary to perform your legitimate tasks or assigned duties. If you believe you are being granted access that you should not have, you must immediately notify NEOGOV.

Monitoring and Enforcement; Termination. You agree that we may monitor the Services to (1) comply with any applicable laws, regulations, or other government requests, (2) operate the Services or to protect itself and its users and members, and (3) for such other purposes as it may deem reasonably necessary or appropriate from time to time. More specifically, we have the right to:

Remove or refuse to post any User Contributions for any or no reason in our sole discretion.
Take any action with respect to any User Contribution that we deem necessary or appropriate in our sole discretion, including if we believe that such User Contribution violates the Terms of Use, including the Content Standards, if we believe that such information could create liability for us, damage our brand or public image, or cause us to lose users or (in whole or in part), the services of our ISPs or other suppliers, if we believe the User Contribution is abusive, disruptive, offensive, illegal, violates the rights of, or harms or threatens the safety of users or public, infringes any intellectual property right, or violates the law.
Disclose your identity or other information about you to any third party who claims that material posted by you violates their rights, including their intellectual property rights or their right to privacy.
Take appropriate legal action, including without limitation, referral to law enforcement, for any illegal or unauthorized use of the Services.
Terminate or suspend your access to all or part of the Services for any or no reason, including without limitation, any violation of these Terms of Use.

We have the right to cooperate fully with any law enforcement authorities or court order requesting or directing us to disclose the identity or other information of anyone posting any materials on or through the Services. YOU WAIVE AND HOLD HARMLESS GOVERNMENTJOBS.COM, INC. AND ITS AFFILIATES, LICENSEES, AND SERVICE PROVIDERS FROM ANY CLAIMS RESULTING FROM ANY ACTION TAKEN BY ANY OF THE FOREGOING PARTIES DURING, OR TAKEN AS A CONSEQUENCE OF, INVESTIGATIONS BY EITHER GOVERNMENTJOBS.COM, INC. OR LAW ENFORCEMENT AUTHORITIES.

Notwithstanding the foregoing, we are not responsible for screening, policing, editing, or monitoring postings and encourages all users to use reasonable discretion and caution in evaluating or reviewing any post. We assume no liability for any action or inaction regarding transmissions, communications, or content provided by any user or third party. We have no liability or responsibility to anyone for performance or nonperformance of the activities described in this section.

Content Standards. These Content Standards apply to any and all User Contributions and use of the Services. User Contributions must in their entirety comply with all applicable federal, state, local, and international laws and regulations. Without limiting the foregoing, User Contributions must not:

Contain any material that is defamatory, obscene, indecent, abusive, offensive, harassing, violent, hateful, inflammatory, or otherwise objectionable.
Promote sexually explicit or pornographic material, violence, or discrimination based on race, sex, religion, nationality, disability, sexual orientation, or age.
Infringe any patent, trademark, trade secret, copyright, or other intellectual property or other rights of any other person.
Violate the legal rights (including the rights of publicity and privacy) of others or contain any material that could give rise to any civil or criminal liability under applicable laws or regulations or that otherwise may be in conflict with these Terms of Use and our Privacy Policy.
Be likely to deceive any person.
Promote any illegal activity, or advocate, promote, or assist any unlawful act.
Cause annoyance, inconvenience, or needless anxiety or be likely to upset, embarrass, alarm, or annoy any other person.
Impersonate any person or misrepresent your identity or affiliation with any person or organization.
Involve commercial activities or sales, such as contests, sweepstakes, and other sales promotions, barter, or advertising.
Give the impression that they emanate from or are endorsed by us or any other person or entity, if this is not the case.

In addition, you shall be solely responsible for the legality, accuracy and completeness of all records, data, and information provided, submitted, or uploaded by you in connection with this Terms of Use or use of the Services.

User Contributions. The Services may contain message boards, forums, bulletin boards, and job boards, (collectively, "Interactive Services") that allow users to post, submit, publish, display, or transmit to other users or other persons (hereinafter, "post") materials or content, including feedback (collectively, "User Contributions") on or through the Services. All User Contributions must comply with the Content Standards set out in these Terms of Use. Any User Contribution you post to the site will be considered non-confidential and non-proprietary. You represent that you have all necessary rights to make a post, and you also acknowledge that we have no control over the extent to which any idea or information may be used by any party or person once it is posted or displayed. By providing any User Contribution on the Services, you grant us and our affiliates a royalty-free, perpetual, irrevocable, transferable, non-exclusive right and license for us to adopt, publish, reproduce, disseminate, transmit, distribute, copy, use, create derivative works, and display (in whole or in part) worldwide, or act on such feedback without additional approval or consideration, in any form, media, or technology now known or later developed for the full term of any rights that may exist in such content, and you hereby waive any claim to the contrary. Notwithstanding this right and license, it is understood that by merely permitting your information, content, and materials to appear on the Services, we do not become a publisher of such information, content, and materials and is merely functioning as an intermediary to enable you to provide and display a posting. Moreover, we assume no responsibility for the deletion of or failure to store any posting and recommends that you do not post, display, or transmit any confidential or sensitive information.

We are under no obligation to edit or control User Contributions and will not be in any way responsible or liable for any User Contributions. You understand that when using the Services, you may be exposed to User Contributions of other users and acknowledge that User Contributions may be inaccurate, offensive, indecent, or objectionable. You agree to waive, and do waive, any legal or equitable right or remedy you may have against NEOGOV with respect to User Contributions. NEOGOV expressly disclaims any and all liability in connection with User Contributions. If notified by a user or content owner that User Contributions allegedly do not conform with these Terms of Use, NEOGOV may investigate the allegation and determine in NEOGOV's sole discretion whether to remove the User Contributions, which NEOGOV reserves the right to do at any time and without notice.

You understand and acknowledge that you are responsible for any User Contributions you submit or contribute, and you, not NEOGOV, have full responsibility for such content, including its legality, reliability, accuracy, and appropriateness. We are not responsible or liable to any third party for the content or accuracy of any User Contributions posted by you or any other user of the Services.

Online Purchases; Add-On Services

You may be required to pay fees to access certain add-on features within the Services ("Add-On Service(s)"). Unless otherwise stated by NEOGOV, Add-On Services are governed by the NEOGOV Services Agreement terms most recently published prior to the purchase or renewal of an Add-On Service, as well as these Terms of Use, Service Specifications, and applicable Schedules incorporated therein (available at: https://www.neogov.com/service-specifications). Where the terms of this Section conflict with the NEOGOV Services Agreement, this Section shall control. Add-On Services may only be available through one or more of our Services and Add-On Services may not be available for all End Users or Customers.
Payment Authorization. You agree to pay to NEOGOV any fees for each Add-On Service you purchase in accordance with the pricing and payment terms presented to you for that Add-On Service. All Add-On Service fees are in U.S. dollars and are non-refundable. If NEOGOV changes the fees for all or part of the Services, including by adding fees or charges, NEOGOV will provide you notice of those changes. If you do not accept the changes, NEOGOV may discontinue providing the applicable part of the Services to you.
Payment Methods. By providing debit or credit card account information through or to the Services, you represent, warrant, and covenant that: (1) you are legally authorized to provide such information to us; (2) you are legally authorized to perform payments from the debit or credit card account(s); (3) the credit card information you provide is correct and you will promptly notify NEOGOV of any changes to such information; and (4) such action does not violate the terms and conditions applicable to your use of such debit or credit card account(s) or applicable law. When you authorize a payment using a debit or credit card account via the Services, you represent, warrant, and covenant that there are sufficient funds or credit available to complete a payment using the debit or credit card account. NEOGOV's authorized third-party payment processor will charge the payment method you specified at the time of purchase. You authorize NEOGOV to charge all fees as described in these Terms of Use for the Services you select to that payment method, and you authorize our third-party payment processor to use information you provide to process payments, manage debit and credit card information and detect and prevent fraud. In lieu of purchasing Add-On Services via Debit or Credit card, NEOGOV may provide you the option to receive a bill or invoice for payment by alternate means. NEOGOV may align a billing or invoice term with one of your other active Services. Should you elect to receive a bill or invoice for Add-On Service payments, Add-On Service Fees are due net thirty (30) from receipt of NEOGOV bill or invoice.
Add-On Service Subscriptions. The Add-On Services may include features that allow for automatically recurring payments for periodic charges ("Add-On Subscription"). Unless otherwise agreed by NEOGOV, Add-On Subscriptions will be billed in advance on an annual recurring, periodic basis. NEOGOV may also provide pro-rated pricing terms and align Add-On Subscription invoice or billing with SaaS Subscriptions. If you decide to activate an Add-On Subscription, you authorize NEOGOV to periodically charge, on a going-forward basis and until cancellation of the recurring payments, all accrued sums on or before the payment due date for the accrued sums. The Add-On Service Subscription Term is a continuous and non-divisible commitment for the full duration of the term regardless of any invoice schedule. The Subscription will commence upon the date you activate or use the Add-On Service. The Subscription will continue unless and until you cancel your Subscription, or we terminate it. You must cancel your Add-On Subscription before it renews in order to avoid billing of the next periodic subscription fee to your account. We will bill the periodic Subscription Fee to the payment method you provide to us during registration (or to a different payment method if you change your payment information). NEOGOV may change the Subscription Fee for any subsequent Subscription period but will provide you notice of any increase before it applies. Unless otherwise stated in a commercial agreement we negotiated with a Customer, you may cancel an Add-On Subscription by contacting us at: [email protected], [email protected], or alternative means expressly presented to you within the Services. You may cancel auto-renewal on your Add-On Service Subscription at any time, in which case your Add-On Service Subscription will continue until the end of that billing cycle before terminating.
Taxes. Unless otherwise stated, you are responsible for any taxes (other than NEOGOV's income tax) or duties associated with the sale of the Services, including any related penalties or interest (collectively, "Taxes"). You will pay NEOGOV for the Services without any reduction for Taxes.
Purchase Order. If you issue a purchase order, then it shall be for the full amount, and NEOGOV hereby rejects any additional or conflicting terms appearing in a purchase order or any other ordering materials submitted by you, and conditions assent solely based on the terms and conditions this Terms of Use and NEOGOV Services Agreement as offered by NEOGOV. You agree that a failure to provide NEOGOV with a corresponding purchase order shall not relieve you of your obligations to provide payment to NEOGOV.

E-Signatures.

E-Signature Provisioning & Consent. NEOGOV E-Forms and other electronically signed services ("E-Signatures") are provided by NEOGOV for two counterparties (generally a government employer (the "sending party") subscribing to NEOGOV Services and personnel or job seekers) to electronically sign documents. If you use E-Signatures offered by NEOGOV, you agree to the statements set forth in this Section. Whenever you sign a document using E-Signatures you affirmatively consent to using electronic signatures via the E-Signatures and consent to conducting electronic business transactions. You also confirm that you are able to access the E-Signatures and the document you are signing electronically. When using E-Signatures for a document, your consent applies only to the matter(s) covered by that particular document.
Right to Opt-Out of E-Signatures. You are not required to use E-Signatures or accept electronic documents provided thereby. If you are a job seeker or personnel and you choose to not use E-Signatures, you may still sign the document manually by notifying the sending party that you are choosing to do so and by obtaining a non-electronic copy of the document. NEOOGV assumes no responsibility for providing you with a non-electronic version of the document. In the event you are choosing to sign the document manually, do not use E-Signatures to sign the document or to return the document to the sending party.
Electronic Download. If you have signed a document electronically using E-Signatures and transmitted it back to the sending party, NEOGOV provides the opportunity to download and print a paper copy of the document at no charge. If you later withdrawn your consent to using E-Signatures, please notify the sending party and stop using E-Signatures. Note that the decision to stop using E-Signatures after you have already used it does not change the legality of the documents you have previously signed using an electronic signature.
E-Signature Validity. PLEASE NOTE THAT NEOGOV'S STATEMENTS CONTAINED HEREIN OR ELSEWHERE CONCERNING THE VALIDITY OF ELECTRONIC DOCUMENTS AND/OR THE SIGNATURE LINES OF DOCUMENTS THAT ARE ELECTRONICALLY SIGNED ARE FOR INFORMATIONAL PURPOSES ONLY; THEY SHOULD NOT BE CONSTRUED AS LEGAL ADVICE. UNDER FEDERAL AND STATE LAWS GOVERNING ELECTRONIC SIGNATURES, ELECTRONIC SIGNATURES ON CERTAIN TYPES OF AGREEMENTS ARE NOT ENFORCEABLE. NEOGOV HEREBY DISCLAIMS ANY RESPONSIBILITY FOR ENSURING THAT DOCUMENTS ELECTRONICALLY SIGNED THROUGH E-SIGNATURE'S ARE VALID OR ENFORCEABLE UNDER THE LAWS OF THE UNITED STATES OF AMERICA, ANY PARTICULAR STATE, OR ANY OTHER LEGAL JURISDICTION. YOU SHOULD CONSULT WITH LEGAL COUNSEL CONCERNING THE VALIDITY OR ENFORCEABILITY OF ANY DOCUMENT YOU MAY SIGN ELECTRONICALLY USING NEOGOV'S E-SIGNATURE'S.

Text Message and Email Communications. We may offer you the opportunity to receive text message and email notifications regarding notices, reminders, status updates, support, administrative message and disclosures, or other related human resource related notices from us or our Customers. Communications through these methods may be routed through a third-party service.

SMS messages will be sent to you strictly in accordance with your preferences, and only after you have explicitly opted in. If you change your mind at any time, and no longer wish to receive SMS messages, reply to a message with the word "OPTOUT" in all capital letters. Afterwards, should you choose to begin receiving messages again, reply with the word "OPTIN" in all capital letters. job seekers may also control their receipt of SMS messages through their job seeker Account preferences, by contacting the Customer whom the text message pertains to, or by notifying NEOGOV Support.

Should you allow SMS messages sent to you by NEOGOV or NEOGOV Customers, you agree to accept such text messages on your mobile phone including messages sent by automated telephone dialing system. You certify that you are the owner of the mobile phone entered or are authorized to use this mobile phone to receive SMS.

You are responsible for all mobile carrier data or text message charges resulting from your use of the Services, including from any notifications provided by the Services. The number of messages you receive will vary depending on the number of jobs you applied to, jobs you searched for, or the number Customers you allow to contact you. You may receive a text message confirming your subscription. NEOGOV reserves the right to suspend or terminate your SMS messages for any reason, with or without notifying you.

Since these text message services depend on the functionality of third-party providers, there may be technical delays on the part of those providers. NEOGOV may make commercially reasonable efforts to provide alerts in a timely manner with accurate information, but cannot guarantee the delivery, timeliness, or accuracy of the content of any alert. NEOGOV shall not be liable for any delays, failure to deliver, or misdirected delivery of any alert; for any errors in the content of an alert; or for any actions taken or not taken by you or any third party in reliance on an alert. If your mobile number changes, you are responsible for informing the Customer of that change. NEOGOV MAKES NO WARRANTIES OR REPRESENTATIONS OF ANY KIND, EXPRESS, STATUTORY OR IMPLIED AS TO: (i) THE AVAILABILITY OF TELECOMMUNICATION SERVICES FROM YOUR PROVIDER; (ii) ANY LOSS, DAMAGE, OR OTHER SECURITY INTRUSION OF THE TELECOMMUNICATION SERVICES; AND (iii) ANY DISCLOSURE OF INFORMATION TO THIRD PARTIES OR FAILURE TO TRANSMIT ANY DATA, COMMUNICATIONS OR SETTINGS CONNECTED WITH THE SERVICES.

Copyright Infringement. If you believe that any User Contributions violate your copyright, please notify support as specified in this Terms of Use. It is the policy of NEOGOV to terminate the user accounts of repeat infringers.
Reliance on Information Posted. The information presented on or through the Services is made available solely for general information purposes. We do not warrant the accuracy, completeness, or usefulness of this information. Any reliance you place on such information is strictly at your own risk. We disclaim all liability and responsibility arising from any reliance placed on such materials by you or any other visitor to the Services, or by anyone who may be informed of any of its contents.
Changes to the Services. We may update the content on the Services from time to time, but its content is not necessarily complete or up to date. Any of the material on the Services may be out of date at any given time, and we are under no obligation to update such material.
Information About You and Your Visits to the Services. All information we collect on the Services is subject to our Privacy Policy https://www.neogov.com/privacy-policy. By using the Services, you consent to all actions taken by us with respect to your information in compliance with the Privacy Policy.
Relay of Content. NEOGOV relays content including but not limited to resumes, cover letters, applications, messages, questionnaire answers, responses, offer letters and other materials. You acknowledge that you are asking NEOGOV to send this content on your behalf. We process, monitor, review, store and analyze such content, for data analysis, security, quality control, enforcement of the Terms of Use, content moderation, and to improve the Services. As a result, or due to technical malfunction, in certain circumstances such content may be delayed or may not be delivered to the intended recipient. NEOGOV may notify you in such an event. By using the Services, you acknowledge that this activity is necessary for maintaining the quality and provisioning of the Services.
Linking to the Services and Social Media Features. You may link to our homepage, provided you do so in a way that is fair and legal and does not damage our reputation or take advantage of it, but you must not establish a link in such a way as to suggest any form of association, approval, or endorsement on our part without our express written consent. We may disable all or any social media features and any links at any time without notice in our discretion.

Additional Terms for Third-Party Services.

Links and Third-Party Content on the Services. If the Services contains links to other sites and resources provided by third parties, these links are provided for your convenience only. This includes links contained in advertisements, including banner advertisements and sponsored links. We have no control over the contents of those sites or resources and accept no responsibility for them or for any loss or damage that may arise from your use of them. We do not control these services and are not responsible for their availability, content, or any malware accessed through them. Your correspondence or any other dealings with third parties found on the Services are solely between you and such third party. Accordingly, we expressly disclaim responsibility and liability for all third-party provided materials, programs, products, and services contained on or accessed through the Services, and you agree that we shall not be responsible for any loss or damage of any sort incurred as a result of any such dealings or as the result of the presence of such third parties on the Services. If you decide to access any of the third-party websites linked to the Services, you do so entirely at your own risk and subject to the terms and conditions of use for such websites. You are advised to read all terms and conditions of any third-party service.

Specific Third-Party Providers.

Background Checks. Some of the Services allow users to use our third-party background check partner's services to submit an application and background check to a Customer. If you are a job seeker or personnel using the background check services, you authorize NEOGOV to obtain your background check report, including criminal and eviction history, and to share that information with Customers you submit an application to, and agree to the background check companies terms of use or related end user agreement available at the background check companies' website. If you are personnel or other Customer agent using the background check services on behalf of a Customer, you agree to use the background check reports in compliance with law and agree to the background check companies terms of use or related end user agreement available at the background check companies' website.

Stripe. Some of the Services allow you to use Stripe to make payments. Your use of Stripe is subject to the applicable Stripe Terms of Service found at https://stripe.com/connect/legal.

Plivo. Some of the Services allow you to send or receive text messages through Plivo, Inc. If you are Personnel or other Customer agent using the text messages services on behalf of a Customer, you agree to use the text message services in compliance with law and agree to the Plivo Acceptable Use Policy available at https://www.plivo.com/aup/.

Geographic Restriction; Age Restriction. NEOGOV operates out of the state of California in the United States. The Services are hosted in data centers located within the United States. Our Services are targeted for use only by persons located in the United States. We make no claims that the Services or any of its content is accessible or appropriate outside of the United States. You must be 18 years of age or older to visit or use the Services in any manner. If under the age of 18 or the age of majority as that is defined in your jurisdiction, you must use any Services under the supervision of a parent, legal guardian, or other responsible adult.

NEOGOV's Liability. You understand that we cannot and do not guarantee or warrant that files available for downloading from the internet or the Services will be free of viruses or other destructive code. You are responsible for implementing sufficient procedures and checkpoints to satisfy your particular requirements for anti-virus protection and accuracy of data input and output, and for maintaining a means external to our site for any reconstruction of any lost data.

NEOGOV SHALL NOT BE LIABLE FOR ANY DAMAGES, COSTS, EXPENSES OR OTHER CONSEQUENCES INCURRED BY YOU OR ANY OTHER PERSON OR ENTITY AS A RESULT OF DELAY IN OR INABILITY TO DELIVER ANY SERVICES DUE TO CIRCUMSTANCES OR EVENTS BEYOND NEOGOV's REASONABLE CONTROL, INCLUDING, WITHOUT LIMITATION: (A) ACTS OF GOD; (B) CHANGES IN OR IN THE INTERPRETATION OF ANY LAW, RULE, REGULATION, OR ORDINANCE; (C) STRIKES, LOCKOUTS, OR OTHER LABOR PROBLEMS; (D) TRANSPORTATION DELAYS; (E) UNAVAILABILITY OF SUPPLIES OR MATERIALS; (F) FIRE OR EXPLOSION; (G) RIOT, MILITARY ACTION, OR USURPED POWER; OR (H) ACTIONS OR FAILURES TO ACT ON THE PART OF A GOVERNMENTAL AUTHORITY.

NEOGOV DOES NOT AND CANNOT CONTROL THE FLOW OF DATA TO OR FROM THE NEOGOV SERVICES AND OTHER PORTIONS OF THE INTERNET. SUCH FLOW DEPENDS IN LARGE PART ON THE PERFORMANCE OF INTERNET SERVICES PROVIDED OR CONTROLLED BY THIRD PARTIES. AT TIMES, ACTIONS OR INACTIONS OF SUCH THIRD PARTIES CAN IMPAIR OR DISRUPT YOUR CONNECTIONS TO THE INTERNET (OR PORTIONS THEREOF). ALTHOUGH NEOGOV WILL USE COMMERCIALLY REASONABLE EFFORTS TO TAKE ALL ACTIONS IT DEEMS APPROPRIATE TO REMEDY AND AVOID SUCH EVENTS, NEOGOV CANNOT GUARANTEE THAT SUCH EVENTS WILL NOT OCCUR. ACCORDINGLY, NEOGOV DISCLAIMS ANY AND ALL LIABILITY RESULTING FROM OR RELATED TO SUCH EVENTS.

YOUR USE OF THE SERVICES, ITS CONTENT, AND ANY SERVICES OR ITEMS OBTAINED THROUGH THE SERVICES IS AT YOUR OWN RISK. THE SERVICES, ITS CONTENT, AND ANY SERVICES OR ITEMS OBTAINED THROUGH THE SERVICES ARE PROVIDED ON AN "AS IS" AND "AS AVAILABLE" BASIS, WITHOUT ANY WARRANTIES OF ANY KIND, EITHER EXPRESS OR IMPLIED. NEITHER NEOGOV NOR ANY PERSON ASSOCIATED WITH NEOGOV MAKES ANY WARRANTY OR REPRESENTATION WITH RESPECT TO THE COMPLETENESS, SECURITY, RELIABILITY, QUALITY, ACCURACY, OR AVAILABILITY OF THE SERVICES. WITHOUT LIMITING THE FOREGOING, NEITHER NEOGOV NOR ANYONE ASSOCIATED WITH NEOGOV REPRESENTS OR WARRANTS THAT THE SERVICES, ITS CONTENT, OR ANY SERVICES OR ITEMS OBTAINED THROUGH THE SERVICES WILL BE ACCURATE, RELIABLE, ERROR-FREE, OR UNINTERRUPTED, THAT DEFECTS WILL BE CORRECTED, THAT OUR SITE OR THE SERVER THAT MAKES IT AVAILABLE ARE FREE OF VIRUSES OR OTHER HARMFUL COMPONENTS, OR THAT THE SERVICES OR ANY SERVICES OR ITEMS OBTAINED THROUGH THE SERVICES WILL OTHERWISE MEET YOUR NEEDS OR EXPECTATIONS.

TO THE FULLEST EXTENT PROVIDED BY LAW, NEOGOV HEREBY DISCLAIMS ALL WARRANTIES OF ANY KIND, WHETHER EXPRESS OR IMPLIED, STATUTORY, OR OTHERWISE, INCLUDING BUT NOT LIMITED TO ANY WARRANTIES OF MERCHANTABILITY, NON-INFRINGEMENT, AND FITNESS FOR PARTICULAR PURPOSE. THE FOREGOING DOES NOT AFFECT ANY WARRANTIES THAT CANNOT BE EXCLUDED OR LIMITED UNDER APPLICABLE LAW.

You acknowledge that NEOGOV exercises no control over employer human resource practices implemented using the Service or decisions as to employment, promotion, termination, or compensation of any job seeker or personnel. Employers are solely responsible for their postings on the Services. NEOGOV is not to be considered to be an employer with respect to your use of any NEOGOV Service and NEOGOV shall not be responsible for any employment decisions, for whatever reason, made by any entity posting jobs on any NEOGOV Service. In addition, employers are responsible for the privacy, collection, use, retention and processing of employer owned data, and providing any and all notices regarding the foregoing, in compliance with all applicable laws.

Limitation on Liability. TO THE MAXIMUM EXTENT PERMITTED BY APPLICABLE LAW, IN NO EVENT SHALL NEOGOV, ITS AFFILIATES, OR THEIR LICENSORS, SERVICE PROVIDERS, EMPLOYEES, AGENTS, OFFICERS, OR DIRECTORS HAVE ANY LIABILITY TO THE OTHER PARTY OR TO ANY OTHER PERSON OR ENTITY ARISING OUT OF OR RELATED TO THIS AGREEMENT, INCLUDING, WITHOUT LIMITATION, CUSTOMER'S USE, OR INABILITY TO USE, THE SERVICES, UNDER ANY CIRCUMSTANCE, CAUSE OF ACTION OR THEORY OF LIABILITY, OR DUE TO ANY EVENT WHATSOEVER, FOR ANY CONSEQUENTIAL, INDIRECT, INCIDENTAL, SPECIAL, OR EXEMPLARY DAMAGES OF ANY KIND, INCLUDING, WITHOUT LIMITATION, PERSONAL INJURY, PAIN AND SUFFERING, EMOTIONAL DISTRESS, LOSS OF REVENUE, LOSS OF BUSINESS OPPORTUNITY OR PROFIT, LOSS OF USE, LOSS OF GOODWILL OR BUSINESS STOPPAGE, LOSS OF DATA, EVEN IF FORESEEABLE OR NEOGOV KNEW OR SHOULD HAVE KNOWN OF THE POSSIBILITY OF SUCH DAMAGES.

WITHOUT LIMITATION OF THE FOREGOING, EXCEPT FOR DAMAGES ARISING OUT OF NEOGOV's GROSS NEGLIGENCE OR WILLFUL MISCONDUCT, THE TOTAL LIABILITY OF NEOGOV, ITS AFFILIATES, OFFICERS, EMPLOYEES, AGENTS, SUPPLIERS, AND LICENSORS, FOR ANY AND ALL CLAIMS UNDER THIS AGREEMENT SHALL NOT EXCEED ONE HUNDRED ($100.00) U.S. DOLLARS. THE FOREGOING LIMITATION OF LIABILITY IS CUMULATIVE WITH ALL PAYMENTS FOR CLAIMS OR DAMAGES IN CONNECTION WITH THIS AGREEMENT BEING AGGREGATED TO DETERMINE SATISFACTION OF THE LIMIT. THE EXISTENCE OF ONE OR MORE CLAIMS WILL NOT ENLARGE THE LIMIT. THE PARTIES ACKNOWLEDGE AND AGREE THAT THIS LIMITATION OF LIABILITY IS AN ESSENTIAL ELEMENT OF THE BASIS OF THE BARGAIN BETWEEN THE PARTIES AND SHALL APPLY NOTWITHSTANDING THE FAILURE OF THE ESSENTIAL PURPOSE OF ANY LIMITED REMEDY. EACH PARTY ACKNOWLEDGES THAT THIS LIMITATION OF LIABILITY REFLECTS AN INFORMED, VOLUNTARY ALLOCATION BETWEEN THE PARTIES OF THE RISKS (KNOWN AND UNKNOWN) THAT MAY EXIST IN CONNECTION WITH THIS AGREEMENT AND HAS BEEN TAKEN INTO ACCOUNT AND REFLECTED IN DETERMINING THE CONSIDERATION TO BE GIVEN BY EACH PARTY UNDER THIS AGREEMENT AND IN THE DECISION BY EACH PARTY TO ENTER INTO THIS AGREEMENT.

THE FOREGOING DOES NOT AFFECT ANY LIABILITY THAT CANNOT BE EXCLUDED OR LIMITED UNDER APPLICABLE LAW.

Indemnification. To the extent permitted by law, You agree to defend, indemnify, and hold harmless NEOGOV, its affiliates, licensors, and service providers, and its and their respective officers, directors, employees, contractors, agents, licensors, suppliers, successors, and assigns from and against any claims, liabilities, damages, judgments, awards, losses, costs, expenses, or fees (including reasonable attorneys' fees) arising out of or relating to your violation of these Terms of Use or your use of the Services, including, but not limited to, your User Contributions, any use of the Services' content, services, and products other than as expressly authorized in these Terms of Use or your use of any information obtained from the Services.
General. Unless otherwise stipulated, the Terms of Use, Privacy Policy, and documents incorporated herein constitute the sole and entire agreement between you and Governmentjobns.com, Inc. regarding the Services and supersede all prior and contemporaneous understandings, agreements, representations, and warranties, both written and oral, regarding the Services. You may not assign any part of this Terms of Use without NEOGOV's prior written consent. No waiver of any obligation or right of either party shall be effective unless in writing, executed by the party against whom it is being enforced. All matters relating to the Services and these Terms of Use and any dispute or claim arising therefrom or related thereto (in each case, including non-contractual disputes or claims), shall be governed by and construed in accordance with the internal laws of the State of California without giving effect to any choice or conflict of law provision or rule (whether of the State of California or any other jurisdiction). Any legal suit, action, or proceeding arising out of, or related to, these Terms of Use or the Services shall be instituted exclusively in the federal courts of the United States or the courts of the State of California in each case located in the City of Los Angeles and County of Los Angeles although we retain the right to bring any suit, action, or proceeding against you for breach of these Terms of Use in your country of residence or any other relevant country. You waive any and all objections to the exercise of jurisdiction over you by such courts and to venue in such courts. At our sole discretion, we may require you to submit any disputes arising from the use of these Terms of Use or the Services, including disputes arising from or concerning their interpretation, violation, invalidity, non-performance, or termination, to final and binding arbitration under the Rules of Arbitration of the American Arbitration Association applying California law.
Waiver and Severability. No waiver by NEOGOV of any term or condition set out in these Terms of Use shall be deemed a further or continuing waiver of such term or condition or a waiver of any other term or condition, and any failure of NEOGOV to assert a right or provision under these Terms of Use shall not constitute a waiver of such right or provision. If any provision of these Terms of Use is held by a court or other tribunal of competent jurisdiction to be invalid, illegal, or unenforceable for any reason, such provision shall be eliminated or limited to the minimum extent such that the remaining provisions of the Terms of Use will continue in full force and effect.

Your Comments and Concerns.

This website is operated by Governmentjobs.com, Inc. with offices at 300 Continental Blvd., Suite 565, El Segundo, CA 90245.

For further information relating to the legal issues contained in these Terms or problem reports regarding this service, please contact using the following:

If you are a Job Seeker, please contact: [email protected]

If you are a Customer (an organization), please contact: [email protected]
Sours: https://www.governmentjobs.com/careers/alaska/jobs/1790298/engineering-assistant-i-ii-iii-pcn-25-dot278?keywords=engineering&pagetype=jobOpportunitiesJobs
Civil Engineering Job Tier List - Best Jobs for Civil Engineering Graduates
Engineer jobs in Alaska
Upload your resume - Let employers find you
Sort by: relevance - date
Staff Engineer
proHNS LLC
Juneau, AK 99801•Remote
GENERAL ENGINEER
US Department of the Air Force - Agency Wide
Eielson AFB, AK
Electronic Engineer
US Department of the Air Force - Agency Wide
Eielson AFB, AK
General Engineer
US Department of Energy - Agency Wide
Anchorage, AK
Civil Engineer
US Department of Energy - Agency Wide
Anchorage, AK
new
GMD Associate Field Engineer
Civil Engineer
US Department of the Air Force - Agency Wide
Eielson AFB, AK
Computer Engineer
US Department of the Air Force - Agency Wide
Eielson AFB, AK
ALASKA INDUSTRIAL DEVELOPMENT AND EXPORT AUTHORITY
Fairbanks, AK
new
Enterprise Hardware Repair Field Engineer
Be the first to see new Engineer jobs in Alaska
By creating a job alert, you agree to our Terms. You can change your consent settings at any time by unsubscribing or as detailed in our terms.
Sours: https://www.indeed.com/q-Engineer-l-Alaska-jobs.html
You will also like:
Faster. Yet. BUT. BUT. The scream was growing.
2132
2133
2134
2135
2136