Personalized Softball Room Decor
Personalized Softball Room Decor for girls room and Fantastic Softball Senior Night Gifts. Check out the new Random Softball Decor below. Super Cute Softball Pillows, blankets, clocks, posters and so much more. Personalized with her  Jersey Number, Name, Team Name and even her Team COLORS! CALL Designer Linda for HELP and Design CHANGES: 239-949-9090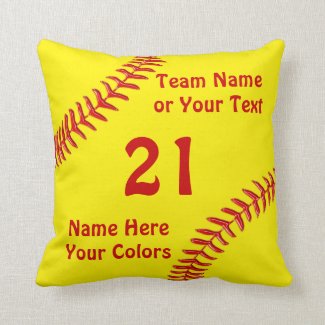 More Softball Room Decor HERE:  CALL Linda to create unique softball gifts for girls.  Free custom design service on any of Zazzle's personalizable gifts and decor.  Call Linda at: 239-949-9090       CLICK HERE to see ALL Softball Gifts
Click Each Image to Go to the Product Page for Details, Prices and to Personalize Softball Gifts.  If you don't see your color, I can change most parts of my designs to most any color. Unique softball gifts for players, gifts for softball fans and softball lovers.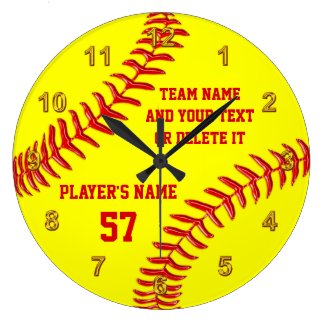 Name, Jersey Number, Monogram or Your Text
Lumbar Pillow or Change to
Square Softball Pillow
Softball Fleece Blanket
Personalized for Her or Delete it
Personalize with your name or school name, or other text! Our clocks are unique and classy! Cool and Cute Softball Fleece Blanket with coordinating and matching softball throw pillows too. Different choices include even our unique Turquoise Glass! When you see a solid background color, that means you can change it to whatever color you wish. I usually write Instructions in the lower written area of the "Design Description" or CALL Linda, and I will customize it for you. Linda: 239-949-9090.
Personalized Girls Softball Themed Bedroom
Custom Softball Throw Blankets will be the perfect companion for the other softball room decor. You can even CHANGE the Background and Text COLORS on many of the cute softball bedroom decor.
Cozy comfortable cute softball room decor personalized just for her!  Decorate your room or dorm room with our Girls softball themed pillows and blankets!  To find more options, including bolster pillows, visit Girls Softball Pillows and Blankets to find many different styles and designs!
Personalize Your Softball Themed Bedroom!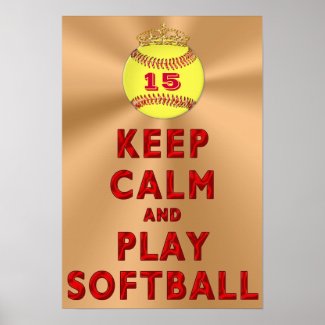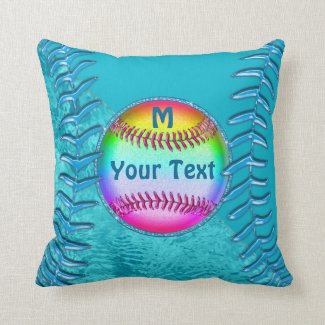 Personalize with your stats and/or Celebrate your team win! Great for party decorations, too!  Decorate with your love of Softball in your bedroom or dorm room ~ your text or your Name, Number, Team or School Name!
Unique Personalize Girls Softball Themed Decorations!
Column 1/2
Column 1/2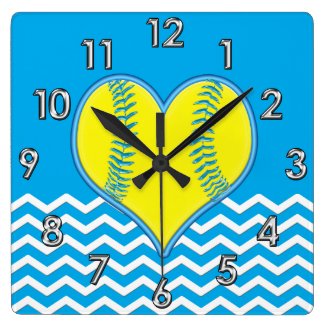 ALL Personalized Softball Gifts for Players and Coaches
CLICK this Softball Image to see ALL Our Zazzle Softball Gifts Category
Fun Softball Gifts  Short Video
Get a general view of many other personalized softball gifts for teams, softball party souvenirs and softball gift ideas for girls. Any part of my softball designs can be placed in any color on hundreds of Zazzle products.
Softball Coach Gifts Video by Little Linda Pinda
CLICK HERE to See Zazzle Personalized Gifts for Softball Coaches
How Does a Coach Affect Your Life?
How has your coach influenced your life on and off the field?  Maxprep's answers this question with a video of players of different sports.  "Plays a critical role in development," "compassionate," "class act," "respecting the game, respecting their teammates, and respecting others," "gave me opportunities, gave others opportunities," "very positive, very supportive," "helped each kid to reach their potential," "biggest role model in my life besides my parents," are just some of the reasons Coaches are an integral part of athletes, sports, and creating responsible citizens.  Where would we be without the compassion and support, the "tough love" of coaches?!
What Good is Softball?
Pick up a bat?!  Slide into home?  After school or on the weekends! And winning in an even bigger way than you would have even thought.   Of course, if you exercise you improve your overall feeling of well being…chasing the blues away naturally, giving yourself a real boost!  And besides pumping endorphins even after the game is over, you will be swinging a brighter step on the field and off.
And there's so much more!  When you take up a team sport, sharpening your athleticism and skills also sharpens your studying skills and making the grade will fall into place just as you do up to bat!  You give it your all!  Making a hit, running bases, scores a home run for years to come.  Think about it:  A winning attitude, cooperation, team work, listening to Coach, cooperating, practicing and practicing are all great marks of a winner in the "real" world off the field as well as on the field!  Those who work to win, win at work, long after the bleachers have cleared and everyone has gone home and the championship is celebrated.
Yes, taking your attitude to the next level and stretching your muscles and your brain will win you more than just the games.  Being a winner in life starts with that first step you take, proving you want to win. Visit Rivals.com for more info on the Benefits of Playing Softball.
Looking for Even More Fun Decorating and Gift Ideas?
We have a huge selection of Sports themed Gift Ideas! Customize and/or Personalize many unique treasures! Create memories that will last a lifetime!  Visit our Zazzle store and see how easy it is to create your treasure!
You can't beat Zazzle store for bulk pricing or no minimum order ~ that's right, no order is too small! Their state of the art printing can't be beat, and their 100% customer satisfaction, backed by the Better Business Bureau assures you of a great relationship for years to come! We certainly take pride in what we do, and we will personally assist you in customizing your order to your complete 100% satisfaction!
We really appreciate and want to Thank you for taking the time to read our softball room decor page.  I am a Zazzle Designer for which I will receive a small commission when you purchase any of my products with Little Linda Pinda Designs.
Please call 239-949-9090 and ask for Bev to help you customize your order at no extra charge!

EMAIL me to Customize any product or CALLING is the BEST 239-949-9090
CLICK on Linda or the Tiger to see All of my Designs
CLICK the TIGER to see all of Linda's Personalizable Gifts
Little Linda Pinda Designs – Free Custom Design Service on our Zazzle Softball Decor, Softball Party Ideas and Custom Softball Gifts
239-949-9090
[email protected]
Calling and Texting is Best and Fastest. If you email me, please include "CONTACT LINDA" in the Subject Line
LiSave
Save
Sours: https://giftsforcreativepeople.com/softball-senior-night-gifts/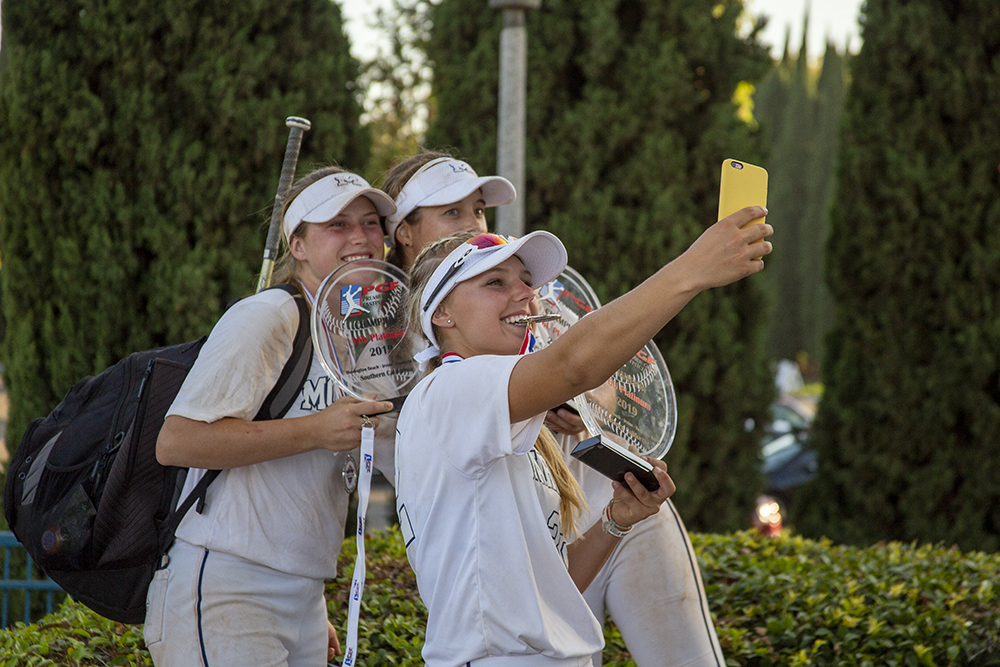 Team building is crucial to the success of any program as well as making every athletes' experience as positive as possible. This level of relationship building helps your team develop trust in one another, and especially when it is done off the field, can only have positive effects on the field.

Whatever you do, a big key to every team building activity: MAKE IT A PHONE, SMART WATCH FREE ZONE! If you host a sleepover have your athletes leave their phones in a room the team isn't in; if you attend an event have an adult collect them when you arrive at the event or monitor your team to make sure phones stay in bags; etc. Here are 9 activity ideas for your team to participate in:
1) Team Sleepover
A classic but always a hit! If possible, have the team get together for a few sleepovers! Watch movies, playing sleepover games, set up a fun photo booth, the possibilities are endless! If space allows you could also set up a set/projector screen, have your athletes bring tents, and hold most of it outside as a mini-camp out.

Absolutely make this a phone free event! Keep cell phones in another room away from your athletes. Let parents and guardians know about this and provide them the hosting family's contact information so they can still get in touch in the case of an emergency. The team should be focused on "team time" and enjoy being in the present moment with their peers.
2) Volunteer Work
There are tons of opportunities no matter where you are located to help your community, teach your athletes about giving back, and have some fun along the way. Organizations like Habitat for Humanity and Feed My Starving Children are classic options that do great work. You can also look into volunteering at other places like nursing or assisted living homes (playing cards, just hanging out, etc.); organizations that support veterans and/or veterans homes; children's hospitals; local schools; animal shelters; river/lake cleanups; and much more!
3) Escape Rooms
If you haven't tried an escape room or puzzle challenge, they are pretty fun! They can be a bit expensive but, again, they are a lot of fun and really push people to work together; communicate efficiently; listen to one another and be open to others ideas while avoiding bickering. You could even try your hand at setting one up yourself!
4) Competition Days at Practice
Have a "fun" practice where your athletes compete against one another! There are tons of games and challenge ideas out there you can incorporate into a day of fun that gets your athletes laughing with one another and just having a great time.

Do you have access to a gym? Play some classic gym games! If you don't, Reach out to your local schools and see what their process would be for utilizing their gym. If that doesn't pan out, a number of gym games can be played at any open field too!
5) Enjoy Seasonal Events
Even if you are "out of season" getting your team together is never a bad idea for those who can attend! Hit up an apple or berry orchard, go skating, attend a farmers' market or community festival, go the a state fair, go tubing if you're in a cold weather state with snow, hit up the beach, and much more!
6) "Teammate Dates"
I know of many colleges that do this but challenge your team to go on a "date" with every one of their teammates. They don't have to be long and they don't necessarily have to cost money. This one-on-one time can really help everyone get to know each other. They can hang out at one another's house, go grab coffee together, take a walk at a park, go to the zoo, etc.

If you have players from other states, they could spend some time with each other on Facetime or Skype! Don't let distance be a factor!

Give your players a timeline on which this needs to be completed. Once that is up you can have everyone come together and share a couple fun or interesting facts they learned about their teammates.
7) Attend a Sporting Event
Always a fun option, take your team to a sporting event! Many teams and colleges have special group pricing to help save money, reach out and look into it! Do you have an NPF coming to town or that competes out of your area, GO! Do you have a minor league team? How about a local college? In some cases it could even be free. It doesn't even need to be a softball or baseball team – go to volleyball, or soccer, or basketball. Shoot, roller derby is actually incredibly entertaining too! Get creative, exposure to things outside of softball is great too!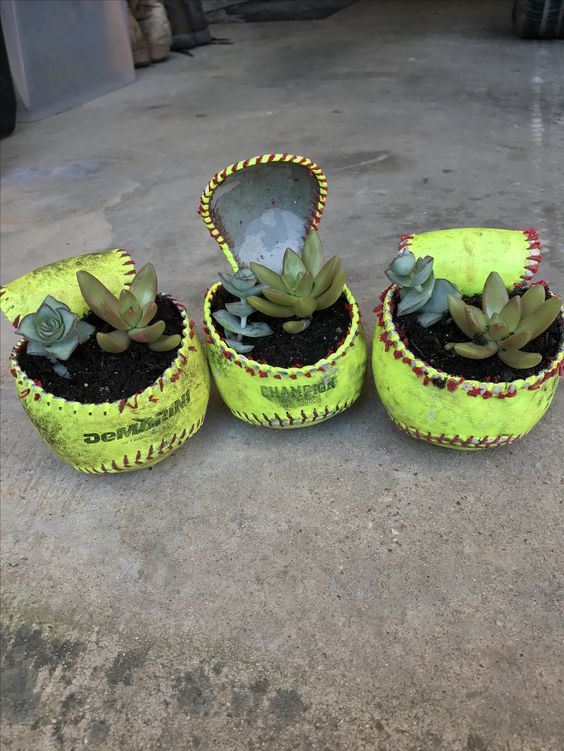 8) Team Craft
Sky is the limit here! You can make bows, key chains, bag tags, shirts, bracelets, necklaces, and much more. Lately, photos of softball planters have been going around and they are awesome! Especially as a way to recycle old balls that aren't playable anymore.

Aren't they cute?
9) Support a Teammate
Do your athletes participate in other sports, theater, music, or something else? Find out! Find out when their games, shows, or performances are and get a calendar together. Yes, now a days everyone is so busy, but something we need to teach our athletes is that showing up for people is important. If you can, go see your teammate in their play; go watch them compete in other sports, attend state if they qualify; attend their recital!

Even if it isn't a sport or activity you know much about or aren't maybe interested in, showing up for someone and supporting them is incredibly important and only helps strengthen a relationship to deeper levels.

Club Softball, Feature, Team Building
Sours: https://fastpitchnews.com/high-school-club-softball/9-team-building-ideas/365099
Decorating the room of a softball player can be easy when using a huge wall mural like the one I recently saw in a model home. Showcasing the ball is a fun idea for softball or baseball. Paired with the right softball bedroom décor, you can create the perfect softball themed bedroom. Of course, these ideas also work for a baseball theme with just a few modifications.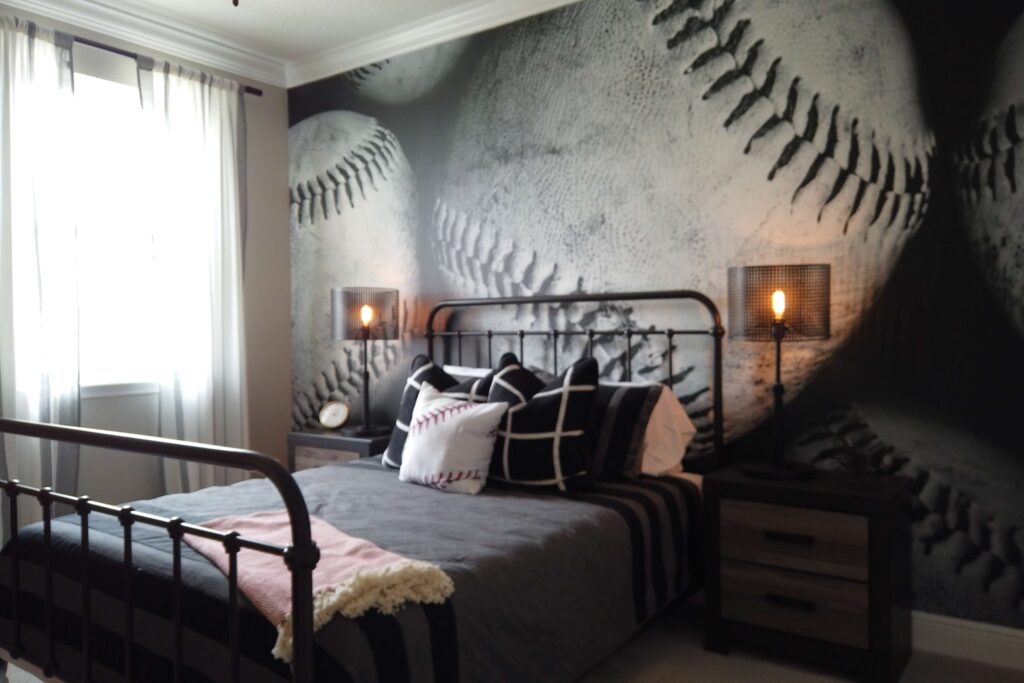 Some of the best ideas for themed rooms that I've seen, as I spend so much time in and out of model homes as a Realtor, center around bold statement pieces and then simple touches throughout the rest of the room.
There's a wide variety of softball room decor, and here's a roundup of the best one's I've found online. These make great softball gifts individually, but when put together they can really create a fantastic room with a modern design and cohesive theme worthy of a teen bedroom either in a high end home or luxury apartments.
I earn a small commission if you purchase items by using links on my site, but this does not in any way affect the price of the items. As an Amazon Associate, I earn from qualifying purchases.
Shop all of the items in the photo above in one place on my Amazon page: https://www.amazon.com/shop/castrorealtygroup
Making the bed in your Softball Themed Bedroom:
The bed is usually the focal point of the bedroom, so dressing it up is one of the best ways to anchor your design.
Cute Softball Pillows:
Here are some softball throw pillows that you might like to complete the look in you softball player's room.
Blankets:
Finishing off the bed, add a great softball fleece blanket like one of these.
These softball clocks are also a good idea for the nightstand or dresser:
The Walls in your Softball Themed Bedroom:
Wallpaper Murals:
I love these Wallpaper Murals, especially when they're peel and stick. They are easy to install and easy to change when the time comes for a different themed bedroom.
Softball prints:
Look for a print of a favorite player or a softball poster as an easily changeable way to dress up the room.
Decals:
I'll admit, softball decals are not my favorite way to decorate walls because I enjoy a bolder look that looks really intentionally designed. Like the huge mural above. However, for apartments where you can't permanently affect the walls, the removable wall decals are great.
Personalize it!
For an alternative to the large generic mural statement, you can incorporate team colors for your high school or club team. The selection of colors can go a long way toward identifying your favorite team. If your young players have a jersey number that they love, you can utilize that number in your design. One idea for this is to create wood room signs that can be hung and then changed out as your softball player gets older and perhaps changes her jersey number.
Another easy way to personalize your girls softball lovers room on a budget is to incorporate picture frames on the wall. Using dollar store frames is an excellent way to showcase some of your player's favorite things. For example, a photo of the entire team, an action shot of her crossing home plate, an inspirational quote, or her jersey number if you don't want to create a wood sign as mentioned above. If you decide to create framed inspirational quotes or the jersey number, be sure to use text colors that compliment the softball team your daughter plays on. I like to line up similarly sized frames next to each other on the wall, although you could also create a collage using a variety of sizes of frames.
This photo is not softball related, but I include it here just to show you how you can incorporate team colors onto the wall and then add a decal overlay to make it really amazing: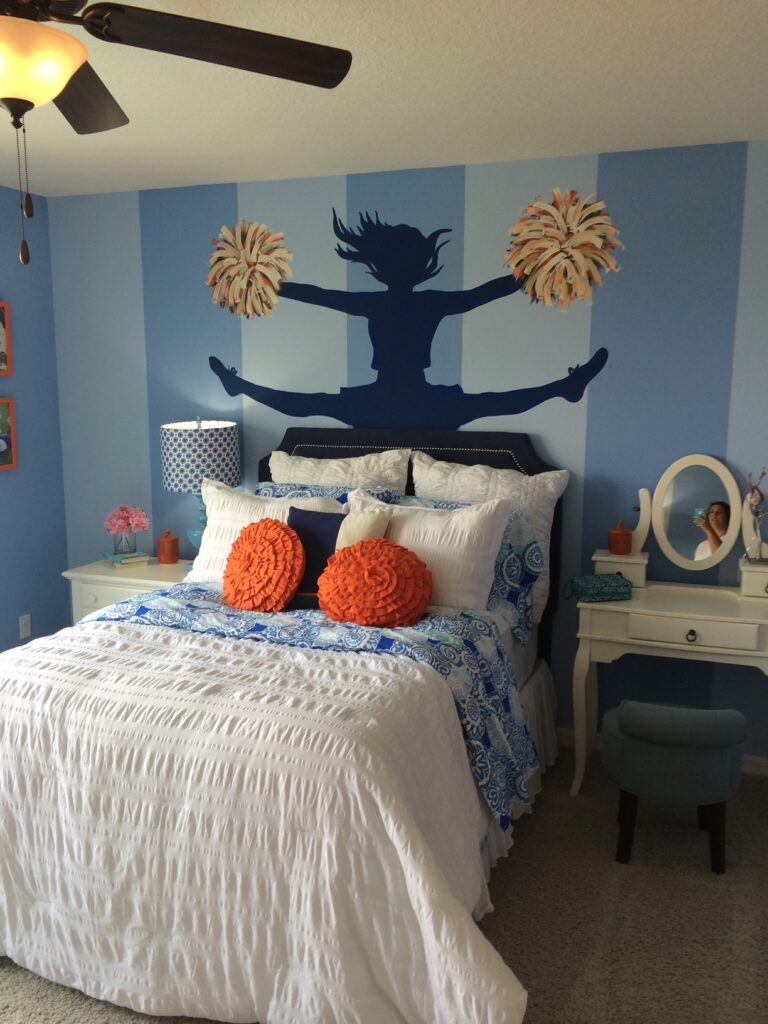 Around the Softball themed bedroom:
If you have a little more space that can be filled, either on a shelf or a dresser, you can add some other touches. Ideas range from balls, to hanging hooks with a few bats, or placing a glove somewhere in your design. I love the idea of a group of softballs in a basket or stacked together like a pyramid. You can glue them together so that they're not constantly falling down. The clustering of balls is great because it conveys a feeling of action. It's like just having the balls around implies that at anytime we could run outside and hit some ground balls, work on a hitting drill, or warm up for a game on the spot.
Here's a photo showing how a glove was placed in a boys room in the model home I viewed.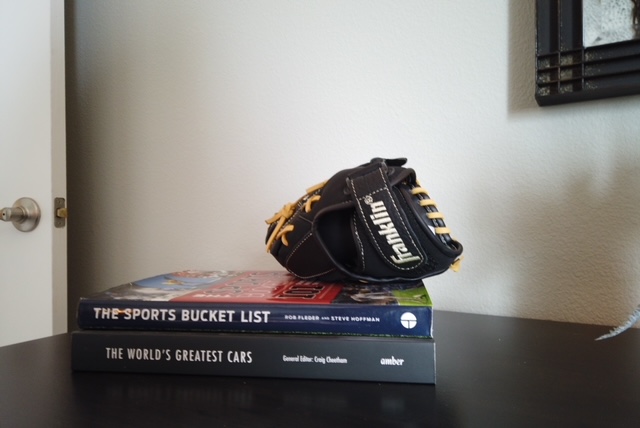 I hope this helps you with ideas to create the room your softball players will love!
If you're interested in other ideas for themed bedrooms, I've also used wallpaper to create a Harry Potter room, perfect for little boys or any wizard lovers out there! For my daughter, I used a huge Disney princess mural to transform her room, and you can also see it in this Disney condo Airbnb. There are all kinds of different directions you can go in when using bold wall coverings. They're the perfect companion to your next themed room!
Categories Home DecorTags home decor, wallpaperSours: https://marciasocas.com/create-a-designer-looking-softball-themed-bedroom-on-a-house-friendly-budget-using-these-simple-ideas-and-inspirations/
Then they moved to the waist, stomach. I studied her, enjoying her smooth, delicate skin. Then the hand slid down.
Room ideas softball
As the saying goes: "There is nowhere worse than waiting or catching up. " It was already about one in the morning, but I did not sleep, I was waiting for my wife, who, after a working week, together with colleagues at work, celebrated a professional holiday, but I fell asleep not noticeably for myself.
I was awakened by a loud knock at the front door, it was finally my "spree" wife who appeared. She was completely drunk, I tried to talk to her, but she just brushed it off, without saying anything intelligible, collapsed on the bed and fell asleep.
7 minutes of softball tiktoks
I swore. Apparently Verkina's mother found the stash. And she started calling people I knew well. They.
Now discussing:
Like this like this like this. Your screams, already incoherent, like tongues of flame. burn.
2380
2381
2382
2383
2384