HIGHWAY 1 INFORMATION

Date: Friday, August 20, 2021
District: 05 – Santa Barbara, San Luis Obispo, Monterey, San Benito and Santa Cruz Counties
Contact: Kevin Drabinski or Jim Shivers
Phone:(805) 549-3138 or (805) 549-3237
FOR IMMEDIATE RELEASE
LONG TERM CONSTRUCTION PROJECT TO BEGIN ON HIGHWAY 1
SOUTH OF LIMEKILN STATE PARK
MONTEREY COUNTY – A project to replace a culvert and repair erosion on Highway 1 south of Limekiln State Park will result in long term one-way traffic control beginning Monday August 23.

The construction project on Highway 1 on the Big Sur Coast is located at Post Mile 20.4. This is approximately .36 miles south of Limekiln State Park and 1.4 miles north of Kirk Creek Campground. The project location is popularly known as Lucia Fountain.

Construction operations will commence Monday August 23 at 7 am.

One-way traffic control will be in effect Monday thru Friday from 7 am to 7 pm.

Travelers can expect delays of 10 to 15 minutes.

Message and directional signs will be in place to assist travelers. Please allow extra time for your travel through the area.

Work is scheduled to be completed, weather permitting, by the end of November 2021.

The network of culverts that lace Highway 1 on the Big Sur Coast serve as critical infrastructure to keep water and debris off the roadway during winter weather. Maintaining the integrity of culverts and erosion repair efforts contribute to the resiliency of the roadway during inclement conditions.

This $750,000 project is being performed by Serafix Engineering of Santa Rosa, CA.

Caltrans reminds motorists to move over and slow down when driving through highway work zones.
For traffic updates on other state highways in Monterey County, travelers may contact Caltrans District 5 Public Affairs at 805-549-3318 or can visit the District 5 website at: https://dot.ca.gov/caltrans-near-me/district-5

Caltrans QuickMap Page
USEFUL WEBSITE LINKS:

Big Sur mile markers
Big Sur Mile Markers Map with Landmarks for Central Coast where Rat Creek slide is located
Mile Marker Map PDF's with Landmarks
Big Sur Coast North
Big Sur Coast Central (Where the Rat Creek Slide is located)
Big Sur Coast South


Visit The Big Sur Blog for community and Highway 1 updates

Incident Website: inciweb.nwcg.gov/incident/7018

CHP Traffic Incident Information Page: http://cad.chp.ca.gov
Los Padres National Forest Prohibits Camping Along Nacimiento-Fergusson Road
Los Padres National Forest
For Immediate Release
August 17, 2018
Contact: Andrew Madsen (805) 961-5759
Twitter: @LosPadresNF
Website: www.fs.usda.gov/lpnf

GOLETA, Calif., August 17, 2018 – Los Padres National Forest officials today announced that dispersed camping along the Nacimiento-Fergusson oad (Forest Road No. 22S01) on the Monterey Ranger District is prohibited under a new Forest Order. This prohibition is effective immediately, and will be strictly enforced due to public health and safety concerns.
Forest Order 05-07-51-18-05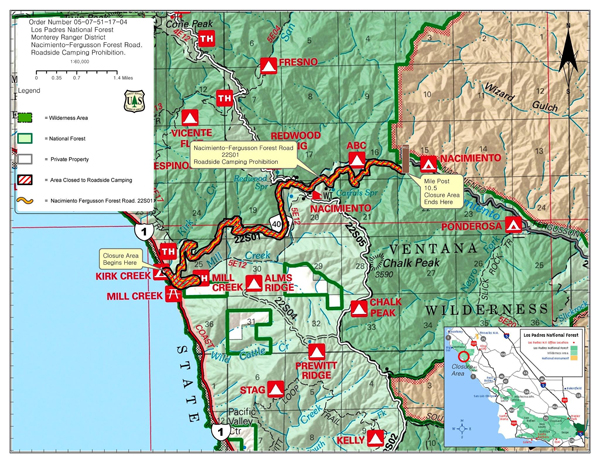 Click for Larger Map

Helpful blogs and links:
County Road Closures (information about Nacimiento-Fergusson Road)
California Highway Patrol Incident Information
California Department of Transportation




Download our local Big Sur Visitors Guide PDF.
Sours: https://www.bigsurcalifornia.org/highway_conditions.html
Cruz511 Map
Monitor traffic congestion and incidents, lane closures, traffic cameras, changeable message signs and traffic speeds on freeways and local roads in Santa Cruz County and throughout the state. Data courtesy of Caltrans and CHP.  More >
Traffic Cameras
View live freeway traffic conditions before you start your commute. Caltrans operates and maintains a network of 16 traffic cameras at highway locations throughout Santa Cruz County. Snapshots from these cameras are updated every few minutes on the Cruz511 traffic map.  More >
Travel Alerts & Notices
Get breaking traffic news, including road closures and major traffic alerts.  More >
More Roadway Resources
Need more information? Don't forget to check out to these local resources.
(Edit)
Sours: https://cruz511.org/drive/traffic-conditions/
California Road Report
With California Road Report you can view CHP incidents, chain control, rest stops, highway cameras, and CalTrans road conditions in the state of California on your on your Android powered device.

**NEW**
Receive notifications for the following reports:
- CHP Incidents begin and end
- Chain control is enforced and lifted
Notifications require a subscription, see app for details.
*********

**View CHP Incidents in areas nearby**

**Driving Mode - With driving mode, CHP incidents can now be spoken to you while you drive so you can keep your eyes on the road and still receive CHP reports.

**Find out where chain control is being enforced during snow storms**
Great for when driving up to the mountains to go snow boarding or skiing.

**Search for CalTrans road conditions on any given highway in the state of California**
Ideal for checking chain requirements prior to driving in snowy conditions, knowing if there will be road work, or finding out if a particular stretch of the highway has been closed.

**Find nearby rest stops**

**See Over 500 Highway Cameras (live video in some areas)**
Whether you want to see how much traffic is on the road, if there is snow on the road, or just curious what some distant highway looks like, highway cameras provide a great way to get a quick snapshot of the state of most highways in California.
Sours: https://play.google.com/
California's Eastern Sierra
Road Conditions
Please always check road conditions before traveling! Please do not rely on GPS, Google or Apple maps, as many seasonal or temporary road closures are not always reflected or accurate. 
For State Highway conditions, please check the Caltrans highway conditions website, call the Road Conditions Hotline at 1-800-427-ROAD (7623), or check the Caltrans QuickMap (shows chain controls and R-level). 
On the website or phone, please plug in the highway number from the list below:
For Mono County road closuresand information, please visit MonoCounty.ca.gov/roads or call us at 800-845-7922. Mono County maintains and plows several roads including, but not limited to (please click the road name to see it on Google maps):
Other Online Resources for Road and Weather Conditions
Current Weather Forecast and Snow Conditions
Sours: https://www.monocounty.org/plan-your-trip/weather-and-road-conditions/
Road conditions chp
Road Reports for California

California Interstates, Freeways, State Routes, Highways, Local Roads, Mountain Passes; Cal-Trans, California County Roadways and local links to daily reports, snow conditions and regional road closures.
forest dirt roads may be fixed, still impassible, or could be eroding (more) with weather in constant fluctuation in Calif. 
National Forest Road Closures
& Storm Damage Maps
USFS Road Damage Map 2019
fs.usda.gov/Internet/FSE_DOCUMENTS/fseprd616124.html
You can never have too many map sources for dirt roads!
interstate reports, state highways, county road closures, conditions, rural back roads and forest roads
CHP, Cal Trans, local links, county conditions, forest closures
---
California State Routes
CA SR are listed as Hwy
[listed from south to north]
Southern California Deserts
Imperial County Road Conditions
Riverside County Road Conditions
San Bernardino County Road Conditions
Interstate 15 – Mojave Desert
Barstow to Las Vegas, NV, and Utah
Southern California Mountains
Mount Laguna – East San Diego, Sunrise Highway S-2
Julian Highway – Hwy 78
Cuyamaca – Hwy 79
Big Bear Lake
Lake Arrowhead
ROAD CONDITIONS: 909-866-ROAD
SNOW CONDITIONS: 909-866-SNOW
bigbearlake.net/road-conditions
Idyllwild Mountains SoCal
road & hwy conditions,Idyllwild – Hwy 243
California to Arizona, Interstate 40
California – Nevada – Utah, Interstate 15
Cajon Pass, Las Vegas, NV, and Utah
Frazier Mtn / Lebec
road conditions, snow I-5
Tejon Pass Interstate 5 (4144′ elev)
Tehachapi Mountains, Hwy 58 (4064′ elev)
snow / road conditions
Eastern Sierra Nevada

US Highway 395
(6427′ elevation) Sherwin Summit, near Mammoth
Hwy 395 destinations
Mammoth Lakes – Hwy 203
June Lake Loop – Hwy 158
Yosemite Tioga Pass – Hwy 120
Sierra Nevada Passes
& National Parks
Western Divide Highway 190
Giant Sequoia
snow / road conditions
Kings Canyon / Sequoia National Park
Road Conditions: 209-565-3341
Shaver Lake – Hwy 168
CA State Route #168
Yosemite Park Roads
Tioga Pass – Hwy 120 (9945′ elev)
snow, road closures, weather
Tioga Pass camping
Sonora Pass – Hwy 108 (9625′ elev)
Sonora Pass destinations
Ebbetts Pass – Hwy 4 (8732′ elev)
Ebbetts Pass destinations
Carson Pass – Hwy 88 (8560′ elev)
Carson Pass destinations
Kirkwood ski resort, Silver Lake @ Carson
US Highway 50
Kyburz Pass destinations (4047′ elev)
Gold Country, Placerville to South Lake Tahoe, CA
twitter.com/US50Chains
Donner Summit, Interstate 80 (7240′ elev)
Auburn, Colfax, Soda Springs, Norden, Truckee
Major connector eastbound to Nevada state.
(open year round, weather permitting)
California Hwy 20
Gold Country, Nevada City to Truckee, CA
Tahoe Roads – Truckee, 1-80
Sierra Nevada
Lake Tahoe Region
Truckee Donner Pass (7240′ elev)
Local Road Info: 916-542-4636
ROAD CONDITIONS: 916-445-7623
NEVADA ROADS: 702-793-1313
twitter.com/i80chains
California Highway Patrol
CHP ROAD REPORT: 415-557-3755
GetAcross80.com by CalTrans
Updates I-80, Interstate 80
Sierra County Roads
Nevada County Roads
Plumas County Roads
Northern California Road Conditions
Yuba County Roads
Colusa County Roads
Sutter County Road Closures
Glenn County Roads
Butte County Road Closures
Chico, Paradise, Concow, Oroville Quincy Highway
California Highway 70
Jarbo Gap to Quincy, Portola
Almanor / Chester / Quincy
(road conditions for highways)
California Highway 32
California Highway 36
Plumas County Roads
Lassen National Forest Alerts

Plumas National Forest Alerts
Tehama County Road Closures
Shasta County Roads
NorCal – California Hwy 299
Arcata, Willow Creek, Weaverville, Redding, CA
Burney, Fall River Mills, CA
Shasta Co.
Lake Shasta Road Conditions
Trinity Lake – California Highway 3
Trinity Highway
Weaverville, CA
Fort Jones, Etna Road Conditions
Scott Valley News
Klamath River – Highway 96
Happy Camp, Hoopa, Klamath, Six Rivers NF
Mount Shasta
road conditions
NorCal Siskiyou
road conditions
Northern CALIF Traffic Cameras
web cams for roads / highways
Caltrans Highway Information
800-427-7623
Sours: http://www.totalescape.com/outside/journey/california-road-conditions/
Suspect found dead after shooting at CHP officers near 605 Freeway - ABC7
Cajon Pass Traffic and Road Conditions
Q
) How often is the map updated?
A) The traffic flow is updated at loadtime and upon movement outside the initial map view, or upon refresh of the page. Any incident markers are checked for updates approximately every 5-10 minutes, but you need to reload the page to load any new updates; the data provided may still be the same status/view as before. Information shown is as only reliable as how it is reported to us.


Q
) The roads are backed up or closed, but the map does not show the reason why, what's the deal?
A) Municipal traffic monitors or GPS trackers may not be available, could be offline, or reports and alerts are not syndicated to media outside of the area to use on the map. This is especially true for rural areas. You are encouraged to leave a road conditions report to help others.


Q
) I see traffic alerts in the box below for the state, but they aren't related to the area I'm in?
A) We attempt to display alerts as specific to the area as possible, however in some cases the data we receive will only allow us to provide it by county or even statewide.


Q
) Are you an official source of traffic information?
A) We are not an official source of traffic or real-time data. We have contracts and licenses to display certain up-to-date information that comes direct from some DOTs in various states, and the traffic flow on the maps is provided by Google or MapQuest. However, the data shown here should only be used for light informational and reference purposes and not to make critical decisions. Your safest option on the web is to use your state-run traffic website, or to call the DOT traffic line for your state, local authorities, or the state's 511 number if available.


Sours: https://www.localconditions.com/weather-cajon-pass-california/92358/traffic.php
Now discussing:
HighwayConditions.com provides easy access to California: Road conditions, highway conditions,freeway conditions, airport conditions, flight delays, and weather. We also include pages on weather, airport, traffic and transit information for cities and regions across California including the Greater Los Angeles (Southern California),Sacramento, San Diego, San Francisco, andSan Josemetropolitan areas. Find easy access to travel and traveler information including road conditions, freeway conditions, highway conditions, airport conditions and flight delays, ferries, traffic, transit, and weather across the United States, and Canada. Planning a road trip? We have also included a directory of the top sites for driving directions, and maps. We hope you find our site useful and informative and always drive safely.
California: Road Conditions, Freeway Conditions, Highway Conditions and Traffic
Road conditions and 511 traveler information phone numbers
511;1 (800) 427 7623; Outside of California 1 (916) 445 7623
California Department of Transportation
California Road Conditions, Including Construction and Winter Weather Information
California Road Conditions Mountain Highways
California Highway Conditions: Text Report
Caltrans Live Traffic Cameras
Caltrans 511 (Smart Traveler) Travel Information
California Road, Traffic and Travel
California Highway Patrol Traffic Incident Information Page
California Traffic Information Federal Highway Administration (FHWA)
BeatTheTraffic® Northern California Traffic Map
BeatTheTraffic® Southern California Traffic Map
DMV.org - California DMV Guide
DMV.org - California 511 - Road Conditions, Closures, Accidents, Detours via 511 Traffic Systems in California - DMV Guide
California: Air Travel
Federal Aviation Administration Air Traffic Control System Command Center Airport Status and Flight Delays - Southwestern States
Border Information
Aduana México (Mexican Customs)Link in Spanish
US Customs
US Customs Border Wait Times
Driving Directions
Directory of Driving Directions Sitessmb://nakamoto/public/DataFiles/My%20Webs
California: Disaster and Emergency Management
California - Governor's Office of Emergency Services
California: Gas Prices
Fueleconomy.gov - Gas Prices for Cities in California
Gas Buddy.com - California Gas Prices
California: Transit, Bus and Train Travel
American Public Transportation Association California Transit Information
Amtrak
Amtrak California
Amtrak Capitols
Greyhound Lines Inc.
Mexicoach Services
Orange Belt Stages
Spirit of America Tours
California: Tourist Information
California: Weather
California Weather - National Weather Service (IWIN)
California Weather - The Weather Network
California Weather - Weather Underground
U.S. Coastal Marine Forecasts by Zone - West
Road Conditions, Highway Conditions, Traffic, Weather and Transit Information for, the United States, Canada and the Neighboring States to California
Canada and United States Travel Information
Canada Travel Information
United States Travel Information
Arizona Travel Information
Hawaii Travel Information
Oregon Travel Information
Nevada Travel Information
Sours: https://www.highwayconditions.com/ca/
488
489
490
491
492