When the days get longer and the temperatures rise, nothing beats sitting out on a deck and enjoying everything the season has to offer. But, if you don't have a small deck, what should you do then? Do you have to give up on the idea?
To put it simply, no, you don't. With the right small deck design, anyone can craft their ideal deck. You'll be ready for fun in the sun in no time flat.
If you don't know where to start, here are some small deck designs that can get you headed in the right direction.

Small Deck Ideas and Designs
1. Small Round Deck with Seat
While this project might not be ideal for beginners due to the lack of instructions, experienced DIYers may be able to take it on. There are several pictures, giving you enough to potentially create your own plan. At a minimum, it serves as a great source of inspiration.
The result is a magnificent round deck with bench seating. Some of the seat space even has a back, allowing you to lounge with ease.
2. Mini Circular Deck
If you need something particularly compact, this small deck design is right up your alley. Its diameter is less than 10 feet, making it a great choice for small yards or nestling into a garden.
The design itself is also incredibly attractive. The deck has a sunray-style or daisy-like pattern, giving it added visual interest. But this does make the build a bit more challenging, due to the extra cuts needed to handle the angles, so it may be more than a beginner wants to tackle.
3. Small Deck with Dog Bath
Bathing a dog indoors isn't always practical. Luckily, with this small deck design, you have an alternative. It features a bone-shaped pool in the center, making it the perfect spot to give the spot a bath.
Plus, the shape of the deck is incredibly enticing in its own right. If you don't have a dog (or don't need an outdoor bath for you), you could skip the pool. That would give you a decent-sized surface that would be great for lounging instead.
4. Rustic Patio Deck with Fireplace
This small deck idea is more about the additions than the deck itself. The overall design is simple, featuring parallel boards on a sunken patio. However, the décor takes it to the next level.
Along with wall planters, this rustic patio deck features a gas fireplace. Even chilly nights could be magnificent thanks to the cozy fire. That makes this a great option for cooler climates or anywhere where the nights can be a bit colder than is comfortable.
5. Studio with Circular Deck
A small shed can become a standout studio with some simple additions. With the additions of a step area and a circular deck off the front corner, the building is attractive and functional.
Plus, the deck creates enough space for a pair of small chairs, a two-person bench, or a chair and side table. If you're looking for a spot to relax in solitude, it could be a great option.
6. Small Covered Deck
This mini deck is the perfect addition to a small stone backyard pond. Its design mimics a covered well, giving it a rustic charm. Plus, the side railing is incredibly inviting, creating the perfect place to lounge and potentially watch some koi below.
Since there's a roof, this is a small deck that you can even enjoy when it rains. Take refuge under the covering and watch the drops create ripples in the pond. If that isn't relaxing, what is?
7. Tiny House Deck
Just because you live in a tiny house, that doesn't mean you can't live large. The addition of the deck creates more living space, providing ample room for a pair of chairs, benches, or more. You may even be able to have an outdoor dining area, perfect for meals under the stars.
Part of what makes this deck special is that it can be designed to fold up. That way, even if you take your tiny house on the road, you can bring your deck along for the journey.
8. Simple Small Deck
A deck doesn't have to be complicated to be amazing. This small deck design embraces simplicity, running the boards in parallel perpendicular to the home. But the result is still beautiful, and the amount of space available is ample.
This option also means you could potentially avoid many cuts. If you opt for a standard board's length as the deck's width, you can use whole boards. That makes this approach ideal for beginners, as the building process is streamlined automatically.
9. Contemporary Deck
Modern decks tend to embrace clean lines and simplicity. This contemporary deck is a great example due to its highly linear design. This may also give it a "masculine" feel, something that some people appreciate.
As a bonus, small deck designs like this one tend to be easier to replicate. Envisioning the building process is simpler since the deck is straightforward. If you're a beginner, it could be a great option.
10. Slim Raised Deck
If you don't have a lot of space or your home is perched on the edge of a hill, going with a slim raised deck could be a great choice. It lets you make the most of the existing space without making the building process overly complex.
However, going this route may be more than many DIYers can handle. Without extra supports, you could need beams to support the load. That may require an engineer, so keep that in mind before you get started.
11. Two-Tone Deck with Bench
This deck takes a simple idea and elevates it to a whole new level. The use of two tones allows you to create a border around the deck, adding visual interest.
Plus, the built-in benches and planters are convenient. You don't have to worry about bringing out chairs or finding a place to add some fresh color. They are available by default.
While this design is larger, it's fairly scalable. You can adjust the length and depth to meet your needs, ensuring you have the right sized deck for your yard.
12. Raised Pergola Deck
If you're looking for more than just a deck, this raised pergola design is worth considering. It provides you with a reasonable amount of space. Plus, you get some protection from the sun and additional visual interest due to the pergola.
While this version features craftsman (or arts and crafts) styling, it's adaptable. Simply adjust the ends of the pergola and the supports, and it can easily be more contemporary, industrial, or rustic.
13. Two-Tiered Deck
If your yard is significantly lower than your main floor, a two-tiered deck can serve as the ideal transition. You'll get plenty of space to lounge, barbecue, or hang out with family and friends. Plus, you can use the multiple heights to bring your main floor and yard together, promoting better indoor/outdoor living.
Before you go this route, make sure you can transition correctly. There are strict rules regarding step heights. So, if you need stairs to move from one level to the next, check your building codes in advance to make sure you get it right.
14. Simple Platform Deck
When you go with a simple platform design, the end result can be equally modern and classic. That makes this small deck idea particularly versatile as it will blend with many architecture and design styles.
However, since it isn't raised, make sure you have great drainage and that the material is either synthetic or well-sealed. Otherwise, the deck could become saturated, which could compromise the structural integrity of the material.
15. Traditional Two-Level Deck
If you prefer a traditional look, this small deck design might be right for you. It features two levels and classic styling, making it a solid choice for traditional or transitional homes.
This could also be a great choice if you're looking for closer to a mid-sized deck. However, the design is scalable. You could make it slimmer or shorter if you'd like, allowing you to adjust it based on your needs.
16. Mini Beach-Style Deck
Sometimes, all you need is space for a single chair. If that's you, then this simple mini-deck could be a great choice. It provides you with enough space for some private lounging without going overboard.
Additionally, the design itself is fairly simple. Even beginners could replicate the look, including if they are only going off of these images. The surface is incredibly linear, limiting the need for complex cuts.
17. Planter Deck
Adding some planters to your deck can be a great choice, especially if you don't have much yard space. It gives you an easy way to add greenery to your patio, essentially serving as a substitute garden.
This small deck idea even goes further. There are two small bench seats built-in as well. With the addition of a small table and two chairs, there's room for four and then some, making it a quaint gathering space to enjoy with friends or family.
18. Craftsman-Inspired Covered Deck
Featuring a craftsman aesthetic and pergola, this small design idea is an excellent choice for anyone who appreciates arts and crafts details. The design is simple, yet sturdy, providing a small seating area covered by a pergola.
This look can also work for farmhouse exteriors. The heavy wood has a rustic feel, allowing it to blend with country styling as well, making it a bit more versatile.
You could even expand the design to make a larger space. However, with the pergola supports, shrinking it might not be the best choice.
19. Small Step Deck
Why just have a set of stairs when you can have a small deck, too? This design embraces that idea, creating room for a seating area while making the transition between the yard and main floor convenient.
The design itself is straightforward. As a result, many beginners should be able to replicate it with ease. Just make sure you follow local building codes regarding the step height, allowing your deck to be safe and functional at the same time.
20. Tri-Level Contemporary Deck
This deck features three levels, each providing a small space to enjoy. While the lowest tier mainly functions as a step, it could support a chair. The middle level works for a loveseat bench while the top has room for multiple chairs or, potentially, a café-style dining set.
Each of the levels has a wood border, making the design incredibly appealing. Plus, it only ups the complexity of the build slightly. So, if you have solid DIY skills, you can probably tackle it.
21. Simple Angled Deck
If you have an awkwardly shaped space, this small deck idea could inspire you. It makes use of the available space by embracing angles. In the end, it provides enough room for a barbecue and could even handle a chair or two.
While it features angled cuts, most of them align with each other. This makes the design easier to manage. However, beginners might prefer something simpler, especially if they've never dealt with angled before.
22. Retaining Wall Deck
While it looks like this deck has planters along two sides, that isn't the case. Instead, the raised sides function more like retaining walls, creating continuous planting spaces along the edge. That may make it more versatile for planting, as you won't necessarily be limited by the size of a container.
Additionally, the seating area is ample and could be scaled. Whether your yard is smaller or bigger, adjusting this design to fit wouldn't be a challenge.
23. Fireplace Raised Deck
This inspiring deck idea isn't just a small deck; it's also a stone fireplace. If you want to go the extra mile, it could help you create a relaxing, cozy area for enjoying time by the fire.
However, that also makes the full build more complex. The raised design itself may require beams and some more advanced engineering. The fireplace adds a new level of difficulty and may be more than a DIYer can safely tackle.
If you go this route, consider getting help from professionals. That way, you can make sure everything is done right.
24. Curvy Small Deck
This deck mimics the lines of the nearby pool, making the design feel especially organic. It's also bordered, which, considering the lines, means this design might be more challenging to handle, especially for beginners.
However, the end result is a showstopper, so it's worth considering if you have a pool, garden area, or other nearby space featuring curving lines. Just be ready to spend a lot of time thoughtfully planning and measuring. Otherwise, you might not match the flow correctly.
25. Raised Deck with Lower Pergola
What makes this design unique is how it impacts two seating spaces. The upper deck area gives you plenty of space for a barbecue or some seating. By attaching the top of the pergola to that deck's rails, a lower seating area gets some shade.
This approach can work well for small yards, especially if the main floor is elevated above. You can create a more functional room and a degree of separation between the spaces, which you may appreciate if you favor privacy.
26. Rustic Timber Deck
Due to the heavy support posts holding up the pergola, this small deck feels a bit rustic. The wood becomes the star, easily drawing the eye. You could even substitute the square posts for round ones that more closely resemble freshly scraped timber, taking it up a notch.
But this deck also has a lot more to offer beyond the aesthetics. You get a large seating area, one big enough for a sectional style outdoor sofa and coffee table.
27. One-Chair Deck
This simple design provides enough room for a single seat, making it a great choice for those who want to spend some time alone enjoying nature. While this design is elevated, taking advantage of the lake view, it doesn't have to be. However, if you do lift it, the railing is a critical element, ensuring your deck is safe.
Otherwise, the core design is easy to replicate. It's a simple rectangle, with boards running perpendicular to the home.
28. Small Zen Deck
With a look that seems perfect for a Zen garden, this small deck could be great for reading outdoors or some light meditating in the sun. The design features a border, making it feel a bit contemporary but still natural. Plus, the resulting space seems private.
The final size is ideal for one person, making it an excellent choice for small yards. However, it could be scaled up, allowing you to replicate the look but have more room for seating.
29. Traditional Slim Deck
Nestled into the space between two homes, this deck makes the best use of the room available. It could easily support a chair or two, allowing the homeowner to enjoy time outdoors with ease.
The railing gives this small deck design a traditional feel. However, by adjusting the look of the posts, it could look more contemporary, industrial, or rustic. So, let your imagination guide you, ensuring it aligns with your preferences once you're done.
30. Screened Porch with Small Deck
This design is more than a small deck; it also features an attached screened-in porch. This can be ideal if you want a space for barbecuing but also appreciate the protection a screened area provides.
However, adding a screened porch like the one in the image isn't necessarily a DIY job, as it ties into the roof. But the deck could be manageable if you already have a porch, so keep that in mind.
31. Chevron Deck
Here's a deck that takes advantage of its angles, using them as inspiration for a chevron floor pattern. This adds a degree of interest, making it a bit unique.
While this deck isn't massive, it isn't tiny either, making it a solid choice for mid-sized yards. You could easily fit a barbecue, table and chairs for four, and some extra seating while still having room for people to move around. If you enjoy entertaining, this could be the right approach for you.
Conclusion
If you were dreaming of a small deck but didn't know where to start, that should no longer be an issue. Each of the small deck ideas above is a great choice. Take a look at them and see which one is right for you.
I hope you enjoyed this list. If you'd like to share your thoughts or tell everyone about other small deck designs that they should consider, head to the comments below. Also, feel free to pass this list to anyone else who may be thinking about building their small deck; they'll be happy you did.
Eugene Sokol
Eugene has been a DIY enthusiast for most of his life and loves being creative while inspiring creativity in others. He is passionately interested in home improvement, renovation and woodworking.
Sours: https://plasticinehouse.com/small-deck-ideas-and-designs/
A deck is a great addition to any home. It makes indoor/outdoor living a breeze, giving you extra living space to enjoy whenever the weather allows. Plus, it can amp up your curb appeal, enhancing your home's value.
But what if you don't have a multi-story home? What if your main floor is ground-level? Are there ground-level deck ideas that can work?
Luckily, even if your main floor is practically touching the earth, there are great deck options. If you need a ground-level deck and don't know where to begin, here are some designs to inspire you.

Ground Level Deck Ideas and Designs
1. Angled Front Deck
Photo by Treeline Construction
No one said a deck has to be in your backyard. This angled front deck design is proof of how having one on the front of your home enhances curb appeal. Plus, it creates a welcoming seating area, perfect for enjoying your neighborhood.
The angle of the boards makes this low-level deck feel expansive, even though it is of modest size. Plus, the framed look creates a refined appearance, which is a great match for a traditional exterior.
2. Ground Level Deck Design with Bench
Photo by Sundeck Designs LLC
If you're looking for ground-level deck ideas that incorporate seating, you're in luck. This design features a bench along with one of the edges and a seat near a planter, creating two elegant and convenient spaces for resting and enjoying your yard.
Plus, the look of this deck is elevated by the paint. The contrast between the natural colored wood and colored risers creates visual interest while also making it feel like part of the house instead of an add-on.
3. Contemporary One Level Deck
Photo by Deck Guardian
The hard-angled corners and linear board layout give this one level deck a contemporary vibe. The built-in benches also feature incredibly clean lines, even while the feet provide an intriguing architectural element.
The coloring focuses on the natural, with the mid-toned boards blending well with the nearby trees' trunks. However, the brilliant white on the benches imbue a touch of modern Zen, particularly when surrounded by lush plants in the garden space.
4. Modern Ground-level Deck
Photo by Residential Decks, Porches, Patios
Another design that focuses on clean lines, this is one of only a few ground-level deck ideas on this list that account for a firepit space. The deck appears to have a curved cutout, allowing the stone firepit to take center stage. Even bench features the same wood as the deck itself, allowing it to visually recede while adding the convenience of extra seating.
There is also a subtle, two-toned aspect to this deck. The boards used to frame the outside are just a bit darker, adding a degree of refinement.
5. Simple Low-level Deck
Photo by EB Architecture + Design
With warm wood tones and a straightforward design, this is one of the ground-level decks that works well with any style home. The surface, stairs, and outlining frame all feature the same wood color, making the final look clean and crisp.
Plus, it doesn't include features that strongly align with a particular design aesthetic. Instead, those touches are limited to the top of the surrounding fence. With that approach, you can adjust the look based on your preferences if you don't want the Craftsman vibe this version offers.
6. One Level Deck with Railing
Photo by Knollwood Construction
Even if your entire deck is ground-level, that doesn't mean a railing is a great design choice. Along with keeping people from stepping on the garden space along the edge of the deck, the rail provides visual interest. You can also use different railing styles based on your home's aesthetic or personal preferences, allowing you to adjust this deck's appearance with ease.
Plus, in this design, the post caps have lights. This creates a versatile space that can more easily be enjoyed at all hours of the day and night.
7. Angled Deck with Benches
Photo by LANDCON – Landscape Construction, Inc.
This deck is meant to be a focal point, even if the coloring of the wood is fairly neutral. The outer edge features a few angles, making it a bit unique. Plus, the stone walkway, which stands out from the surrounding landscape, draws the eye.
However, this deck isn't just beautiful; it's also convenient. You'll find two built-in benches along the outside, creating seating for about eight adults. You could still fit additional chairs and even a table on the surface, making it a great choice for anyone who loves entertaining.
8. Free Standing Deck with Pergola
Photo by eco urban design inc.
Functioning as a contemporary landscaping feature, this free-standing deck with pergola is an excellent option for slim side yards. It could also be incorporated into a garden design, serving as a center point or simply an area to kick back and enjoy the view.
You can also take advantage of the attached side planters. They could serve as an ideal spot for an herb garden, certain vegetables, or fragrant flowers. Plus, there's a built-in bench and section holding a fountain, allowing it to work as a meditation space, too.
9. Large Versatile Deck
Photo by DE atelier Architects
If you're looking for versatile design, this ground-level deck is hard to beat. The look is very linear, aside from the handful of boards on one edge that sits perpendicular to the rest. As a result, the final look could work well with nearly any home aesthetic, including contemporary, traditional, Craftsman, or rustic exteriors.
The surface of this deck is also ample. If you need enough room for tables, chairs, and mingling, this one could be a great choice.
10. One Level Deck with Contrasting Rails
Photo by Decks & Patio Covers
With this design, the deck rails become a feature. While the deck's surface is a neutral shade of brown that blends with the siding, the railing is bright white. This not only causes the railing to stand out as a design element but also brings attention to the house's other trim.
This deck is also fairly large, making it ideal for bigger back yards or even sample side yards. Plus, one of the longer sides has a built-in bench, creating seating space for six to 12 people, depending on their size.
11. Gray Wash Deck
Photo by Hasler Homes Ltd
If you are looking for something other than a natural wood tone, this deck is a must-see. It features a mid-toned gray wash, allowing the grain to show through while keeping the color cooler. It contrasts well with the nearby cedar elements, adding visual interest.
Overall, this low-level deck leans toward the contemporary because of its color. However, the structure of this deck would work well with traditional homes, particularly if the entire surface was natural wood.
12. Round Cedar Deck
Photo by Hickory Dickory Decks
A free-standing deck off of a stone patio has a circular design that's ideal for a small table or, potentially, a hot tub. The surface is cedar, a moisture-resistant material with a beautiful reddish hue.
The look of this deck is minimalist. As a result, it blends well with nearly any aesthetic, as it doesn't have strong design features that could compete with other looks.
13. Organic Free Standing Deck
Photo by Back To Nature Decks
Unlike the majority of deck designs, this one doesn't have many hard lines. Instead, the edges and layout feel more organic, featuring curves and a bit of unevenness.
Since the design isn't particularly linear, it's easy to adapt around objects like trees or curving walkways. Plus, it may feel a bit more like a natural part of the environment, as it lacks the harsh lines that you find in many manmade structures.
14. Exotic Hardwood Deck
Photo by Paul Lafrance Design
This deck is anything but ordinary. Along with featuring an exotic hardwood with a rich, deep reddish-brown hue, the floor includes a pattern. Boards are used to create what's nearly an eight-pointed star.
Plus, this deck features glass rails on the walkway, a built-in bench, and an overhead covering reminiscent of a window frame. Overall, the look is refined, elegant, and elevated, but still fairly simple, making it a great choice for traditional, transitional, or Craftsman-inspired homes.
15. Multi-Tiered Deck
Photo by Hickory Dickory Decks
If you are looking for a two-tiered design, this could be your ideal deck. The lower section is ground-level, allowing you to transition from your yard to a seating area with ease. This tier also features a built-in bench next to a planter, adding a degree of convenience.
The upper tier is only slightly higher. The railing along the side adds elegance and a hint of privacy to this smaller space, making it an excellent spot for peacefully lounging on a summer day.
16. Curvy Ground-level Deck Idea
Photo by OC Deck & Patio
This deck embraces curves. The outside edge of the design is rounded, leaving not a single hard corner in place. Additionally, the step up to the second tier is also curved, making the transition look visually softer.
But the curves don't stop there. Even the built-in bench is rounded. The final look is incredibly modern, working perfectly with the round hot tub nestled along the far side.
17. Mid-Sized Angled Cedar Deck
Photo by Hickory Dickory Decks
If you're looking for a great spot to set a barbecue grill, want some room for family outdoor dining, or hope for a great place to lounge, this deck is a great option. While it looks compact, it offers a reasonable amount of space. Plus, the built-in bench reduces the need for chairs, allowing more of the floor space to remain empty.
This deck also features clean lines and a few 45-degree angles. The final look leans traditional, particularly since it is made of cedar. However, with the right styling or a few small adjustments, it could work with a contemporary home.
18. Simple Painted Deck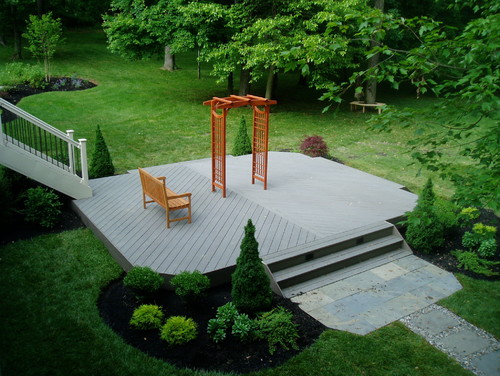 Photo by Creative Deck Designs
This deck is all about simplicity. The design is mainly square, aside from the cut corners. It's also painted a mid-toned gray, a neutral option that blends well with a range of colors and materials.
The main design feature of this deck is the angled boards. The slant is different on each half, creating a chevron pattern that draws the eye deeper into the yard. It's a small hint of visual interest that keeps the deck from being bland, without going overboard.
19. Modern Free Standing Deck
Photo by Green Grounds Landscape Services
The simplicity of this deck gives it a contemporary vibe. The boards around the edge work as a frame, making the deck feel refined. With the surrounding plants, strategic lighting, and stone section, it even comes across as spa-like.
If you're looking for an ample deck, this free-standing option could work well even if you don't have a contemporary home. The minimalist design makes it adaptable to other styles, allowing it to work with traditional and transitional houses.
20. Large Deck with Stone Planters
Photo by Fiberon Decking
One of the benefits of a large yard is the ability to have a massive deck. This one has enough room for several seating areas without impeding the flow of traffic. With the mid-toned cedar boards, it seems even more expansive.
As a bonus, this deck also includes built-in benches, providing seating for about a dozen people. Plus, there are planters featuring stacked stone facades, a slightly rustic touch that's great for anyone with a green thumb.
21. Slim Multi-Level Deck
Photo by Best Hot Tubs "Hot Tub and Spa Experts"
If you have an uneven yard and don't want your deck to protrude too much into your lawn, this might be your best deck option. It stays fairly close to the house while still providing a substantial amount of space.
Each of the tiers is only a step higher than the last. That can make it a great choice for sloped yards, allowing the surface to adjust to ground-level changes.
22. Streamlined Ground-level Deck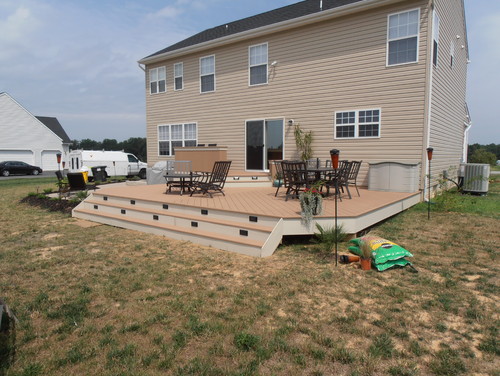 Photo by Creative Deck Designs
Streamlined deck designs are easier to build than their more complex counterparts. With this deck, you are mainly dealing with a rectangle, which makes it simpler to install.
However, since the corners are cut, and the boards are laid on an angle, there is some visual interest. Another benefit of this ground-level deck idea is the wide staircase, making it easier to move around. Plus, together, this all creates the illusion of an even larger space.
23. Mid-Sized Open Deck
Photo by Hickory Dickory Decks
While slightly elevated, this mid-sized deck doesn't feature a railing along most of the sides. The design ends of feeling more modern, as a result, and also seems more spacious.
It also has more than one level. The raised section is near the door, serving as an ideal spot for a barbecue grill. That allows the lower area to be completely dedicated to seating, ensuring every spot has a specific purpose.
24. Deck with Rail and Gate
Photo by Roworth Renovations
The look of this deck is highly modern thanks to the clean lines and black spindles in the railing. The lines are clean, and the design is simple, but the natural wood also makes it striking.
For homes with children, this deck also offers the benefit of a gate that blends in with the railing. It can keep kids from falling down the stairs or wandering into the yard unsupervised, all without impeding the overall look.
25. Two-Tier Deck with Pergola and Planter
Photo by Kayu Canada Inc.
If you want to add a touch of Zen to your yard, this two-tier deck with pergola and planter is a great choice. The pergola has a hint of Asian design aesthetic, a look that works well with contemporary and Craftsman homes.
Additionally, you'll find stone elements. Along with the stone tiles on the pergola posts, there's a planter with a stacked stone façade on one corner. It's the perfect spot to put a lush fern or a flowering plant, adding visual interest in a simple way.
Conclusion
If you were looking for amazing ground level deck ideas, now you should have more options than you could need. Explore the designs above and choose the one that works best for your home and backyard.
I hope you enjoyed seeing all of the decks featured in this list. If you want to share your thoughts about any of the designs or discuss how you chose the ideal option for your home, head to the comments section. Also, if you know anyone looking for a low-level deck, please share this list. They'll be glad you did.
Eugene Sokol
Eugene has been a DIY enthusiast for most of his life and loves being creative while inspiring creativity in others. He is passionately interested in home improvement, renovation and woodworking.
Sours: https://plasticinehouse.com/ground-level-deck-ideas-and-designs/
Even though basic wood or composite decking designs can look incredible, there's so much you can do to enhance this extension to your home. A few simple touches can make it usable throughout the year, or you can go all out and create a two-tiered masterpiece complete with a whirlpool and stunning views.  Coming up with deck design ideas can be difficult at times which is why we created this post.
Building a deck doesn't have to mean installing a rectangle of timber in your backyard; it can transform your entire property. At Prince William Home Improvement, we've got some excellent deck design ideas to spruce up your outdoor space.
Structural Designs
Decks come in all shapes and sizes, so there's a lot to think about when it comes to mapping out how you want it to look. Most people tend to use a deck as a transition between the indoors and outdoors, but it can also look great as a separate entity. The classic deck connects to the ground floor of your house and steps down into the garden, and more contemporary design styles are building on this. You can create multilevel structures that serve various functions by incorporating specific features.
Go All Out With Multilevel Decking
If you've got a big yard and love having your friends and family over for parties, a multilevel deck is a perfect spot for entertaining. With a sprawling custom deck design, each level can have its own function. You could have the grill and sun loungers closest to the house on the ground-level deck, and the second layer can serve as an outdoor living room. A third level can incorporate a unique feature, such as a hot tub or firepit.
People who want to build upwards can even have their own outdoor living space leading from upstairs. Just imagine the luxury of being able to step outside your bedroom into your private backyard deck. Including a pergola on your deck can also add an extra design element while providing shade cover. 
Combined Patio and Custom Deck Design
You can get the best of both worlds by combining a deck and a patio. The stone finish of the patio tends to lend itself well to luscious greenery, vegetable growing, potted plants and hanging baskets. At the same time, the deck can provide a beautiful outdoor living area for relaxing and dining.
Gastronomical Garden
If your family loves to cook, you can even have an open-air, outdoor kitchen integrated into your deck. This means having a grill outside as well as a sink, a fridge and cupboards to get the full outdoor cooking experience. Those who love to barbecue will already know how amazing it feels to cook in the open air, but this takes it to the next level.
The Pool Deck
One of the most popular reasons for having a deck is to surround a pool or hot tub with a lounging or seating area. No one wants to step out of their pool onto grass or mud. An above-ground pool is highly affordable, and decking can integrate it seamlessly into its surroundings. You can build several layers to the decking with loungers and a dining area to create an at-home vacation experience you and your family can enjoy throughout the warm months.
A Deck With a View
Those who are lucky enough to have a house with views can benefit from a balcony-style deck project. This gives you extra outdoor space on top of your backyard, where you can relax, soak in the sun and enjoy the landscape.
Most building codes include railing rules that stipulate you need a railing at least 36 inches high surrounding decking built more than 30 inches off the ground. You can make these deck railings a style feature by creating elaborate barriers or by using sheer glass so the view remains unobstructed.
Stylistic Ideas
Now that you've decided the purpose your deck is going to serve, you can decide on the overall aesthetic you'd like it to have. When it comes to design, consistency is the key to a flawless finish. Even if you choose bold colors and prefer excess over minimalism, a running theme brings the look together. You can match the style to your indoor living area, but with endless color palettes and design inspirations to choose from, you can get creative and bring your personality to the project.
Curved Lines
Traditional wood decking is a square affair. Usually, the rectangular slats are complemented by clean, straight lines and linear fencing. It's possible to break this mold and create curved deck edging. This often contrasts with the finish of the home, looks modern and particularly suits a deck with a hot tub.
Integrate Trees and Flowerbeds
Instead of merely building the deck on top of clear areas of land, you can shape it around the preexisting flora and fauna. Snaking a path of wood deck around flowerbeds gives your yard the atmosphere of a mysterious secret garden. Constructing it around trees makes the entire living space look more natural and well-integrated.
Classically Nautical
A nautical theme is a highly popular choice for the finishing of a beautiful deck design. You can paint the slats and fencing white and choose white furniture with striped blue cushions to bring the beach to your home. Add lanterns and a cute anchor decoration to finish off the nautical aesthetic.
Elaborately Exotic
For people who want to bring a splash of color to their outdoor space, a Moroccan-themed deck area can look stunning. Multicolored cushions with mirrored detail and Moroccan lanterns bring a sophisticated but sumptuous feel to your sitting area. You can find outdoor furniture in a variety of shapes and colors, so your yard can match your unique style.
Simply Elegant Scandinavian
Minimal design is in vogue right now, and the Scandinavian look of built-in furniture that perfectly matches the floor in a chalet-style can look impressive. You can have panel lighting installed into the steps for a look that's elegant and refined as well as practical.
If the design of the decking of your dreams is beginning to take shape in your mind, get in touch with Prince William Home Improvement or call866-598-7692 today to make those dreams a reality.
Related Posts
Sours: https://pwhomeimprovement.com/tips/custom-deck-design-ideas/
Decking ideas
Ideas to inspire a decking project
Thinking of adding some decking to your garden? Our decking design ideas are here to inspire you. There are lots of ways you can use this versatile landscaping option in your garden. So, whatever the size of your outdoor space, having an area of decking is a great way to enjoy it. Whether you want a ground-level or a multi-layered deck, or one with a sandpit set into it for the kids to enjoy, we have lots of suggestions.
Have you already decided what to do with decking in your garden? Check out our planning guide to start your project. And when it comes to finding your favourite decking to match the look you're after, our decking buying guide will help.
Read how to plan your decking
Read our decking buying guide
Read on to kickstart your inspiration for your decking project.
Shop decking
Take decking to another level
You can lay decking at different heights and levels, depending on the shape and surface of your garden.
A raised deck is a good option for sloped or uneven gardens as a way of creating a flat surface for a dining table or a seating area. If you build a tall enough frame, you can even use the space underneath your decking as additional garden storage.
A ground level deck is great if you want to keep a flat, even surface in your garden and they are easier to build than raised decks.
Read How to build a raised deck
How to build a ground-level deck
Top tip: Try mixing it up
Why not try integrating both raised and ground level decking into your design to create different platforms? This is a really eye-catching way to lay decking.
Choose the best shape for the space
Be open minded when it comes to the shape of your decking and design it to best fit your space. Rectangular or square-shaped decks are traditional and create clean, angular lines in your garden landscape. A straight-edged deck is also easier to construct than one with a curved edge.
Decking with a curved edge can help to create a softer finish to your garden design and looks great with bark, gravel or grass against the curved edge.
Consider different laying patterns
You can lay deck boards in lots of different configurations to create an interesting effect. Potential laying patterns for decking include: horizontal, diagonal, chevron (zig-zag like parquet flooring) and picture frame (boards in a different orientation to frame the decking) deck boards.
Alternatively, go for deck tiles instead of deck boards for a different design. Line up the deck tiles to get a horizontal design or opt for an eye-catching checkerboard effect by aligning horizontal and vertical deck tiles (pictured).
Mix it up with different materials
Add different elements to your garden look by combining decking with other materials like >paving slabs. Complement the decking by edging it with paving, giving it a contemporary look. Or go bold by slotting it between your deck boards for a truly tailored design (pictured).
Use decking to bring colour to a garden
Our composite decking is available in attractive colours including deep red, brown and grey so that you can choose one that works with your garden design. Our timber deck boards can be painted or stained with decking paint. We have lots of choice including traditional brown wood stains, earthy greens and on-trend grey paints. Stick with one striking colour or combine more than one colour. Merge navy and white for a nautical design or black and grey to get a contemporary and stylish look.
And for any budding artists, why not try creating unique painted decking with a bespoke design? Get creative and paint a pattern or picture on your decking – you can be sure no-one else will have the same look.
For a two-tone look try painting the deck boards a different colour to the railings or balustrades around it. Choose complementary colours like greys and whites or mix it up with a bold colour contrasting with natural wood.
For advice on cleaning, painting and caring for your decking, check out our useful guide, How to clean, paint & care for your decking.
Shop decking paint & treatments
Read how to clean, paint & care for your decking
Top tip: Want to freshen up your decking?
Check out our video on three ways to spruce up your decking with paint.
Be creative with spare deck boards
Regular deck boards can be used for all sorts of garden landscaping. You can build a path alongside your flowerbeds, or a raised vegetable patch with separate compartments for different types of produce.
Continue the decking look onto the walls for an attractive feature (pictured). And get creative with leftover deck boards. Build a planter from decking by following the steps in our video below.
Top tip: Get crafty with decking
It's really simple to build a planter out of deck boards. Our How to video below will take you through the easy steps
Work decking around plants, trees and shrubs
When thinking about the shape and size of your deck, plan it around the planting design you want to have in that area. Pot plants are the easiest way to incorporate plants into your deck design, but a border around the edge of your decking is a great way to frame it with your favourite shrubs and plants. Fragrant roses growing up trellis or obelisks can be particularly effective for this.
You can inset borders into your decking as a bit of a feature, this is particularly handy if you have well established plants growing in the area you want to deck. You don't have to dig them up, simply build your deck around them.
Create a decking design that is great for kids
Decking can be a great addition in a garden that kids enjoy. The flat, level surface it creates is ideal for freestanding children's play equipment like sandpits or picnic tables.
Alternatively, you could build a sandpit into your actual decking space (pictured). This could work particularly well on a decking split over two levels. Position chairs and a table on the higher level, then set a sandpit into the lower platform so you can sit and relax in a sand-free area whilst keeping a watchful eye over your little ones.
Follow our step-by-step guide to make your own sandpit using deck boards – a great way to use leftover boards.
Read how to build a wooden sandpit
Shop outdoor toys and play equipment
Personalise decking with accessories
Railings or balustrade are a must-have on raised decking to make sure it is safe to use. You can choose between railing kits, or you can design your own with balustrade screens and posts. As well as being safe, they add a decorative touch, so are not exclusively for raised decking, but for ground-level decking too.
Create decking ambiance with lighting
Adding lighting to your decking means that you can enjoy the area long after the sun goes down. Whether you go for atmospheric garden string lights draped around the edges, cosy lanterns, or built-in decking lights, lighting is a great way to brighten up your decking.
Our LED decking lights come in either blue or white and look great set into decking steps or between decking levels. Choose between mains-powered or solar-powered lights and silver or black surrounds, so you can match them to your desired look.
Shop garden string lights
How to add spotlights to your decking
Make your decking stand out. Watch our step-by-step guide to find out how.
Sours: https://www.diy.com/ideas-advice/decking-ideas/PROD_npcart_100442.art
Deck ideas rectangle
Small Deck Design Ideas
Elevated Deck01:30
A high-rise deck overlooking South Beach: small in space, huge in view.
If you're living on a small lot but have big ideas about outdoor living, meet the challenge with careful planning and a reality check.
First, decide where your deck is going to be located. The most sensible locations extend traffic patterns that are already inside your house, for example wherever you already have access to the outside. If you want to add a new doorway to your deck, make sure you create a walkway that doesn't cut across seating or dining areas.
The next step is to let reality settle in. After all, you aren't going to have the space for a dance band and an eight-person hot tub. But you probably have the room for a small, round, four-person table and a modest grill. Or, you may prefer a couple of comfy chaises and a privacy screen so you can read and sunbathe.
Once you've prioritized, get out a tape measure and start deciding the size and shape of your deck. Many decking manufacturers and home improvement centers have free online deck design tools that you can use to sketch out your small deck ideas. They'll include icons for various pieces of furniture and deck accessories so you can dial in the right configuration.
Keeping the design simple is a good idea for a small deck. Squares and rectangles provide lots of usable square footage and an easy-to-build shape. Be sure to include a sensible traffic pattern that lets you access your yard from your deck.
Here are other small deck ideas to keep in mind:
• If the walking surface of your deck will be more than 30 inches from the ground, then you'll need to add guard railings that are at least 36 inches high with balusters no more than 4 inches apart.
• Where your deck is not more than 30 inches from the ground, you can add bench seating that helps define the edges of your deck and provides built-in places to sit.
• For sloped yards, consider a stepped-down deck that has several smaller levels rather than creating one large hovercraft looming over your property.
• Keep the design of your deck in scale with your house. Creating visually harmony is especially important with a small deck — you don't want to overwhelm the outdoor space you have. Use colors and finishes that complement your property.
• Take advantage of existing trees and shrubbery for shade, privacy, and ambience. For example, if you have the option, locate a shade tree on the west side of your deck where it will protect you from harsh afternoon sun.
Sours: https://www.diynetwork.com/how-to/outdoors/patios-and-decks/small-deck-design-ideas
25 Creative Deck Ideas - Beautiful Outdoor Deck Designs
24 Covered Deck Design Ideas
A well-designed deck includes built-ins and features that are added for practical purposes along with architectural elements that enhance the design and materials of the structure. The better the design, the less noticeable it is. Face the truth: it gets hot, and as gorgeously appointed as your fine hardwood deck might be, if you don't provide shade, everybody will run for cover. A pergola or overhead structure will prolong your enjoyment and use of the deck, all while adding an attractive design element.
Assess what already exists: a deck's railings, posts, and overhead structure should echo a home's similar architectural elements in front or other parts of the property. A well-designed cover complements your home's style and the exterior materials used, especially any wood used elsewhere. Among types and styles of overhead structures to consider:
Arbor: Smaller than a pergola or gazebo, an arbor includes 2 to 4 posts with a simple slatted roof that is open. Vines can grow over an arbor or a lattice can be placed on top for more of an enclosed effect.
Pergola: This type of overhead can be identified by having four or more posts or columns. It supports a roof that is traditionally flat, with beams left alone in one direction or topped with cross beams or slats. The pergola's roof can be left open, covered with outdoor fabric, or support fast-growing vines.
Attached overhead: This can be built at the same time as the deck or added to an existing deck. It attaches to a back wall of your house and has a roof supported by sturdy posts at the edge of the deck.
Gazebo: More room-like than a pergola, a gazebo can be rectangular, hexagonal, or whatever shape you desire. Gazebos have posts and are more enclosed than other garden structures.
Roof extension: Sometimes this has already been done, other times it's a solution when another type of overhead structure will interrupt the flow and lines of your home's roof. Work with an architect or other building professional for this type of project; it's definitely not a DIY endeavor.
Consult your planning commission before starting a project of this scope; you will likely need to pull permits and follow local codes.
For inspiration and ideas, enjoy this diverse, international selection of covered decks.
Sours: https://www.thespruce.com/covered-deck-design-ideas-4171294
You will also like:
5 Creative Deck Ideas Beyond the Standard Rectangle
The great thing about having a home is that everything is customizable. From cabinet finishings to light fixtures, the opportunities to make your home a unique reflection of yourself are endless. If you've been considering building a deck to expand your entertaining space and increase the value of your home, fall is the perfect time to get the project started. Here are just a few designs that can help you ditch the cookie-cutter rectangle for an exciting new outdoor space.
Multi-level Deck
No matter the size of your backyard space, adding different levels to your deck is sure to visually expand the space in a playful yet practical way. By breaking up your deck with different levels, you're given the opportunity to create multiple living spaces where there was previously just one. By adding a sitting area to one level and a small potted plant garden to the next, you've created a visually appealing design without giving up the cohesiveness of your space.
Octagon Deck
Adding an interesting add on to your deck can be a great way to give your existing deck an upgrade. Playing with the size and position of your octagon addition can be done easily with new-age programs offered by many construction and hardscape companies.
Eccentric Deck Designs
If you're looking to stray way outside the box, try ditching the geometry altogether. Break free from restrictive lines and create a unique shape to compliment the design of your home and backyard space. For additional visual intrigue and seating, build a continuous bench that serpentines around the border of the deck
Tiled Deck
Although the structure of the deck is a big part of making it your own, there are some fun ways to breathe new life into an existing deck. By paving your deck with mosaic tiles, you are not only bringing a surprising twist to your outdoor space, but replacing wooden decks with a low-maintenance alternative. With thousands of tiles to choose from, the possibilities for customization are endless! Tiles are sure to bring a unique flair to your backyard oasis.
Painted Deck
Painting your deck is a budget-friendly way to make a big difference in your backyard. Think outside the box when deciding how you'd like your finished deck to look! Sure, you could paint it all one color but what's the fun in that? Trying different patterns or large stencils is easy on time and budget if transforming your backyard is at the top of the to-do list.

Regardless of the current state of your backyard or existing deck, there is always room for improvement. The possibilities are endless! By adding any of these unique design elements to your home you can truly make your outdoor space a reflection of the family inside.

Sours: https://cuttingedgehardscapes.com/2019/10/08/5-creative-deck-ideas-beyond-the-standard-rectangle/
2553
2554
2555
2556
2557