Apply for Finance
School or College Enquiry
Description
Dimensions
173 × 149 cm
New Yamaha C2X Grand Piano
This new Yamaha C2X grand piano is the second model in Yamaha's latest CX series. A high-quality piano with amazing resonant sound projection, thanks to a new soundboard design and new strings. Available in a range of finishes, and with a solid Alaskan Spruce soundboard, this is a great option for those seeking a small grand piano.
 Where can you find this brand-new piano?
Our piano showroom in Swansea stocks a range of new and used grand pianos, baby grand pianos and upright pianos. Whether you are after a Bӧsendorfer, Kawai, Steinway or Yamaha our expert team at Coach House Pianos will be happy to help. If you are looking for a piano shop near you then call us today on 01792 584 584 or just pop in if you are passing by.
Part Exchange
If you would like to part-exchange your current piano, please submit your details via THIS FORM prior to purchasing this piano. We will contact you promptly, ensuring you receive a high-part exchange allowance and arrange a mutually convenient switch-over date.
Free after service
This piano comes with a free after-service and tuning. Please complete our tuning request form 4-6 weeks after receiving your piano by CLICKING HERE. If you have a piano tuner that you currently use and would like to continue using their services, please include their name in the notes box on the submission form.
Custom Toning
This piano comes with our bespoke voicing service to suit your environment and personal preferences. To ensure you achieve the optimum performance from your instrument our technicians will gladly assist in adjusting the tone – please inform a staff member or include in the comments box at the checkout which toning grade you would like this piano to be.
Insure Your Piano
We understand how much your instrument means to you. We highly recommend insuring this truly important investment with Allianz who are the UK's leading specialist insurer of musical instruments. We have no hesitation in assuring you that you are in safe hands and therefore have secured preferential rates for all our clients. Please CLICK HERE to ensure you receive the pre-negotiated lower-rate Coach House pricing.
Secure Online Checkout
Please use the 'add to cart' facility beside the main images of this piano. This is a secure platform providing assurance to the safe transfer of funds via your debit or credit card.
Debit/Credit card payment over the phone
Please call (01792 584584) or email ([email protected]) our Sales Support team to confirm your purchase of this piano. We will happily assist you making a payment over the phone via debit or credit card (except American Express). An invoice showing proof of payment will be immediately emailed to you.
Bank Transfer
Please call (01792 584584) or email ([email protected]) our Sales Support team to confirm your purchase of this piano. An invoice confirming your purchase will be immediately emailed to you and will outline our bank details to enable payment.
Cheque
Please call (01792 584584) or email ([email protected]) our Sales Support team to confirm your purchase of this piano. An invoice confirming your purchase will be immediately emailed to you and a cheque can be posted to us by return.
Finance
Apply online for finance using this quick and easy facility, brought to you by the established and trusted V12 Finance Company. The application method could not be simpler and will give you immediate confirmation if credit is available to you or not.
Apply for finance now.
Free Delivery
Your piano will be delivered by our competent, professional piano moving team. Delivery is free of charge to a ground floor location, mainland UK.
* Please note, free shipping does not apply to any accessories.
Non-Ground Floor Delivery
Delivery charges are applicable per flight of stairs/steps; the standard price is £100 + VAT (5-15 steps/stairs). Once your transaction is complete, you will be asked to provide photos of any stairs/steps or access that could potentially cause issues for the installation team. If a lift is available, information regarding dimensions of this would also be helpful for the piano installation team.
International Delivery
This piano can be exported to any country around the world. We are experienced in transporting pianos worldwide, including installation in your home, please submit your details using THIS LINK for an accurate shipping quotation.
You May Also Like…
---
NEED SOME HELP?
Our team is here to help with any questions you may have
Call us on: +44 1792 584 584 or use our live chat
---
Sours: https://www.coachhousepianos.co.uk/product/new-yamaha-c2x-grand-piano/
CX Series
The legacy of the CFX continues
Preserving tradition is not the same thing as refusing to change;rather, it is from the ongoing search for perfection that traditions emerge. And when it comes to the tradition of crafting a grand piano, there is a sound, a tone to which only those who strive constantly to outdo themselves can aspire. For almost half a century, Yamaha's world-renowned C Series grand pianos have continued through a gradual process of refinement The CFX full concert grand piano built on the knowledge, techniques, and experience gained during this long period, with craftsmen pouring everything they knew into the creation of an instrument that took bold new steps in piano design, seeking to attain sonic perfection. The CX Series extends this work further, providing a clear sound with a clean attack, sparkling tone, and transparent harmonies, all encased in an elegant, flowing form.
The end result is a series of instruments that is refined in tone, yet bold in design, the product of a dedication to innovation that allows Yamaha to remain true to its musical heritage. CX Series pianos represent progress that is commensurate with Yamaha's 125th anniversary year - progress that will transform any room in which you play into a concert hall.
Sours: https://usa.yamaha.com/products/musical_instruments/pianos/grand_pianos/cx_series/index.html
Piano Name: Yamaha
Website: Yamaha
Model: C2X
Made in: Japan
Parent Company: Yamaha Corporation
Company Location: Japan
Length: 5′ 8″
History: In 1887 a watchmaker by the name of Torakusu Yamaha founded Japan's first reed organ company. By 1899 he traveled to the USA to learn how to build pianos and started making grand and upright pianos under the name Nippon Gakki meaning "Japanese Musical Instrument". These humble beginnings have developed into a multinational manufacturing operation with sales into the billions annually, a work force of nearly 20,000 and product lines ranging from motors to electronics to musical instruments.
Dimensions: 5'8″x59″ or 1m 70cm x 149cm
Available Finishes: Polished Ebony, Walnut or Mahogany or White, Satin Ebony, Walnut or Light Oak
Features: Solid spruce soundboard and ribs ~ Solid maple capped bridges ~ Aluminum alloy action rails ~ Yamaha balanced action ~ Tone collector ~ Duplex scale ~ Solid spruce keys with hardwood buttons ~ Yamaha designed hammers with T-fasteners ~ Reinforced keyframe pin with adjustable guide ~ Humid-A-Seal pinblock ~ Ivorite keytops ~ Beveled edges ~ Hardwood reinforced keyframe ~ Cut thread tuning pins ~ Solid brass casters ~ Vacuum Shield Mold Process (V-Pro) plate ~ Seasoned for destination ~ Soft close fallboard ~ Sostenuto pedal ~ 10 year warranty
More Yamaha Models
View All Yamaha Models
Other Pianos With Similar Price
More Pianos This Price
More Medium Grand Pianos
More Pianos This Size
Sours: https://pianopricepoint.com/yamaha-c2x-grand-piano/
Yamaha C2X Grand Piano
The C2X is a great piano for those who want a grand piano that won't take over the house. It is virtually the same as a Yamaha C2, with slight design changes being the only difference.
If you have anything to add to this article, please get in touch via [email protected]
The pros of buying a Yamaha C2X
The Yamaha C2X has a great touch and tone that is surprising in a small piano.
The Yamaha C2X will hold its value well and is highly regarded in the piano community.
What are the cons of buying a C2X?
A shorter piano has shorter strings. Pianos with longer strings produce a much better sound quality. The Yamah C2X is great, but there are better and bigger options available.
The Yamaha C2X can be a rare and expensive find. You could get a nice young C2 instead and never regret it.
When was it produced?
The Yamaha C2 was produced in 1995, and the C2L model was added in the 2000's. The C2X replaced the C2L a few years later, but they are all so similar you would struggle to find the difference.
Where was it made?
The Yamaha C2X is a Japanese piano. It is made in Yamaha's top factory, where all their very best pianos are produced, including their top of the range CFX, a concert grand that sells for around £140k.
What differences between similarly named models?
There are only slight design changes between the Yamaha C2 variations. The G2 models are also essentially the same piano, they came first and were later replaced by the C-series. The Yamaha C3 is the next upgrade and the first full-sized grand in this series.
Videos from YouTube or Vimeo?
Quotes
Don't just take my word for it, this is a quote I found on a Piano World forum which is talking about the C2, but the differences are so minor, it works for the C2X too…
"It is a great piano because Yamaha is so popular, and if you can play a C2, you can play anything"
- pianostreet.com.
Who should buy them?
The C2X is great for those who want a grand piano, but don't have the space or budget for a C3 and above. Its sought after by pianists, piano teachers and ambitious students, who need something that sounds fantastic, but fits into the space they have.
Will I need to upgrade at some point?
This piano will sound great and will last a lifetime, however, if you can stretch your budget and space, you may wish to treat yourself to something bigger and more powerful.
Dimensions
Width: 149cm
Length: 170cm
New and used prices.
A Yamaha C2X will be around £16,000, a Yamaha C2 will cost around £15,500. You don't get a whole lot for the extra you pay.
Alternative models to consider similar to this.
At the risk of sounding repetitive, the Yamaha C2 and C2X are virtually the same. If you need something with a smaller budget, you may also want to consider a Yamaha G2 which is an older model, but if found in a great condition and properly maintained, it is a fantastic option. For something with an even better touch and sound, you could also look at the full-sized C3 and beyond, they get bigger and better with each model upgrade.
Conclusion
The C2X is a C2 with a few very slight design differences. It is a great piano, but the same can be said for any of the C2 grands. Don't worry if you cant find the C2X, just get the C2 and you'll never know the difference.
Looking to buy?
To see our current stock list, click here.
Sign up to our email newsletter, and we will keep you updated.
I hope this summary was helpful to you, and as always your feedback, thoughts and questions are welcomed, so don't hesitate to reach out.
Sours: https://markgoodwinpianos.co.uk/yamaha/yamaha-c2x-grand-piano-1181
Price yamaha c2x
Yamaha C2X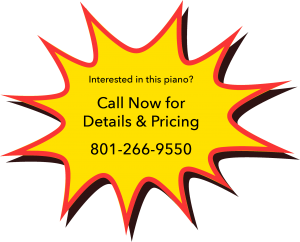 The beautiful Yamaha C2X is a 5'8″ medium grand piano based on the Yamaha CFX concert grand. With high-quality Yamaha engineered components and a thick frame, this piano is resonant and exceptionally responsive, with a full, deep, and rich tone.
Dimensions: 5'8″ D x 59″ W x 40″ H
Model: Yamaha C2X – Available in classic or chrome
Cabinet: Polished Ebony, Satin Ebony, Polished Mahogany, Satin American Walnut, Polished White
The Yamaha C2X is available for you to view and play at any of our three Utah Piano Gallery locations. Drop by anytime to hear this piano's robust sound and to experience its quality craftsmanship for yourself.
Categories: Grand Pianos, New Pianos, Yamaha, Yamaha Grands
Sours: https://www.pianogallery.com/pianos/yamaha-c2x-grand-piano/
New Yamaha C2X Grand Piano - Steven Gonzalez - London Grammar / Chris Isaac \
Yamaha C2X Grand Piano
The C2X brings the bass inline with the rest of the instrument very well. The depth, range and overall colour throughout the C2X's compass is really very balanced and through playing this piano, there is nothing lacking.
Yamaha C2X gets great approval from us for use in the home, studio or indeed classroom.
In Stock
Series
Yamaha CX Series (Conservatoire)
Dimensions
H: 101cm - W: 149cm - L: 173cm
Buy the Yamaha C2X Grand Piano with Venables Pianos and receive complimentary benefits for added value and assurance:
PreparationVenables are highly-regarded for our piano preparation standards. Full regulation, pedal adjustment, voicing and fine tuning ensures peak performance of your piano before despatch. Bespoke adjustments? No problem.
DeliveryPrompt delivery from stock by our expert piano moving teams (mainland UK, easy access, excl. stairs).
StoolSolo, height adjustable piano stool of sturdy build with wide range of adjustment.
TuningOur after-sale technician network assures you of a local tuner technician to visit for a complementary tuning 4-8 weeks post-delivery (mainland UK).
SKU: yc2xCategory: Yamaha Grand PianosTags: Acoustic, C2, C2X, Grand, New, Piano, yamaha
Yamaha C2X Grand Piano
Financially, the Yamaha C2X 5'8″ small grand makes a great deal of sense: It's an appreciable improvement over the smaller 5'3″ C1X for a relatively small premium, whilst to step up again – the 6'1″ C3X commands a more substantial premium. Indeed, the C3X does deliver more too – in fact the gain is wider than between C1-C2X, but it's less essential.
The C2X brings the bass inline with the rest of the instrument very well. The depth, range and overall colour throughout the C2X's compass is really very balanced and through playing this piano, there is nothing lacking. In many cases, whilst the bigger C3X represents a benchmark for a wider array of uses, it may not be what is needed and the subtlety and refinement of the C2X could be more appropriate for your needs.
For sure, the C2X is quite advanced over previous designs – being more capable, colourful and controlled.
You can take from this that the Yamaha C2X gets great approval from us for use in the home, studio or indeed classroom. By the way, it's great for accompaniment too!
You could compare with...
Trinity Promise
Product. Service. Price.
Our trinity of values to mean real value to you. We promise to deliver on all counts.
Sours: https://www.chrisvenables.co.uk/yamaha-pianos/yamaha-grand-pianos/yamaha-c2x-grand-piano/
Now discussing:
The place that I caressed before. By my sister's trembling, I realized that I hit the right, and a second later I felt her lips on my penis. Three or four minutes later, I was again in full readiness, and my sister was on the verge of orgasm. I crawled out from under her and told her not to change the position I inserted her from behind. My sister put her hands on the headboard and moaned, and I fucked her, taking each hand on her chest.
5635
5636
5637
5638
5639