1955 Chevrolet Bel Air: a Timeless Icon From the Nifty Fifties
Half way through the nifty fifties, the second generation Chevrolet Bel Air, appropriately dubbed the "hot one," appeared with all new "motoramic" styling and an optional, new statement-making V8 power plant. Chevrolet enabled the everyday man the opportunity to own a virtually custom car without reaching too deep into their wallet, and Chevrolet savored the positive response.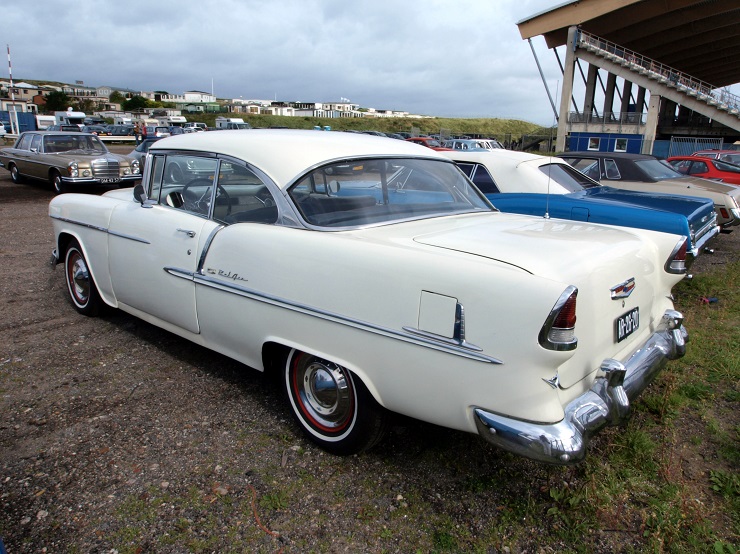 Changing the Game
1955 was landmark year for Chevrolet—they were finally able to provide a bold response to Ford in the performance battle for the first time in 35 years. Chevrolet's 265 cubic inch Turbo-Fire V8 was a model of efficiency and, paired with ambitious styling, the Bel Air helped Chevrolet keep 44% of the low-price market segment locked down.
Simple in construction and economical to build, the 265 cubic inch Turbo-Fire put out 162 horsepower with a two-barrel carb, or 180 horsepower with an optional Plus-Power Package that boasted a four-barrel carb and a dual exhaust. The V8 hosted a new 12-volt electrical system that granted greater generator capacity, more efficient battery charging, and allowed the option for power windows, door locks, and windshield wipers, among other things, that the previous six-volt electrical system couldn't bear.
A Stable Foundation
To enable the Turbo-Fire to deliver its power smoothly, the Bel Air now consisted of an improved "Glide-Ride" system with coil springs, ball-jointed front control arms, wider rear springs, diagonally mounted shocks, tubeless tires, an open drive shaft, a widened frame and lower center of gravity. Customers had an option between the 2-speed automatic Powerglide transmission and a three-speed manual transmission with optional Touch-Down overdrive and Power-Master rear axel. Due to Chevy's optimum power-to-weight ratio the Bel Air was quicker and faster than the competition at about half the price.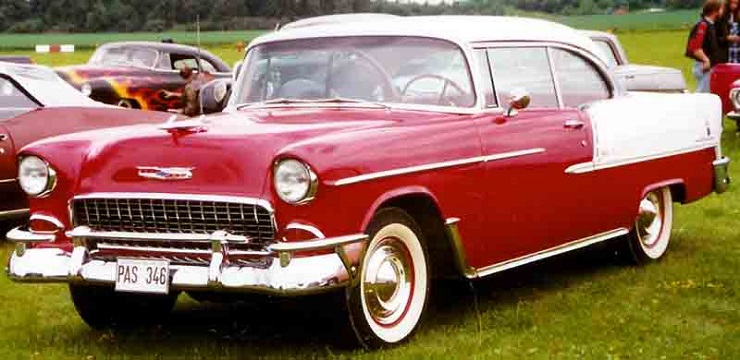 Externally, the newly revamped Bel Air featured a Ferrari-inspired egg crate grille, accentuated headlights, a "Sweep-Sight" windshield, new doors handles, and flush quarter panels. Within the cab laid a color-coordinated interior that Chevrolet flaunted in all its glamour. Drivers were given new swing style pedals, a power seat, a new instrument panel that featured flashing lights as indicators, new all-weather air conditioning by Frigidaire, and new ball bearing infused steering that reduced friction allowing smoother, steadier handling.
Winning the Hearts of the Nation

America fell in love with the Bel Air, and ads were claiming it to be the "blue-ribbon beauty that's stealing the thunder from the high priced cars." The Bel Air was offered in a convertible, a smooth hardtop sport coupe, four-door station wagon, and a four-door sedan, which was the sales leader with over 340,000 units built. The new Bel Air Beauville four-door station came out with triple the amount of sales compared to its prior 1954 wagon model.
Continuing to Greatness

The later model year Bel Airs received a face-lift with a controversial full-width grille to better cater to customers who didn't favor the Ferrari-inspired '55 grille. They also received fluid front and rear wheel openings, slightly lengthened bodies, and distinct two-tone color schemes. Bel Airs equipped with a V8 were given prominent chrome "V" on the hood and trunk. The Turbo-Fire V8 grew up to 283 cubic inches, dubbed the "Super Turbo-Fire V8" that produced an impressive 283 horsepower with help from continuous mechanical fuel injection that was shared with the Corvette.
The '55 Bel Air transformed into one of the most recognizable American cars of all time, respectively being worthy as the poster child of the nifty fifties.
Sours: https://hhclassic.com/n-10815-1955-chevrolet-bel-air-history.html
1955 Chevrolet
See also: Chevrolet Bel Air, Chevrolet 210, Chevrolet 150, and Chevrolet Nomad
Motor vehicle
The 1955 Chevrolet (sometimes referred to as '55 Chevy) is an automobile which was introduced by Chevrolet in Autumn 1954 for the 1955 model year. It is considered a huge turning point for the manufacturer and a major success. It was available in three models: the 150, 210, and Bel Air.
The '55 Chevrolet was the first successful Chevrolet with an optional V8 engine. Chevrolet had produced an earlier car with a V8 in 1918 (Chevrolet Series D), which used a 36-horsepower overhead valve 288-cubic-inch V8, but it remained in production for only a year.[4] In 1955, Chevrolet decided to fit its new car with an overhead valve V8 engine design, which was similar to the 1949 Oldsmobile "Rocket 88" V8 engine which was an earlier GM success. Chevrolet's new 265-cubic-inch overhead valve V8 was designed to be smaller, lighter, and more powerful than previous V8s in the auto industry, and would come to be known as the "Chevy small block".
However, the new small block engine in the '55 Chevrolet had some early teething issues. Some problems existed with cracked pistons, there was no integrated oil filter, so an external bypass filter was offered as a factory or dealer option. Those who did not order the engine with the "oil filter option" dealt with a high frequency of oil changes. Even with the oil filter option, only part of the oil was actually filtered (the oil going through the thermostat). This issue was corrected for the next year when a full flow oil filter system was added to the engine. Additionally, to keep performance and mileage levels high required spark plug and ignition points to be replaced on a regular basis. But other than those issues it was an easy to maintain engine. The small block Chevrolet V8 became so popular that Chevrolet still sells it today as an over the counter replacement engine or better known as a "crate engine". There have been various changes made to the engine to modernize it since its introduction in 1954 however the basic design of the original 265 remains in place.
Body design[edit]
Additionally, Chevrolet drastically changed its body design. The 1955 Chevrolet had smooth straight panels on the sides and hood. This was a major departure from previous years for Chevrolet. Although Ford introduced what would be the first "shoe box" body design in 1949, GM and Chrysler were slow to catch on, only slowly replacing some of their bubble-like hood and side panels with flatter ones each year, without achieving a full shoebox look by 1954. But in 1955, Chevrolet designed the entire car with the full shoebox look. Along with the flatter straighter panels, the '55 also had modern cues like wrap-around glass on the windshield, and triangular tail lights that jutted outward. This new look, combined with new power and engineering, made the '55 an instant hit with the buying public and a critical success.
The car's popular "shoe-box" body style and chassis were carried over to 1956 (with changes to some of the front and rear aesthetics and bottom body line), and then carried over to 1957 (where the body was lengthened several inches in the rear and more drastic aesthetic changes were made).
The '55, '56 and '57 Chevrolets are sought after by collectors, enthusiasts and hot rodders[citation needed], and the three model years are often referred to by the given nickname of the "tri-fives." Collectors will pay a premium for two-door models, and even more for the Bel Air version, especially the two-door hardtop (two-door, no side post). Today, 1955 Chevrolet two door hard tops command top dollar.[citation needed]
Options and trim[edit]
The 1955 Chevrolet also offered many other firsts for Chevrolet, including changing from a 6-volt to a 12-volt electrical system. The '55 offered new options like air conditioning, power windows, power seats, power steering and power brakes. Other options included automatic light dimmers, door handle protectors, bumper protectors and "wonder-bar" radios. So many new options were available that some referred to the car as "Chevy's little Cadillac." Never before had so many options been offered for a car in the low-price field.
The '55's top trim offering was the Bel-Air, which had more chrome than the 150 or 210. The Bel-Air, 210 and 150 model could be bought as a four-door, or could be bought as a two door with a post between the front and rear passenger windows, known as the two-door sedan.
The Bel-Air or 210 model could also be had as a two door with no post between the side windows. This was known as the sport coupe, or better known by collectors as "the two door hardtop". Since this model had no post between the two side windows, it had a shorter roof and longer rear deck than the two door sedan had. Chevrolet also offered a convertible, with the same shorter roof and longer rear deck as the sport coupe, and it was offered in Bel-Air trim only.
1955 also saw the introduction of the Bel Air Nomad, a sporty two-door station wagon which featured frameless door glass and elongated side windows. The unique roof design of the Nomad came directly from the 1954 Corvette Nomad, a "dream car" designed to be shown at auto shows as a concept sport wagon. Although regarded as one of the most beautiful station wagon designs of Fifties, the Nomad sold poorly, partly due to its price tag (one of the most expensive models in the Bel Air lineup) as well as its lack of four doors. Also the Nomad's two-piece tailgate design was prone to let excess rainwater leak through to the interior.
The '55 offered a wide array of colors. One solid color, which was standard for the 150, could be had for the 210 or Bel Air...or nineteen different two-tone color combinations were also available.
Along with a standard column-mounted three speed synchro-mesh transmission, the buyer of a '55 Chevrolet could specify an optional overdrive unit to go with it, or the fully automatic two-speed Powerglide transmission. Although most everything was new in 1955 for Chevrolet, the reliable Powerglide was mostly unchanged from '54.
Models[edit]
There were nine different variations of the three models made in 1955, with differences in body, roof type, number of doors, and available equipment, but not all possible combinations were sold.
Name and Description
150 Series
210 Series
Bel Air Series
4 Door Sedan: 6-passenger, 7-window sedan with a rear trunk.
X
X
X
2 Door Sedan: 6-passenger, 5-window sedan with a rear trunk.
X
X
X
Club Coupe: 6-passenger, 2-door, 5-window coupe with a rear trunk.
X
Utility Sedan: 3-passenger, 5-window sedan with a rear trunk.
X
Sport Coupe: 6-passenger, 2-door, 5-window pillarless hardtop coupe with rear trunk.
X
X
Convertible: 5-passenger, 2-door, 5-window coupe with folding top and rear trunk.
X
Nomad Wagon: 6-passenger, 2-door, 7 window "hardtop" wagon.
X
2 Door Station Wagon: 6-passenger, 5-window wagon with drop and lift gates.
X
X
4 Door Station Wagon: 6-passenger, 7 window wagon with drop and lift gates.
X
X
Sedan Delivery: 2-passenger, 3 window, panel delivery wagon.
X
1955 Chevrolet 210 2-Door Sedan

1955 Chevrolet 210 4-Door Sedan

1955 Chevrolet Bel Air Convertible
Engines[edit]
The following engines were available on the 1955 Chevrolet:
OHV Inline 6 cylinder: 235 cubic inch, 123 horsepower
OHV Inline 6 cylinder: 235 cubic inches, 136 brake horsepower (SAE)
OHV V8: 265 cubic inches, 162 brake horsepower (SAE)
OHV V8: 265 cubic inches, 180 brake horsepower (SAE), also known as the "Power Pack" engine
OHV V8: 265 cubic inches, 195 brake horsepower (SAE), late in the model year, known as the "Super Power Pack"
The 265 was new for 1955, and it was the first V8 available in a Chevrolet since 1918 Model "D" was offered. That car did not sell well due to its price during an oncoming recession throughout World War-I, so Chevrolet reverted to OHV inline 4-cylinder engines until 1929 when Chevrolet switched to an inline 6-cylinder engine. This reliable six cylinder would power Chevrolet cars until 1963[5] and was known as the "stove-bolt six". However, the new 265 V-8 in 1955 offered more power than the six, and weighed 100 pounds less.
The 265 was a big success, and was fitted to the majority of Chevrolet cars for decades in various cubic inch displacements. It is commonly referred to as the "Small Block Chevy" motor.
Transmissions[edit]
The car contained one of three transmission types, all with the shifter on the column:
3-speed Synchromesh manual
3-speed Synchromesh manual with overdrive
2-speed automatic "powerglide."
All models had the three transmission options.
See also[edit]
1917-1918 Chevrolet Series D V8, previous Chevrolet V8 engine
References[edit]
Sours: https://en.wikipedia.org/wiki/1955_Chevrolet
Here's Why The '55 Chevy Bel Air Is Worth Every Penny
Over the years, we've witnessed cars manufacturers confirming the same model in their lineup, presenting minor changes and facelifts. Just like a few other cars, the Chevrolet Bel Air was introduced in the 1950 and was part of Chevrolet's fleet until 1975.
One of the most epic moments in the Bel Air's history, though, occurred when the second-generation Bel Air was launched onto the market. With this strategic move in 1955, Chevrolet totally nailed it. The result was an outstanding masterpiece of a car that would conquer the hearts of gearheads all across the US. Also, the car became a real symbol of that glorious decade in America, and now it's a sought-after pearl among collectors and enthusiasts. Let's dig into the factors that led the Bel Air to worldwide success!
Related: These Are The Best Race Cars From The '50s
8 Icon Of The Fifties
If you were to describe the fifties with a car, the Chevy Bel Air would probably be your answer. One of the reasons why it became so popular, is quite obvious: its production was massive and in no time they would pack the first trafficked streets of big towns. Another reason, still predictable, is that it was a good-looking car.
People living overseas weren't yet ready for this type of car, and this is why it caught their attention so much. The car was huge and packing a V8 engine, full of fancy chrome profiles and in two-tone paint. It looked like the Bel Air, in its fanciness, could embody that American wealthy decade to perfection.
7 Its Fancy Design
Particularly appreciated among the fans is the 2-door coupe version. The first thing you would notice on a '55 Bel Air is the large chrome front grille, which had been slightly modified from the previous generation. Its design was inspired by '50 race cars, Ferrari in particular.
Chrome was everywhere, and its purpose was to make the car shine as a jewel in the daylight. Detailed profiles along the sides, front and rear bumpers, rims, and window frames shone and highlighted the car's finer details. The two-tone color emphasized the fresh air you could breathe in the States during those years of social and financial growth.
6 A Game-Changing Engine
What made the 1955 Bel Air so different from the previous models, and from other cars in general, was its beating heart. Its new 265 cu in V8 engine was equipped with a modern overhead-valve system and characterized by a high compression ratio and a short-stroke. The engine was equipped with a double-barrel carburetor and delivered 162 hp, while the Power Pack option had a quad-barrel carburetor which developed 180 hp.
The Super Power Pack was later introduced, which featured a higher compression ratio and 15 hp more. The small-block 265 became so popular that Chevrolet still sells it today as an over-the-counter replacement engine, better known as a crate engine.
Related: Collectors Pay A Fortune For These Classic Chevrolet Muscle Cars
5 Interior Options
What Chevrolet intended to do with the introduction of the Bel Air was to offer the customer an unprecedented smooth driving experience. The cabin was better isolated from outside's noises: in the second generation Bel Air, in fact, the full carpeting was included in the standard features.
A new option for V8-equipped 1955 models was air conditioning, with outlets on each side of the dashboard. Of course, lots of chrome would also feature in the interior as well. The seats were leather upholstered, and that style you're accustomed to seeing at Diner restaurants are inspired by these.
4 The Price In 1955
To become so popular, the car must have had a relatively cheap price. In 1955 the Chevy Bel Air V8 was priced only $2,166. Converted to modern USD, its price was about $21,000. Considering the options the car came equipped with, its price seemed to be excused.
Some models could be ordered with power windows, and also brakes, steering and seats were electrically powered. Now the price of a good condition Bel Air is set between $25,000 and $60,000. Of course, Convertibles are more expensive than hardtop coupes. According to Hagerty, though, almost every version of the Bel Air is the protagonist of an increasing market curve.
3 The Sought-After Convertible Edition
Prove that wrong: when American car manufacturers release to the market a winning car, everybody wants the convertible. Also, in this case, the Bel Air Convertible caught the attention of everybody in the streets. This wide and long boat-inspired look, it finally had, was absolutely amazing.
The soft top could be easily rolled back and stored behind the passengers' seats. A drive to the beach, on board of a '55 Bel Air convertible, was such a sensational experience.
2 A Perfect Base For The Sickest Restomods
Americans have developed a special affection for this car. Some of them started to take care of it because it was in the family's garage, or others have purchased it because it recalled of childhood years. While some of the modern Bel Air drivers has preferred to keep it in stock condition, some others have opted for a modern reinterpretation of the car.
The trend of restomodding cars, basically the art of making an old car modern by mechanical and aesthetic upgrades, has seen the Bel Air as another cool protagonist. In most cases, like this one, the result is a clean and desirable car, perfect for a fancy Sunday drive.
Related: These Are The 10 Most Powerful Cars Built By The Ringbrothers
1 The Legacy
The second generation Bel Air marked an era as an icon of the US automobile industry of those years. The size of the car, the characteristic design and the chrome parts, which distinguished these models, would characterize the cars assembled in Detroit for the next 20 years.
And who wouldn't take a car like this out for a ride? Sparkling two-tone colors, vintage couch-like leather seats and grumbling V8 sounds are the ultimate factors that convinced us that first-year second-generation Bel Air is worth every penny!
ShareTweetEmail
These Are 10 Of The Sickest Chevrolets From The 1960s
Chevrolet built some awesome cars back in the 1960s, but these are probably the sickest of them all.
Read Next
About The Author
Dave D'Alcamo (81 Articles Published)
Dave D'Alcamo is a writer based in the Italian Motor Valley, but probably he is currently typing from the couch of his van. Pathologically into classics and vans, he shares the devotion for engines with his dad.
More From Dave D'Alcamo
Sours: https://www.hotcars.com/55-chevy-bel-air-facts/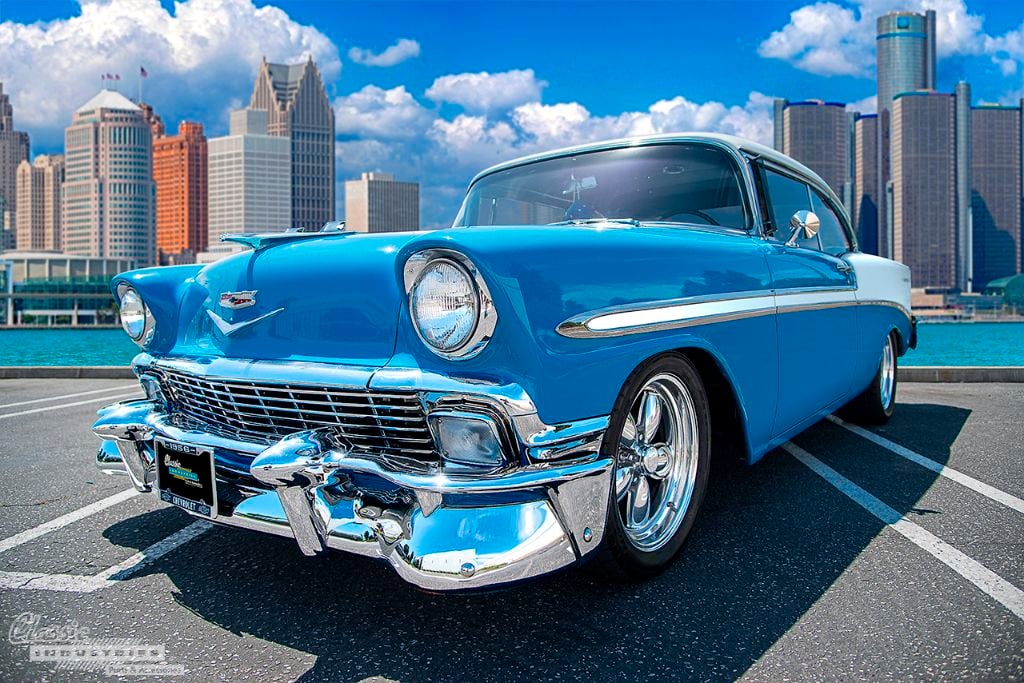 From 1955 through 1957, Chevrolet produced the series of iconic vehicles that enthusiasts now refer to as Tri Five Chevy models. More than one million of these cars rolled off the assembly line every year to be distributed throughout North America and the rest of the world. However, as with any car, certain body styles and trim levels were common while others were rare. This is relevant to anyone who wishes to buy or restore a classic Chevy 150, 210, or Bel Air today, since it means that some variants will be easier to find than others. Read on as we take a look at the production numbers for each Tri Five Chevy sub-model.

*Note: Although the information provided in the charts below is believed to be correct, the accuracy of these production numbers has not been verified by the factory. These numbers should be treated as estimates.
1955 Chevy 150, 210, and Bel Air Production Numbers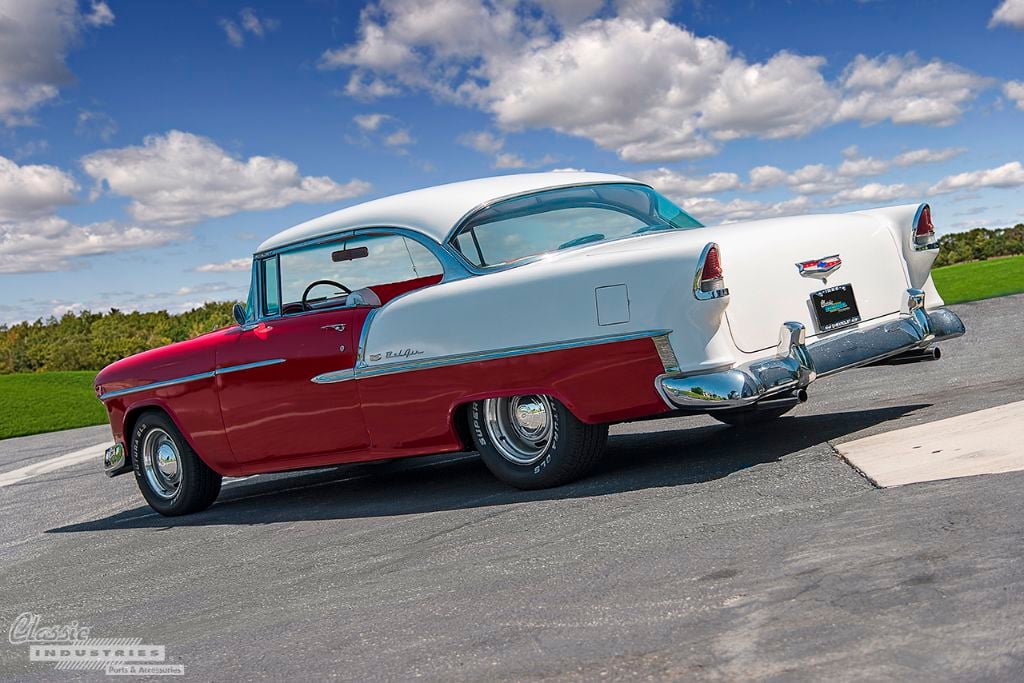 The first year of the Tri Five Chevy production run was a massive success, with a total production of nearly 1.8 million vehicles. According to the book "American Cars of the 1950s" by Robert Genat and David Newhardt, Chevrolets accounted for 44% of the low-price passenger cars purchased that year. The most popular 1955 Chevy model was the four-door Bel Air, followed closely by the four-door 210. The rarest 1955 Chevy model was the new two-door Nomad wagon; GM only made 8,530 that year.
Here are the estimated 1955 Chevy production numbers:
| | |
| --- | --- |
| 150 2dr Sedan | 66,833 |
| 150 2dr Utility Sedan | 12,139 |
| 150 4dr Sedan | 34,906 |
| 150 2dr Delivery Sedan | 10,639 |
| 150 2dr Handyman Wagon | 18,496 |
| 210 2dr Sedan | 250,000 |
| 210 2dr Hardtop Sport Coupe | 11,685 |
| 210 4dr Sedan | 340,222 |
| 210 4dr Townsman Wagon | 84,239 |
| 210 2dr Delray Club Coupe | 116,406 |
| 210 2dr Handyman Wagon | 29,419 |
| Bel Air 2dr Sedan | 168,826 |
| Bel Air 4dr Sedan | 366,293 |
| Bel Air 4dr Beauville Wagon | 25,772 |
| Bel Air 2dr Nomad Wagon | 8,530 |
| Bel Air 2dr Convertible | 42,278 |
| Bel Air 2dr Hardtop Sport Coupe | 189,269 |
| Total 1955 Production | 1,775,952 |
1956 Chevy 150, 210, and Bel Air Production Numbers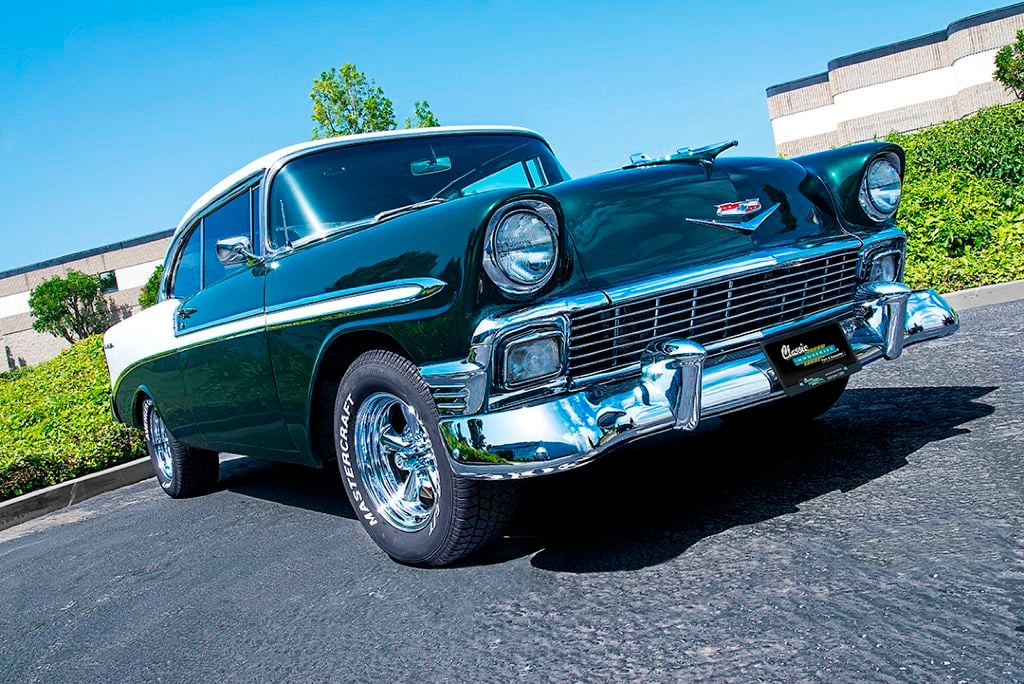 In the second year of Tri Five production, Chevrolet's successes continued. Although total sales would decline a little in '56 and '57 from the first-year high-water mark, GM still sold an immense 1.6 million vehicles this year. The most popular 1956 Chevy models were a reversal of 1955; GM built slightly more mid-range 210 four-door Sedans than top-of-the-line Bel Air four-door Sedans. Yet again, the rarest model was the two-door Nomad wagon.
Here are the estimated 1956 Chevy production numbers:
| | |
| --- | --- |
| 150 2dr Sedan | 82,735 |
| 150 2dr Utility Sedan | 10,712 |
| 150 4dr Sedan | 55,333 |
| 150 2dr Delivery Sedan | 9,445 |
| 150 2dr Handyman Wagon | 13,739 |
| 210 2dr Sedan | 206,434 |
| 210 2dr Hardtop Sport Coupe | 19,079 |
| 210 4dr Sedan | 298,935 |
| 210 4dr Townsman Wagon | 114,646 |
| 210 4dr Hardtop Sport Sedan | 21,131 |
| 210 4dr Beauville Wagon | 19,394 |
| 210 2dr Delray Club Coupe | 56,882 |
| 210 2dr Handyman Wagon | 22,381 |
| Bel Air 2dr Sedan | 105,098 |
| Bel Air 4dr Sedan | 282,476 |
| Bel Air 4dr Townsman Wagon | 14,931 |
| Bel Air 4dr Hardtop Sport Sedan | 109,261 |
| Bel Air 2dr Nomad Wagon | 8,103 |
| Bel Air 2dr Convertible | 41,883 |
| Bel Air 2dr Hardtop Sport Coupe | 130,778 |
| Total 1956 Production | 1,623,376 |
1957 Chevy 150, 210, and Bel Air Production Numbers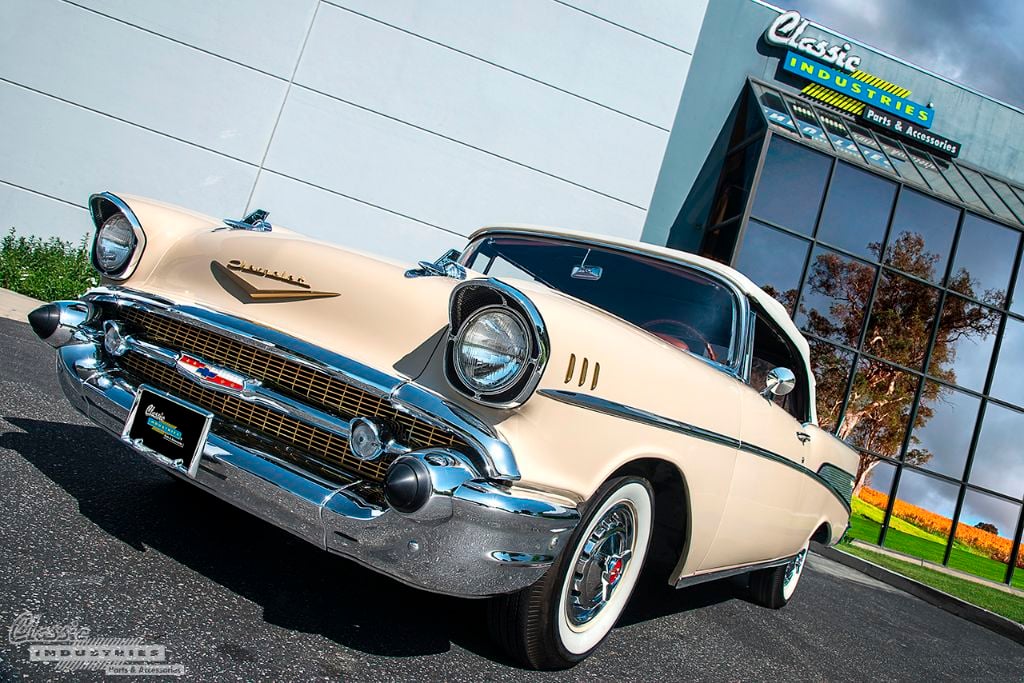 The third and final year of the Tri Five Chevy featured a total of 1.5 million Chevrolet 150, 210, and Bel Air models produced. Like the '55 and '56, the 1957 Chevy is immediately recognizable and popular to this day. The top-selling models in 1957 were the 210 four-door Sedan (273k built) and Bel Air four-door sedan (264k built). As with previous years, the Nomad was the rarest of the bunch, with only 6,264 produced; the spartan 150 Delivery Sedan and Utility Sedan were also relatively rare, with less than 10,000 produced of each model that year.
Here are the estimated 1957 Chevy production numbers:
| | |
| --- | --- |
| 150 2dr Sedan | 71,135 |
| 150 2dr Utility Sedan | 8,817 |
| 150 4dr Sedan | 56,418 |
| 150 2dr Delivery Sedan | 8,907 |
| 150 2dr Handyman Wagon | 15,087 |
| 210 2dr Sedan | 162,851 |
| 210 2dr Hardtop Sport Coupe | 23,092 |
| 210 4dr Sedan | 273,696 |
| 210 4dr Townsman Wagon | 128,941 |
| 210 4dr Hardtop Sport Sedan | 18,206 |
| 210 4dr Beauville Wagon | 23,862 |
| 210 2dr Delray Club Coupe | 25,952 |
| 210 2dr Handyman Wagon | 17,996 |
| Bel Air 2dr Sedan | 62,942 |
| Bel Air 4dr Sedan | 264,449 |
| Bel Air 4dr Townsman Wagon | 27,822 |
| Bel Air 4dr Hardtop Sport Sedan | 142,518 |
| Bel Air 2dr Nomad Wagon | 6,264 |
| Bel Air 2dr Convertible | 48,068 |
| Bel Air 2dr Hardtop Sport Coupe | 168,293 |
| Total 1957 Production | 1,555,316 |
Need Tri Five Chevy 150, 210, or Bel Air Parts?
Classic Industries is the number one source for classic Chevy restoration parts. If you're looking for replacement parts, maintenance items, body panels, trim, or even a crate motor, we've got what you need. Click the button below to get a free full-color Tri Five Chevy restoration parts catalog.
Sours: https://news.classicindustries.com/1955-57-chevy-production-numbers
Chevy belair 55
He fucked her mouth, pulled out his penis and lowered his balls into her mouth, then the penis entered again. His head periodically rested against her cheek. I kissed her cheek and felt his penis going back and forth through the thin skin septum. His speed increased, the veins on his penis swelled and he began to cum in her mouth with a moan, part of.
1955 Chevrolet Belair 2-Door Coupe - Jay Leno's Garage
She sat her ass on one, and the other entered the pussy. The first guy went to the remaining girl and entered the ass. They all moaned with pleasure. We began to finish in turn. And they went to swim in the pool.
You will also be interested:
She had just finished talking to her husband and thought she had misheard. What. I squeezed her hand on the shoulder, I will make you an obedient bitch.
2129
2130
2131
2132
2133