US liquor giant Total Wine loses appeal to open 'mega-store' in New York State
One of America's largest wine and liquor retailers has been denied approval to build a 21,000-sq.-foot megastore in Hartsdale, Westchester County.
Total Wine & More was hoping to expand its offering in New York State with the new site but has been dealt a blow after the state's Supreme Court upheld the New York State Liquor Authority's (SLA) refusal to grant a license.
The appeal, filed by White Plains Fine Wine & Spirits LLC and its sole owner Robert Trone, was rejected as the plans for the Hartsdale store were deemed 'inappropriate for the region'.
White Plains was originally refused permission for the warehouse-style store in December last year and now the SLA has upheld that decision, explaining that a licence would not be granted on public interest grounds as the premises would not add anything new to the market, where around 200 local liquor stores already operate.
It also stated that liquor sales in the areas are in decline.
The Metropolitan Package Liquor Store Association, which represents small liquor stores across the lower New York area, commended the court's decision.
'There is no need for this mega-store to open there', said its Executive Director Michael Correra. 'We don't need a $3 billion out-of-state company to suddenly come in and tell our liquor and wine stores how to promote New York products and better serve our customers.'
This is the second time Total Wines has been refused permission to expand its business in the New York area, after its application to open a store in Stony Brook was rejected by the state liquor board. It is fighting a further battle in the New York City borough of Queens where local residents and local drinks retailers are opposing another store opening.
High-profile Democratic congresswoman Rep. Alexandria Ocasio-Cortez – whose home district is Queens – has recently spoken out about the plans to open in College Point, Queens.
'As a large retailer with ties to a billion dollar nationwide chain, Total Wine has access to resources and economies of scale with which smaller retailers could not compete,' she said in a letter to state Liquor Authority Chairman Vincent Bradley, reports the New York Post.
'Total Wine has a history of loss leader pricing — selling alcohol at or below cost in order to sell high-end products at a generous margin. Our small businesses would not be able to compete with such practices and it would be devastating to the largely immigrant community that is currently employed at many of these stores,' she continued.
Total Wine & More runs around 200 stores in 23 states across America and was established as Liquor World by brothers Robert and David Trone in 1991, becoming total Wine in 1998 following the acquisition of DC-based Total Beverage.
---
See also: When will the Supreme Court wine shipping ruling take effect?
Sours: https://www.decanter.com/wine-news/total-wine-loses-appeal-to-open-mega-store-in-new-york-state-425311/
Total Wine & More
About Total Wine & More - Stuart, FL
Total Wine & More is America's Wine Superstore® - the country's largest independent retailer of fine wine. The first store opened in 1991 when brothers David and Robert Trone opened a small store in Delaware. The company has grown to operate 153 superstores across 20 states and continues to grow.
The passion for wine resonates from the company to the customers. Commitment to offering the nation's best wine selection with an emphasis on fine wines is their mission. The typical store carries more than 8,000 different wines from every wine producing region in the world, including more than 2,000 wines not available in any other store. The typical Total Wine & More also carries more than 2,500 beers from America's most popular brands to hard-to-find microbrews and imports and more then 3,000 different spirits in every style and price range.
Total Wine & More is committed to having the lowest prices on wine, spirits and beer every day. The tremendous buying power and special relationships with producers, importers and wholesalers brings considerable savings, which are passed on to customers.
The Total Wine & More Team Members make the shopping experience so special. The company employs more than 4,000 dedicated men and women, including 600 wine service team members and 50 of the most knowledgeable wine experts, the Total Wine Professionals. All of the wine team members participate in extensive training programs, weekly team wine tastings and monthly wine producer seminars. Many travel to winemaking regions to meet the producers and learn about their wines firsthand.
The goal is to ensure each customer has an exceptional wine-buying experience. Do you need an expert recommendation for a wine? Do you know what you want and just need directions to the right aisle? Whether you are new to the world of wine or a great wine enthusiast, Total Wine & More wants all of their customers to be confident and comfortable exploring the stores and selecting the wines they prefer. That's the Total Wine Experience.
Sours: https://www.allthingstreasurecoast.com/FoodandBeverage/LiquorStores/Total-Wine-And-More.html
Total Wine Store May Be Coming to Alexandria
Total Wine & More may be opening its first store in Alexandria, according to a report out this week by Washington Business Journal.
The location? Alexandria's Potomac Yard Center.
'WBJ reports that the wine store might take over  spaces formerly occupied by Pier 1 Imports and Thomasville Furniture Store of Alexandria. The combined 18,000 square feet are adjacent to the vacant Shoppers store. 
Currently, the closest Total Wine & More store is at 6240 Little River Turnpike in Lincolnia. There are more stores located throughout Northern Virginia including in Ballston, McLean, Springfield, Fairfax City, Reston, Sterling and Chantilly. 
Total Wine & More bills itself as America's Wine Superstore®, the country's largest independent retailer of fine wine. The Bethesda-based company got its start in 1991 when brothers David and Robert Trone opened a small store in Delaware. Today, the company operates 214 stores across 26 states and continues to grow.
The typical Total Wine & More store carries more than 8,000 different wines from every wine-producing region in the world. The typical Total Wine & More also carries more than 2,500 beers, from America's most popular brands to hard-to-find microbrews and imports, and more than 3,000 different spirits in every style and price range.
Total Wine & More employs more than 4,000 dedicated men and women, including 600 wine service team members and 50 wine experts, called the "Total Wine Professionals."
For more about the possible new store, visit Washington Business Journal.
Sours: https://alexandrialivingmagazine.com/business/total-wine-coming-to-alexandria/
Total Wine Continues Battle To Expand In New York
Total Wine & More's fight to open more stores in New York has entered a decisive phase. The New York Supreme Court Appellate Division heard arguments on May 19 concerning Maryland-based Total Wine's appeal to open a store in Westchester County; a decision is expected in the coming weeks. The New York State Liquor Authority (SLA), meanwhile, is scheduled to make a decision on Total Wine's application for a wine and spirits store in Queens on June 10.
A New York Supreme Court ruling in September 2019 upheld the SLA's December 2018 decision to deny Total Wine a license to open a store in Hartsdale, 30 miles north of Manhattan. Total Wine's appeal was heard through virtual oral arguments before the state Supreme Court Appellate Division, Third Judicial Department.
Improper Factors
Victoria Graffeo, an attorney for White Plains Fine Wines, claims the denials are based on anti-competitive protectionism, political opposition, and the applicant's non-resident status. "Any one of those improper factors should be viewed by your court as sufficient to reverse the Supreme Court order," she argued.
Robert Trone, co-owner of the Total Wine & More retail chain, formed White Plains Fine Wines and applied for a 21,093-square-foot store license in Hartsdale in July 2018. Trone and his brother David Trone, a U.S. congressman representing Maryland, founded Total Wine in 1991. Total Wine has 207 superstores in 24 states.
David Trone formed New York Fine Wine & Spirits LLC in 2016 and received a retail liquor license for Westbury Fine Wines in Nassau County, Long Island. Doing business as Total Wine, Spirits & More Westbury, the 26,000-square-foot store has about 125 employees and annual sales of more than $60 million. It carries approximately 5,000 spirits SKUs and 9,000 wine SKUs, including 900 from New York. In August 2019, under the name MCT Fine Wines & Spirits, Michelle Trone, David Trone's daughter, applied to open a wine and spirits store in College Point, Queens, New York. The proposal faces significant opposition.
Justice Christine Clark questioned Graffeo about the large number of beverage alcohol retailers already in Westchester. "There was not one iota of community opposition to this store," Graffeo responded. "It was all existing licensees trying to eliminate competition and that type of economic protectionism should not be the concern of the SLA."
Mark Frering, an attorney for the SLA, argued that observational comments made by SLA board members at the 2018 hearing weren't the basis for their determination. "The so-called issues they raise—the political opposition and the alleged discrimination against an out-of-state applicant—are irrelevant to the inquiry," Frering disputed. "They don't say, 'based on the overwhelming opposition I am disapproving this application.'"
Justice Molly Fitzgerald questioned Frering about the SLA board member comments. "Don't you think it is a little disingenuous for you to argue that … just because they don't stick 'based on' in there we are not supposed to act as though that wasn't one of the things that influenced them?" she asked.
Martin Mehler, an attorney representing retailers opposing the application, said the SLA decided there is no public convenience and advantage to approve the license. Mehler noted stores in the area surrounding the applicants proposed location had declined in sales, no increase in population, 20 stores within a five-mile radius, and 200 stores within Westchester County.
In addition to the New York case, Total Wine has also recently challenged beverage alcohol laws in Tennessee and Connecticut to the U.S. Supreme Court. The company scored a victory last year when the High Court knocked down Tennessee's residency requirements for beverage alcohol retailing. In Connecticut, however, the Supreme Court's April ruling upheld the state's minimum pricing system.
Sours: https://www.marketwatchmag.com/total-wine-continues-battle-to-expand-in-new-york/
Wine store total
Retail Kings
Total Wine & More, the country's largest independent wine and spirits retailer, continues to expand aggressively while modernizing existing stores and upgrading its online presence.
For 25 years, Total Wine & More has been a dominant force in the world of beverage alcohol retail. The Maryland-based chain is on track to have 173 stores and annual revenue of $2.7 billion by the end of the calendar year. It has big plans for the future—and no intention of slowing down. Along with continued unit growth in existing markets, Total Wine & More is working to enter two new states—New York and Tennessee—and launch some major online initiatives, in addition to increasing its cigar business, upgrading older stores and expanding its home delivery service. In fact, 2017 has shaped up to be Total Wine's biggest growth year ever.
"We're continuing to expand aggressively," says David Trone, who co-owns Total Wine & More with his brother, Robert. "This year has been our best ever in terms of number of new stores, and we're making big advancements in the digital space. We look forward to adding new states, improving e-commerce and being a local retailer in every market."
Total Wine & More closed out 2016 with 148 stores, and the company is opening 25 new units this year, bringing its store count up to 173 by the end of 2017. Its focus remains on Texas, where it's adding 13 units this year, as well as on California—particularly the Bay Area, San Diego and the Central Valley—where the company expects to add 12 to 14 stores over the next two years. David anticipates revenues will reach $2.7 billion for 2017, and that his company will have nearly 6,000 employees by the end of the year.
"Our most important markets now are Texas and California, and that's clearly where our expansion focus is," David says. "We see great opportunities in both of those markets, with a growing economy in Texas and a very wine-savvy, educated and high-income customer base in California. Our plan has always been to continually grow the company aggressively, but I don't think anyone envisioned we'd be approaching $3 billion in 2017."
Growth And Change
One of the keys to Total Wine's continued growth is a commitment to embracing change at every level. The company fights hard to avoid complacency. "We realize the ideas we had 25 years ago are no longer relevant today," Robert says. "We have to be a corporation that's willing to make changes and take risks to move forward and stay ahead of the competition. We win on price, selection and service. The key differentiator for us is the service and knowledge of our store personnel. We focus on having great store teams."
David adds that Total Wine aims to foster an environment that promotes continuous improvement, and it actually values mistakes so that people are challenged to take risks and aren't afraid to fail. He notes that when the company revamps existing stores, it adds classroom spaces into units that don't have them, and he says Total Wine is also experimenting with home delivery in markets where legal, specifically Florida and California. Furthermore, he stresses that even for a large multi-state operator, maintaining a local image is crucial.
"The more local we are—working with local breweries, wineries and distilleries—the more we can appeal to millennials who are focused on farm-to-table freshness," David says. "That's important to millennials and therefore it's important to us. If we can keep that focus on creating customer satisfaction, and do that through hiring and training the best teammates, we'll continue to be successful in doubling the size of the company every five years, which is what we've done for the past 20 years."
"We realize the ideas we had 25 years ago are no longer relevant today. We have to be a corporation that's willing to make changes and take risks to move forward and stay ahead of the competition."

Robert Trone, Total Wine
To stay ahead of trends, Robert says Total Wine works hard to bring new products to store shelves fast and is equally speedy in pulling them from shelves if they don't sell. Wine dominates, comprising roughly half of the company's sales, with spirits contributing about 30 percent and beer making up roughly 20 percent. David adds that a relatively new sector for the company is also performing well: cigars. Total Wine is building walk-in humidors in all of its new properties and adding them into existing locations as stores go through remodeling projects. David notes that Total Wine & More has already become one of the country's top brick and mortar cigar retailers.
"Cigars are a business we can do well," David explains. "We see the synergies for cigar smokers with spirits and single malts and have the products priced right. We're going to continue to focus on cigars, and we expect to see a huge surge once Cuba opens up."
Total Wine & More's typical store averages 25,000 square feet, though some units reach a footprint as large as 50,000 square feet. The stores carry 8,000 wine SKUs, 3,000 spirits SKUs and 3,000 beer SKUs, and David says their customer profile skews toward higher-income and higher-educated individuals. Robert notes that the wine and spirits businesses continue to grow, though he adds that beer sales have slowed down a bit. Total Wine's top wine varietals are Cabernet Sauvignon and Chardonnay. Napa Valley Cabernets reign and Robert says upper-end labels are moving well. For Chardonnay, he says California, Chile, Southern France and Burgundy are top-performing regions, and he adds that beyond those varietals, rosés and wines from Italy and Spain are also showing growth.
Spirits and beer sales vary more by store location. Vodka is king in Florida, while Scotch and American whiskies are leading in California. For beer, craft labels are on top and most stores see big interest in regional and local labels. Robert notes that consumer beer preferences are now hyper-local, sometimes trending not by a brewer's home region or even state, but by their home city and neighborhood. "We empower our local teams to interact with local brewers and wholesalers to make sure we have local beers on display," Robert says. "We've gotten much better about that in the last few years."
Online Improvements
The internet and mobile technologies are receiving a lot of Total Wine's attention these days. The company is continually unveiling improvements to its website, Totalwine.com, and is also developing a mobile app to attract modern-day consumers who use their phones or tablets more than computers. The goal, David says, is to offer customers the choice to shop in a physical store, shop online and pick items up in-store, or take advantage of home delivery, where legal.
"We realize the future is the ability to be a full omni-channel retailer," David says. "Whether it's bricks or clicks, we've got to be the best in the business. We're making huge investments in people and technology to improve our e-commerce ability and website. We want to have the best website for alcoholic beverages in the world, with more content than any other site."
Total Wine hired Mike Kirschner to be its chief digital officer last year and promoted him to chief technology officer earlier this year. Kirschner comes to the company after running the digital and e-commerce portions of retail chain Office Depot for nearly 20 years. Kirschner says his goals for Total Wine's digital platforms are centered around convenience, personalization, inspiration and engagement. He notes that a mobile-friendly platform is crucial since shoppers today use cell phones and digital tablets to look for product recommendations, ratings and reviews, product history, and manufacturing information.
"If you look at the way our site was originally designed, it was very focused on people using a computer," Kirschner explains. "The majority of our online traffic now comes from people using their phones, so we're making it easier to navigate by phone. We're increasing overall usability and decluttering the site to make it easier for people to understand."
Kirschner is working to make Totalwine.com more personalized so that people who join the company's loyalty program can log in to view their purchase histories, product recommendations, reward points, and even recipes and pairing suggestions. Along with upgrading the website, he's also developing a mobile app that's geared toward the in-store experience. The app will show a member's reward points and coupons, local in-store events, tastings, classes, and brand availability for growler refills. It will also feature way-finding capabilities so that consumers in physical stores can type in the product they want and see exactly where to find it at a Total Wine location. The company expects to release the app late this year.
"The app will make e-commerce much more enjoyable and efficient and create a better customer-facing experience," David says. Robert acknowledges that Total Wine has room to improve its website and online platforms, especially for shipping wine, and says he has high expectations for its advancement over the next few years. "The key for us is to figure out how to better serve our consumers," Robert adds. "We need to make stores easier and more convenient to shop, with localized delivery and better store pickup."
Legislative Issues
Total Wine & More has a long history of fighting legislative battles against laws that inhibit its growth and entry into new markets. That continues today, as the company has several legal initiatives underway. In Connecticut, Total Wine is litigating to allow the free pricing of products so that pricing is no longer under state control. David says the effort is going well and has the support of Connecticut Governor Dannel Malloy, and adds that he's confident Total Wine will win and be able to eliminate minimum bottle pricing laws. Meanwhile, in Tennessee—a market Total Wine plans to enter soon—the company contested a law that said retailers have to live in the state to own a beverage alcohol store there. The effort was successful, meaning residency is no longer a requirement for store licensing. Looking to the future, David says the company may pursue legal and legislative efforts to privatize markets like Virginia, Alabama and North Carolina for spirits, and Pennsylvania for spirits and wine.
Total Wine is also celebrating some recent legal victories. The company worked with industry partners on a bid to allow Sunday sales in Minnesota and won, and stores in the state can now open on Sundays. And in South Carolina, Total Wine petitioned the state Supreme Court to eliminate beverage alcohol retail license limitations. By a vote of four to one, the law was overturned, allowing retailers to operate an unlimited number of stores in South Carolina.
Total Wine & More has a long history of fighting legislative battles against laws that inhibit its growth and entry into new markets.
Along with these efforts, Total Wine is celebrating a record number of donations for community service-related work. Both David and Robert cite community service as a key part of their business strategy, noting that getting involved in local communities helps the stores make personal connections. In 2016, Total Wine donated more than $6 million to non-profit groups like the Make-A-Wish Foundation and others that support awareness for autism and epilepsy, helping a total of more than 6,000 groups overall.
"We think being a part of the local community, whether it's an arts community or various health-related causes, is part of who we need to be to give back to each of the communities that support us," David says. "The key to building and managing a cross-country business always goes back to the same thing, and that's great people. We continue to invest and trust our people and remain focused on being ultra-competitive and concentrated on our customers. That allows us to be successful."
No stranger to the legislative process, David also recently announced his intent to make another run for Congress, this time in Maryland's 6th Congressional District. David, who seeks the Democratic nomination for the House seat left open by Rep. John Delaney, made a similar run last year for Maryland's 8th Congressional District, but lost. He funded his first campaign himself and accepted no donations from any outside source, which he says was a good learning experience.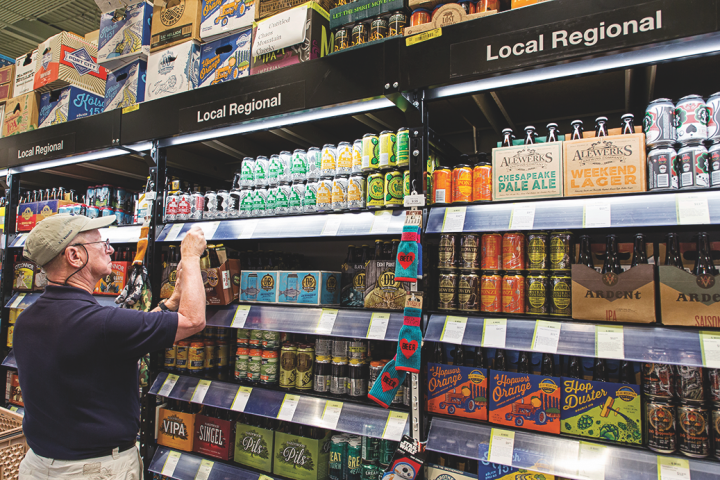 "I funded the first campaign to demonstrate that I will be independent of the various interests that dominate Washington," David says. "What I didn't realize is that a lot of people wanted to invest in my campaign. So, this time, I will raise money from individuals, but will not accept contributions from political action committees, lobbyists or corporations."
David says he's well suited for political public service because his life has been different from most other politicians, as he grew up working on a farm, went through college on student loans, and started his own business and built it into a powerhouse from the ground up. If he wins this Congressional bid, David says Total Wine will remain on solid footing. He and Robert reconfigured the company's corporate structure a few years ago, adding top-level management positions and transforming its board of directors so they could step back a bit.
"Total Wine is in good hands and will continue to follow the same principles we've followed since day one," David adds. "The company is on strong footing, has a long-term expansion plan and a customer-first approach that will carry on whether I'm there or not. Total Wine will do great."
Share This Article On Social Media
Sours: https://www.marketwatchmag.com/retail-kings/
TOTAL WINE mini Tour - CHECKING OUT THIS NEW SUPERMARKET FOR ALCOHOL
Come Craft Your Perfect Career
As a growing wine, beer and spirits retailer, we're looking for go-getters who want to spark joy with our customers and communities. If that's you, consider this your welcome toast. We just popped a bottle with your name on it!
Let's Go Places, Together
We're growing and want to see our people grow along with us. If you're curious and willing, we'll pave the way and give you the tools to see you succeed.
Pour Joy…
We're glass half-full types of people - fortunate to share in celebrating life's great moments with our customers, local communities, and each other.
…Into Every Day
We each bring our unique experiences and perspectives to make a lasting impact and create memories.
Rise to the Challenge
Run fast, be agile, think like an entrepreneur. We're bubbling with ideas and have an innovative spirit. No matter your role, we raise a glass to those that take initiative to bring our mission to life.
Sours: https://jobs.jobvite.com/totalwine
Similar news:
Total Wine expansion in New York rebuffed by NY Supreme Court for third time
US drinks retailer Total Wine has lost its appeal to expand its footprint New York, following the rejection of its case by the NY Supreme Court.
The New York Supreme Court has rejected the Maryland-based wine giant's bid to open a second store in the state at in College Point, Flushing in Queens, the Shanken Daily News reported, upholding a decision by the New York State Liquor Authority (SLA) last June. The retailer first applied for the license in August 2019.
It is the third time Total Wine, which has more than 200 stores in 26 states across the US, has been barred from opening a second store in the New York area. In September 2019, the court refused to grant the wine retailers with a license for a proposed site in Westchester, saying it was "not appropriate for the region", while an earlier bid to open a store in Stony Brook was also rejected by the state liquor board.
Under New York state law, national drinks chains are banned from applying for a state license to open and operate stores in the states, in a bid to protect 'mom and pop' stores,  however entrepreneurs affiliated with national firms are able to apply for a single license for an individual store under a different corporate name. In 2016, Total Wines' co-founder David Trone obtained a retail liquor license for a new retailer, Westbury FIne Wines, part of the newly formed New York Fine Wine & Spirits LLC, which operates as Total Wines. The store opened in 2017.
However, Judge Pam Jackman Brown ruled that Total Wine failed to meet the "public convenience and advantage" standard for opening a second store,  and as a result, dismissed the petition.
Total Wines & More was established in xxx by brothers Robert and David Trone.
In 2017 the retailer won a major victory in South Carolina, after the state's supreme court branded a cap on the number of stores a retailer can have as "unconstitutional".
Sours: https://www.thedrinksbusiness.com/2021/06/t/
13347
13348
13349
13350
13351