Guide for Drawing Flowers with Pens
Updated: 30 Jan 2021

In this guide, I will demonstrate how to draw any flower, from simple to complex, using a pen.
Well-executed flower pen-drawing is all about accuracy of the structure (form), with attention to foreshortening and overlapping.
Concept Art
First thing first, do not use concept images that are protected by copyright law.
In case someone likes your drawing and wants to buy it, it is best to use images that are free for ANY use.
Here are some websites that let you download FREE stock images:
Pixabay
Unsplash
Pexels
PikWizard (in image description, look for license: FREE)
*Taking your own photos is the best solution to create unique drawings and compositions.
How to Create Smooth Lines with a Pen
For a pen drawing to look nice, each mark should be drawn with confidence. Meaning, a smooth line.
That is easier said than done!
With time and practice, the lines will flow. Until then, we will start with a pencil.
The advantage of a pencil is that it is erasable. Therefore, we can fix mistakes until we are happy with the result.
So grab your reference image and draw it with a pencil. Draw it gently so it will be easy to erase later.
Note:
The pencil drawing does not have to be perfect. Remember that nature is abstract. There are no two identical flowers.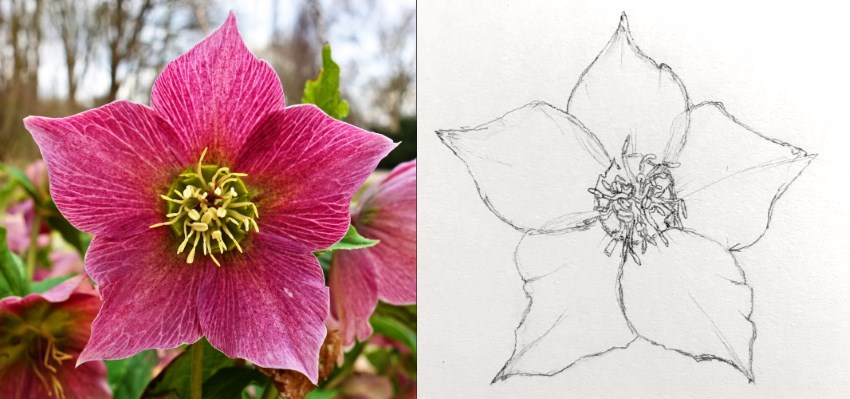 Reference image & pencil sketch
Once the pencil-sketch is ready, it is easy to go over it with a pen. Do it in a confident and smooth way, even if the pen marks are not exactly on top of the pencil marks.
When drawing with a pen it is important to pay attention to overlap.
Parts that are closer to the observer should be drawn first. In this case, draw the stamens first and only then draw the petals.
After the ink from the pen is dry (usually less than a minute, depending on the pen brand), it is safe to gently erase the pencil-drawing marks.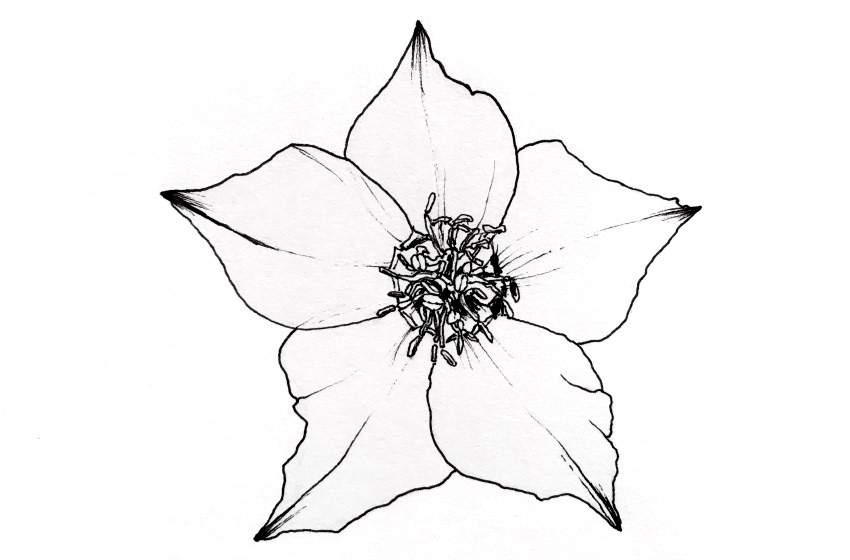 Hellebore flower pen drawing
How to Draw a Complex Flower
Some flowers or compositions are quite complex and attention should be paid to proportions, foreshortening and perspective.
This is too much to deal with when starting to draw.
A solution to this problem is to create a grid of guidelines. Then, instead of one complex image, we have several smaller and simpler images.
To find the middle point of an image, draw two diagonal lines from the image corners.
Now we can draw horizontal and vertical lines from the midpoint.

Finding the center & creating a grid
Do the same for the drawing-paper. Make sure the ratio between height and width is the same for both the reference image and the drawing-paper.
You can crop the reference image to get the same ratio.
Now it is easier to draw with a pencil.
Note:
If the image is still complex for you, you can keep adding grid lines for each rectangle.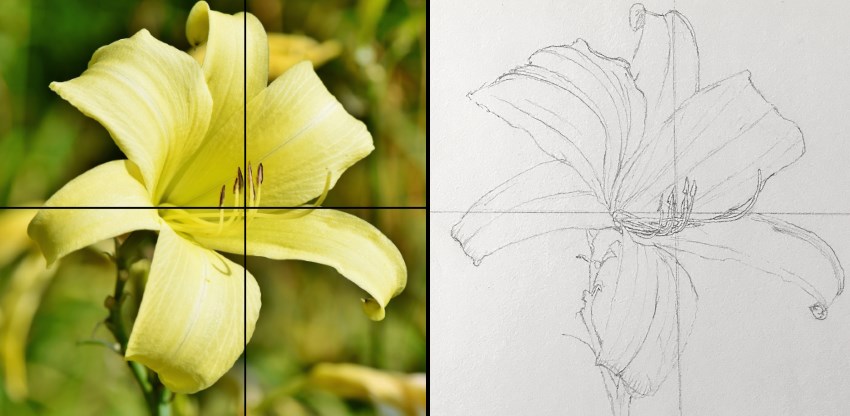 Drawing with a pencil
Remember to use the pencil gently. It will be easier to erase after you draw with a pen.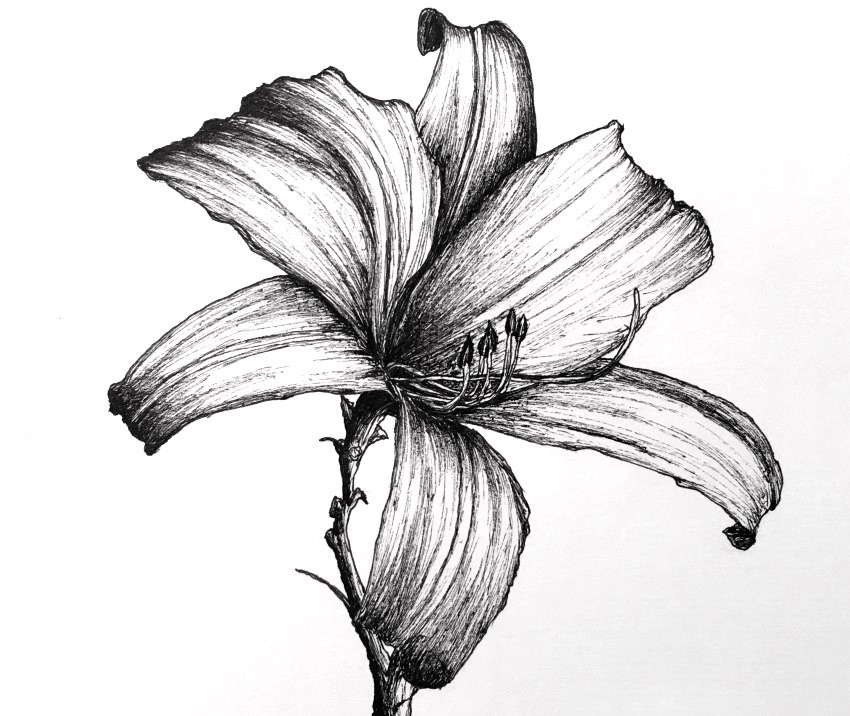 Lily flower pen drawing
Good to know:
If you do not fully understand terms like overlapping, perspective and foreshortening, I highly recommend reading my article on the illusion of depth in art.
Which Pen to Use for Drawing Flowers
While it is possible to draw or sketch with a regular pen, there are many advantages for using pens for artists.
These pens are called fineliners or technical pens and their ink is usually black though some brands offer additional colors (more on that later).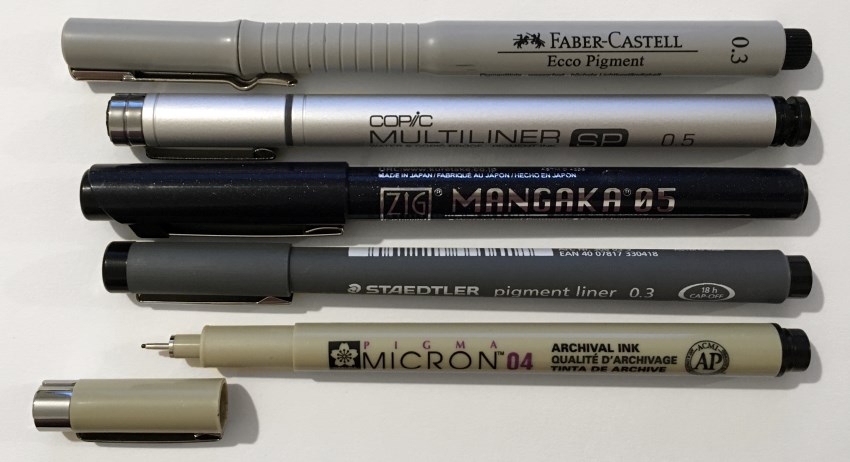 Fineliners
Pens for artists create lines of uniform thickness and they come in different sizes, therefore enabling to draw thick contour lines or thin lines for details.
The ink for these pens is made of pigments and therefore very durable.
To learn more about which pen to use, visit my review for recommended pen brands for drawing.
Line Width & Size
When drawing with a pencil, we can draw soft edges for far away objects.
Pens have one brightness value and therefore cannot produce soft edges.
Instead, we can use a pen with a smaller nib size to create thinner lines for background objects and bigger nib size to create thicker lines for foreground objects.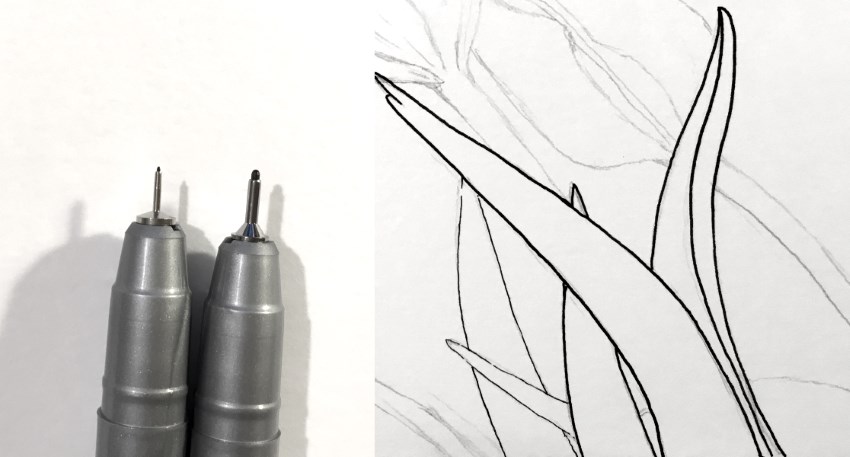 Different nib sizes
Using lines with different thickness to add depth: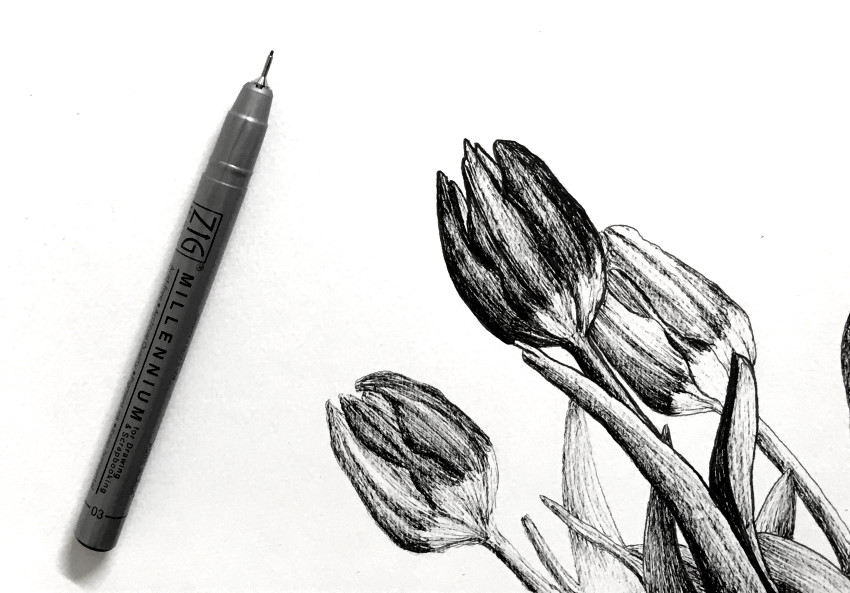 Tulip flowers pen drawing
Another way to add depth is with size.
When drawing in perspective, the farther away an object is, the smaller it will look.
For that reason, flowers in the foreground will be drawn bigger while background flowers will be smaller.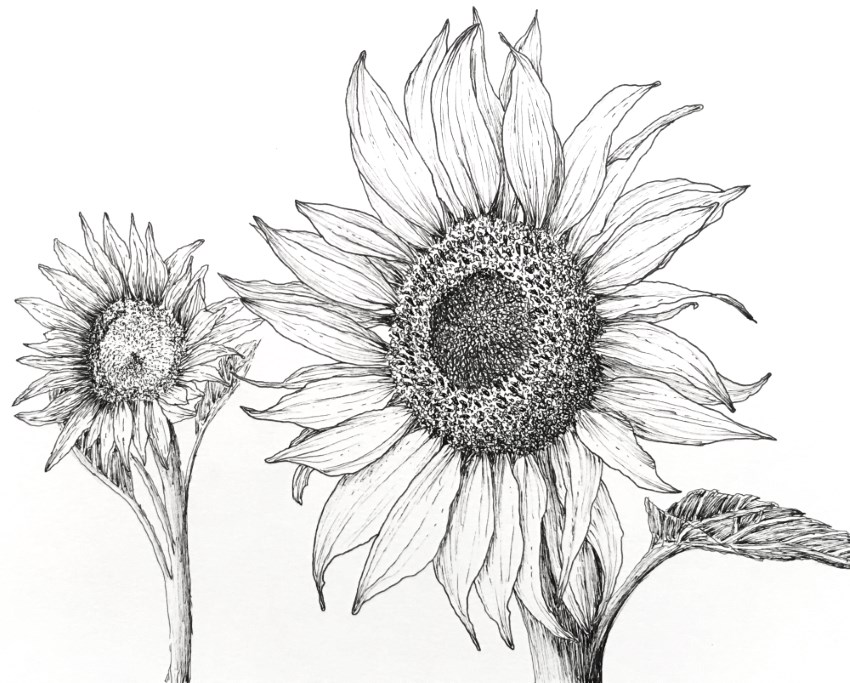 Sunflower pen drawing
Tip:
To add depth to your drawing, create the background flower smaller, use a pen with smaller nib size for it and make the foreground flower overlap it.
Hatching and Crosshatching
Hatching is a drawing technique that uses parallel lines.
A pen produces lines with one (dark) brightness value.
In order to create the illusion of different brightness values, meaning areas that look lighter and areas that look darker, different types of hatching can be used.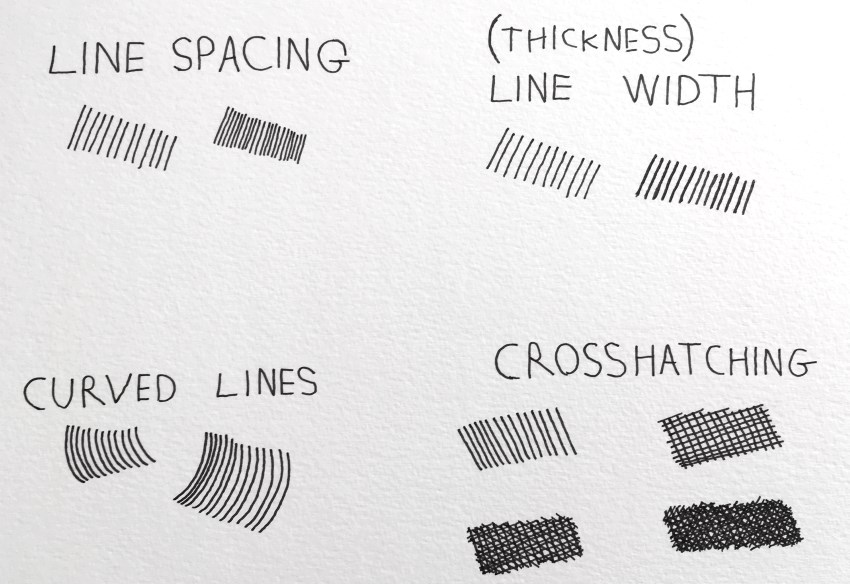 Hatching types
Thin hatching lines can be used for light areas.
By using different degrees of crosshatching, it is possible to create the illusion of different brightness values: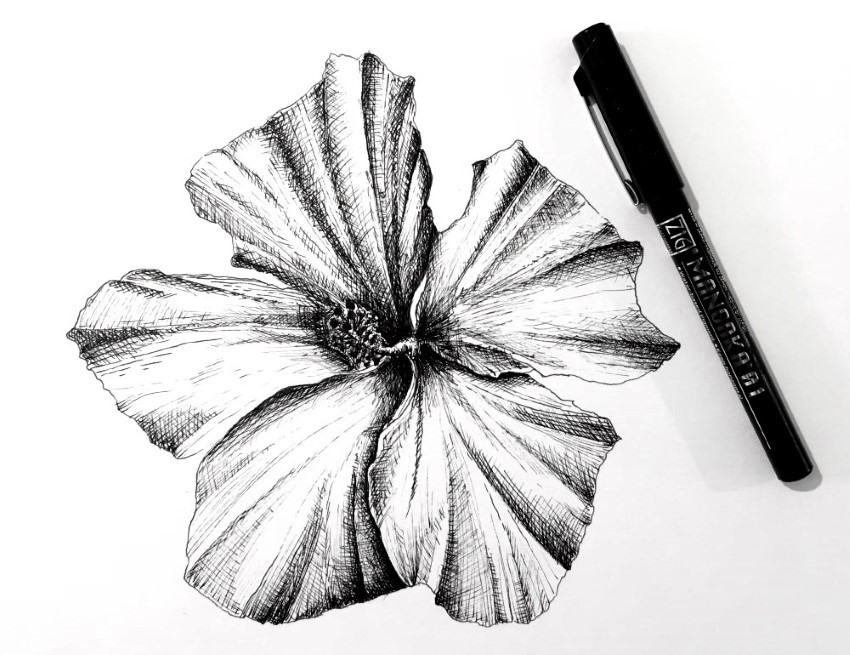 Hibiscus flower pen drawing
Line Types with Pens
As mentioned above, a pen has a single brightness value, but when holding a pen in a sharp angle, it can produce a less defined line and therefore create a second brightness value, which is lighter.
This will not work with all pen brands or on super smooth paper. With some brands, it will only work with one pen size, usually 0.1 nib-size.
For this to work, the strokes should be swift and with confidence.
Pen holding angle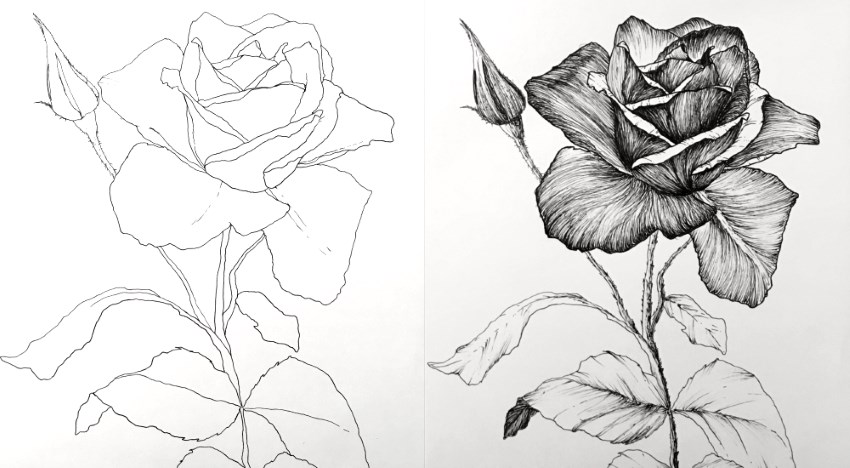 Rose flower pen drawing
How to Add Insects
Drawing takes time.
Trying a new thing, like adding insects or other objects, can be risky.
A practical way to deal with this situation is to start by drawing the new object.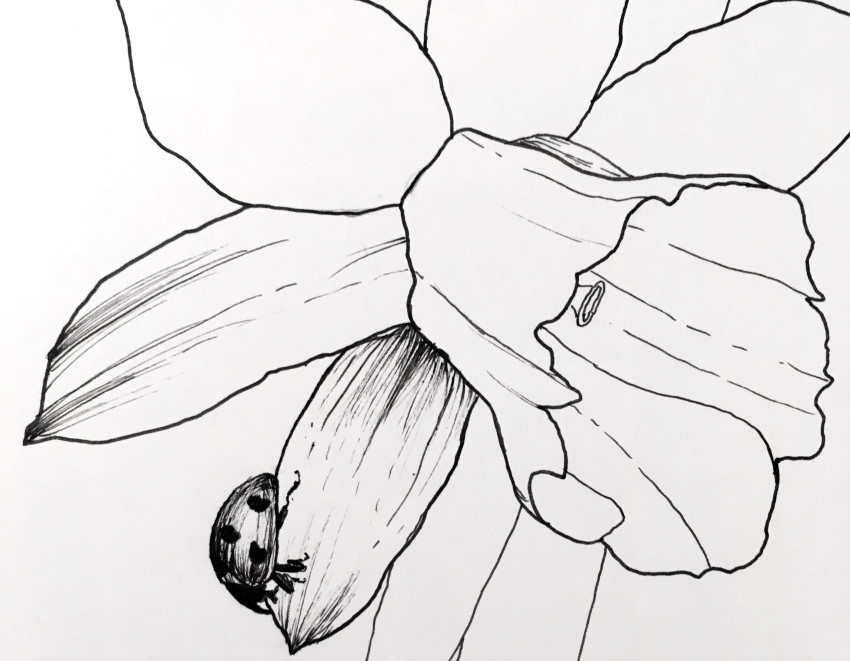 Drawing a ladybug
When the result is successful, we can continue drawing.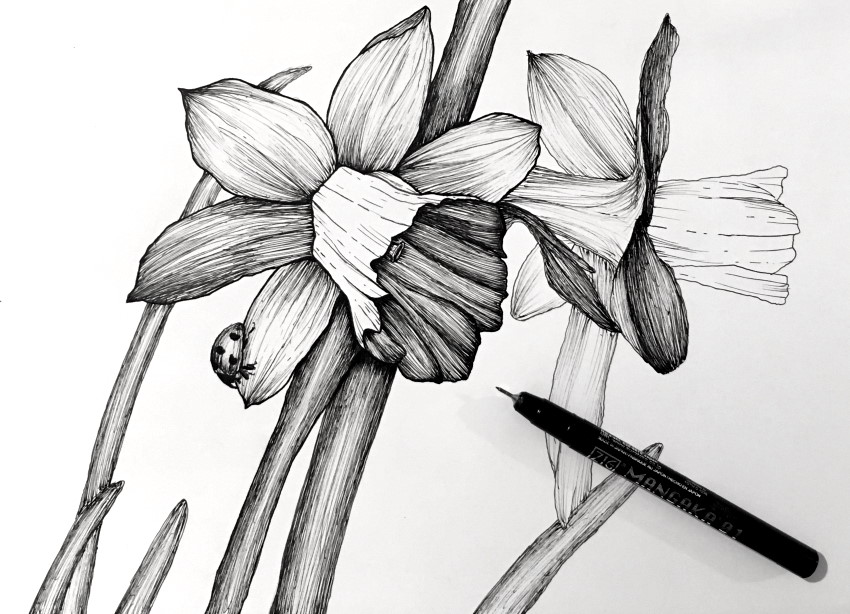 Narcissus flowers
To draw insects, visit my insect drawing guide.

Keeping it Simple
Sometimes, only a few lines can be more than enough.
It is possible to draw lines with a short line or a dot at the end, suggesting a line that gradually disappears.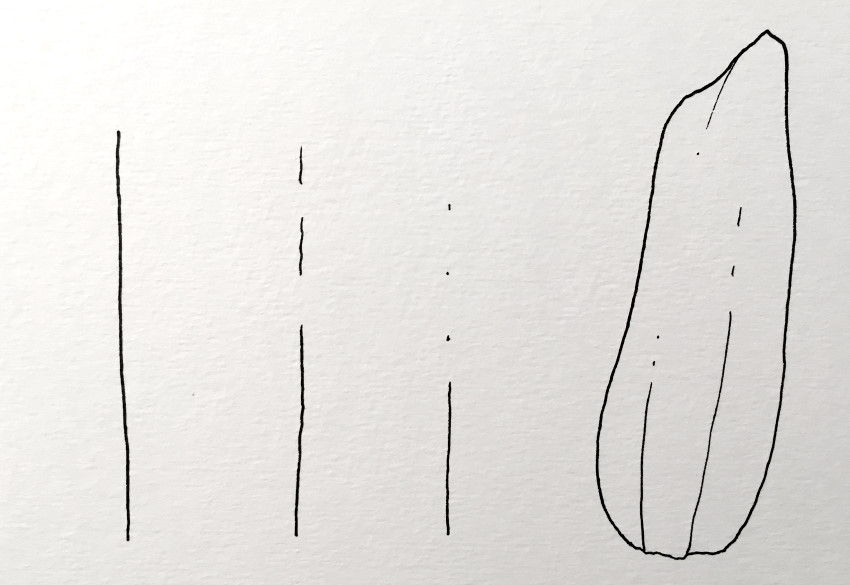 Dots and short lines
The middle part of a flower may seem complicated to draw.
The way to draw it, is to look at the basic shapes it is made of, and their direction.
Paying attention to shapes and direction
After drawing the basic shapes, it is important to look at brightness values.
For areas that look darker, we can draw more lines to create the illusion of darker brightness values.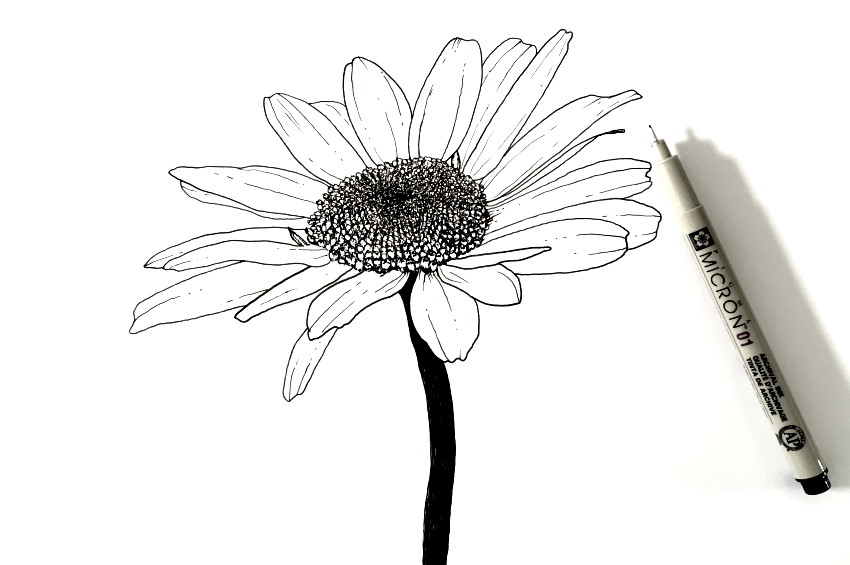 Common daisy
Let's try a step-by-step drawing for a Muscari plant (grape hyacinth).
It usually has some closed flowers and some open flowers, so we will practice both: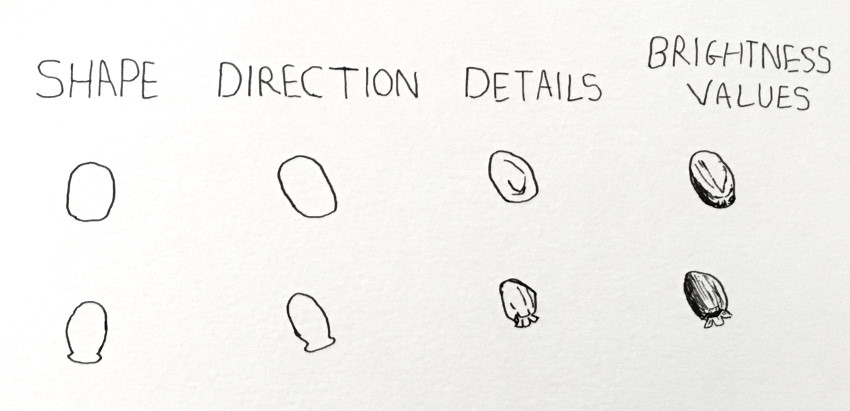 Flowers step-by-step
Now we can draw the whole plant.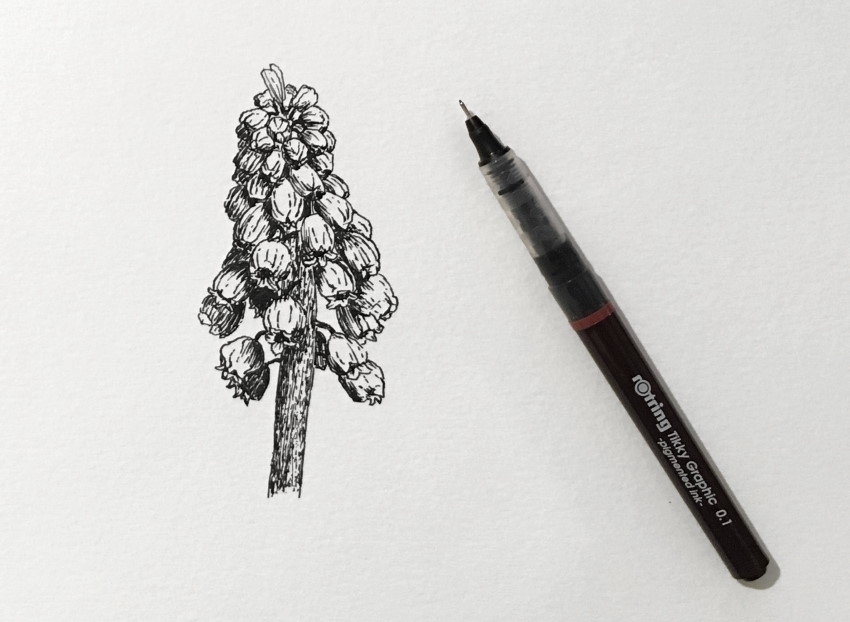 Muscari pen drawing
Ink Color
Pen drawing is not limited to black ink. As mentioned above, some brands offer additional colors.
Nevertheless, the drawing process is similar.
First, focus on accurate drawing. Pay attention to foreshortening and overlapping.
Then, get the brightness values right. Remember, more lines will create the illusion of darker values.
Lastly, some artistic license is more than welcome.
Blue ink example: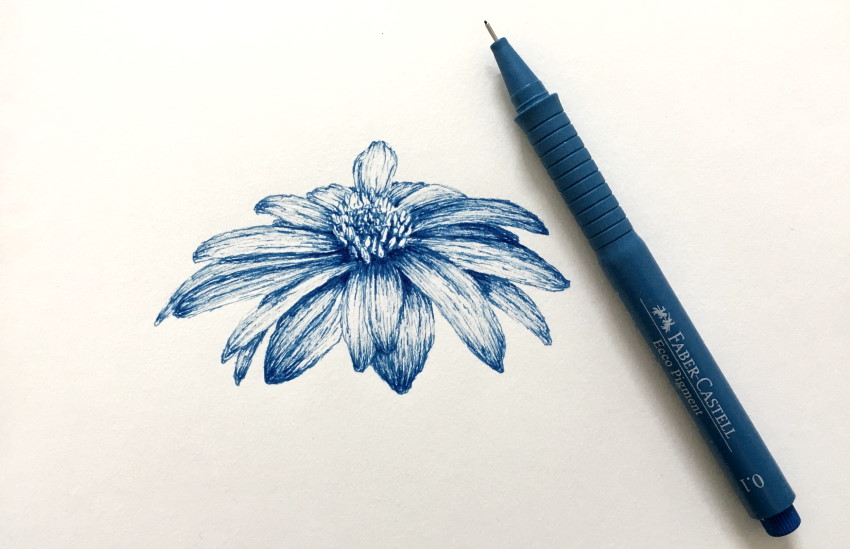 Anemone blanda flower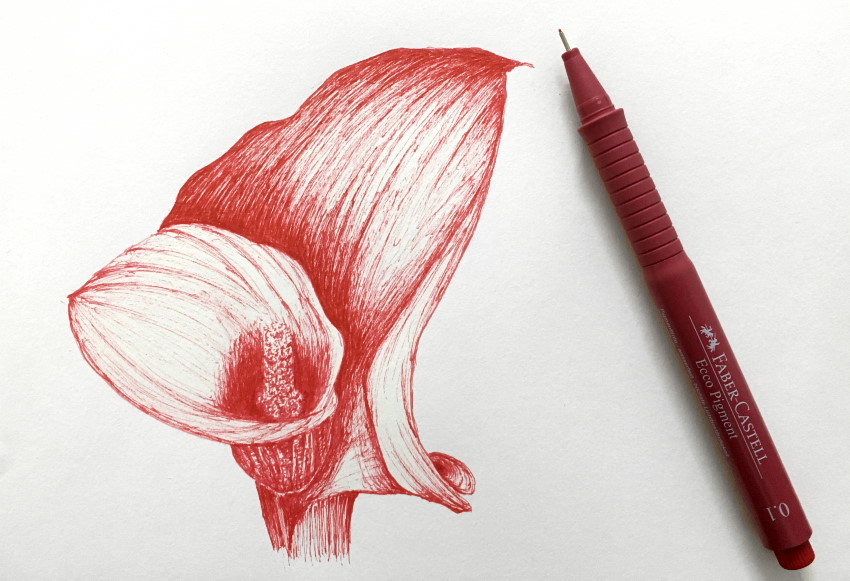 Anthurium flower
Remember, try to be as accurate as possible and then focus on brightness values.
Make sure there is enough contrast between light and dark areas. That way, the drawing will stand out.
Sepia ink example:
Marguerite flower
Foreshortening
Object that is in front of us will look smaller when it is far, but it will keep the ratio between height and width.
Foreshortening is a distortion that occurs when looking at an object (or a plane) along the line of sight.
In this example, we can see how a remote control will look shorter in height than in width as we look at it along the line of sight: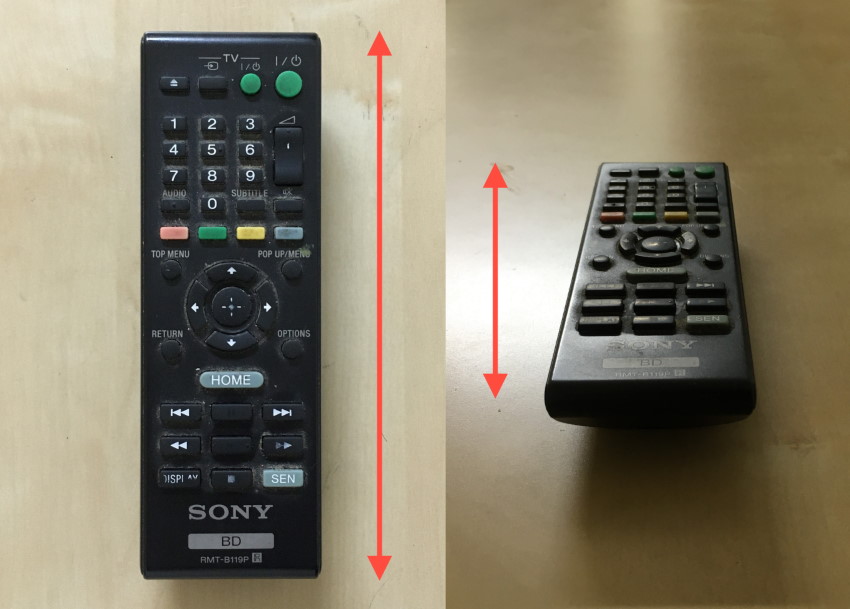 Foreshortened remote control
When we draw flowers, we pay attention to foreshortening in order for the drawing to look realistic, and interesting!

Foreshortened flower
In many cases, some petals are foreshortened, while others are less foreshortened.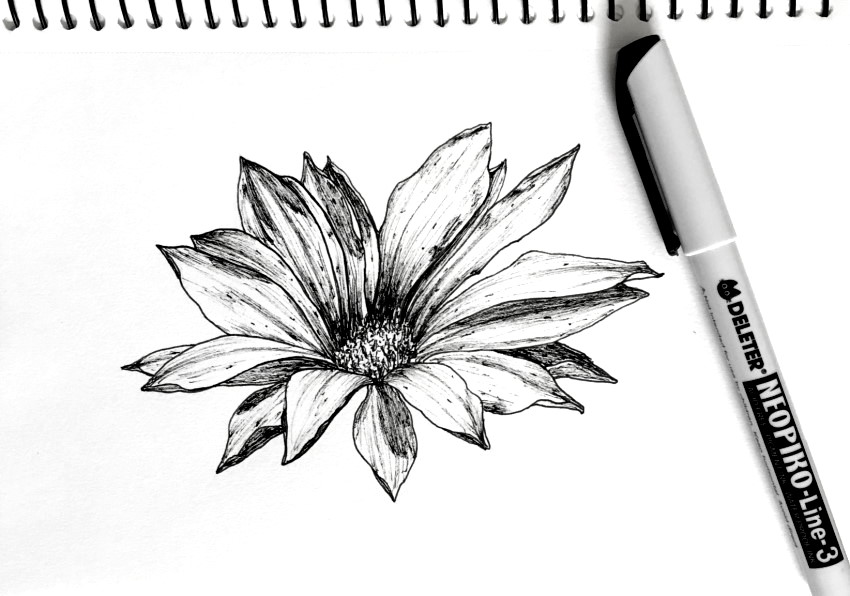 Gazania flower
Contrast & Image Editing
Contrast is essential for an appealing drawing or painting.
The blackness of a technical pen on the whiteness of a drawing-paper will produce contrast.
The problem lies when taking a photo.
For me, the best time to take a photo is at daylight. But, when completing a drawing at evening or night I am eager to upload it to my website or to social networks.
My apartment lighting is less than ideal, and it produces a warm, weak light, resulting in a yellowish flat photo.
To fix that, I use an image graphic editor (ANY image editing software will work) to decrease saturation and increase contrast. Problem solved!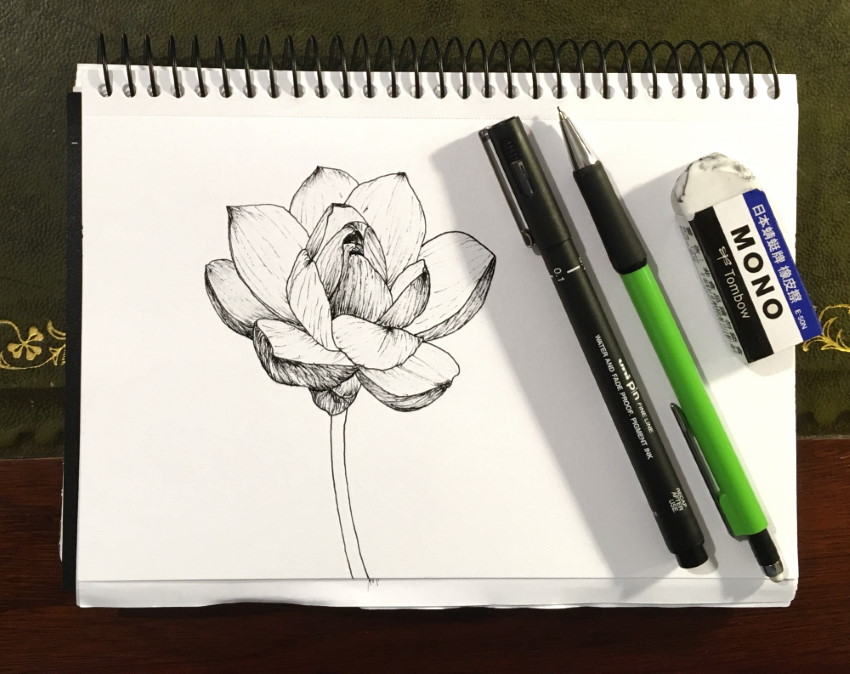 Lotus flower
Killing it on Social Media
To succeed on social media, many factors should be considered. For example, good content or SEO.
After analyzing successful flower-drawing Instagram accounts, I found a few tips and techniques that work.
1. Draw bold!
Meaning, draw thick, noticeable contour lines: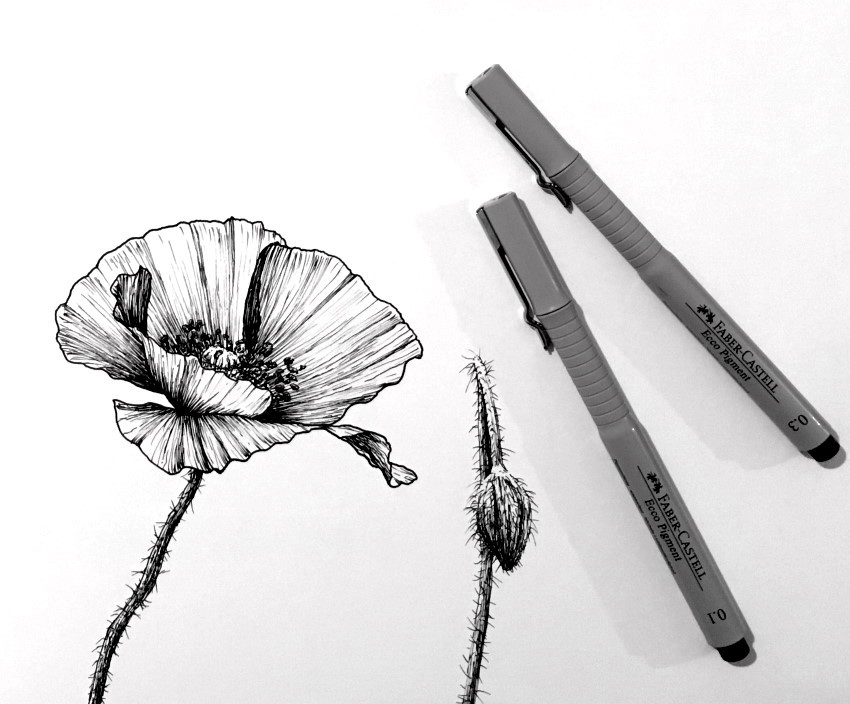 Poppy flower
2. Small images
A pen drawing has its limitation. A small pen-drawing image will look better than a close-up.
To do that, take a photo of your flower drawing (or sketch) including its surrounding. For example, the actual flower you used as reference, a step-by-step process, pens you used and so on.
In addition, remember that most people use their smartphone for social networks, so a tall image will occupy more screen space and therefore, have more presence.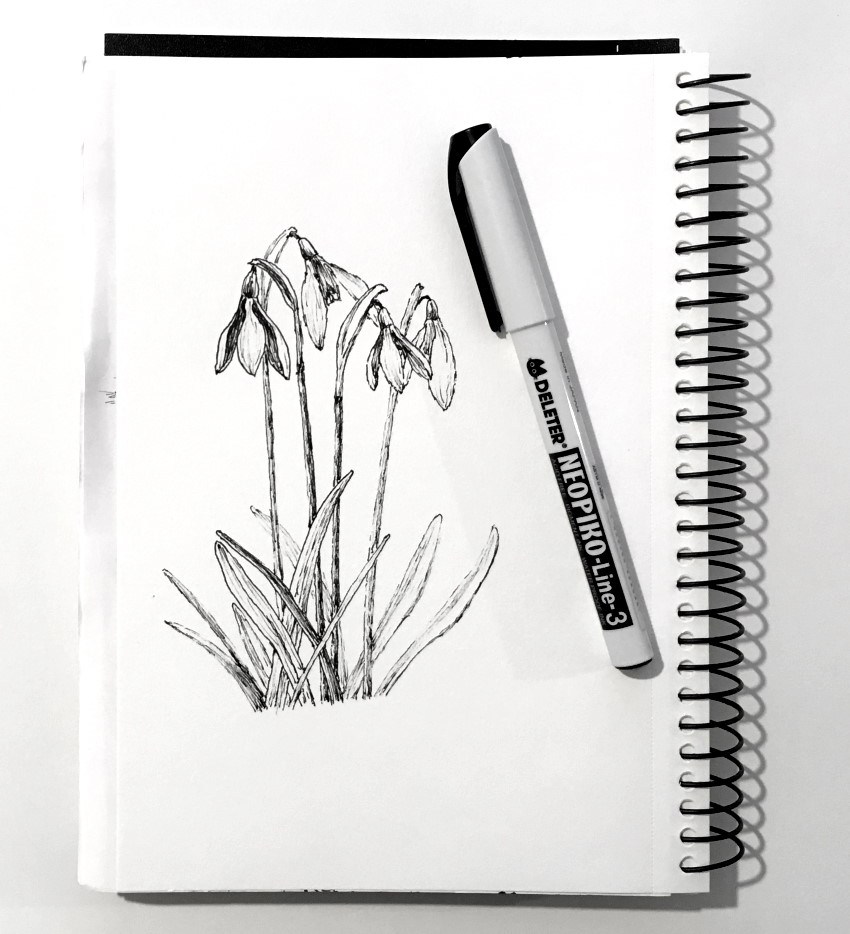 Snowdrop flowers (Galanthus)
3. Draw big
Drawing on a large paper sheet, like size A4, allows you to add more details and then, the small photo for your drawing will look more refined.
That said, simple drawings with little detail-work, do well too.
Keep in mind:
Complex flowers or compositions are challenging and time-consuming, even for experienced artists.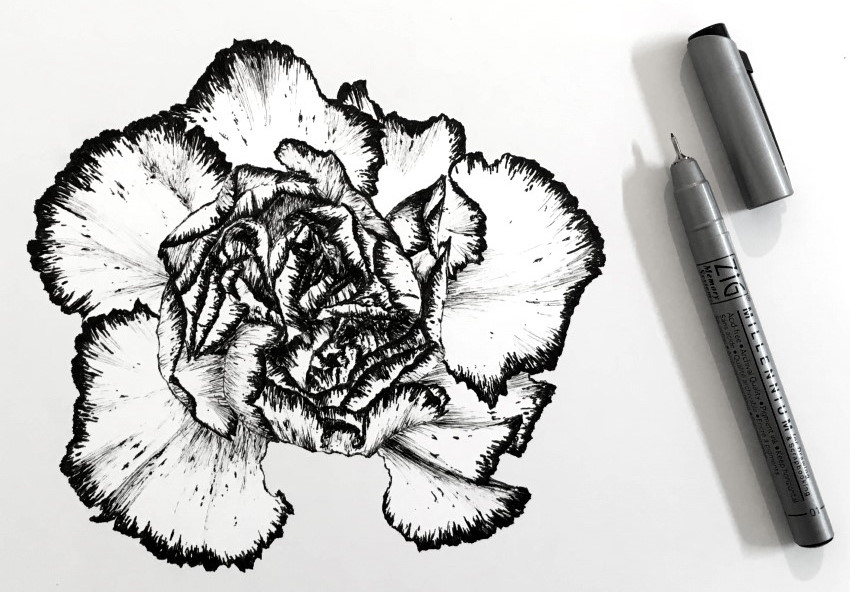 Carnation
4. Floral art
Once you are comfortable drawing a specific flower, you can draw a full paper sheet of that flower. (Another option is to draw several types of flowers).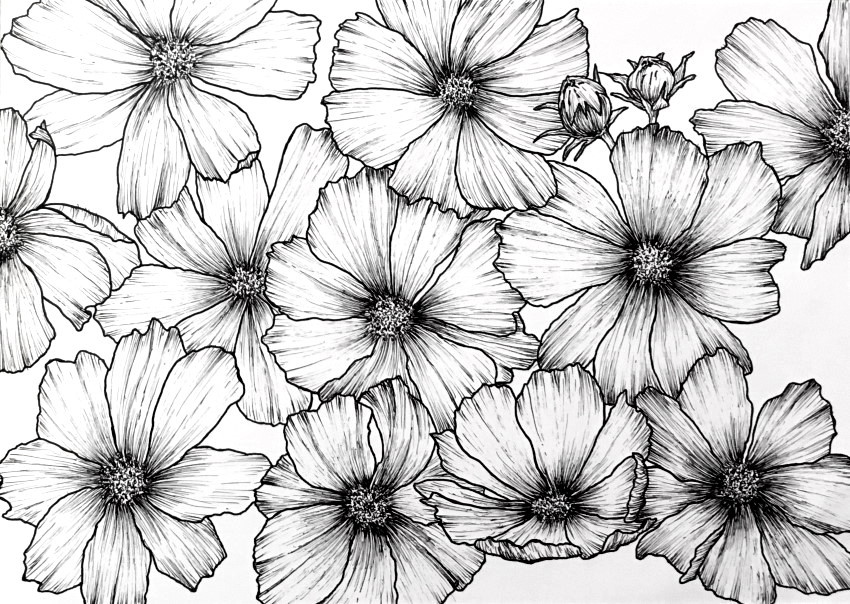 Cosmos floral art
Painting the background in black will add contrast: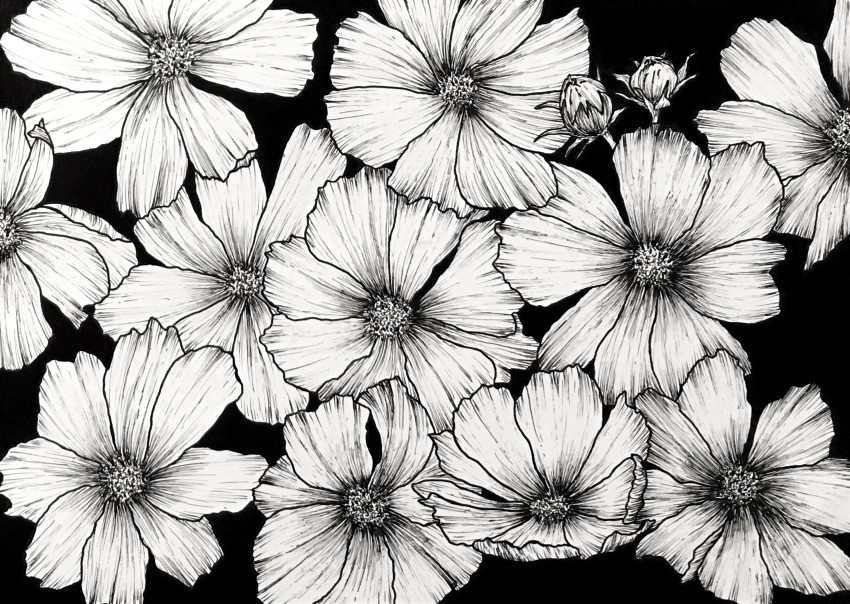 Cosmos flowers
For the background, I used Zig Real Brush marker. Here is my markers review for artists.
5. Mix it up!
Any plant, leaf, fruit, vegetable or tree are complementary to flowers.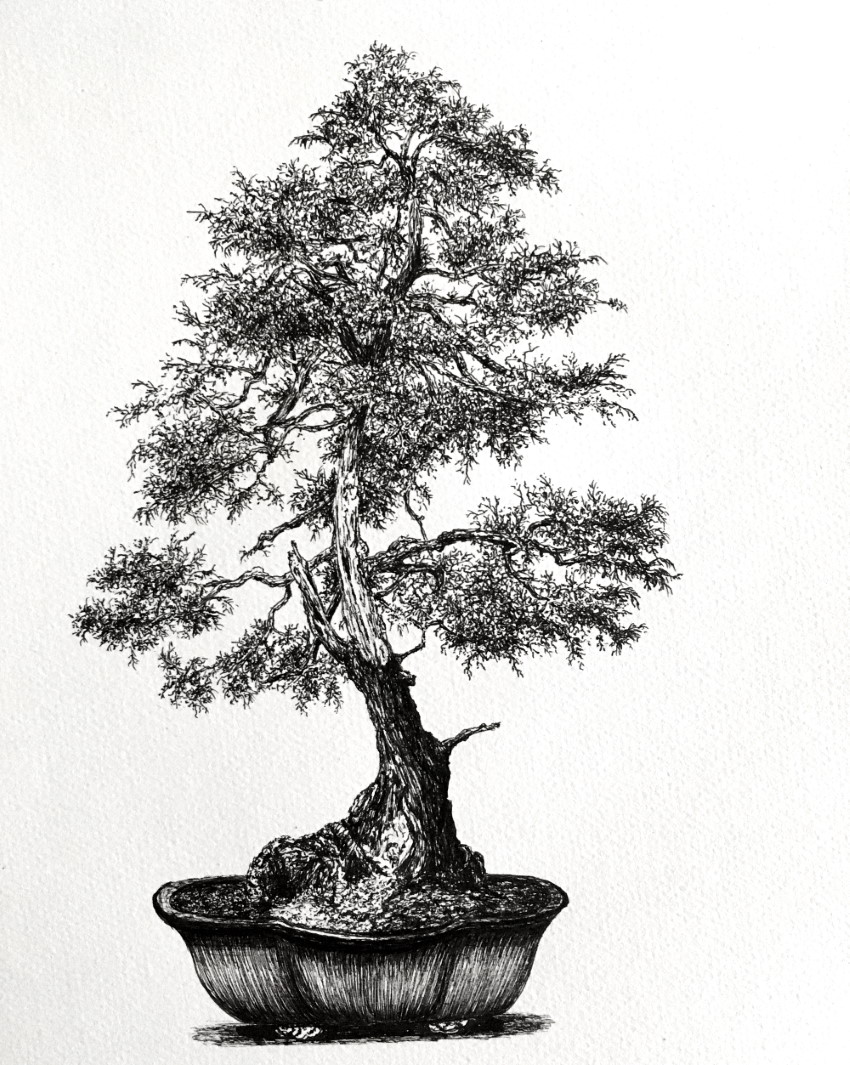 Bonsai pen drawing
If you like drawing trees, visit my easy guide for drawing trees with a pen (including MANY examples).

6. Do your thing!
After practicing with flower-drawing, you will start to develop your own style. That is the best way to succeed.
You can use colored paper-sheets.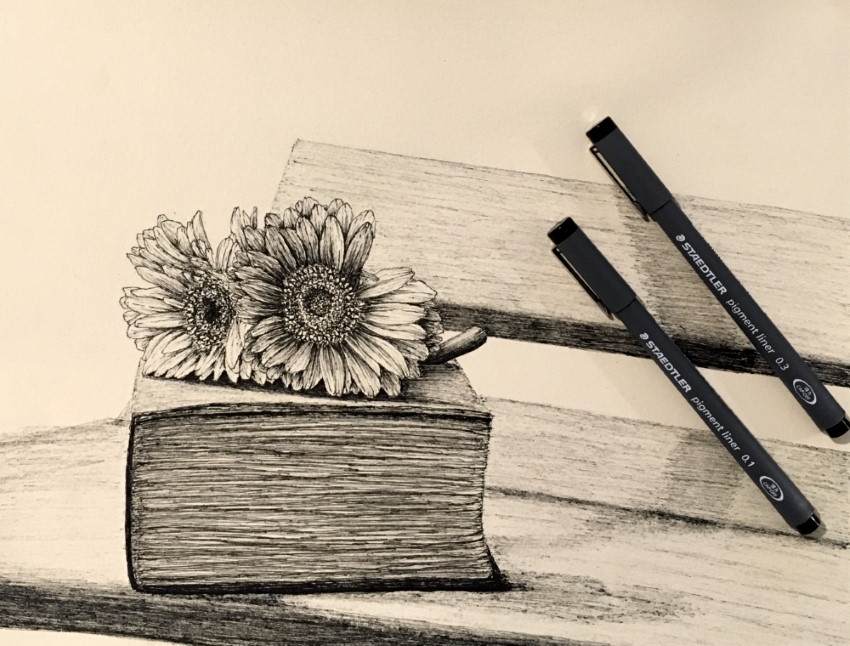 Gerbera flowers
Summary
After some practice with drawing flowers using pens, it becomes quite fun and relatively fast to produce.
Where to go next?
For learning to draw realism, visit my guide for drawing in a realistic style.
To understand composition, start here: composing a still life for drawing.
If you like using pens, you might be interested in my DIY guide for drawing your own treasure map.
Sours: https://ranartblog.com/blogarticle23.html
Pencil Drawing Flowers Images
Flower Drawing April 16 2018 167 views. 45 Beautiful and Simple Flower Drawings - Pencil Drawings Neel Beautiful and Simple Flower Drawings Do you remember the famous poem The Wild Flower s Song by William Blake.
Google Image Result for http fc04.deviantart.net fs70 f
Download Full Resolution
Thousands of new high-quality pictures added every day.
Pencil drawings. Pencil drawings 45 Beautiful Flower Drawings and Realistic Color Pencil Drawings Neel Flower drawings A beautiful flower always makes us smile. Find and save ideas about Pencil drawings of flowers on Pinterest. Back To Simple Pencil Drawing Images Of Flowers Find flower pencil stock images in HD and millions of other royalty-free stock photos illustrations and vectors in the Shutterstock collection. Simple pencil drawing images of flowers simple pencil drawing pictures of flowers. Are you looking for the best images of Pencil Sketch Images Flowers Drawings for begginers - Yahoo Image Search Results pencil drawings of flowers MaeBelle Portfolio Lily Pencil Drawing See more Flowers Drawing Pictures Pencil.
Pencil Drawings Of Flowers Maebelle . Drawings Of Pretty Flowers. This is how it goes As I wandered the forest The green leaves Imagine replicating your flowers in the form of flower drawings Search for other related drawing images from our huge database containing over 1 250 000 drawing pics Log in Sign up Pencil Sketch Images Flowers. Flower Cartoon Black And White. Simple Pencil Drawing Images Of Flowers Simple Pencil Sketches Of Love Flowers Pencil Drawings Of Flowers.
Flower Drawing April 15 2018 172 views. I m sure you will be thrilled to see realistic flower drawings on a Flower Pencil Drawing Artists. See more ideas about Pencil sketches of flowers Flowers drawing pictures pencil and Beautiful drawings of flowers. Flower Page 13 Pencil Art Drawing With credit spreads you can use option time decay to your advantage and give yourself an 80 percent trading edge Girl With Flowers In Her Hair Drawing. Feb 28 2019- Explore Jodie Briones s board Pencil drawings of flowers followed by 246 people on Pinterest. Easy To Draw Pictures Of Flowers - See more about Easy To Draw Pictures Of Flowers easy to draw pictures of flowers.
All the best Pencil Sketch Images Flowers 40 collected on this page.
45 Beautiful Flower Drawings and Realistic Color Pencil
Download Full Resolution
pencil drawings of flowers Displaying 20 Gallery
Download Full Resolution
Floral Pencil Drawings - Fine Art Blogger
Download Full Resolution
Simple flower drawing in pencil flowers drawings in pencil
Download Full Resolution
Top 13 Flowers Sketches - Beautiful Sketching Flowers
Download Full Resolution
Art Pencil Drawings - Flowers
Download Full Resolution
45 Beautiful Flower Drawings and Realistic Color Pencil
Download Full Resolution
17 Beautiful Flower Drawings - Vector EPS JPG Download
Download Full Resolution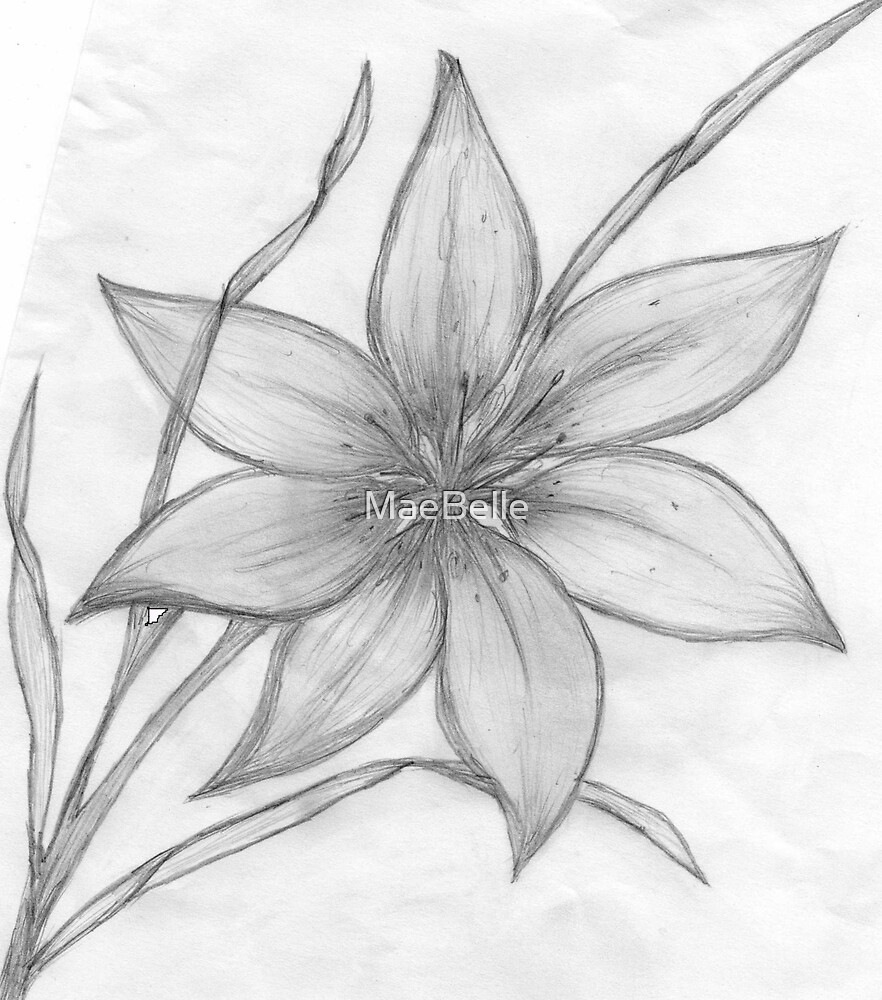 Lily Pencil Drawing by MaeBelle Redbubble
Download Full Resolution
45 Beautiful Flower Drawings and Realistic Color Pencil
Download Full Resolution
Beautiful Pencil Sketches Of Flowers
Download Full Resolution
Rose Flower Drawing Wallpapers Beautiful Flowers Wallpapers
Download Full Resolution
Hidden Yesterdays. Flower drawings
Download Full Resolution
40 Beautiful Flower Drawings and Realistic Color Pencil
Download Full Resolution
Pencil Illustration day lilly lily.jpg Rose s drawing
Download Full Resolution
Art Pencil Drawings - Flowers
Download Full Resolution
July 2012
Download Full Resolution
Free Flower Sketch Download Free Clip Art Free Clip Art
Download Full Resolution
Floral Pencil Drawings - Fine Art Blogger
Download Full Resolution
45 Beautiful Flower Drawings and Realistic Color Pencil
Download Full Resolution
35 Beautiful Flower Drawings and Realistic Color Pencil
Download Full Resolution
Art Pencil Drawings - Flowers
Download Full Resolution
Flower Pencil by darkest-drawings on DeviantArt
Download Full Resolution
Wild flower Wednesdays rho in 2019 Drawings Floral
Download Full Resolution
Pencil Sketch Flowers ephesustour.cc
Download Full Resolution
how to draw sunflowers - Google Search Drawings of
Download Full Resolution
pencil drawings of flowers Cool Drawings Pinterest
Download Full Resolution
Sours: https://pencildrawings2019.blogspot.com/2019/01/pencil-drawing-flowers-images.html
Easy flowers to draw – step-by-step tutorials + pictures
Drawing is one of the oldest forms of expression. The oldest drawings can be found in caves. They showcase the history and way of living of the first men. Through the years, drawing has become a form of self-expression. Many people use this medium to express their wishes, desires and thoughts in an artistic way. What's more, large museums have been built to house incredible works of art, which have survived throughout the years. So, it is needless to say, art is extremely important. And, if you are looking for ways to start drawing, you've come to the right place. Here are 100 easy flowers to draw with step-by-step tutorials and pictures to take inspiration from.
Easy flowers to draw with tutorials from Kate Kyehyun Park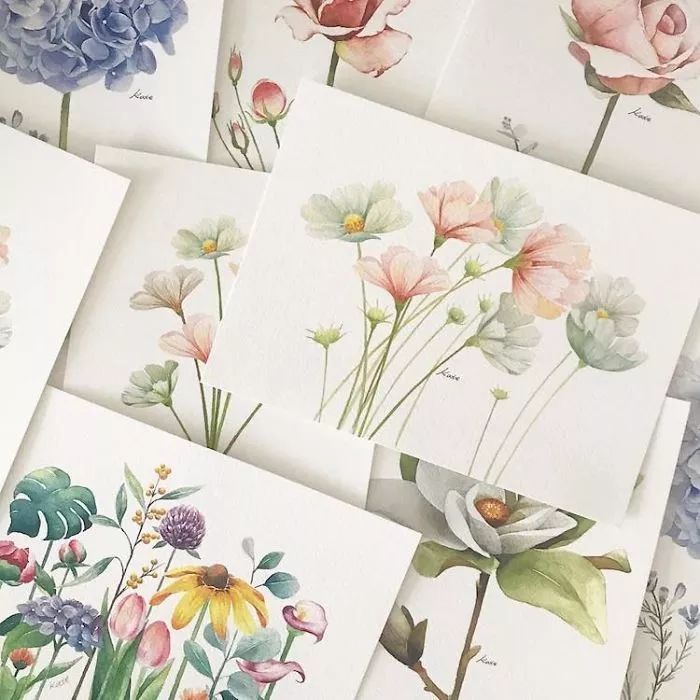 ---
Easy flowers to draw – simple drawings of flowers in pencil
So, why are we focusing on flowers, specifically, you might ask. Well, flowers are a beautiful decor for any home in any shape and form. Flower drawings and paintings are truly stunning. They make for some great art pieces. And, if you are like me and are not very good at looking after actual flowers, than this is a good option. Even if you don't have the real flower at home, you can always marvel at its beauty through these beautiful drawings.
Drawing flowers doesn't have to be difficult. With these easy tutorials, you will definitely become better. They are super simple and, moreover, take no more than three steps. So, just take a sheet of paper, a few pencils and begin. The most important thing for any good artist, is to have fun. Don't overthink your drawings. Draw from your heart and your art will definitely speak volumes to anyone who sees it.
Follow these steps for a great result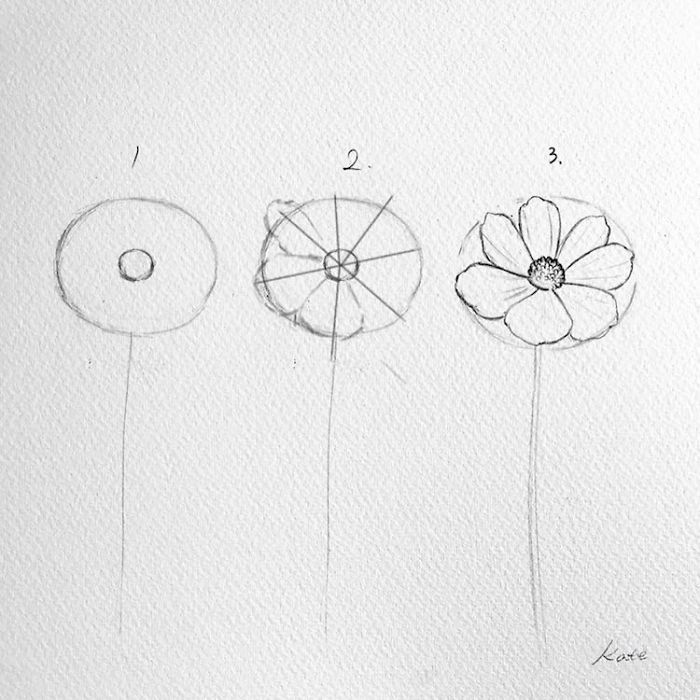 How to draw flowers step by step with pictures – flower drawing ideas and tutorials
When it comes to drawing flowers the good news is that they are super easy. What's more they allow for some freedom when it comes to shapes. Each flower is different, so that means you can let your imagination and creativity create the drawing. You can follow these step by step tutorials as a base for your flower drawing. All the little details, however, which make up the beauty of the flower, are up to you!
Easy flowers to draw from every angle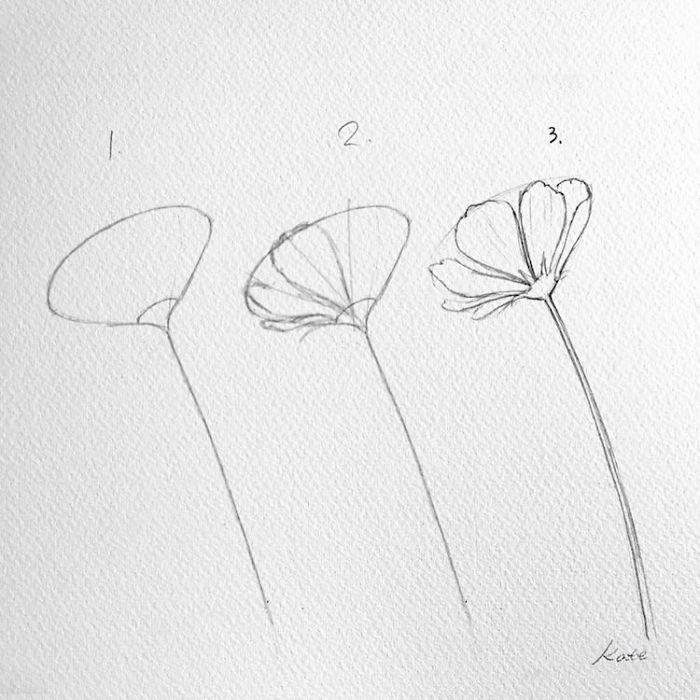 After you are done, you just have to color them
---
And voila, the results are stunning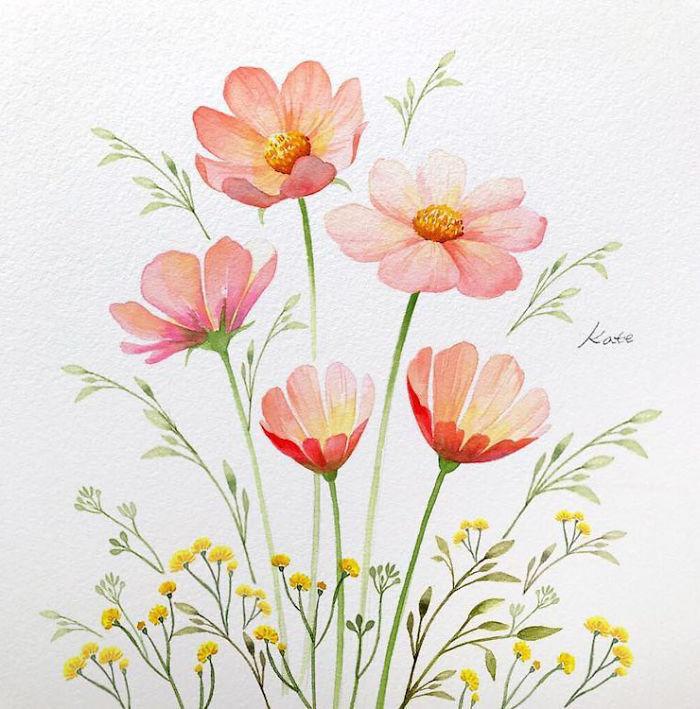 How to draw a tulip from the front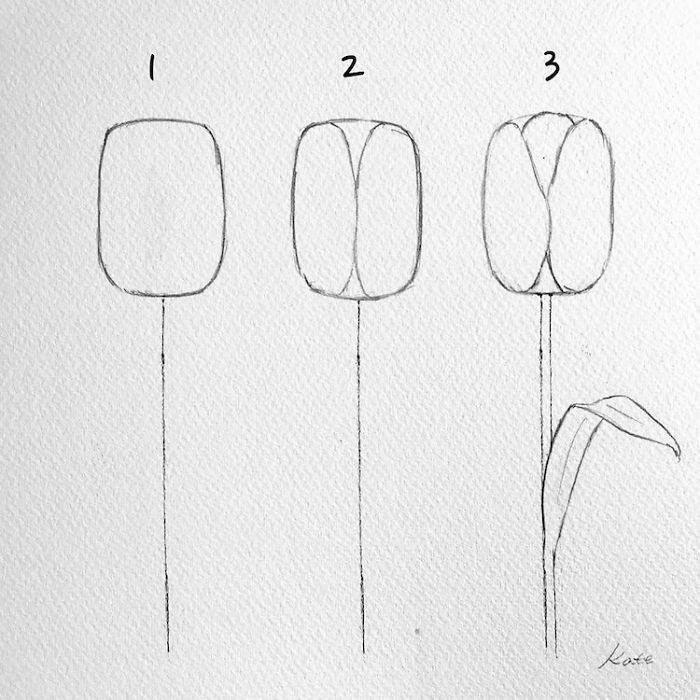 Three-step tutorial on how to draw a closed tulip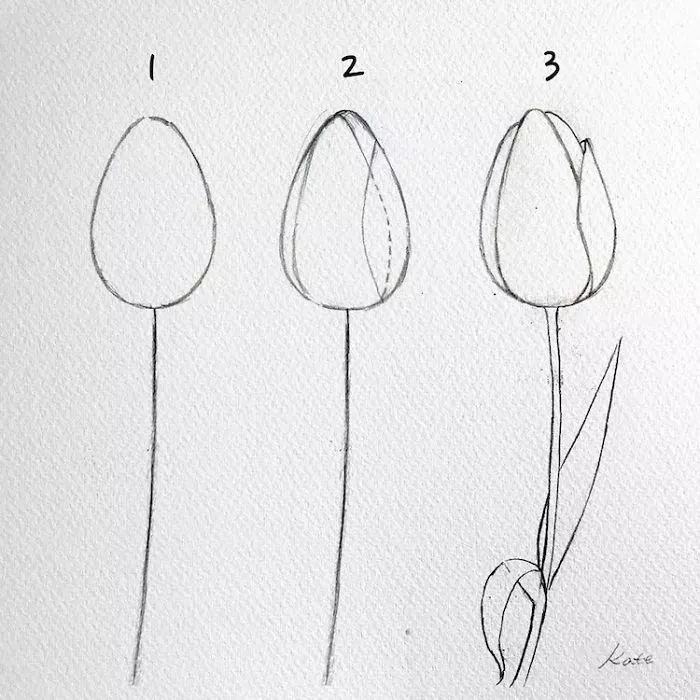 And here's what it looks like when it starts opening up and blooming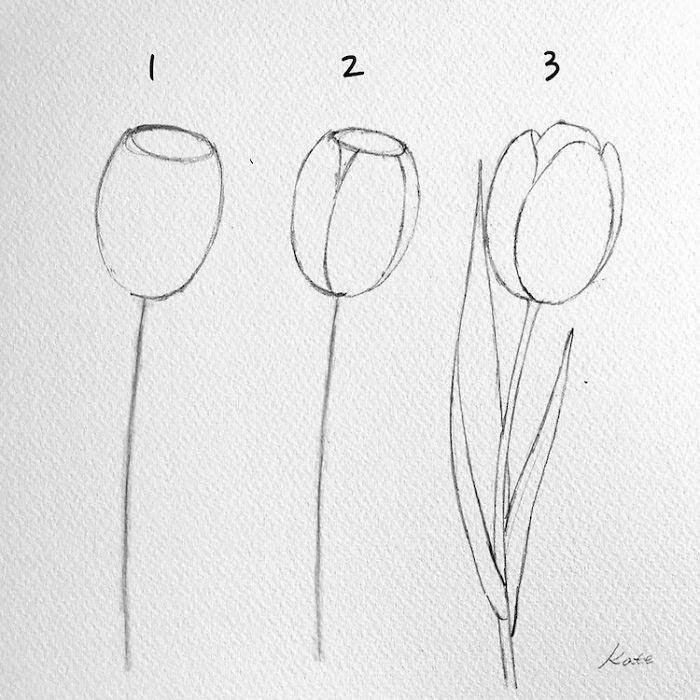 Just add some color and you have the perfect painting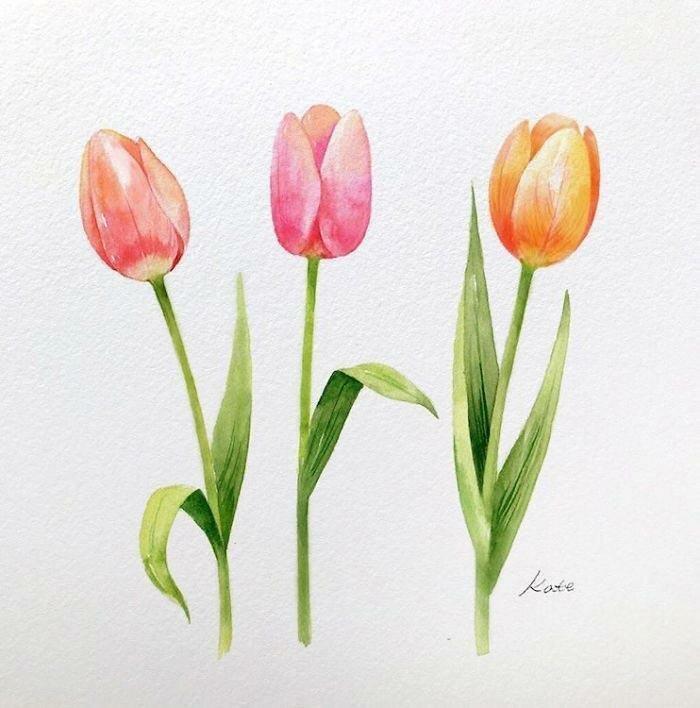 How to draw a daffodil from a perspective view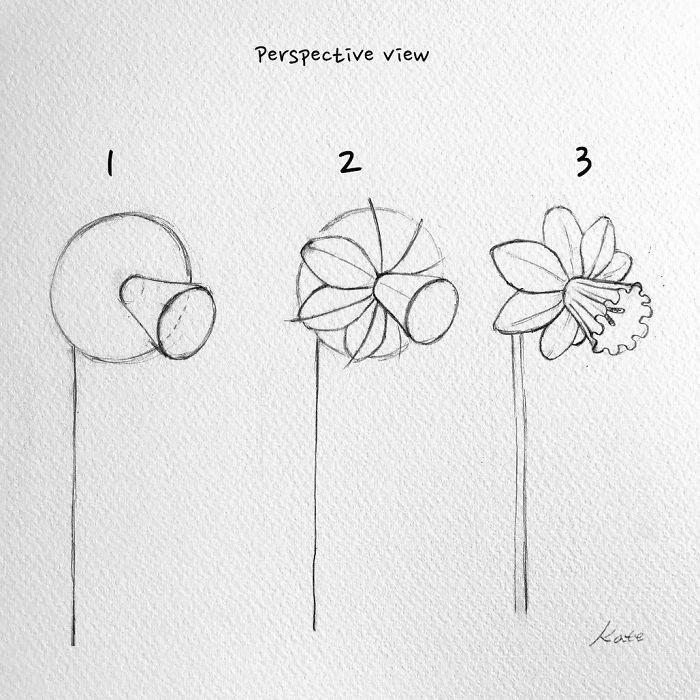 Here is a side view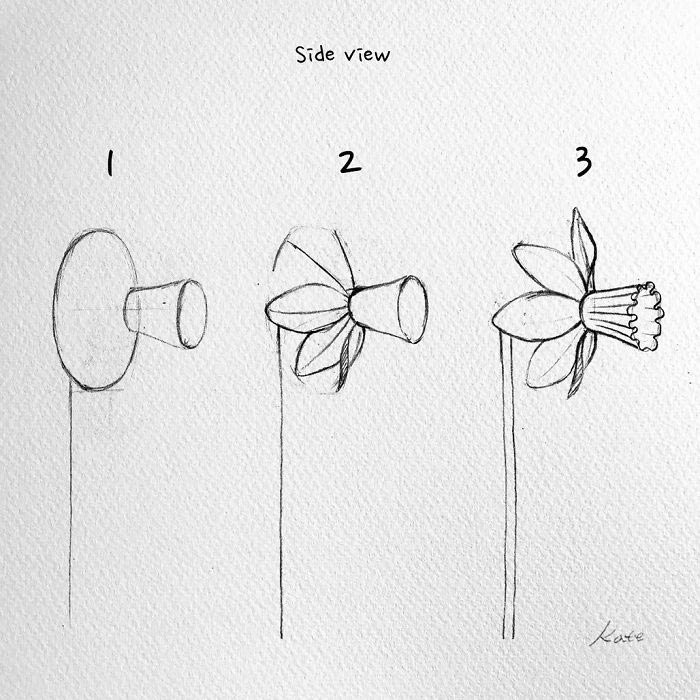 As well as a front view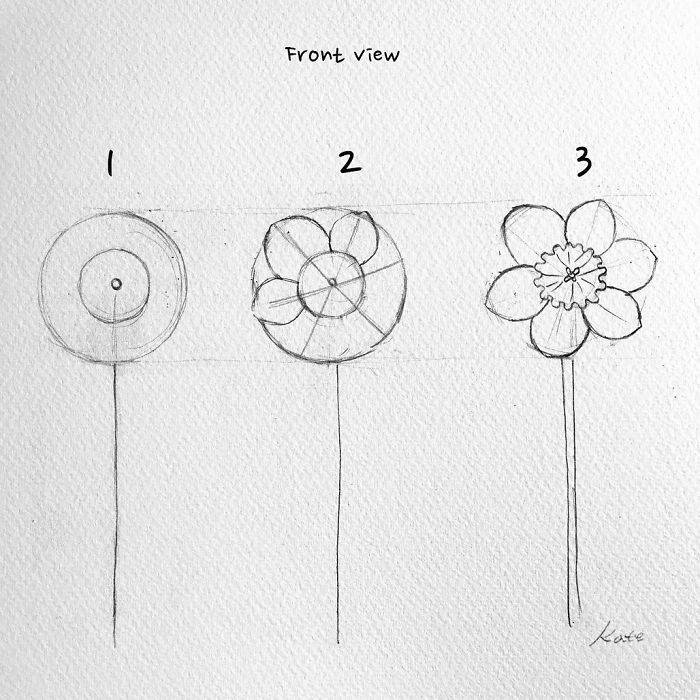 The final sketch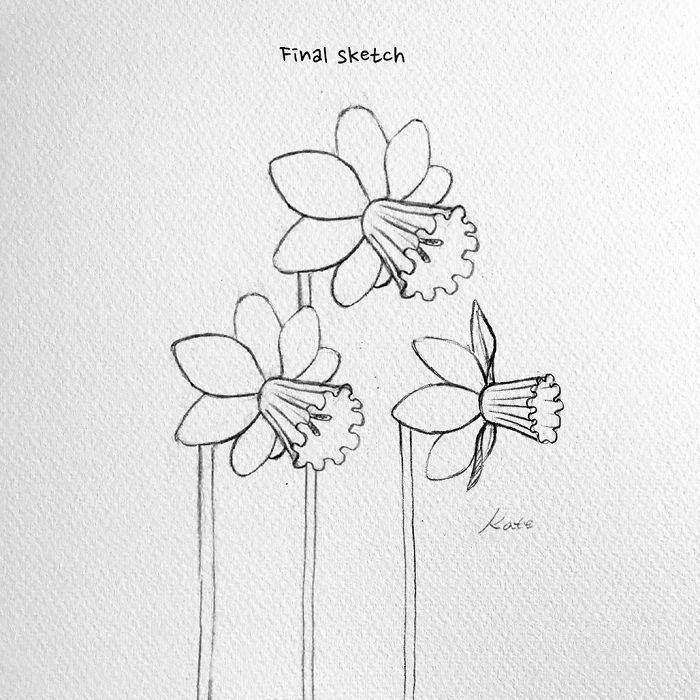 And the stunning colored version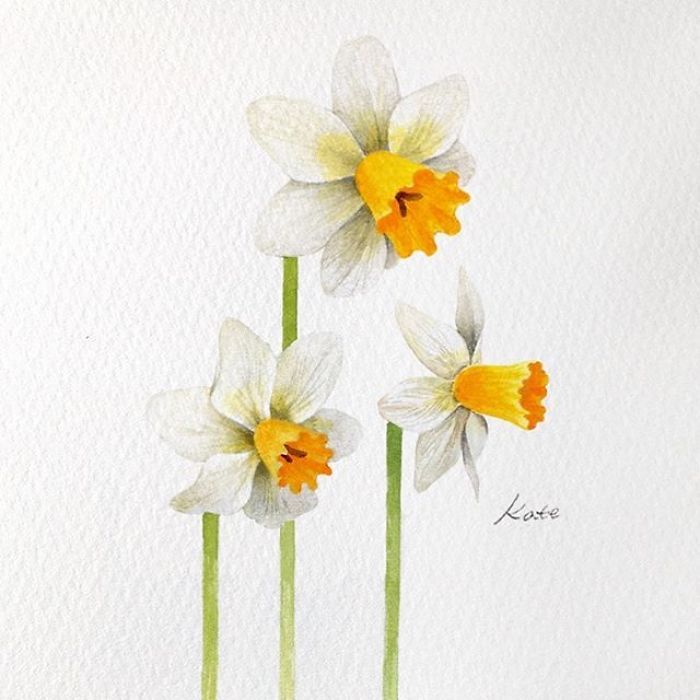 Just look at this simple and stunning drawing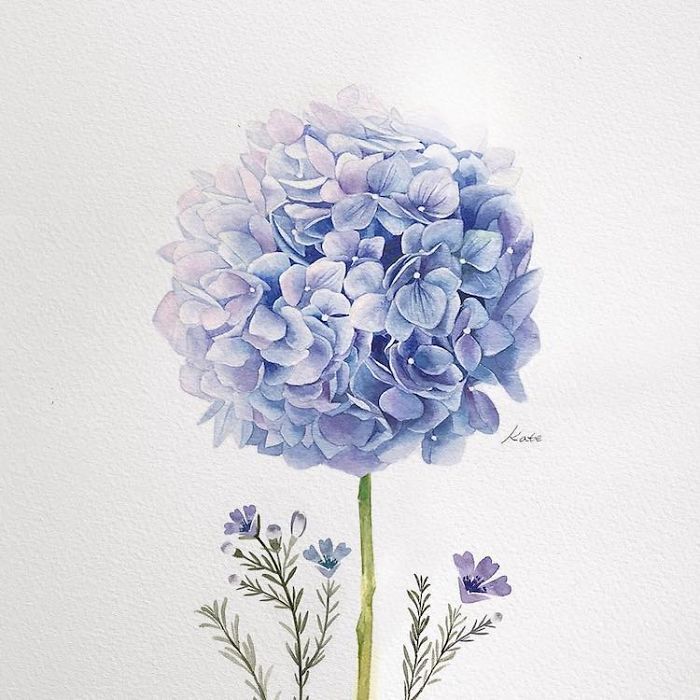 Add a few butterflies for an extra effect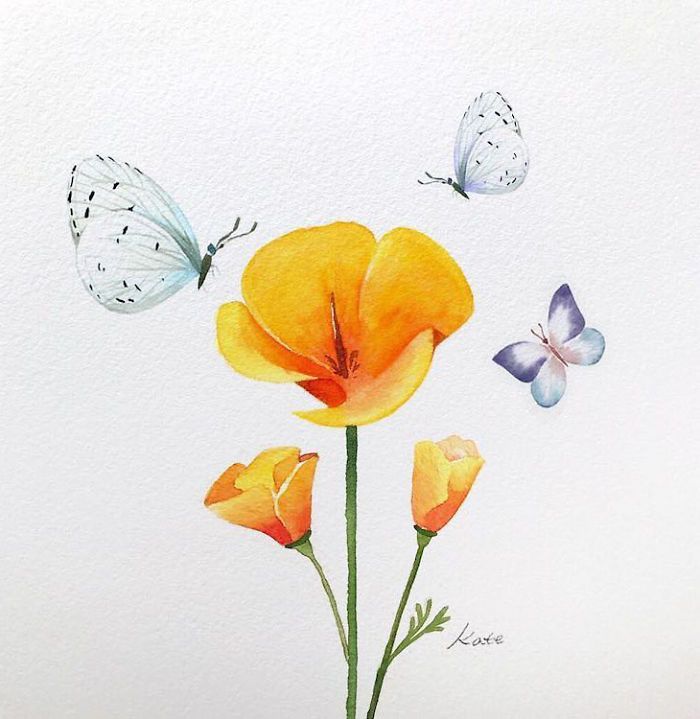 Even the simplest things might look beautiful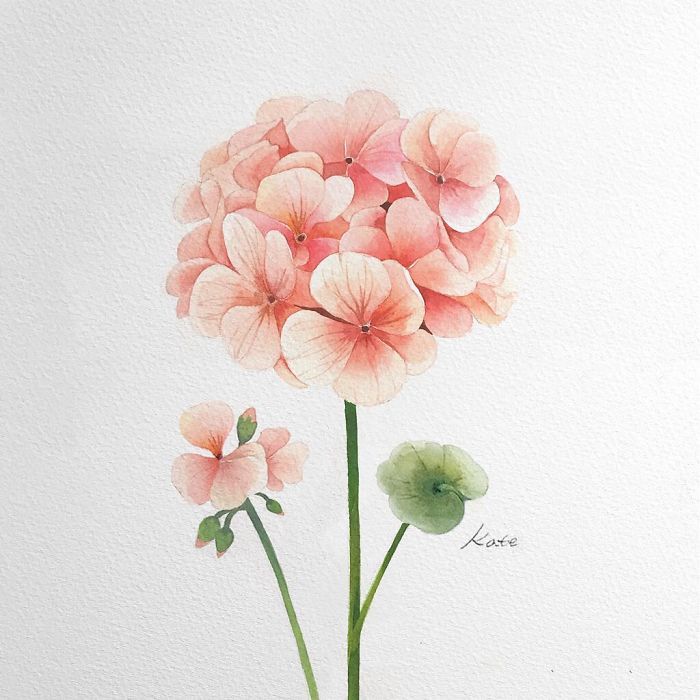 Bees and flowers go together perfectly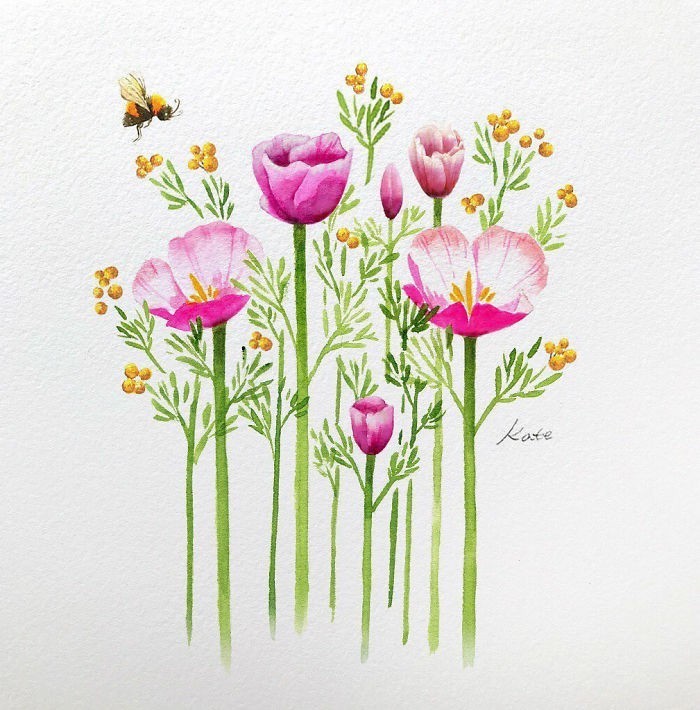 Beautiful sunflowers to remind you of summer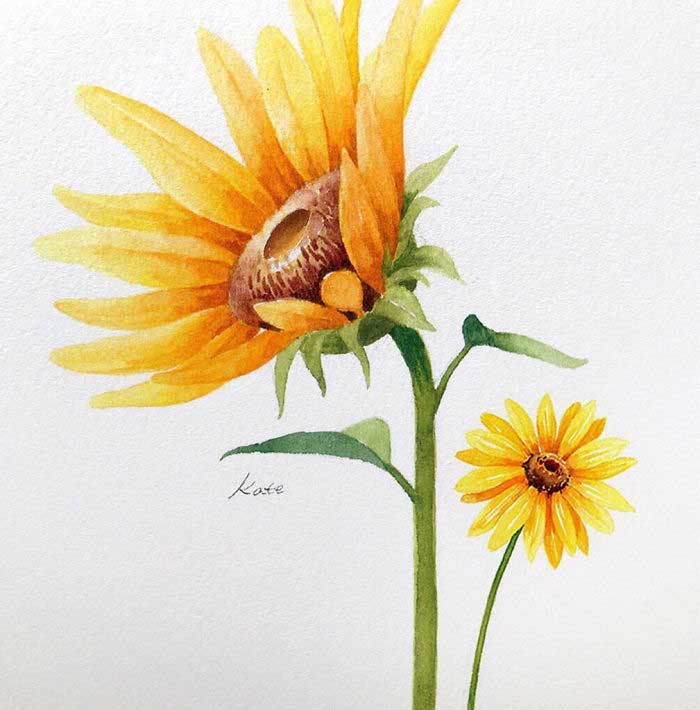 And, of course, her majesty, the rose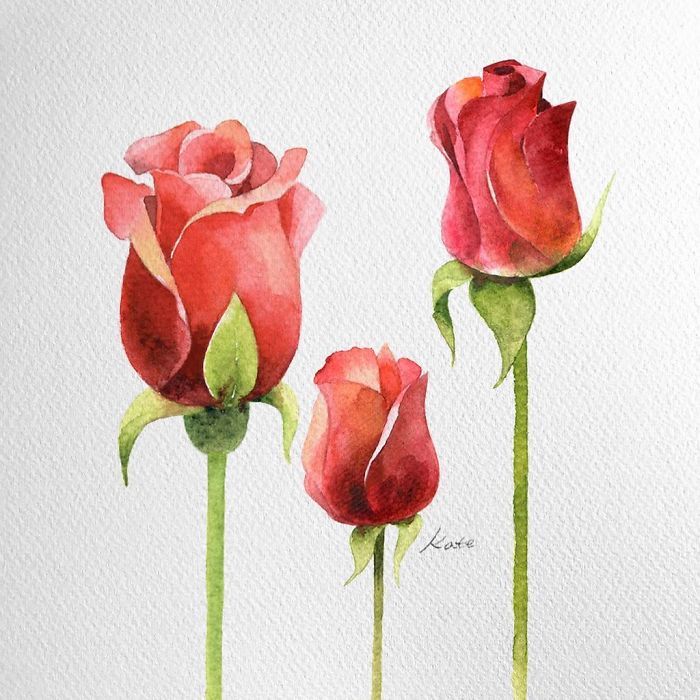 Minimalistic and breathtaking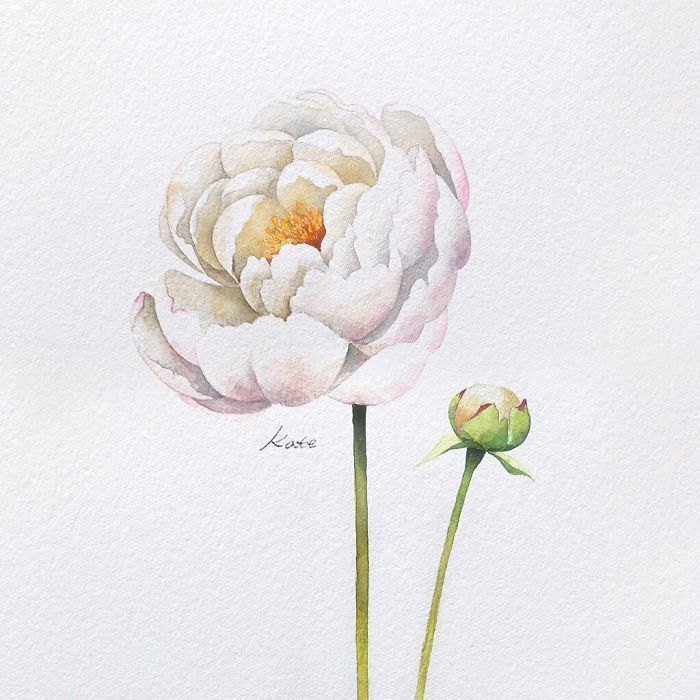 Beautiful painting you can decorate your home with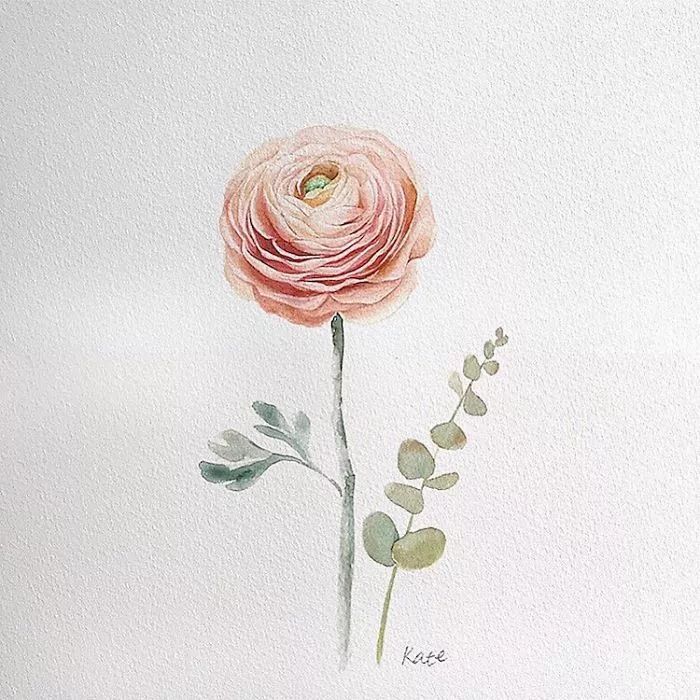 Now, browse through our marvellous collection of gorgeous drawings and paintings of flowers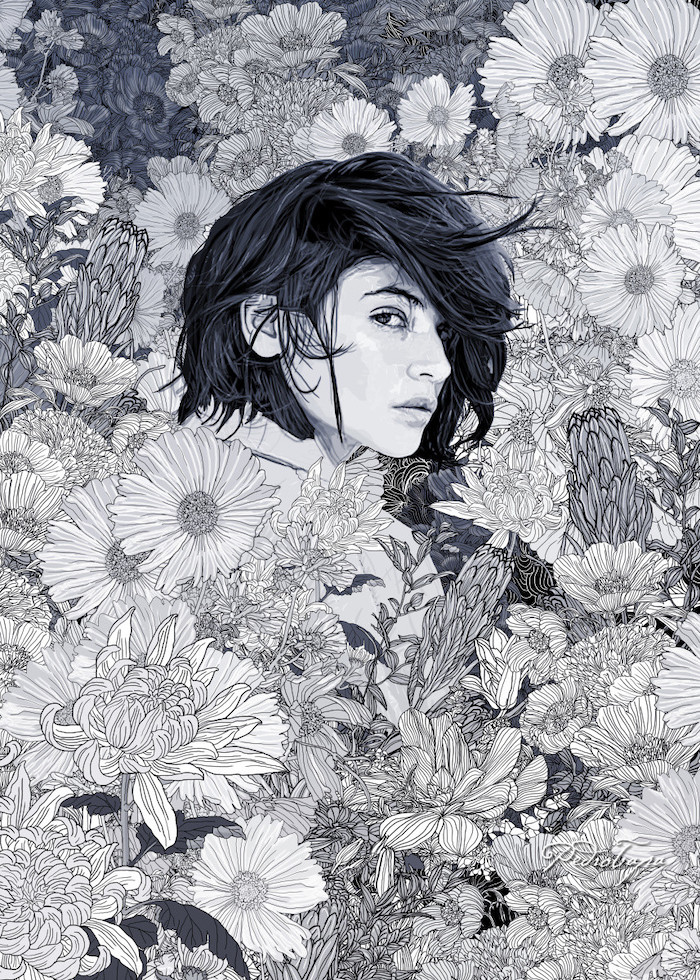 Gorgeous watercolor artwork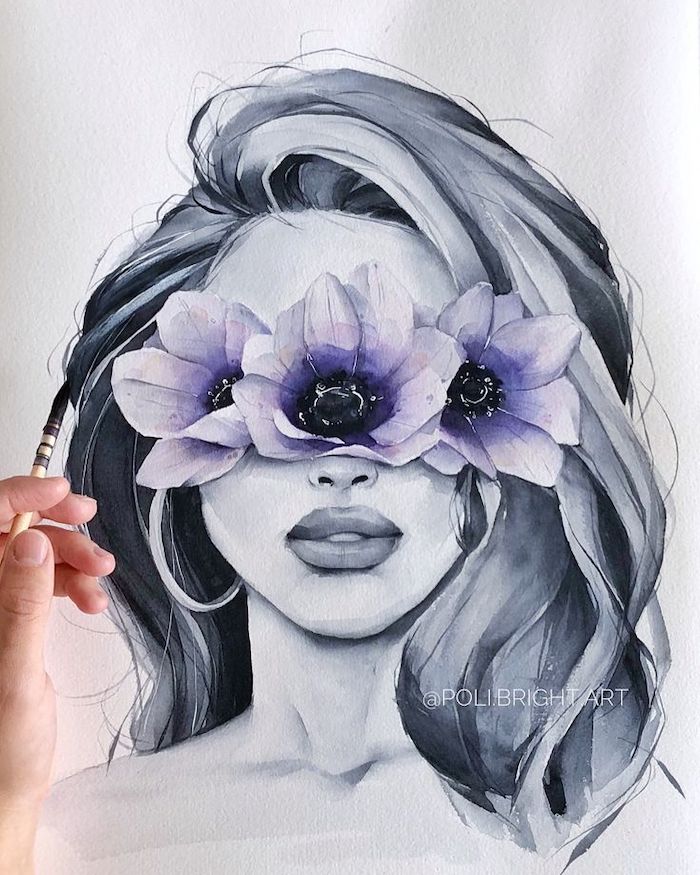 Which one is real and which one is drawn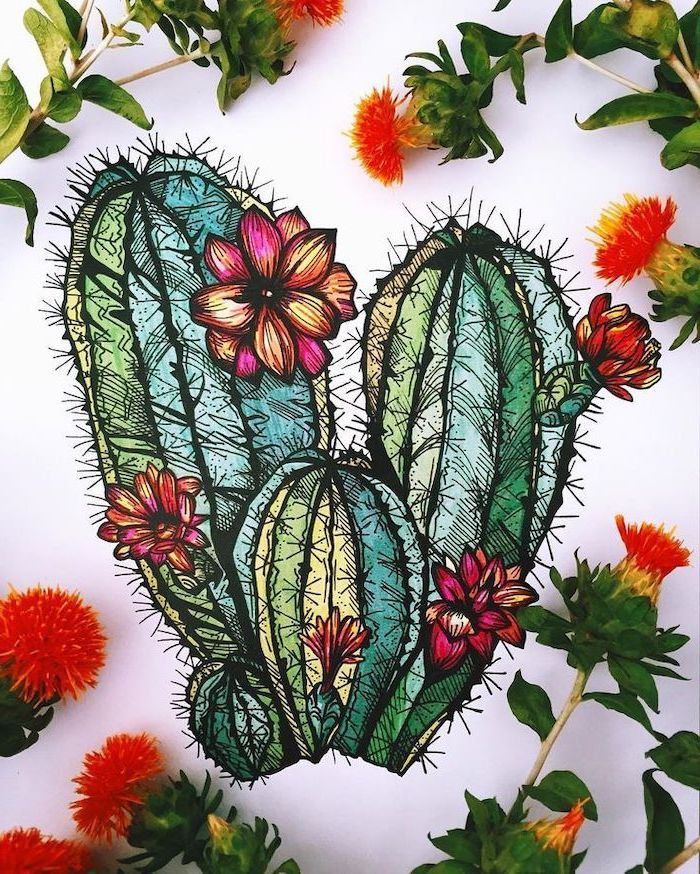 These flowers are almost life-like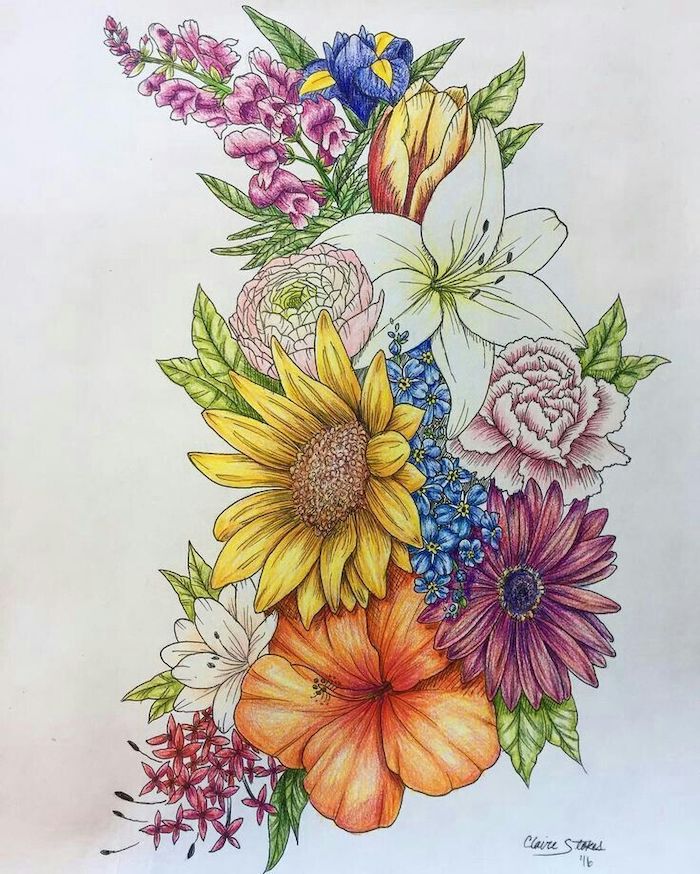 Creepy and beautiful at the same time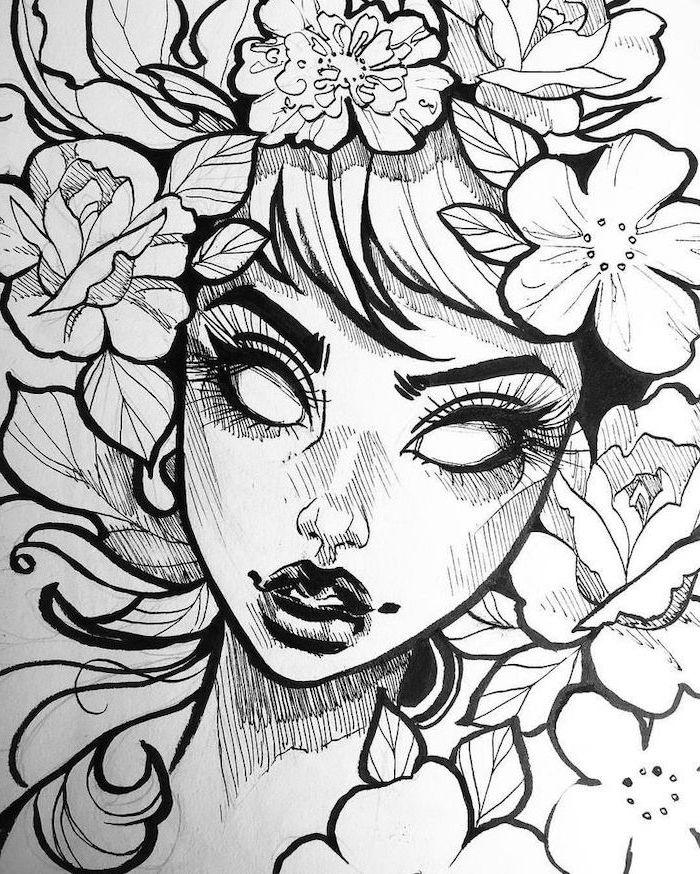 Stunning pencil sketch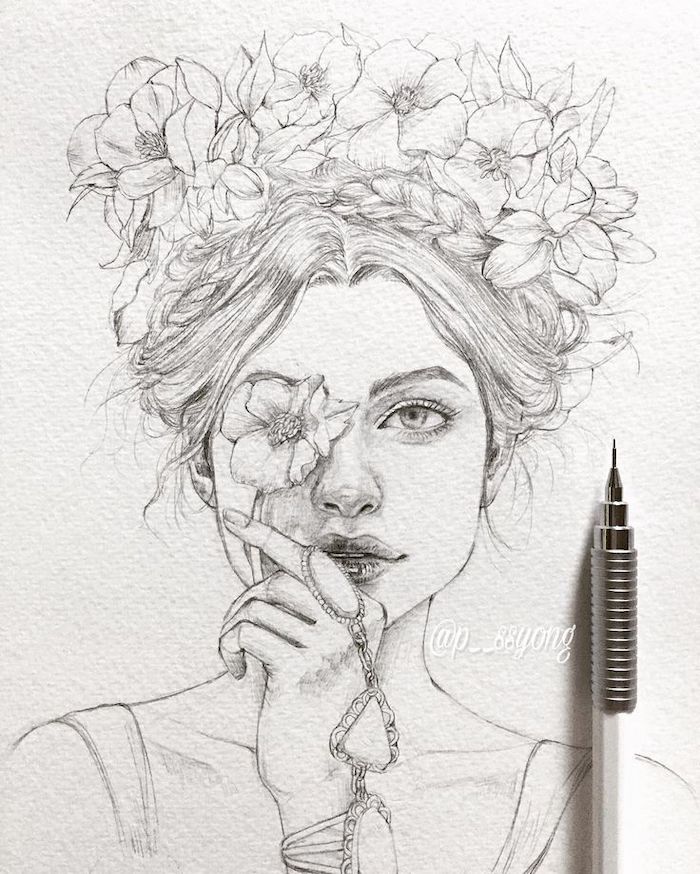 How to draw a rose step by step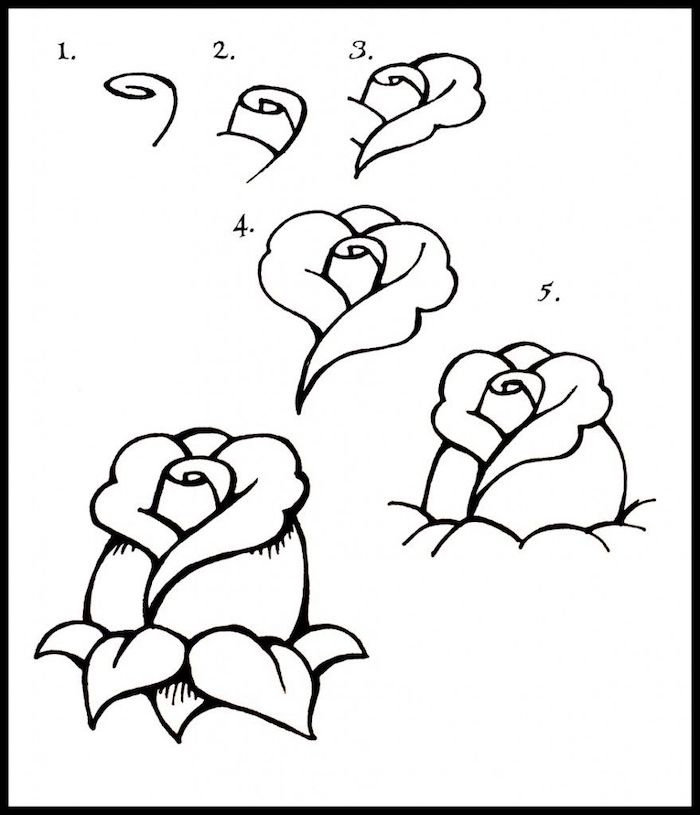 The three stages of a blooming rose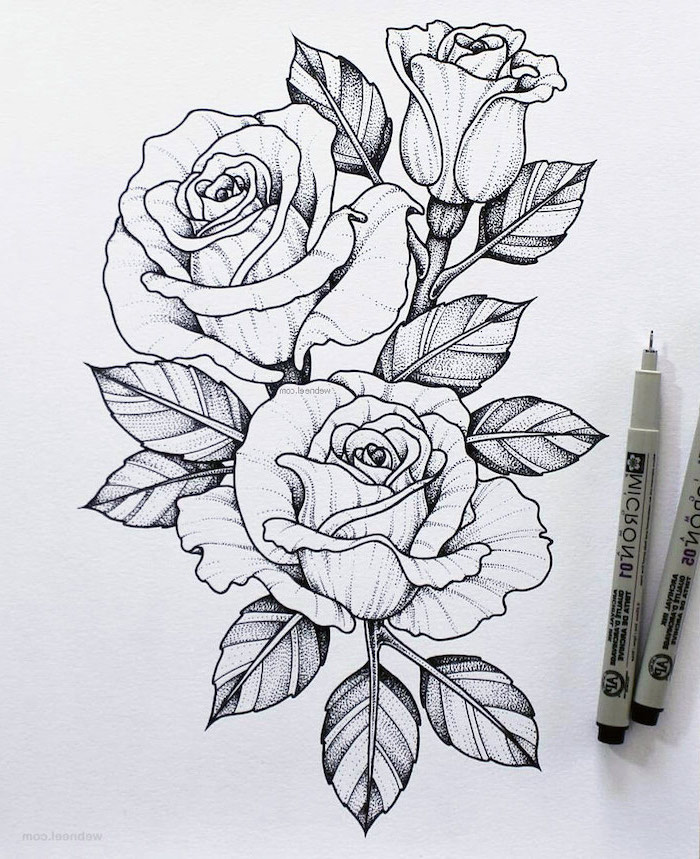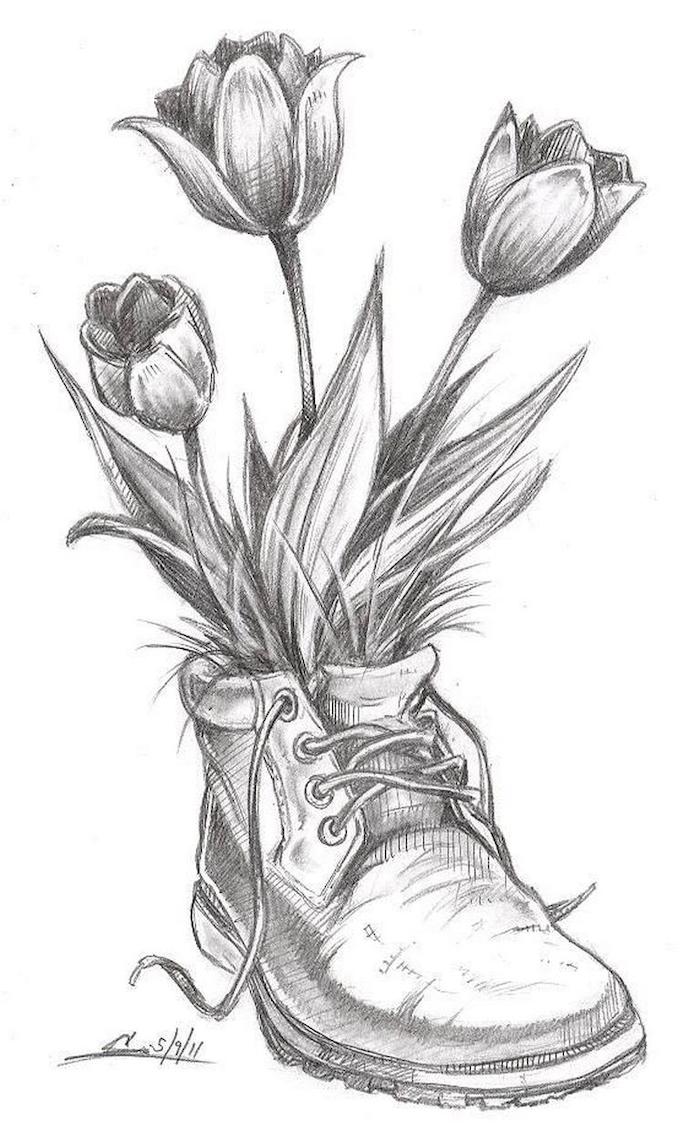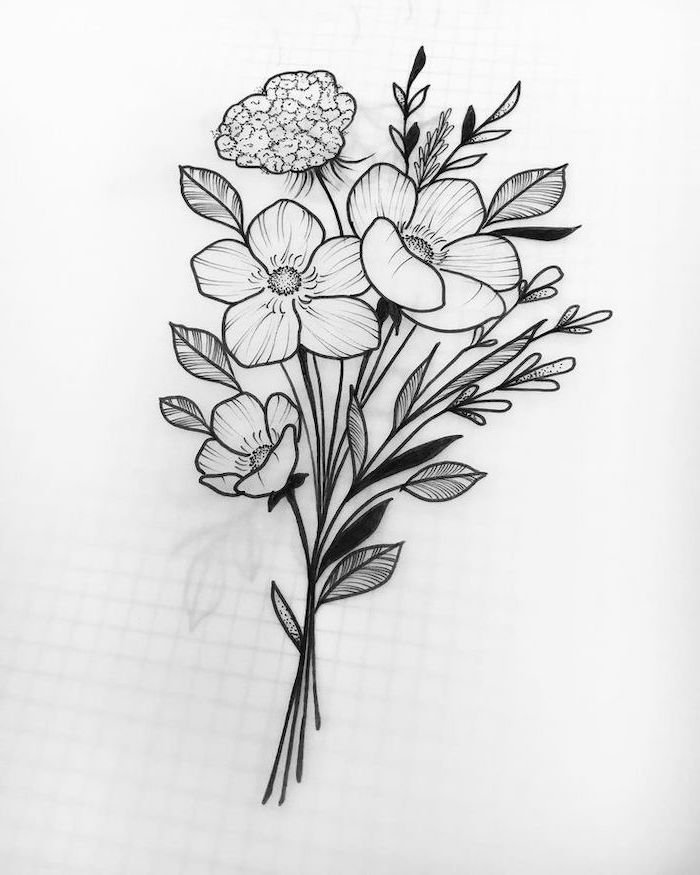 Look at this beautiful watercolor lavender bouquet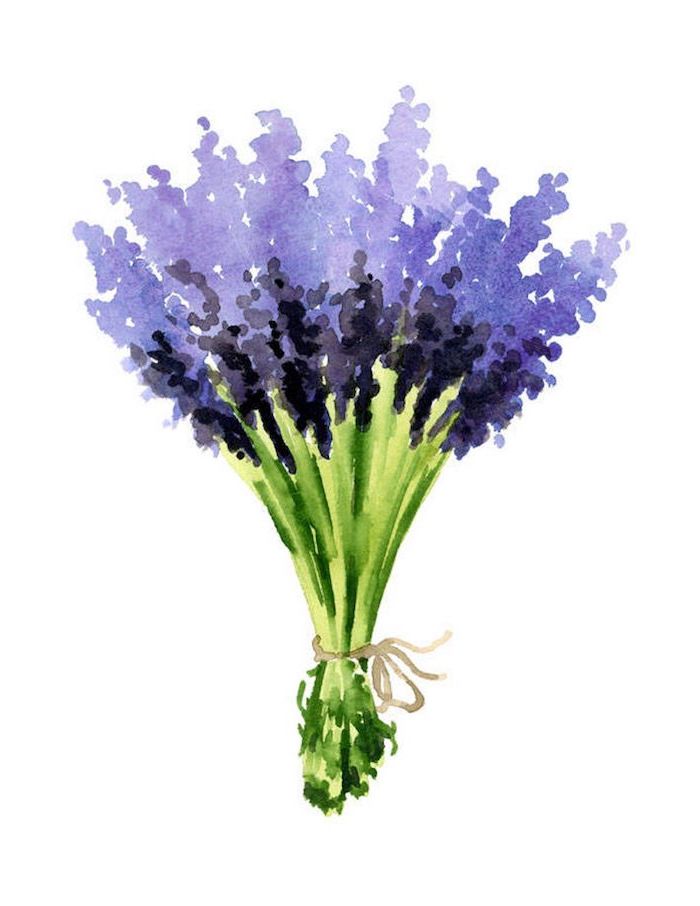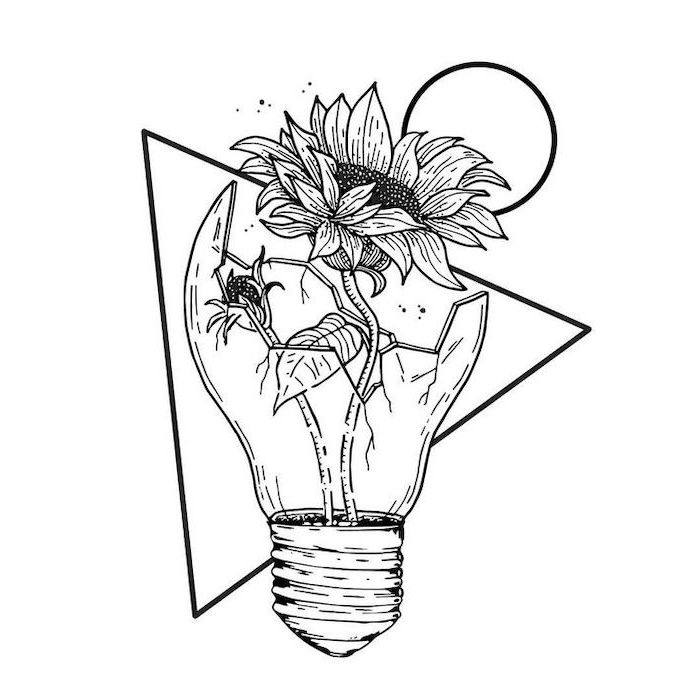 Gorgeous flower bouquet in a vase made with pastel colors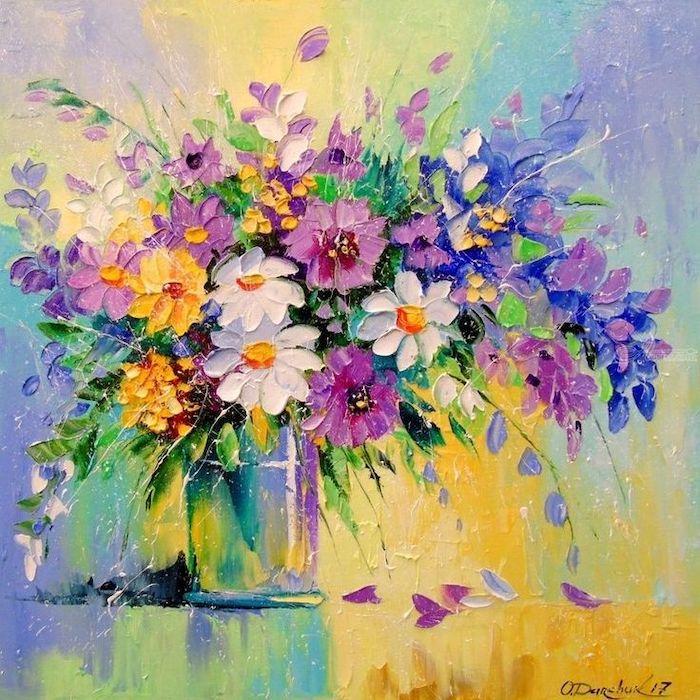 Daria Golab's "Buried in flowers"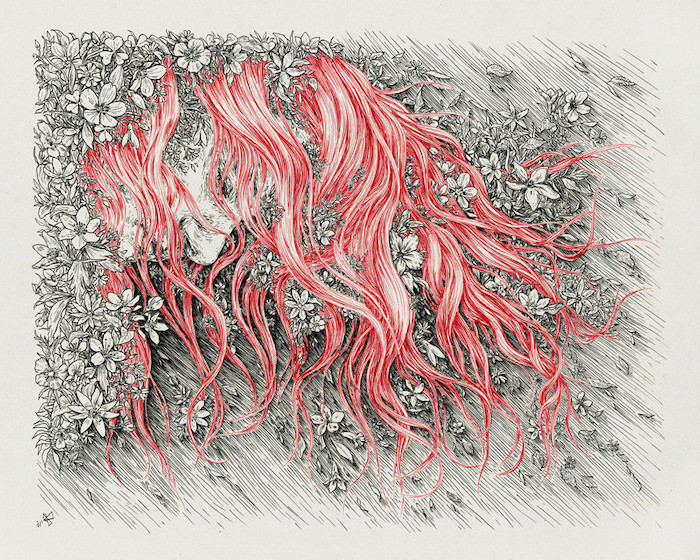 Different examples of colored flowers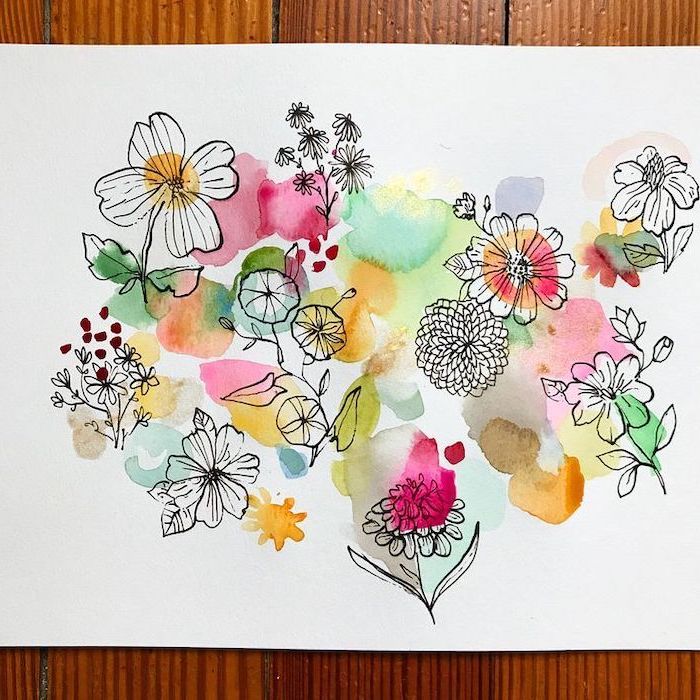 Why is this making me feel sad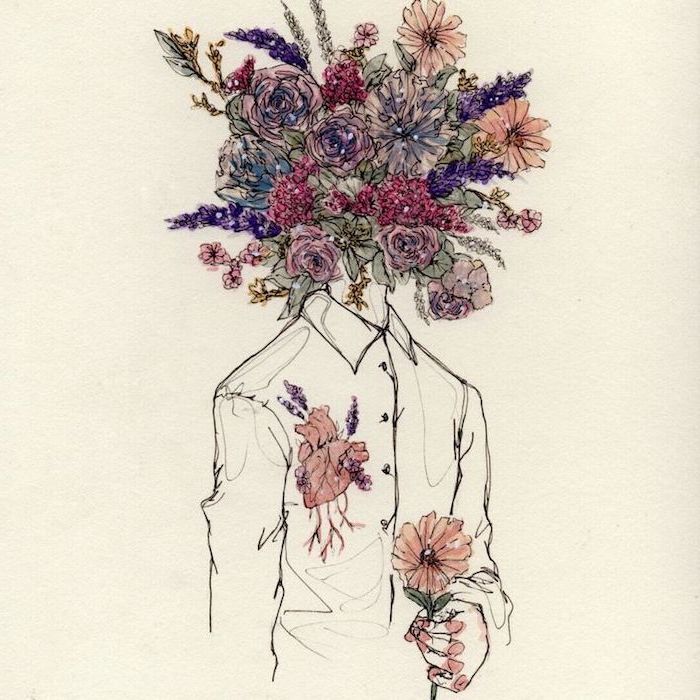 Absolutely stunning painting reminiscent of the jungle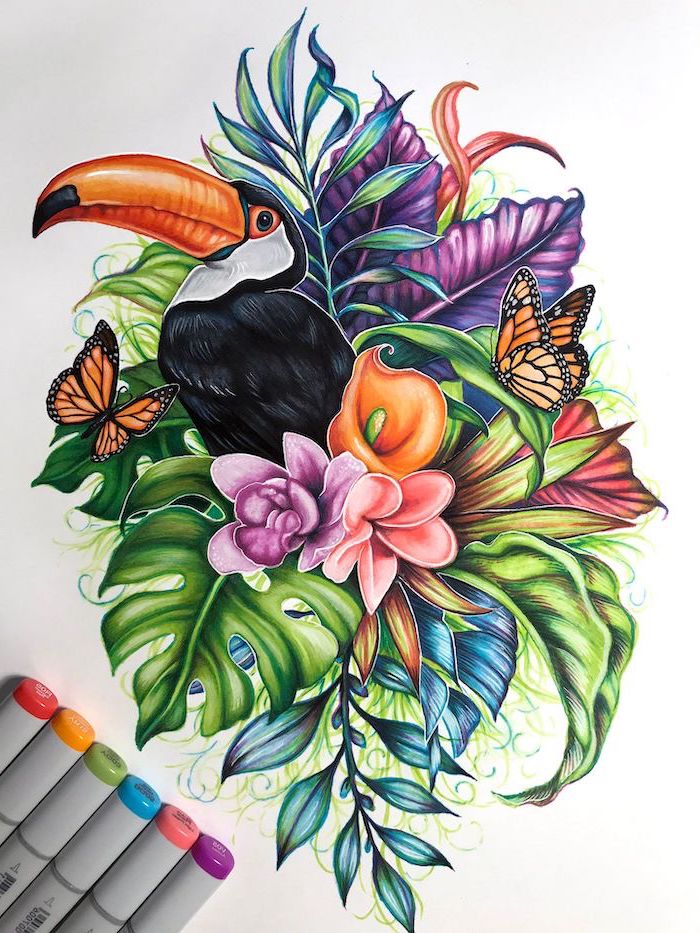 Sunflowers to make you remember summer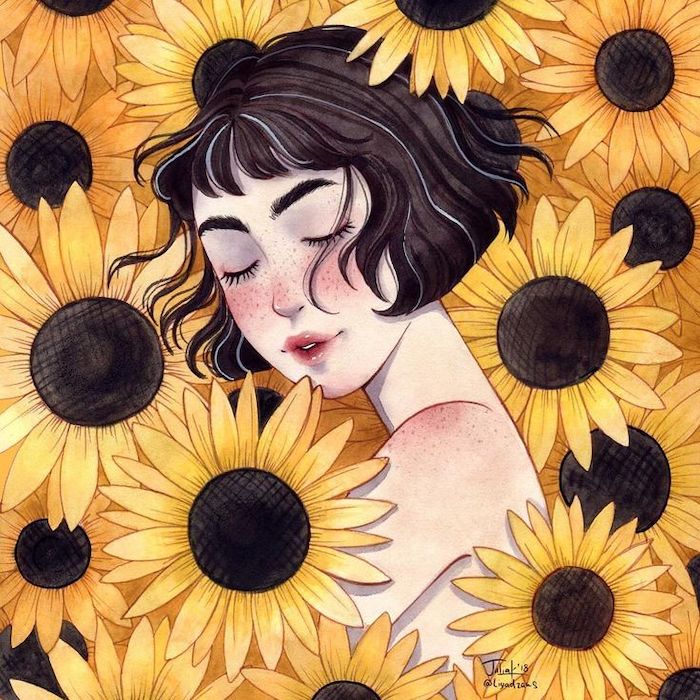 Even the simplest black and white drawings look beautiful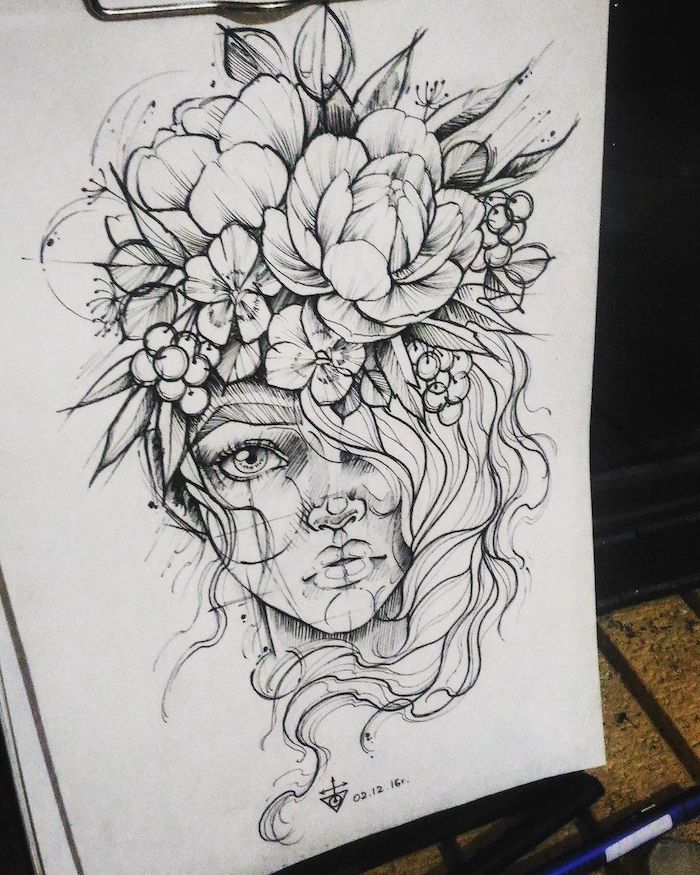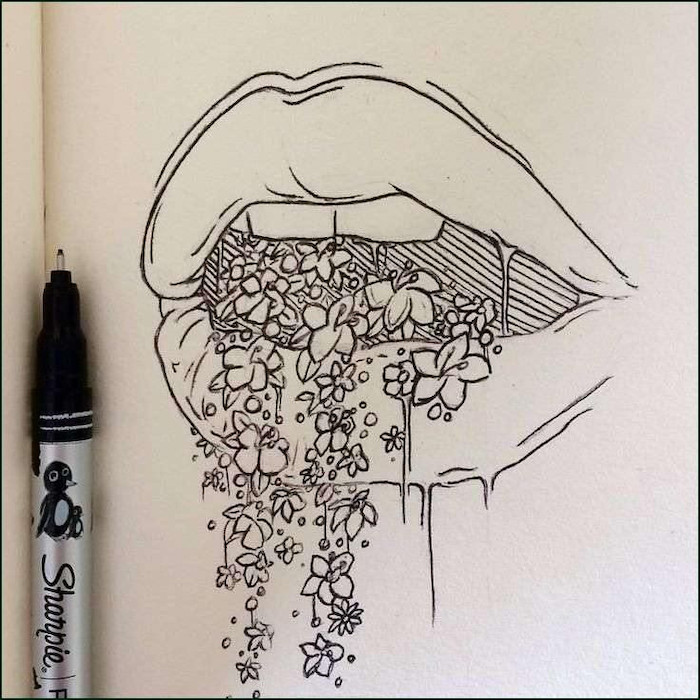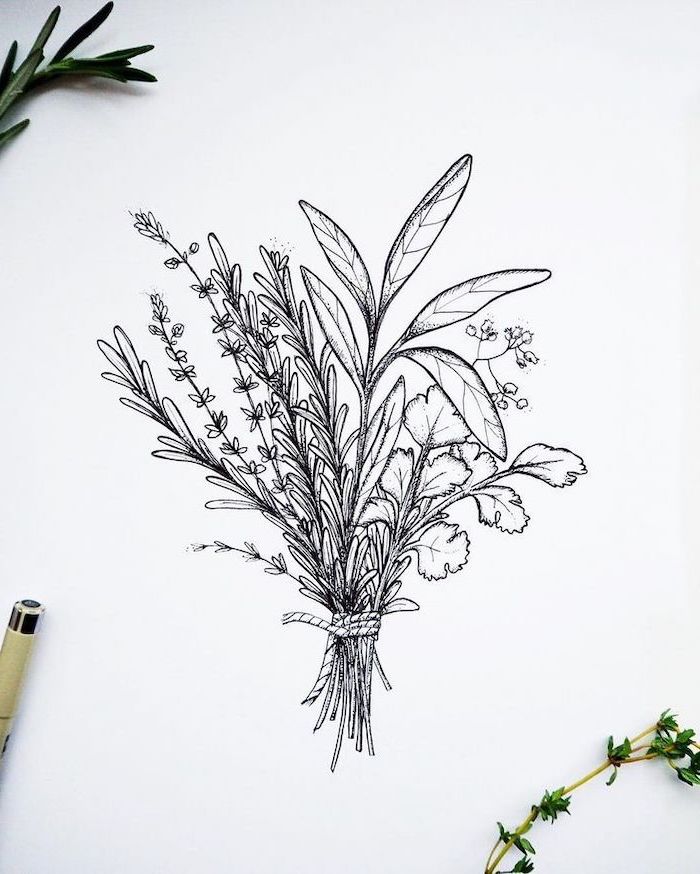 When you add a touch of color, the results are truly amazing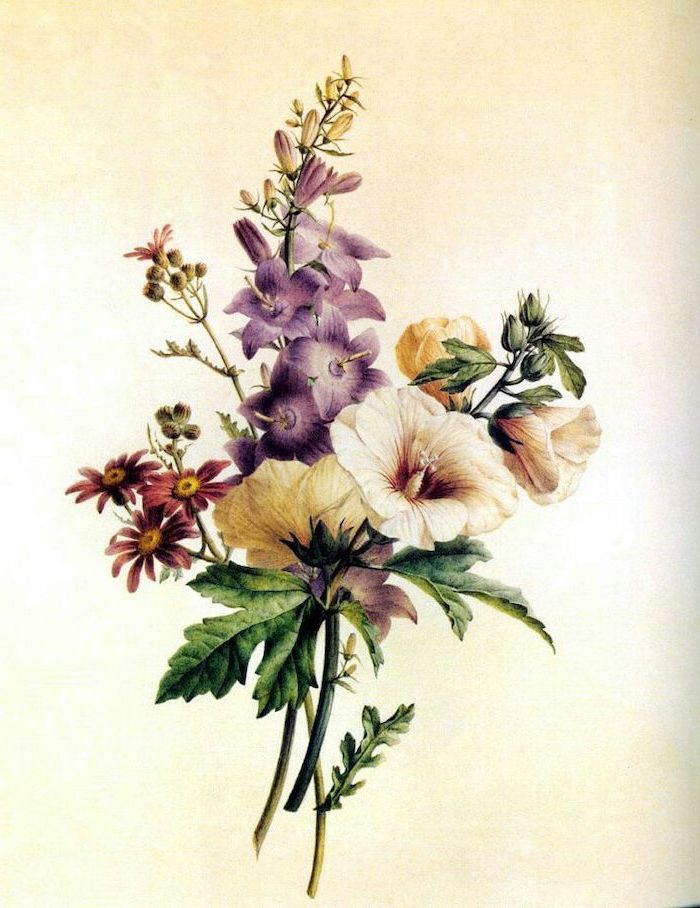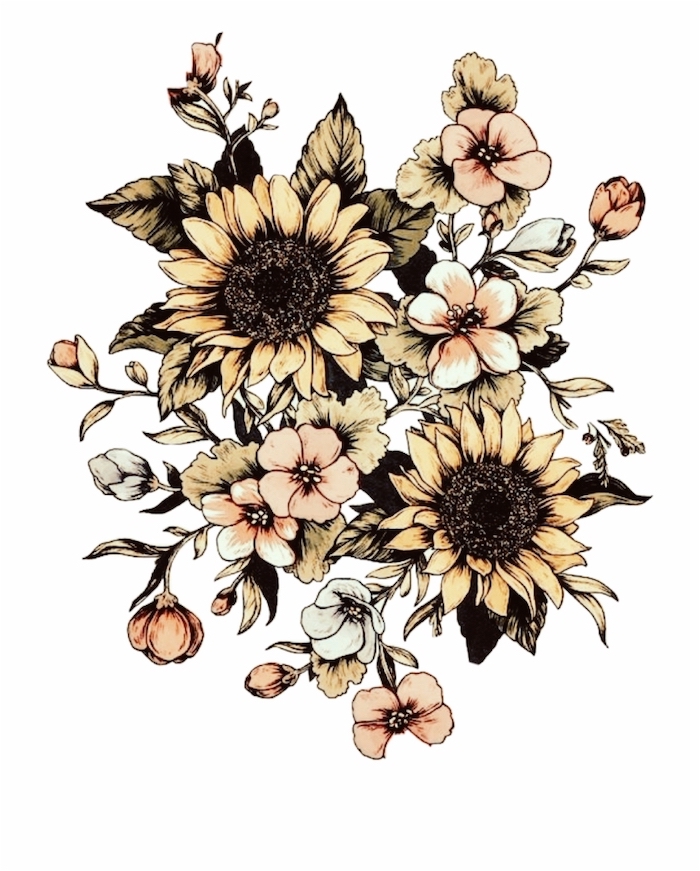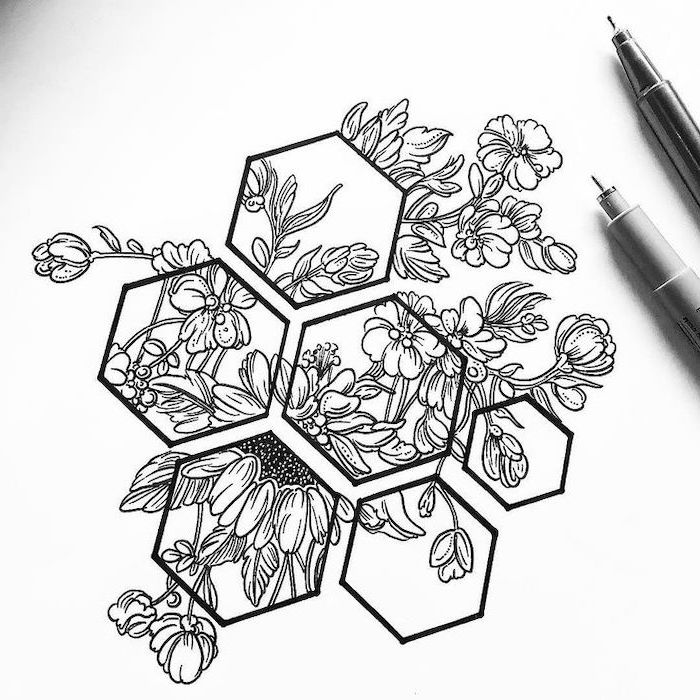 I would gladly adorn my walls with these pieces of art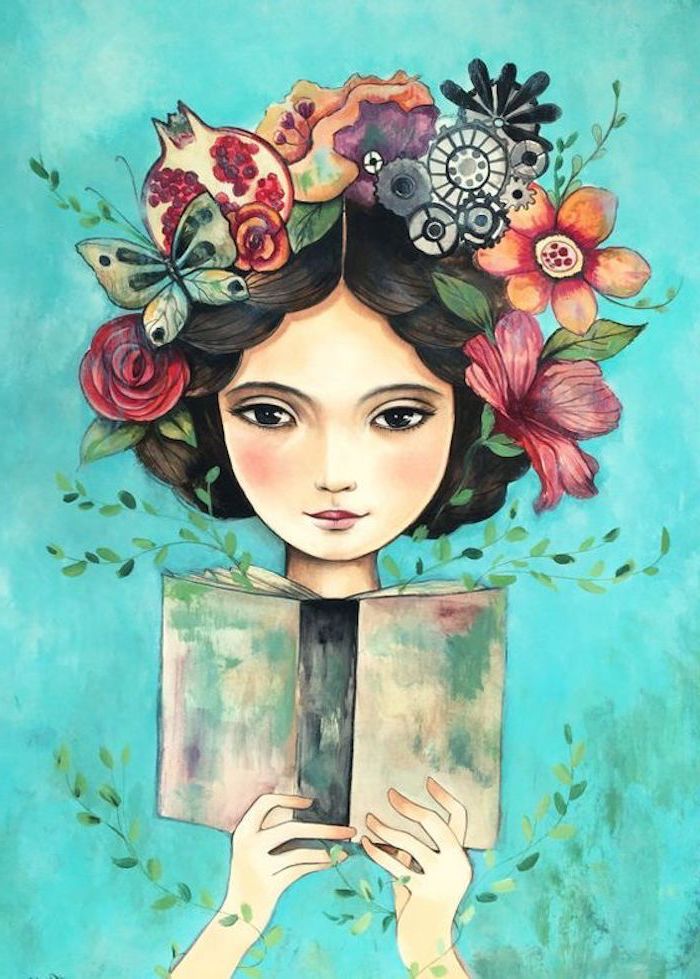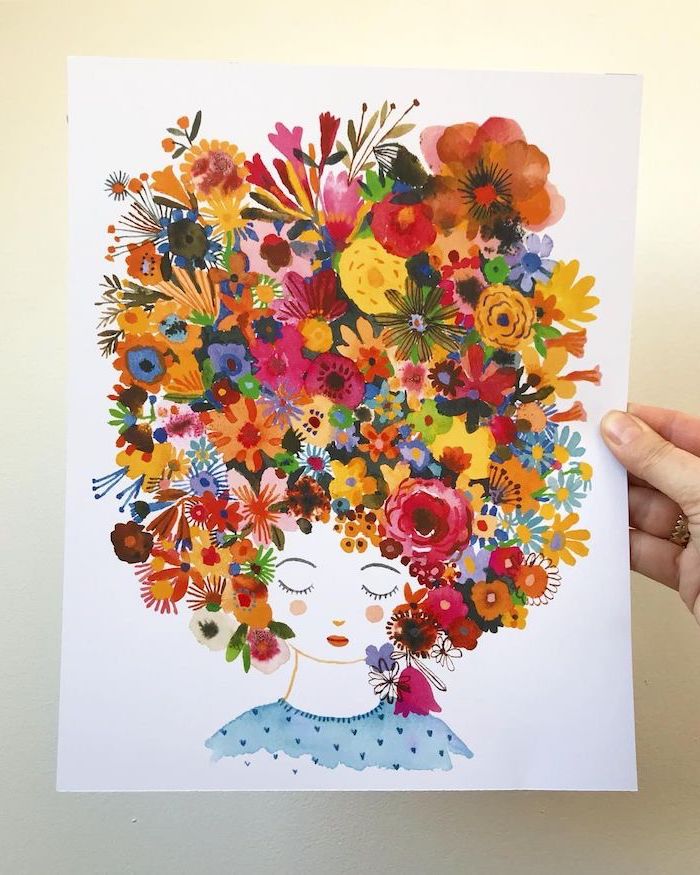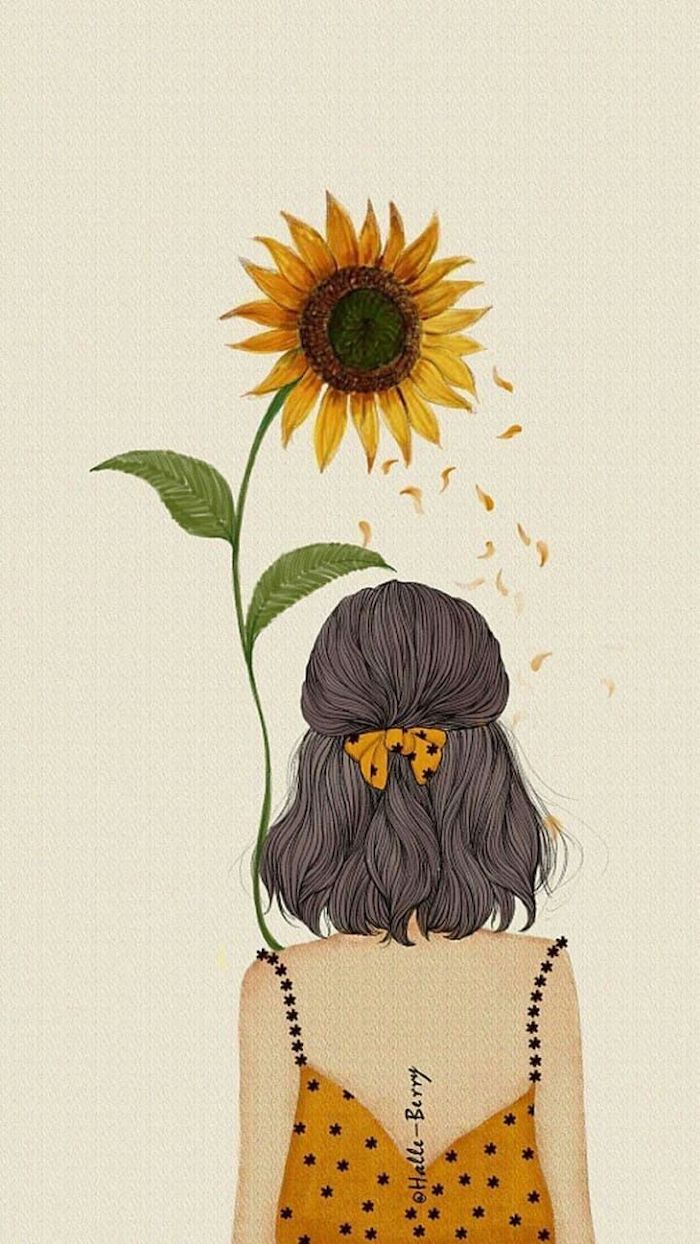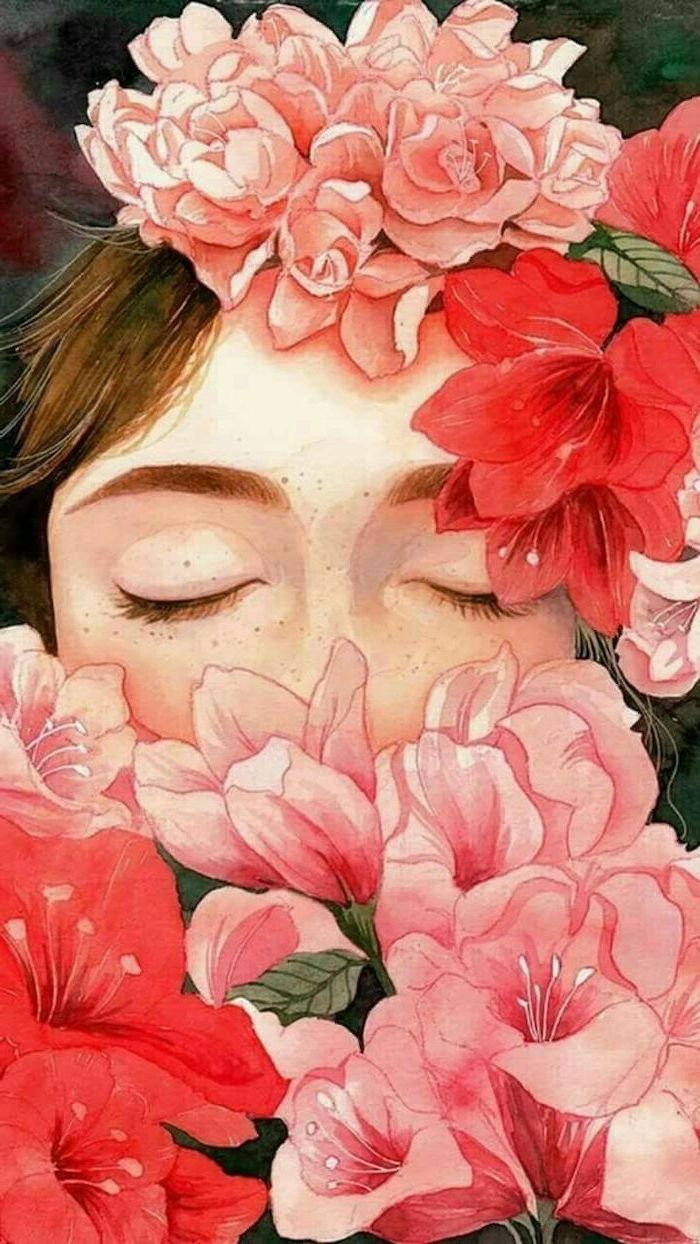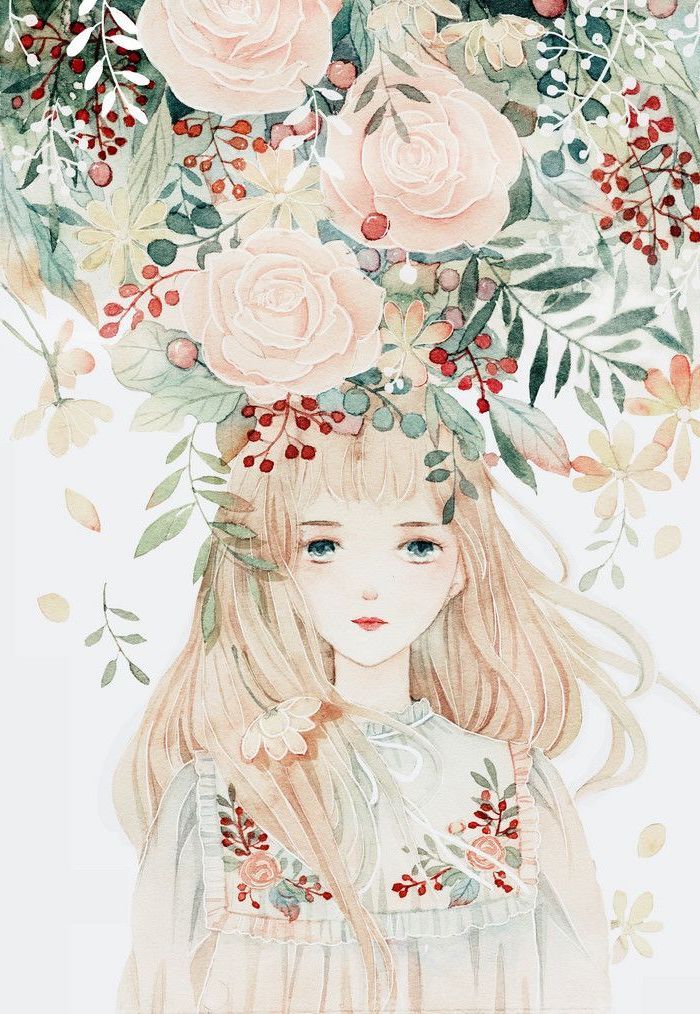 Step by step drawing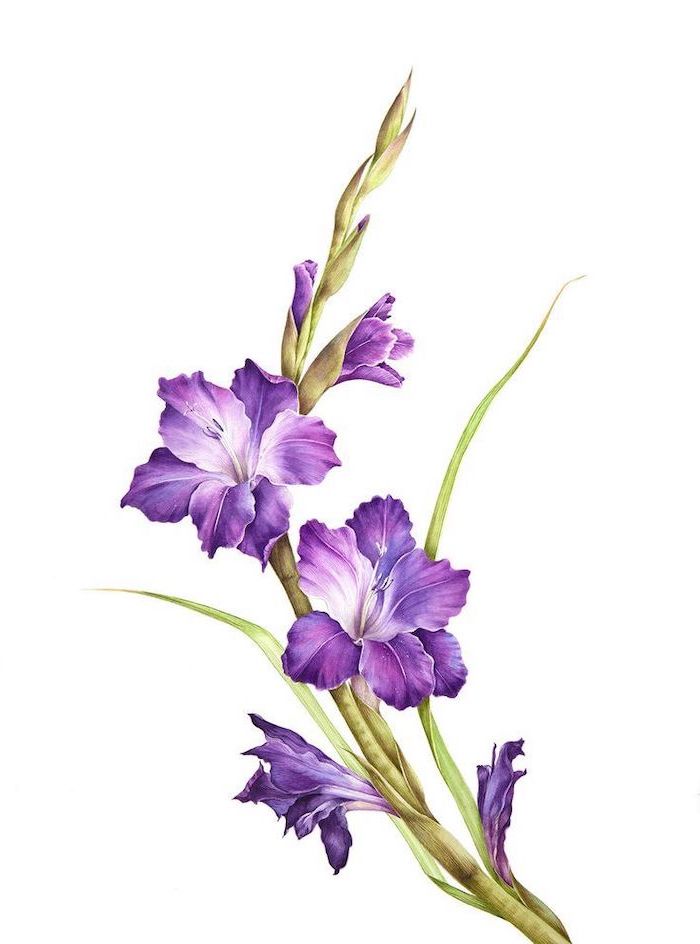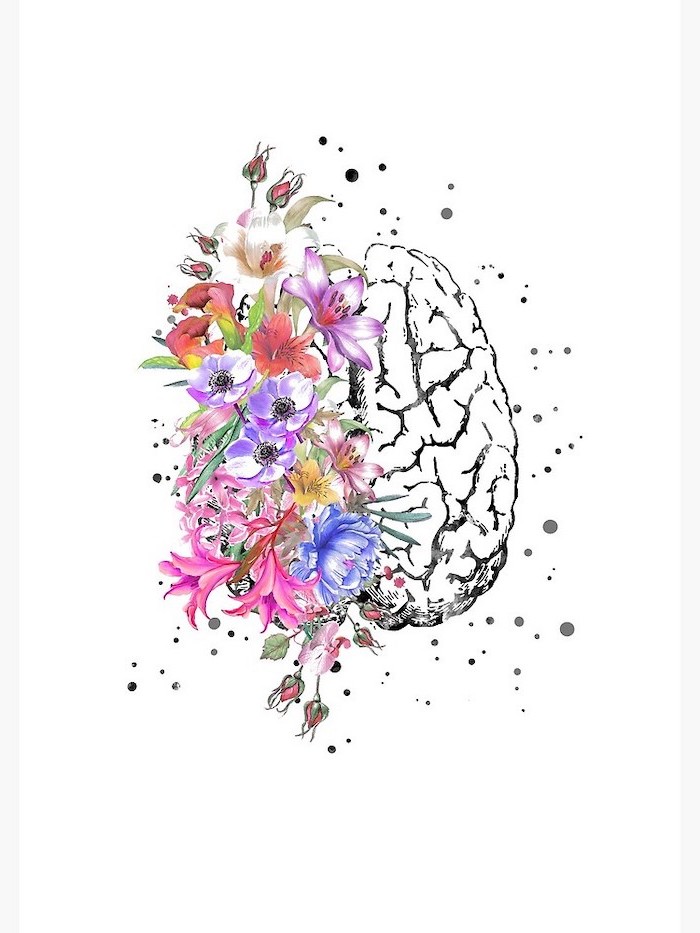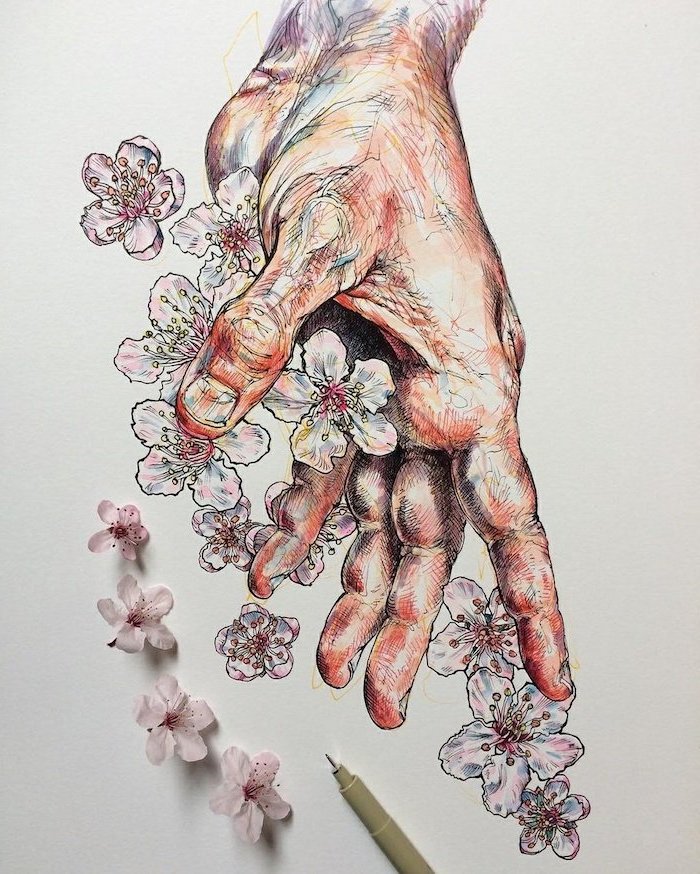 Easy pictures to draw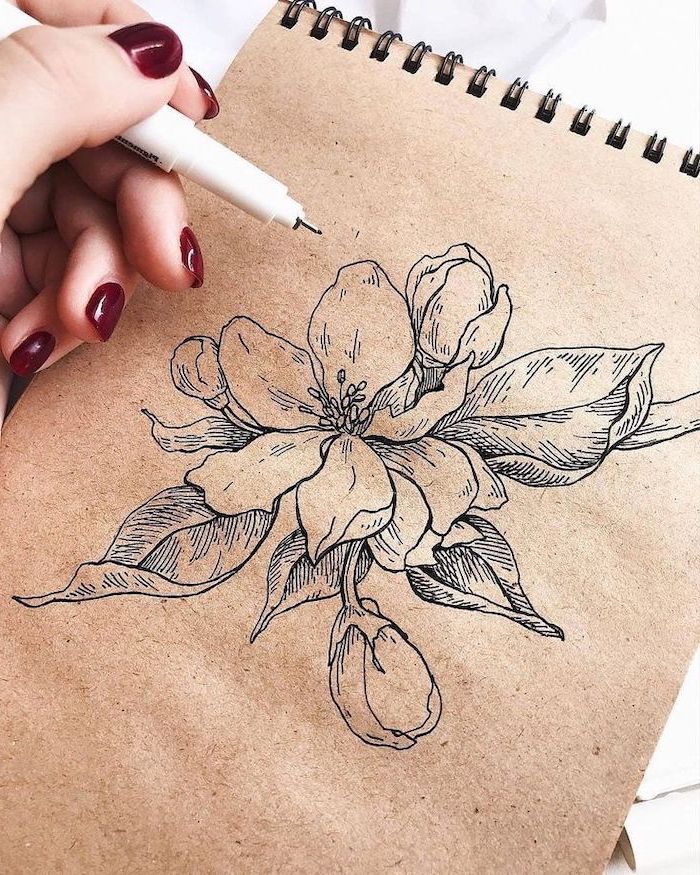 How to draw a daffodil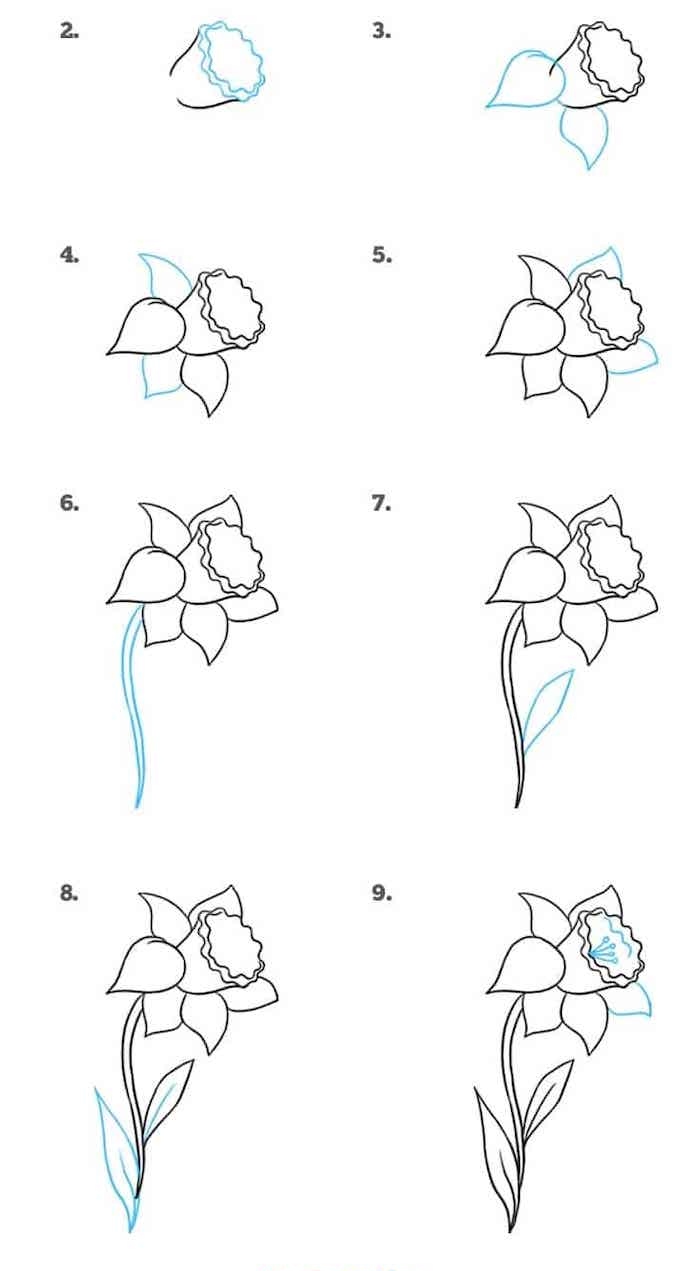 Another easy tutorial – how to draw a flower bouquet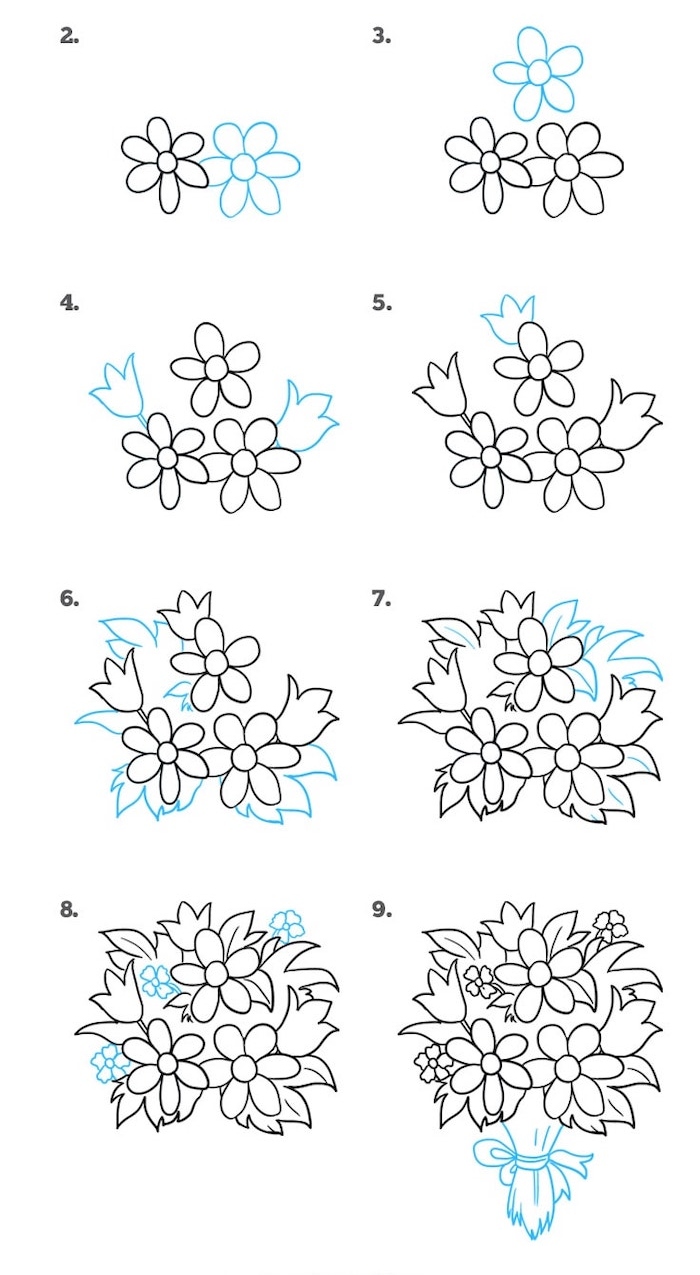 How to draw a flower step by step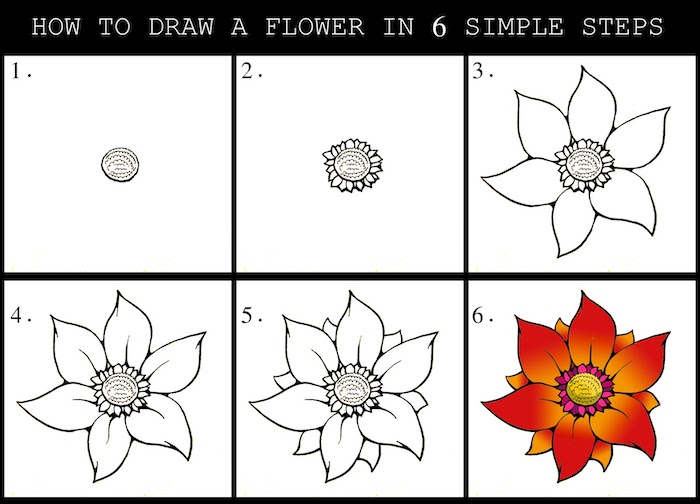 How to draw a flower easy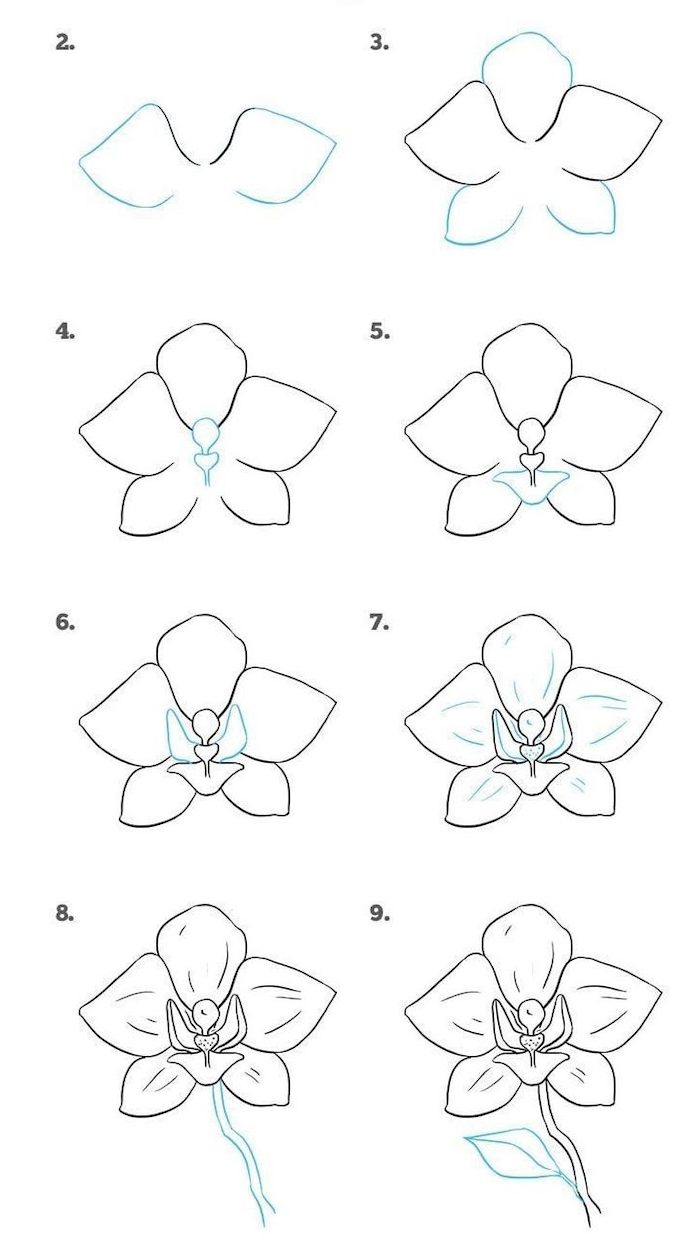 Does it get any simpler than that – simple flower drawing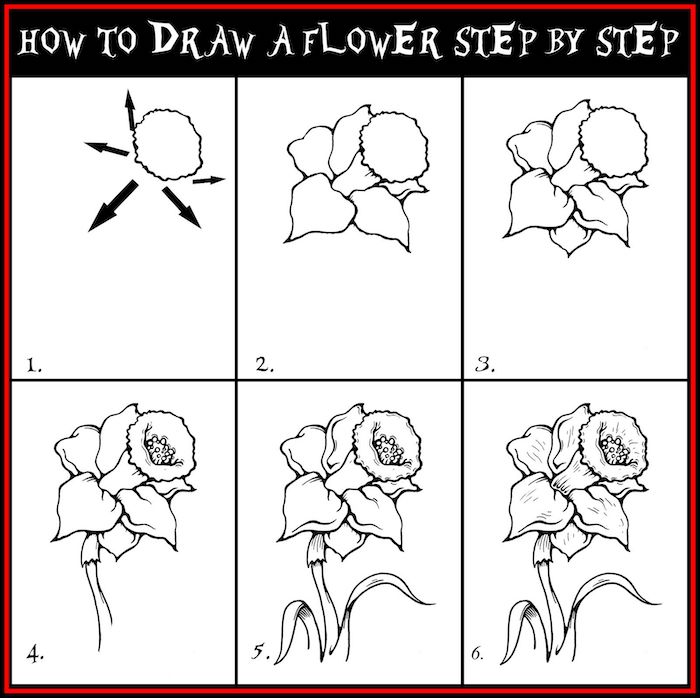 How to draw a poppy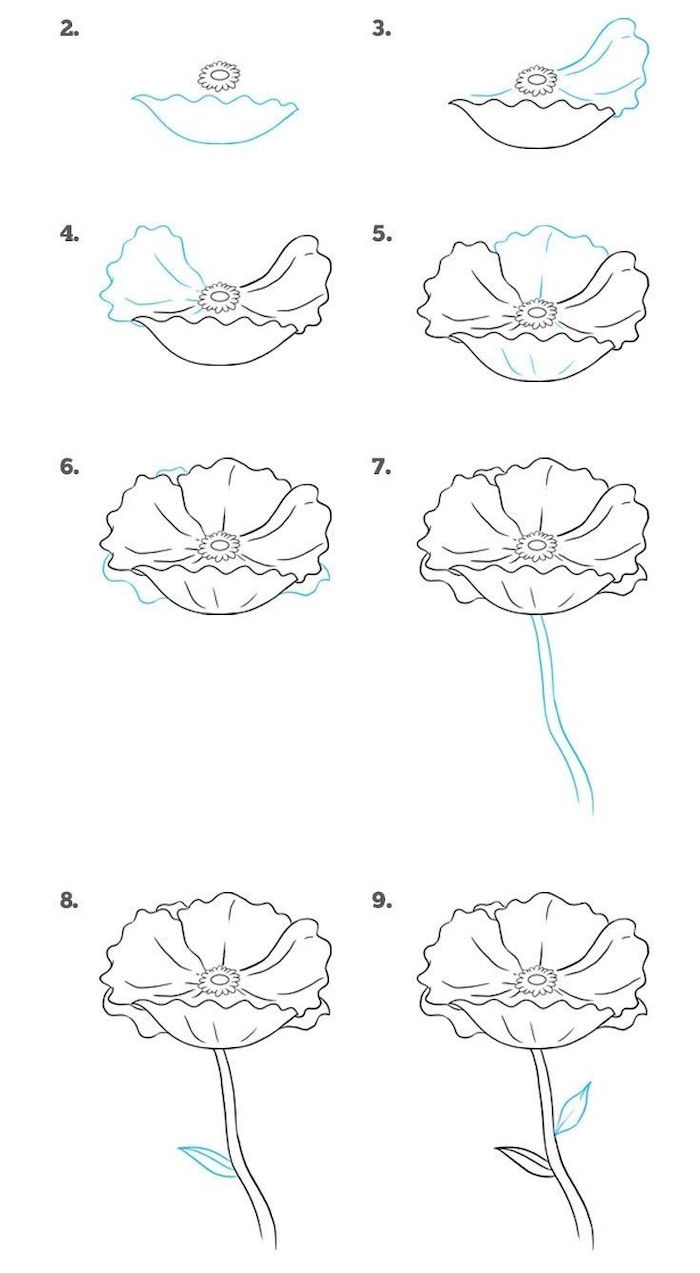 Cool designs to draw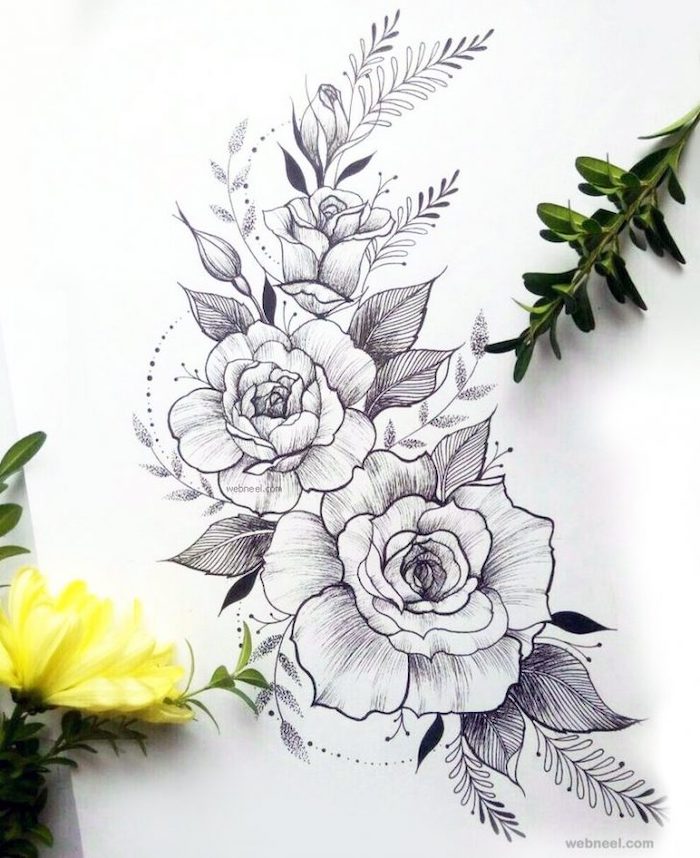 How to draw a lily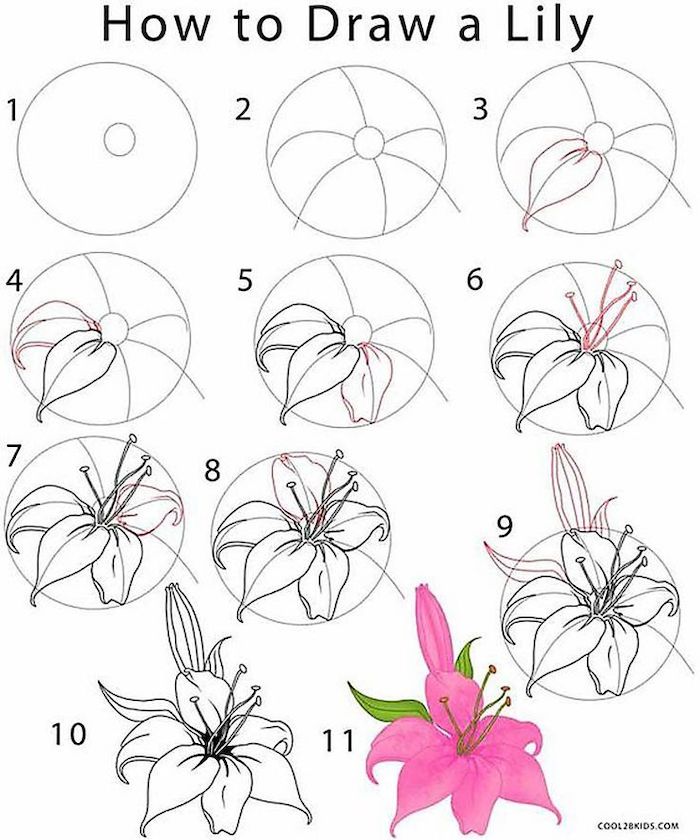 Simple drawing ideas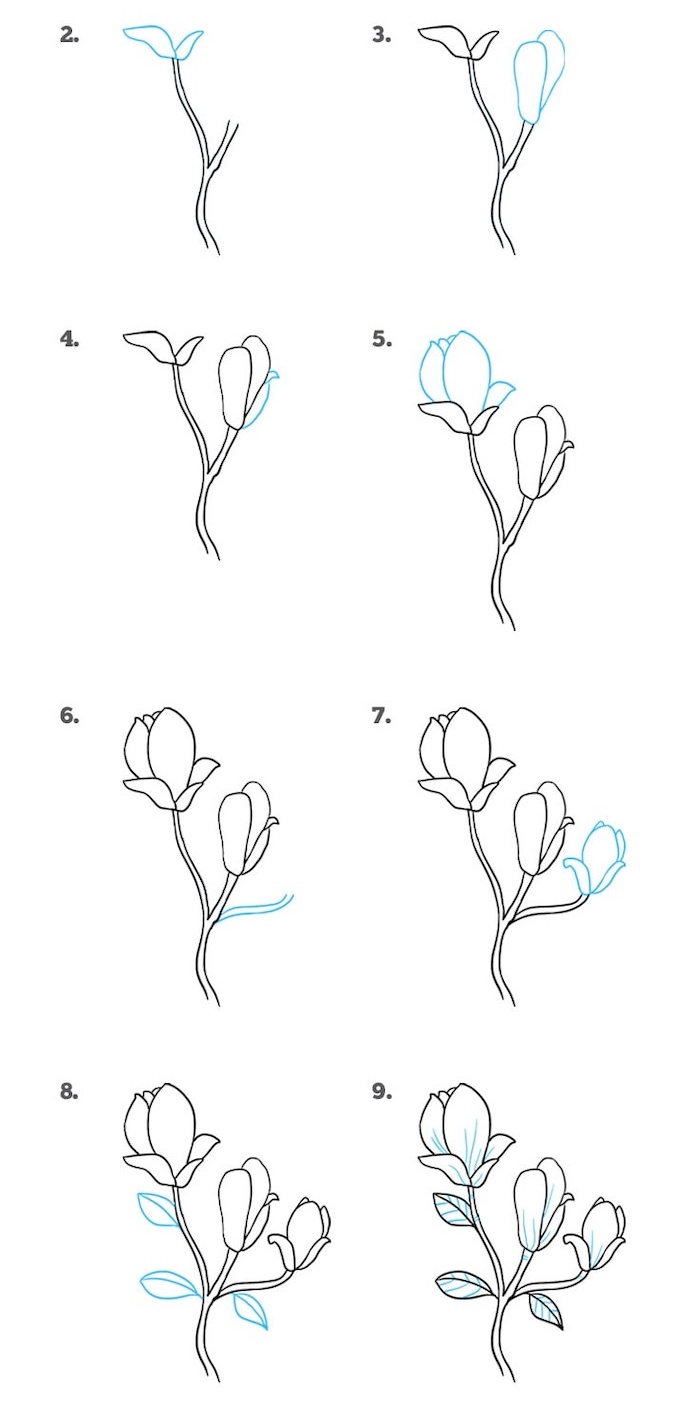 How to draw a poinsettia flower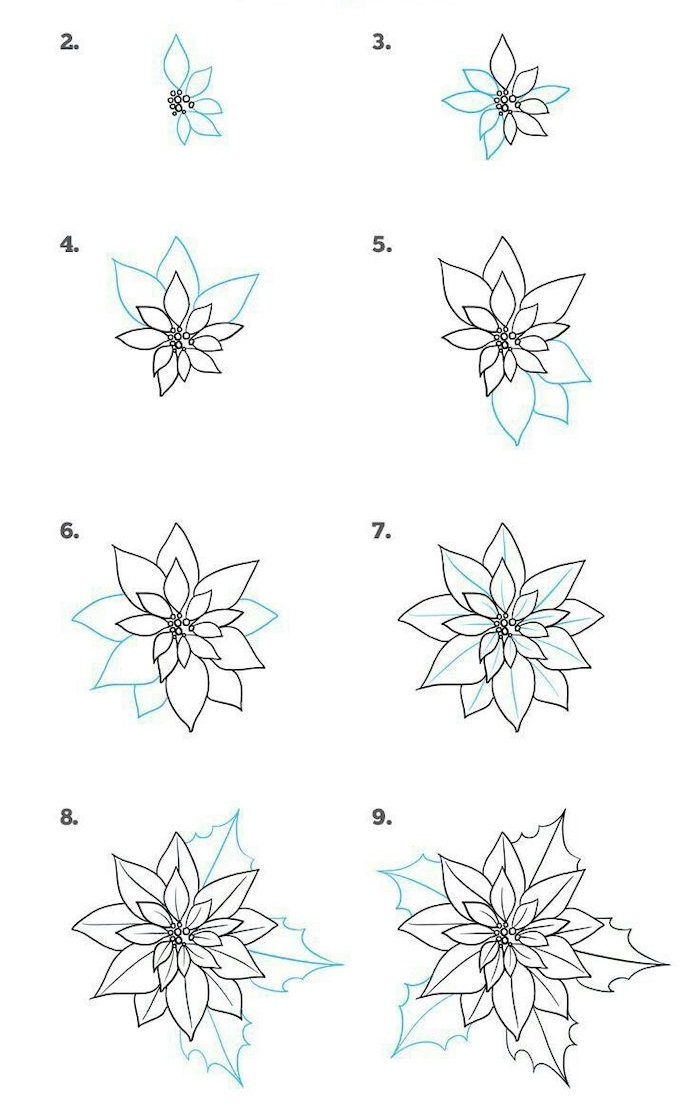 Cute flower drawings – how to draw a rose easy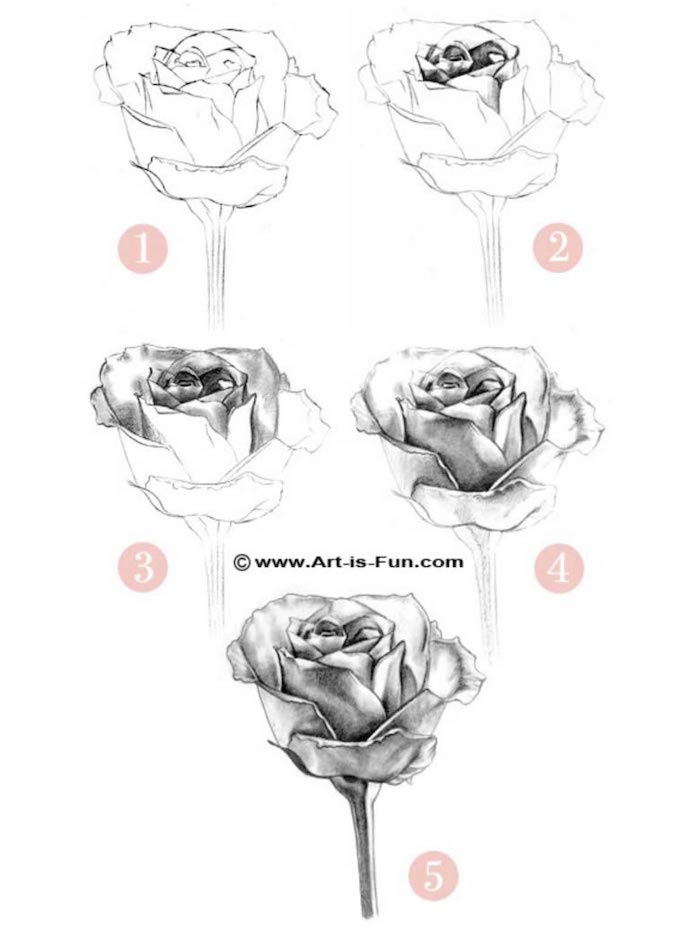 Rose drawing step by step

How to draw a sunflower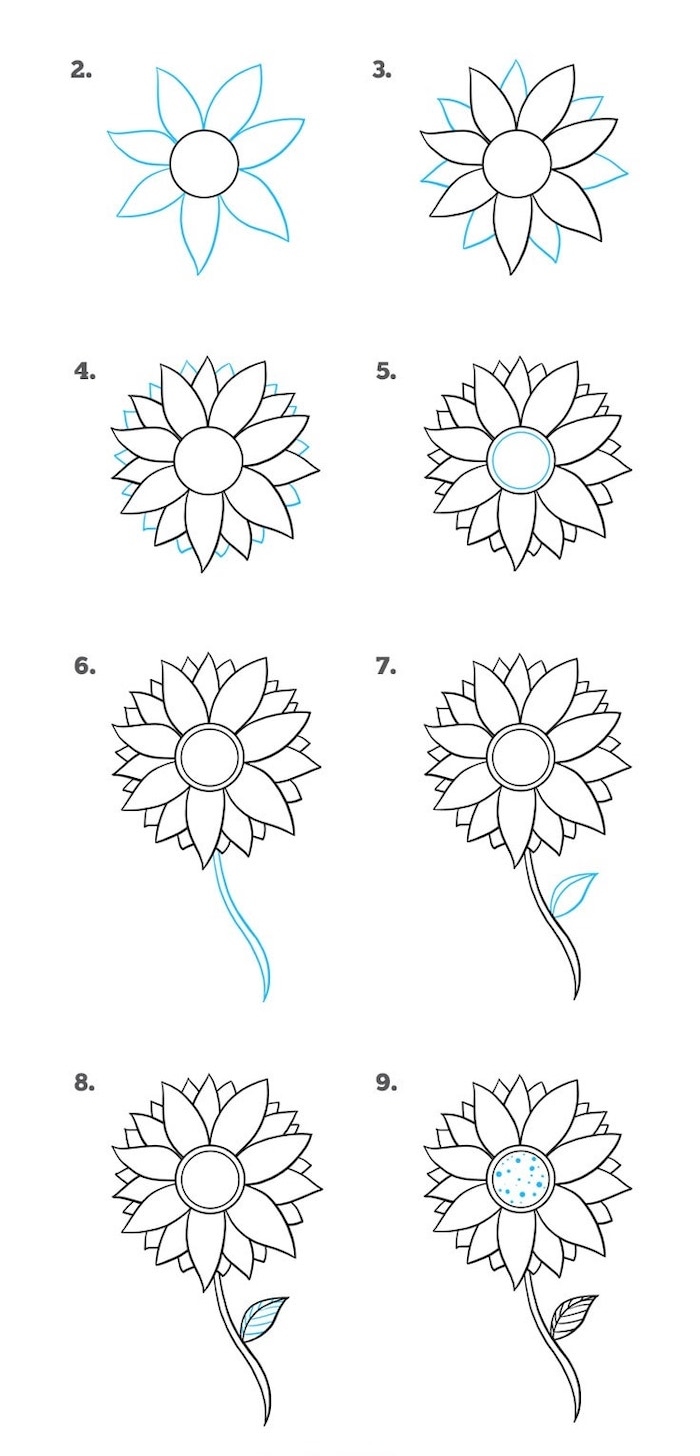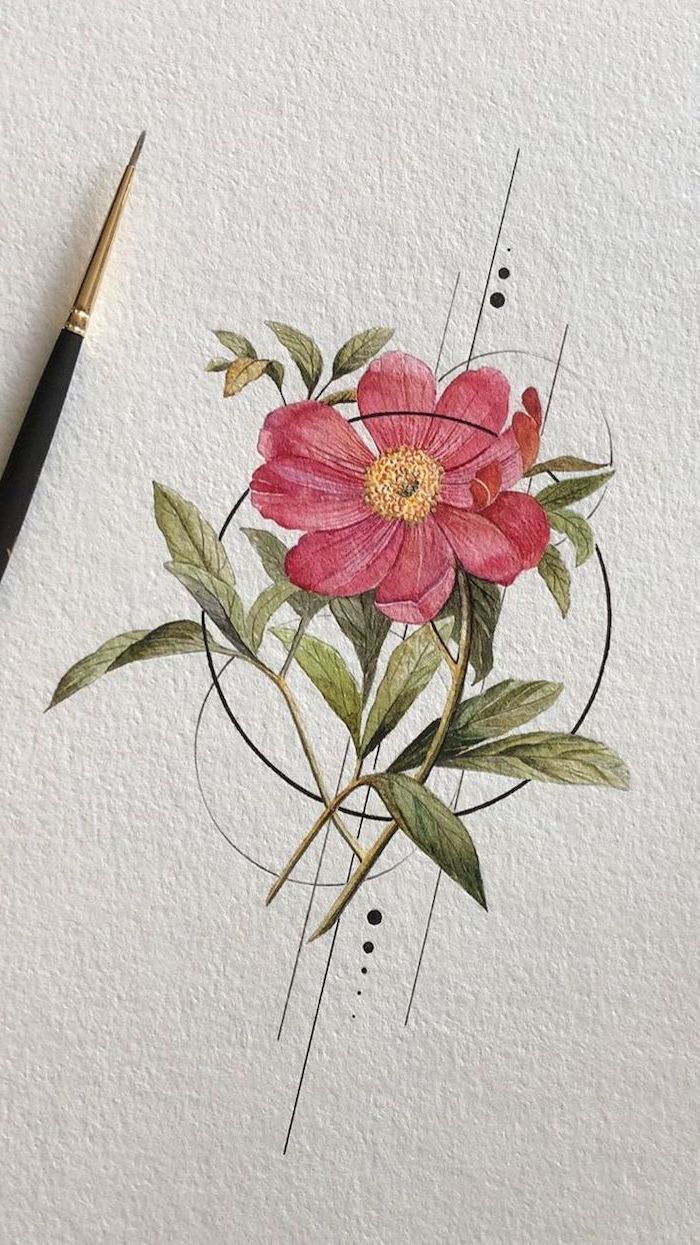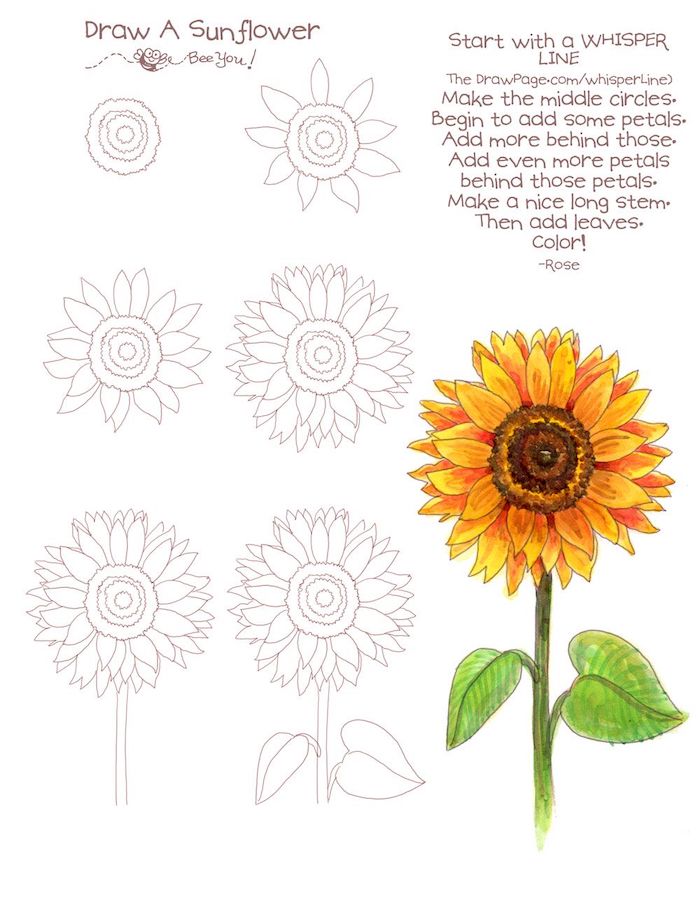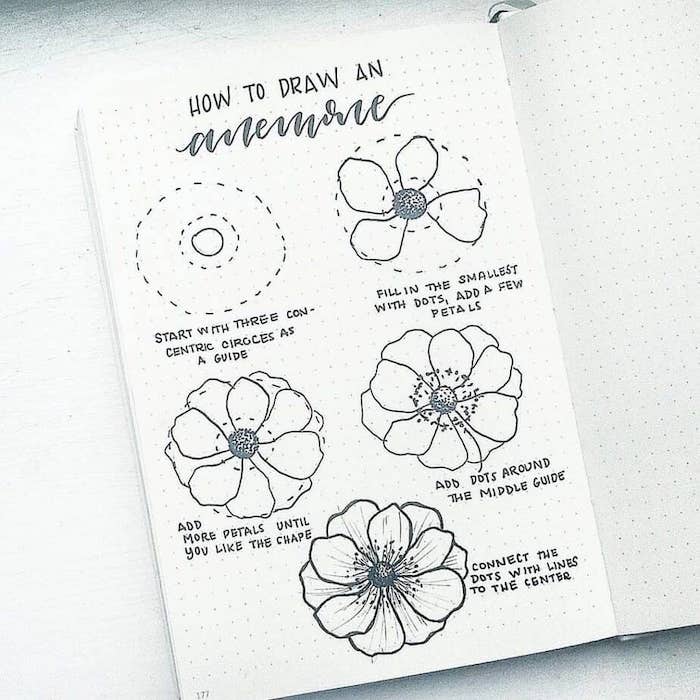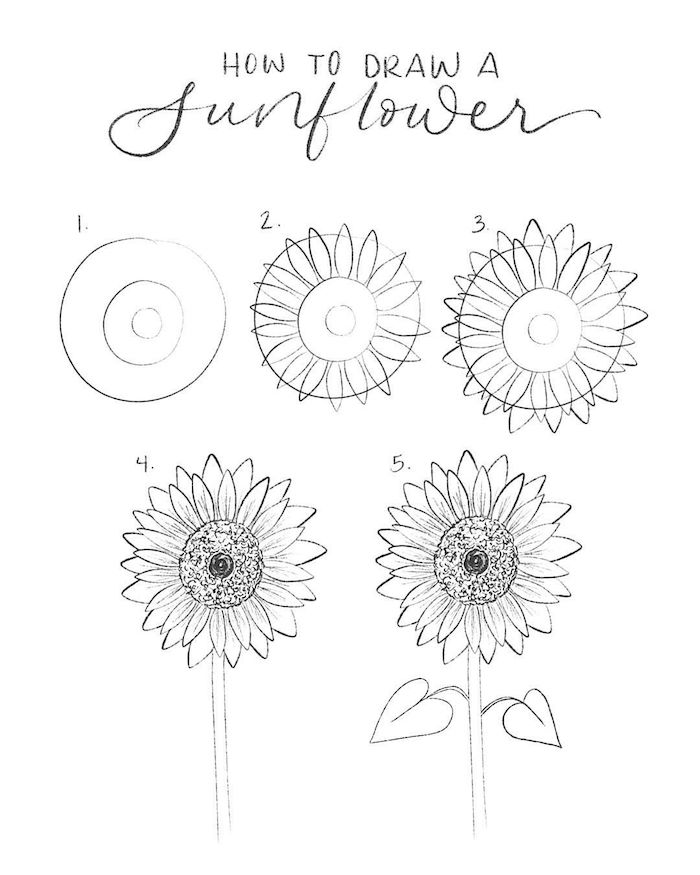 Yet another tutorial on how to draw a water lily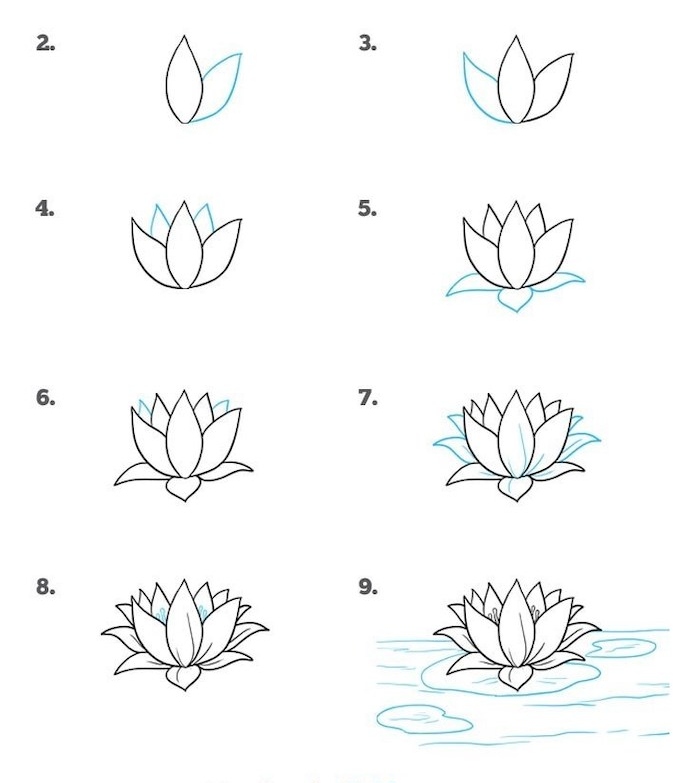 So, have you ever wondered how to draw lavender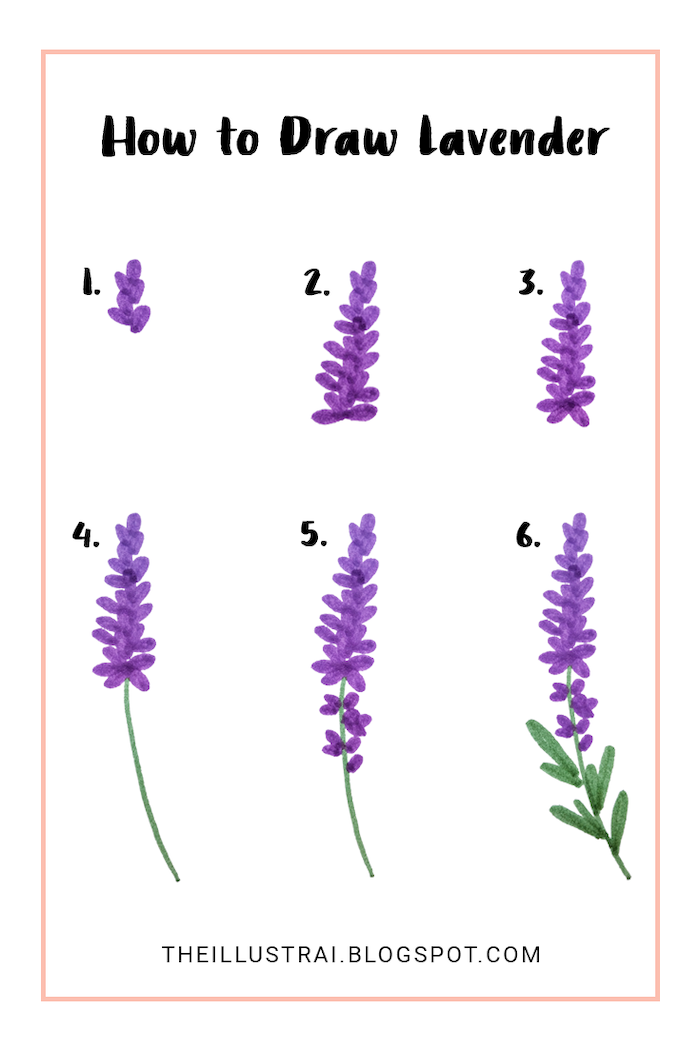 And, now, imagine painting this beautiful thing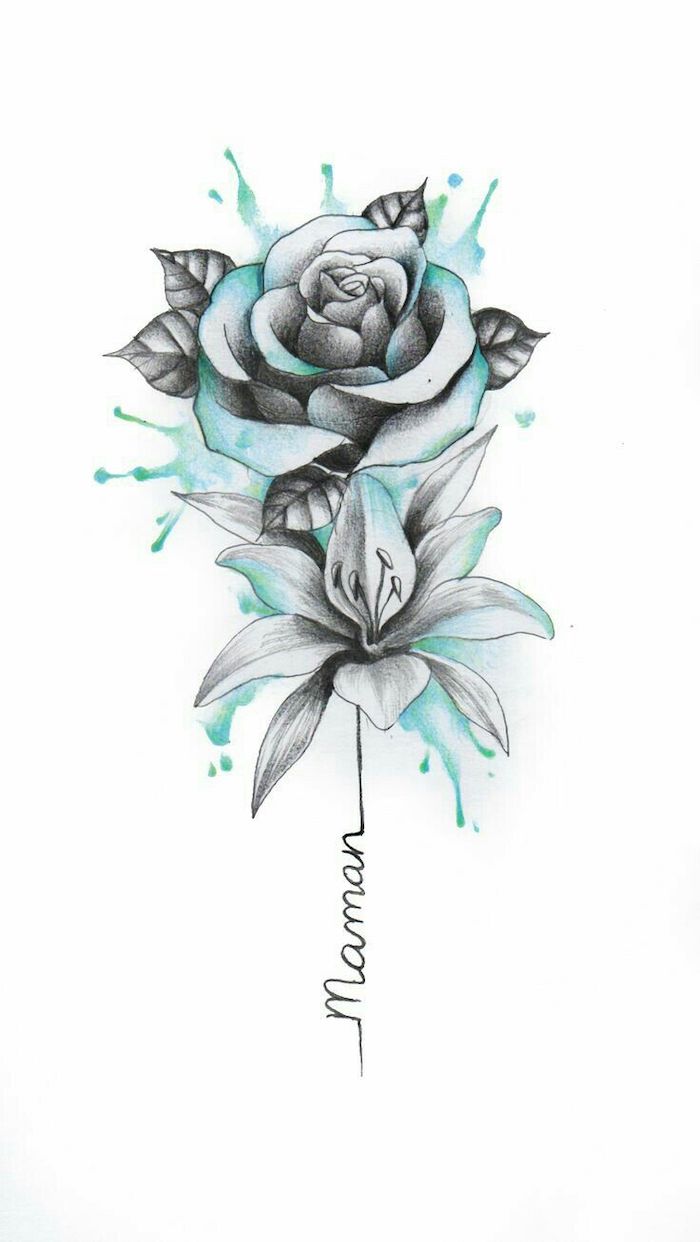 Pictures of flowers to draw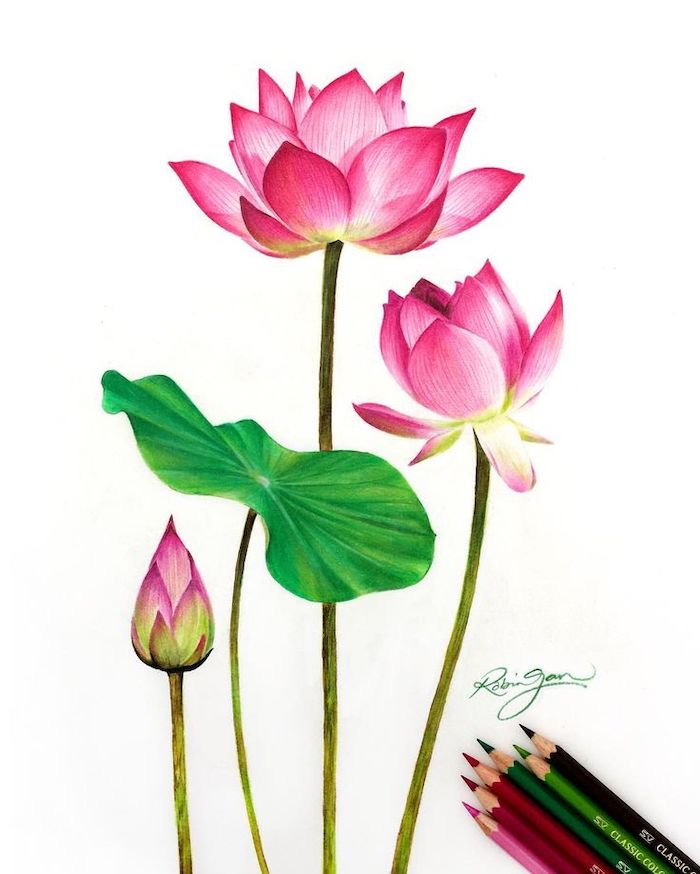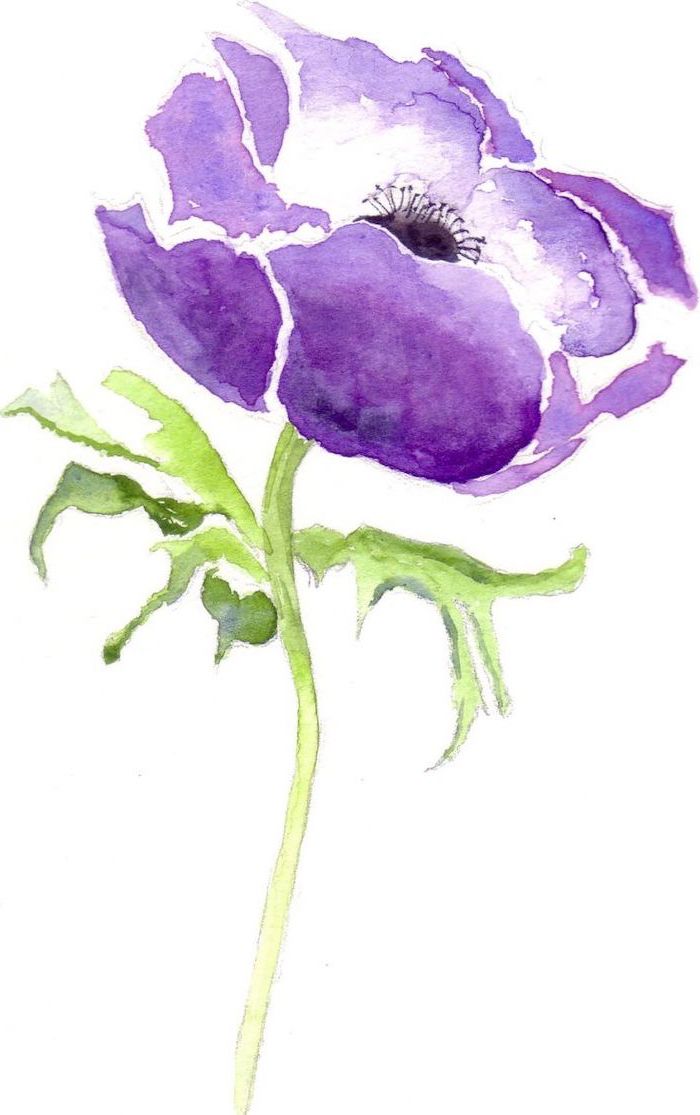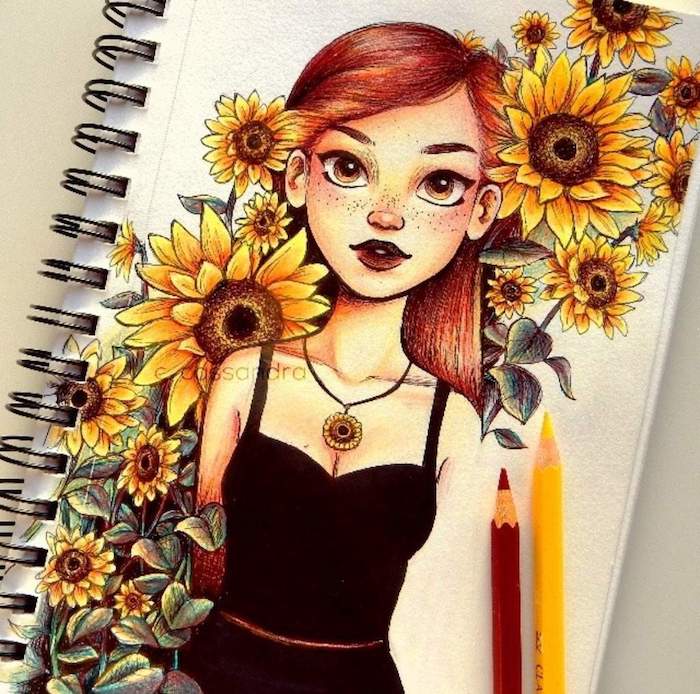 Cool simple drawings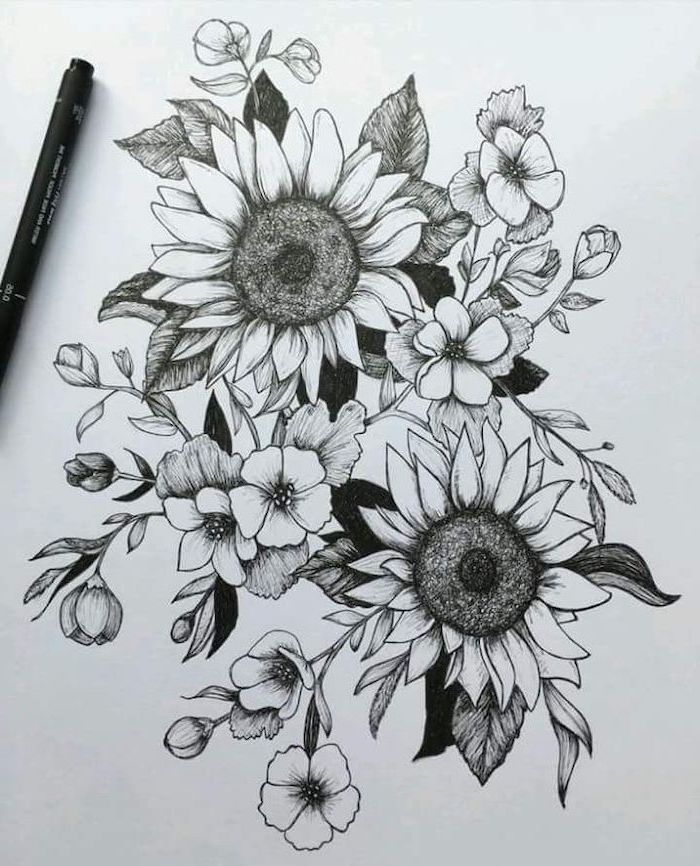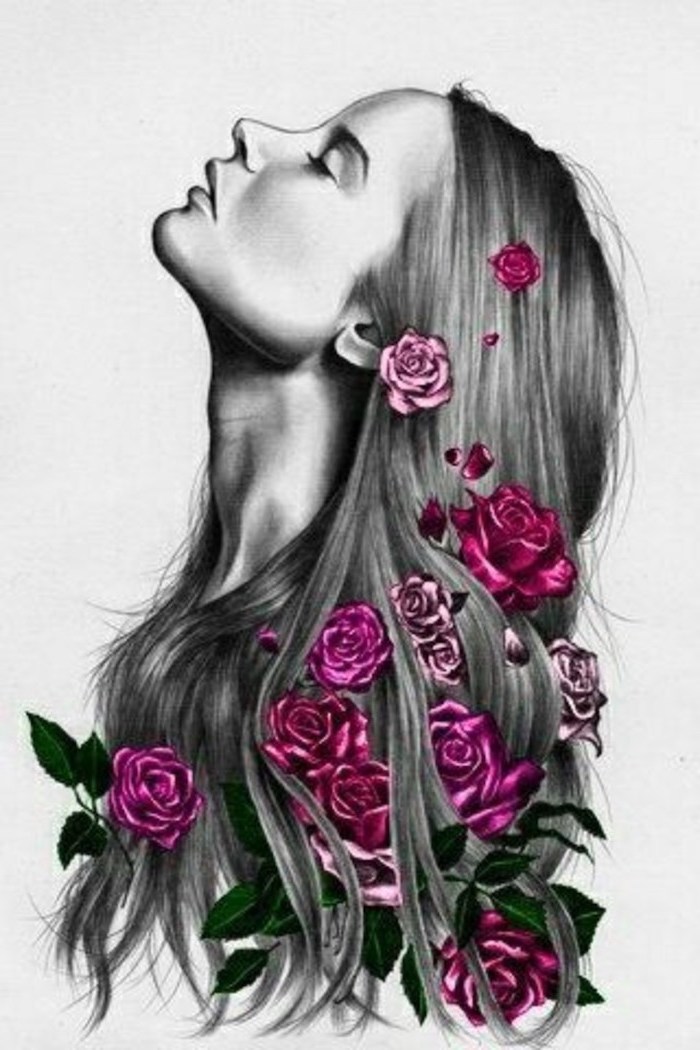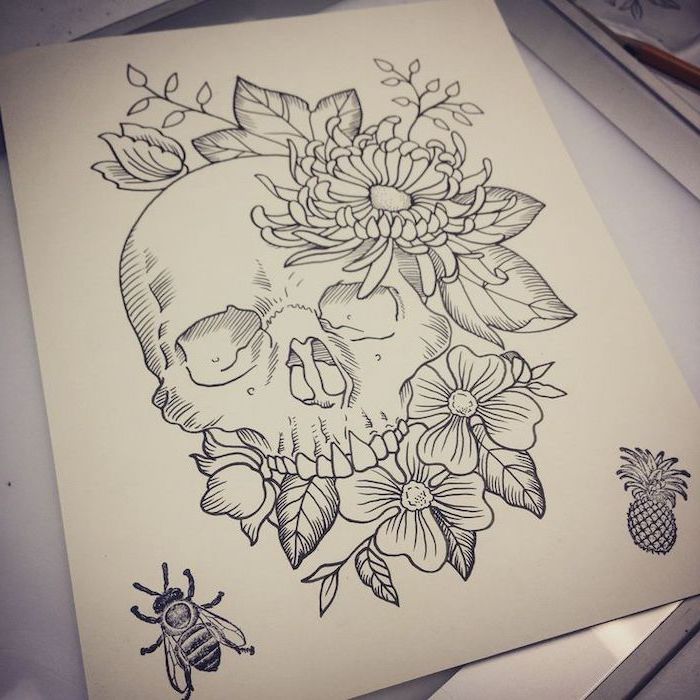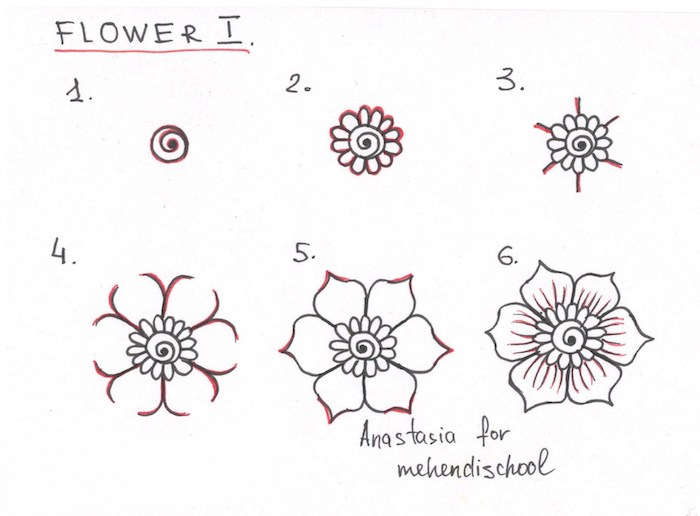 Pretty flowers to draw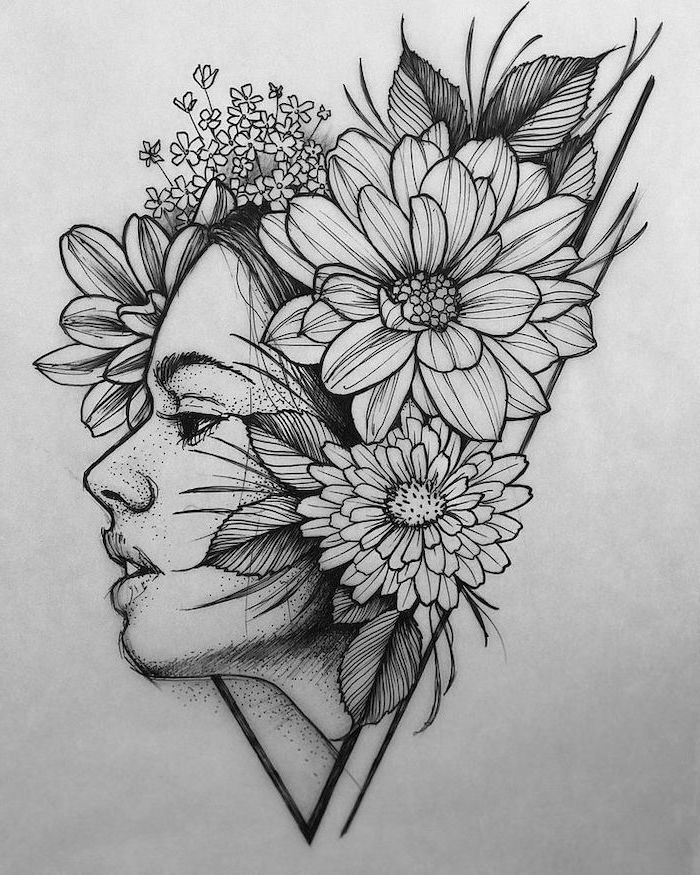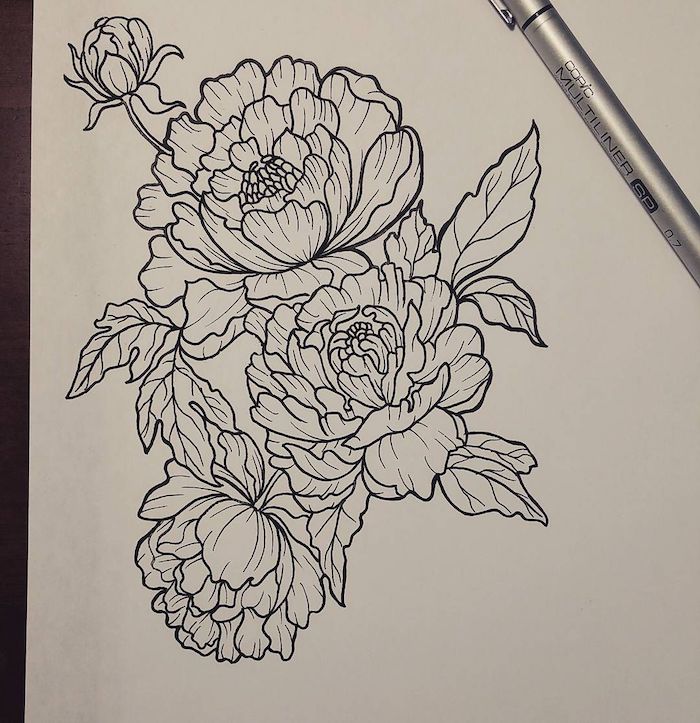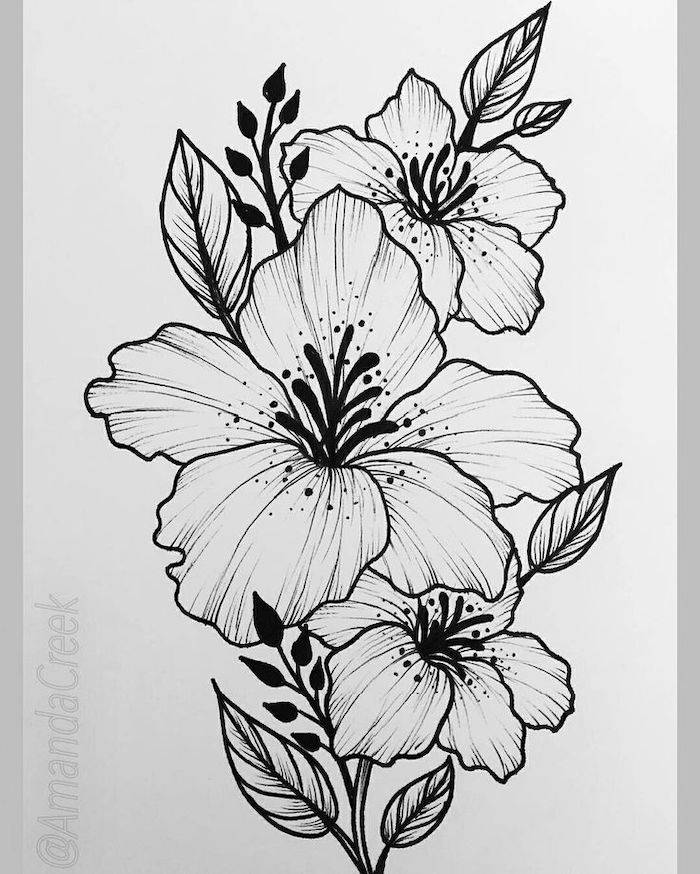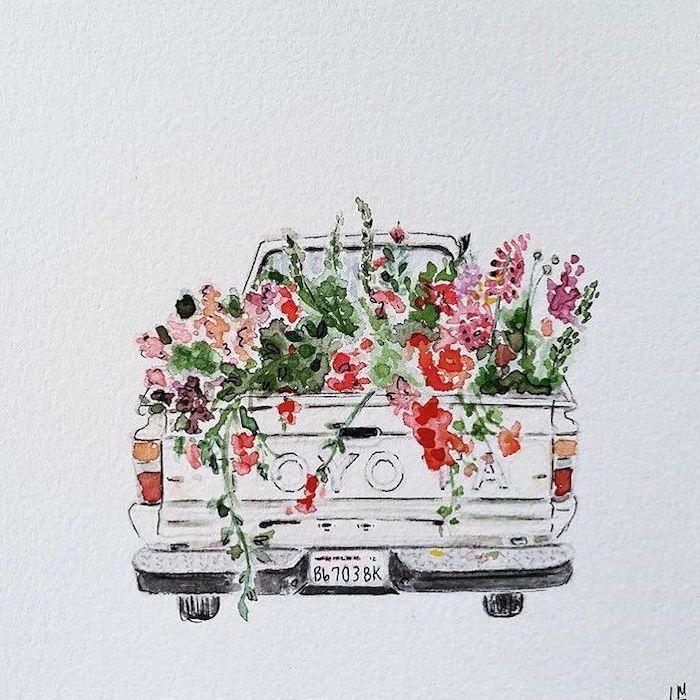 Cute flower drawings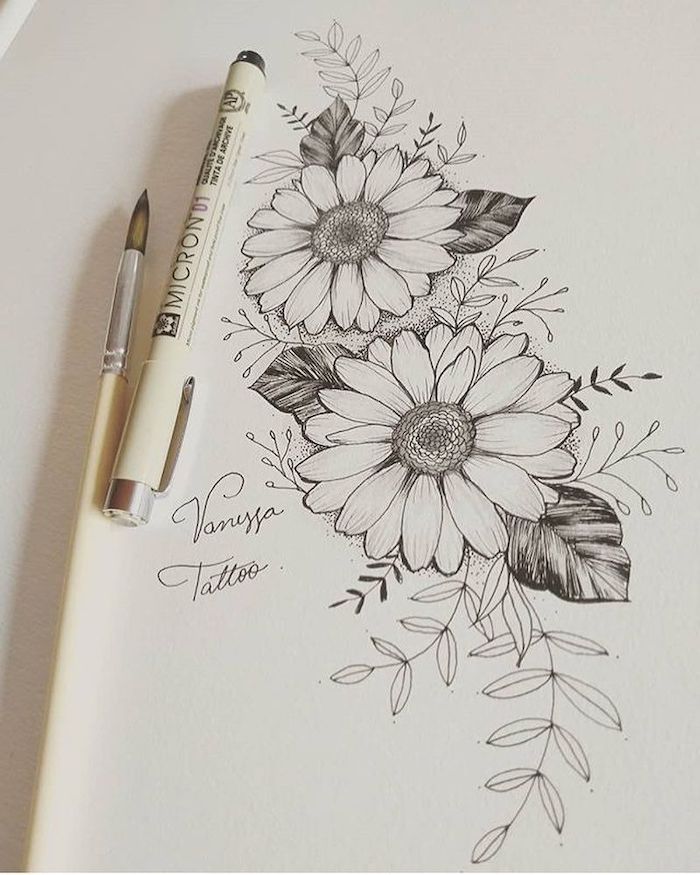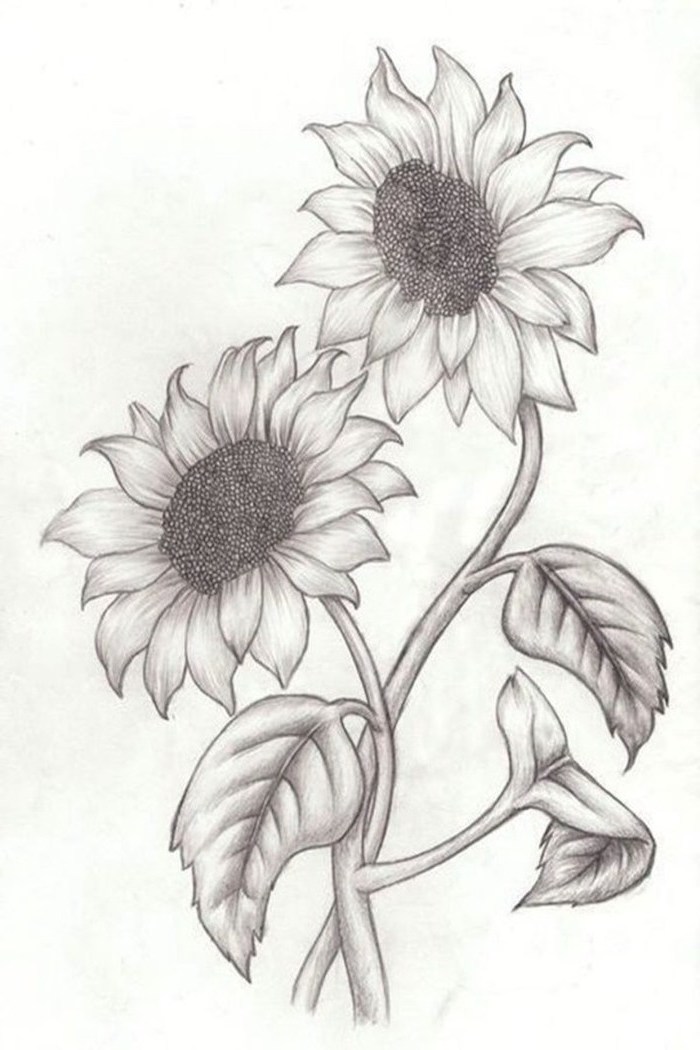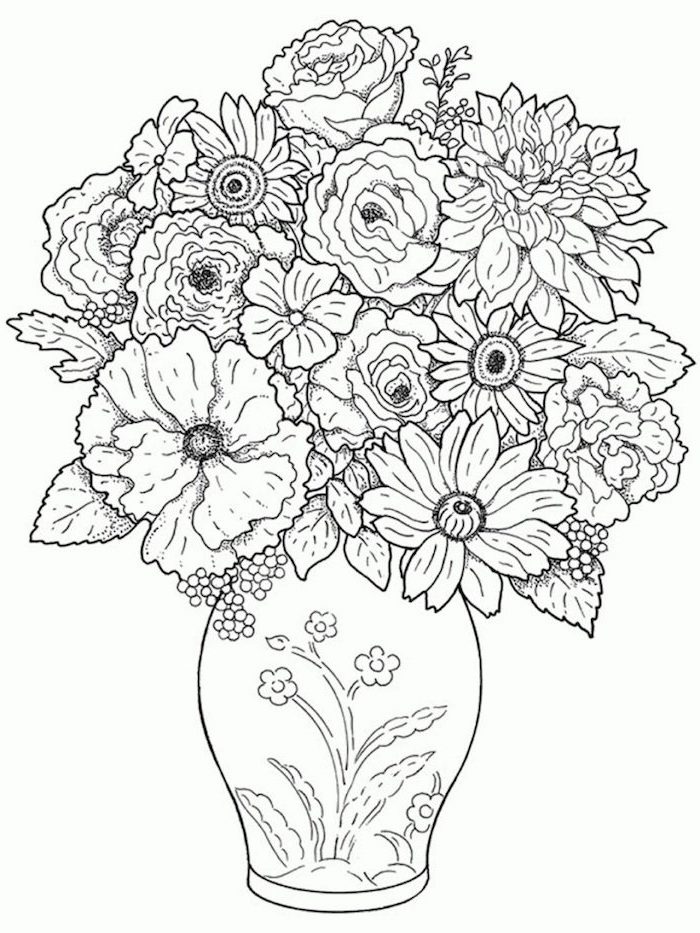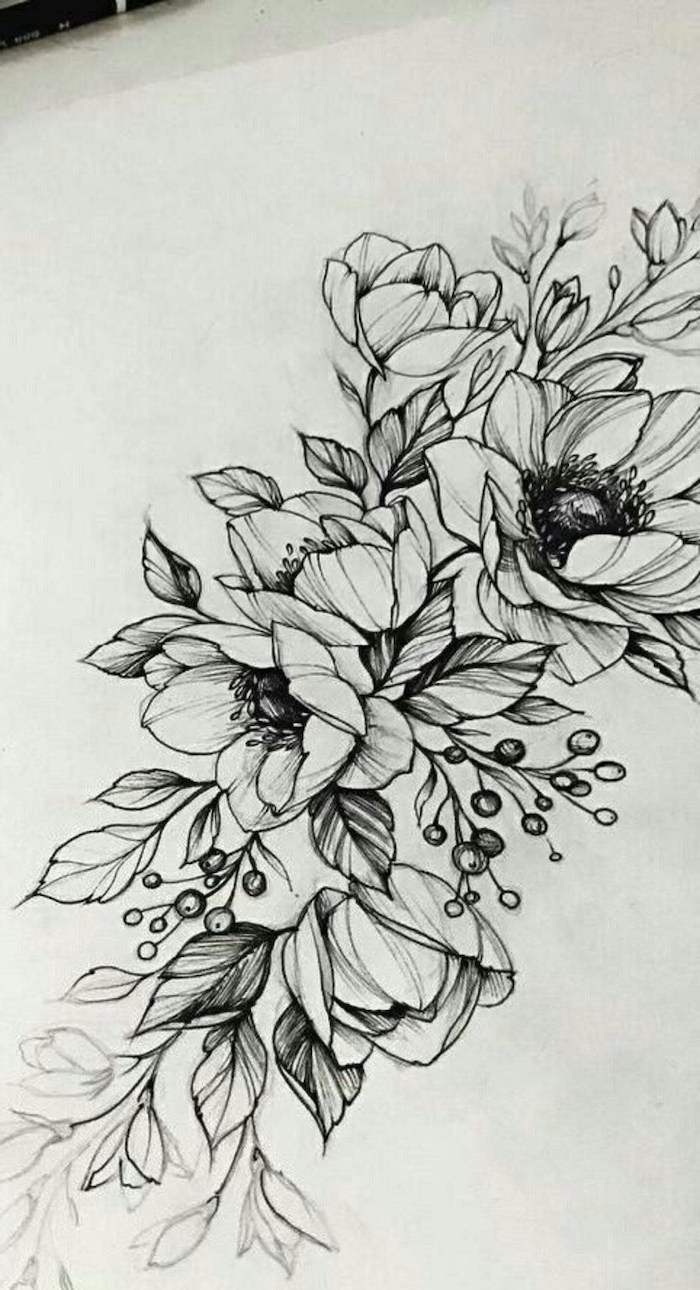 Just look at this gorgeous pencil sketch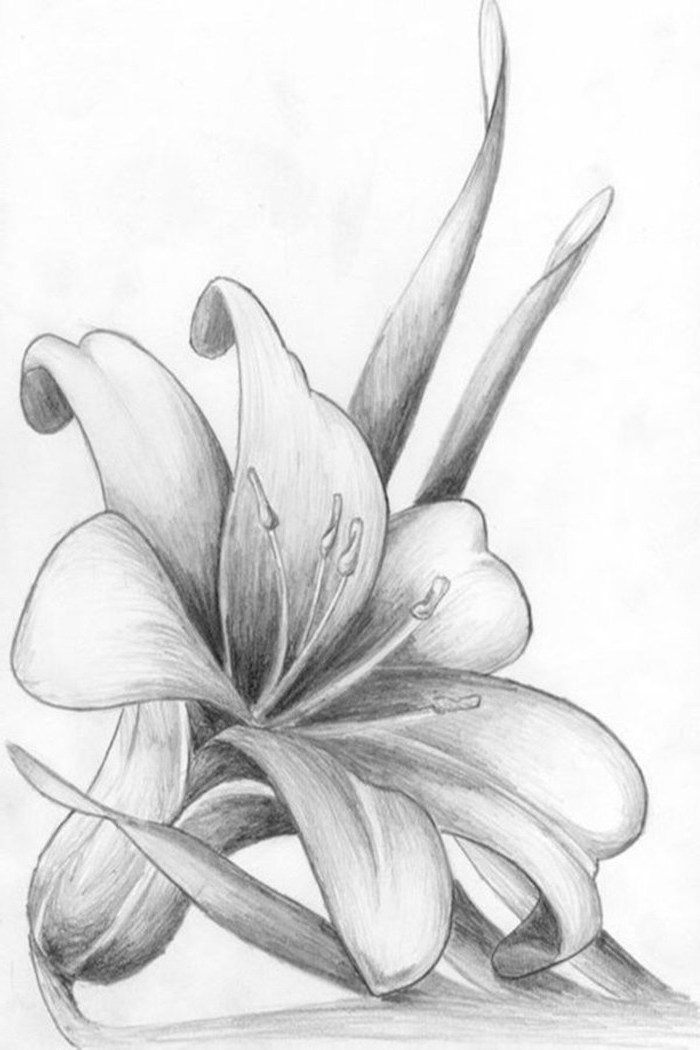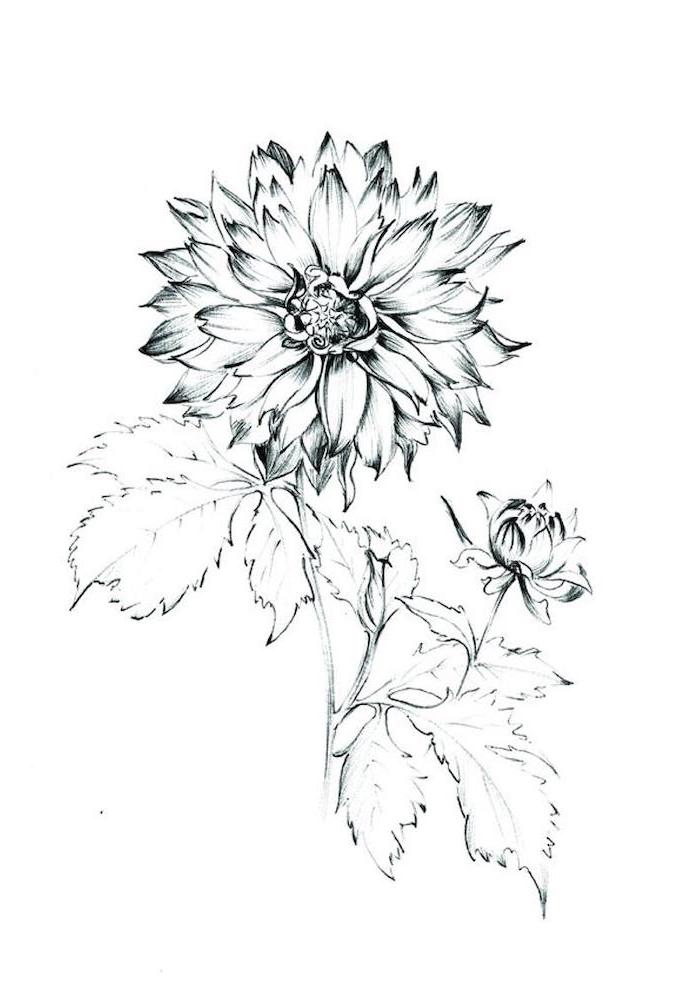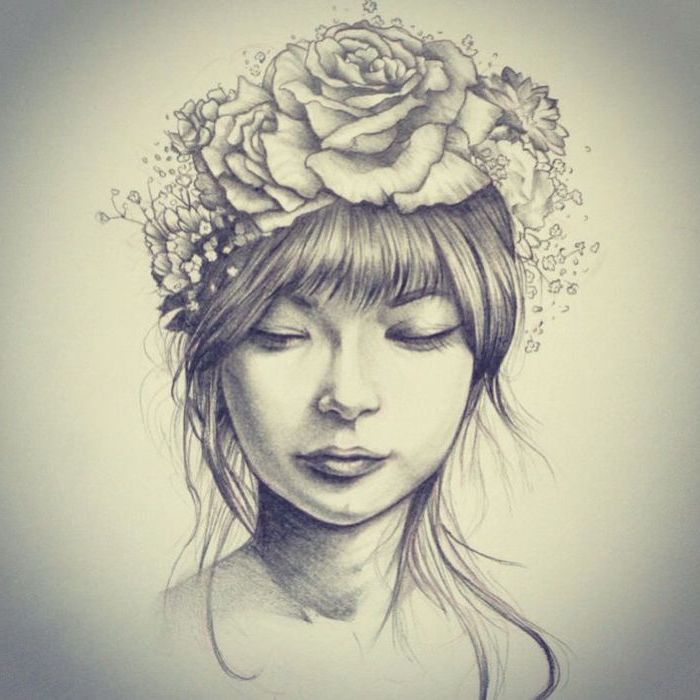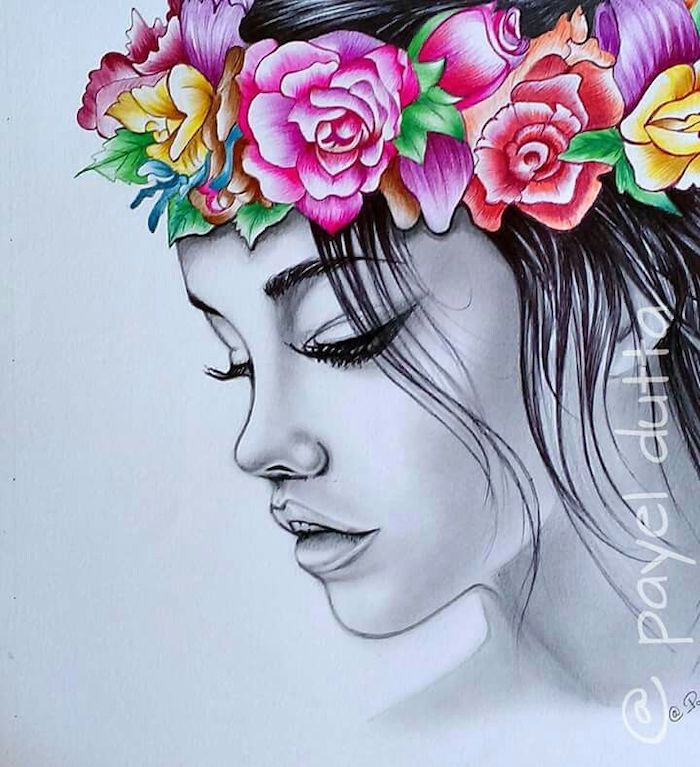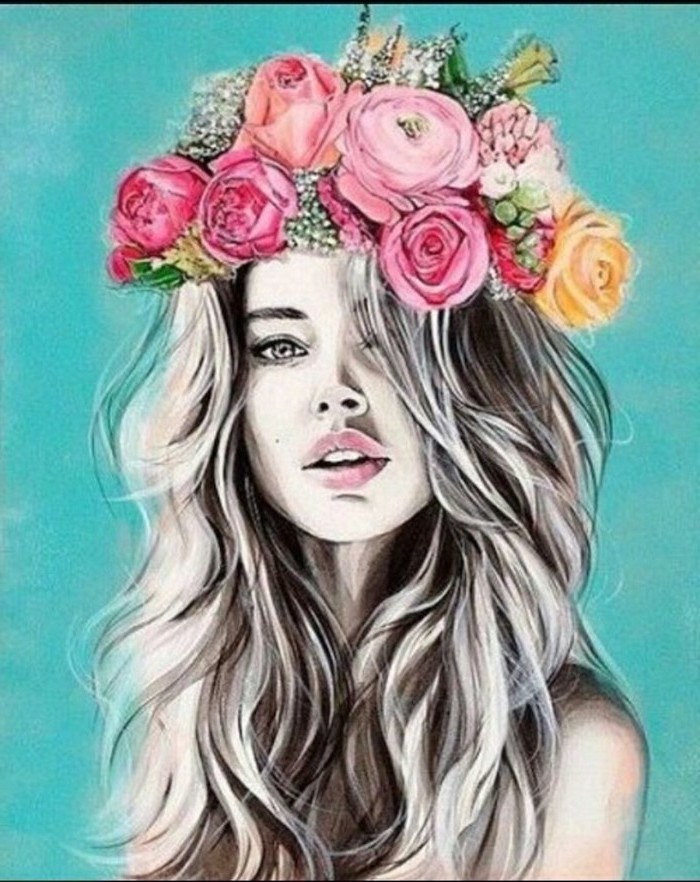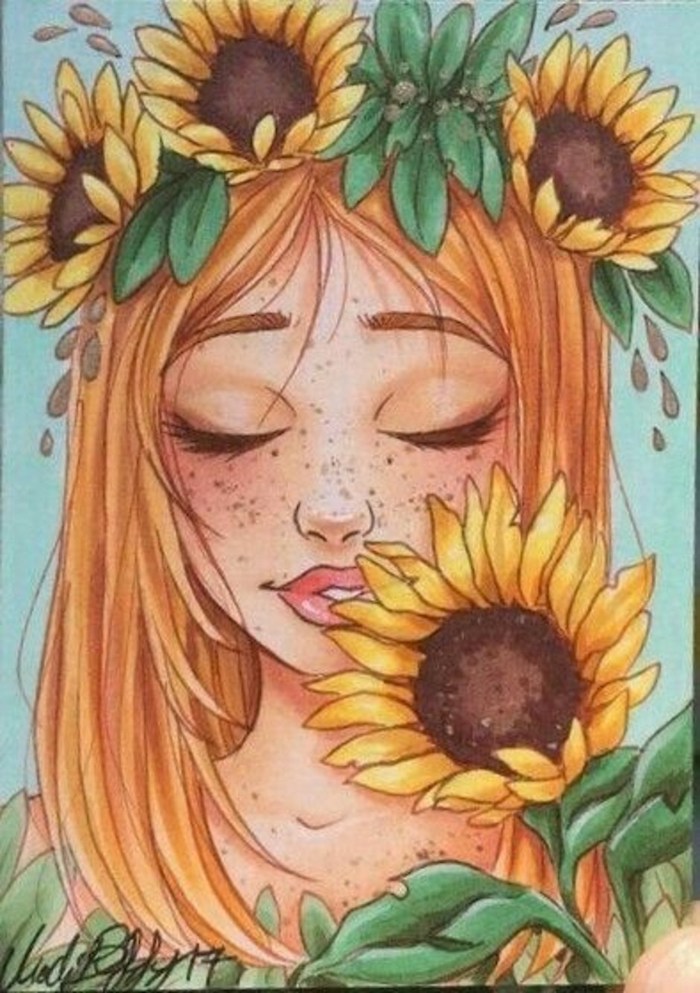 Sours: https://archziner.com/diy/easy-flowers-to-draw-tutorials-pictures/
Flowers undoubtedly bring a great amount of color and beauty to the world. It's hard to look at a beautiful, fragrant flower and not have a smile on your face!
Whether used to brighten up a room or as a gift to a lover, it's always a welcome sight to see a pretty flower.
You may love flowers, but if you've ever wondered how to draw a flower you're in the right place! By the end of this guide, you will be drawing flowers with ease.
This fun and simple step-by-step guide was created especially to help you learn how to draw a flower in just 9 easy steps!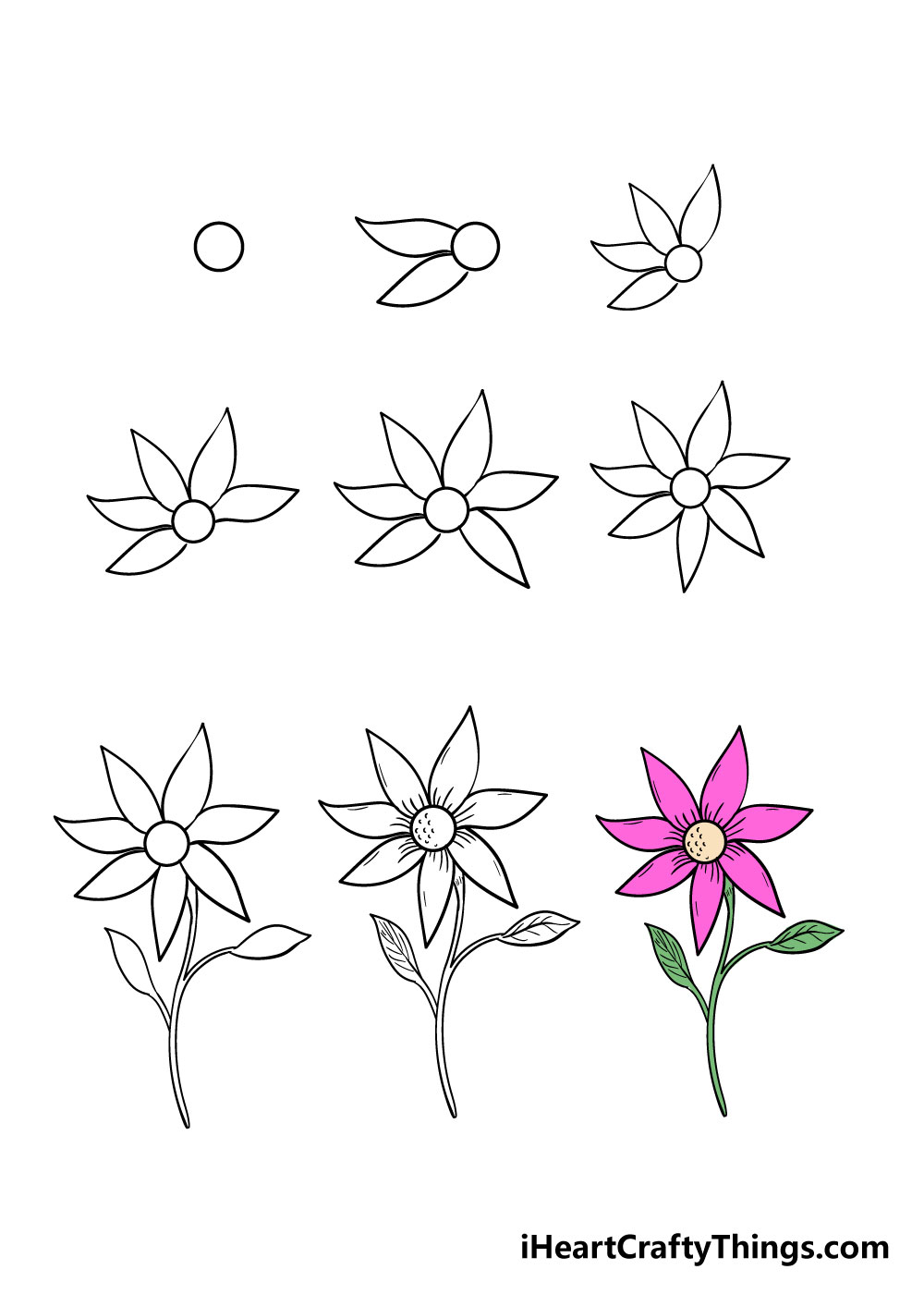 How to Draw a Flower – Let's get Started!
Step 1
For your first step in this guide on how to draw a flower, the first thing you need to do is to draw in a small circle.
If you can freehand a near-perfect circle that would work perfectly, but you can also use a drawing compass for a perfect circle.
You could also use something small and round like the cap of a thick pen to draw around if you don't have a drawing compass.
For this step, you can draw this circle with a pen or a dark pencil, as it will be in the final picture.
Step 2 – Draw in the first two petals
Now that you have the center of your flower drawing, it's time to draw in the first petals! To do this, draw in two curvy lines that are thick at the bottom and meet at a thinner point at the end.
For this step, try to draw in two petals as shown in the reference image.
This can take a bit of practice, so maybe use a lighter pencil to draw in these petals and then go over them in pen or darker pencil once you're happy with them.
Step 3 – Next, draw in two more petals
You've drawn in your first two petals, so now that you have the hang of that it's time to add in the next two.
For this step, simply draw in two more petals exactly as you did before to the right of the ones you have already.
Step 4 – Now draw in the next petal
For step 4 of learning how to draw a flower, you will be adding in another petal at the top of the flower.
This petal will be a bit thinner and of a slightly different shape to the others though, so make sure to refer to the reference image if you're having a hard time with it.
Step 5 – Next you will be adding another petal
We will be adding in one of the final petals onto your flower drawing for step 5, so simply draw in one more petal as shown in the reference picture.
As you can see, your flower drawing is really starting to take shape!
Step 6 – Add in the final petal
You've almost finished the main part of your flower drawing, so for this step you just need to add in the final petal.
This one should be a little thinner and sharper as you can see in the reference image. If you've followed the guide then the petals should generally be of a similar size with both length and width.
Step 7 – Now draw in the stem and leaves
For this next step in learning how to draw a flower, there are some tricky aspects so the reference picture will be very handy!
I would also recommend using a lighter pencil for this step before going over it in pen. To start with, draw two curvy lines extending from between the two lowest petals as you can see in the image.
They should be very close to one another and join at the end.
Once you've done that, draw in one of the leaves by drawing two curved lines coming off the stem and then meeting in a leaf shape.
The reference picture should prove very useful for this! Once you have that drawn in, simply draw in another leaf on the other side.
Step 8 – Add the final details
Your flower drawing is almost complete! For this step, we will be adding in some details to your flower drawing.
To start with, you can draw in the veins of the leaves using some thin lines. You can refer to the reference image to get an idea of how these veins should look!
You can then add in some lines in the petals extending from the center of the flower to make the petals look wavier.
Lastly, you can add in some small curved lines to the center of the flower to give it a more textured look. There are more small lines you can add as well for some extra little details.
Step 9 – Finish it off with some color
Now that you've completed your beautiful flower drawing, there's just one thing it needs: some beautiful colors!
This is a step where you should let your imagination and creativity run wild.
We have an example of how you could color it in, but you should use whatever colors you love to really bring your flower drawing to life!
You could also experiment with different art mediums such as paints, watercolors, colored pens and pencils for different stunning color looks.
Your Flower Drawing is Complete!
We hope that you had a great time using our step-by-step guide to learn how to draw a flower!
As with any drawing project, it can be challenging to get right but is always made much easier when you break it down into steps.
We're sure that using this guide you will master it in no time!
Once you've gotten the hang of it, you could experiment with drawing different flowers using this guide as a starting point. If you do this, it could really help to use photos of your favorite flowers to help you.
We also can't wait to see what beautiful colors you use for your flower drawing! Once you've completed your artwork, we hope that you will share it to our Facebook and Pinterest pages for us to enjoy!
We always love your brilliant artworks and we can't wait to see some colorful and stunning flower drawings from you!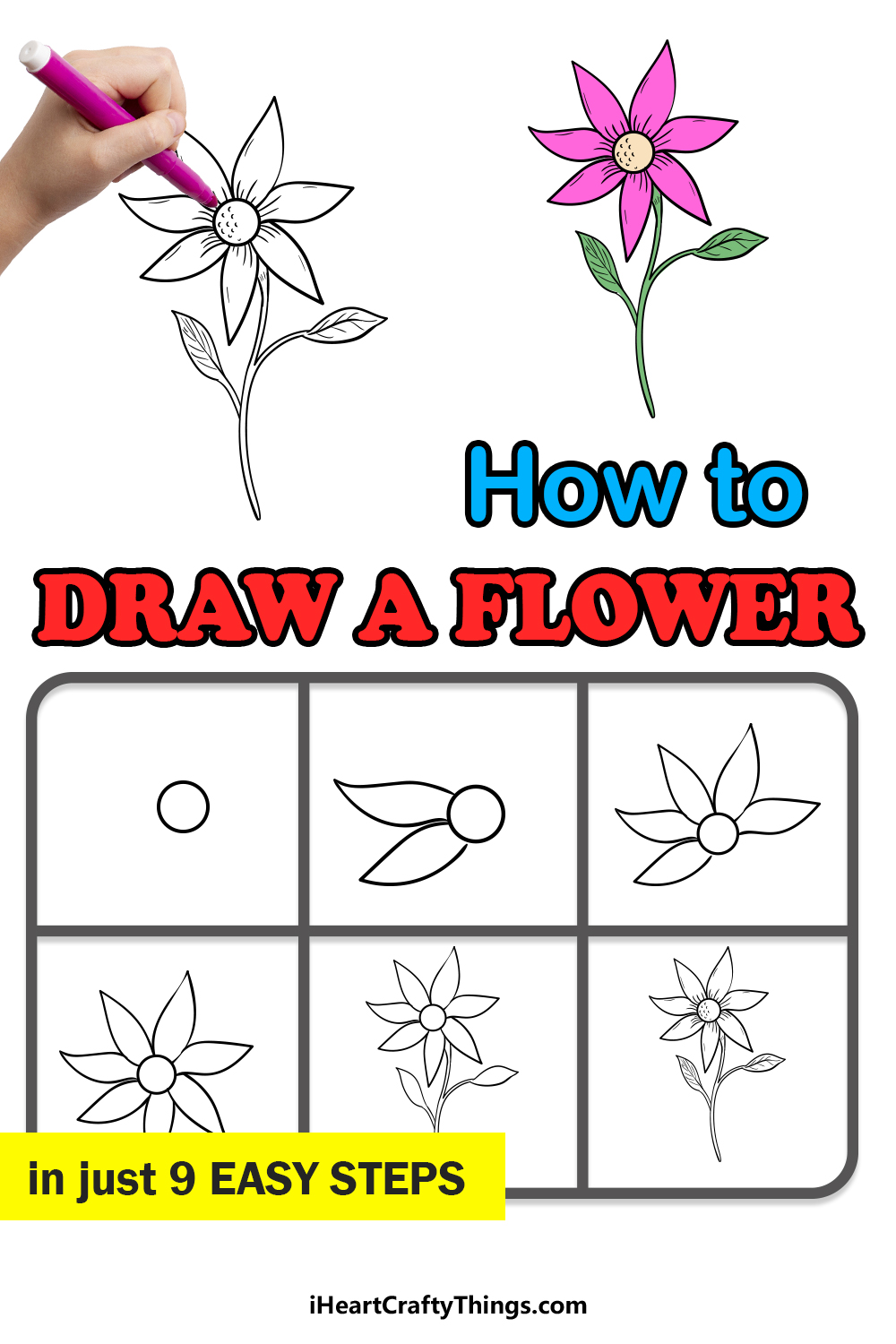 Sours: https://iheartcraftythings.com/flower-drawing.html
Drawing flowers image
Collection of Pictures Of Flower Drawings (67)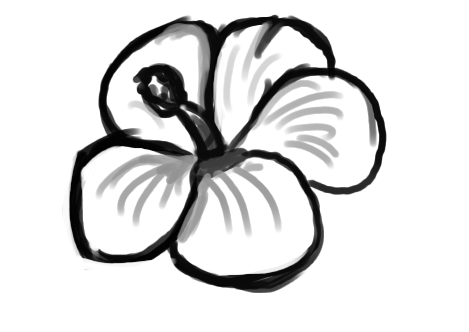 draw a flower step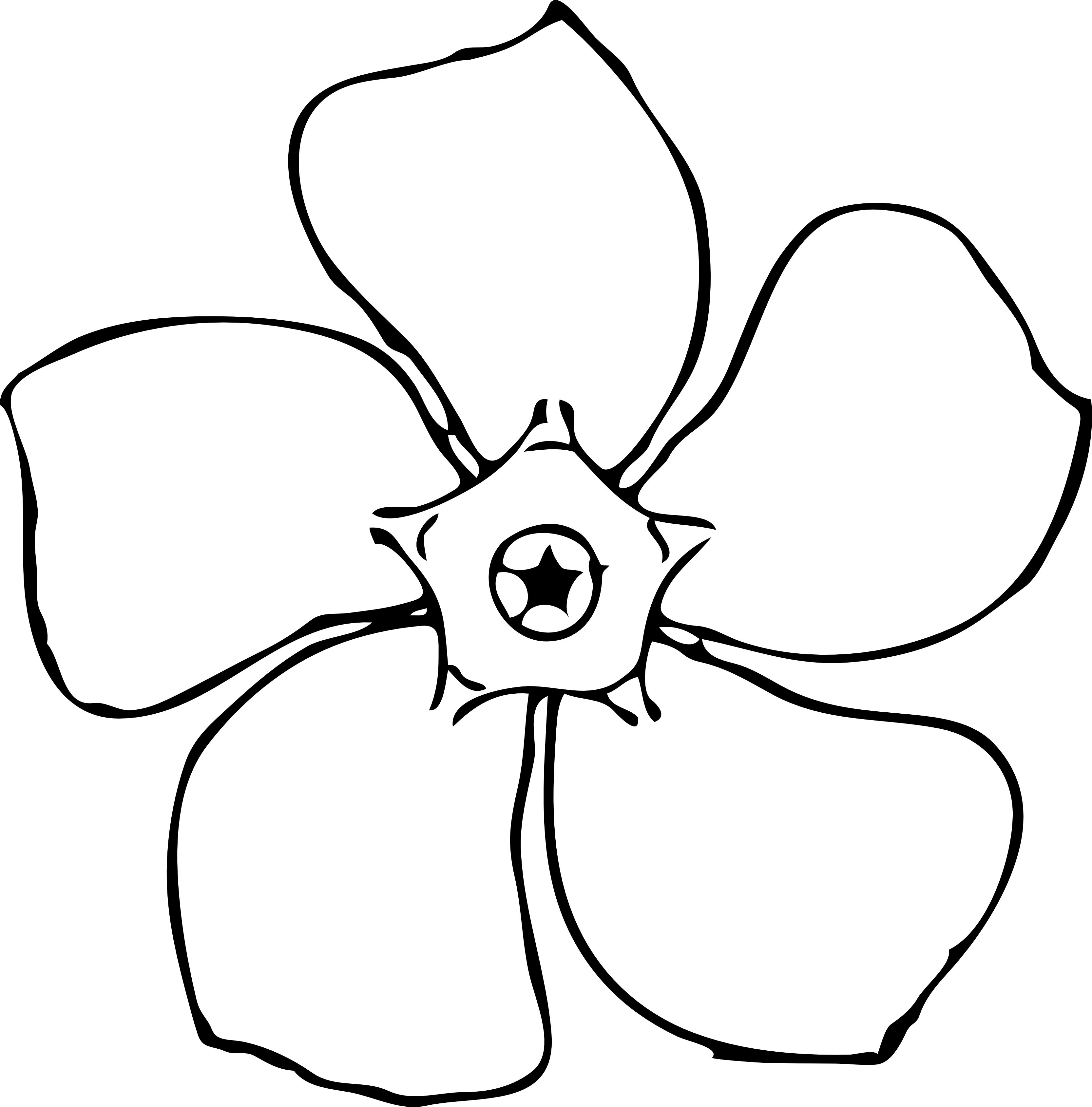 easy magnolia flower drawing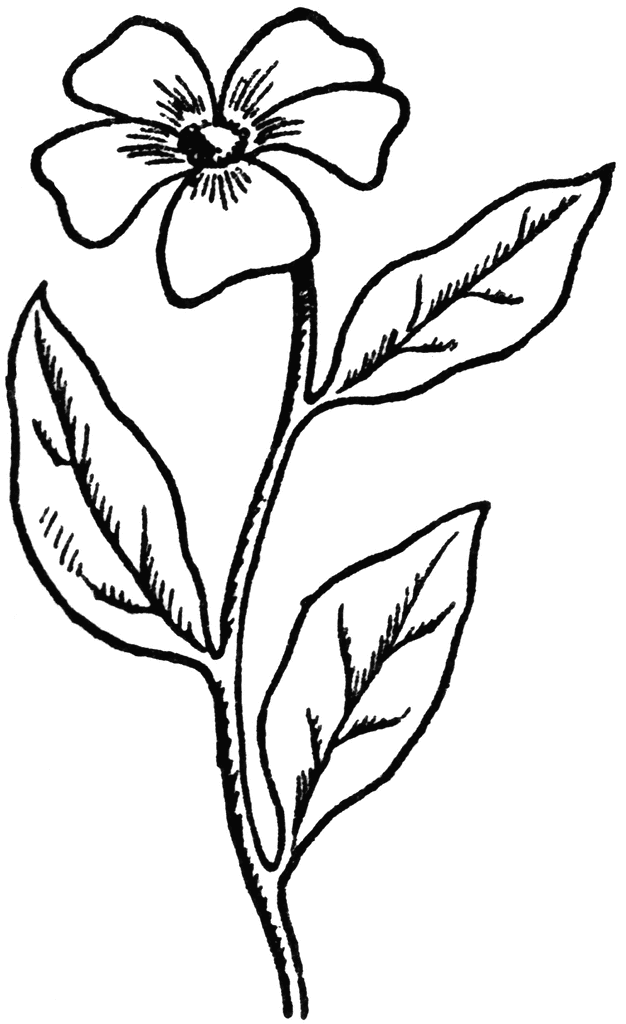 easy flowers to draw over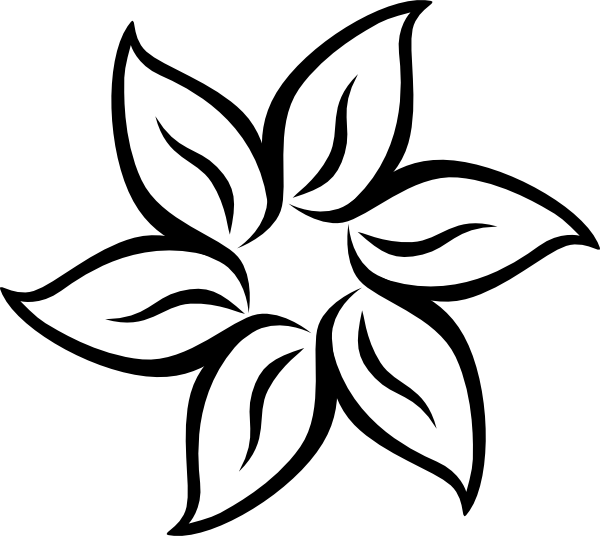 flower clip art black and white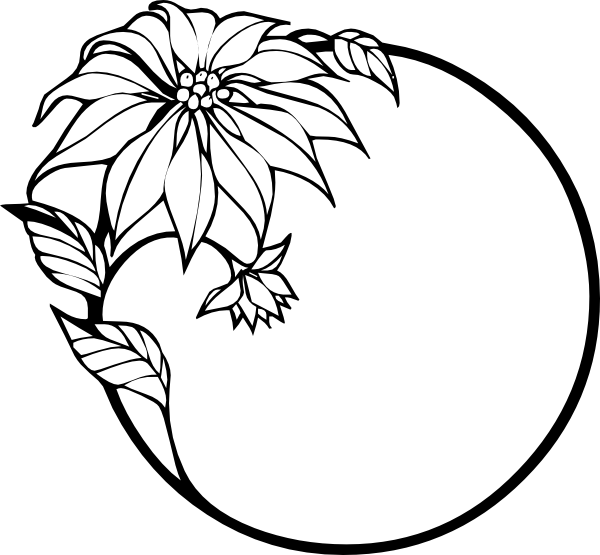 flower black and white clipart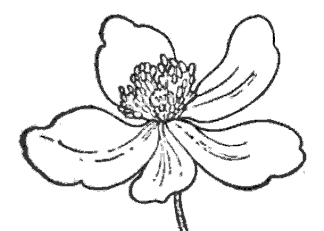 hand drawn flower gif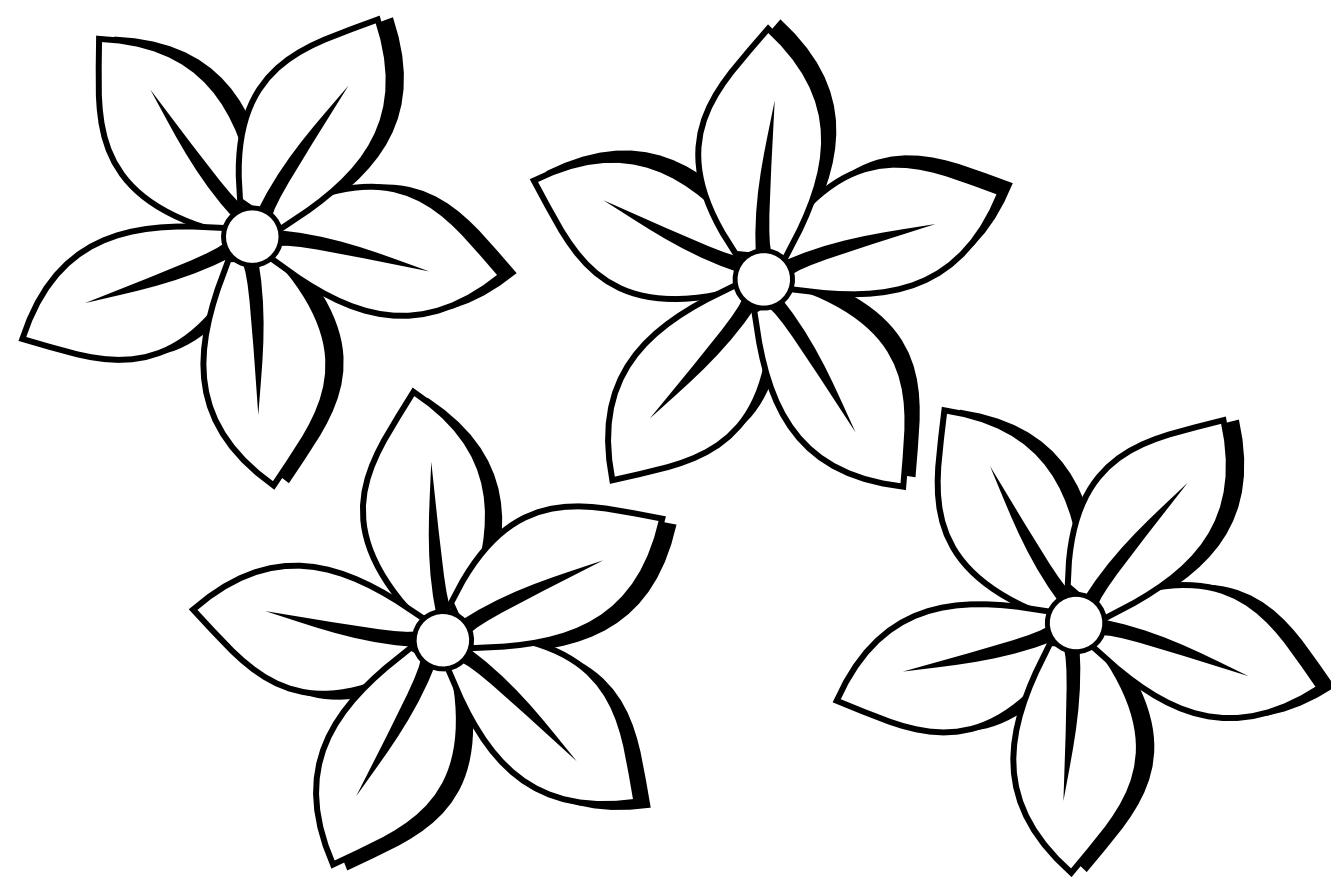 flower black and white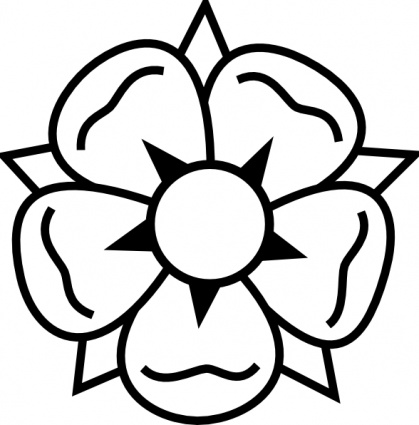 tudor rose easy to draw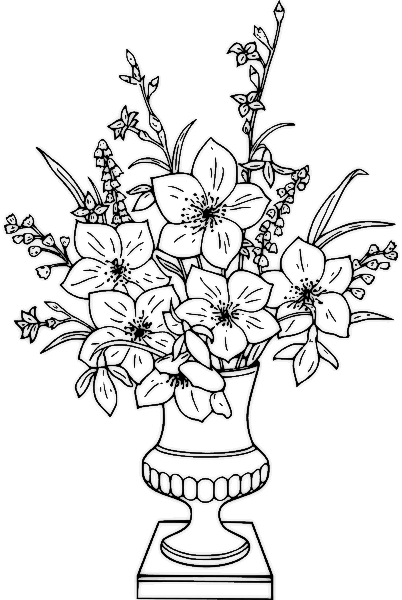 flower bouquet clipart black and white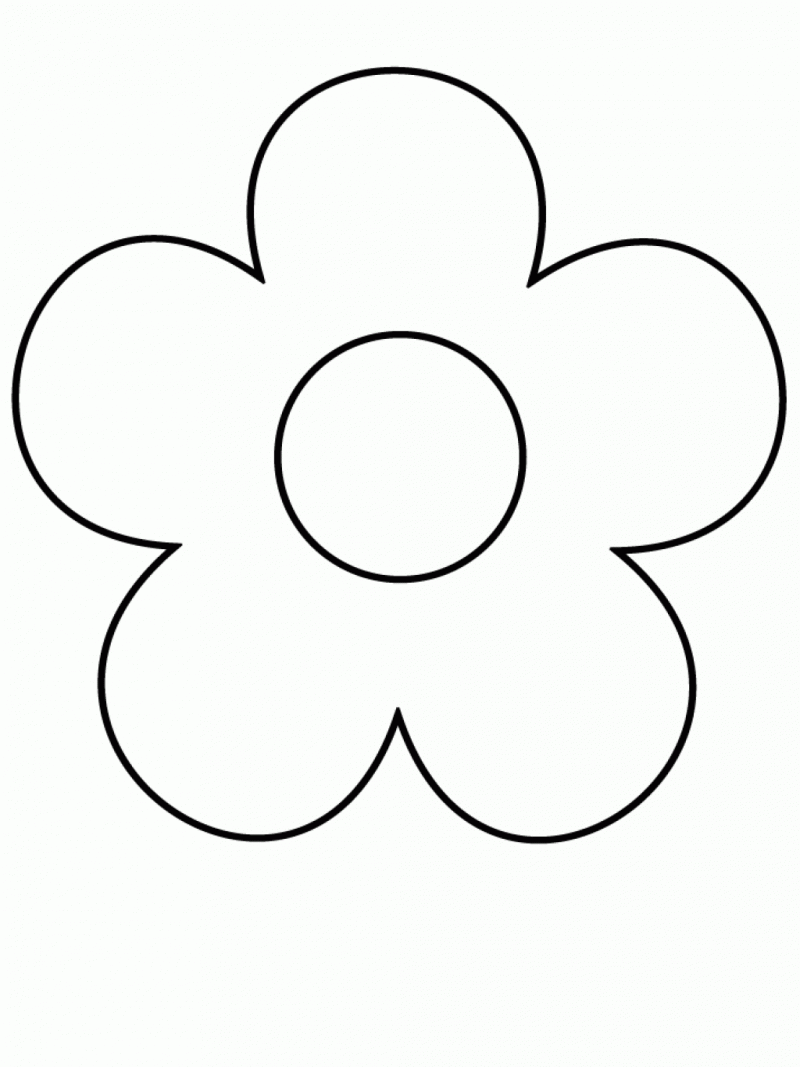 easy flower coloring page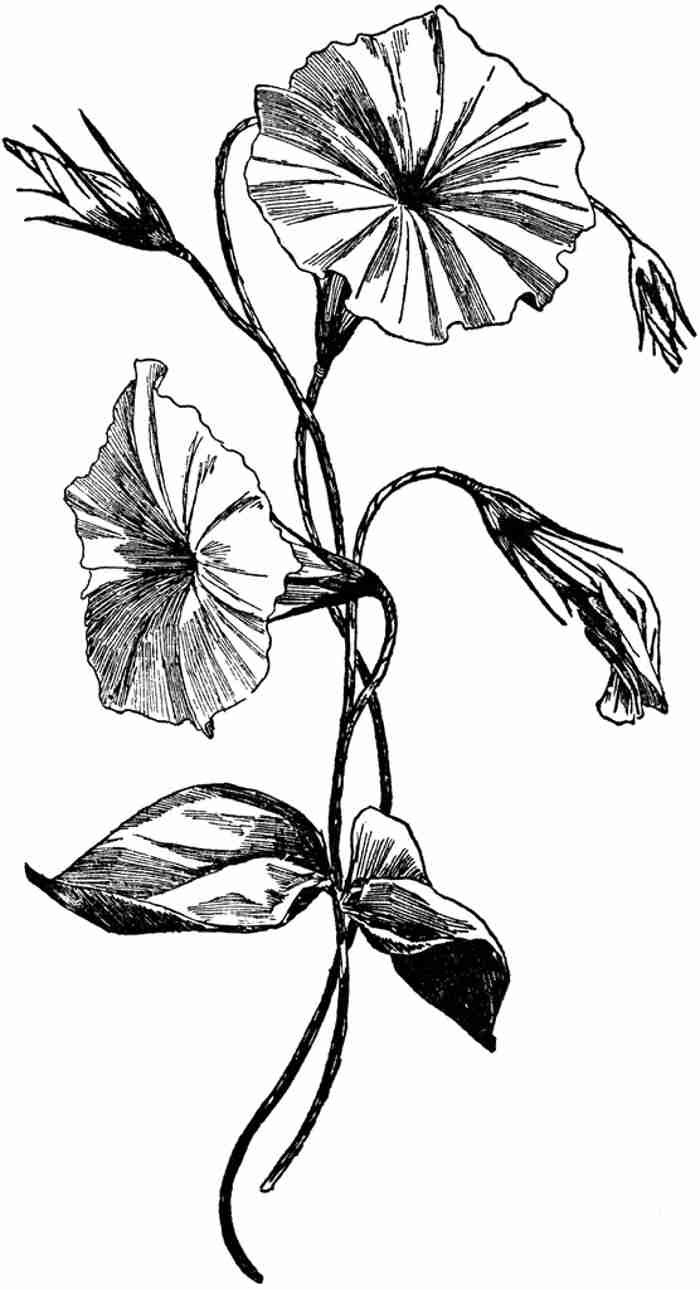 black and white morning glory clipart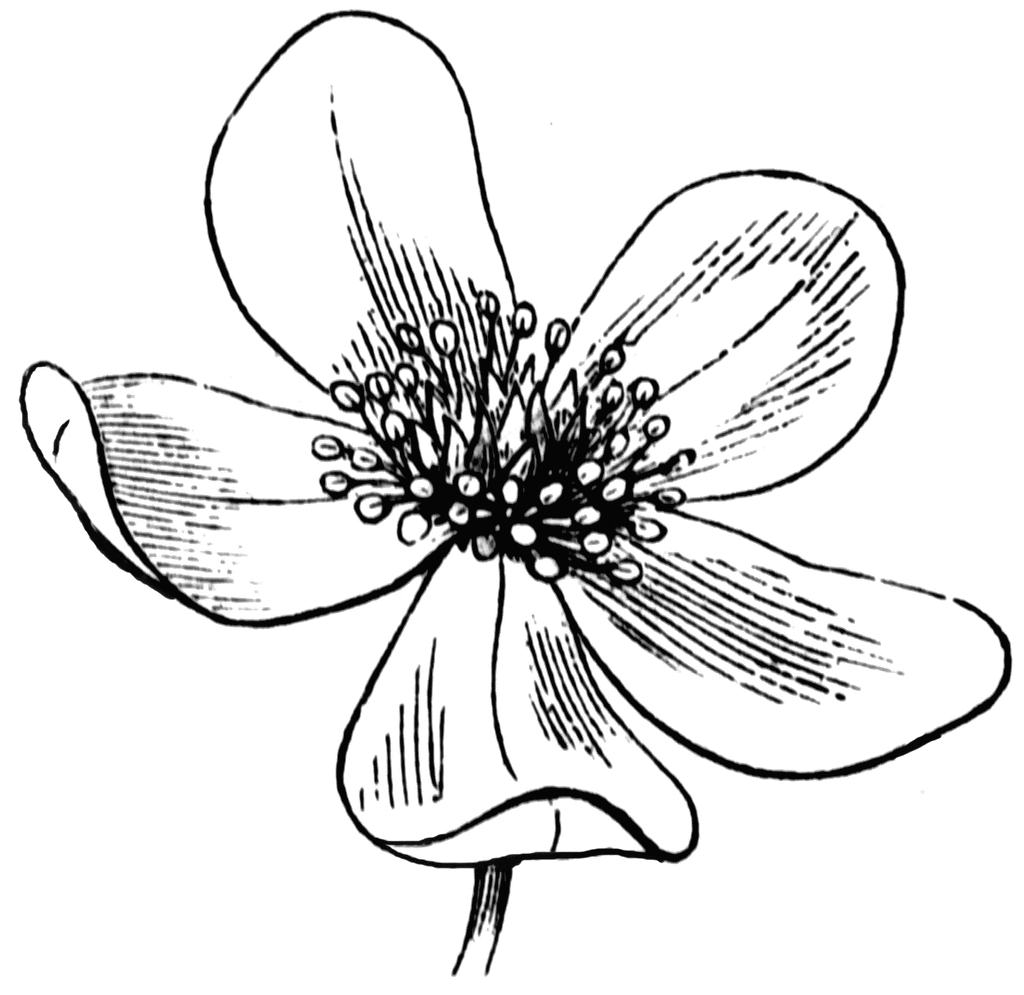 drawing of anemone flower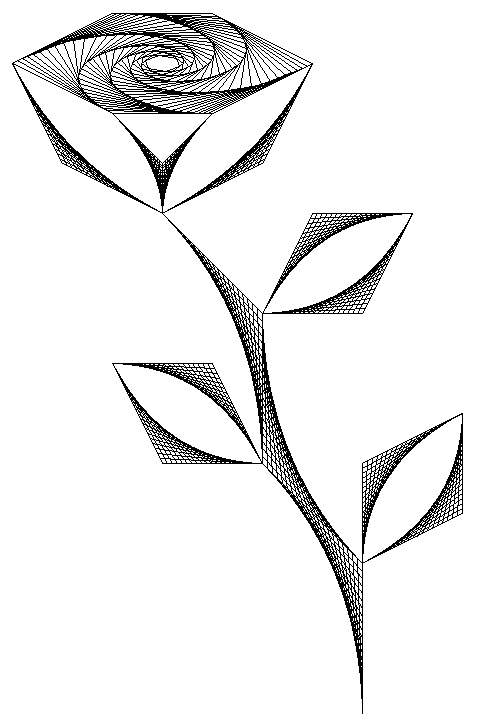 rosa glauca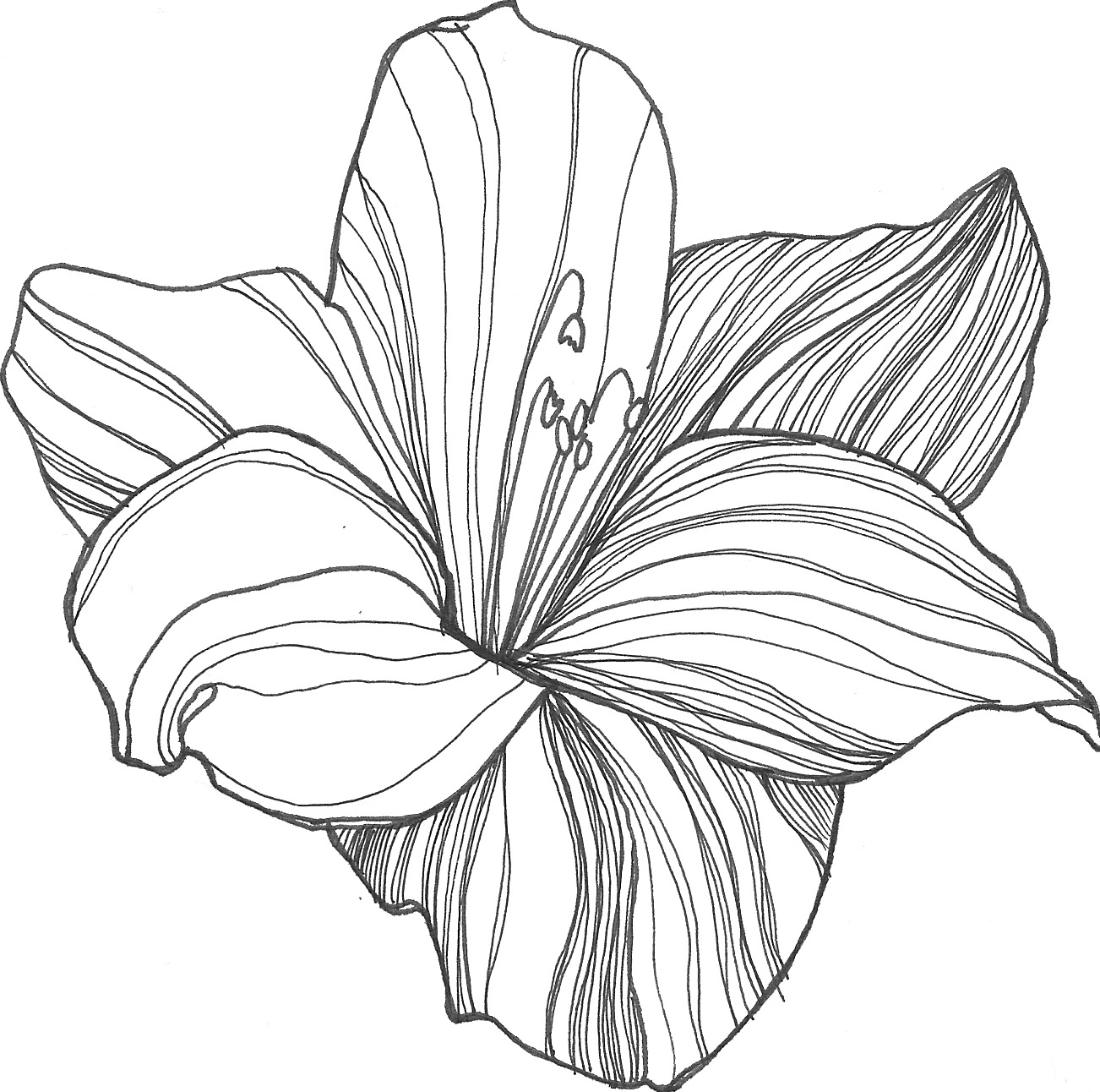 drawings of flowers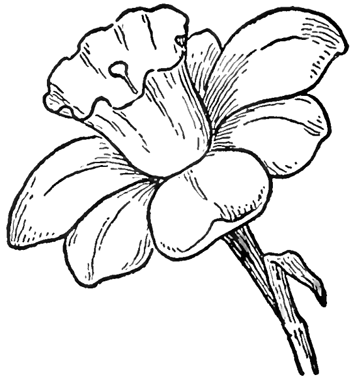 drawing of a daffodil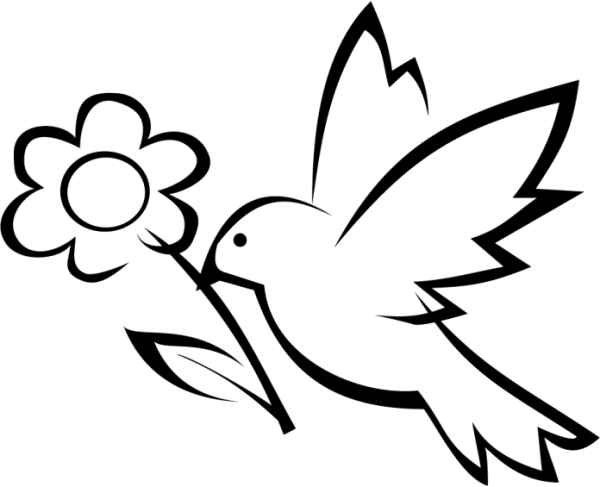 easy drawing pictures of flowers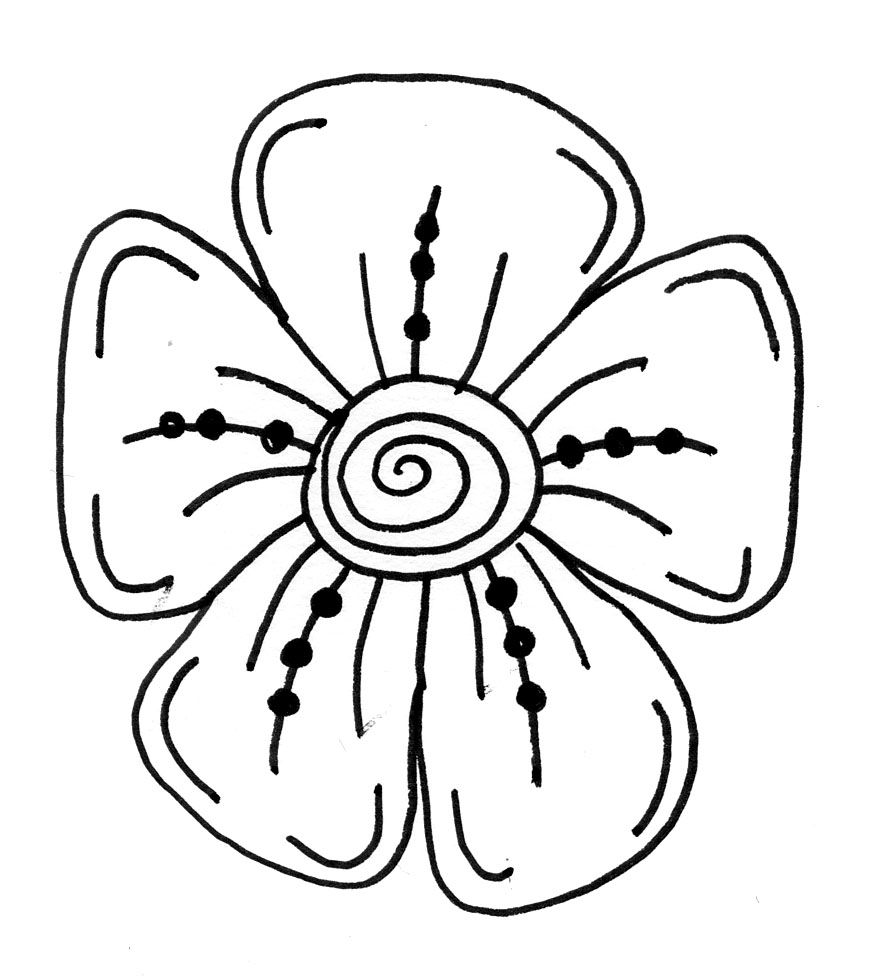 easy drawings flowers design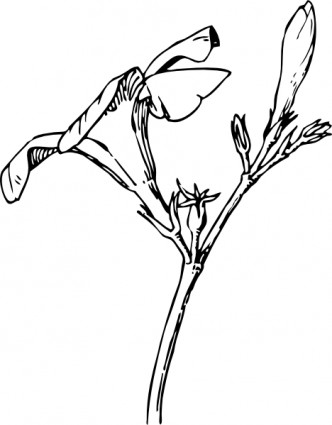 stem png clipart black and white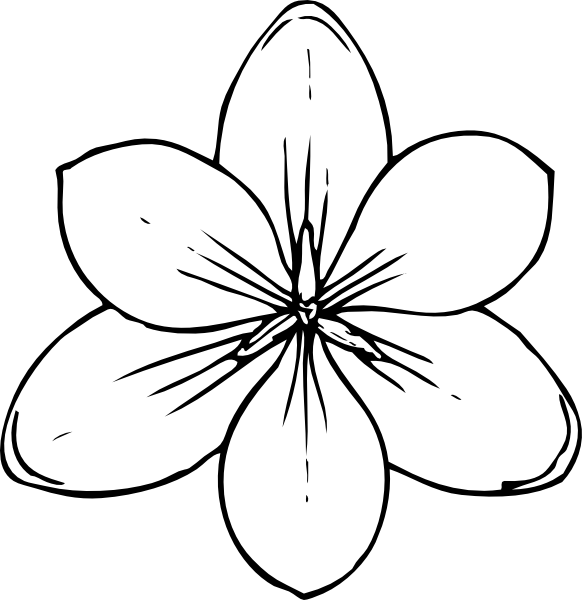 mothers day flowers drawings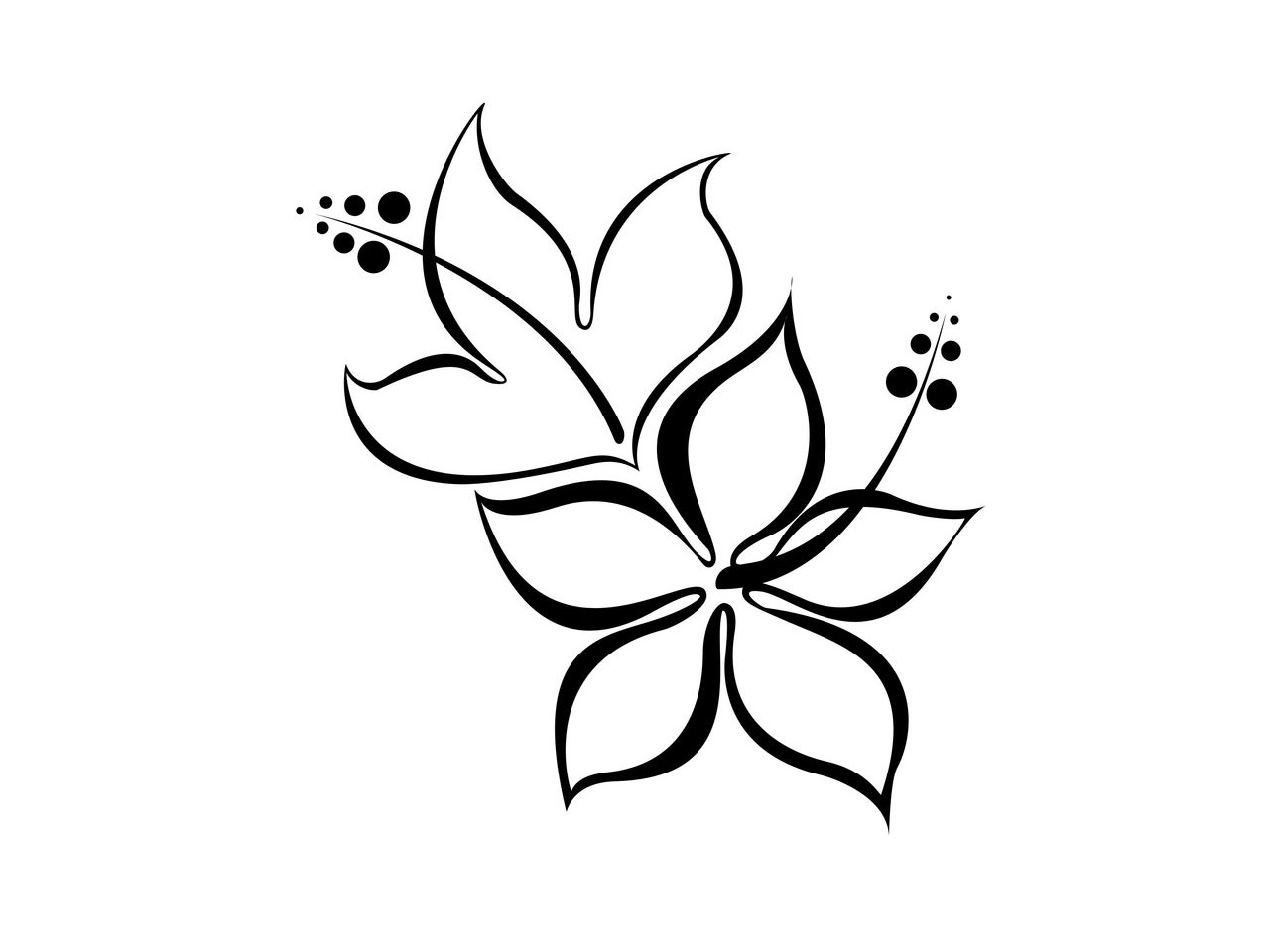 simple flower line art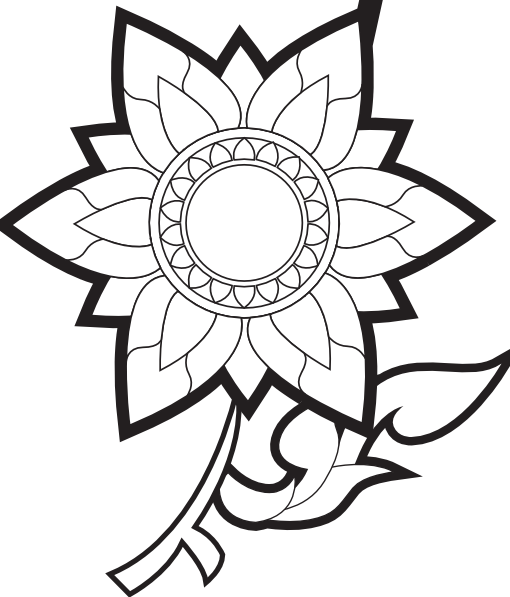 art design flowers drawing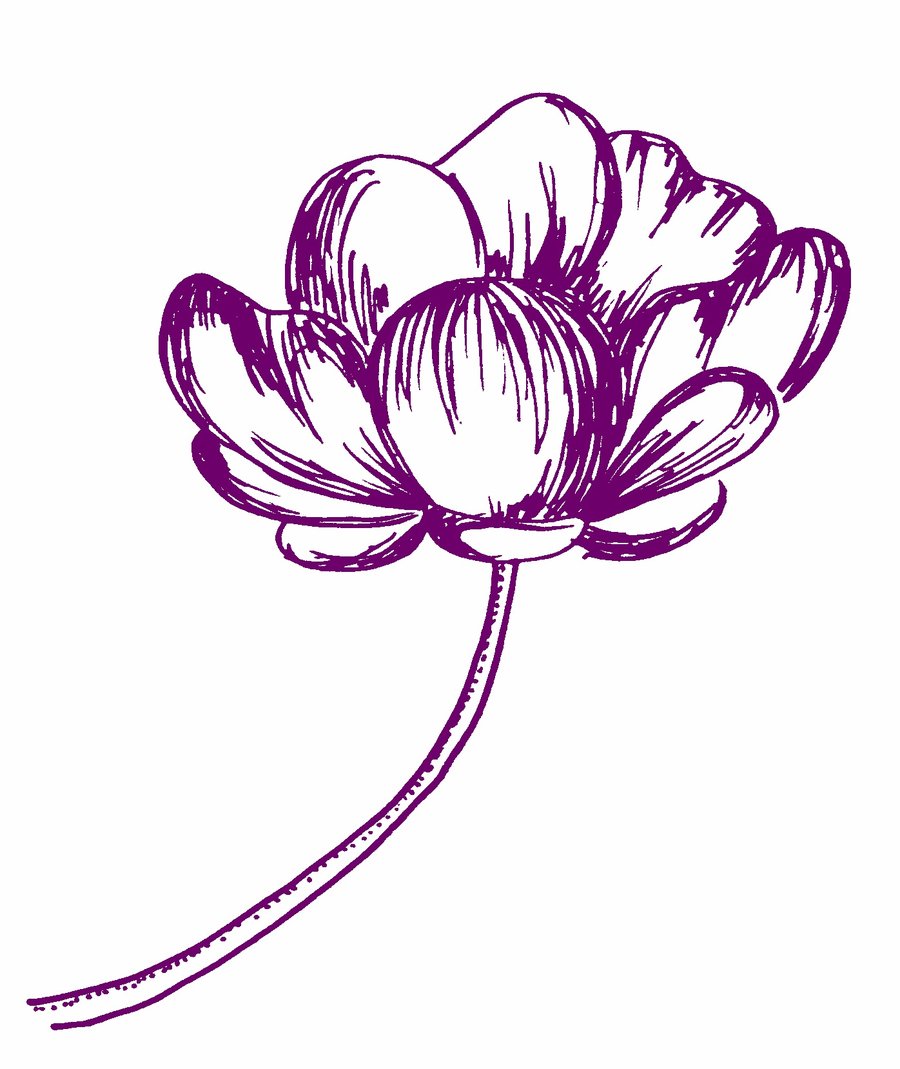 purple flower drawing transparent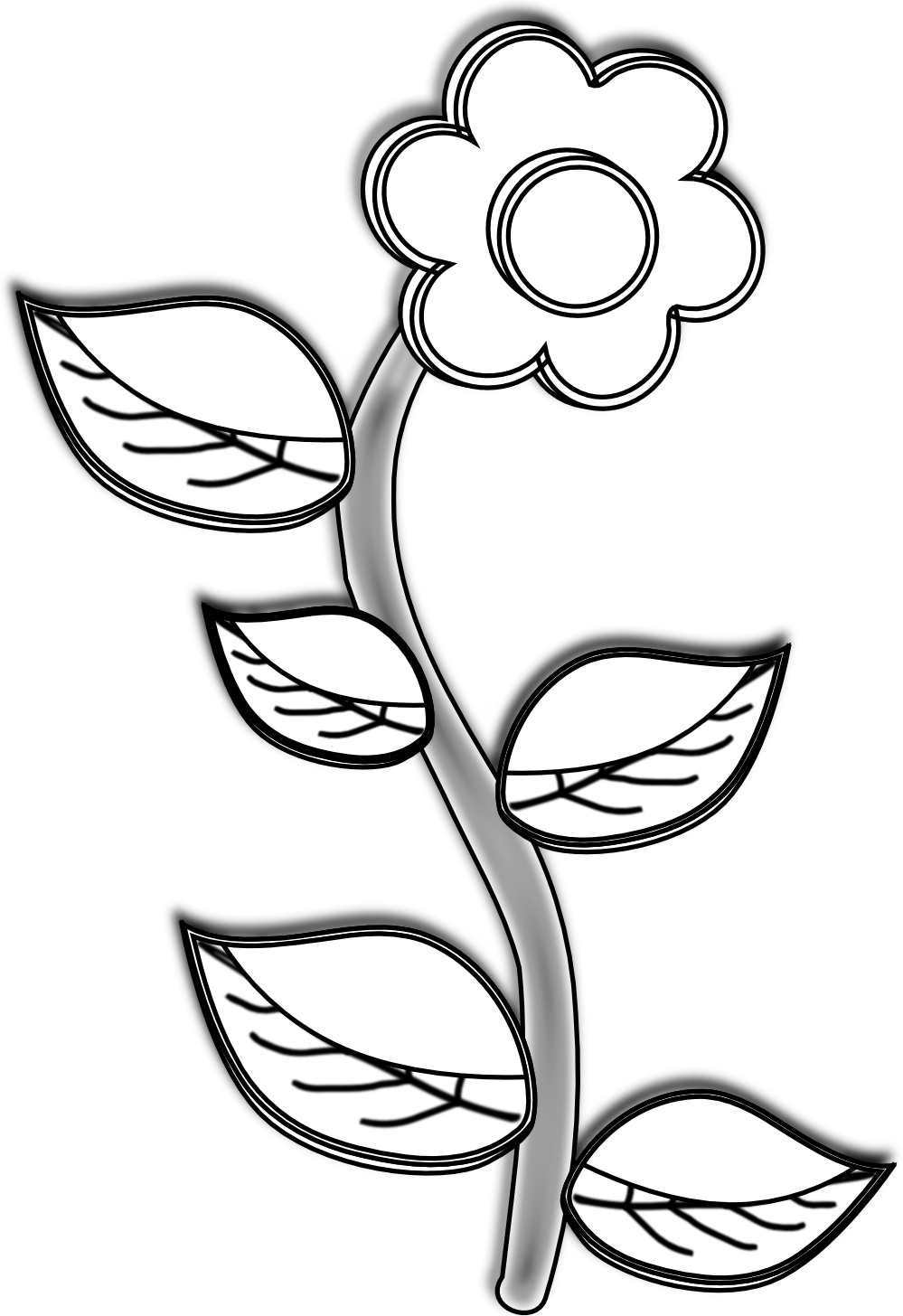 plant in black and white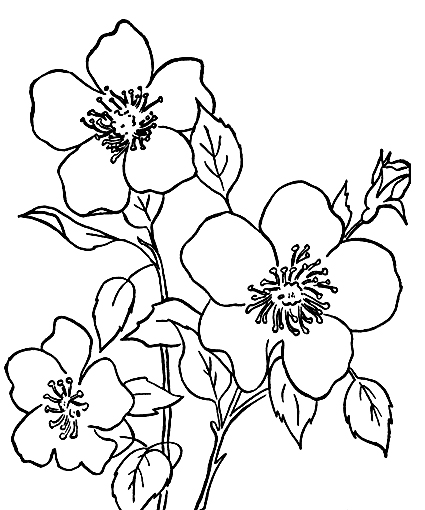 flower drawings for colouring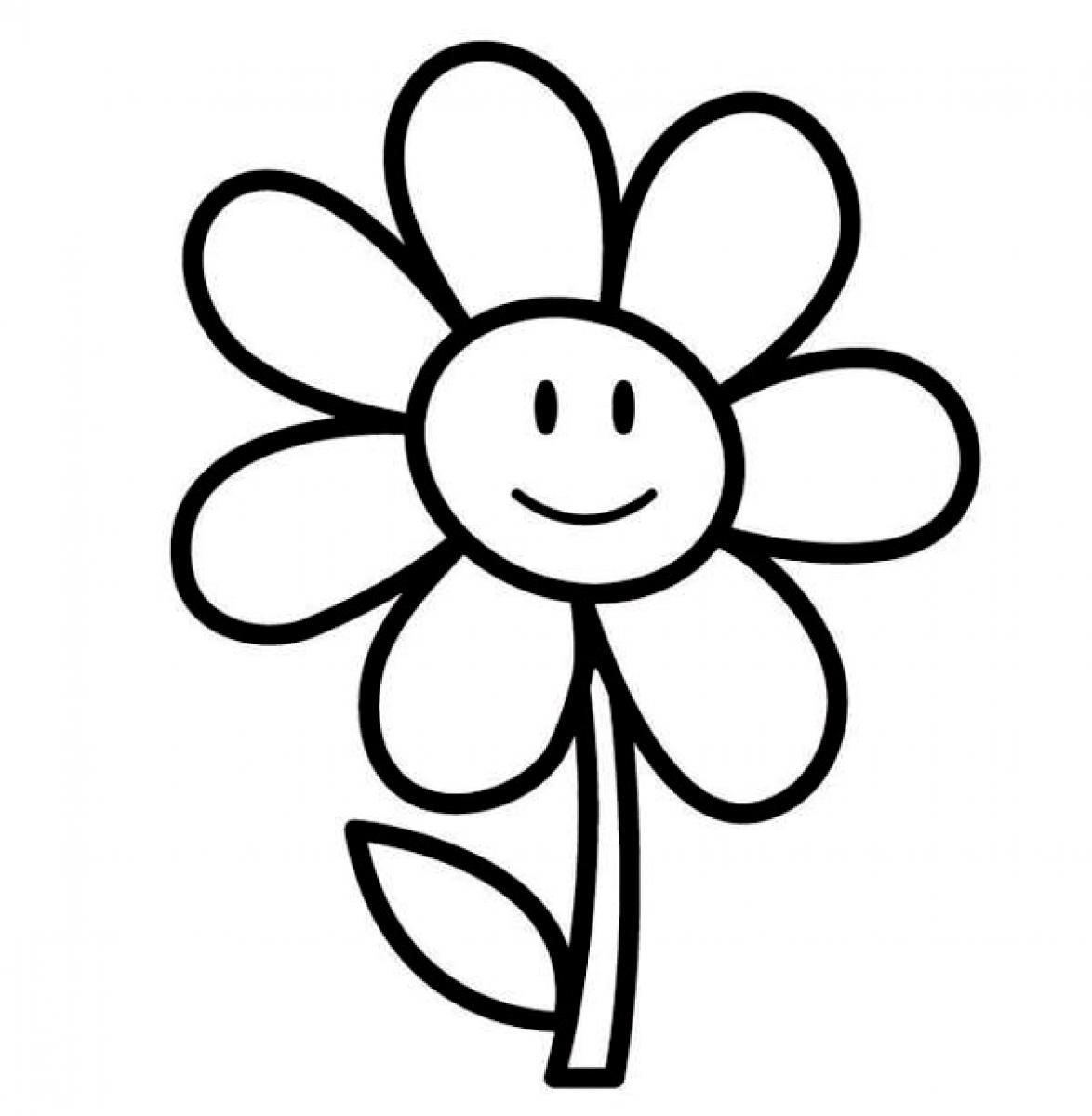 flowers to draw for kids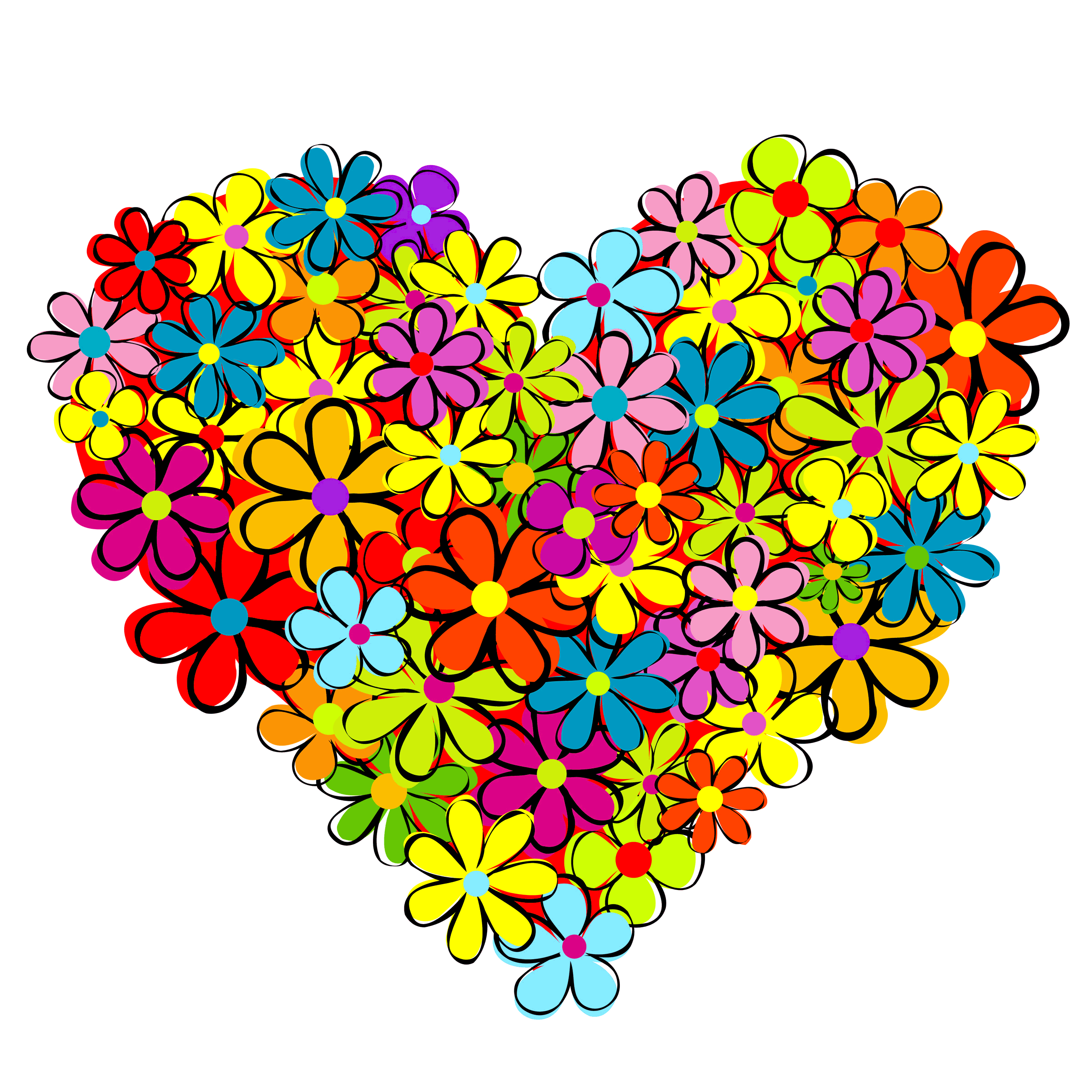 heart made of flowers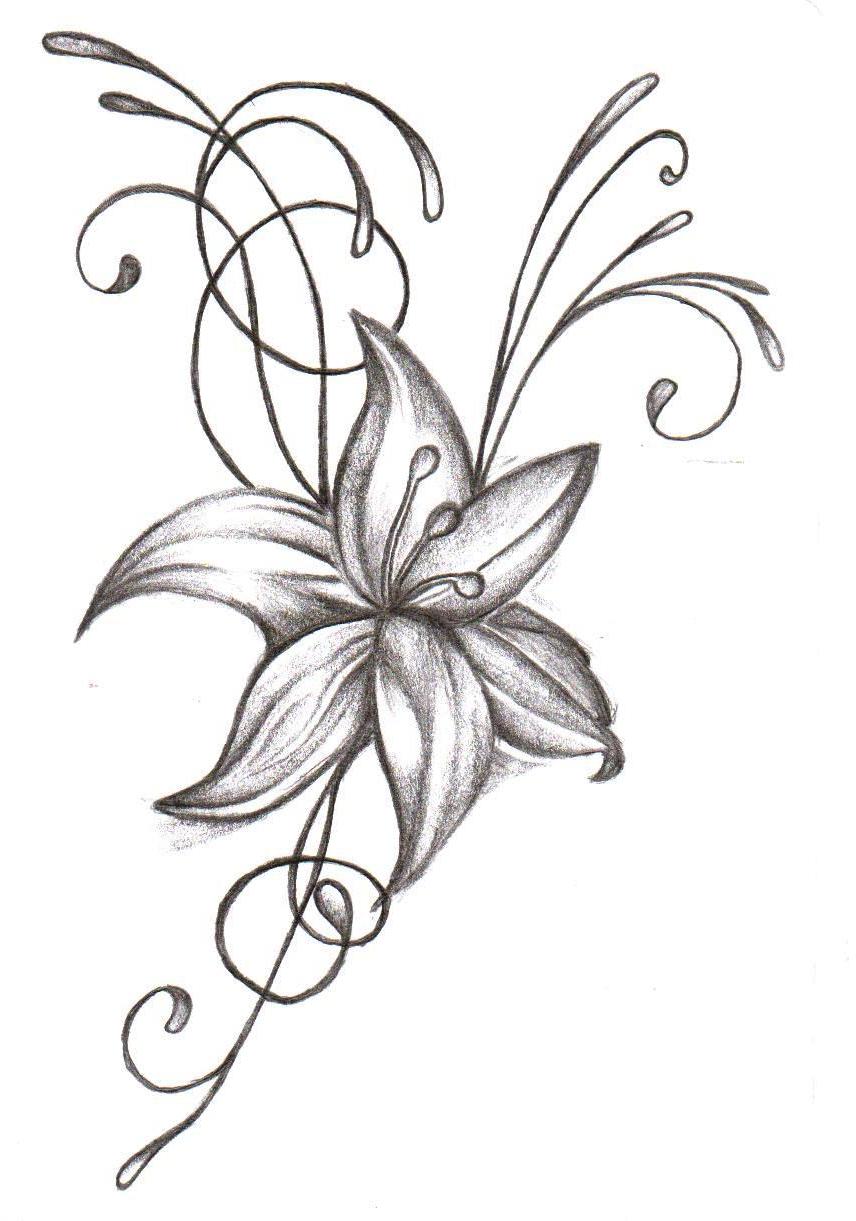 easy drawing ideas of flowers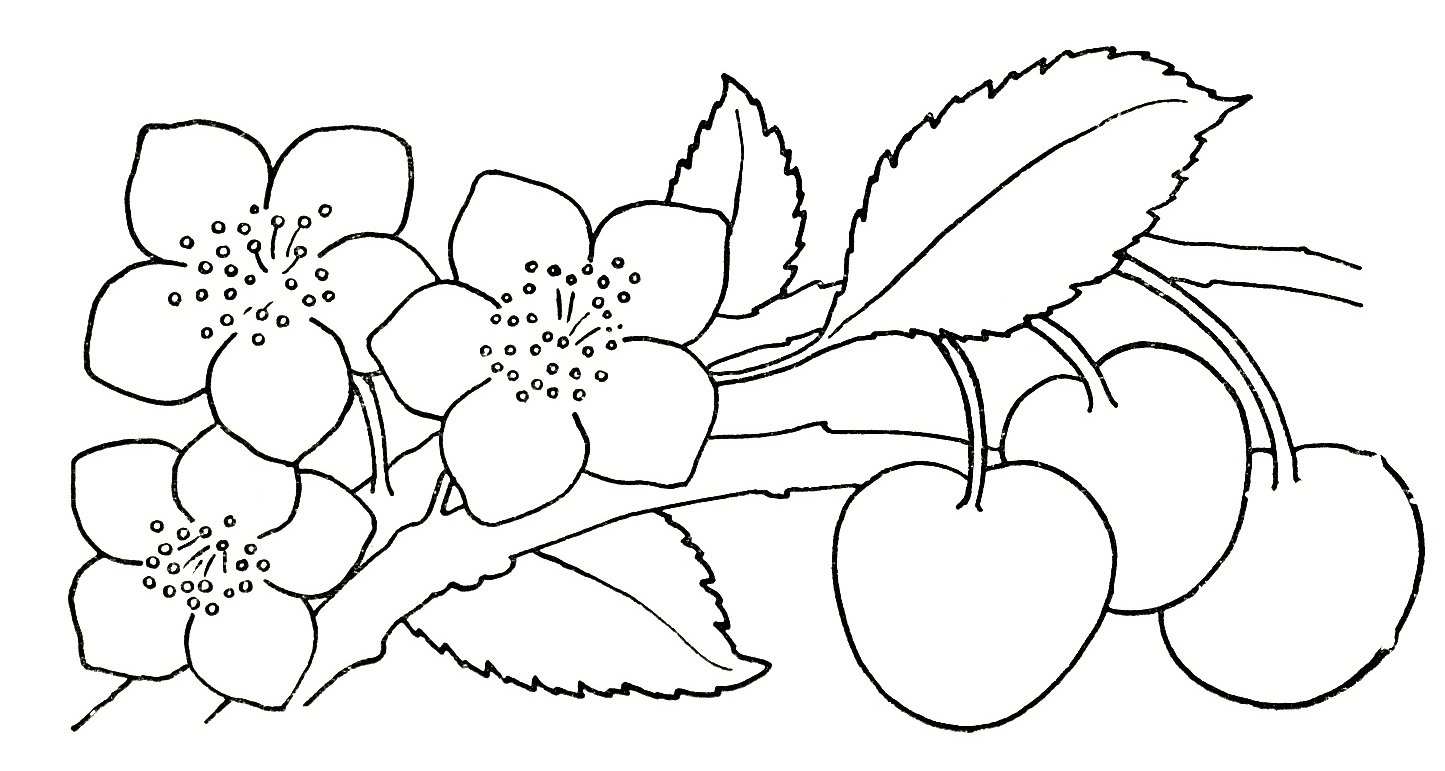 drawing for kids hd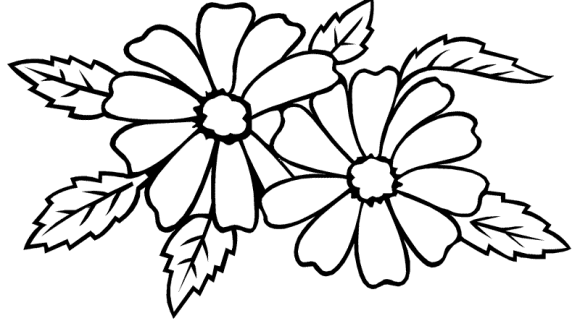 different types of flowers to color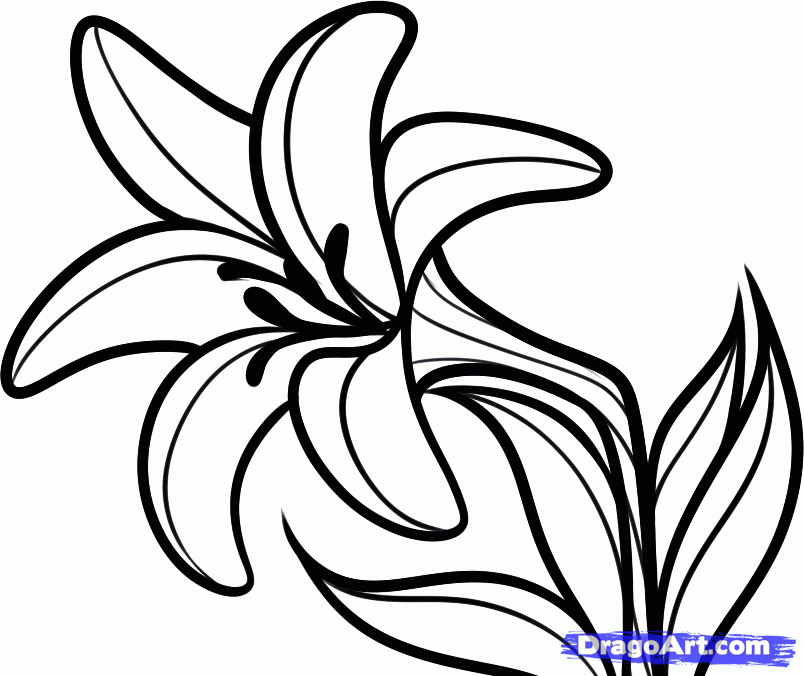 easter lily flower drawing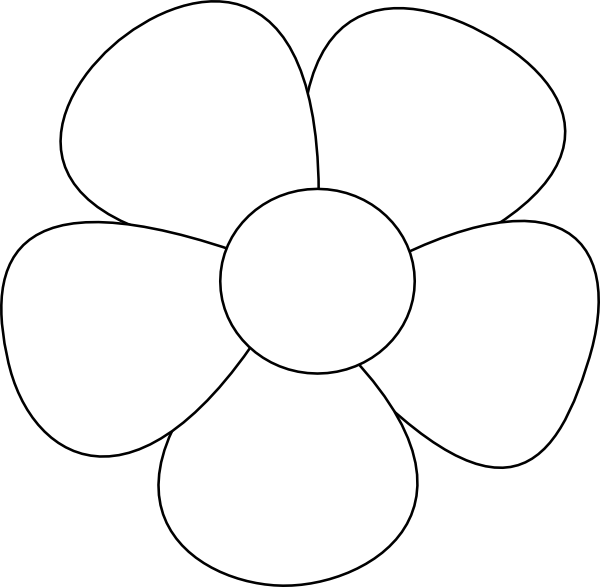 simple flower clip art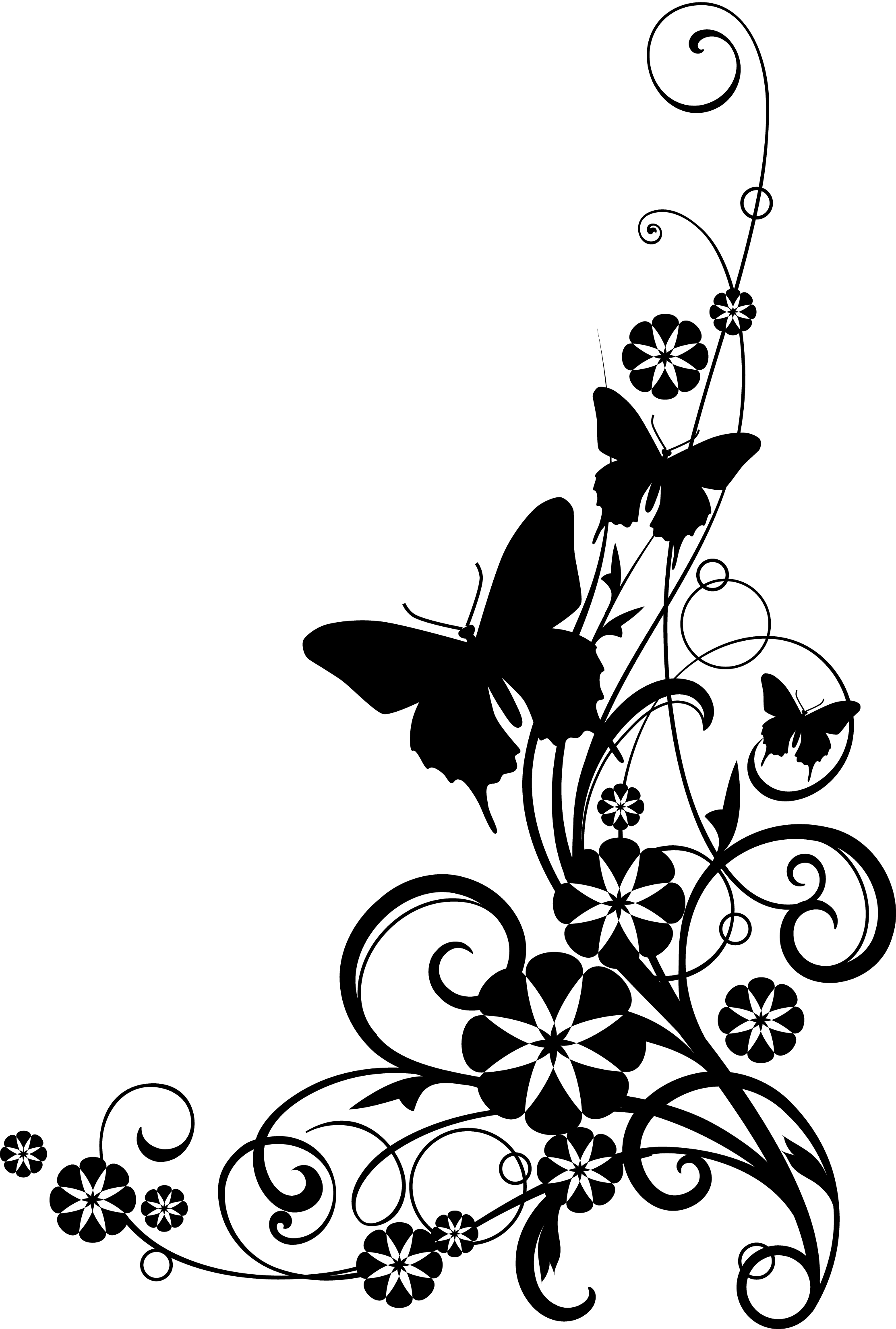 butterfly black and white border design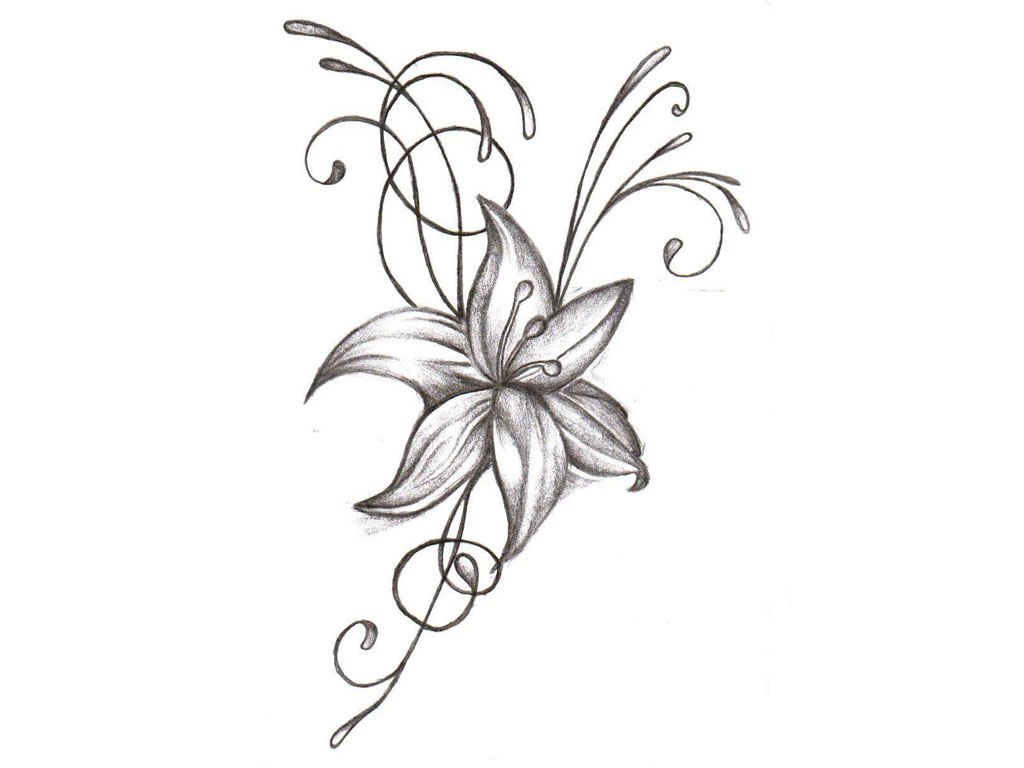 jasmine flower tattoo drawing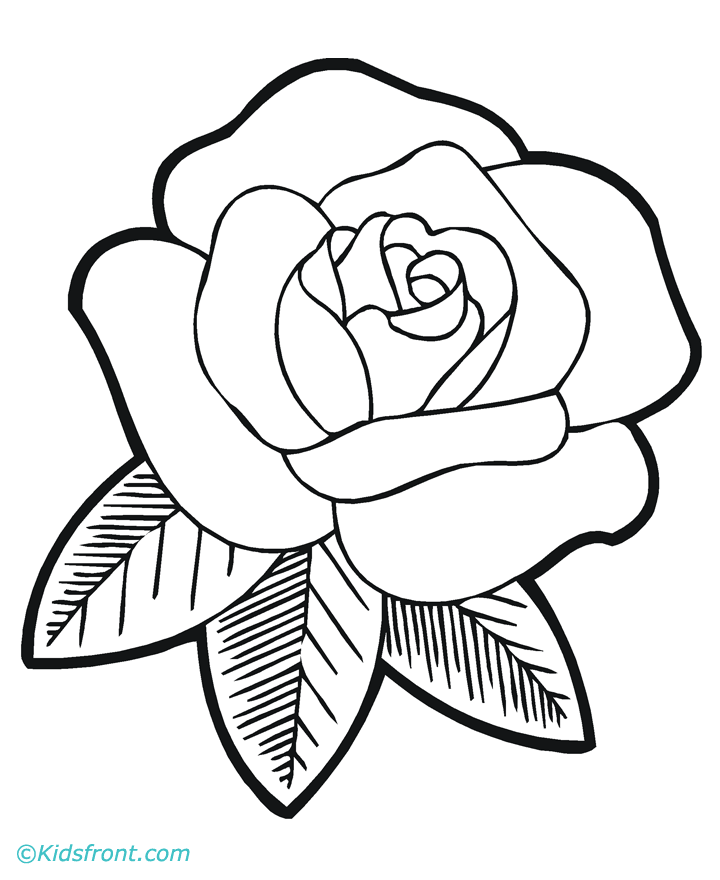 big flower to draw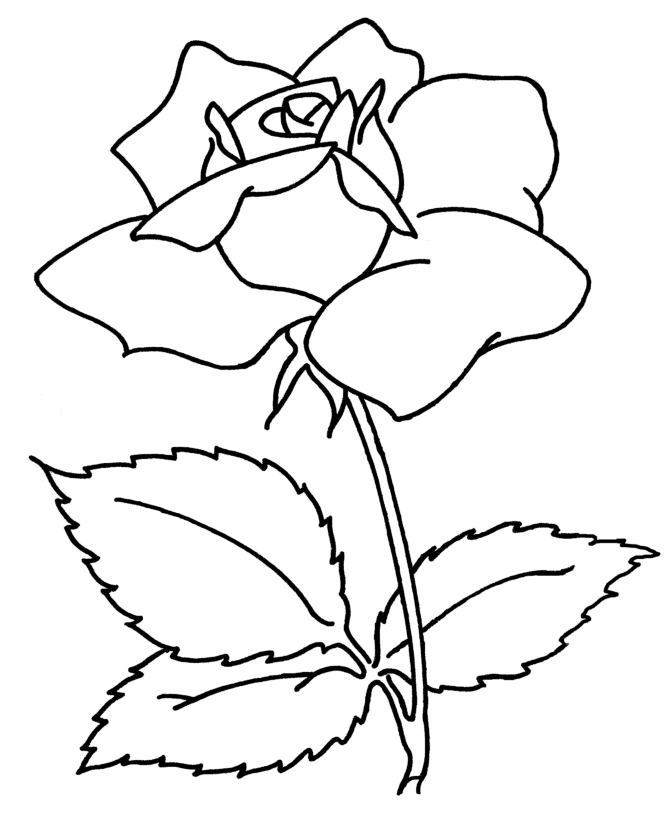 flower picture to colour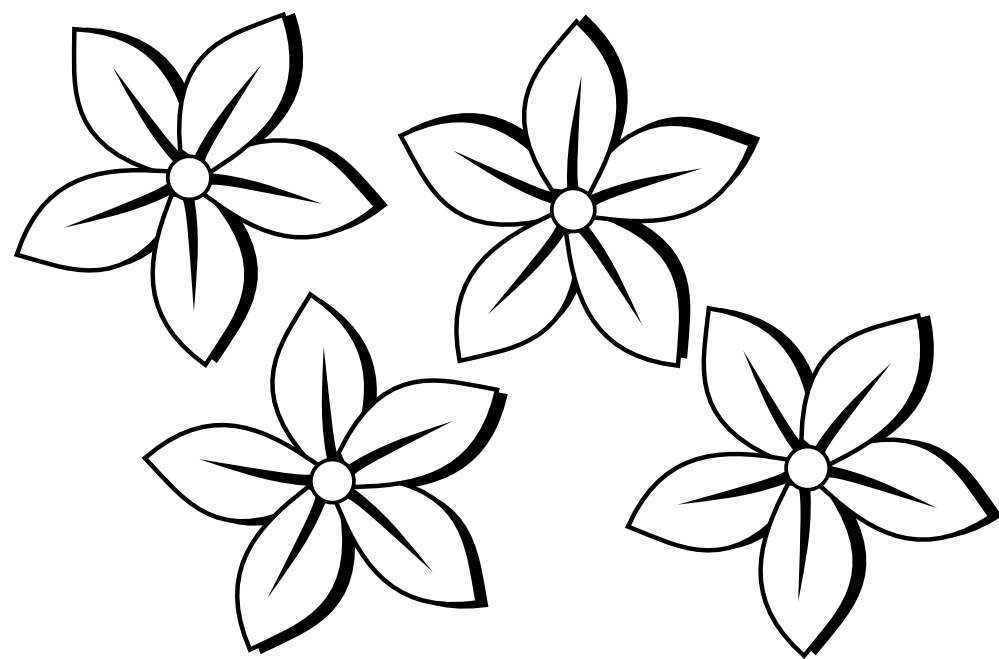 flower black and white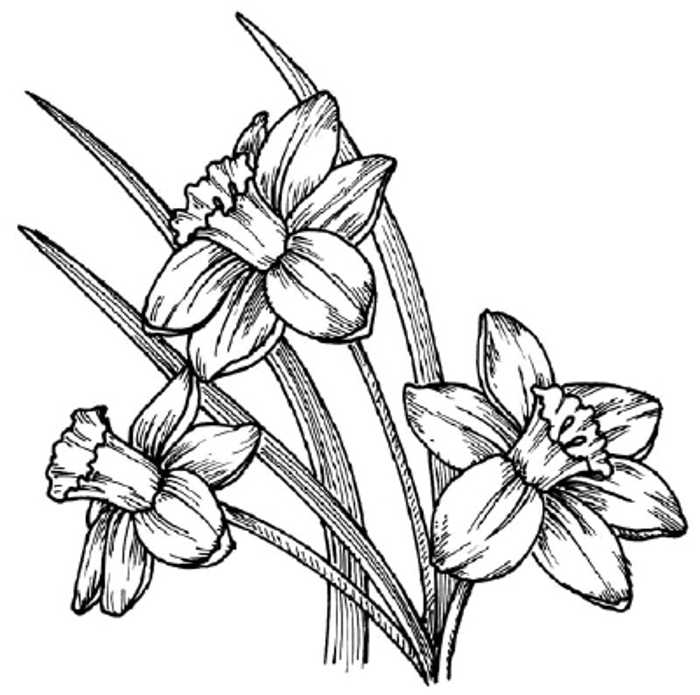 kinds of arts drawing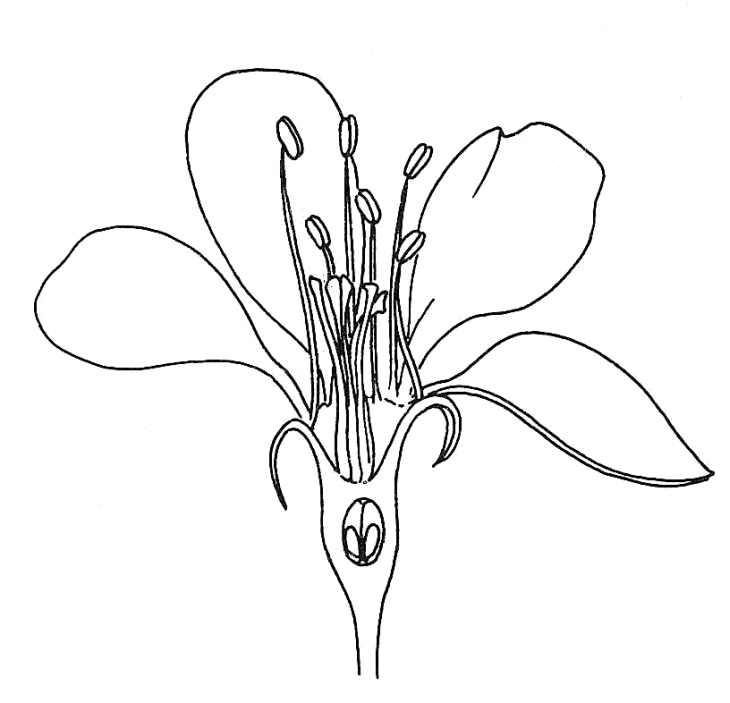 unlabeled parts of a flower diagram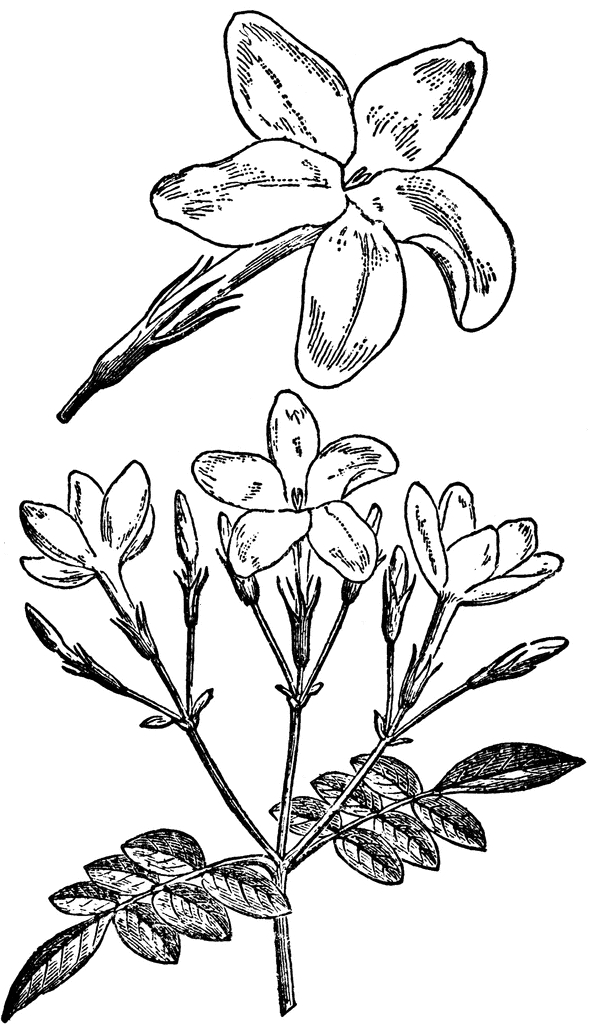 clipart jasmine flower black and white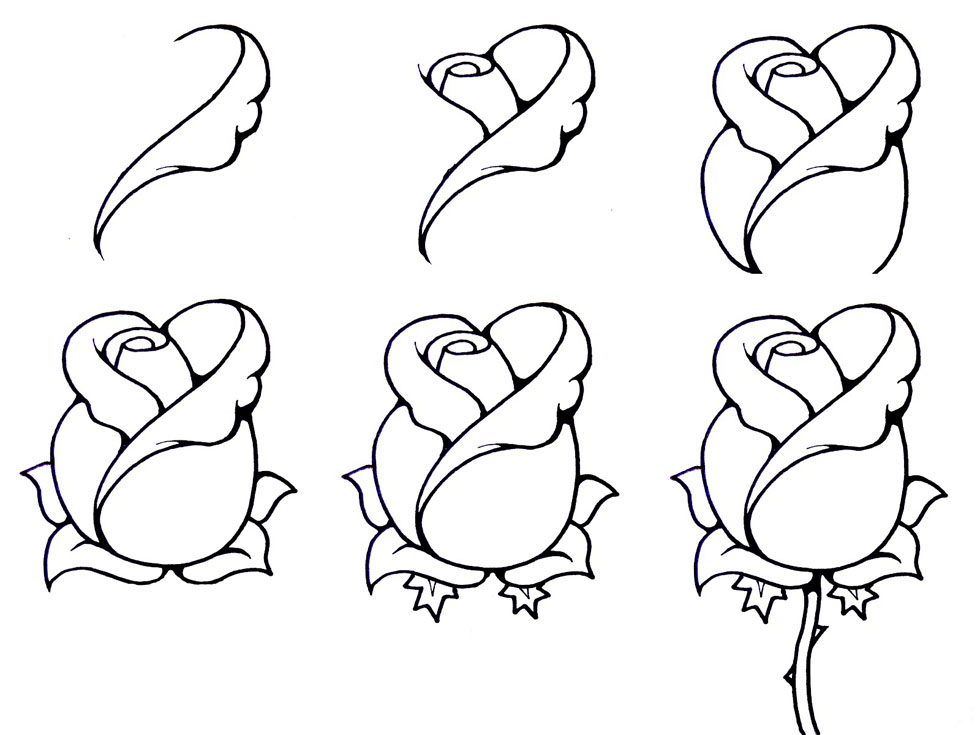 step by step beautiful drawings of flowers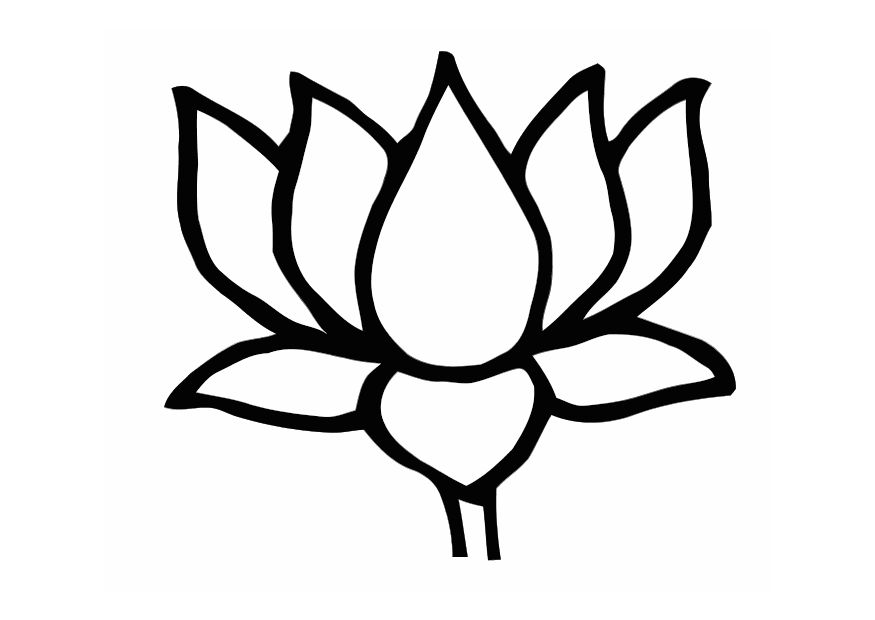 lotus symbols of hinduism
lotus flower tattoo designs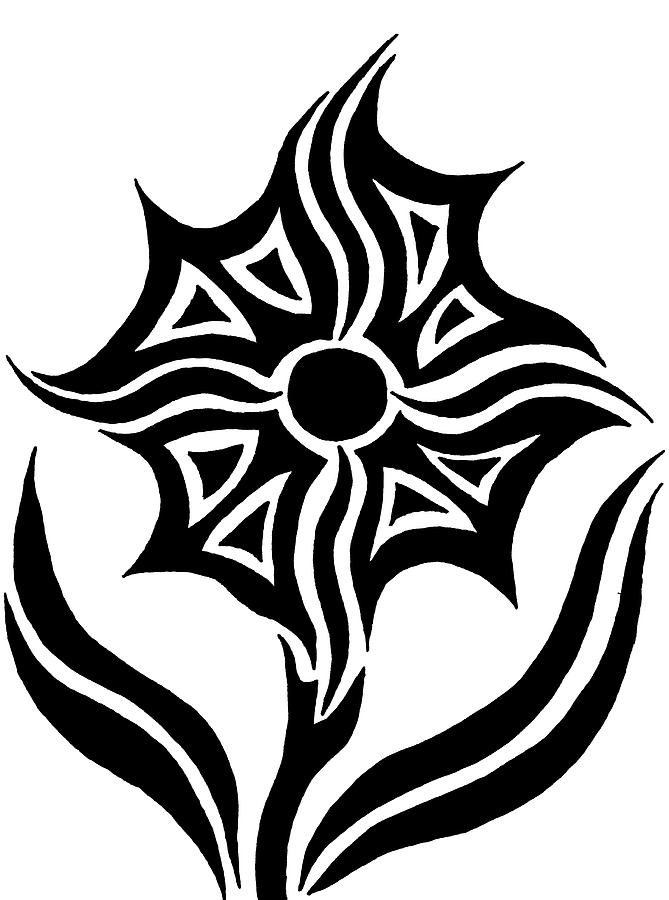 black and white abstract flower designs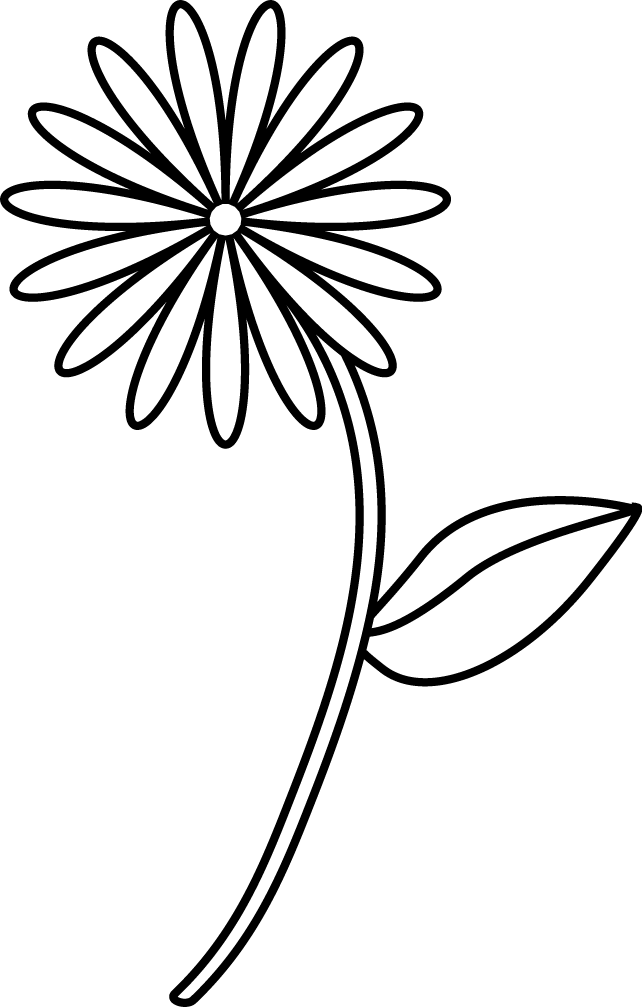 simple flower line drawings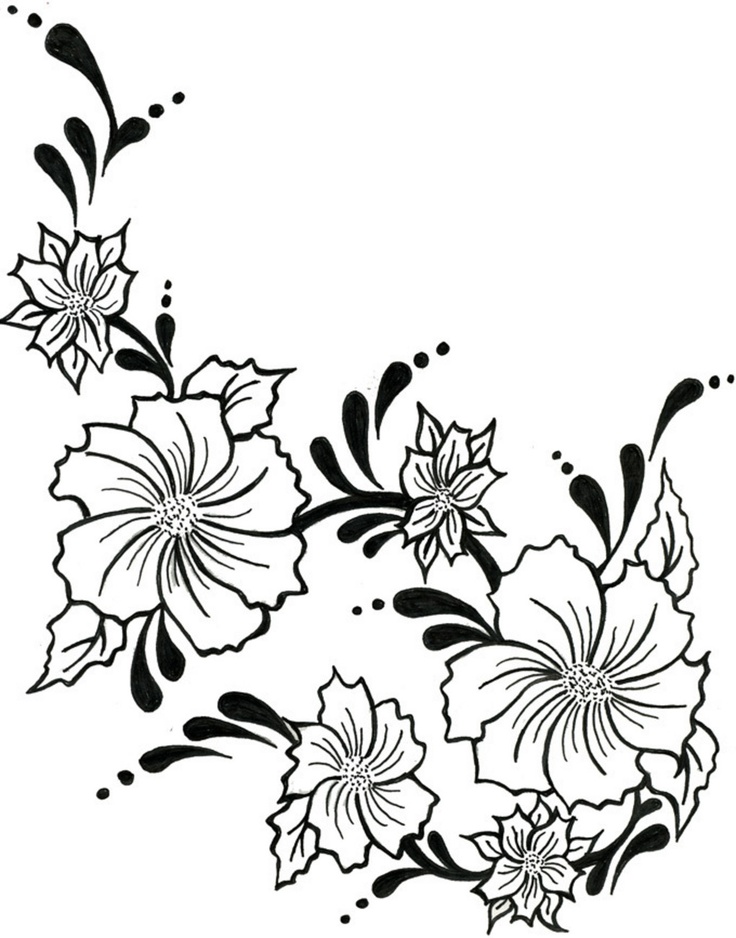 flower with vines drawing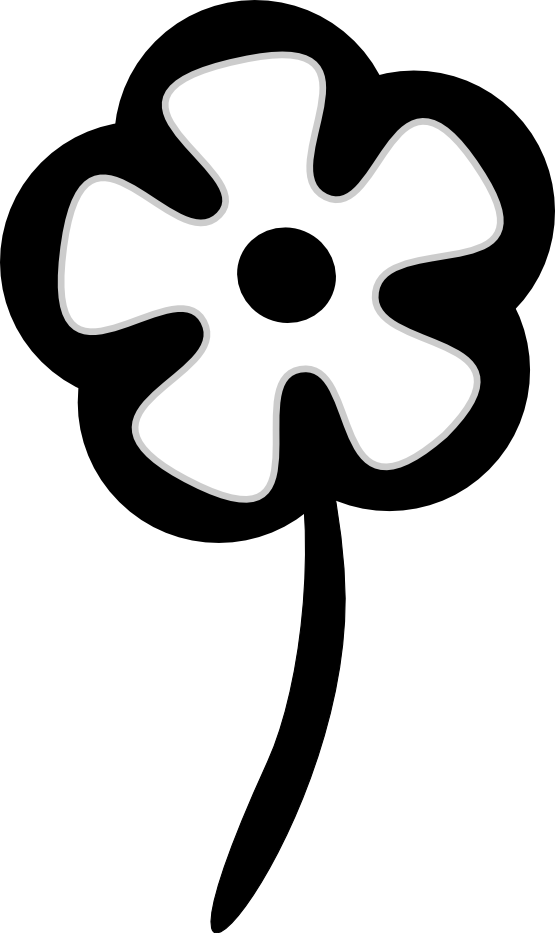 black and white flower graphic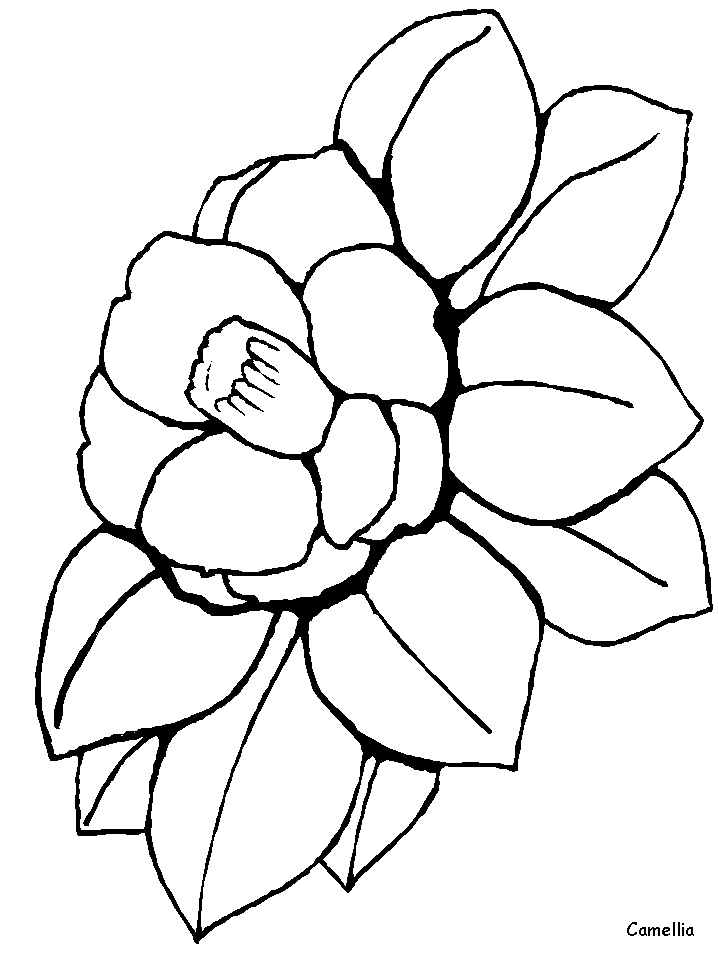 mexican flower coloring pages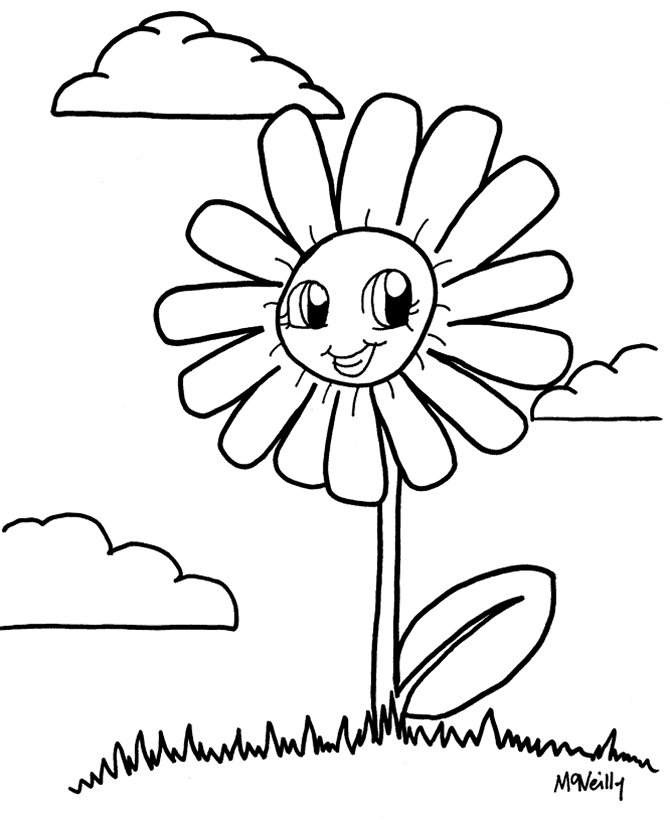 flower kids coloring pages free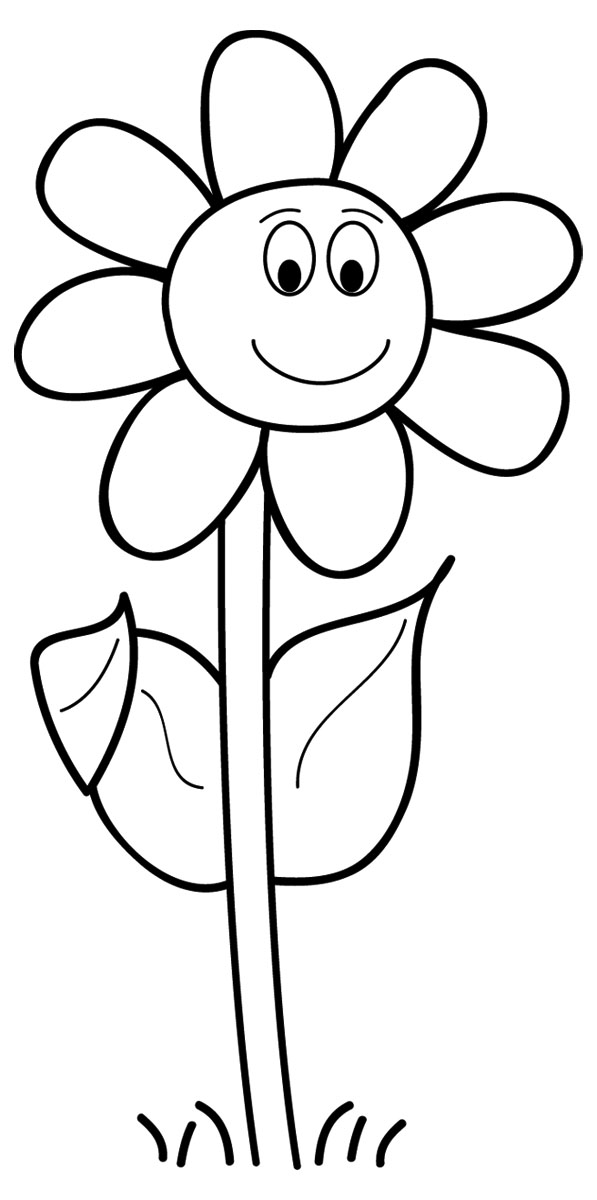 sun flower black line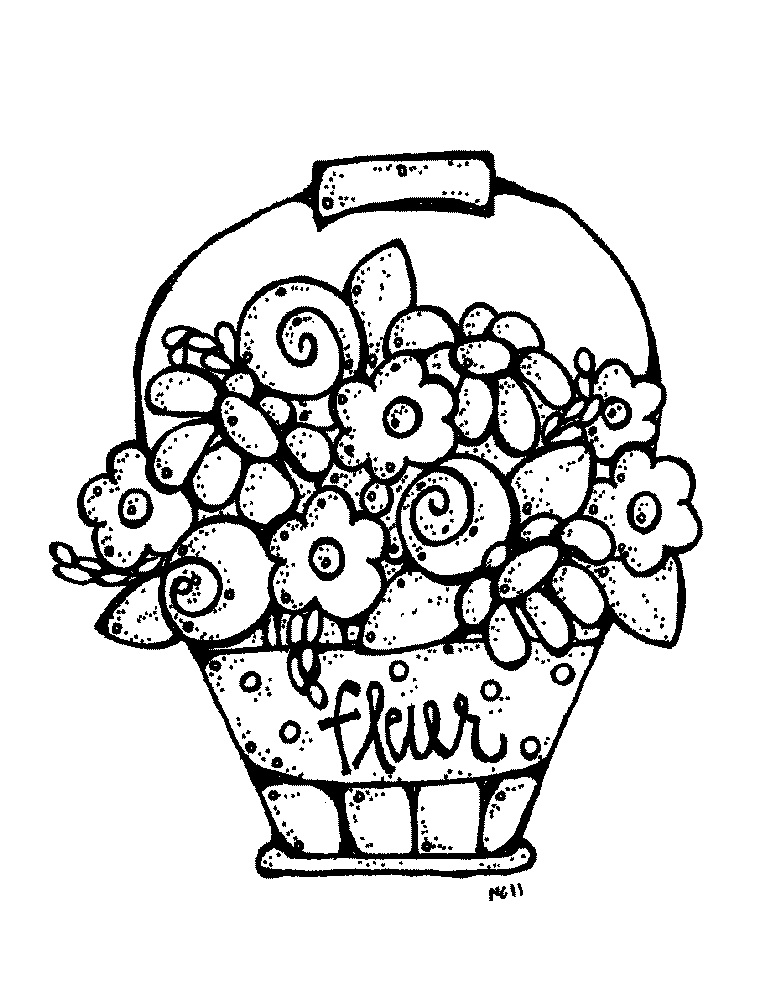 clipart flower bouquet drawing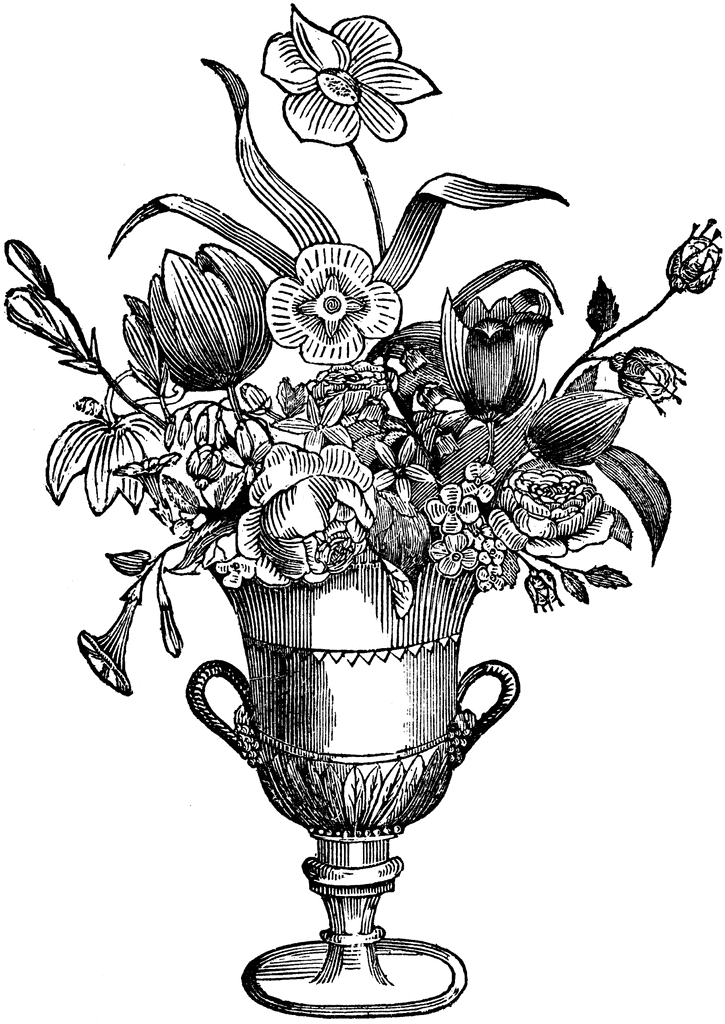 vase and flowers clipart png black and white

hand drawn flowers png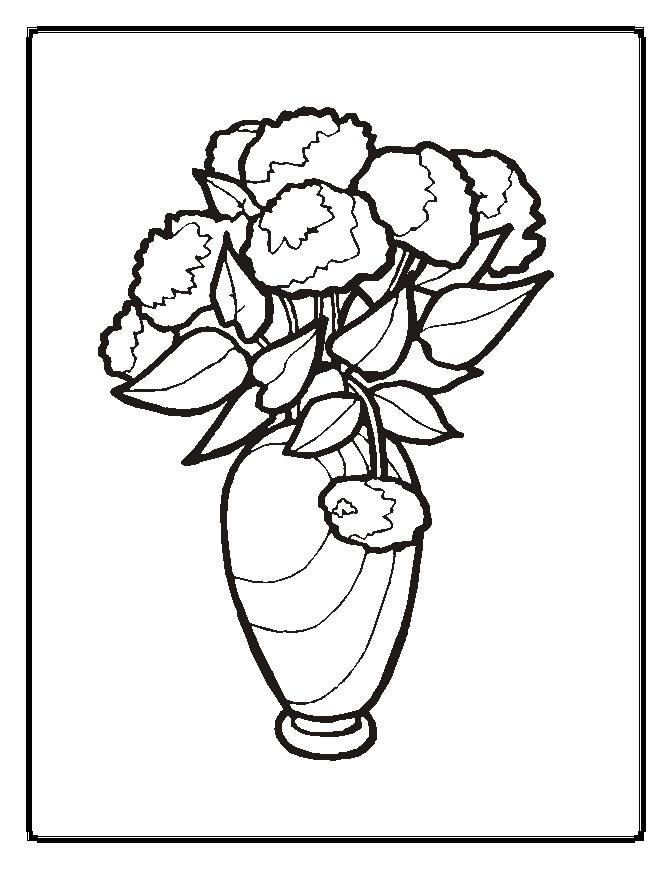 beautiful flowers colouring page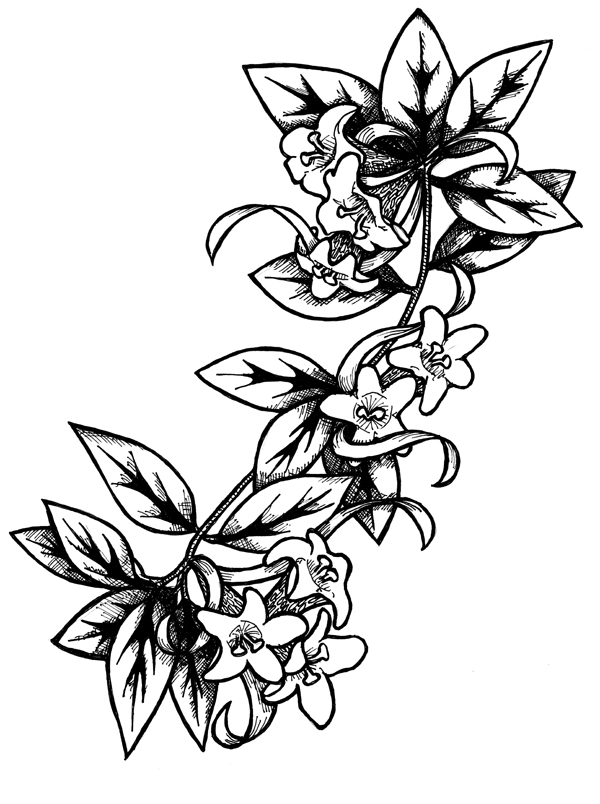 line art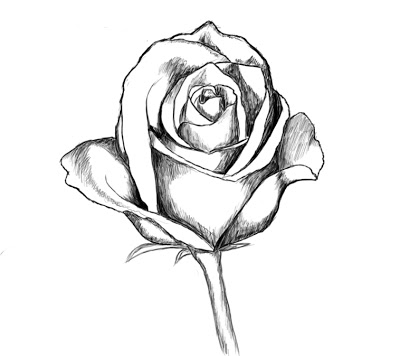 black and white color drawings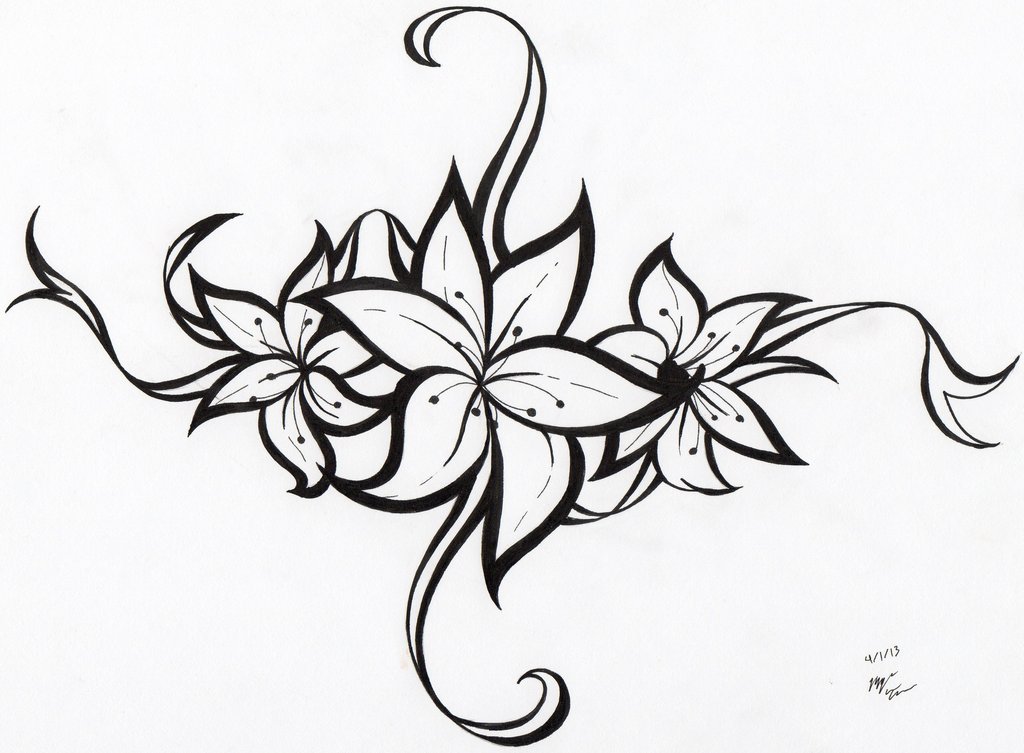 tribal flower tattoos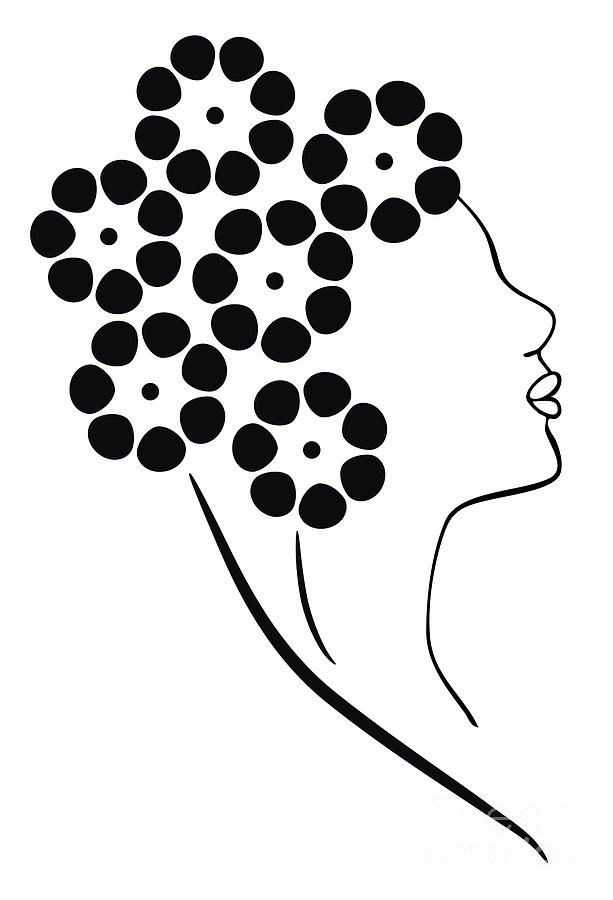 fine arts sketches flowers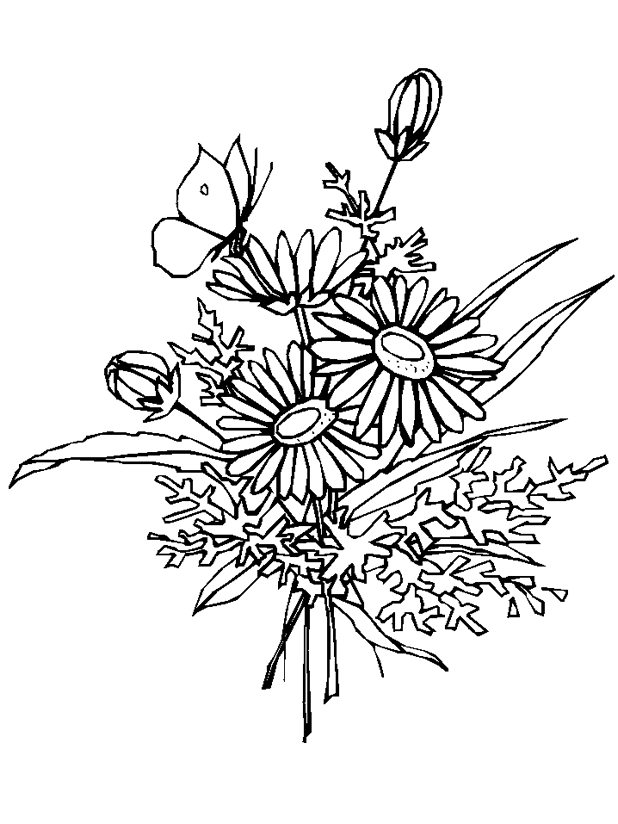 ????????? ????? ??????? ??????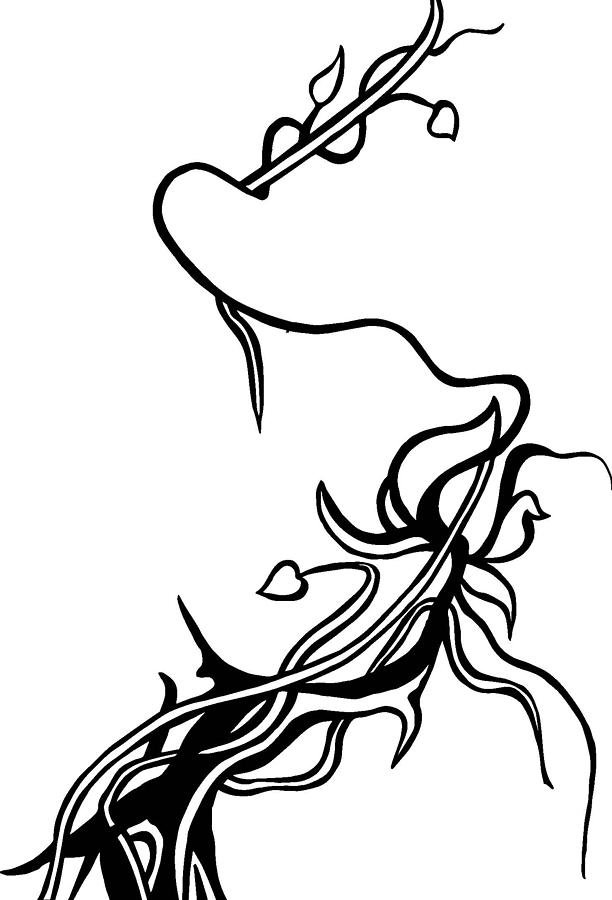 tree vines drawing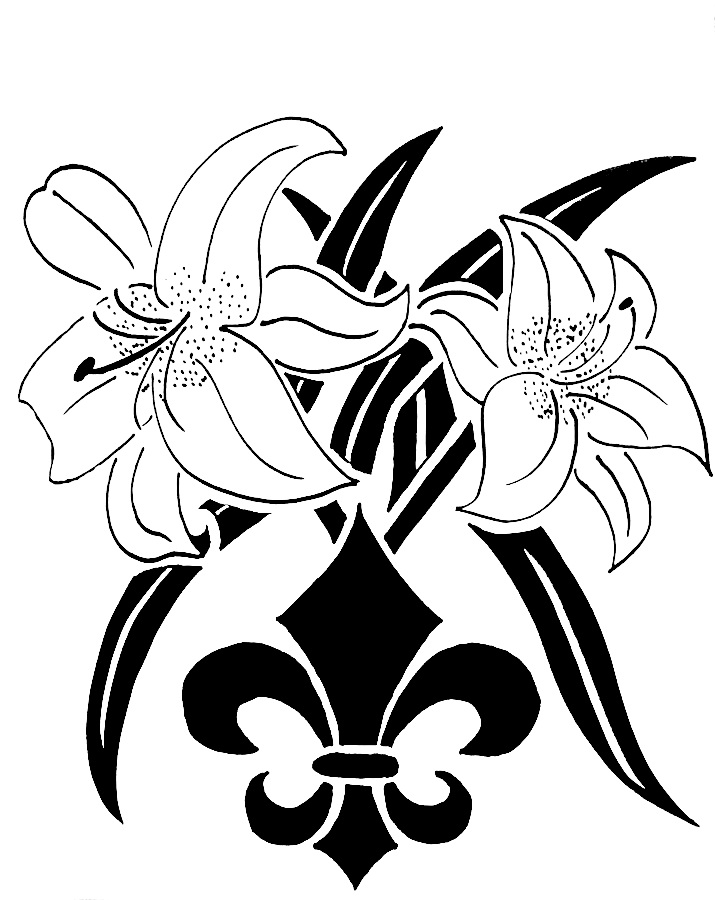 flower drawing tribal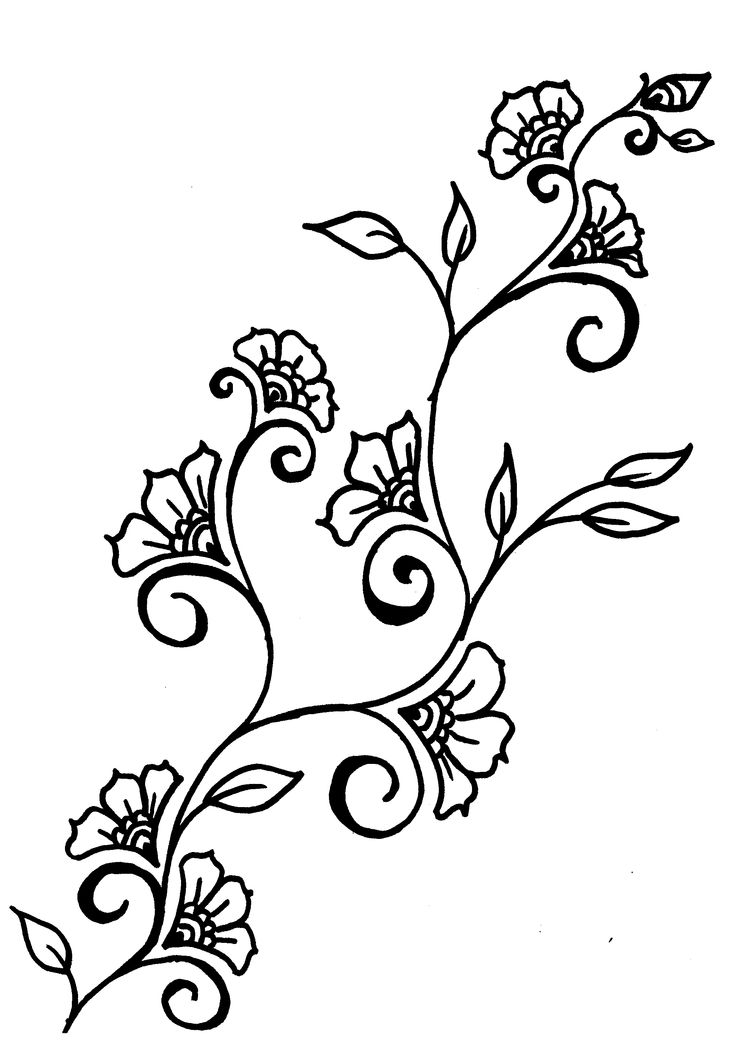 flower and vines drawings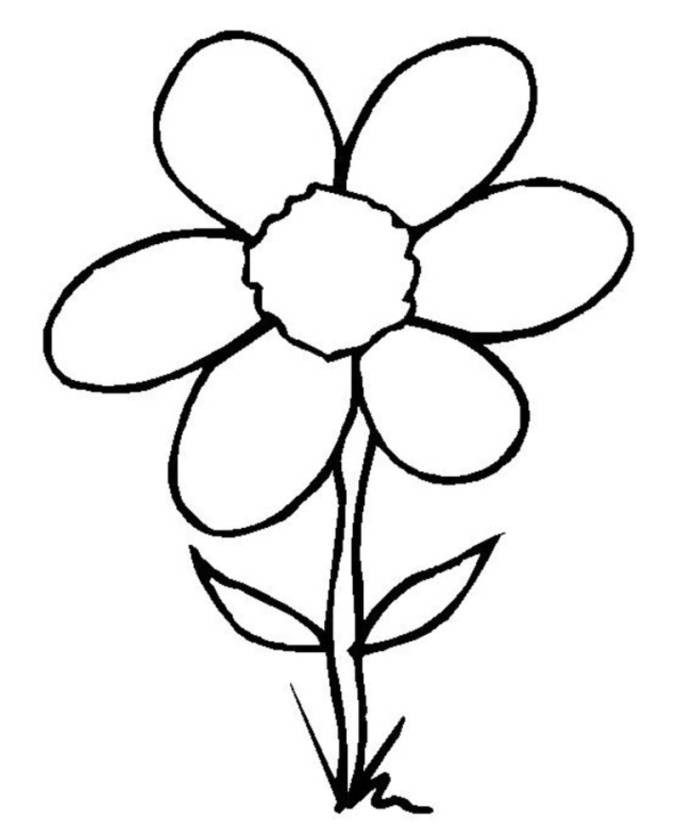 simple flower drawing for kids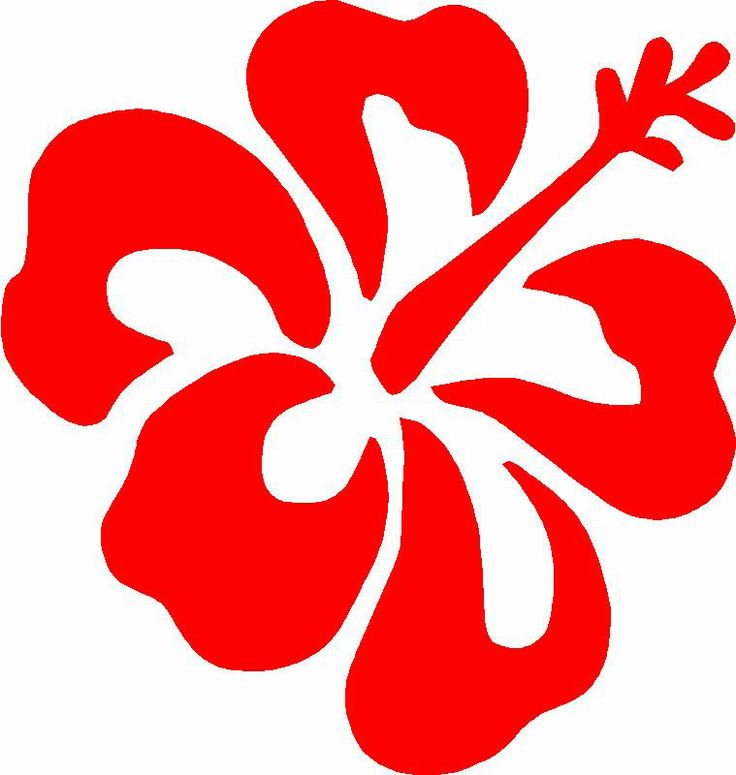 hibiscus flower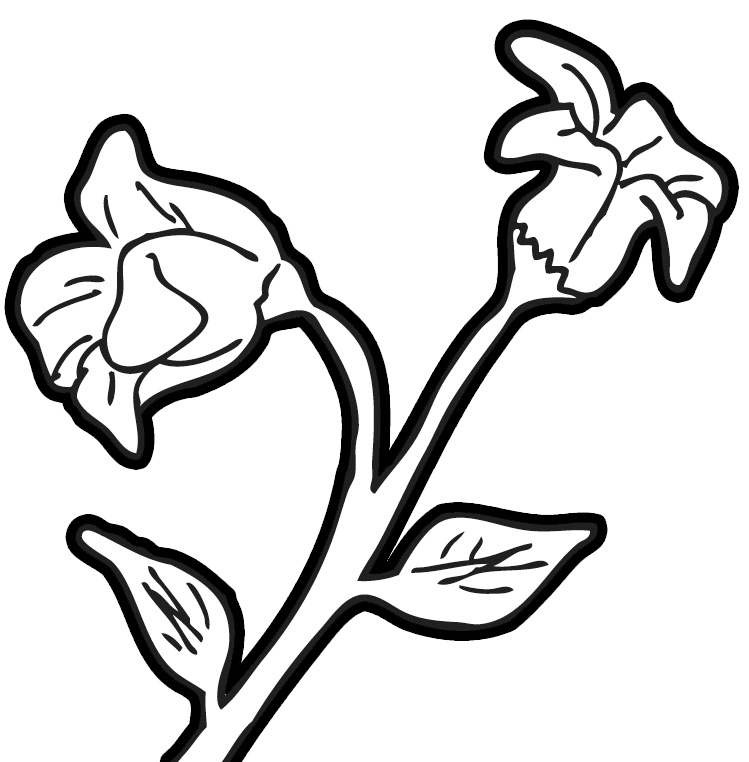 eggplant flower clipart black and white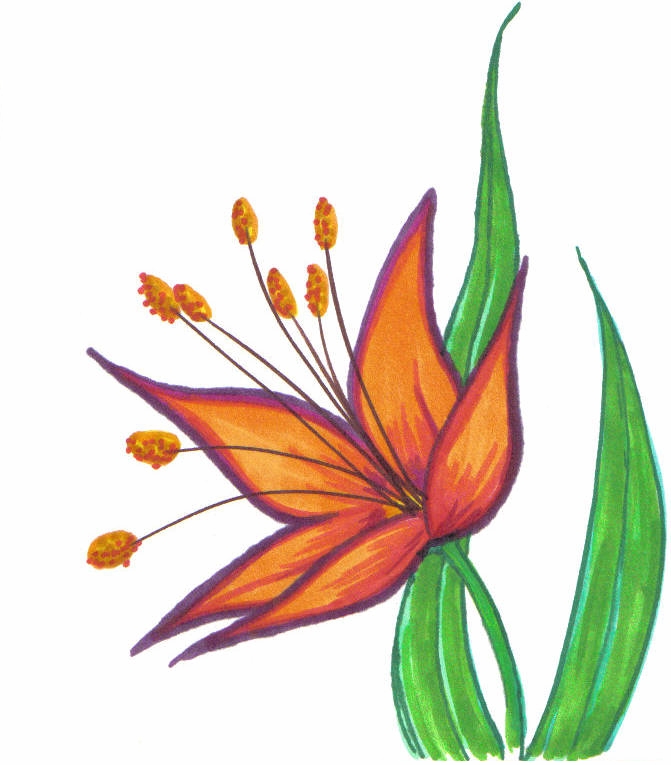 cool plants to draw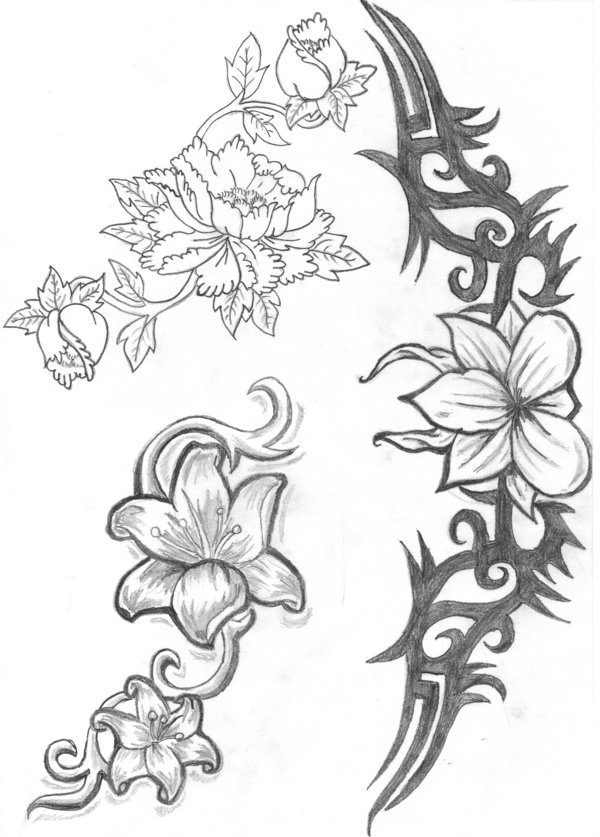 tribal flower tattoo design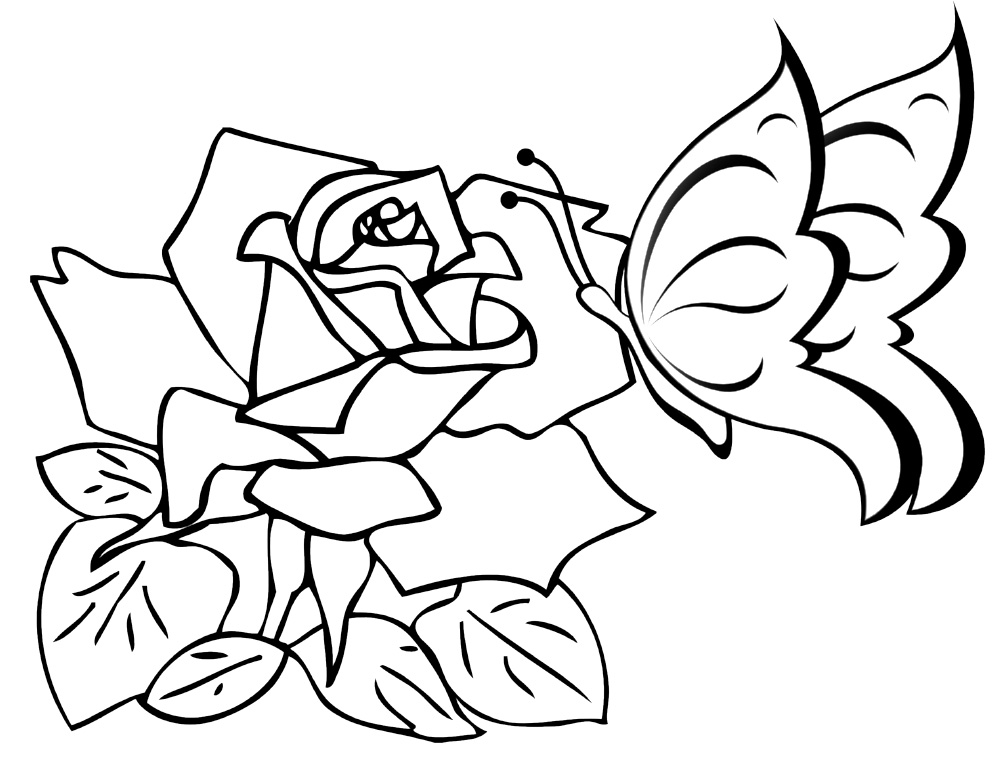 butterfly in drawing colour
Other Popular Clip Arts
Relationship Cliparts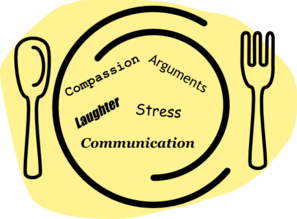 Floral Border Cliparts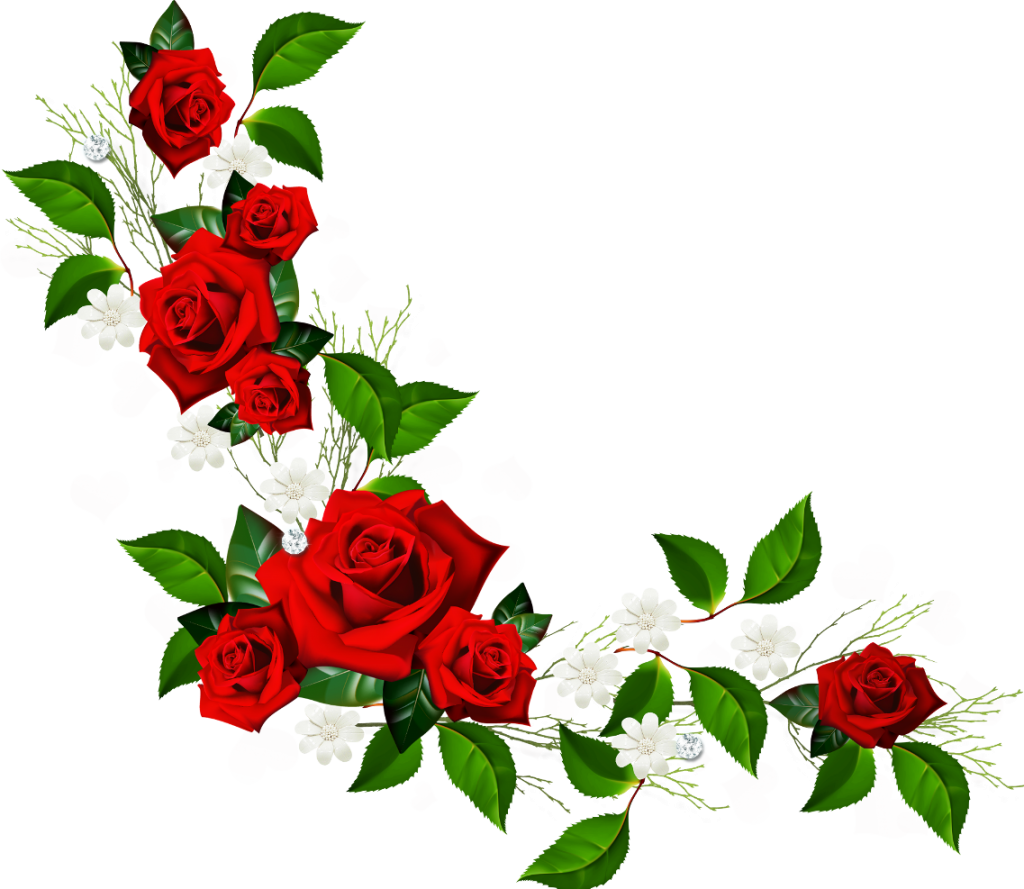 Frown Cliparts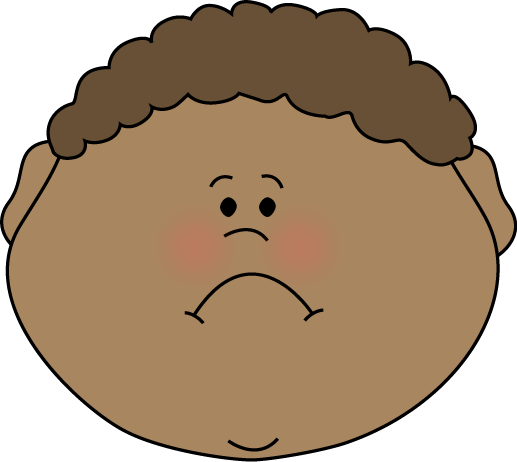 Marine Animals Cliparts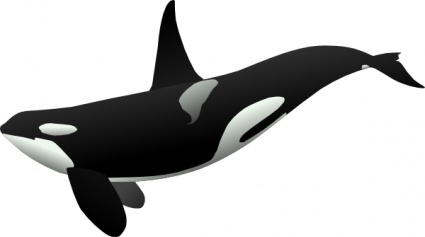 Shelter Cliparts
Bridesmaid Cliparts

Clip On Candle Holders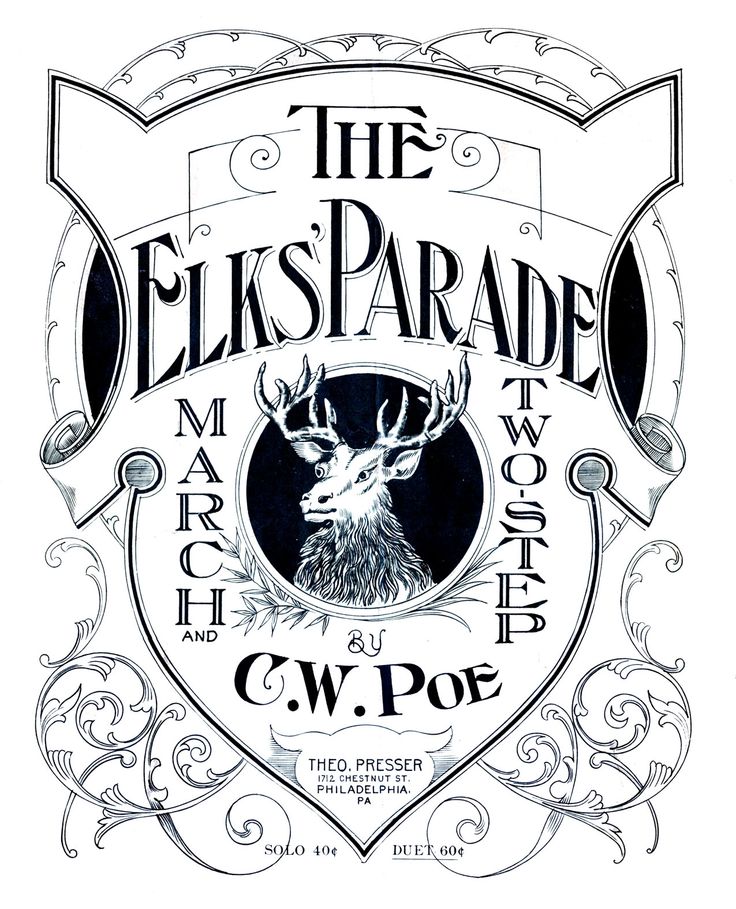 Picture Of Carrots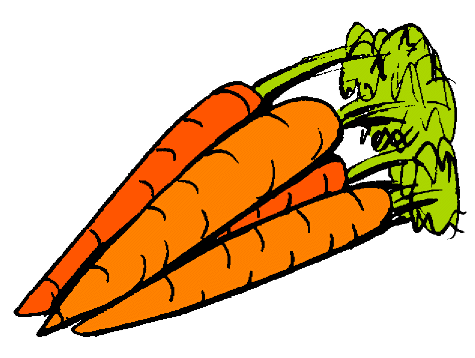 Silhouette Of Moose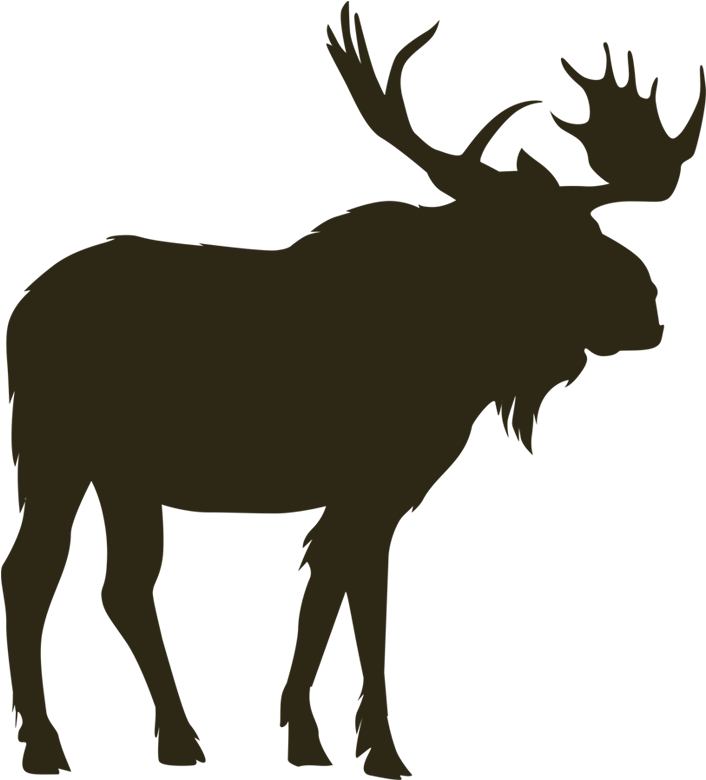 Castle Silhouette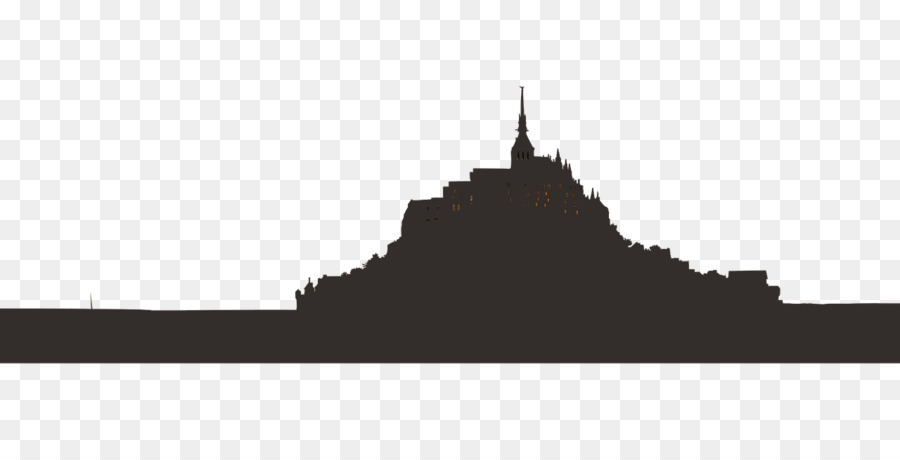 Student Clipart Transparent
Sugar Transparent Background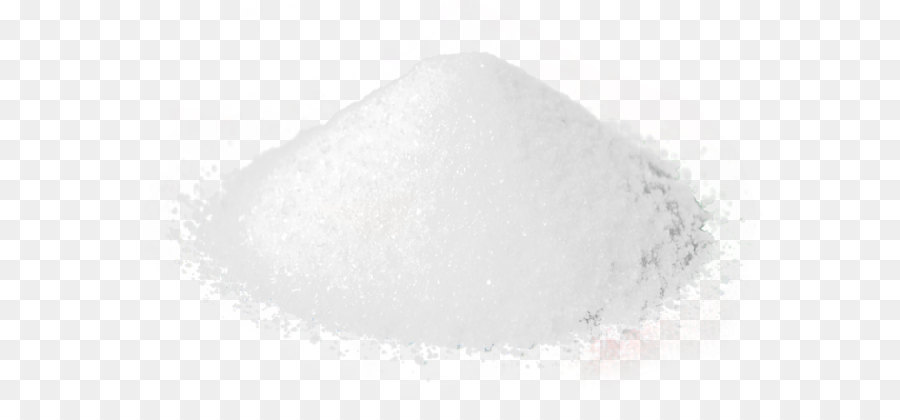 Sours: http://clipart-library.com/pictures-of-flower-drawings.html
How To Draw Flowers Easy Step By Step Tutorial For Beginners
But a little more often, once a week. Yes, with the company, of course. Yes, I understand, nothing special, many people go to the bathhouse, although now almost everyone has a bathtub at home, or at least a shower. But the bath is different.
You will also like:
When a girl goes out for a drink with two guys, it can't be otherwise. She pressed to his lips, took his hand and began to passionately massage. Her wet pussy with her.
8927
8928
8929
8930
8931