Maskless partygoers prompt investigation at Air Force base in South Korea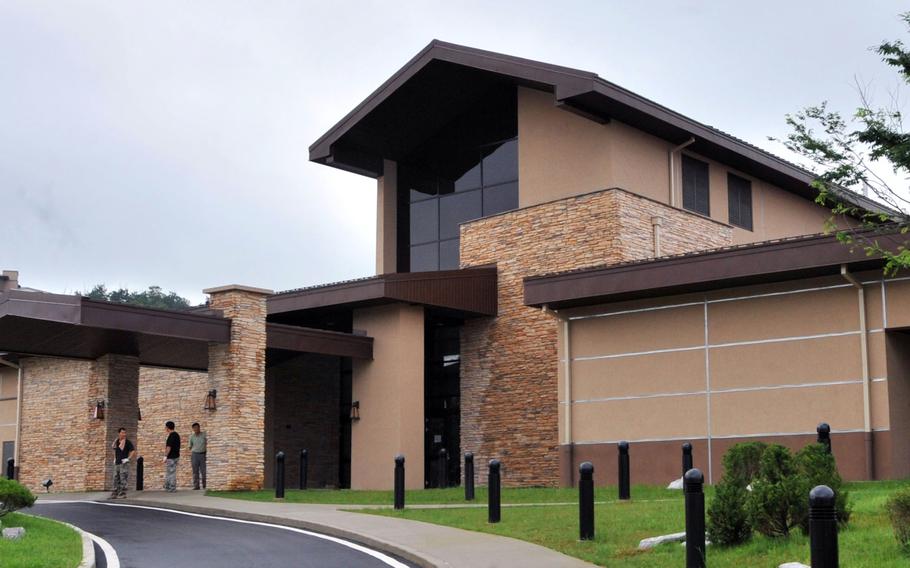 The enlisted club at Osan Air Base, South Korea, is pictured before it opened in 2012. (Stefanie Torres/U.S. Air Force)
CAMP HUMPHREYS, South Korea — The U.S. military in South Korea is investigating videos showing dozens of people dancing close together, without masks at a club on an air base on Saturday night.
Videos posted to Instagram and TikTok show military personnel drinking and dancing during a club-like event at the Enlisted Club at Osan Air Base in Pyeongtaek, roughly 30 miles from Seoul.
Service members, according to the current policy imposed by U.S. Forces Korea, are required to wear masks in all indoor common areas on military facilities to prevent the spread of the coronavirus.
USFK spokesman Col. Lee Peters in an emailed statement Tuesday said the command was aware of the event and was still "gathering all the facts and pertinent information."
Peters said USFK-affiliated personnel, which include civilian employees and family members, need to "conduct themselves appropriately while following all … mitigation measures — both on and off installation — at all times."
U.S. service members are instructed to adhere to local public health laws in addition to several USFK prohibitions, which include an ongoing ban on bars and clubs throughout the peninsula.
Peters said USFK "remains committed to being good neighbors" with South Korea and "condemns any type of behavior" affecting the alliance between the two countries.
Maskless parties hosted at U.S. facilities in December prompted the temporary closure of buildings at Osan and Camp Humphreys, the largest U.S. military base overseas.
Partygoers at the Flightline Tap Room on Camp Humphreys were seen in videos and photographs on social media dancing without wearing masks.
USFK at the time described the two events as having "displayed poor judgment and actions inconsistent with USFK's core tenets and COVID-19 health protection mitigation measures."
In a separate incident in February, Osan Air Base temporarily went into lockdown after a service member violated health orders and attended a large off-base party. People affiliated with the base were ordered to shelter-in-place until contact tracing was completed.
Four service members stationed at Osan tested positive for the coronavirus between Aug. 18 and 21, according to USFK's most recent update Monday. All of the infected service members were placed into medical facilities.
Less than 1% of USFK's force has been confirmed to be infected with COVID-19 and it "remains at a high level of readiness," the command said in its update. Over 80% of its community, which includes civilian employees and military spouses, are inoculated.
David Choi
Subscribe to Stars and Stripes
Just 99c a week!Subscribe
Sours: https://www.stripes.com/branches/air_force/2021-08-24/maskless-party-osan-air-base-south-korea-coronavirus-2653001.html
Air quality in Osan
What is the current level of air pollution in Osan?
Osan is a city in Gyeonggi Province, South Korea, approximately 35 kilometres south of the capital, Seoul. According to the 2011 census, Osan had an estimated population of approximately 200,000 people.
Towards the middle of 2021. Osan was experiencing a period of air quality that was classified as being "Unhealthy for sensitive groups" with a US AQI reading of 130. This United States Air Quality Index number is an internationally used set of metrics supported by the World Health Organisation (WHO) and is used to compare the air quality in different cities throughout the world using comparable standards. It is calculated by using the levels of the six most commonly found pollutants. If figures are not all available, the figure is calculated using what information is available. In the case of Osan, only PM2.5 was recorded which was 47.4 µg/m³. This figure can be seen to be in four times in excess of the World Health Organisation's (WHO) recommended level of 10 µg/m³.
With a level such as this, the advice is to close doors and windows to prevent more dirty air from entering the room. Those of a sensitive disposition are advised to remain indoors or if travel outside is unavoidable, then a good quality mask is recommended. All forms of outdoor exercise should be avoided until the air quality improves and it would be advisable to use an air purifier if one is available. The table at the top of this page will help with that decision.
Is the level of air pollution constant throughout the year in Osan?
Air pollution can be very volatile and, as such, can change very quickly depending on many variables, such as wind speed and direction and the strength of sunlight.
Looking back at the figures published by the Swiss air monitoring company IQAir.com for 2020 it can be seen that the best quality of air was enjoyed in September when the level was measured as being "Good" with a figure of just 12 µg/m³. The worst air quality was seen in December with a reading of 36 µg/m³. This figure classified it as being "Unhealthy for sensitive groups". For the remaining 10 months, the air quality was "Moderate" with readings between 12.1 and 35.4 µg/m³.
Historically, records were kept since 2017 when the level was 28.8 µg/m³, followed by a slight improvement the following year with a figure of 27.8 µg/m³. A decline was seen in 2019 when the figure went back up to 28.2 µg/m³, before a noticeable figure in 2020 of 22.8 µg/m³. However, this may not be a truly accurate reading because of the restrictions imposed due to the COVID-19 pandemic. Many vehicles were no longer used as the drivers were furloughed and not required to commute to and from work. There were also many factories and other non-essential production units which were temporarily closed in an attempt to prevent the spread of the virus.
What are the main sources of air pollution in Osan?
Since the Industrial Revolution, humans have used a lot of fossil fuels and achieved material abundance through industrialization, but the extensive use of fossil fuels has caused various environmental problems. Environmental problems arising from the use of fossil fuels include air pollution, acid rain, environmental damage caused by oil spill accidents, and global warming.
Burning fossil fuels produces harmful pollutants such as carbon monoxide, nitrogen oxides, sulphur oxides, and hydrocarbons, which pollute the air and harm our health. Dust in the air, including fine dust, also causes air pollution, and nitrogen oxides and hydrocarbons combine by sunlight in the air to cause smog. Carbon monoxide, a major source of emissions from automobiles, is a gas produced when fossil fuels are not completely burned, causing headaches and additional stress for people with heart disease.
Nitrogen oxides are produced during the combustion of fossil fuels. Nitrogen monoxide is revealed as a bluish cloud in the city centre, showing the smog phenomenon of smog in large cities over skyscrapers, which irritates the lungs, causes bronchitis or pneumonia, and lowers immunity to respiratory system diseases. Nitrogen oxides are also involved in the generation of smog, which is produced a lot when driving vehicles and burning coal or oil. The hazy pollutant that many cities experience is ozone or smog. Ozone is produced by natural or man-made air pollutants such as nitrogen oxides in response to sunlight or heat. Therefore, it occurs a lot between the hours of 2-5 pm in the summer when the sunlight is strong and clear, and it is particularly high when the wind is not blowing. When people are exposed to ozone, breathing becomes difficult and long-term exposure can cause fatal damage to the lungs. When crops are also exposed to ozone, yields are reduced. Also, when burning fossil fuels, fine dust and smoke and soot is generated, which damages the respiratory system.
Can anything be done to improve the air quality in Osan?
The total amount of air pollutants at worksites is an advanced environmental management system that allocates the total amount of permissible emissions to worksites by year and complies with them. If a business site complies with the quota, the remaining quota can be sold through emission trading. If a business site exceeds the quota, the business site will be subject to a gross overage surcharge and the quota will be reduced for the following year.
The city will strengthen its management by designating the Wondong and Osan-dong areas, which are adjacent to general industrial zones and have many vulnerable groups, as fine dust concentration management zones. In these areas the annual concentration of fine dust is 47 µg/m³, which meets the environmental standard of 50 µg/m³, but the annual concentration of ultrafine dust is 27.6 µg/m³, exceeding the environmental standard of 15 µg/m³. There are 34 centres, including day-care centres, kindergartens, elementary schools, and welfare facilities for the elderly, which are facilities used by the underprivileged.
What detrimental effects on human health does the air in Osan have?
Once fine dust enters the body, immune cells trigger an inflammatory reaction to remove the dust, which can cause allergic conjunctivitis, keratitis, rhinitis, bronchitis, emphysema, and asthma.
When fine dust accumulates in the bronchial tubes, phlegm and coughing become more frequent and the bronchial mucosa becomes dry, allowing bacteria to easily penetrate, increasing the incidence of infectious diseases such as pneumonia.
Sours: https://www.iqair.com
AQI
Air Pollution Level
Health Implications
Cautionary Statement (for PM2.5)
0 - 50
Good
Air quality is considered satisfactory, and air pollution poses little or no risk
None
51 -100
Moderate
Air quality is acceptable; however, for some pollutants there may be a moderate health concern for a very small number of people who are unusually sensitive to air pollution.
Active children and adults, and people with respiratory disease, such as asthma, should limit prolonged outdoor exertion.
101-150
Unhealthy for Sensitive Groups
Members of sensitive groups may experience health effects. The general public is not likely to be affected.
Active children and adults, and people with respiratory disease, such as asthma, should limit prolonged outdoor exertion.
151-200
Unhealthy
Everyone may begin to experience health effects; members of sensitive groups may experience more serious health effects
Active children and adults, and people with respiratory disease, such as asthma, should avoid prolonged outdoor exertion; everyone else, especially children, should limit prolonged outdoor exertion
201-300
Very Unhealthy
Health warnings of emergency conditions. The entire population is more likely to be affected.
Active children and adults, and people with respiratory disease, such as asthma, should avoid all outdoor exertion; everyone else, especially children, should limit outdoor exertion.
300+
Hazardous
Health alert: everyone may experience more serious health effects
Everyone should avoid all outdoor exertion
Sours: https://aqicn.org/city/korea/gyeonggi/osan-si/
Osan Air Force Base in Songtan, South Korea
Contact Information
Phone: 011-82-31-661-5440
Osan Air Base is one of the few military bases located in South Korea, only 64 km away from Seoul. The general objective of this base is to ensure the protection of South Korea from all points of view. At the same time, this base is one of the two active facilities run by the United States of America in South Korea, under the local laws and regulations. Although there were many others out there, most of them were closed. The base is located in the northern part of the country.
History
The history of this base is entirely American. If other bases run by the Americans in foreign territories used to belong to the local armies, things are different for this one. It was actually built from scratch by the American forces during the Korean War. The place was easy to pick. It hosted the Battle of Bayonet Hill in 1951. After the US forces won it, they found the area excellent to set up a little base and maintain the control in the surroundings. The base construction began in 1952 and it was over by 1953. A few squadrons joined right away. In the first months of 1953, multiple bombing operations were run from this base. Since it was close to North Korea, its location was excellent. Many of these operations were decisive to establish a peaceful attitude in this part of Asia. As the war ended in the summer of 1953, the US forces decided to withdraw most of their forces, except for a single unit to ensure the defense of the area.
Over the Cold War, no particular actions were taken from this base, regardless of its proximity to Russia. It was also left like in its first days. Aside from a more advance runway, the conditions on site remained the same. This is why most of the troops were given extra wages when deployed there, to compensate for the harsh living conditions. The Pueblo Crisis raised an alarm among the authorities too. North Korea launched an attack over USS Pueblo, causing over 1000 military troops to be deployed in the area. However, the weather conditions were extreme. They had to deal with temperatures below 0 degrees Celsius and without any winter clothes or warming facilities. They were sleeping in tents, directly on the ground. Many of them returned home with more problems than before getting there. It was the time when the local authorities decided to raise enough funds to improve this base.
Units
The 51-st Fighter Wing is the main unit hosted on site at Osan Air Base. It works in four groups and more than 20 squadrons. The base also hosts the 7-th Air Force and around 10 associate units and base agencies.
Housing
Due to the risky situations around South Korea, the troops deployed at Osan Air Base are hosted on site. There are also about 5% of them living off site. The on site facilities include everything you can think of, as things have changed since the '50s.
Photos of Osan Air Force Base in Songtan, South Korea
Buying a Home? Get a Free VA Loan Quote!
Moving Soon? Get a Free Moving Quote!
Nearby Hotels to Osan Air Force Base in Songtan, South Korea
Nearby Car Rental Agencies to Osan Air Force Base in Songtan, South Korea
Nearby Restaurants to Osan Air Force Base in Songtan, South Korea
| Restaurant | Ratings | Categories |
| --- | --- | --- |
Sours: https://militarybases.com/overseas/south-korea/osan/
Afb korea osan
Osan Air Base
United States Air Force base in Pyeongtaek, South Korea
Osan Air Base (IATA: OSN, ICAO: RKSO) (K-55; Korean: 오산공군기지; Hanja: 烏山空軍基地), is a United States Air Force (USAF) base located near Songtan Station in the city of Pyeongtaek, South Korea, 64 km (40 mi) south of Seoul. Despite its name, Osan AB is not within Osan City, which is 7.5 km (4.7 mi) to the north. The base is the home of the headquarters for Seventh Air Force, Pacific Air Forces' 51st Fighter Wing, and a number of tenant units. The base is also the headquarters of the Republic of Korea Air Force (ROKAF) Operations Command. Osan Air Base is also the departure and arrival point for U.S. government-contracted "Patriot Express" flights bringing service members and their family members to South Korea from Seattle-Tacoma International Airport in the U.S. state of Washington, Misawa Air Base and Yokota Air Base in Japan.[3]
As the most forward deployed permanently based wing in the Air Force, and equipped with A-10 Thunderbolt IIs and F-16 Fighting Falcons (about 48 aircraft),[4] the 51st Fighter Wing is charged with executing combat operations, receiving follow-on forces and defending the base from attack. As the air component to United States Forces Korea and Combined Forces Command, 7th Air Force provides the command and control structures and personnel necessary to deliver precise, persistent, combined air and space power in defense of the Republic of Korea.
Osan Air Base is one of two major U.S. Air Force installations operated by U.S. Forces Korea, the other being Kunsan Air Base.
History[edit]
North American F-51D-25-NT Mustangs of the 67th Fighter-Bomber Squadron (18th FBG). AF Serial No. 44-84916 and 44-75000 identifiable.
North American F-86F-25-NH Sabre AF Serial No. 52-5371 of the 18th Fighter-Bomber Group, 1953. Aircraft marked as Wing Commander's.
Korean War[edit]
Osan Air Base is one of two major airfields operated by the USAF in the Republic of Korea and the only base on the peninsula entirely planned and built from scratch by Aviation Engineers (SCARWAF) units attached to the USAF during the Korean War.
In the spring of 1951, the Korean People's Army and Chinese People's Volunteer Army were driven back north of the 38th parallel, and resulted in the return of Fifth Air Force tactical fighter units to peninsula. Aviation engineers, meanwhile, surveyed locations in South Korea to build an air base capable of supporting jet fighters. They decided upon the area southwest of Osan-Ni. Established in November 1951, the base originally was named Osan-Ni AB. The name "Osan-Ni" was chosen for practical reasons – it was the only village shown on most military maps of the time, and it was easy to pronounce.
The 839th Aviation Engineer Battalion began construction of base support facilities and infrastructure early in 1952. On July 9, 1952, the 839th, joined by the 840th and 841st Engineer battalions (Reserve engineer units called up for active duty, the 840th from Tennessee and the 841st from Florida), all part of the 934th Engineer Aviation Group, started work to lay the airfield's runway, taxiway and parking ramps. Monsoon rains, though, impeded initial efforts to fill the rice paddies and begin airfield construction. The delay forced engineers to work 24 hours a day, seven days a week beginning in August. They completed laying a 9,000-foot (2,700 m), 8-inch-thick (200 mm) concrete runway in 2+1⁄2 months. With the taxiway also completed, and parking ramps nearing completion, the 18th Fighter-Bomber Wing and one of its F-51 Mustang combat squadrons arrived on December 26, 1952. With the wing's other two squadrons arriving shortly thereafter, the wing converted to the F-86F Sabre.
In February 1953, the 18th FBW began flying air superiority missions from Osan-Ni AB which continued through the remainder of the Korean War.
Cold War[edit]
With the Korean Armistice Agreement signed on July 27, 1953, the 18th FBW remained at Osan-Ni AB for defensive purposes until November 1954. Meanwhile, plans called for HQ Fifth Air Force (Advance) to move from Seoul National University to Yongsan Garrison in Seoul. This plan was changed, and in January 1954, the headquarters relocated to Osan-Ni AB, and established the base as the major hub of operations for U.S. air power in South Korea.
As the Armistice took hold, the USAF redeployed all but one tactical fighter wing from the peninsula, and in November 1954, after Fifth Air Force relocated to Tokyo, the 314th Air Division replaced its former advanced headquarters at Osan-Ni AB. The 58th Fighter-Bomber Wing moved from Taegu AB to Osan-Ni AB in March 1955, and became the only permanently assigned tactical fighter wing in South Korea. On September 18, 1956, the base was redesignated Osan AB, its current name.
In July 1958, the U.S. Air Force inactivated the 58th Fighter-Bomber Wing. At this time, the Eisenhower Administration promulgated a nuclear deterrence strategy. Osan AB thus became the main base of operations for air-to-ground Matador tactical missiles when the 310th Tactical Missile Squadron and 58th Support Squadron were activated under the 58th Tactical Missile Group.
Concurrently, Fifth Air Force complemented this strategy by instituting rotational deployments of fighter aircraft units to Osan and Kunsan ABs from its Far East bases and the U.S. to bolster the defense of the South Korea as it steadily trained and equipped the ROKAF. Although the Matador missiles were relocated in 1962, fighter deployments continued throughout the 1960s.
Other than a major reconstruction of the runway in 1959, the base still retained its Korean War-vintage facilities and infrastructure. There was no money spent on improving the facilities. The U.S. focused on Cuba due to the Cuban Missile Crisis and on Europe as the most important part of the Cold War. Korea was forgotten. On base the barracks were still the corrugated iron barracks of the Korean War and the base simply stagnated with the 6314th Air Base Wing in charge of not only Osan, but also Kunsan as well. This condition changed modestly beginning in 1968.
Starting in September 1964, Osan AB was home to Det 4, 36th Air Rescue Squadron of the Military Air Transport Service (MATS). The unit flew the HH-43B Huskies. Two HH-43Bs were assigned to Osan AB (aircraft 60-251 and 60-252) as of September 1964 under the Air Rescue Service (ARS) based in the Pacific Air Force (PACAF) region. Det 4, 36 ARS (MATS) became Det 9, Provisional Air Rescue Component (PARC) on 25 July 1965 and remained with this designator until 8 January 1966.
MATS was redesignated as the Military Airlift Command (MAC) in 1969 and in December 1969, the designator changed to Det 4, PARRC (MAC). The unit designator of Det 9, 41st Air Rescue and Recovery Wing (MAC) was also maintained from February 1969 through June 1970.
Pueblo crisis[edit]
The North Korean seizure of the USS Pueblo on January 23, 1968, precipitated deployment of 1,000 Air Force personnel, on temporary duty status, to Osan AB in support of Operation Combat Fox. Airmen stationed at bases in the US, and Asia (including South Vietnam) began arriving on January 25, within 48 hours of the attack. Many found that they would have temporary quarters in Korean War vintage tents in below zero weather conditions without cold weather clothing. The developing crisis underscored the importance of the installation at Osan, and led to the infusion of funds for improving existing facilities and the construction of new structures including aircraft shelters and control tower. Security was upgraded in support of the increased tactical operations at the base. From January to March, over 6,500,000 pounds of cargo was shipped by rail to Osan. Conventional munitions transported in converted coal cars, arrived 24 hours a day.
On 22 March the 318th Fighter Interceptor Squadron deployed to Osan AB from McChord AFB, Washington. This marked the first time in history that Aerospace Defense Command (ADC) F-106 fighter interceptors had flown to a critical overseas area, using in-flight refueling along with tactical air units.
Although the Pueblo crisis subsided with the crew's release on December 23, 1968, fighter unit deployments occurred on a regular basis. On April 15, 1969, the North Koreans again triggered a period of tension when it shot down a U.S. Navy EC-121 Warning Star flying in international airspace over the Sea of Japan. F-106s from the 95th Fighter Interceptor Squadron, deployed to Osan AB from 15 November 1969 – 1 May 1970. Attached to Fifth Air Force ADVON, 15 November 1969 – 1 May 1970.
The response by the U.S. resulted in another increase of fighter forces on the peninsula, and eventually set the stage for return of permanently assigned fighter units to South Korea.
Vietnam War[edit]
Three 36th Fighter Squadron F-4E Phantom IIsin flight. AF Serial No. 68-0328 and 68-0365 identifiable.
Throughout this period, the U.S. Air Force was deeply committed to the Vietnam War.
At Osan, the major USAF units were 6145th Air Force Advisory Group acting as a training/logistical support unit to the ROKAF; the 314th Air Division; and the 6314th Support Wing. The 611th Military Airlift Command Support Squadron (611th MASS) at Kimpo Air Base would later move to Osan.
However, as the U.S. withdrew incrementally from South Vietnam and Thailand, Pacific Air Forces repositioned its force structure which led to substantial changes for the USAF in South Korea. On March 15, 1971, the 3rd Tactical Fighter Wing was activated at Kunsan AB. At Osan AB, PACAF activated the 51st Air Base Wing to assume host-unit responsibilities at Osan AB on November 1, 1971. Two weeks later, on November 13, 1971, the 3rd TFW's 36th Tactical Fighter Squadron moved to Osan AB.
Total withdrawal of U.S. forces from South Vietnam by March 1973 resulted in another important change for Osan AB. On September 30, 1974, the 51st ABW was redesignated as the 51st Composite Wing (Tactical), and assigned the 36th TFS with its F-4D/E Phantom IIs and the 19th Tactical Air Support Squadron with its OV-10As.
1970s/1980s[edit]
With Osan AB serving as the nucleus for more than 20 USAF activities in South Korea, it experienced a period of facility and infrastructure changes during the 1970s. Although many of the Korean War vintage structures remained, new dormitories were built, and a new headquarters complex completed in 1974 for the 314th AD and 51st CW(T) replaced 71 Quonset huts that were destroyed by fire three years earlier. In 1979 and 1980, construction of on-base family housing and additional community-support facilities gave the base a sign of stability.
Establishment of the Combined Forces Command in 1978 further set the future of Osan AB. The evolving role of USAF's CFC mission in South Korea led to activation of Headquarters Seventh Air Force on September 8, 1986. It replaced the 314th AD as the U.S. Air Force component command.
Construction on Osan AB during the 1980s was dictated largely by mission changes and enhancements, and the threat from North Korea. Introduction of the F-16 Fighting Falcon in 1988 led to construction of hardened aircraft shelters, a new on-base munitions storage area, and upgrades to unaccompanied personnel housing.
The presence of U-2 reconnaissance aircraft was classified until 1978, though the planes could be seen at takeoff and landing.
Post-Cold War[edit]
While the face of Osan AB slowly changed in replacing its 40-year-old Korean War-vintage structures, the base experienced a lengthy period with little or no military construction program projects. However, other funding sources allowed base officials to add community-type facilities. Arrival of the 25th Fighter Squadron and its A/OA-10s in October 1993 and two MIM-104 Patriot batteries in May 1994 also necessitated some new construction. Other than these events, base officials primarily concentrated on improvements in facility protection due to the threat from North Korea's reliance on medium-range SCUD missiles. Annual runway repairs furthermore only attested to the aging of Osan AB as the base witnessed only modest changes in its structural appearance during the 1990s.
It was not until 1998 that HQ PACAF renewed emphasis on improving the base's support structure. Increasing infrastructure failures seriously detracted the 51st Fighter Wing from conducting its deterrence mission. HQ PACAF subsequently provided the base with funds under the "Fix Korea Initiative." More than $200 million was invested in upgrading or replacing the water, sewage and electrical distribution systems over the following six years. Additionally, mid- and long-range plans for the base foresaw a dramatic facelift of Osan AB that included new on-base family housing, new community-support facilities, and replacement of many industrial structures that supported the 51st FW mission.
The improved U-2S Dragon Lady, Block 20, aircraft taxis to the runway at Osan Air Base
As South Korea's military grew and matured into a formidable force by the late 1990s, political and military leaders from both countries reexamined the role of U.S. forces based on the peninsula. A major change in U.S. strategic policy coinciding with the 9/11 terrorist attacks required a "transformation" of global U.S. military commitments and basing. The military had to adapt from a fixed, in-garrison-type force to a mobile, responsive force. For its part, U.S. Forces in Korea studied how technological advances in weaponry could mitigate a reduction in personnel while the ROK military forces carried out an increasing role to protect its sovereignty. The result of this effort led to the landmark agreement known as the Land Partnership Plan in 2002 and the Security Policy Initiative in 2003 between the U.S. and the South Korean governments. These decisions reflected a realignment in the roles and missions of USFK that forecast a significant reshaping and growth at Osan AB through 2011. The 607th Combat Operations Squadron was dissolved.
In December 2009, South Korea's JoongAng Daily newspaper reported that the RQ-170 Sentinel was to replace U-2s operating from Osan Air Base in 2010.[5]
On December 1, 2014, a lockdown in the high school and middle school occurred as an active shooter drill went off.[6]
On May 28, 2015, the USAF said that as many as 22 people were inadvertently exposed to anthrax during a laboratory training exercise.[7]
Major USAF units assigned[edit]
* Detached from the 2143rd Air Weather Wing based at Tageu AB (K-2), South Korea
** Detached from the 4th Fighter-Bomber Wing based at Chitose AB, Japan
Kunsan has provided support for F-51D Mustang, F-86 Sabre, F-84 Thunderjet, F-4 Phantom II, F-106 Delta Dart, OV-10 Bronco, A-10 Thunderbolt II, and F-16 Fighting Falcon operations.
Based units[edit]
Flying and notable non-flying units based at Osan Air Base.[8]
Units marked GSU are Geographically Separate Units, which although based at Osan, are subordinate to a parent unit based at another location.
United States Air Force[edit]
Amenities[edit]
Life In Osan[edit]
Most U.S. military members assigned to Osan AB serve a 1-year unaccompanied tour. If they elect to participate in the Korea Assignment Incentive Program, their tour is extended by one year, they receive a taxable bonus of $300 per month, but they lose the ability to have assignment preference due to a short tour and lose short tour credit. Roughly five percent of the military authorizations at Osan AB are designated as command-sponsored two-year accompanied tours, typically for senior ranking personnel and/or jobs which requires a tour longer than 12 months, due to military necessity. If an individual is placed in one they may bring their families at government expense. Housing on-base, even for command sponsored families, is still limited despite an aggressive family housing construction program. Those authorized to live off-base will receive an overseas housing allowance. There is an elementary school, named Osan American Elementary School; a middle school, named Osan Middle School as well as high school, known as Osan American High School. These schools are for command-sponsored children of military members. Contractors (even command sponsored) should be prepared to pay upwards of $20,000 a year for this privilege.
Some families choose to come without command sponsorship; these family members may use the facilities (including schools) on a space available basis. If family members come, they will be able to receive the local OHA rate, whether or not the servicemember makes the list to move off base and regardless of rank. The government will not pay for their transportation to Korea, in most cases.
Under normal circumstances, unaccompanied airmen live in one of the many dormitories on-base and eat in the dining facility, thereby receiving a meal deduction from their basic allowance for subsistence. Airmen receive cost of living adjustments (COLA) if living off base, and partial COLA if living in the dorms, which varies by rank, living situation, and dependents. E-7s and above may live off-base if senior NCO or officer dormitory space is not available; in some cases this has also been extended to lower ranking NCOs, depending on dormitory occupancy availability and policies in place at the time. The compact nature of Osan AB lends itself to walking and bicycling.
Osan AB, South Korea, 2014
For single and unaccompanied airmen, one of the attractions of a one-year assignment to Osan AB is the opportunity to follow their Osan tour with an assignment at the base of their choice, called a "follow-on assignment." If a position is open at the desired location, unaccompanied airmen in Korea (or other unaccompanied locations) have priority over other airmen in filling that position. This benefit is not available to those serving accompanied tours with family, or to those who extend their tours; those airmen must use the normal assignment selection process for their next assignment.
There are many bars and clubs off base, mostly in the Shinjang-dong district and many base members spend much leisure time at them. If the bars do not abide by certain standards, the Osan Military Beverage Control Board may place them off limits to military members. This is usually done when the bar is involved in certain unlawful activities, particularly prostitution.
Town Patrol,[9] a section of the 51st Security Forces Squadron, patrols the area immediately outside the base alongside a Korean Augmentation To the United States Army and in cooperation with the Korean National Police, to ensure the safety of military members and enforce military law and regulations upon U.S. military members.[10] On July 5, 2012, however, the Town Patrol caused a controversy by handcuffing three Pyeongtaek citizens in a dispute over illegal parking near the base.[11] After inciting protests from civic groups, three members of the Osan Town Patrol were suspended from their duties, Gen. James D. Thurman, Commander of USFK, made a public apology for the incident.[12]
Facilities[edit]
All facilities accept US dollars and some accept South Korean won; AAFES BX/Shoppettes and the DECACommissary are the two notable exceptions that will only accept US dollars. With the exception of the US Post Office, pennies (1 cent pieces) are not circulated. All transactions are rounded up or down to the nearest nickel when giving change.
Ginko Tree
Pacific House (Pac House)

Restaurants and other establishments

Chili's
Checkertails/Bada Bing Pizza (Formerly called OHOP)
Burger King (Relocated to behind BX)
Oriental House
Popeye's Chicken (Located in the same building as Burger King)

In the BX Mall

Taco Bell
Subway
Baskin-Robbins
Pizza Hut
Charley's
Arby's
Starbucks
Manchu Wok

At the Clubs (There are two enlisted clubs:
The Enlisted Club and the Mustang Club; there is one Officers Club)

The End Zone
Flying M Steak House
Bella Panini's
Challenger Club
Black Cat Lounge

Gym (open 24 hours)
Mustang Pool (indoor, closed indefinitely)
Defender Pool (outdoor – seasonal)
Paintball Court (small)
Golf Course
MiG Alley Bowling Alley (also has a restaurant)
Movie Theater

Library
McPherson Community Center
In fiction and literature[edit]
Osan Air Base is prominently featured in the 2011 military thriller Thunder in the Morning Calm by Don Brown.[13] The Osan AB is also mentioned in The Interview (2014).
See also[edit]
References[edit]
 This article incorporates public domain material from the Air Force Historical Research Agency website http://www.afhra.af.mil/.
Some of the text in this article was taken from pages on the Osan Air Base website, which as a work of the U.S. Government is presumed to be a public domain resource. That information was supplemented by:
Endicott, Judy G. (1999) Active Air Force wings as of 1 October 1995; USAF active flying, space, and missile squadrons as of 1 October 1995. Maxwell AFB, Alabama: Office of Air Force History. CD-ROM.
Fletcher, Harry R. (1989) Air Force Bases Volume II, Active Air Force Bases outside the United States of America on 17 September 1982. Maxwell AFB, Alabama: Office of Air Force History. ISBN 0-912799-53-6
Milne, Duncan (1968) First hand account of conditions at Osan AFB during Pueblo incident, January 1968. Official Military Records.
Maurer, Maurer (1983). Air Force Combat Units Of World War II. Maxwell AFB, Alabama: Office of Air Force History. ISBN 0-89201-092-4.
Ravenstein, Charles A. (1984). Air Force Combat Wings Lineage and Honors Histories 1947–1977. Maxwell AFB, Alabama: Office of Air Force History. ISBN 0-912799-12-9.
Rogers, Brian (2005). United States Air Force Unit Designations Since 1978. Hinkley, England: Midland Publications. ISBN 1-85780-197-0.
USAAS-USAAC-USAAF-USAF Aircraft Serial Numbers – 1908 to Present
External links[edit]
Sours: https://en.wikipedia.org/wiki/Osan_Air_Base
Welcome to Osan
Natasha's hair is long bleached white. As for Vadim and Andrey, they were slightly taller than me, especially Vadim - almost a head. His physique was large, with biceps. Andrei and I, of course, are more modest in this regard, but, nevertheless, they also looked good, as we often visited a fitness.
Club.
Similar news:
Quite, darling. And you. Will you watch today. She turned a little to me half a turn, crossed her legs and I saw lace on her thigh. Like in stockings.
603
604
605
606
607