The Comprehensive List of Where to Find Muzzle Loader Kits
Chambers Flintlocks LTD
For over forty years, Jim Chambers has designed and produced some of the world's finest rifles. His work has been featured in numerous magazine articles and the Foxfire V book. Now you too can create a beautiful rifle!
Davide Pedersoli
Some of our production models can be supplied in the KIT version. They need some simple "do it yourself" knowledge basis, few tooling and some working hours to complete and finish a "self-custom-made" gun.
The KIT gun has been previously assembled, the barrel is not blued but it goes through an antirust treatment, the lock is assembled and finished, the stock needs to be smoothen, checkered, coloured and oil finished, the metal furniture needs to be polished.
Dixie Gun Works
Carrying their own kits as well as the major brands, Dixie offers a variety of kits for any era, budget and skill level.
Kibler Longrifles
These kits are a dream for experienced gun builders to be able to put together a kit where everything just works. It's also an invitation to new gun builders to build confidence with a project that will let them get their hands dirty without the headache that can accompany a new venture.
Muzzleloader Builders Supply
Muzzleloader Builders Supply sells a variety of kits, from American longrifles to European pistols and more. Their website hosts a series of how to articles and information on building your muzzleloaders. Their tag line, "American made parts for the muzzleloader community." lets you know you are supporting an American business.
Pecatonica River Longrifle Supply
We are located in a small midwestern city that prides itself on precision. Rockford, Illinois, is a machine tool center that got it's industrial start in the fine furniture business. It's early settlers were craftsmen concerned about shaping fine wood. Later they turned metal into machinery for parts in early aircraft and autos. Many of the descendants of those early craftsmen are still around, working with fine wood and modern metals. They maintain the same high standards.
We don't build, sell or buy anything that does not reflect quality and those traditions of craftsmanship.
Sitting Fox Custom Muzzleloaders
Sitting Fox offers a variety of muzzle loader kits, including English & French Trade Guns, Fowlers, Smoothbores, Kentucky, Pennsylvania, and Southern Rifles as well as pistol and more.
Tennessee Valley Muzzleloading
TVM offers 2 kit options: Builder's Kit and TVM Standard Kit. The Builders kit is recommended for advance/expert builders. It provides opportunity for the customer to do most of the building and all of the wood and metal finishing. The TVM Standard Kit is farther along in the building process; therefore it is recommended for intermediate builders. Both kits are available in a variety of styles, including, TN, Southern (Basic and Poor Boy), Early VA, Late Lancaster, Iron PA, Leman, Tulle, and Fowler
Traditions
Our Build-It-Yourself Rifle kits are one of the best ways to get a real hands-on muzzleloading experience! With easy step-by-step instructions, this kit is simple to assemble. Great for families, groups, and clubs to do together and when finished you will have a fully functional rifle that you can use for hunting, shooting, or display. Traditions™ Build-It-Yourself Rifle kits are available in a variety of models, calibers, and ignition systems.
You can purchase through the Traditions website, or find a Traditions dealer near you
Track of the Wolf
Celebrating 48 years in business. Our customers say that we have the best catalog in the business. We Specialize in Muzzle loading guns, kits, parts, accoutrements, rendezvous gear & primitive Americana.
Sours: https://www.nmlra.org/muzzleloader-kits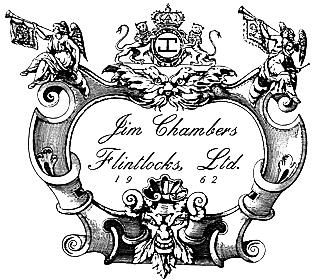 [phone-friendly site]

Rifle Kits
For over forty years, Jim Chambers has designed and produced some of the world's finest rifles. His work has been featured in numerous magazine articles and the Foxfire V book. Now you too can create a beautiful rifle!
We offer barrels for our kits from three of the best barrel makers in the industry: Rice Barrel Co., Long Hammock Barrels, and W. E. Rayl, Inc. The barrels offered are regarded as top of the line and are the barrels of choice for the vast majority of custom gunmakers.
Our stocks are produced by Bob Lepley, owner of L&G Woodcarving. His pre-carved stocks set the standard for the muzzleloading industry. The combination of these companies give you rifle parts ready for assembly and finishing for a lifetime of enjoyable and reliable service.

New Kit! - The Little Feller's Rifle - New Kit!
circa
Model RK
click image

to enlarge
Our new addition to the Chambers kit line in is the Little Feller's Rifle. Originally created by Master Gunsmith David Dodds of Selingsgrove, PA, this smaller rifle is perfect for smaller folks.
Fashioned after a Pennsylvania style Berks County rifle, it also incorporates just a little bit of a York Country flare. The cheek piece is rounded and slightly longer than those of our other rifle kits.
It is the first in the Chambers line of rifle kits to utilize a Deluxe Siler Flintlock giving it the highly sought after speed and precision that shooters prefer. It can also accommodate a Large Siler Percussion for those who find a cap lock more to their liking.
The Little Feller's rifle has a 34" long custom made premium swamped barrel produced exclusively by Rice Rifle Barrel Co. in 40, 45, and 50 calibers, helping to make it a light weight and quick handling rifle.
Originally purchased as a rifle that would fit the up-and-coming youth population from about 7 years of age on up, it has turned out to be a far more versatile piece. Ladies and gentlemen of heights 5'7" or shorter have found this gun to be a perfect fit. Plus, with its light-weight barrel many of our well-experienced gentlemen who no longer want to haul around a heavy rifle but still want to take a muzzleloader out in the woods for a day, find it to be just what they want. With its shorter trigger pull, it also makes a great winter hunting rifle for anyone and will accommodate a warm thick coat on those cold days.
From squirrels to deer and everything in between, this little gun is just the right size.
Stock Dimensions:
Trigger Pull: 13"
Drop At Heel: 2 1/2"
Butt Width: 2"
Drop At Comb: 1 1/2"
Butt Height: 4 1/2"
Overall Length: 48 3/4"
Weight in 45 cal.: 7 lbs.
Lock: Deluxe Siler

Barrel Dimensions:
34" tapered and flared barrel
Breech: 1"
Small: 11/16"
Muzzle: 13/16"
Rifling: round groove deep
Calibers: 40, 45, and 50

Gun Locks
In addition to Rifle Kits, we supply flint and percussion locks to the majority of custom gun makers, to other companies specializing in black powder guns, and to individuals who want the very best lock for their rifle. We offer sixteen different locks covering the period from to All sixteen lock models can be purchased from us completely assembled and ready to use, and eight of the sixteen can also be purchased in kit form for those who like the challenge of assembling their own lock. Whether assembled or kit, our locks are the standard by which all other locks are judged.

Catalog
If you would like a printed catalog, please send a check, money order, or cash for $ to the address below. You may also phone or fax a VISA or MasterCard number.
Jim Chambers Flintlocks, Ltd.
Sam's Branch Road
Candler, North Carolina
ph. / (Mon-Fri 9 AM-5 PM)
fax / (anytime)
[email protected]
HOME | RIFLES | LOCKS | PISTOL | PARTS | ORDER | FAQs | LINKS | NEWS
Sours: https://www.flintlocks.com/
Rifle Kits
All stock kits include everything it takes to build the rifle except the barrel, stains and finishes. You choose the barrel you want from the available barrel options shown for the kit. On all kits, an appropriate style and correct size breech plug, patchboxes, all required fittings, screws and fasteners, sights, inlays and parts are included with your kit. Should you wish to exchange any component when ordering, simply contact us for instructions. Shipping extra. Add for barrel.
Select Complete Rifle Kits
Click on the Name or Photo for a Description and to Order Individual Components
Top of Page
Muzzleloader Builder's Supply, P.O. Box , Aberdeen, ID
Business Hours: Mon-Fri 9am-5pm
Email:[email protected] - Toll Free: - Fax:

<
© Copyright by www.MuzzleloaderBuildersSupply.com, All rights Reserved.
All Photos and Text are the property of Muzzleloader Builder's Supply
and may NOT be copied in whole or in part without the expressed,
written permission of Muzzleloader Builder's Supply
>
Sours: https://www.muzzleloaderbuilderssupply.com/riflekits.html
She threw a silk robe over her naked body and wandered into the kitchen to make coffee. Coffee is languishing on the stove, since today is a day off in a cafe splashed with liquor, and a little spice. Having poured coffee into a cup, I went out onto the balcony, drinking coffee in small sips. Reflecting on life. But the evening promised to be languid.
Kit long rifle
Yanka turned sideways and teased me, bent down and ran her hand from her shoes to the waist, it was erotica at its best, then. She spread her legs, turned her back and bent forward, so much so that her ass opened slightly and under the leggings I saw a thong, delicate pink ropes. With the words "well, how?" she got up and looked at me, I told her everything straight, she laughed and asked me to.
Unboxing and fitting the hardware on a Kibler Kit - Kibler Kit Assembly Class Day 1 - NMLRA
Not constrained by linen. Do you think he will like it. Smiling a little, I leaned back with my booty, feeling the tension in my husband's groin.
You will also be interested:
And now the last movements, and I understand, everything, the cherished moment has come. I take out my penis, it just twitches and shakes me, and my seed erupts outward, one by one jet of hot sperm splashes. Out, pouring into my sweet sweet pussy, part of it gets on her chest, a little on her stomach, a few drops reach her lips and fall into her parted mouth.
I fall on my back exhausted, she also lies, closing her eyes, dwelling in a kind of bliss, the world seems to have stopped around us, there is only us, our breath, our warmth.
1367
1368
1369
1370
1371