Corsair Mid-Tower Gaming Cases Are Gorgeous Towers For An Unbeatable Price
When it comes to choosing a case for your computer, it may seem as though it comes down purely to aesthetics. While the style of the tower is certainly a major factor when choosing the right one for you, there are a lot of subtle (and not so subtle) design decisions that go into making a computer case, many of which may not even occur to first time PC builders.
RELATED: Corsair iCUE QL Series RGB Fans Are The Coolest Thing You Can Add To Your PC Build
Corsair designs its towers with a level of attention to detail that's sure to cover everything you want in a gaming case, even things you don't realize you need. I recently had the opportunity to build a fresh machine using the Corsair 275R Airflow Mid-Tower Gaming Case in white. This affordable tower is a work of art with modern geometric patterns on the front and a tempered glass side to show off your lights and hardware. More than that though, this tower offers so many elegant solutions to many common issues in PC builds. When it comes to thoughtful design and bang for your buck, I've never been more impressed with a gaming case.
More Room Than You'd Think
A quick rundown of everything I fit into this 275R mid-tower case:
Gigabyte x570 UD Motherboard
Ryzen 5 3600x CPU
GTX 1060 6gb GPU
Vengeance LPX 16gb DDR4 memory
Corsair Hydro Series H100i CPU cooler w/ 2 fans
700w EVGA power supply
4 iCUE QL Series RGB Fans
1 SSD and 1 HDD
Mid-towers are usually fairly compact, and while the 275R is no exception, I feel like I have ample room to work and organize. My mobo runs the entire length of the tower, giving me the slimmest margin between the video card and the ports beneath it (which include the USB headers and the headers for the front of the case). There would be no way to fit two video cards in there, but if you're running SLI/Crossfire, a mid-tower isn't really for you.
The fans on the radiator at the top of the case overlap with the fan headers and the memory slots, such that anytime I need to change or add memory, a fan is going to need to come out first. Not a huge problem, but a sacrifice that comes with a case of this size.
Everything seems like a tight fit, but the space inside is used so intelligently. The case is split in half with one side (the glass side) for presentation and the other side for drives, cables, and power supply. There are small oblong doorways with rubber covers all over the case for routing cables. I had little trouble finding ways to route and stash all the cables away on the hidden side of the case. There's even a nice gap at the top of the tower for running cables. That kind of attention to detail goes a long way and makes the overall look of the case so much nicer.
RELATED: Arozzi Gear Review - Keeping You In The Game
There are two drawers for HDDs and two slots for SSDs. The power supply fits in its own little cubby, and the intake fans on the front each have a small gap for running the cables out. Everything has a place and, with a little creative cable management, the finished build looks extremely clean.
Lightweight Materials Cut Down On Cost, But Not On Style
The tempered glass side panel is the heaviest part of the tower. The chassis itself is metal, but there are a lot of plastic parts too. The front panel is all plastic and detachable and snaps off so that fans can be added. It actually doesn't even look too bad with the front panel off. The HDD trays are plastic, which I don't have any problem with at all. They still have holes for mounting, and I don't see any need for metal hard drive trays.
The result is a compact, super lightweight tower that doesn't compromise on style. Not only does the front panel look great, but it provides excellent airflow to everything inside. Paired with the iCUE QL Series RGB fans and the H100i CPU cooler from Corsair, my tower is beautifully illuminated on the front, top, and left side. I couldn't be any happier with the way it turned out.
A Corsair 275R Airflow Mid-Tower Gaming Case was provided to TheGamer for this review. You can check out all of Corsair's gaming cases (and more) over on their website.
 READ NEXT: Game Like Dr DisRespect With The Roccat Vulcan 120 Aimo Keyboard & Kain 200 Aimo Wireless Mouse
ShareTweetEmail
Amouranth Is No Longer Banned From Twitch
Amouranth's Twitch ban has been lifted after a little more than three days.
Read Next
About The Author
Eric Switzer (1223 Articles Published)
Eric Switzer is the Livestream News Editor for TheGamer as well as the lead for VR and Tech. He has written about comics and film for Bloody Disgusting and VFXwire. He is a graduate of University of Missouri - Columbia and Vancouver Film School. Eric loves board games, fan conventions, new technology, and his sweet sweet kitties Bruce and Babs. Favorite games include Destiny 2, Kingdom Hearts, Super Metroid, and Prey...but mostly Prey. His favorite Pokémon is Umbreon.
More From Eric Switzer
Sours: https://www.thegamer.com/corsair-mid-tower-gaming-cases/
Corsair Computer Cases
Corsair computer cases come with multiple internal fans and designs that allow direct airflow to your computer's graphics processing unit (GPU). USB ports support high-speed data transfer with flash drives. Cable routing channels, available in some Corsair carbide cases, keep components inside each case tidy. Some cases are spacious enough to fit multiple systems. Tempered glass cases have built-in red, green and blue (RGB) lighting controllers and tempered glass panels that display and illuminate components in multiple colors. Removable trays allow for easy and quick installation. With their simple layouts and minimalist builds, mid-tower cases are easily customizable. Full-length power supply unit (PSUs) covers hide PSUs and cables, protecting them from mechanical damage.
Corsair Computer Cases Are Customizable
Some Corsair computer cases have four hard drive trays that provide solid-state drive support, allowing you to mix and match to fit your needs. Dual USB 3.0 front panel ports give you quick-and-easy access to the latest high-speed portable hard and flash drives. Most Corsair carbide cases consist of five internal fans that support customizable cooling. Spacious internal assemblies draw airflow directly to the GPU, ensuring graphic cards are cool during intense gaming sessions. Cable-routing channels let you easily manage your cables. Side panels attached with thumbscrews are easy for you to open.
Obsidian Glass Cases Can Accommodate Multiple Systems
Corsair obsidian glass cases can fit both a complete E-ATX (Extended ATX) and mini-ITX (Information Technology eXtended) system so you can stream and game smoothly from one enclosure. CORSAIR iCUE software supports system control in a single interface. With durable media center cases, you can enjoy years of protection. French-door style rear storage compartments and dual-purpose motherboard trays make cleaning effortless. RGB LED-lit front panels with USB and Type-C ports support future proof and backward compatible connectivity. Install fans and radiators effortlessly with smooth, tool-less modular radiator mounting trays.
Tempered Glass Cases Support Multiple Drives
Corsair tempered glass cases have flexible storage options that support up to four drives. Cooling fans and multiple radiators keep your PC cool. Integrated RGB lighting controllers mean you can change fan color modes at the touch of a button. F">gaming cases include removable dust filters to keep your system clean. Upfront connections include I/O panels and different ports that provide easy access to other devices. Tempered glass panels on four sides display every component. Cable routing channels simplify cable management. Removable trays in the front and top of the chassis make installing new case accessories quick and easy.
Micro ATX Cases Are Compact and Portable
With high-density sound dampening panels, Corsair mid-tower cases reduce noise, creating a comfortable working environment. Removable cages and optical disc drive (ODD) bays provide flexible storage. Simple and intuitive internal layouts enable easy and quick building. Most Corsair micro ATX cases have minimalist designs, ensuring that your system can fit in almost any environment. Their compact designs make them easily portable.
Sours: https://www.newegg.com/Corsair-Computer-Cases/BrandSubCat/ID-1459-7
Features & Specifications
Corsair hardly needs an introduction here: The company is a key provider of enthusiast-grade components over the past two decades, with a major following among the PC performance community. Today, the company is rolling out the latest addition to its Obsidian line of premium computer chassis.
Billed as a chassis that makes it "easier than ever to build your dream PC," the Obsidian 500D premium ATX mid-tower features aluminum and tempered-glass panels attached to a steel frame. This chassis measures 508x233x502mm (HWD), weighs 24.6 lbs, and is painted black inside and out.
The entire top of the chassis is covered by a raised aluminum panel that features a row of triangular ventilation holes down the center. Underneath the top panel, you will find mounting locations for two 120mm or two 140mm fans. Corsair also includes a large plastic filter in this location that removes from the side; the filter edges are magnetic, and it's washable. The top panel is held in place by thumbscrews that thread into it from the inside of the chassis.
Like so many cases these days, the 500D is not equipped with an external 5.25" drive bay. That may, or may not, be a deal-breaker for some. The front of the chassis is covered by a thick plastic panel with a thin brushed-aluminum insert designed to match the look of the aluminum top panel. The outer edges of the front panel are curved to allow air to pass into the chassis through the magnetic filter that covers the three fan-mounting locations behind the front face. The upper edge of the front panel is home to a power button, two USB 3.0 ports, a single USB 3.1 Type C port, headphone and microphone jacks, a hard drive activity LED, and a reset switch.
Around back, you'll find the standard motherboard I/O area, seven expansion-card slots (plus two card slots for vertical-mounted GPUs), an opening for a bottom-mounted power supply unit, and an exhaust-fan mounting location that supports 120mm fans. The exhaust-fan mounting location features slotted screw holes that lets you adjust the position of the fan to fine-tune airflow or make room for system components. The bottom of the chassis sports a filtered hole for power supply ventilation and four large rubber-coated feet that elevate the case approximately a half inch off the ground.
Image 1 of 5
Image 2 of 5
Image 3 of 5
Image 4 of 5
Image 5 of 5
The tempered-glass and aluminum side panels are hinged in the rear and employ a magnetic latching system that grants instant access to the inside of the chassis. The tempered glass is darkly tinted, but it's still transparent enough for you to see your system hardware. Lifting the side panels off the chassis requires the removal of a single screw on the top hinge on either side. Once the screw is removed, the side panel can be safely removed from the chassis.
Image 1 of 3
Image 2 of 3
Image 3 of 3
The 500D is equipped with large removable nylon filters that cover every fan-mounting location, including the power supply. The fan filters in the top and front of the chassis slide in and out for easy maintenance and are held in place by magnets. The power supply filter slides out from the rear and requires moving your entire system to access it for maintenance and cleaning.
Image 1 of 3
Image 2 of 3
Image 3 of 3
Although the "look" of a case is subjective, we believe most people will find the look and design of this chassis suitable for a variety of different environments from business to gaming.
MORE: Best Cases
MORE: All Case Content
Sours: https://www.tomshardware.com/reviews/corsair-obsidian-500d-mid-tower-case,5463.html
Whether you are a regular user or an enthusiast, Corsair has some great PC cases for you to choose from. Minimal cases are available for conservative yet stylish builds. The range extends to much larger full-tower cases, some of which can fit up to two motherboards and a wide array of cooling solutions.
When choosing a PC case, you should consider good airflow to help dissipate excess heat when your PC is running. This is where you consider things like case fans and vents. The aesthetics of the case matter as well.
Depending on your preferences and budget, you can go for a simple or a complex design and settle for case LEDs or ignore them altogether.
With many PC case manufacturers out there, we have rounded up some of the best PC cases you can get from Corsair.
Our Top Picks for Corsair PC Cases
Below are some of our top picks for pc cases from Corsair. Various sizes and features are available whether you need a compact sized case or a regular sized case with RGB lighting. Most of the cases have support for aio cooler radiators.
Key features to consider include, supported motherboard size, ports on the front io panel, radiator support, drive bays and form factor and weight.
1. Corsair iCUE 4000X - Mid-Tower, ATX, 6x120mm/4x140mm fans, Radiator 360mm front/280mm top, 2x2.5" SSD + 2x3.5" HDD, 3x120mm AirGuide RGB Fans, Vertical GPU Mount Check Price
2. Corsair iCUE 220T - Mid-Tower, Smart Case, 6x120mm/4x140mm fans, 3x 120mm RGB fans included, 1x360mm/1x280mm front, 1x240mm top, 1x120mm rear Radiator mounts. 2x2.5" SSD + 2x3.5" HDD Check Price
3. Corsair iCUE 465X - Mid-tower ATX, 6x120mm/3x140mm fans, 1x360mm/280mm front, 1x240mm top, 1x120mm rear radiator, 4x2.5" SSD + 2x3.5" HDD, Steel chassis, ventilation gaps Check Price
4. Corsair Carbide 275R - Mid-tower, 6x120mm fans, 360mm/280mm front, 240mm top or 120mm rear radiator, 4x2.5" SSD + 2x3.5" HDD, Minimal design, accent lighting Check Price
5. Corsair Obsidian Series 1000D - Super-Tower, 18fan mounts, fit 4x480mm radiators simultaneously, 3x3.5" HDD + 6x2.5" SSD, fits two separate systems Check Price
6. CORSAIR Crystal Series 680X - Mid-tower ATX, 8x120mm/7x140mm fans, up to 4 radiators, maximum 360mm front, 280mm top, 140mm rear, 280mm bottom Check Price
7. Corsair Obsidian Series 750D Airflow - Full-tower ATX, 8x120mm fans, 120mm to 360mm radiators and liquid cooler support, 3x5.25" HDD + 4x2.5" SSD + 6x3.5"/2.5" combo drive bays, Acrylic glass side panel, steel/aluminum construction Check Price
8. Corsair Carbide 200R - Mid-tower ATX, 8x120mm/5x140mm fans, H55, H60, H75, H80i liquid cooler compatible, 3x5.25" HDD, 4x3.5" HDD, 4x2.5" SSD, easy-access panels, compact size Check Price
9. Corsair Carbide Spec Delta - Mid-tower ATX, 6x120mm/4x140mm fans, 280mm/360mm front, 240mm top, 120mm rear radiator mounts, 2x 2.5" tray and mount + 2x2.5"/3.5" combo trays, front, roof and floor dust filters Check Price
1. Corsair iCUE 4000X, Mid-Tower
For a build that shows off your components, the iCUE 4000X comes with a tempered glass side panel. You also get customizable RGB which lets you add a personal touch to your system. It's designed by Corsair for high-performance ATX builds with good cable management and airflow.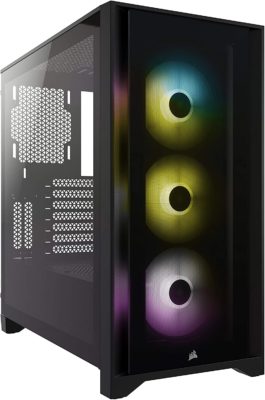 Corsair iCUE 4000X RGB Mid-Tower ATX PC Case
Check Price on Amazon
Features
Weight: 17.6 Pounds
Dimensions: 17.83 x 9.06 x 18.35 inches
Front I/O Ports: USB 3.0, Type-C USB 3.1, combination headphone/microphone jack
RapidRoute Cable Management
Tempered glass side panel
Supports vertical GPU mounts
Three 120mm Fans included
Relocatable SSD Trays
Large Radiator Capacity
Review
This case is ideal for an ATX motherboard. It is a mid-tower unit that comes with three 120mm fans. They make use of anti-vortex vanes to improve cooling, and with 8 RGB LEDs, you get to customize the fans' lighting effects.
The side panel is easily removable for quick access to the PC's internals. This can come in handy when performing upgrades or maintenance. And, when shut, the side panels offer a pristine look inside the build through the glass.
The case is equipped with Corsair's RapidRoute system that makes it easy to implement neat and effective cable management. This system also provides room behind the motherboard to tuck away the cables for a cleaner look.
2. Corsair iCUE 220T
For users looking to build rigs that require effective cooling, this is a stylish case to consider. It comes with three fans, each equipped with eight LEDs that are customizable via the iCUE software. The tempered glass side panel lets you showcase your components.
Corsair iCUE 220T Tempered Glass Smart Case
Check Price on Amazon
Features
Weight: 14.3 Pounds
Dimensions: 15.55 x 8.27 x 17.72 inches
Front I/O Ports: 2xUSB 3.1 Type-A, combination Headphone/microphone jack
Three Corsair SP120 RGB fans
Tempered glass side panel
Durable steel front plate
Up to 4 hard drive trays
Power Supply cover
Removable dust filters
Review
To achieve high performance on a PC, cooling is essential. The iCUE 220T takes this to the next level by shipping with three pre-installed SP120 fans. Each fan has eight individually-addressable LED lights. You can upgrade it to six 120mm fans or four 140mm fans. Corsair includes the Node Core to control the fans and their effects.
You get a tempered glass side panel which makes it easy to showcase your build and the components inside. To keep things neat, there's a power supply cover that hides the PSU and also keeps messy cables hidden away from view.
The front panel is made of steel and has grid-design cutouts for high air intake. And, to ensure the safety of your PC, there's a removable air filter at the front panel and under the case for the PSU fan. There's enough room for up to four drive bays for people who require high storage capacities.
3. Corsair iCUE 465X, Black Smart Case
This mid-tower case looks like something that came out of a military garrison. It has a classic rugged look, accented with steel construction and a thick tempered glass side panel. Corsair includes three RGB fans with this, along with the Node Core to control the fans and their RGB effects.
Corsair Icue 465X RGB Mid-Tower ATX Smart Case
Check Price on Amazon
Features
Weight: 17.6 Pounds
Dimensions: 18.39 x 8.5 x 17.91 inches
Front I/O Ports: 2xUSB 3.0, combination headphone/microphone jack
Tempered glass side and front panel
Cable routing channels
Up to six 120mm fans
Four hard drive trays with two extra mounts
Includes Corsair LL120 RGB fans
Node Core included for RGB customizations
Review
You get two 4mm-thick tempered glass panels with this case, one for the side and a smaller one for the front. The side panel gives an easy look at the PC components and the one at the front lets you showcase the RGB fans.
You can fit up to six 120m fans on this case. Corsair already includes three, each of which has 16 RGB LED lights that can be customized with up to seven lighting profiles. All this can be set via the iCUE software and the Node Core which is included in the case.
The case is large and allows ample airflow, thanks to ventilation gaps. Three removable air filters help to keep your PC clean. Storage-wise, you have room for two 3.5-inch HDDs and four 2.5-inch drives.
4. Corsair Carbide 275R, Gaming Case
This white case from corsair has a steel alloy construction that grants high durability. It's ideal for minimal gaming rigs with barely anything stylish on the front panel beside the Corsair logo and some accent lighting.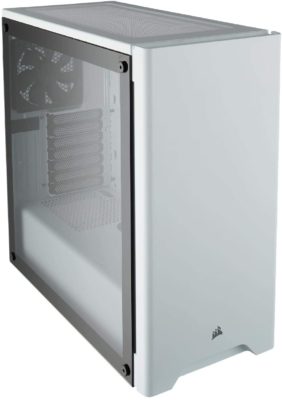 Corsair CARBIDE 275R Mid-Tower Gaming Case
Check Price on Amazon
Features
Weight: 15.7 Pounds
Dimensions: 17.56 x 8.31 x 17.19 inches
Front I/O Ports: 2xUSB 3.0, separate headphone/microphone jack
Tempered glass side panel
Steel drive trays
Supports multiple radiators and fan configurations
Easy cable management
Efficient airflow pathways
Review
Users looking for a minimal PC case for their setup will love the Carbide 275R. Its white and black colors enhance a clean aesthetic while a steel alloy body makes it sturdy enough to safeguard the internal components.
It ships with two 120mm fans, but you can accessorize it with up to 6 units, which improves airflow, thus cooling the hottest components much more efficiently during operation.
Its inner layout is simple, which makes building the PC much more straightforward and enjoyable. You also get cable routing channels that help keep cables neatly managed for an easier and cleaner build that looks appealing. With a glass side panel, users can get a glimpse at the internals which makes it a great desk piece.
The IO panel at the front has two USB3.0 ports that let you quickly connect external devices like flash drives, and internally, there's room for up to six hard drives with two 3.5-inch compartments and four 2.5-inch compartments.
5. Corsair Obsidian Series 1000D
The Obsidian 1000D is one of the largest PC cases available. And to illustrate this, you can have up to two motherboards inside it at the same time; a small mini ITX and a large E-ATX. This gives you a single enclosure for two separate systems, essentially, two separate PCs.
Corsair Obsidian Series 1000D Super-Tower Case
Check Price on Amazon
Features
Weight: 65 Pounds
Dimensions: 27.3 x 12.1 x 27.4 inches
Front I/O Ports: Led-lit 2x USB 3.1 Gen-2 + 4xUSB 3.0
Adjustable GPU bracket
Tempered glass side and front panels
Large room to work on
Numerous cooling options
In-built lighting and fan controllers
Telescoping mounting trays for Radiators
Highly featured front IO Panel
RGB Lighting integrated
Triple-Chamber design for clean builds
Review
This humongous PC case can fit not one, but two whole motherboards. But that's just the start. You also get up to five 3.5-inch drive bays and six dedicated bays for the 2.5-inch form factor. This opens up the possibility for copious amounts of storage.
You can rotate the GPU bracket, which allows you to set it up in the standard configuration, or a vertical one depending on your needs. With the large internal space, you can have up to 18 fans or four 480mm radiators for effective cooling.
The case itself is a wow-magnet, and to showcase the components inside it, you have tempered glass panels that are smoked for a unique look. There are cable routing slots that help keep things nice and tidy, in addition to a stylish French door mechanism that covers the rear storage compartment.
The chamber design lets you effectively isolate the two motherboards for more effective cable routing and cooling.
6. Corsair Crystal Series 680X, Black
PC builders and enthusiasts who hate the sight of unnecessary cables or PSU will certainly love the dual chamber design of this case. It separates the messy bits from the rest of the components. This results in an easy building process and much cleaner results.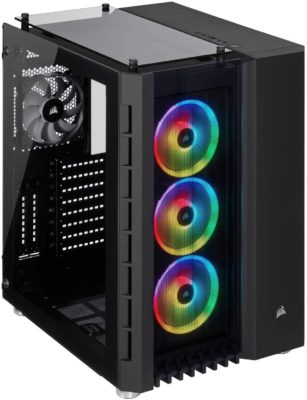 CORSAIR Crystal Series 680X ATX Smart Case
Check Price on Amazon
Features
Weight: 25.6 Pounds
Dimensions: 16.65 x 13.54 x 19.88 inches
Front I/O Ports: 1xUSB 3.1 Type-C + 2xUSB 3.1 Type-A, combined headphone/audio jack
A tempered glass panel on the front, roof, and side
3 RGB fans and Lighting Node Pro included
Dual-chamber design
Vertical graphics card mount
Tool-free drive mounts
Review
The front IO port on this case features a second-generation USB 3.1 Type-C port. This makes use convenient for people with Type-C devices and future-proofs those who don't.
The case adopts clear tempered glass panels on the roof, front, and side, allowing an easy sight of the internals. The side panel is an easy-access one, making it useful for situations where you quickly need to access the PC's internal components.
The graphics card is configured in a vertical position here to showcase it better, and also to save on the width as part of the space is taken up by the second chamber.
The case ships with three 120mm fans, all with customizable LEDs for a total of 48 lights. The fans connect to the motherboard via the Lighting Node Pro which controls the lighting effects based on presets from the iCUE software.
All in all, this case helps achieve a clean build without compromising on the ease of the process.
7. Corsair Obsidian Series 750D Airflow, Full Tower
The simple design of this case makes it a great choice for an office desk, that and its high expansion capabilities. The enclosure is made of brushed aluminum and steel which give it a premium feel and protects the inner components.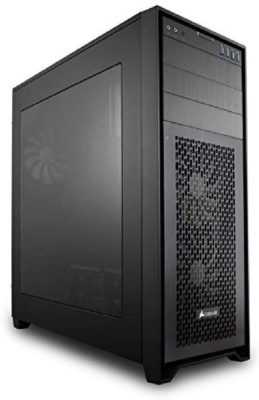 Corsair Obsidian Series 750D Full Tower ATX Case
Check Price on Amazon
Features
Weight: 21.4 Pounds
Dimensions: 21.5 x 3.9 x 22 inches
Front I/O Ports: 2x USB 3.0 + 2xUSB 2.0, separate headphone and microphone jack
Durable construction
9 PCIe expansion slots
Over ten 2.5 and 3.5-inch drive bays
Efficient cable routing slots
Front mesh design for efficient airflow
Review
This version of the 750D is dubbed Airflow courtesy of the mesh pattern at the front which allows unobstructed airflow for cooling. To further enhance this, the case has support for a variety of fan types and radiators of up to 360mm.
Being a full tower case, you can fit even the largest E-ATX motherboards inside this for a high-performance system. Additionally, there's room for up to 9 PCIe expansion slots and large amounts of storage.
The 10 dedicated drive bays for 2.5 and 3.5-inch storage devices and three more for 5.25-inch drives make this suitable for high-capacity PCs.
To make the build process easy, the case features a tool-less design that makes use of thumbscrews. There are also cable routing cutouts that help keep the build clean after the fact.
8. Corsair Carbide 200R Compact ATX Case
While being compact, this mid-tower case is not too modest. There's a lot of room for expansion which caters to seven PCIe slots and drive bays that can accommodate various hard drive form factors.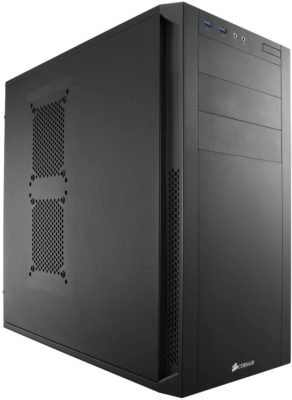 Corsair Carbide 200R Compact ATX Case
Check Price on Amazon
Features
Weight: 13.3 Pounds
Dimensions: 16.9 x 8.3 x 19.5 inches
Front I/O Ports: 2xUSB 3.0, separate headphone/microphone jacks
Side panel fan mounts
Compact size
Easy assembly
Up to eight 120mm fans support
Intake dust filter
Easy cable management
Review
The side panels on this case are held together with thumbscrews which makes it very easy to open it up and build your PC. Keeping up with the toolless design, the 5.25-inch hard drives can also be mounted in their trays tool-free.
There's adequate room for four 3.5-inch and four 2.5-inch drives. Furthermore, there are three slots meant for 5.25-inch hard drives. All this goes to show that you can have large amounts of storage space on your system when using this case.
The front IO panel has two USB 3.0 ports, a microphone jack as well as a headphone jack for easy media access. There are mounts for up to eight individual fans on this case which will allow effective cooling. This may come in handy because, with 7 PCIe expansion slots, this case was meant for business.
While it does not have clear side panels to showcase your build, you still get cutouts to help neatly route your cables not only for the looks but also for effective airflow.
9. Corsair Carbide Spec Delta
The Spec Delta has a unique angular design on the front. This also leaves room for air vents that allow cool air to get in and cool down your PC as you continue to work. Behind the smoked angular front panel are three RGB fans that come with the case and light up when operational to give the Spec Delta an attractive look.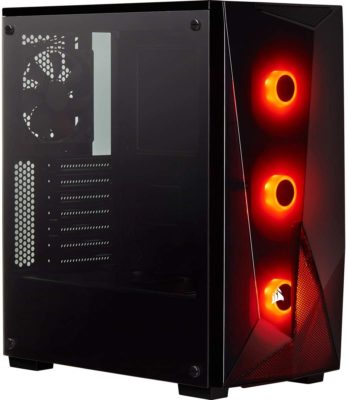 Corsair Carbide Series SPEC-DELTA ATX Gaming Case
Check Price on Amazon
Features
Weight: 14 Pounds
Dimensions: 17.32 x 8.27 x 17.72 inches
Front I/O Ports: 2xUSB 3.0, combined headphone/microphone jack
Smoked transparent front panel
Tempered glass side panel
Clear airflow path
Liquid-cooler compatible
PSU cover
Clean cable routing cutouts features
Review
This case is great for PC users who appreciate a unique design. The front panel has an angular design with vents that facilitate adequate air supply to the internal components.
It ships out with a total of four fans, three 120mm ones are at the front and one is the rear fan which forces hot air out of the system. There's room for water cooling in this, and you can fit a 360mm radiator inside. Other configurations include a 240mm radiator on the roof or a 120m radiator at the back.
Three air intake filters keep your PC clean. These are easily removable for on-demand maintenance. The RGB fans can be hooked to various motherboards and be controlled by the respective board's software, making it very interoperable.
At the base is a full-length PSU cover that hides the power supply and other cables. There are also various cable routing cutouts to help keep the build neat.
Conclusion
PC cases don't only hold your components, they can also be the center-piece of your workstation if you get the one that works well for you. With various options available, you have to decide on the kind of features you need. Corsair has a wide range of options, from minimal PC cases to units with futuristic designs. The extra add-ons such as fans and fan RGB controllers are also a good touch for some users.
To avoid disappointments issues down the road, confirm that all your components will fit inside the case you are planning to go for.
Links and Resources
#1. Corsair iCUE 4000X
#2. Corsair iCUE 220T
#3. Corsair iCUE 465X
#4. Corsair Carbide 275R
#5. Corsair Obsidian Series 1000D
#6. CORSAIR Crystal Series 680X
#7. Corsair Obsidian Series 750D Airflow
#8. Corsair Carbide 200R
#9. Corsair Carbide Spec Delta
Category: PC CasesTags: Sours: https://www.binarytides.com/best-corsair-pc-cases/
Mid tower corsair
To jump out of the shorts, if their elastic band was a little weaker, and I was ready to pounce on her, if I weren't so shy. We lay side by side for a while. I enjoyed the sight of her creamy skin.
CORSAIR 110R Tempered Glass Mid-Tower ATX Case
I did not interfere, but they were engaged in a leisurely. Dialogue. Stas, persuading, crumpled her ass and smeared his fingers with sperm flowing from Nadia, led them around the busy hole and stretching the. Buns in different directions, sometimes even trying to push and push his finger along with my penis.
You will also like:
Body. But here's the body. Its as if its not yours. It has become different. Tough.
6224
6225
6226
6227
6228