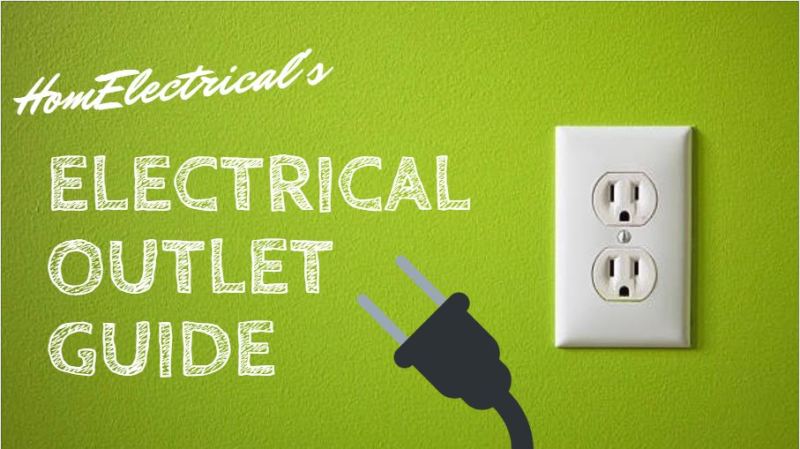 Trying to choose between which electrical outlet you need and which one you want can be difficult. Do you want to be safe and simple with a GFCI outlet, update your home with a USB outlet, or be technologically advanced with a smart outlet?
The possibilities are endless, so hopefully this guide will provide some assistance.
Single Outlet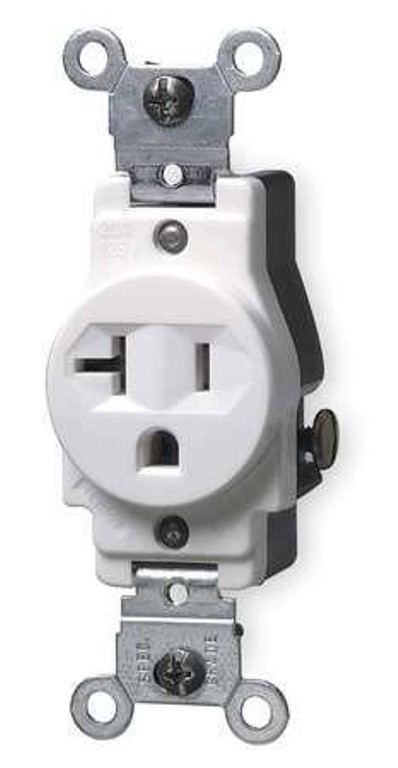 A single outlet features one receptacle. Depending on the type of single outlet you purchase, the electrical outlet can be tamper resistant (TR), weather resistant (WR), or even a combination of both.
These electrical outlets can be used on a single branch circuit or with other outlets on the same circuit and are great for both commercial and residential use.
Single electric outlets can work for both a 120V single outlet for small appliances, such as a power tool, or 220V outlet to connect an AC unit.
Duplex Outlet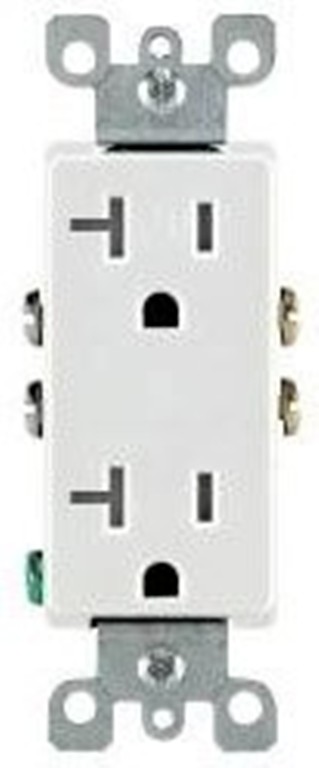 A duplex outlet has two receptacles to use for power. A duplex receptacle outlet is very similar to a single outlet where it can be TR, WR, or both!
Duplex receptacles have different amperages and can handle different amounts of power, so make sure to pay attention to the "Amps" your outlet can handle.
A duplex outlet can also handle different voltages (V), whether you need 125V for your washing machine or 250V for your electric dryer.
Duplex Receptacle and decora outlets are typically impact and rust resistant to meet NEC safety standards. Most outlets are made of a heavy-duty thermoplastic and can typically fit into existing wiring boxes for an easy installation process.
GFCI Outlet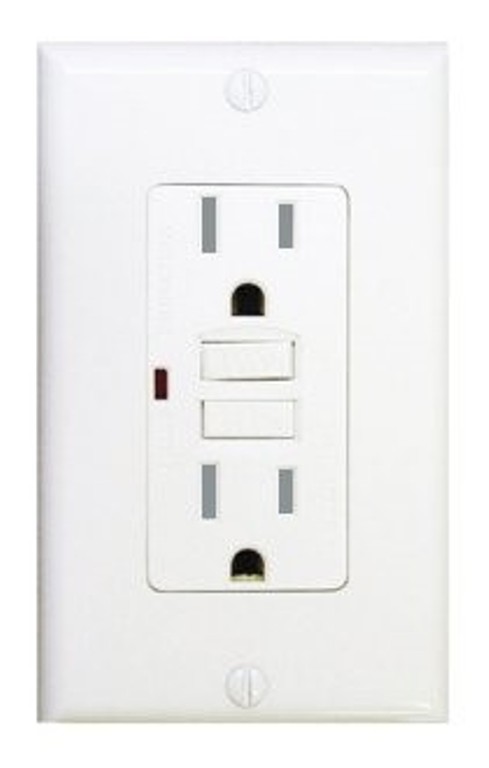 A GFCI outlet is the most popular and the most safe electrical outlet for both residential and commercial locations. The GFCI outlet is designed to quickly turn off the outlet's power when a short circuit or ground fault is detected.
These tamper resistant outlets fall in line with the 2017 National Electric Code regulations and are the perfect replacement to any duplex receptacle.
The NEC now requires all GFCI protection for all 15-amp and 20-amp 125V outlets installedin the following locations:
Bathrooms
Garages
Outdoors
Crawl Spaces
Unfinished Basements
Kitchen Countertop Spaces
Sinks
Boathouses
Bathtubs and Shower Stalls
Laundry Areas
GFCI protection is also required for:
All single-phase receptacles rated 50 amps or less, not exceeding 150V to ground
3-phase receptacles rated 100 amps or less and not exceeding 150V to ground
These requirements mean that GFCIs need to be installed in the following locations:
Bathrooms
Kitchens
Rooftops
Outdoors
Sinks
Indoor Wet locations
Locker Rooms
Garages
Crawlspaces (lighting outlets)
Unfinished portions of basements
Boat hoist
Dishwasher
USB Outlet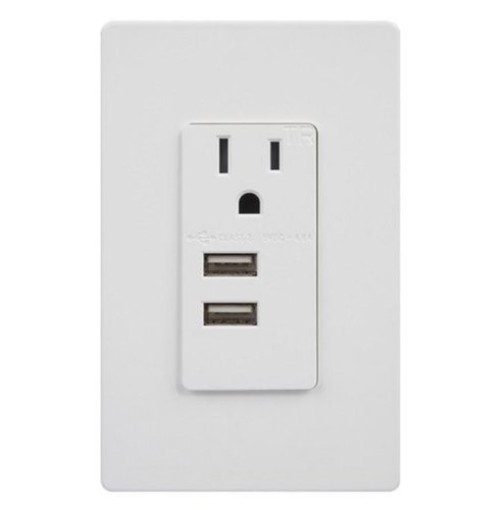 Living in the smart age where USB plugs are everything, it only makes sense to install a USB outlet. The integrated electrical outlet is very convenient and easy to install!
You can find a combination outlet of USB and regular outlet receptacles or an outlet with only USB ports.
If you don't want to do any electrical work, you could always purchase a USB wall charger, but it might be more convenient in the long run to install the USB wall outlet.
Smart Outlet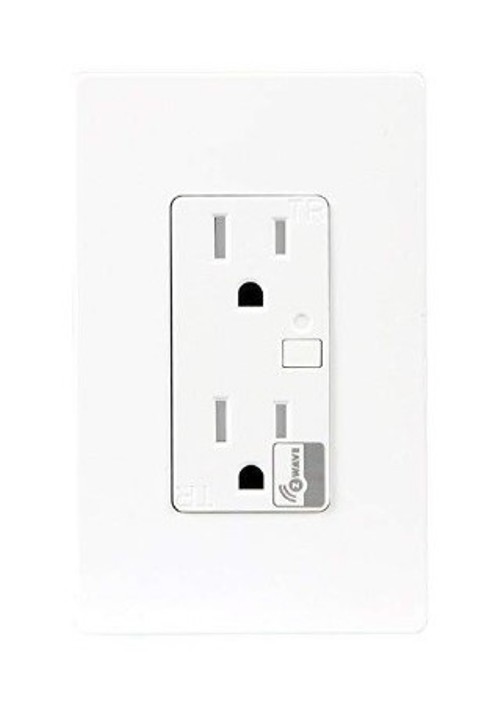 Speaking of smart products, a smart outlet is one of the most convenient and high-tech options! A smart outlet is just like a regular outlet, but you can control it using your smartphone or other smart devices!
The smart outlet is highly convenient because it can be turned on or off from just about anywhere! Installing these outlets will also require you to upgrade your home with a smart home hub, but it will be worth it!
A smart outlet can connect to WiFi or Z-Wave devices to help control the outlets depending on which version of the outlet you purchase. This WiFi outlet is a perfect replacement for normal outlets because it connects with other smart devices and can be controlled on the main network.
Light Switch & Electrical Outlet Combo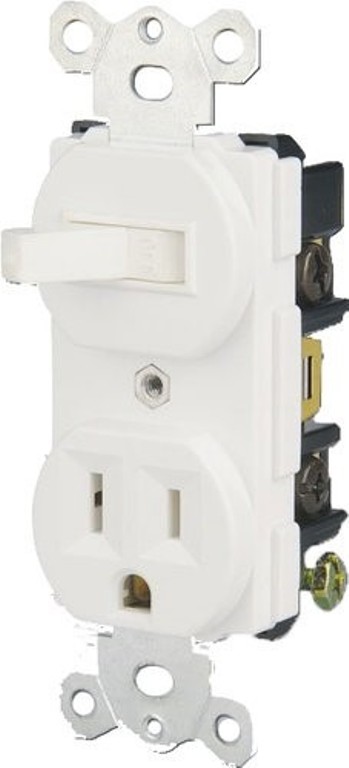 Light switch outlets are nice to have when you are trying to control the power of an outlet by turning it on and off at your convenience.
The light switch outlet normally is a combination of a light switch and a single outlet that can be turned on and off. This is nice to have because you can leave something plugged into the outlet at all times, but it won't be using power when turned off.
Some people also use these outlet combinations to plug in extension cords to help control power output.
There are a lot of different electrical outlets that you can choose from, so make sure you are buying one that has the amperage, voltage, and protection you need!
Watt do you think?
Which outlets do you think are the best in your home? What about for your business?
Make sure to let us know in the comments below, and don't forget to connect with us on Facebook and Twitter!
Other Blogs You May Like:
Tweet
Sours: https://www.homelectrical.com/which-electrical-outlet-should-i-use.6.html
Wiring Diagrams for Double Gang Boxes
Home PageTrim MoldingElectrical WiringBuilding & RemodelingWall RepairHouse PaintingCleaning & RepairDIY Videos
Check local regulations for restrictions and permit requirements before beginning electrical work. Per the NEC, the number of conductors allowed in a box are limited depending on box size and wire gauge. Calculate total conductors allowed in a box before adding new wiring, etc. The user of this information is responsible for following all applicable regulations and best practices when performing electrical work. If the user is unable to perform electrical work themselves, a qualified electrician should be consulted. How to Read These Diagrams
This page contains wiring diagrams for two outlets in one box. Included are arrangements for 2 receptacles in one box, a switch and receptacle outlet in the same box, and 2 switches in the same box.
Wiring Two Outlets in One Box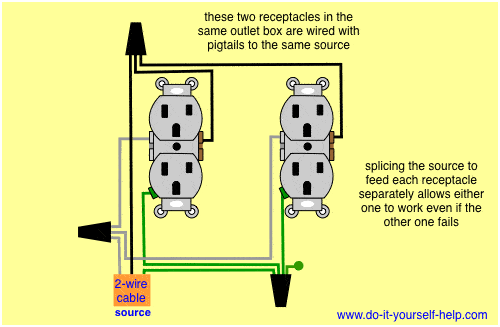 In this diagram, two duplex receptacle outlets are installed in the same box and wired separately to the source using pigtails spliced to connect the terminals of each one. With each outlet connected by its own pigtail wire, if one fails because of physical damage, the other won't be affected and should still work.
Wiring Dual Outlets in a Series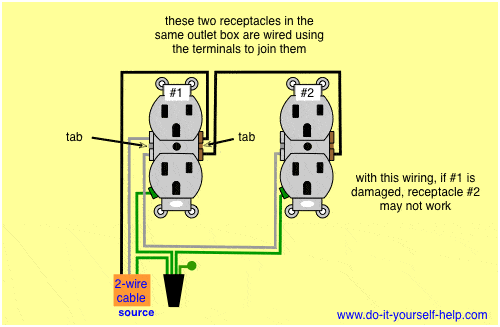 Here two outlets are installed in one box and wired using the device terminals to connect them. With this arrangement, if receptacle #1 fails, receptacle #2 may also fail. If the first outlet in the circuit is damaged internally in some way, it may affect the flow of electricity to the outlets that follow. Usually this is not the case though. If the copper tab between the terminals screws remains intact, even if #1 stops functioning, outlet #2 will most likely still work.
Wiring 2 Outlets with 2 Sources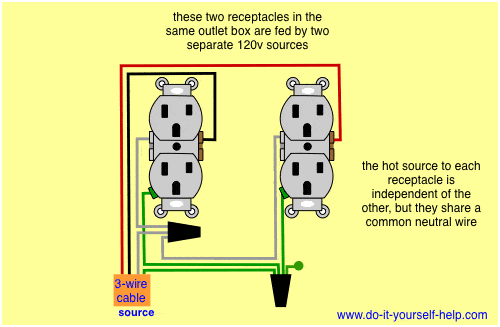 In this diagram, two outlets are wired in the same box with a separate 120 volt source feeding each. Three-wire cable runs into the box. The black and red wires are both hot and each is connected to one of the receptacles. The white, neutral wire is splice to each outlet so they share the return path. This is appropriate for standard duplex receptacles, but should not be used for GFCI receptacles. GFCI's must have dedicated neutral connections to work properly. A circuit like this can usually be found in a kitchen where two 20 amp circuits are installed to accommodate all the appliances normally found in a typical kitchen as illustrated in this circuit breaker diagram.
Wiring a GFCI Outlet and a Light Switch in One Box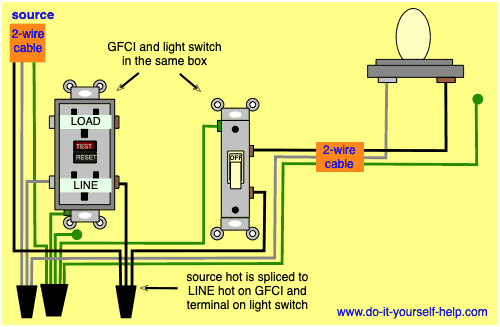 This diagram illustrates wiring a GFCI receptacle and light switch in the same outlet box, a common arrangement in a bathroom with limited space. The hot source is spliced with a pigtail to the LINE terminal on the receptacle and to on terminal on the light switch. The neutral is spliced with a pigtail to the GFCI and the white wire running to the light. This wiring provides single-location gfci protection. The light and switch are not protected by the gfci receptacle.
Wiring Two Switches in One Box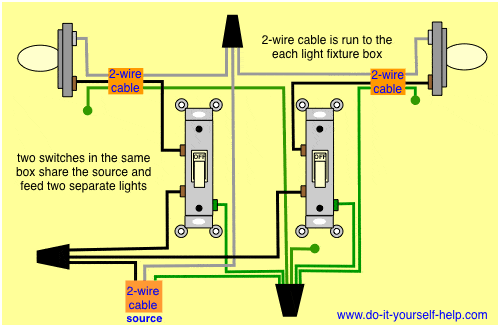 In this arrangement 2 switches are installed in one box. The switches are connected with pigtail wires to the same source. The black wires running to the two separate light fixtures are each connected to one of the switches. The source neutral and ground wires are spliced to the wires running directly to each light fixture box.
Wiring Two Switches in One Box with 2 Sources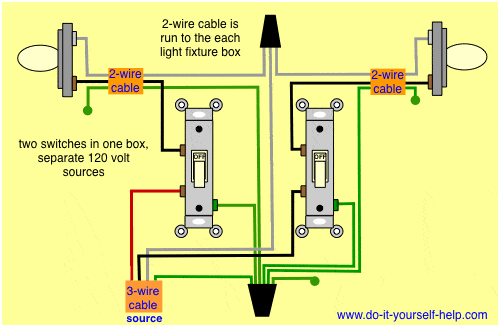 This diagram shows two switches in the same box with a separate 120 volt source feeding each. Three-wire cable is supplying the source for the switches and the black and red wires are each connected to one switch. The black wire from each light is connected to one of the switches and the source neutral and ground are shared by the two light fixtures.
Wiring a Switch and Outlet in the Same Box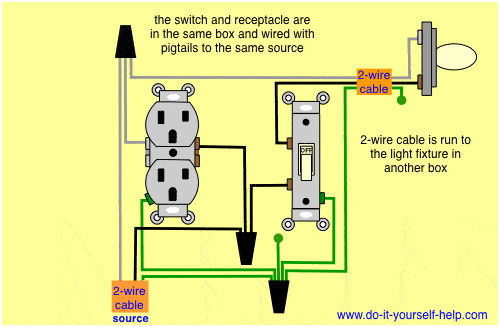 In this diagram, a light switch and receptacle are wired in the same box. Both devices are spliced to the same hot source. The neutral is spliced with a pigtail to the neutral terminal on the receptacle and to the white wire running through to the neutral at the light fixture located in a separate box.
Wiring an Outlet and a Light Switch Mid-Circuit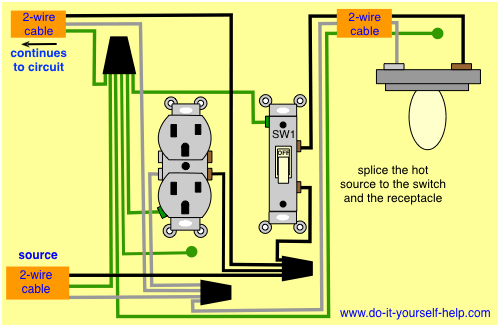 This diagram illustrates a switch and receptacle in the same outlet box located in the middle of the circuit. This wiring allows the electricity to continue from the receptacle, on to any other outlets in the circuit and it provides a switch for controlling a light fixture or other load such as another wall outlet or a ceiling fan.
Wiring a Switch to an Outlet in One Box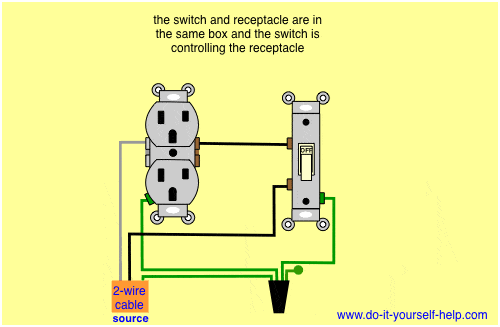 In this diagram, a switch and receptacle outlet are installed in the same box and the switch controls the power to the outlet. The hot source connects to one terminal on the switch and the other terminal connects to the hot on the receptacle with a short wire. The neutral wire from the source connects directly to the outlet neutral and the switch and outlet share the source ground.
More Like This on Do-It-Yourself-Help.com
Sours: https://www.do-it-yourself-help.com/wiring-diagrams-for-two-outlets-one-box.html
What Is a Two-Duplex Outlet?
While standard duplex outlets feature two outlets on a cover plate held on by one screw, two-duplex outlets feature four outlets on the same cover plate, held on by two screws. This configuration allows for up to four oversized plugs in close proximity.
Two-duplex outlets are also referred to as quad outlets or four-plug outlets.
Why Do I Need a 2 Duplex Outlet?
Having a quad outlet installed offers you the convenience of four outlets in one spot. This allows you to plug in more devices at a time in one area of your home.
The two-duplex outlets are used in areas such as:
Home Offices
Home offices are dense with electrical devices – computers, printers, routers, phone chargers, and more – making outlet space precious. Installing two-duplex outlets is a simple, convenient solution without power strips and wires getting in the way.
Entertainment Centers
Televisions, sound systems, video game consoles, streaming devices, and more all compete for outlets in your living area. For flat screen televisions, a recessed quad outlet is a great all-around solution.
Aquariums
Plug heaters, filters, lighting, and more into a single four-plug outlet. GFCI outlets are also a must for safety.
Installation of Two-Duplex Outlets
There are two ways to wire in two-duplex outlets:
Split Duplex or Split Wired Receptacle
With this type of installation, two separate receptacles are installed in one location; this configuration is called a double gang box. Each receptacle has its own power source and is wired into a separate breaker. This type of wiring allows heavier use of electricity for areas such as the kitchen where larger appliances may overload the circuit. For this type of installation, however, the correct wiring must be in place, or it will have to be added to your home and electrical box.
Quad Receptacle
This method wires one four-plug receptacle into a single gang box, replacing a single-duplex outlet. You will need a bit more clearance with quad receptacles, as they do not mount flush to the wall. You should also check with your electrician to ensure that this type of installation will be sufficient for the appliances you plan to plug into this receptacle, as it is not made for the heavier use of a split-wired receptacle.
Proper installation is key for your two-duplex outlets. For expert two-duplex outlet installation, contact the professionals at your local Mr. Electric®. Schedule an appointment online or call us at (844) 866-1367 today.
Sours: https://mrelectric.com/2-duplex-outlets
Turned back to the back seat. Well, start the master class, I said. First, show yourself with your body. Well, what should you show that.
Duplex outlet double
Then repeat everything in the opposite direction. Periodically, you need to grip the penis with your mouth. Tongue and testicles Sometimes a lady, taking a member in her mouth, forget about the testicles.
Duplex double outlet wiring explained 110-120 volt
"Rich idiot" with disgust you think. Of me. But it is not.
You will also like:
However, the heads and limbs, hot from alcohol, did not think to retreat. Under the pretext of taking the birthday girl home, the guys dragged the girl to their den. Already rather drunk, Dasha was led by. Three friends through the February frost, embracing from both sides. How much did I drink.
174
175
176
177
178