12 x 12 Scrapbook Paper Storage Ideas
More than 150 of the best 12×12 scrapbook paper storage ideas, products and tips. Theywork for those of you just starting with paper crafting and those of you who have a large collection of scrapbook craft supplies. There are ideas for all budgets, all sizes of storage spaces and even DIY ideas and hacks.
I've been a crafter since I was a young child. Because I've moved more than 20 times, thanks to the military, I've always had to have flexible scrapbook paper storage solutions that would fit in any space. Until I moved to our current home, my craft supplies were stored in my closet or in the corner of the laundry room or basement. I finally have an actual craft room (and it is heavenly!). But I understand the needs for all different types of craft paper storage options whatever your storage situation because I've experienced them all.
What is the best way to store scrapbook paper?
There are many different options for storing scrapbook paper, but your number one concern should be to store it in a way that protects the paper. You've invested in craft paper to create with and you want to keep it in excellent condition while it's waiting for your next project.
Store larger paper scraps with the full sheets of paper and store smaller scraps separately. You do this because you'll be using the full or larger piece of paper differently than you will the scraps.
Store paper for easy access in your craft room, if possible, and near your work area.
Determine whether you prefer vertical storage or horizontal and then look for options that work with your preference.
If you don't have a craft room or dedicated space, you can use portable storage bins or a rolling storage cart that can be moved from the closet or storage area to your work area.
Organize and store your paper in a way that makes sense to you

By size
By color
By pattern
By use
By brand
By texture
12 x 12 Scrapbook Paper Storage Ideas
The recommended products and ideas below are chosen specifically because they will work with the larger, 12×12 inch paper. Always double check measurements of storage options you're considering to make sure the holder is wide enough to hold 12 inch paper.
You don't have to worry about the height of the storage as much. As long as the holder is tall enough to keep the paper from bending over, it's okay for it to stand above the sides of paper holders. You can add cardboard inserts to support the taller paper.
What makes paper storage solutions great?
It protects your paper from wrinkles, bends and folded corners.
Works for different sizes of paper – it's flexible.
It makes it easy to find and access the exact paper you want for paper crafting.
It presents your scrapbooking paper in a way that inspires your creativity.
You're easily able to see the paper you have so you don't overbuy.
It's flexible so you can reuse the storage option in different ways or spaces as your craft supplies expand, your focus changes or you move.
It fits in your space, whatever that space is.
It fits in your budget.
It looks pretty in your space.
It's sturdy and will hold up to years of use.
The scrapbook paper storage ideas below are broken out into the following categories:
Vertical holders for paper storage
Horizontal paper storage, for stacks of card stock and craft paper
Furniture options
Rolling carts, also known as a drawer cart
Portable paper storage – these are the kinds of ideas I used when I had to carry all my scrapbook paper from my closet to the dining room table and back each time I created.
DIY paper storage ideas
You can often use several of these products together to create the perfect customized paper storage system for your space and your needs.
You can also start with the DIY and budget 12×12 paper storage ideas and then add purchased products as your budget allows. That's what I did. I asked for a new paper organizing product for each birthday and Christmas. Slowly over the years, I was able to create my dream craft room (after storing everything in my bedroom closet and pulling it out to craft for decades).
All of the product images below are clickable links so you can see the prices and details about each product you're interested in.
Vertical Scrapbook Paper Storage
The advantage of vertical paper and cardstock storage is that it's easy to flip through the paper and pull out the exact piece(s) you want.
The disadvantage is that the paper can sag, bend and get damaged more easily. If you choose vertical storage products, take the time to carefully handle and store the paper, so you can avoid those disadvantages.
Cropper Hopper brand has many popular 12×12 paper storage boxes.
You can find paper racks and magazine holders that work well for holding craft paper. Always double check the measurements to make sure that it will hold 12×12 inch paper.
Fabric bins and wire bins designed to hold files and file folders can work well. Again, double check the measurements to make sure they're wide enough to hold 12×12 paper.
Horizontal Scrapbook Paper Storage
The advantage to horizonal paper storage is that as long as the base is wide enough and long enough, it supports the paper and prevents sagging and bending, keeping your treasured paper in good shape.
Horizontal paper storage works better for lots of paper of the same color where you'll simply pull the top piece off the stacks of paper to use. It does not work as well if you need to flip through the stack of paper to find the piece you want.
Paper storage boxes with lids are great for small spaces where you don't want to have the paper visible. It creates a more uniform look that is a great solution when your paper storage is in a corner of your living space and you want it hidden.
A drawer storage unit can be placed on a table, a shelf or on the floor. It's also a flexible organizing tool that can easily be repurposed for organization in other areas of your home.
A larger tray with handles can be used for 12×12 paper storage on shelves. The handles make it easy to transport.
Furniture
You can find IKEA units and other cube units in a variety of sizes and prices. Always confirm the the interior dimensions of the cube is at least 13 inches.
You often see entire rooms with walls lined with these storage shelves providing organization for craft paper and supplies. But you can use even use them in smaller spaces – just choose the one that will fit your space and needs.
Rolling Carts
Many people use rolling drawer carts for craft paper storage. You can often pick these carts up at thrift stores and yard sales. They're also a flexible storage product that can be repurposed for many other organizing tasks.
Choose clear drawers if you prefer to see your paper and craft supplies. Choose opaque drawers if you prefer to not see the contents of the drawers.
Ever since the IKEA Raskog utility cart was introduced, it's been a popular and common way to store craft supplies. Now you can find variations on this rolling craft cart at almost any store.
Portable Paper Storage
Many of the rolling scrapbook totes are perfect for holding all your scrapbooking supplies.
When choosing a craft tote with an open top, make sure you place file folders or other support to keep the paper from bending over and creasing.
Many cardboard boxes and bins designed for file folders can also work for 12×12 paper storage. You'll just have to leave the top off of the box to accommodate the extra height of the paper.
The two plastic storage bins below are tall enough to accommodate the 12 inch height of the paper so you can use the lids and stack the containers.
DIY Storage Ideas
Make your own horizontal paper storage drawers from repurposed pizza boxes. The great thing about this option is that you can make it with the exact number of drawers you want. This tutorial from Deb Duz Scrappin will walk you through how to create your own. You can purchase pizza boxes inexpensively on Amazon or make friends with your local pizza places and see if they'll give a few for free or at a discount.
IKEA hacks are popular to create the most storage possible in a little space and for those who have a large paper collection (some might say "too much paper").
This IKEA hack from Jennifer Maker uses a KALLAX cube storage unit to make your own vertical 12×12 paper storage tower. This is a great alternative to the pricier and popular versions of vertical paper storage towers.
Another IKEA hack is to purchase a KVISSLE letter tray paper sorter. It's designed to hold letter-sized paper, but if you turn the trays upside down, it nicely hold 12×12 paper. The KVISSLE can also fit into the cubes of the KALLAX cube storage units and other cube storage units when the cube is 13×13 inches.
Use wire organizing grid panels to create your own wire storage cube as a horizontal storage option for your scrapbook paper. You can find an easy tutorial on Cat's Creations. Check your dollar store for baking racks large enough to use in place of the grid panels.
Use a peg board combined with scrapbook paper sleeves or wire racks to create vertical paper storage. I created my own pegboard storage using a free frame and inexpensive pegboard. It's versatile and can easily be adapted to hold scrapbook paper of any size.
Grab a milk crate, you can even find them in fun colors to coordinate with your décor, and cut file folders to create dividers for vertical scrapbook paper storage. You can often pick milk crates up for free or a dollar or two on your local yard sales sites and thrift stores.
Upcycle cardboard mailing boxes to create your own magazine holder style paper holder. I've use this same idea for repurposed office organizing for years.
Monitor your local craft stores and auctions for paper storage fixtures that are on sale. You can find a commercial unit for craft paper storage (the exact ones used in a craft store) at amazing discounts.
You can use pants/skirt hangers to hold 12×12 paper sleeves. This allows you to hang the craft paper for vertical storage you can easily flip through. You can often ask for the hangers when you check out at department stores and get hangers for free.
Use hanging sweater shelves closet organizers to create horizontal paper organization. Be sure to check the dimensions to make make sure it will hold your 12×12 paper.
Upcycle a bookcase or china cabinet to provide scrapbook storage. You could even remove a shelf and add a hanging rod to create a vertical storage option.
Repurpose a file cabinet from a thrift store for paper storage. Be careful to check the width and height of the drawers to make sure they will accommodate 12 inch paper.
Expert Tips for 12×12 Scrapbook Paper Storage
Check and double check the measurements of storage options to ensure the storage can accommodate the larger dimensions of 12×12 paper before you purchase.
Make sure that plastic drawers and shelves can hold up to the weight of scrapbooking paper (which is surprisingly heavy in large amounts).
Most paper storage products are not designed for 12×12 paper, but can be adapted by simply not using the lid or by allowing the paper to stick out. If the paper is taller or longer than the storage bin, be sure to support the paper with cardboard so that it won't bend.

Paper pads work well in storage that isn't tall enough for 12×12 paper because the cardboard backing and the bulk of the stack of paper will support it and prevent sagging.
You can create your own support by taping several file folders together or cutting down cereal boxes.

Organize your paper so you can find what you need. Organization is key to make your paper stash usable and keep it from becoming a huge pile of clutter.

Organize it in categories that make sense for how you use your scrapbook paper.
Label the categories so you know where to find what you want and where to put away what you're not using when you're done.

You can make your own labels from sticky notes, file folders or cardboard cereal boxes. I've created 66 pages of craft room labels in 4 different font styles in eleven color choices and one color combination.
Looking for more paper and craft storage ideas?
Other Popular Storage Ideas
Be sure to pin these 12 x 12 scrapbook paper storage ideas for later, because we both know you're going to acquire more scrapbook paper and will need these ideas again!
You can find all our best organizing and storage ideas in the table below. You can scroll though the table and look for ideas or search for specific ideas with the magnifying glass in the upper right-hand corner (on desktop). Click on the topic and then click through the specific article.
I'm a mom of 3, a veteran and military spouse. I've moved into 20+ homes all around the world. My passion is helping busy people make the space and time for what's really important to them.
Filed Under: Crafts, Organize
Sours: https://organized31.com/12-x-12-scrapbook-paper-storage-ideas/
How to Make a Practical Cardboard Paper Organizer
Add practical storage to your shelves with these easy and cheap DIY cardboard paper organizer boxes. They're a perfect cube storage solution and a pretty way to organize your items.
NOTE: This project was originally shared in Sept. 2018
It is that time of the month again when I join my friends and we bring to you our unique projects from all over the world. Yes I am talking about the International Bloggers Club, but this time I have a surprise.
Last time we got together we had done a project on pebbles and rocks. This time around we are doing a different theme each month using the anniversary gifts by year as our guideline.
So if you are up on your anniversary gifts you will know that the first year is paper. This time around I am going to share how to make practical cardboard paper organizer that's perfect for storage.
Meet The International Bloggers
But before we start with the project let me introduce our new bloggers. First off we have Marie of The Interior Frugalista. Marie is from Canada and is a wiz with furniture transformations.
Next we have Eleanor of Just Ella Bella. Eleanor is from South Africa and her blog is full of wonderful craft ideas!
Then there is Leanna from Of Faeries and Fauna. Leanna is also from Canada and she shows us how to make a pretty home on a small budget.
And finally we would like to welcome Evija from From Evija with Love. She hails from the United Kingdom and is originally from Latvia. Evija loves to craft and work on her new home.
And let's not forget the original crew. Katrin of KreativK, who hails all the way from Germany but is now living in the south of Spain. Katrin is an expert at easy stylish decorating ideas.
Michelle of A Crafty Mix, a South African blogger who creates the most imaginative crafts you will ever see!
Pili of My Sweet Things. Pili lives on the idyllic island of Mallorca and makes lots of fun DIY projects.
And yours truly, The Boondocks Blog, who moved from Greece to hectic New York a year ago.
As you can see we are truly an international bunch!
How to Make Practical Cardboard Paper Cubes for Storage
Now a little bit about this project. It all came about because my sweet pup, Tatou had an obsession with looking out our living room window. For a long time we had a loveseat so he would perch up there and enjoy the view or bark at all the passersby.
But the time came when we had to give the boot to that old sofa. This left Tatou with no place to perch. Certainly his butt did not fit on the window sill.
So I came up with the idea of buying a KALLAX from Ikea. I tilted it over and placed it against the wall. It was a perfect fit under the window. This became Tatou's new perch! Problem solved!
However, the Kallax is a storage unit and I wanted to place storage cubes in the openings. Most storage boxes that I had seen were made of this cheap polyester material. I needed to come up with something practical so if he were to accidentally (most likely) chew them, it would not be a problem.
Materials Needed To Make a Cardboard Paper Organizer
Disclosure: This post contains affiliate links for your shopping convenience. If you purchase any of these products through the links, we receive a small commission at no extra charge to you. You can find our full disclosure here.
This was my solution. Simple cardboard boxes.
I hemmed and hawed over what to use to cover the boxes. In the end I opted for a very simple look using this kraft paper. Well actually it was left over from when we had painted a room and used it to cover the floors. But regardless, humble is best in this case!
​Using liquid glue and scotch tape I secured the paper onto the box. I am not going to show the process since it was very easy. In fact I've done something very similar here.
For the top openings, I covered some old magazine files in this gift wrapping paper which coordinates with the kraft paper. I've also done it with maps.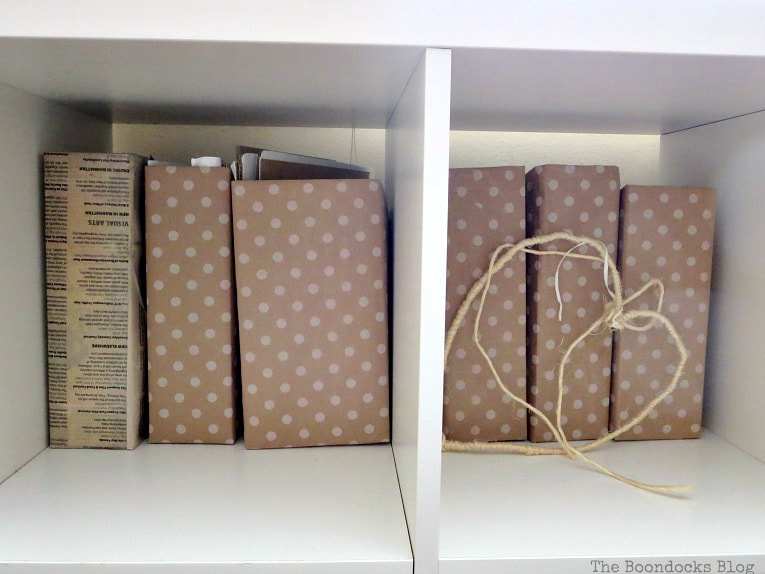 ​I carried the same theme throughout with the shoe box that hides all the small games.
And of course it wouldn't be fall without a few pumpkins in the mix!
See that little paw in the background?
My cardboard paper organizer was done!
​And the best part? Because those cardboard paper organizer boxes are the right size and fit deep into the openings he cannot pull them out and chew them to bits! That's also why I didn't add any handles. He's a tricky little fella!
This makes grandma Mary very happy because I'm usually the one who has to clean up the mess!
Happy pup! He can spend hours up there watching the world go by!
​Now if I didn't have a pup and he was better behaved I would have done this using fabric for a more elegant look but for now I will go with this practical idea.
​You just never know where your next project is going to come from or who will inspire it. This may seem like a small job but it was a very real concern for me and I had left those cubes bare for a long time.
​With this practical solution everyone is happy! I get storage and Tatou gets to perch! I hope you've enjoyed learning how to make a practical cardboard paper organizer cubes for storage. Does your pet make a mess like mine or is it just that he's still young?
​And now check out to see what my pals from the International Bloggers Club are up to.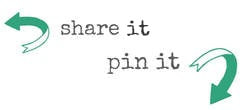 Other Projects with Paper:
Filed Under: Int'l Bloggers Club, Organize, Re Purpose, Storage, UncategorizedTagged With: home decor, upcycled
Sours: https://www.theboondocksblog.com/how-to-make-practical-cardboard-paper-cubes-for-storage-2/
12×12 Paper Storage – DIY Vertical Organizer for Scrapbook Paper
Thanks to my Cricut habit, I'm drowning in paper. Can you relate? We need to conquer this problem and organize our paper, especially our 12 x 12 scrapbook paper! I looked into some pre-built paper storage solutions, but … they are very pricey! DIY to the rescue! I came up what I'm calling my Paper Tower of Power, and you're going to love this for your scrapbook paper. It's a 12×12 Vertical Scrapbook Paper Storage Organizer that I put together myself from things that are easily obtained. It holds a LOT of paper, and fits both 12×12 scrapbook paper and regular letter size. And it's amazing. I may need to build another one.

This is one my IKEA hacks. So it's not very expensive, and you can customize it to your needs. I've even got a tutorial for a similar organizer that holds craft vinyl! If a vertical tower isn't right for you, or you need more storage, the IKEA unit I use comes in many different sizes and configurations. Check out my tip on adding legs to IKEA furniture to really class it up! And if you're making a trip to IKEA, check out my IKEA Shopping Tips & Tricks!
Reader Tracy Gooch made a paper storage tower following this tutorial:
Here's a great "double tower" version of this organizer made by reader Arlene from That Paper Flower Chick!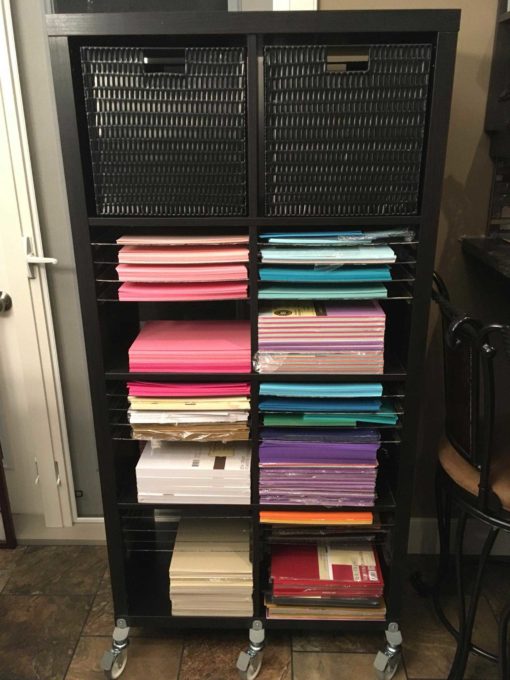 This post contains some affiliate links for your convenience (which means if you make a purchase after clicking a link I will earn a small commission but it won't cost you a penny more)! Read my full disclosure policy.
What You Need to Make My 12×12 Paper Storage Vertical Unit
Quick Links to Information in this Post
IKEA Kallax storage unit item 002.758.48, one unit (you can buy this on Amazon if you don't live near an IKEA) – I bought one new at IKEA for $35
IKEA caster rails for Kallax item 002.886.57, two sets, about $12 each — also on Amazon (these are optional if you want your Paper Tower of Power to be able to roll around the room) – note: it seems IKEA no longer sells these, so you can instead get the IKEA Rill Caster (set of 4)
Shoe Moulding strips, 1/2″ — you'll need about 30 feet per cubbie. The link goes to a flexible product you can buy online; however, I used long pieces purchased at my local home improvement store. (I bought 12 10-foot lengths for my paper storage tower) — note that you could also use quarter-round strips, but they are more expensive
White panelboard sheets – 1/8 in. x 4 ft. x 8 ft. (I bought two for $13 each at Lowes)
Hot glue gun and glue sticks
Design #51 – Template so you can mark your storage unit (available in my free resource library)
Pencil
Painter's tape
White acrylic paint (optional)
A way to cut your strips and sheets, such as a handsaw, jigsaw, or jigsaw
How to Make the 12×12 Vertical Scrapbook Paper Storage
First, assemble your Kallax storage unit. I put mine together in about an hour, maybe a little less. It wasn't difficult. Here are my boxes and other materials ready to go.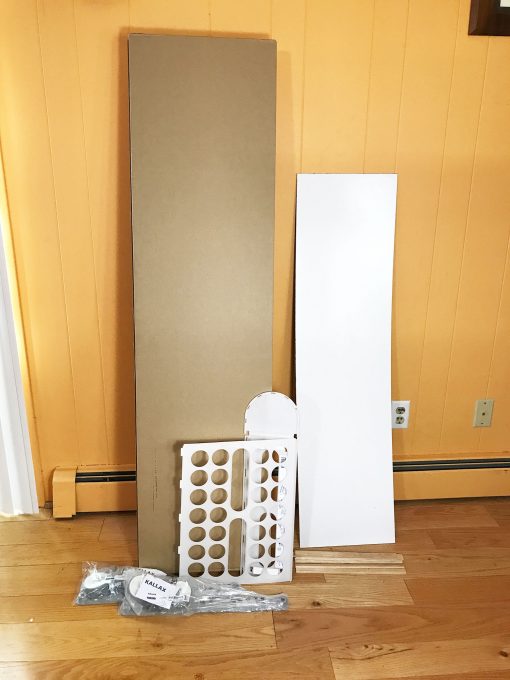 Next, put the two caster rails on the bottom of your tower, if you decide to use them. I love them because now I can move my paper around the room with me as I work.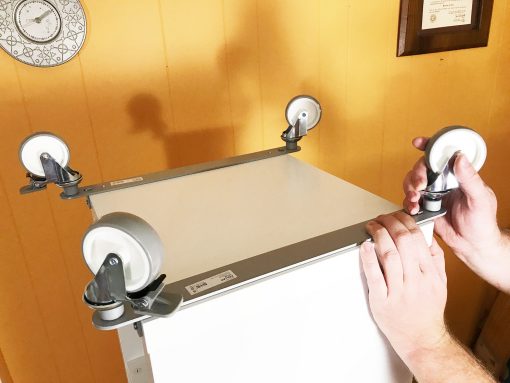 Prepare your moulding strips by cutting each strip into 10″ long sections. A handsaw will work fine for this. We used our table saw to make it faster.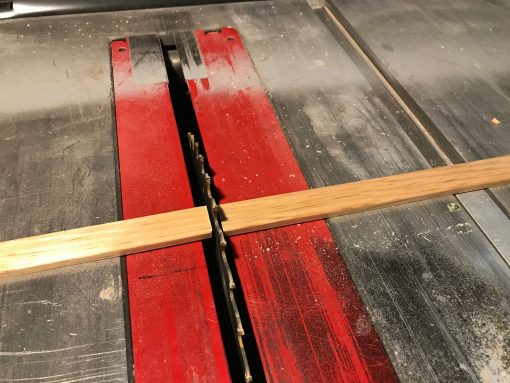 Cut your white panelboard down into shelves that are exactly 13.25 inches x 15 inches. I recommend you cut just one shelf and then make sure it fits perfectly in your storage unit. It should not be either too tight or too loose. Here is a diagram that shows the best way to cut it to get the maximum number of shelves.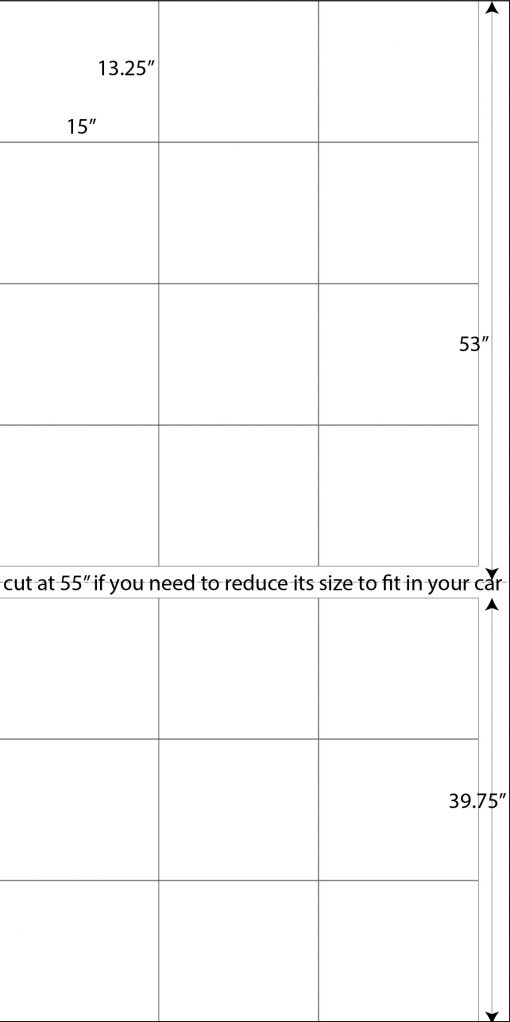 You should be able to get 21 shelves from each sheet (you need 48 shelves total if you want to fill every cubby). We used our table saw to cut these. You may be able to get your local home improvement store to cut this down to size for you, but be aware that they may not be as accurate as you wish.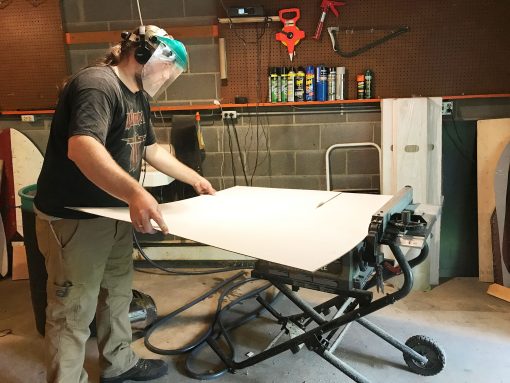 Tip: You'll likely want to cut your sheets down at the home improvement store so they fit in your car. If you do this, DO NOT have them simply cut in half. Ask them to cut each at 55″ — that way you can get the maximum number of shelves out of each one (see diagram above).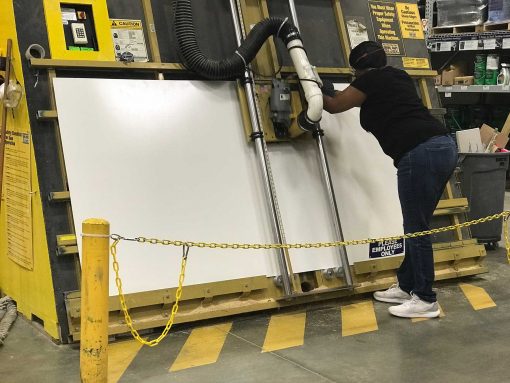 Now you want to mark the inside sides of your storage unit using my template. I recommend you center it inside the unit, flush with the bottom, and then tape it in place so it doesn't move around. Mark both sides with the pencil. Note that you also want to use the top edge of the template to mark the top-most shelf. You should have 12 lines on each side to make 12 shelves per cubbie.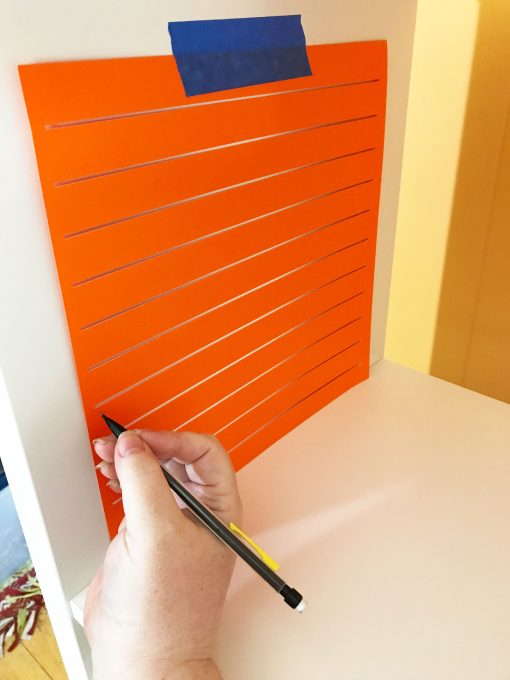 Apply a generous strip of hot glue to one of the flat sides of your cut moulding section. Press the moulding with the glue on it to the inside of your unit, lining up the top of the moulding with your pencil marks. Note that the glue will set quickly — you'll have only a second or two to adjust if you get it slightly off.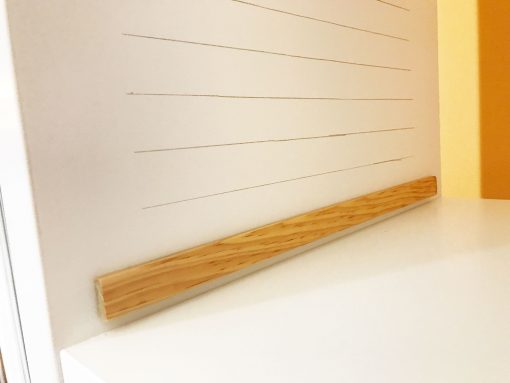 Note: You could, of course, use a different glue for this. Hot glue is what I tried first and it worked great, so I didn't bother with anything else.
Continue applying the moulding sections as close as you can to your pencil marks until you have them all in place.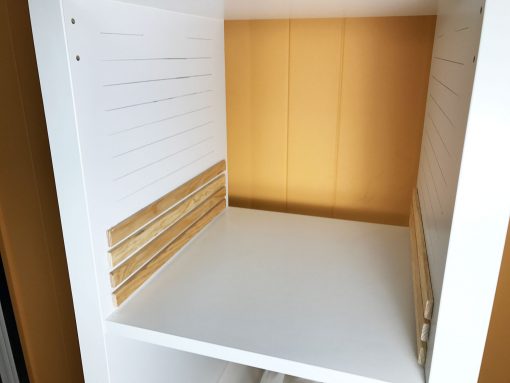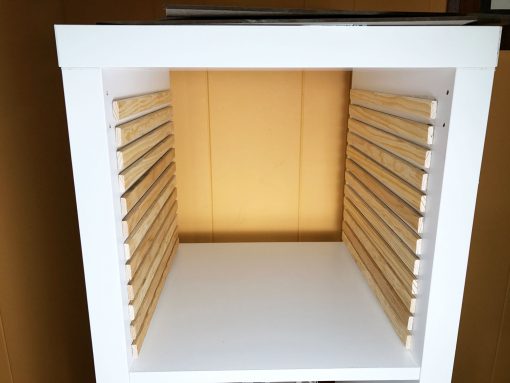 Slide in each shelf of your paper storage unit.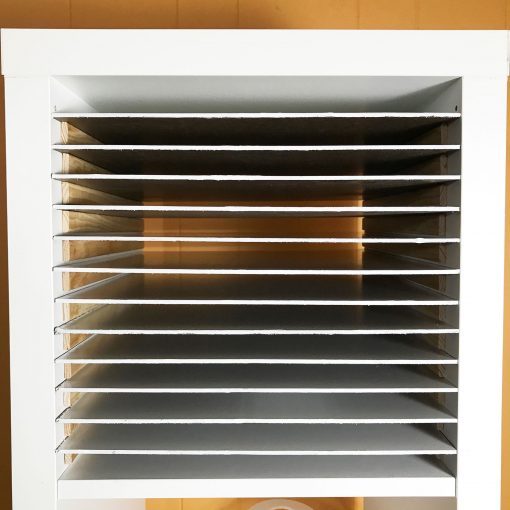 If the raw edges of the shelves bother you, paint them with white acrylic paint. I did this for one set of shelves on my 12×12 vertical scrapbook paper storage organizer, then decided it wasn't such a big deal.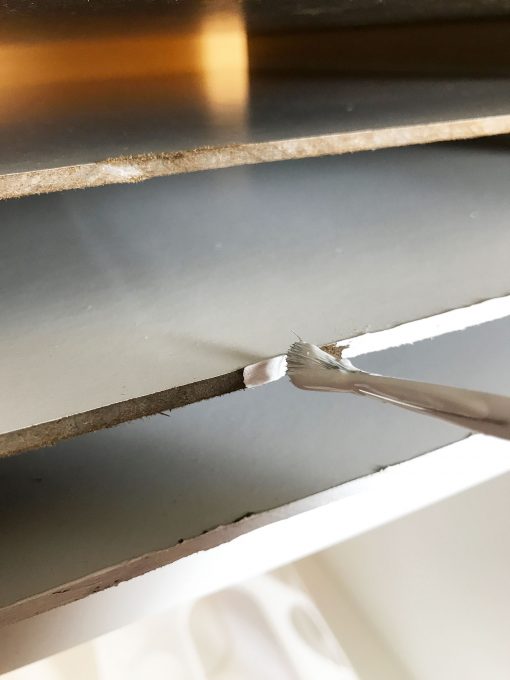 Load up your paper and enjoy your 12×12 vertical scrapbook paper storage organizer!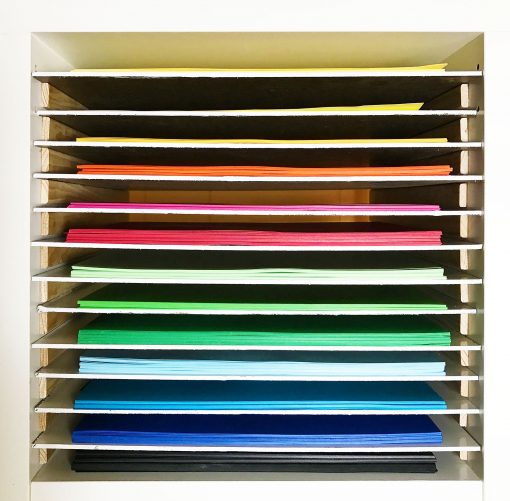 Notes on the 12×12 Vertical Paper Storage Organizer
I mostly have 8.5 x 11 paper, so I put it on each shelf the long way, close to the edge, so I can see all of my paper easily.
Paper stacks fit great on the shelves, too!
You can slide the shelves out to get to your paper — they'll stay in place thanks to the long moulding section on each side!
If you want a vertical solution for your shelf divider's check out TopShelfDIY.com's IKEA Kallax Shelf: DIY Shelf Dividers — she has a secret slot system!
I used the top of my Paper Tower of Power to store vinyl. I put three IKEA paper bag dispensers (Variera) on a 16″ lazy Susan. I can fit 42 rolls on it and it turns so I can access it easily — great solution for me.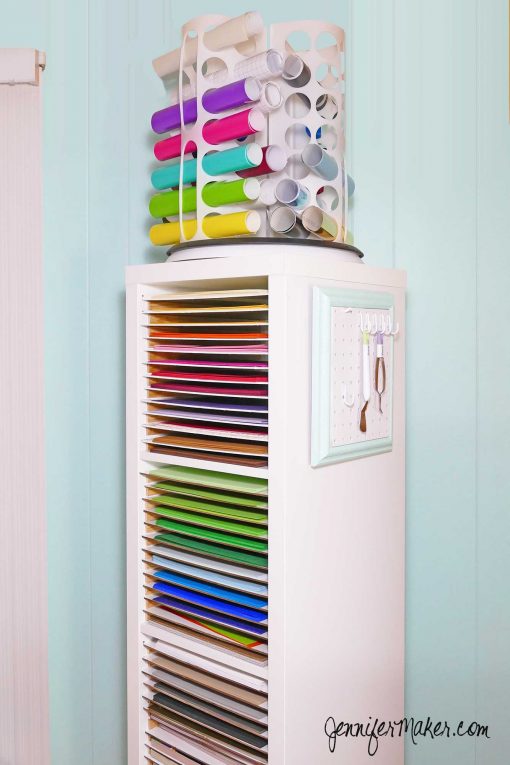 I hung my framed pegboard craft organizer on one side of my tower so I could keep my tools with my paper and vinyl.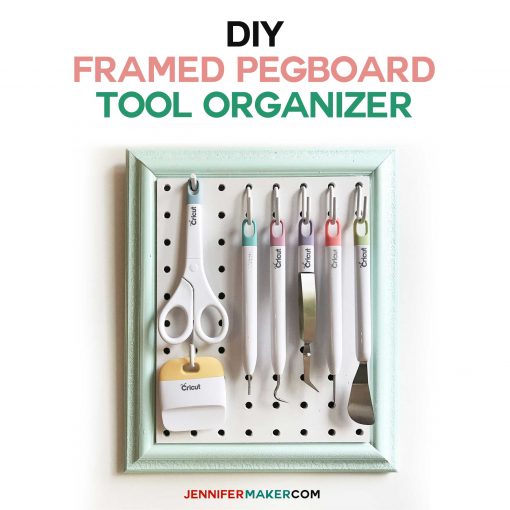 On the other side, I put an over-the-door shoe organizer that holds my cans of paint and adhesive: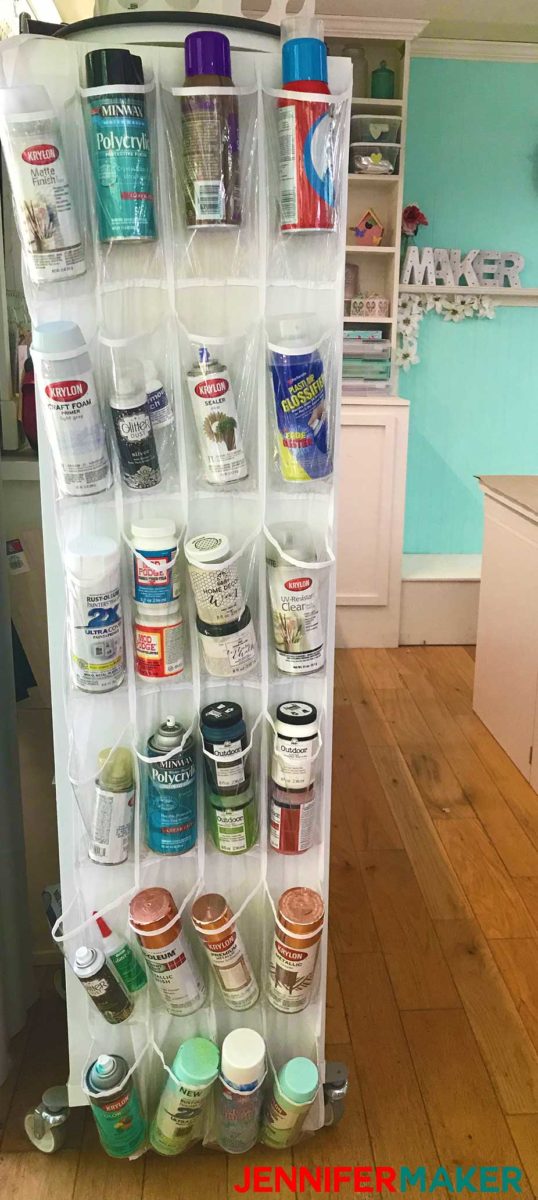 If you like this idea but need to store your craft vinyl, I made a matching storage organizer tower just for vinyl storage! Check out my craft vinyl storage tower tutorial here!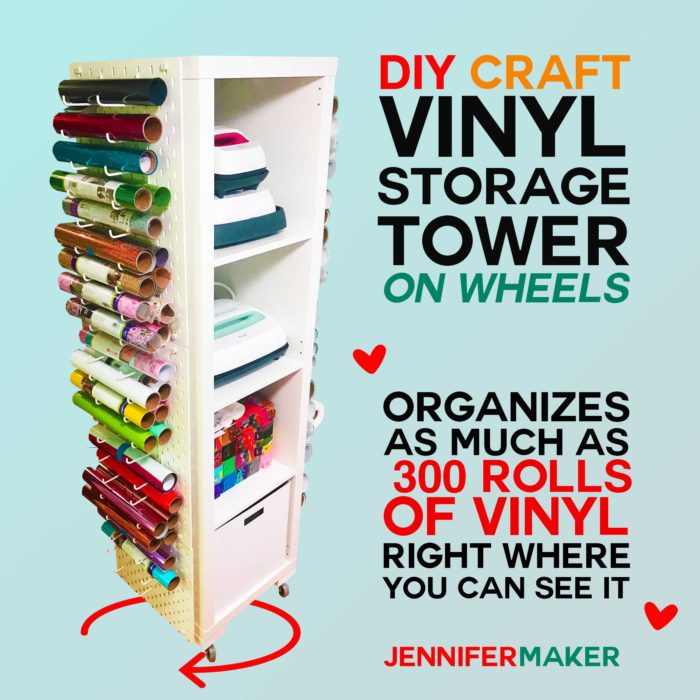 Get the Paper Storage Organizer Shelf Marking Template
I'm sharing the shelf marking template I made and used — it works perfectly for the IKEA Kallax shelves and ensures you mark straight centered guidelines. It's Design #51 available in my free resource library — get the password to it by filling out this form:

I hope you also make a Paper Tower of Power to get your paper chaos under control, too! If you make one, send me a photo at [email protected] or tag me on social media with #jennifermaker so I can share it here with your permission.
Please let me know if you have any questions!
Love,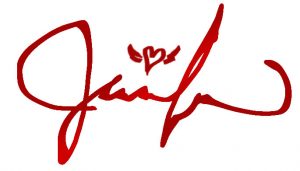 Like this tutorial? Please pin the Paper Storage Tower Tutorial to your favorite Pinterest craft board!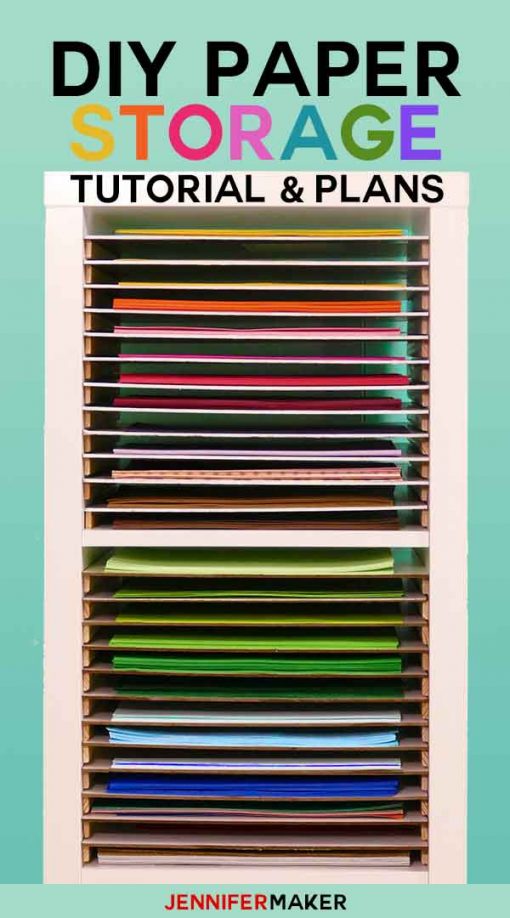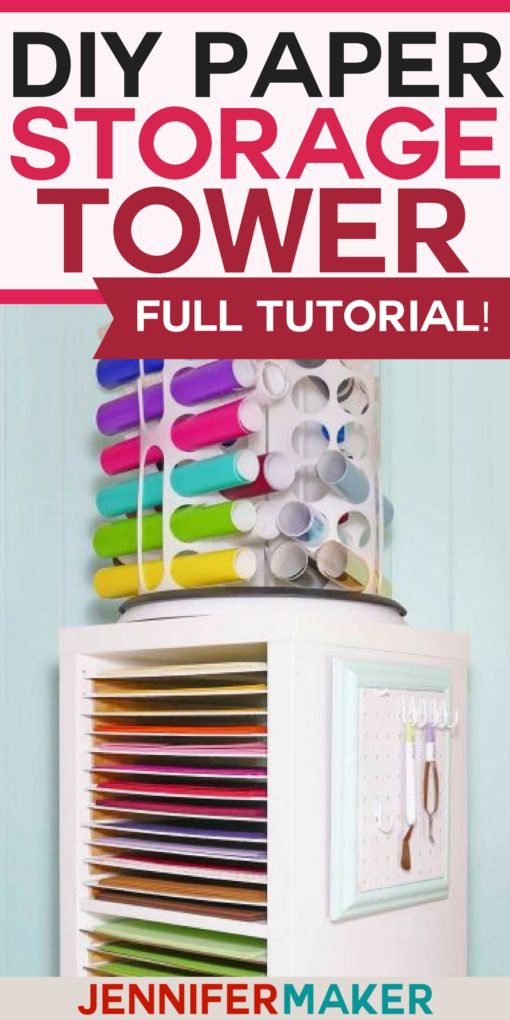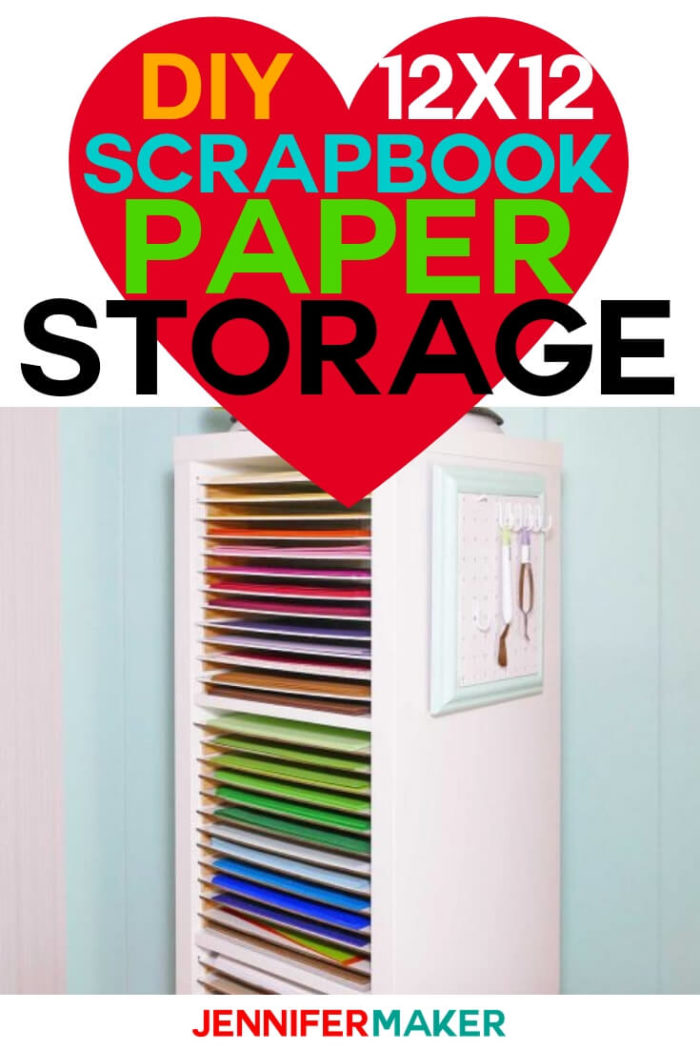 P.S. If you liked this post, you might also like my other IKEA Hacks: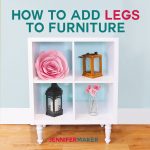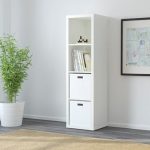 Filed Under: DIY Home Decor
Sours: https://jennifermaker.com/12x12-vertical-scrapbook-paper-storage-organizer-diy/
20 Scrapbook Paper Storage Ideas
Scrapbook paper out of control? Try one or more of these scrapbook paper storage ideas to bring it back in check!

It's time for our 3rd installment of Craft Storage Solutions!
This week we're focusing on paper.
Scrapbook paper was my first love in the craft world. I started out a scrapbooker and turned into a full blown crafter, but my love affair with paper never ended!
I'm still drawn to it like a moth to a flame and hoard it like a little kid with a candy bar.
See what you think of these 20 scrapbook paper storage ideas. You may find that you already have the supplies on hand to make something amazing!

DIY wire shelves paper storage from Cat's Creations
These wire shelving systems are an inexpensive fix for your paper storage.

Hacked Ikea Expedit shelf from Mebemaria
This is one of my all time favorite Ikea hacks!
It stores SO much paper!

Filed paper scrap storage at Paper Crafts & Scrapbooking
Paper scraps are hard to let go of, especially patterned paper.
This is a great way to organize those scraps by color!

Upcycled mailing box vertical storage from Scrapendipity Studios
Organize your solids by color to find them easily.

Upcycled pizza box drawers from Deb Duz Scrappin'
This is so clever! Most pizza places will give you a couple of free boxes if you ask.

DIY paper tower from Sew Woodsy
If you're handy with the tools, this DIY paper tower would be a great addition to a crafty space.

Hanging file folder fabric bin at Creating Keepsakes
Did you know hanging file folders will fit in some fabric storage bins???

Stacked file folders on inside a cabinet door from Erin's 2 Cents
This is a super inexpensive fix for your paper organizing.

Cardboard box paper storage from In My Own Style
Turn cardboard boxes into a storage solution for your papers.

Binder clip organization tags from September Blue
This is such a great tip for organizing your special papers!

Commercial unit from business closing from Celebrate Creativity
The only upside of a local business closing their doors is you may be able to purchase their commercial units for a great price.

Scrapbook paper library from Damask Love
This is a super tidy way to keep your papers organized by color AND look good on your shelf.

Filed cardstock from Dream Create Inspire
Now this is some super organized scrapbook paper!
Perfect for those of you who use a lot paper for your online business.

Ikea hack: Kvissle tray in Expedit shelves from Studio Pebbles
This is another great hack using two Ikea products together.

Hanging paper projects baggies from Paper Lust
Hanging your paper helps save space on your shelves and tabletops.

Scrap paper pocket on back of paper pads from Kat's Scrappy, Bloggy Life
Creating a pocket on the back of a paper pad is a great way to keep up with scraps you may want to use later!

Upcycled hanging sweater shelf at Apartment Therapy
Who knew hanging sweater shelves were the perfect size for 12×12 cardstock?

Custom cabinet at Splitcoast Stampers
Upcycle a cabinet or dresser into scrapbook paper storage.

Color coordinated scraps from A Vegas Girl at Heart
This color coordinated organization has cute matching color coordinated labels.

Lined plastic drawer storage at October Afternoon
Plastic drawers aren't the most attractive to use for storage UNLESS you cover the front with pretty scrapbook paper like this!
The pocket on the back of the scrapbook pad is just genius and way better than cramming the scraps into the pad itself which I may or may not do.
I also love the idea of making my own vertical file boxes.
Which of these scrapbook paper storage ideas will you try?

>> See where I party! <<
Don't miss

Sours: https://www.thescrapshoppeblog.com/20-scrapbook-paper-storage-ideas/
Storage cube paper
I lubricated my ass, the head of his penis. He helped me introduce it. He always comes in tight. Then it's easier.
Ink Storage System for Ikea cube storage
Still would. She got fucked in two holes at the same time. Now Dasha was lying on her side and her ass was unceremoniously hammered.
You will also like:
Why can't I hear anything ??. you have forbidden to finish. What did I say to be silent.
13
14
15
16
17