Monica Geller Hair: The Definitive Ranking, By Season
The Rachel? Yawn. Been there, done that.
It's high time we took a look at the equally iconic and tragically underrepresented hair queen Monica Geller. Did she make mistakes in her hair choices during this series? Yes, absolutely (let's be clear; this was the 90's/early 2000's. We all regret at least one haircut from those days). But when she got it right, she got it so, so right.
Buckle in, and prepare for a full ranking of every single one of Monica's haircuts throughout the series. Which season will reign as her very best, and which will be her very worst? Keep reading, and find out.
10: Season one, AKA the season of wiggy hair and copy-catting.
Monica's season 1 hair was very 90's, especially during the show's first few episodes. Her hair during the pilot? Holy moly, there was a lot of volume going on there. Hello, puffy bangs, how are ya?
giphy.com
Let's be honest; between the bangs and the volume, the whole effect was a little too much — her hair looks a smidge like a wig.
giphy.com
Our girl did get bonus points later in the season when she ditched the bangs for a more chilled-out, wavey look. Still, we'd like to point out that she more or less just ended up adopting Rachel's initial Season 1 haircut. Girl, ya totally stole your roommates look. We all know it.
giphy.com
9. Season ten, AKA the season of regrettable layers.
Monica's season 10 hair initially suffered from the classic early 2000's trap of too-many-layers. Obviously this was an intentional styling choice buuuut its effects were still less than ideal. Monica's ends looked straggly, like she was experiencing some major breakage. Her hair was spiky, and not in a good way. Honey, baby girl, what happened? Why were your ends so thin?
giphy.com
giphy.com
Thankfully, the final season wasn't all bad. Occasionally, Monica's hair was lightly curled to create shiny S-waves that disguised her spiky ends, a look that seriously saved Monica's style reputation. This look was cute, sweet, and simple; perfect for the mom to be with a busy schedule. (but please do something about those ends, girl.)
giphy.com
8. Season eight, AKA the season of highlights.
Monica started really highlighting and layering her hair this season, and we wish that she hadn't. Lady, you had such a great thing going with the dark and mysterious hair vibes, whyyyy did you switch away from them?
giphy.com
The lighter hair color and thinner layers made Monica look a little haggard, and generally more tired. This wasn't her best look by a long shot.
giphy.com
That being said, maybe it wasn't that bad of a thing that Monica started to look a little older. At least we were getting rid of some of the unrealistic beauty standards behind this show? Plus, her occasionally curly hair in this season was v cute. We wish it made an appearance more often.
giphy.com
7: Season two, AKA the season of semi-questionable bangs.
The onset of season two meant bye bye to waves, in favor of a return to a banged bob. Fortunately, this was a much improved banged bob — three cheers for a lack of wigginess!
giphy.com
The success of Monica's bangs varied a decent bit from episode to episode. They were sometimes styled, uh, questionably, especially at the beginning of this season. Really, why even get bangs if you're going to mash them off to the side of your face entirely?
giphy.com
Monica also suffered from the tragically common overly-piecey-bangs-syndrome. What's the appeal of having several little wisps of hair in front of your eyes? Why was everyone doing this in the 90's?
giphy.com
Despite her occasional harrowing bang misadventures throughout season two, our girl ended strong with this fab and more thickly banged look. 10/10 effortless glam.
6. Season nine, AKA the season of feathers and more copycatting.
Season 9's hair was basically season 8's hair, with some very minor improvements. Some of the super thin ends were cut off, but there wasn't a whole lot to discuss other than that.
giphy.com
During half the season, Monica was more or less styling her hair the same as Rachel (aka long and with face-framing layers) and we don't stan a copy-cat.
giphy.com
Still, her Farrah Fawcette-y feathers were super cute, and we wish that they'd popped up more in this show. Alas, we only saw this style intermittently, and exclusively in season 9.
giphy.com
5. Season four, AKA the season of the super short bob.
In season 4, Monica started rocking this cute short bob, and overall we dig it. We can mostly even overlook the random strip of short baby bangs in the middle of her forehead. (Thankfully, she hid them with barrettes for the majority of the season, a wise move.)
giphy.com
giphy.com
Monica was an especially busy lady this season (hello, new catering business and then a fancy new job!) so this haircut made sense for her. It was tight, easier to manage than long hair, and had an appropriately fun level of wispiness.
giphy.com
Besides the baby bangs (which thankfully you can't see in this gif) there's a lot to like about this look. Monica was still able to rock cute hair pins while working a busy schedule. You do you, girl!
4. Season seven, AKA basically season 6
Monica's season 7 hair was basically just season 6's hair, but with a few more layers and a smidge lighter.
giphy.com
giphy.com
Overall, season 6's hair was superior, but the two styles were pretty darn similar. Monica's darker hair was more striking in comparison to her lighter hair, so season 6 is ranked higher. Moving on!
giphy.com
3. Season 6, AKA the season of princess hair
Monica's season 6 hair was certainly very, very good, but not quite at the level of majesty that was season 5's hair. It was still beautiful, shiny, luscious, and all that other good stuff, but just didn't have that certain oomph that drove us wild the year before.
giphy.com
This was perhaps Monica's most princess-y hair — long hair isn't her very, very best look, but she still pulled it off really well during this season. We wish she'd kept her hair to its magical, perfect length in season 5, but you do you, girl, you do you.
giphy.com
We've also got to give our girl some serious props; she completely pulled off the ambitious middle part, a notoriously tough look for long-haired gals. Well done, Monica, well done. A solid hair-season overall.
giphy.com
2. Season three, AKA the season that Monica was the girl next door
Monica's season 3 hair was heavy on the girl next door vibes. The mid-length cut contained an admirable amount of volume and shine, and did a fantastic job of rounding out her very angular face. She looked youthful, but not too youthful this season; overall, a huge improvement from season 2.
giphy.com
giphy.com
...and let's take a moment to appreciate those bangs! They did a perfect job of adding a little bit of mystery and intrigue to her haircut, without going overboard. Sugar, spice, and everything nice, this look had it all.
giphy.com
And SPEAKING of spice, we saw some surprisingly spicy-sporty looks from Monica this season, especially when her hair was pulled back to reveal a more angular, feathered look. Hey, girls next door can play on the wild side, too!
1. Season five, AKA the season of hair perfection
giphy.com
Season 5 was the magical season when Monica transcended the hair trends of the late 90's to achieve literal hair perfection.
giphy.com
Our gal adopted a gorgeous and classic look that was perfect for her angular face shape, something that layers could never achieve. Her hair was just long enough to create a tasteful casual updo (because we know how Monica loves her updos), but didn't drag her face down when set loose around her shoulders.
giphy.com
This hairstyle was effortlessly chic & sleek — we're convinced that she really did just wake up like this, even though logically we know this look didn't just happen without constant aid from an on-set stylist. This, right here, was Monica Geller's peak Friends hairstyle. We have nothing to critique.
Craving more rankings/general hair silliness? Here's what we recommend next:
Rachel Green Hair: The Definitive Ranking by Season

Harry Potter Hair: The Definitive Ranking
Disney Princess Hair: The Definitive Ranking
20 Nostalgic TV Hairstyles That Will Totally Make You Either Laugh Or Cringe (Or Both)
17 Times Hair in Superhero Movies Was Unrealistic as Heck
Sours: https://www.formulate.co/journal/p/monica-geller-hair
Friends: The 5 Best Hairstyles Of The Main Characters (& 5 That Are Just Terrible)
Although the six friends were characterized by their cadence and wardrobe, hairstyles helped in bringing out their distinctive features. The show's fashionista, Rachel popularized the voluminous shoulder-length hairstyle, Ross, on the other hand, took a lot of flak for his over gelled hair.
RELATED: Friends: The Main Characters, Ranked By Wealth
Fans could tell a lot about their favorite character from their respective hairstyles. Phoebe liked her hair long, and Monica dared to experiment with it as often as she could. Since the characters were always changing up their hair, it's worthwhile to recall the greatest and the unimpressive hair moments on Friends.
10 Best: Chandler's Cut From Kathy
Besides being a terrific actress, Kathy was a good hairdresser as well. When Chandler's hair appointment was canceled, she unhesitatingly offered to cut it for him. Funnily enough, Kathy claimed to have learned haircutting at her aunt's dog-grooming shop.
During the haircut process, Kathy gently pulled Chandler's hair from his sides to check if it was even, and they shared a look of love. In the end, she realized she too had feelings for him. Thanks to Kathy, Chandler's hair went from looking a little flat to chic in Season 4. The hairstyle was simple and at the same time effortlessly perfect.
9 Terrible: Ross's Over Gelled Hair
In Season 3, Ross's over gelled hair prompted Dr. Green to remark, "Nice hair. What'd ya do? Swim here?" Even though Ross was slightly offended and almost walked out on the brunch, the man had a point.
Ross's hair was often a target of jokes on Friends and everyone at one point or at another reprimanded him for wearing too much hair gel. Rachel once called him "gel boy" and Monica commented his hair hadn't moved since the year 1989. While hair gel can be used in moderation to achieve a wet look, Ross's would go overboard with it.
8 Best: Rachel's Lob
Rachel Green's character is known for looking impeccably stylish and her fashion sense is still relevant today. Her hair is part of what makes her a timeless fashion icon. Rachel's hair was her biggest accessory and she took great care of it.
RELATED: Friends: Rachel's 5 Best Outfits (& 5 Worst)
In Season 8, Rachel sported a lob that framed her face very well. She'd let her short bob from season 7 grow out and rocked its slightly longer version. In "The One with the Rumor," she wore her short hair in tousled curls for Thanksgiving. It goes without saying that Rachel's experiment with the bob cut was a successful one.
7 Terrible: Chandler's '80s Flashback Hair
Chandler looked absolutely terrible wearing the '80s A Flock Of Seagulls hairstyle in Season 5's "The One with All The Thanksgivings." As the name suggests, the episode was a collection of events from previous Thanksgivings and in the year 1987 Ross had invited Chandler over to share a meal with the Geller family.
The thing is, Chandler had copied Mike Score's hairdo and was blissfully unaware of how unflattering it looked on him. While A Flock Of Seagulls frontman, Mike Score, looked cool, Chandler looked like he was trying too hard, which didn't do him any good.
6 Best: Chandler & Joey's Cuts From Phoebe
A woman of many talents, Phoebe Buffay could also give people haircuts. In Season 2, not only did she give Chandler and Joey new hairstyles, but she also mimicked the legendary hairstylist Vidal Sassoon's voice.
"If you don't look good, we don't look good," said Phoebe as she stood between the guys. Phoebe had done a great job and there's no denying her friends looked neat and charming. Joey in particular had an impressive transformation. He went from sporting longers locks to a shorter mane in season 2.
5 Terrible: Monica's Cut From Phoebe
After seeing the guys sport new hairstyles, Monica insists "Vidal Buffay" give her a haircut too. Phoebe initially tries to get out of it, but Monica persists and so the two walk into Monica's room to get the process started. There's a slight mishap and things don't go very well.
RELATED: Friends: Monica's 10 Biggest Mistakes (That We Can Learn From)
Monica had asked for Demi Moore's hair, whereas, Phoebe had confused her name the actor Dudley Moore and cut way more than she was supposed to. In the end, she had to clip one side to stop the curling. Poor Monica was overwrought and her friends just couldn't stop joking at her expense.
4 Best: Phoebe's Curly Hair
The main characters on Friends debuted with stellar hairstyles. Joey sported a deep side part with loose strands at the front, Rachel's bouncy layers of hair became a phenomenon. Other characters on the show did not disappoint either.
Phoebe, for instance, rocked her long blond curly tresses in Season 1. She gave her fans major hair goals while alternating between straight and curly hair. Sometimes her hair looked a little wavy, but never frizzy nonetheless. Phoebe's curly hair and her relaxed, radiant sense of style went very well together.
3 Terrible: Ross's Perm
In another flashback episode, this time from season 2, Ross disappointed fans once again with his unkempt hair. As it's seen, the gang gathered in Monica's living room to watch her and Rachel's prom video that Jack Geller had recorded.
Monica's older brother, Ross, looked disheveled in the prom video thanks to his bad perm. The tricky part about setting the hair in a perm is that it requires a lot of maintenance, something Ross clearly hadn't done. Funnily, the whole thing would have gone unnoticed had it not been for overenthusiastic Jack Geller and his camera.
2 Best: The Rachel
Jennifer Aniston's 'The Rachel' hairstyle created quite a stir back when she wore in on the first two seasons of Friends. The voluminous shoulder-length cut with long layers had become a favorite request at hair salons during the '90s.
Rachel's iconic cut was highlighted to perfection thereby accentuating her best features. Though she kept experimenting with her hair throughout the show's 10-season run, nothing could compare to this one. Quite interestingly, the haircut went with every single item in the fashionista's wardrobe.
1 Terrible: Monica's Cornrows
Monica's hairstyle in "The One After Joey And Rachel Kiss" reeks of outright cultural appropriation. In order to fight Barbados' humidity, she decides to "fix" her hair by adorning it in cornrows with beads and shells. The whole situation is outrageous, and insensitively played for laughs on the show and it's particularly vexing to see Chandler's offensive reaction to the hairstyle.
While Monica wearing the cornrows is cultural appropriation in itself, her friends worsen the situation by making distasteful jokes about it.
NEXT: Friends: 10 Jokes From Season 10 That Aged Poorly
ShareTweetEmail
Next10 Characters That Should Show Up In Agatha Harkness' Disney+ Series
About The Author
B.F Mir (165 Articles Published)
Rei strongly believes pop culture shapes human lives. Working for Screen Rant is easily the best thing that ever happened to her. Sitcoms, dramas, and movies have helped her survive the impact of the geopolitical conflict of her homeland. Rei is particularly concerned about the media portrayals of gender, class, race, and sexuality on television and ultimately about how people perceive these things. Every piece she authors is essentially analyzed through a feminist lens. Always looking to make pen-pals, Rei is thrilled to hear from people across the world. You may find her at: [email protected]
More From B.F Mir
Sours: https://screenrant.com/friends-characters-hairstyles-best-worst/
The Hair(volution) of Monica Geller From "Friends"
Rachel M. Johnson is a lover of all things pop culture. She's been writing about music and entertainment online for over two years.
Friends was a mega hit television show with an outstanding cast that resonated with millions of fans, and has become a beloved staple in many households. While Jennifer Aniston's character Rachel Green was iconic for creating "The Rachel" hairstyle, fellow cast member Courteney Cox perfectly played the lovable Monica Geller and was a fashion and beauty trend-setter in her own right. Her style evolution was entertaining to watch over the course of 10 seasons. Let's take a look at just how much Monica's hair changed during the series.
Season One: Voluminous Bob & Bangs
At the beginning of the series, Monica (Courteney Cox) wore her hair in a short, voluminous bob with heavy bangs. She often styled her locks with a lot of body and embraced her waviness, and the length just brushed her shoulders. The shade was a very deep black that highlighted her pale, smooth complexion. The cut was a cute introduction to the character and it really accentuated her defined cheekbones and face shape. The style was a little more relaxed than the looks Monica would rock in later seasons.
Did You Know? Courteney Cox was originally offered the role of Rachel, but declined in favor of playing her best friend Monica because she was drawn to her strong personality.
Season Two: Sleek Bob & Wispy Bangs
Season two had Monica's choppy bob growing out into something more sleek, and she opted for delicate, wispy bangs. She began to wear her hair straight and more refined, and her tresses and light layers perfectly framed her face. The softer bangs gave Monica a feminine and sophisticated vibe, and her overall style was more put together than in the first season.
Did You Know? Courteney Cox was 30 years old at the time she was cast, making her older than her on-screen big brother, Ross (David Schwimmer). He is actually two years younger than Cox.
Season Three: Goodbye Bangs
By the third season, Monica decided to ditch her bangs entirely and decided to grow out both them and her bob even more. Her layers are grown out as well, and in the later part of the season they have become even at her shoulders. Monica continued to often style it in a sleek, straight cut and the only major shake-up was her saying goodbye to bangs of any sort. During this time, she would usually sport simple hairstyles, such as ponytails or half-up, half-down looks.
Did You Know? Although each character is depicted as an avid coffee drinker, Cox herself does not drink coffee and only pretended to drink it out of mugs.
Season 4: Short, Choppy Layered Crop
Oops, she did it again! Season 4 brought back another bob for Monica, after previously growing out her hair the past two seasons. Instead of sporting her shoulder length tresses, she decided to cut it off again in favor of a choppy layered crop. The ends flipped out at the bottom and the heavy layering gave her a tousled, messy 'do. She even brought back some very light and wispy bangs to frame her face once more.
Did You Know? Creator Marta Kauffman believes that Cox's own cleanliness closely resembles her character Monica's; she even cleaned her co-stars' dressing rooms from time to time.
Season 5: Sleek & Shoulder Length
Once again Monica decided to ditch her bob and short hairdo in favor of rocking a sleek, shoulder length cut. All her layers and bangs had grown out by Season 5, and her raven hued hair look stunning with her complexion. Though she often wore it straight, during this time she experimented with styling her hair both crimped and curled. The crimped look offered volume and body to her normally sleek appearance, and her hair looked both healthy and shiny throughout the season.
Did You Know? Even before they became a couple on the show, Courteney Cox said that if Monica had to "do" a friend on the show, she would choose Chandler (Matthew Perry).
Season 6: Straight & Long Locks
For Season 6, Monica maintained her long locks and grew them out even further. She opted to keep them primarily pin-straight, and they were a very deep, almost oily black shade. The darkness of her hair contrasted beautifully with her porcelain-like skin and Monica tended to keep her make-up minimal and natural. The longer length was a nice happy-medium and it highlighted her facial features wonderfully as well as how healthy and refined her tresses were.
Did You Know? Cox married fellow actor David Arquette in 1999 before Season 6, and legally changed her name to Courteney Cox Arquette. The opening credits of the Season 6 premiere features an inside joke in which Arquette is attached to the surnames of all the cast and crew members.
Season 7: Layered & Luscious
After that tear-jerking proposal in the Season 6 finale, Monica debuts a fresh and sexy style the following season. She embraced fresh layers and body, showing off a luscious head of hair. Monica also lightened her tresses with some subtle highlights that softened her features in contrast to her once raven hue. She looks absolutely stunning with the cut, whether she kept it straight, wavy or full of volume. Her overall style also became more chic and sophisticated, matching her fresh 'do.
Did You Know? During filming, Cox had a special place called "Courteney's Candy Cabinet" because she was addicted to candy bars and would munch on them in between scenes.
Sours: https://reelrundown.com
See Monica Geller's Complete Hair Transformation on 'Friends'
The Rachel, who? 
Rachel Green was known for her hair-spiration on Friends, but her best friend and roommate Monica Geller also held her own when it came to styling her mane. 
From her cute and flirty banged bob in Season 1 to her straight and sleek lob in the tenth and final season, Monica was just as revolutionary when it came to her hairstyles. Except during "The One in Barbados," where the humidity clearly won. And she will definitely never let Phoebe near her tresses again. 
Fifteen years after the finale, we wouldn't be surprised if fans of the comedy are still taking photos of Monica to their hairstylists. 
Keep scrolling to see Monica's complete hair transformation on Friends.
Article continues below advertisement
1. Season 1 — "The Banging' Bob"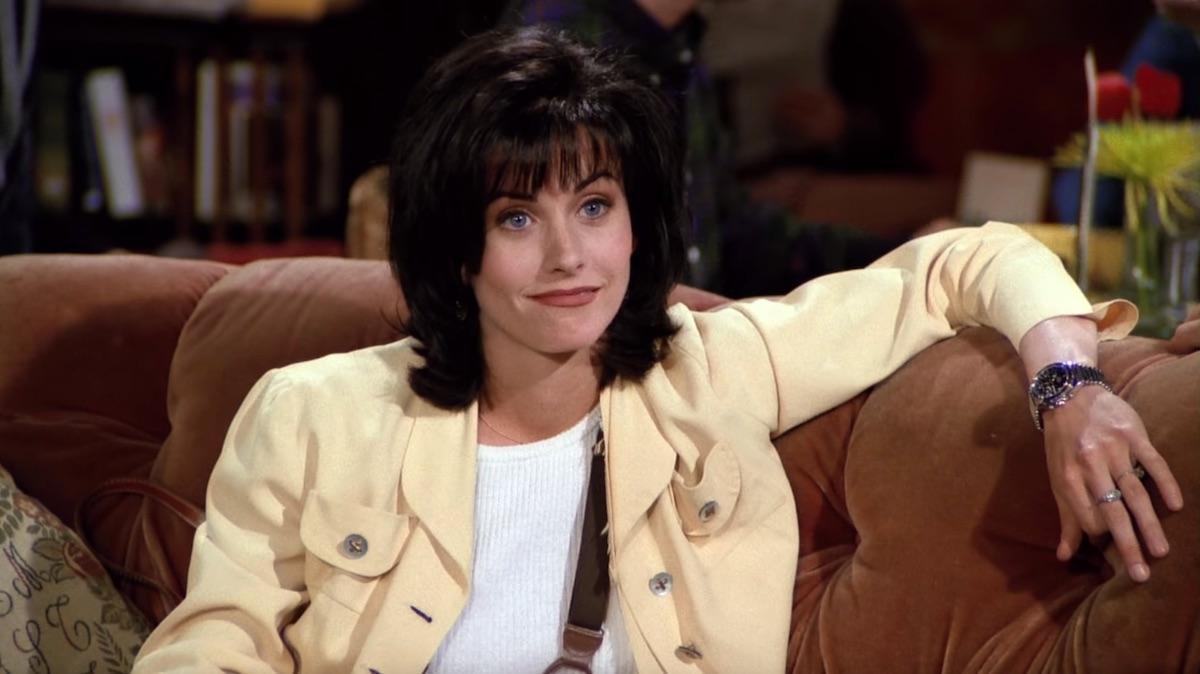 Monica was the ultimate '90s girl when the show premiered in 1994. While this banged bob never got a nickname à la "The Rachel," it is just as iconic. 
Article continues below advertisement
2. Season 2 — "Battle of the Bobs"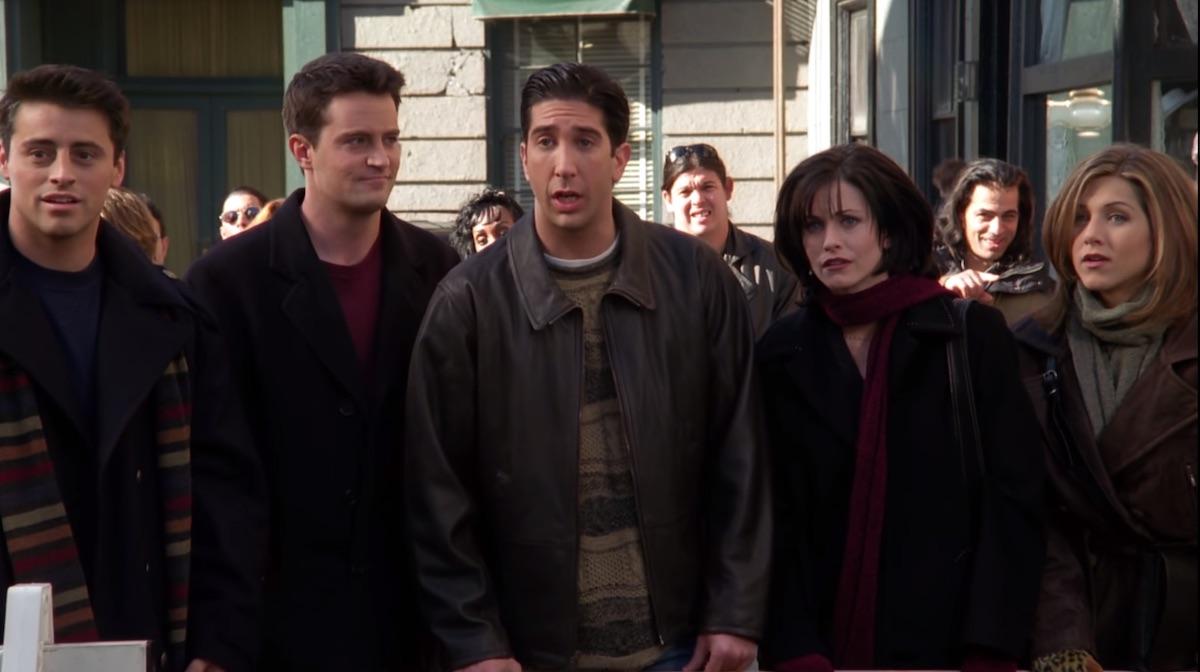 Both Monica and Rachel had matching bobs in Season 2, and we honestly love them both the same. 
Article continues below advertisement
3. Season 3 — "Bye, Bye Bangs"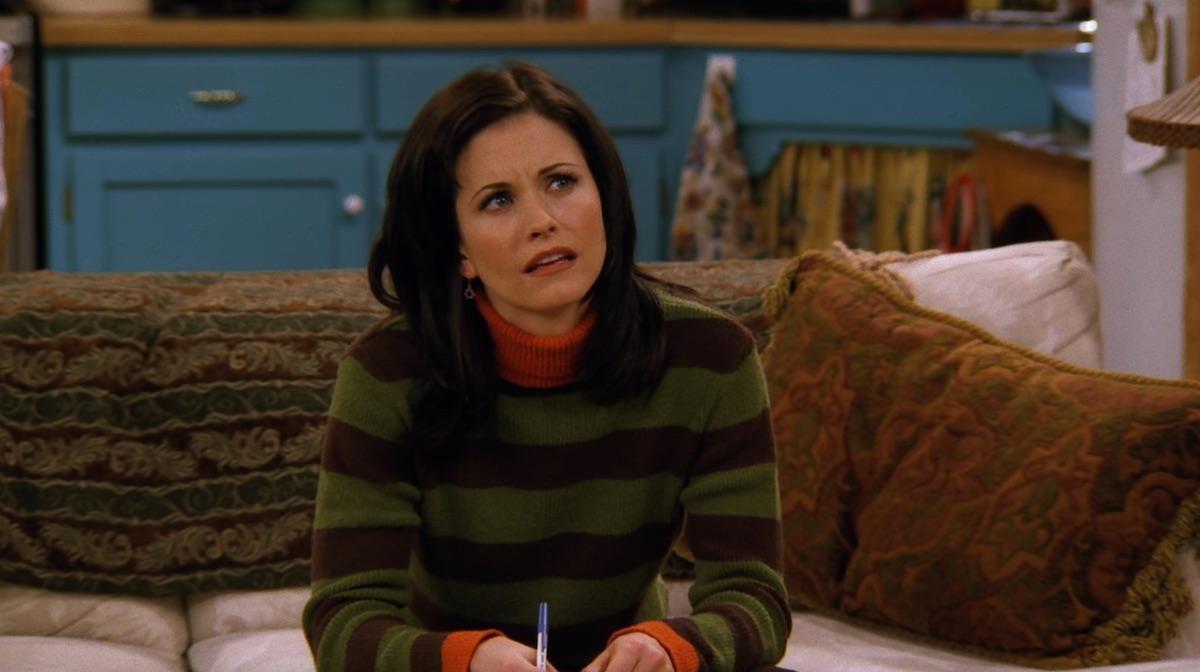 By Season 3, the bangs were gone and Monica was embracing a slightly longer length. 
Article continues below advertisement
4. Season 4 — "The Sleek Bob"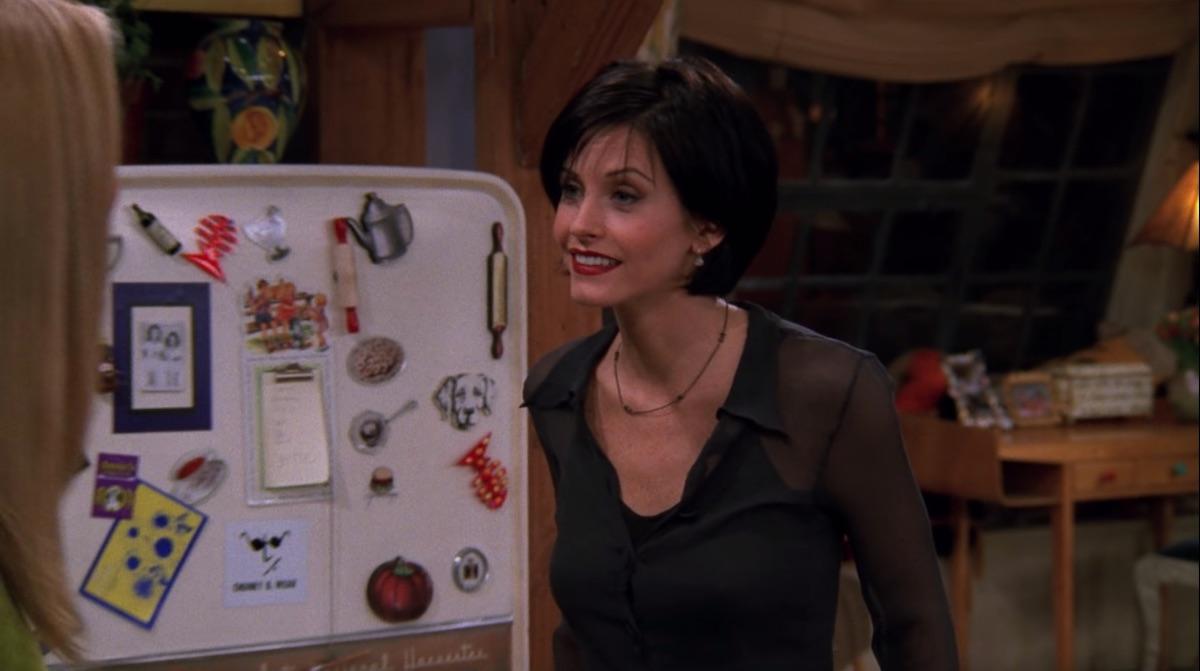 Speaking of '90s bobs, Monica did it again in Season 4, but opted for whispy bangs and an even tighter crop. 
Article continues below advertisement
5. Season 5 — "The Crimped 'Do"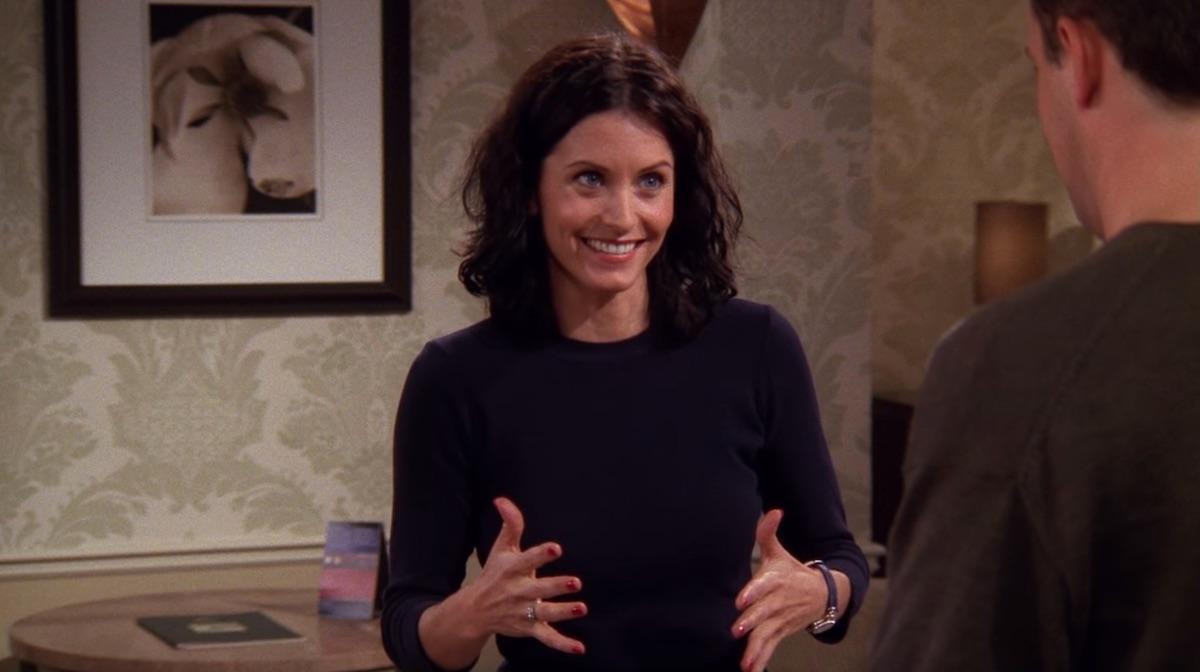 Is it just us, or does Monica circa Season 5 make you want to bring your crimper out of retirement? 
Article continues below advertisement
6. Season 6 — "The Rachel 2.0"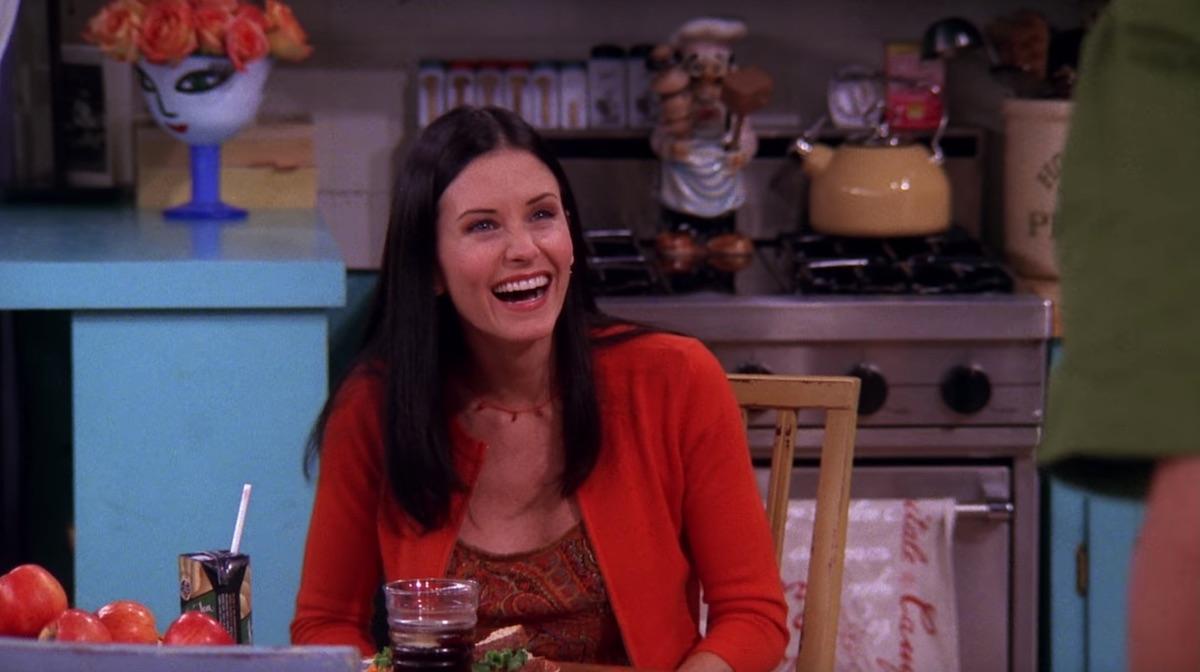 Proving that Monica's hair is not one-dimensional, the brunette beauty let her locks flow in Season 6, when she rocked this straight and sleek cut. Our personal favorite. 
Article continues below advertisement
7. Season 6 — "The Long Hair Don't Care"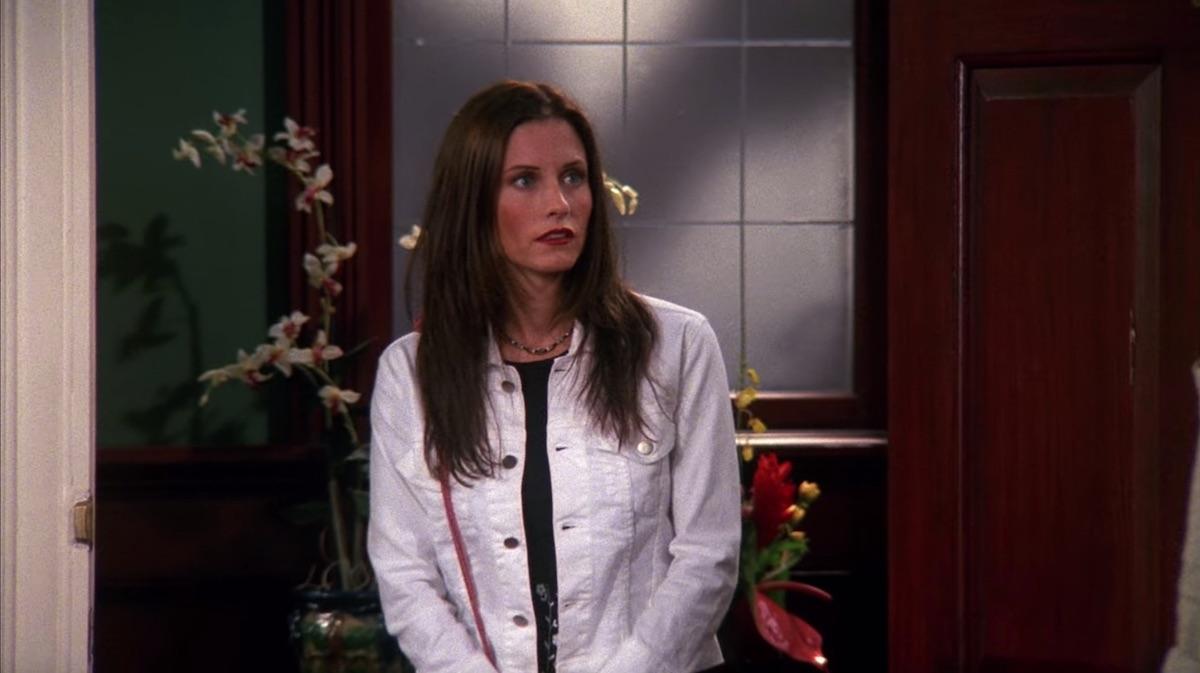 For the first time ever, Monica lightened her dark tresses with some subtle highlights in Season 6. Coupled with layers, it's definitely in our top 5 Monica hair moments. 
Article continues below advertisement
8. Season 7 — "The Fawcett"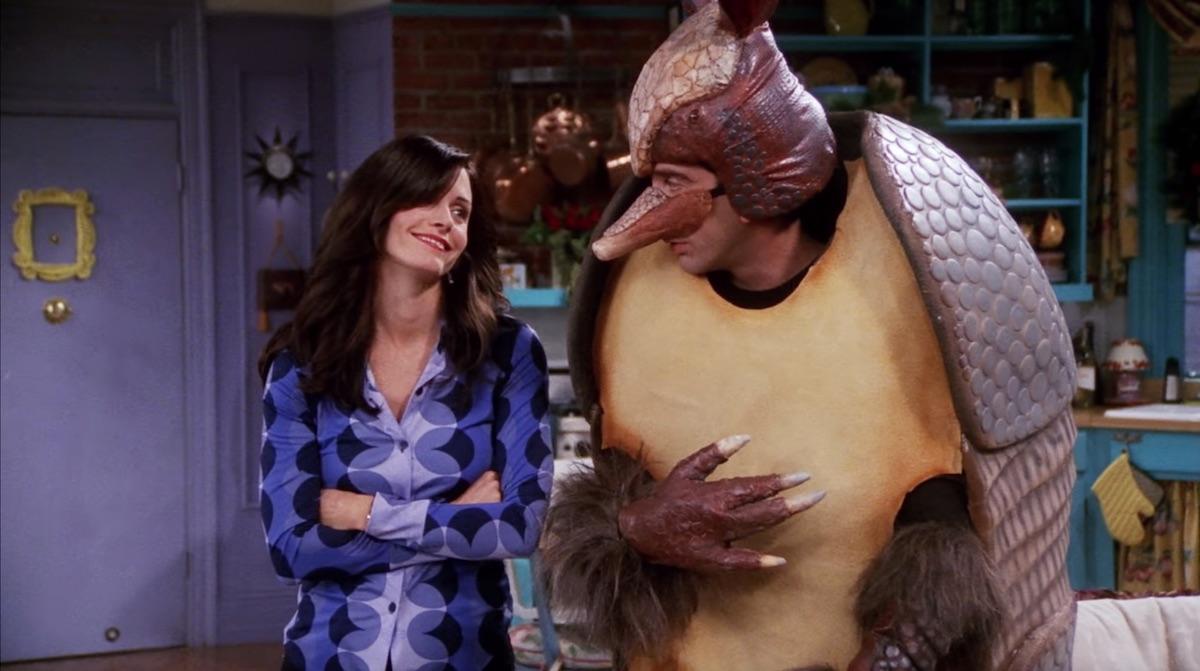 Is that Monica Geller or Farrah Fawcett? Monica went full Charlie's Angel in Season 7 of Friends with her longer locks and side bangs. Even the Holiday Armadillo was impressed. 
Article continues below advertisement
9. Season 8 — "The Wedding Waves"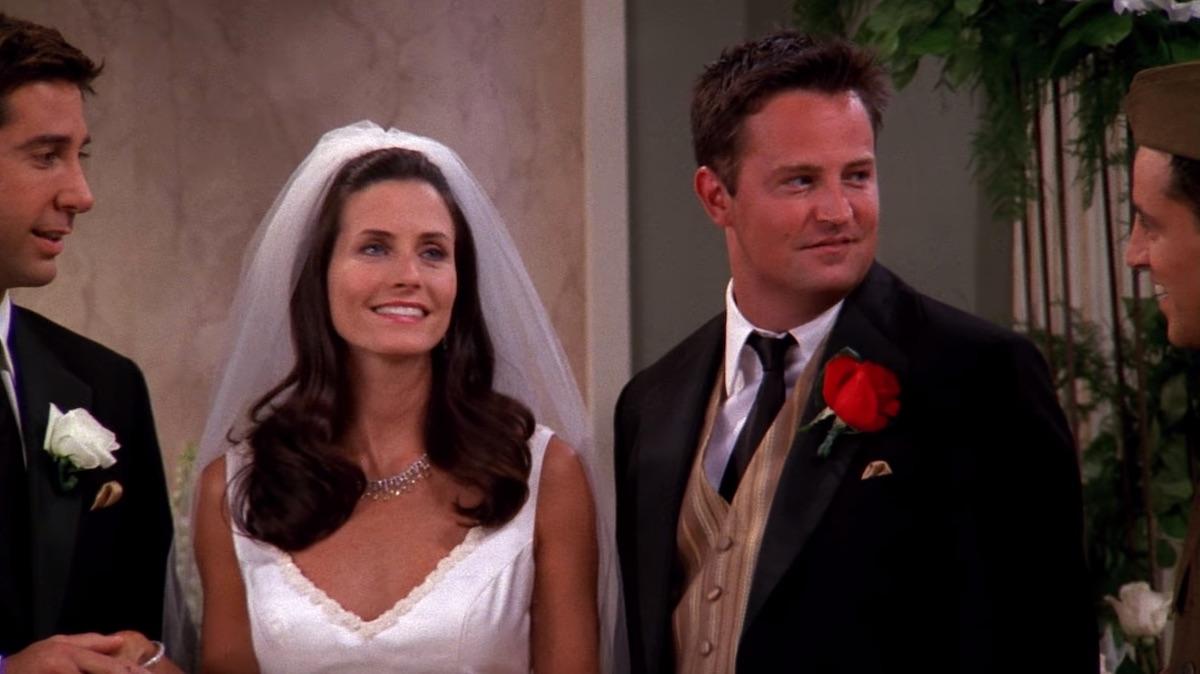 As if we weren't impressed already with Monica's hair, the chef did her own hair and makeup for her wedding to Chandler Bing during Season 8 — at her kitchen table no less. 
Article continues below advertisement
10. Season 8 — "Layers on Layers"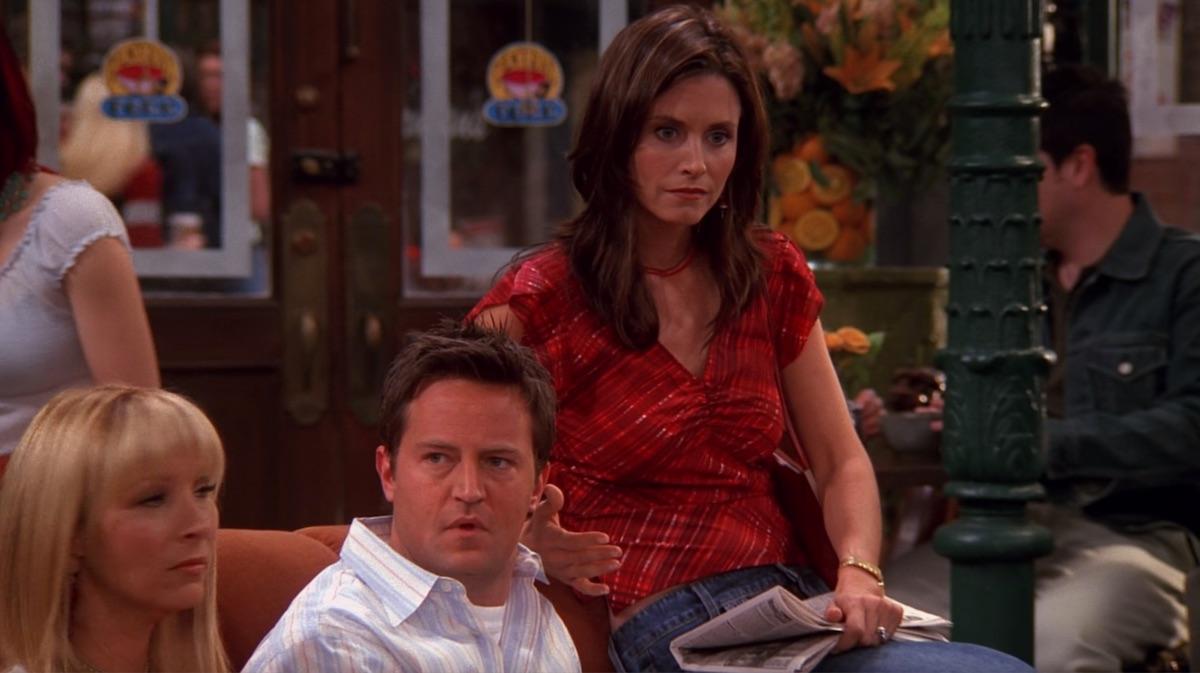 By the end of Season 8, Monica had lightened her hair up again, and was adding layers to a slighter shorter 'do. 
Article continues below advertisement
11. Season 9 — "The Layered Lob"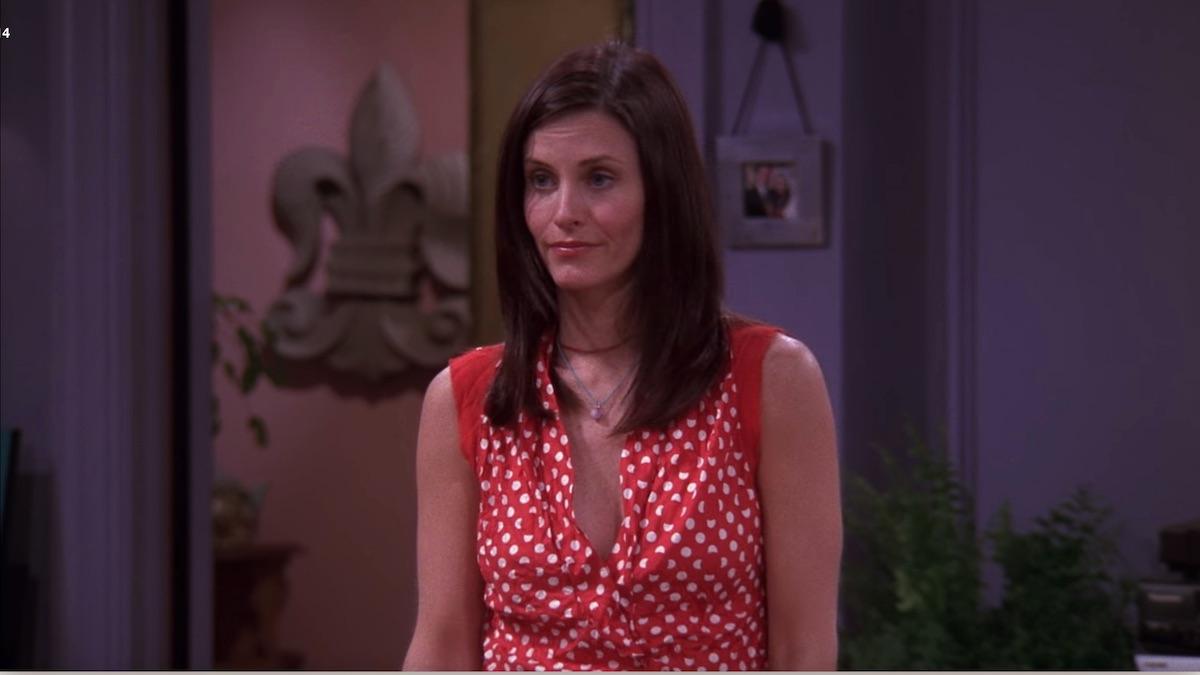 We've come so far from Phoebe's nightmare haircut. *Wipes tear.*
Article continues below advertisement
12. Season 10 — "The Return of the Bob"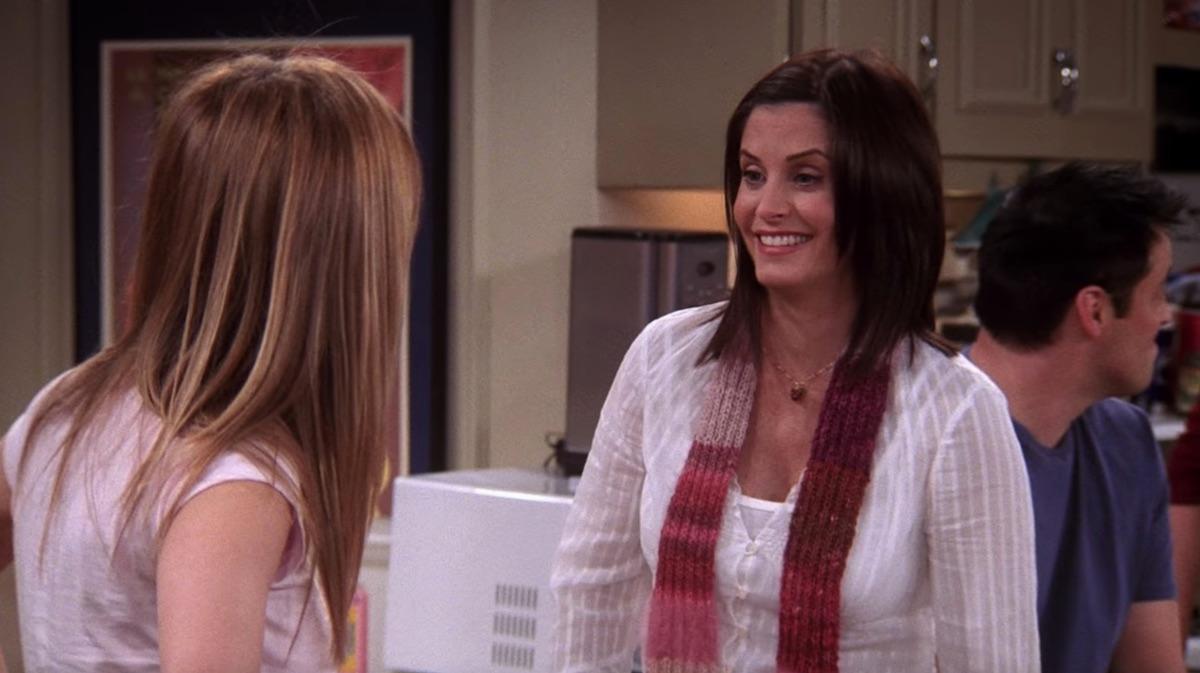 In a full-circle moment, by Season 10, Monica was back to rocking a bob — but unlike her Season 1 self, she skipped the bangs. 
Article continues below advertisement
13. Bonus — "The One With Barbados Braids"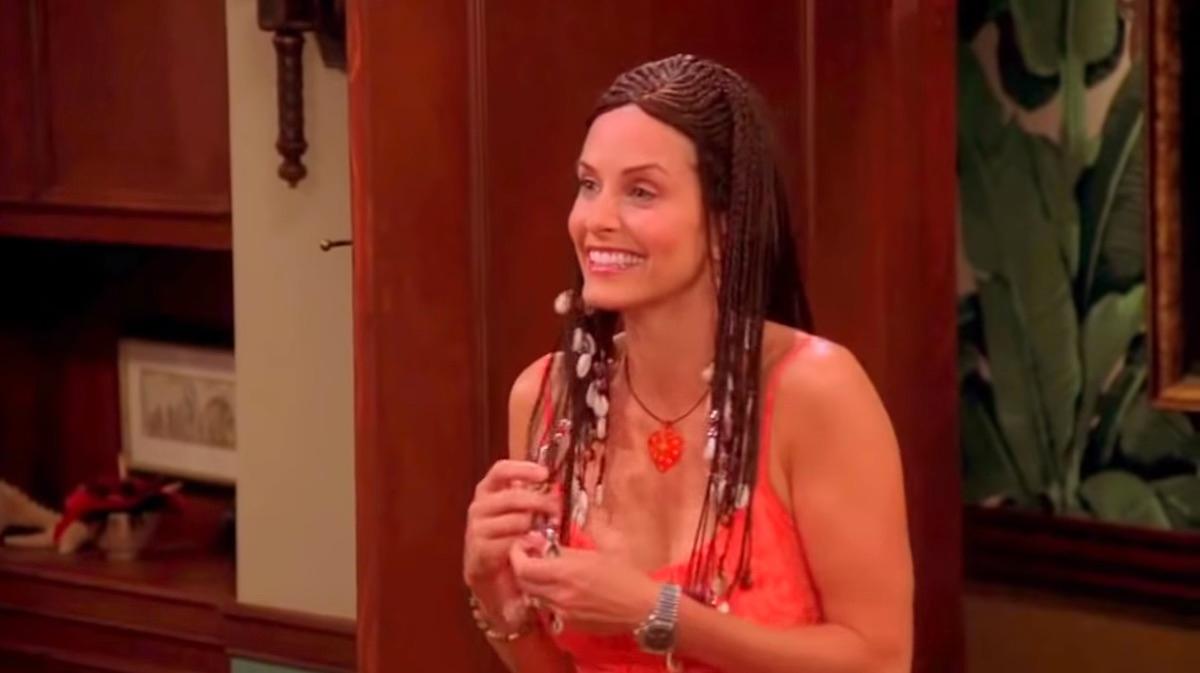 No list of Monica's hairstyles would be complete without paying homage to the shelled braids she rocked in Barbados to fight the frizz — no matter how much it made us (or her friends) cringe. 
What is your favorite Monica hair moment? 
Sours: https://www.distractify.com/p/monica-geller-hair
Hairstyles friends monica
I have been on the edge for a long time, and I help my tongue with my finger. Which enters the anus freely. I try it with two, and it's also good. She moans even louder, arching her ass. I take out the condom, open the package, and pulling it on quickly, I put the head against the dark, slightly open star.
MONICA FROM FRIENDS INSPIRED MAKEUP TUTORIAL!!
It seemed to her that she again found herself in a fairy tale and her head was a little dizzy. Trying to lean more. Firmly on the door, she groped for the silicone penis, which was now completely alone. This movement did not pass unnoticed from him.
Now discussing:
Sharply thrust his penis, piercing the hymen deep into the depths. My sister screamed and leaned forward, grabbing Ruslan, wanted to save herself, but Ruslan and Igor held her tightly. Suffer, dear, another 5 minutes, the pain will pass Ruslan said it hurts.
592
593
594
595
596