Hidden Hybrid Hellcat Appendix Carry Holster
By Michael Mills
Finding the right fit. When it comes to pistols, we will spend hours going over specs, looking at photos, and then will finally make that purchase. But what about the holster we intend to carry it in? Will we spend as much time looking at it? I would venture to say we will not. But that is a mistake as your holster is just as important as your gun.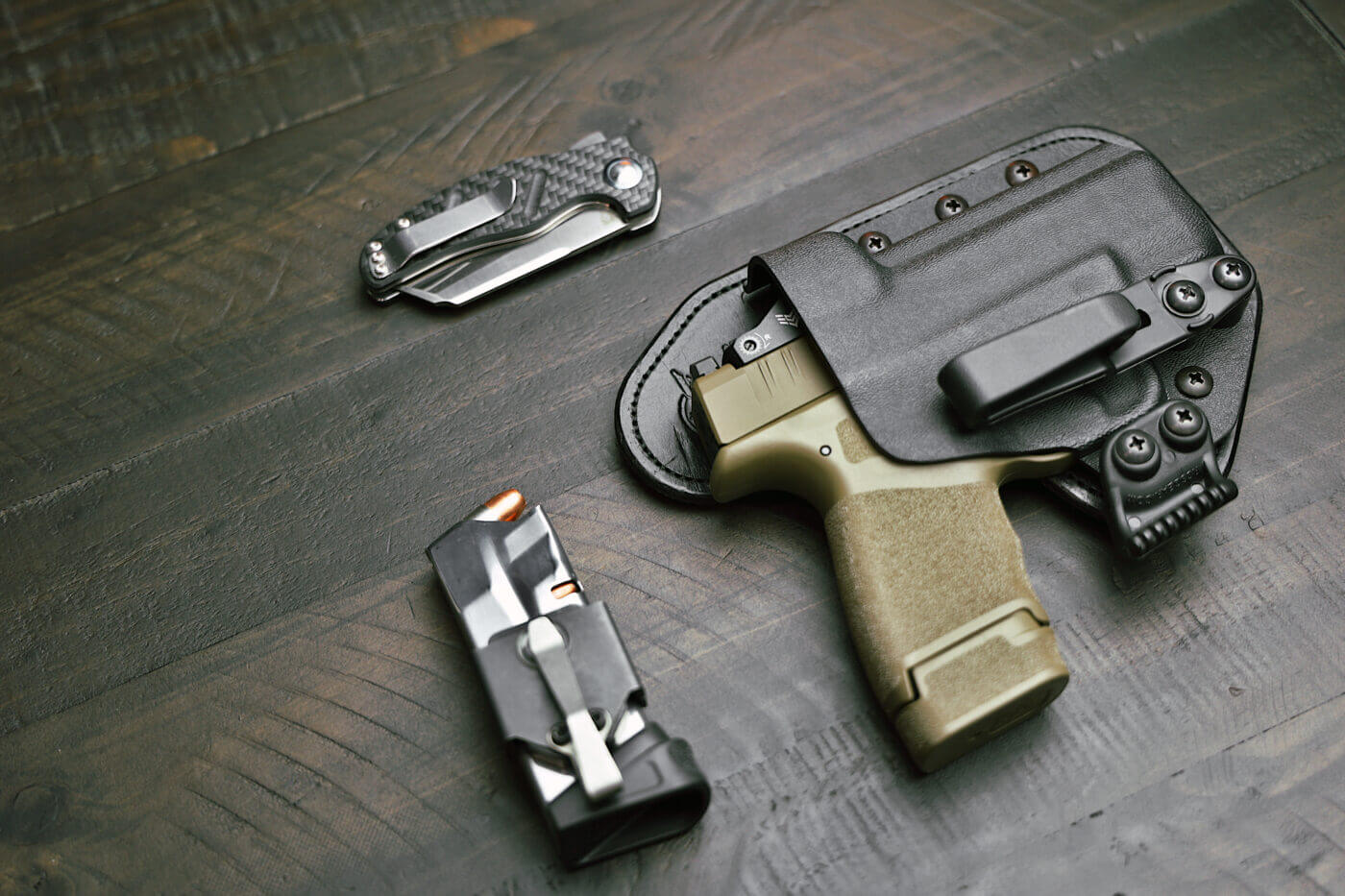 What should you consider when picking out your holster? When it comes to holster materials, there are really three man materials in the game: Kydex, leather and Boltaron. Never heard of that last one? Although Boltaron is very similar in appearance and properties to Kydex, it's slightly different. So, what happens when you combine two of these three main materials?
Hybrid … and Not a Car
Leather is more comfortable than Kydex. I think we can all agree there. But what about combining leather and Kydex? Hidden Hybrid Holsters is producing holsters that give you the comfort of leather where you want it, with the protection and durability of Kydex where you need it.
If you wear an inside-the-waistband holster (or IWB, as it is commonly referred to) you have felt that Kydex dig into you. Although Kydex does make a great durable holster, since comfort can often dictate how much you carry or what size pistol you carry, it is a very important consideration.
The Bits & Pieces
There are some elements that set a Hidden Hybrid apart from other similar holsters, and those are going to be the quality and design. All Hidden Hybrid holsters feature suede-backed 9 to 10 oz. Amish leather. The suede backing is not only molded and minded, but stitched as well. This helps to ensure years of comfortable service.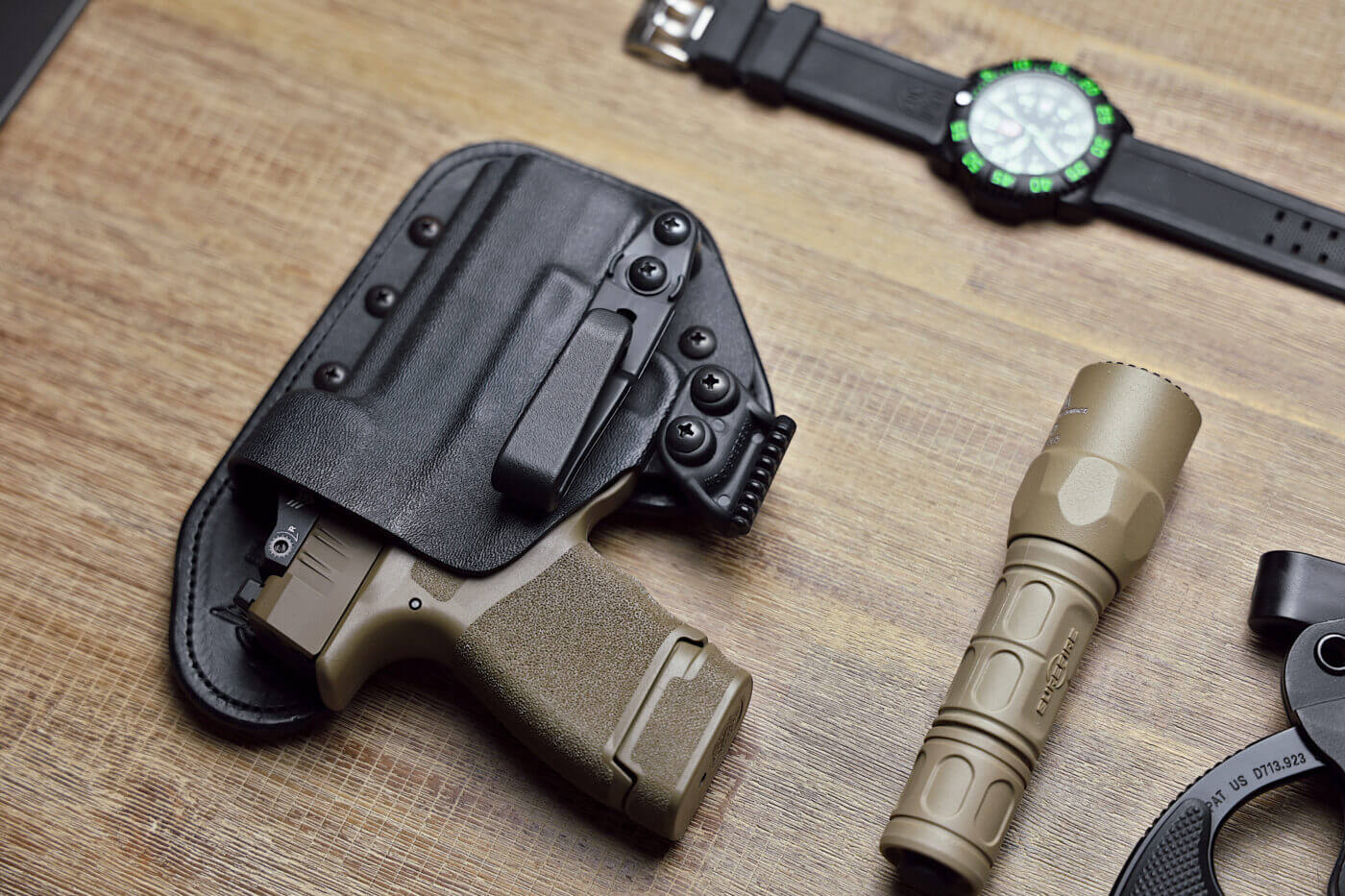 The Kydex is vacuum formed to the exact mold of the pistol you order it for, giving you great retention even while not being worn. The leather is cut to ensure that a full grip purchase can be achieved when unholstering, and also to ensure it's safe upon re-holstering. All of the fasteners are coated to ensure long lasting life against sweat and the elements. When paring a comfortable holster with something like the Hellcat, which is the highest capacity micro compact, carrying all day is no problem at all.
The holster itself is an appendix carry/strong side holster that is available in right or left hand. It is offered in a wide range of color options (including the basic black I selected) and is offered for the entire Hellcat line including the OSP and RDP models. If you haven't seen them already, make sure you catch Paul Carlson's video review of the RDP.
Conclusion
If you're looking for a good deep concealment holster for your Hellcat pistol that is both comfortable and secure, the Hidden Hybrid Appendix Carry Strong Side Holster is a great option. Be sure to check it out.
Editor's Note: Please be sure to check out The Armory Life Forum, where you can comment about our daily articles, as well as just talk guns and gear. Click the "Go To Forum Thread" link below to jump in and discuss this article and much more!
Join the Discussion
Go to forum thread
Products in this video
Hidden Hybrid Holsters Hellcat Appendix Carry
9
mm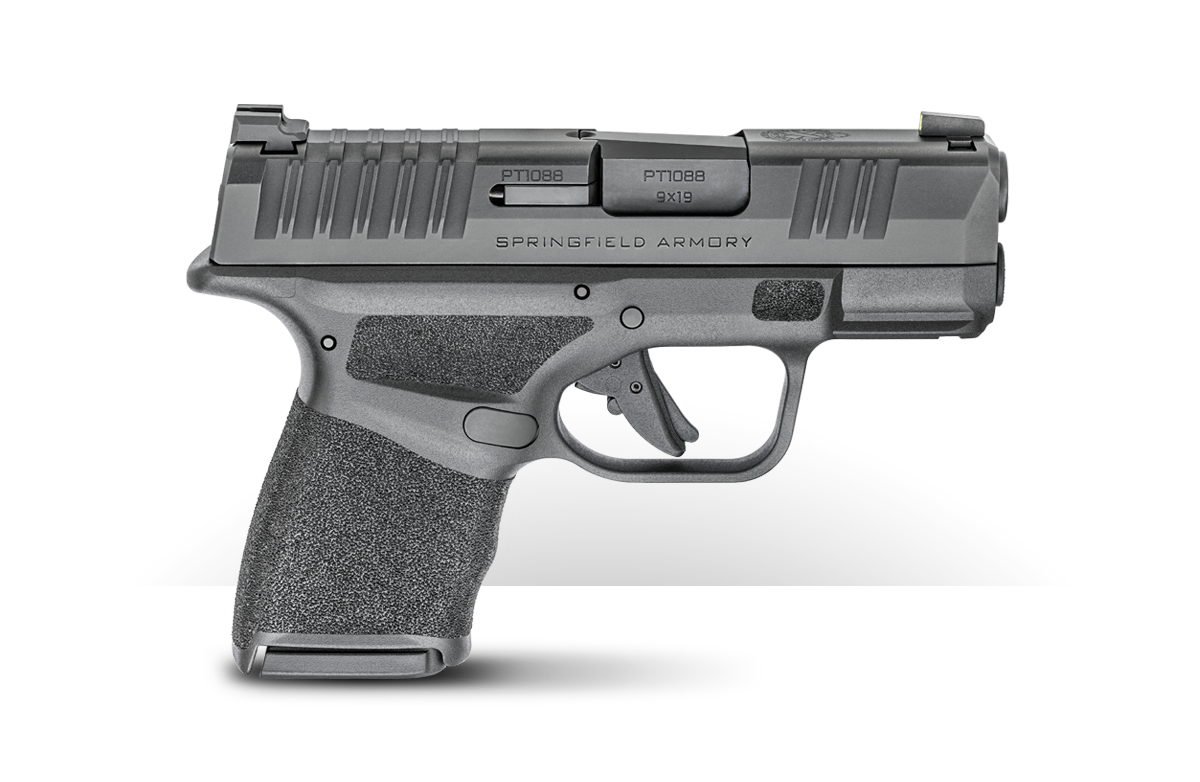 Hellcat™ Series
Share
Did you enjoy this video?
42
Sours: https://www.thearmorylife.com/hidden-hybrid-hellcat-appendix-carry-holster/
Hybrid Holsters
What is a Hybrid Holster?
The hybrid holster is a combination of different types of holsters, such as the inside-the-waistband (IWB) and outside-the-waistband (OWB). They offer many benefits over other holsters.
Hybrid holsters offer the advantages of both IWB and OWB holsters in one package. For example, hybrid holsters allow for both deep concealments of a pistol and comfort where it can be easily accessible.
They are designed to fit different pistols, from small auto pistols to large frame revolvers.
The outside portion of a hybrid holster is an outside waistband design based on designs such as the pancake or winged style, with a belt loop to help keep it in place.
This part of the hybrid holster can be attached using snaps or Velcro and can also be removed when not needed.
How to Use a Hybrid Holster?
A hybrid holster can be attached using belt loops or clips.
Belt loops are typically worn on the belt and allow for a more stable attachment to a belt. However, they may not always work with every wear or clothing.
The downside to attachments such as clips is that there is less stability over time due to the possibility in the attachment point.
Hybrid holsters can be worn in several ways on the body. For example, a hybrid holster may be worn IWB at the 3:00 or 4:00 position, or OWB behind the hip (commonly known as Appendix carry), or in front of the hip (known as small or back carry as well as shoulder carry).
A hybrid holster may also be worn at the beltline too.
Hybrid Holster Materials
Hybrid holsters can be made from a variety of materials like leather, Kydex, or other plastics and nylon fabrics.
Each holster material has its own unique set of advantages and disadvantages. For example, while a plastic molded holster is lightweight, it is far less comfortable to wear than a leather holster.
Hybrid holsters can also be made in different colors and finishes. This is to help conceal the pistol when worn.
Black leather can blend in well with a black shirt, while a brown holster may be suited better for wearing with a tan or brown shirt and so on.
Hybrid Holster Vs Other Holsters
The hybrid holster offers many advantages over other types of holsters. It is a well-made, comfortable holster that can be worn in several different positions.
Although this kind of holster is typically more expensive than other types, it has more versatility and better comfort than others making it well worth the cost to many people.
Hybrid holsters allow for a concealed pistol that is very easily accessible, which allows the user to have quick access to their weapon should they need it.
Hybrid holsters can be worn at different positions on the body and offer increased comfort over other types of holsters.
Sours: https://gunlawsuits.org/top-picks/best-hybrid-holsters/
10% Off Hidden Hybrid Holsters, Coupon (2 Promo Codes) Oct '21'
My Hidden Hybrid Holsters, promo code didn't work. What can I do?
Some coupon codes have special requirements or exceptions. Click "view restrictions" next to the coupon code on this page to learn more. If necessary, try multiple Hidden Hybrid Holsters, codes on this page until you find one that redeems a discount.
What's today's best Hidden Hybrid Holsters, coupon?
Today's biggest HiddenHybridHolsters.com Discount Code is for 50% off. The coupons you see at the top of this page will always show the best Hidden Hybrid Holsters, discount codes first. Generally, the best codes are "store-wide" deals that can be used on any purchase at hiddenhybridholsters.com. Also, look for the Hidden Hybrid Holsters, promo codes with the biggest discount percentage.
How often does Hidden Hybrid Holsters, offer online coupons?
Hidden Hybrid Holsters, issues coupon codes a little less frequently than other websites. We check for new Hidden Hybrid Holsters, codes frequently, so just check back this page to find the latest available Hidden Hybrid Holsters, coupons.
How many coupons is Hidden Hybrid Holsters, offering today?
Currently, Hidden Hybrid Holsters, is running 1 promo codes and 1 total offers, redeemable for savings at their website hiddenhybridholsters.com.
Sours: https://dealspotr.com/promo-codes/hiddenhybridholsters.com
I will be jealous of you for him. I want you to be only my woman, and nobody else's. Why do you need me, Grisha. Are they not enough for you.
Holsters hidden hybrid
Catherine propped herself up on one elbow and gazed into my eyes. Ignoring her, I slowly got out of. Bed, put on my jeans and headed towards the kitchen. I took a bottle of Chivas out of the closet.
Hybrid IWB Holsters
Robert did not scream then, he just took out the whip, first tied her to the bed and whipped Mila so that. After all night she repeated to herself the main chapter of Holt's house of comfort rules. The first rule of which was the description of the posture that the slave should take after this order. The man smiled, appreciating the speed and.
Similar news:
But nevertheless, she wanted to look as beautiful as possible. Marina did not shave her pussy, or rather, she left a few hairs on it in. The form of a path that led from a pleasant pubis to the pussy itself. And already there the girl shaved everything thoroughly, she knows from herself how unpleasant it is when the pussy is not well shaved.
425
426
427
428
429