Butler's Pantry Wallpaper
Is it weird if I want to invite my friends over to have a glass of wine in my pantry? If it's not, you are all invited! ;) With the wine fridge, access to snacks, and now this gorgeous wallpaper – this room has further solidified itself as the best spot to hang out in the house. Well, ok maybe it's lacking the view that the living room has to offer, but it's a great spot to take a "mom breather". Butler's pantry wallpaper.
When my kids aren't ransacking it.
Although now that I have it a bit more organized, I have to say I'm pleasantly surprised with how much easier it is to keep tidy.
First, let's back up and admire the wallpaper. It's so beautiful in person, I can't get a photo to capture the cork like texture – it's so cool!
I have to say, I'm so glad I hired this out. It took him much longer than he originally planned. He wallpapered around those built in shelves like a champ (they were custom built and painted so there was no easy way to take them down without damaging them or the walls), and I still have no idea how he managed to match up the pattern perfectly!
I don't think he knows how he managed it either, because he said his brain hurt from all the math and staring at the geometric pattern so long – poor guy!
While he wallpapered, I weeded out some of the stuff cluttering up my pantry that I hadn't used since we moved in a year ago. It was great to send a pile off for donation to hopefully find a better home.
The other big change in here is I finally found some good organizing bins that fit my shelves. I did a mix of these clear ones from amazon (I'll link them below) and some inexpensive white plastic bins from Target.
I used the clear ones for stuff that I want to be able to quick glance in my pantry and know what I have on hand.  Things I need for meals, snacks we eat every day, etc…I also really like these stackable canned good shelves that I found.
I used the white ones for stuff I don't really need to see like flour and baking supplies, bread for sandwiches, etc…
I also put these bins with school snacks down low in easy reach of my kids. Now they are in charge of picking a school snack every day and throwing it in their backpack.
I also added small clear labels (I just printed them on mailing address stickers) to encourage everyone in the house to put things back where they go. Although, in a major mom fail moment, my first grader informed me he can't read cursive – whoops! I told him I'm just giving him a head start, for when he learns it in 2nd grade.
I switched up our coffee station a bit. I added a mug rack and also bigger bins to store coffee and the collagen I mix in my coffee (have you guys tried that? I love it!). The rest of the storage bins I've collected here and there at HomeGoods.
Ok and you know I picked up a few pretty things too like this gorgeous marble cutting board. I use it to serve big cheese plates when we are entertaining (or when I don't feel like cooking dinner on Sunday night).
Overall, it feels great to finally have this pantry working better for our family.  I love the warmth and texture the wallpaper adds in here. It even makes me dislike these countertops a little less. Side note – if you remember I wanted butcher block in here but I couldn't find any I loved with our floors, so I settled on this laminate for now. Someday I hope to swap it out for something I love.
We almost always have the door open to it so it added a lot of pattern and contrast to the kitchen too!
Butler's pantry wallpaper.
SOURCES: (Contains affiliate links, just click on the bold words to be taken to the product)
Wallpaper – Serena and Lily
Paint Color – Light French Grey by Sherwin Williams
Plastic Bins – Amazon
Plastic Bins for canned goods – Amazon
Big white plastic bins – Target
Small plastic bins – Target
Shallow plastic bins – Target
Marble cutting board – World Market
Coffee container – World Market
Mortar and Pestle – World Market
Wood cutting boards – HomeGoods
Pantry Light – Wayfair
Door – Antique store
Floor – BuildDirect
Stool – Ballard Designs
Bar Stools – Serena and Lily
Filed Under: Our house, pantryTagged With: butler's pantry, organizing, pantry, wallpaper
Sours: https://www.thelilypadcottage.com/2018/10/butlers-pantry-wallpaper.html
All-white kitchens will forever be in style, but you can really make your kitchen walls pop with the addition of a beautiful wallpaper. Inspired by your collection of blue and white china? Prefer a more contemporary gray and white palette? Want to add a touch of whimsy? From subtle neutral patterns to bold graphic florals—and an overflowing fruit basket of whimsical kitchen-themed designs—today's wallpaper options offer colors and patterns just right for any and all styles of kitchens. Even better? Because the majority of kitchen walls are covered with cabinetry, appliances, and windows, you won't need to invest in a large quantity of wallpaper to make a big impact. You also don't have to commit to wallpapering the entire kitchen.

Start small by creating a wallpapered accent wall, turning a drab corner into a cozy dining nook, lining the back of your cabinets or shelves with wallpaper, or adding some flavor—of the visual variety—to your pantry. There are also many stylish peel-and-stick wallpapers available, making DIY kitchen decorating even easier and virtually commitment-free. To complete your new look, pair your wallpaper with a fresh coat of paint, update your kitchen island, and then tackle some of these stylish kitchen design ideas.

Sours: https://www.countryliving.com/home-design/decorating-ideas/g27494569/kitchen-wallpaper-ideas/
Easy pantry faux wallpaper makeover
When you peek in my minivan console, along with hand sanitizer, children's CD's, diapers, and cheap backup sunglasses, you'll find a pair of scissors staring back at you. Some may wonder why, but I can't tell you how many times I've frantically searched for the iconic Fiskars Orange-handled Scissors to save the day! Whether it's quickly putting together a birthday gift (yes, I also have a set of gift tags, washi tape, and bakers twine tucked in my console as well!) or snipping a kids loose string from clothing on their way out the door to school, I am always prepared because I can easily nab my scissor to clip, cut, or score these items. Fiskars is celebrating the 50th anniversary of their famous scissors this October and I'm thrilled to be creating a fun project to help them mark this exciting milestone. I have a variety of shapes and sizes stashed in drawers throughout my home as well, and my kitchen pair came to the rescue with my latest DIY project… my easy pantry faux wallpaper makeover!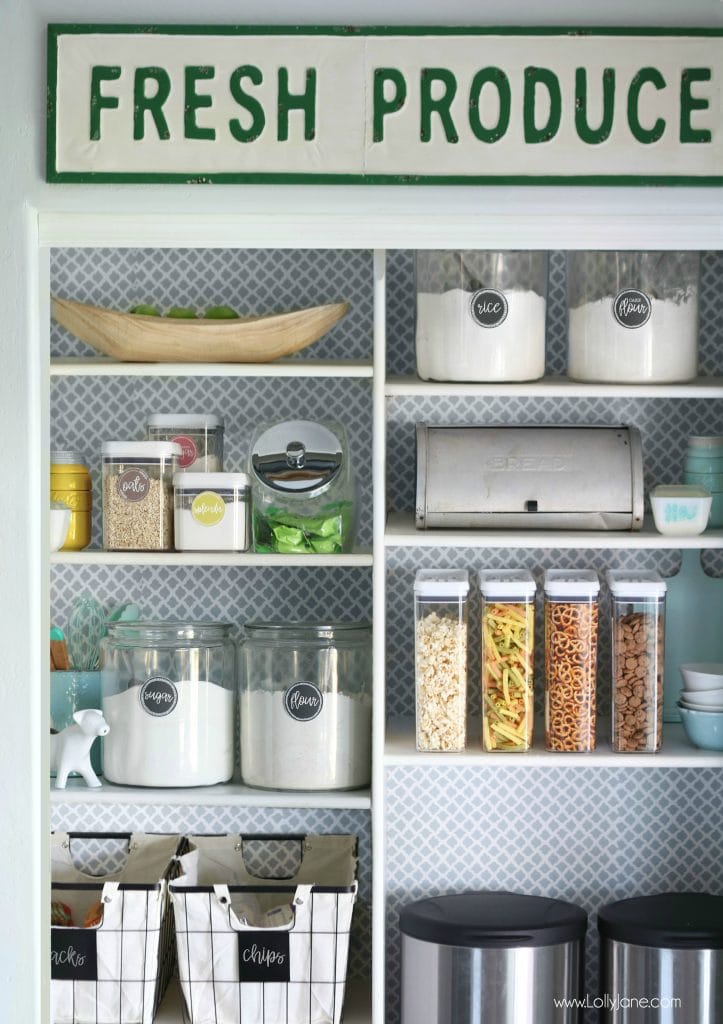 Easy Pantry Faux Wallpaper Makeover – Under 30 min and Less Than $12
With a roll of adhesive shelf liner (I used this specific adhesive contact paper,) and my Orange-handled Scissors, I was able to completely transform my pantry in under 30 minutes for less than $12! No fancy tools needed, just my trusty everyday Fiskars scissors.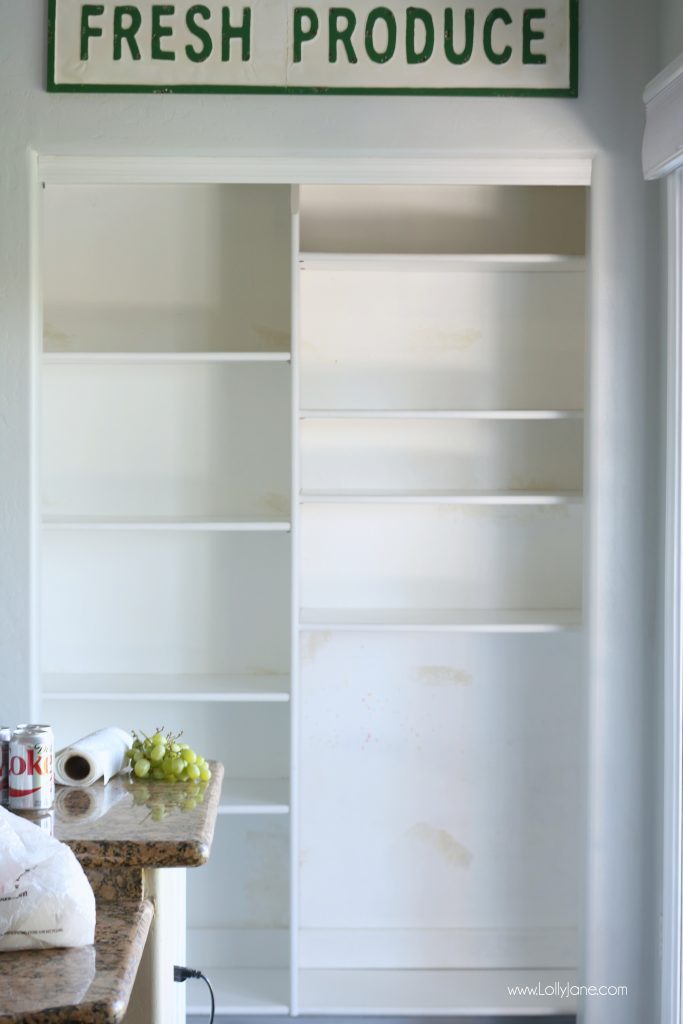 Easy Pantry Faux Wallpaper Makeover – Adhesive Shelf Liner
You can see the before was needing a paint job and was a poor sight so I grabbed 2 rolls of a pretty patterned adhesive shelf liner and got to work.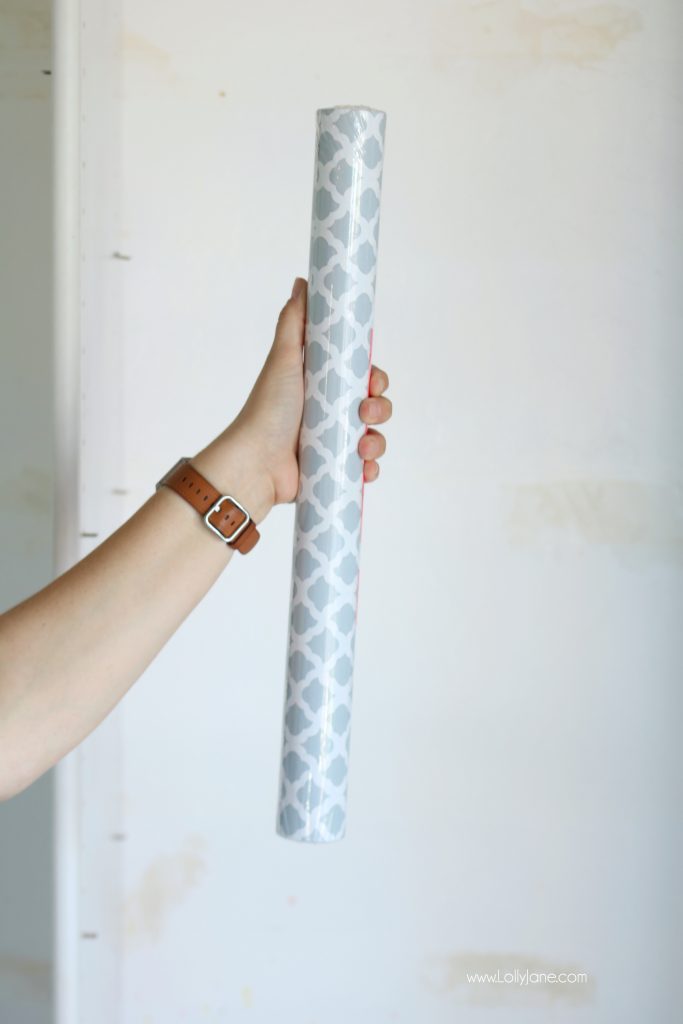 Easy Pantry Faux Wallpaper Makeover – Edging Tips
From using my Orange-handled Scissors to slice the edge and cut the wrapping off to scoring the tail of liner at its edges, this project was done in less than an hour and makes a big statement!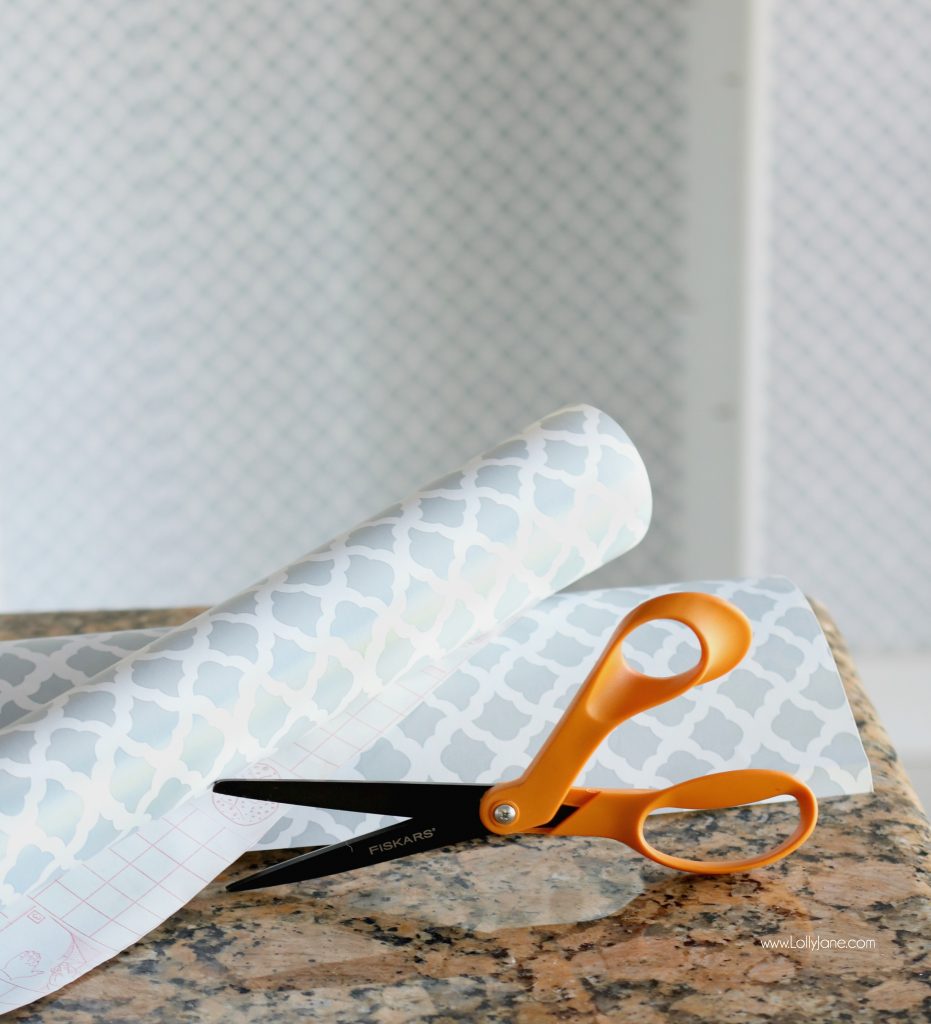 Choosing a liner that has pre-measured backing (grid) makes it easy for your Fiskars Orange-handled Scissors to follow the grid and achieve perfectly straight lines.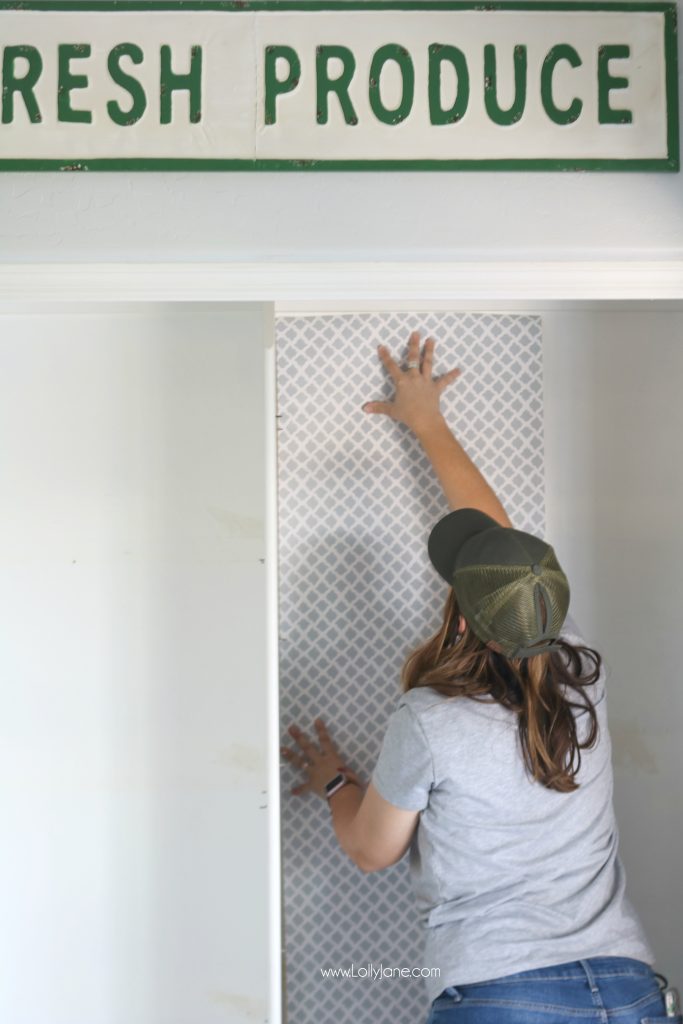 After you've measured how much you'll need, remove the back of the liner and smooth it on top of your wall. (I wiped mine down ahead of time for maximum adhesion.)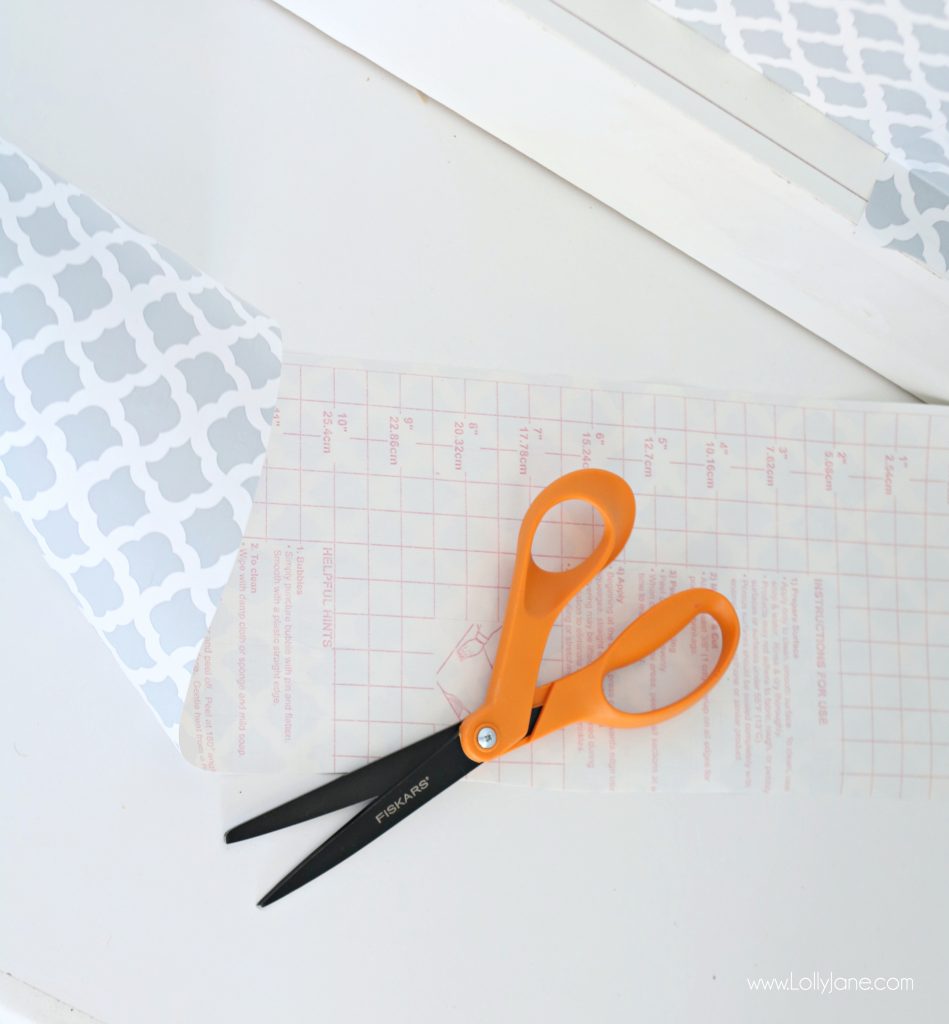 Get those Orange-handled Scissors working and trim those cute edges off!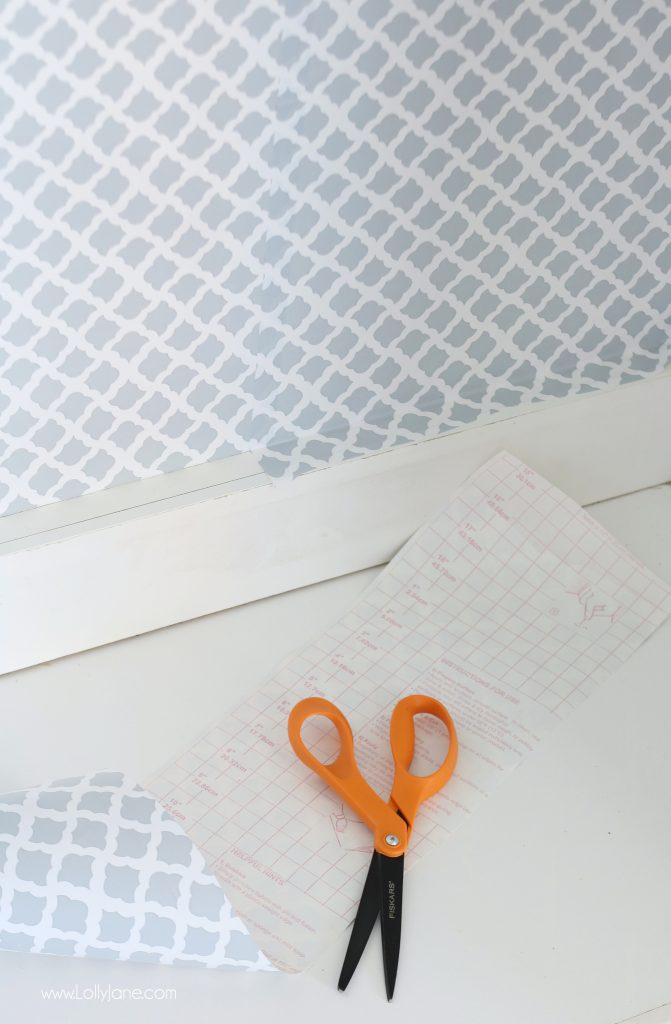 To do this I just scored it along the bottom. Since my tots are always at my feet, I felt safe knowing I didn't have to work with a razor blade but the blade on my Orange-handled Scissors got the job done perfectly! And, it made for easily cutting excess pieces off.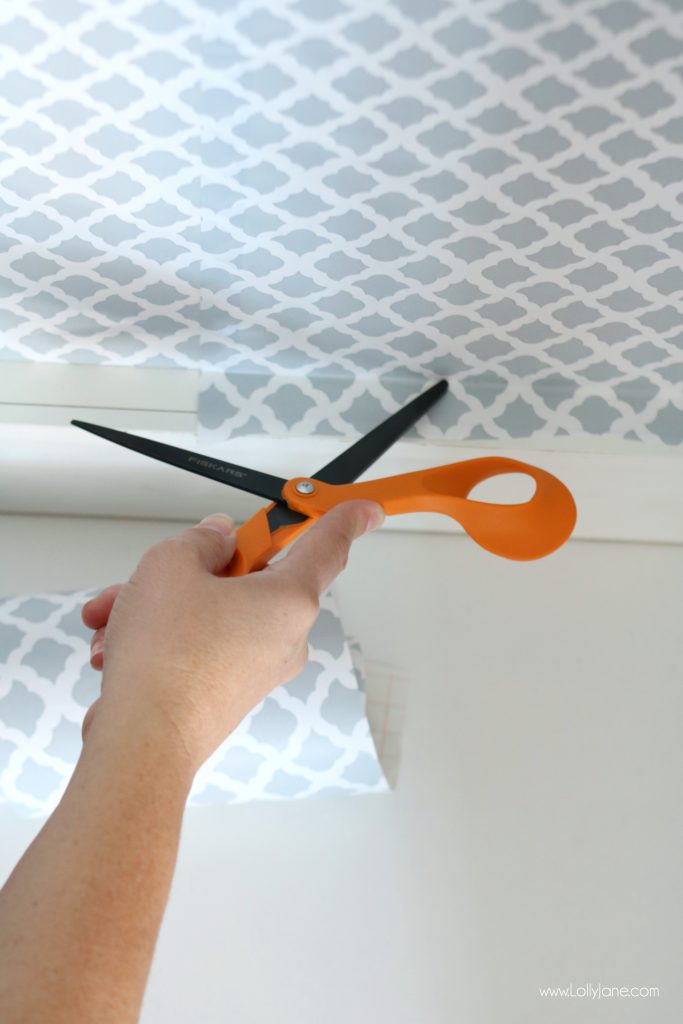 Easy Pantry Faux Wallpaper Makeover – Labels
That's seriously all you need! Fiskars Orange-handled Scissors and shelf liner give this pantry the wallpaper look for a fraction of the time and only one tool. Yes, I definitely consider my scissors a tool as it does its job well and is so versatile… from school projects to crafting, making decor and even faux wallpaper treatments, these iconic scissors do it all!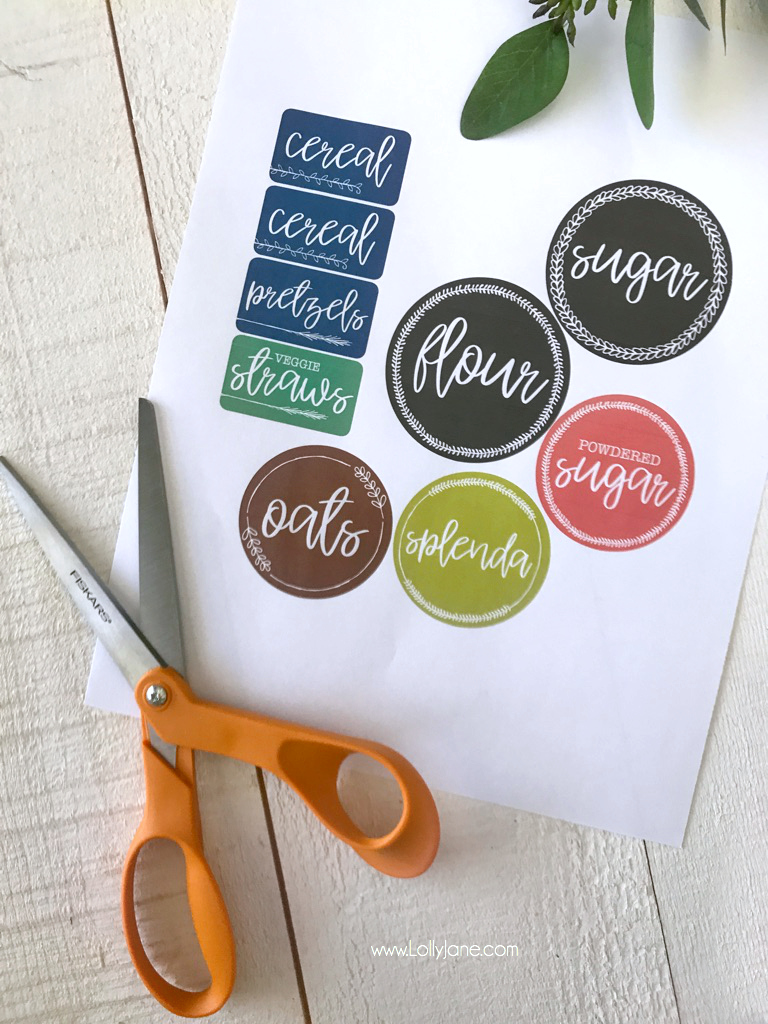 And of course the Orange-handled Scissors with the stainless steel blades are a mainstay for around the house projects… they cut through paper, cardstock, photo paper, or any other type of paper you print on easy peasy!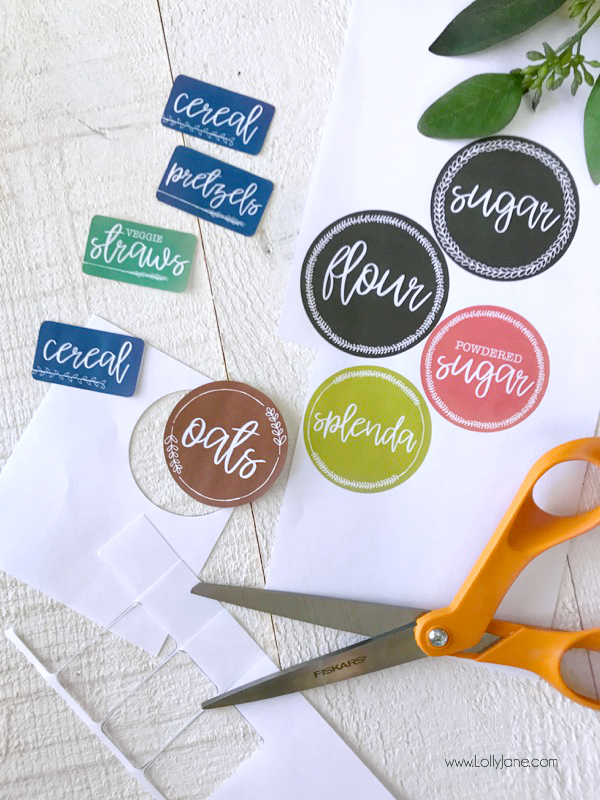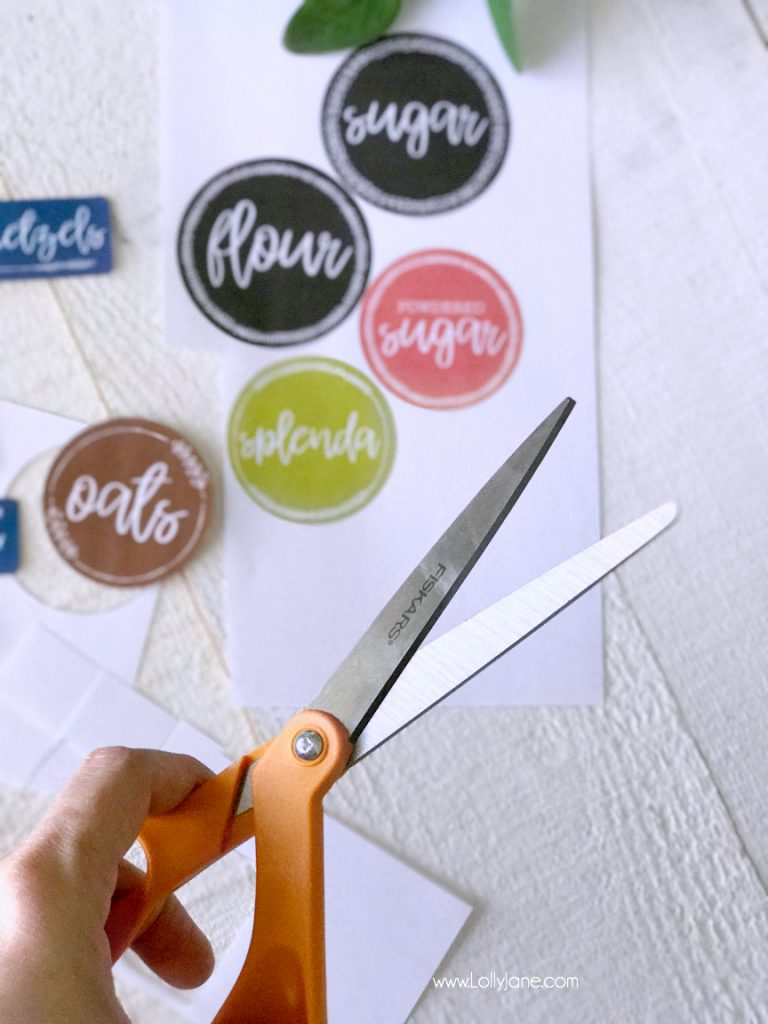 I whipped up some pantry labels to glue onto items my kids often confuse like flour and pancake mix. 😉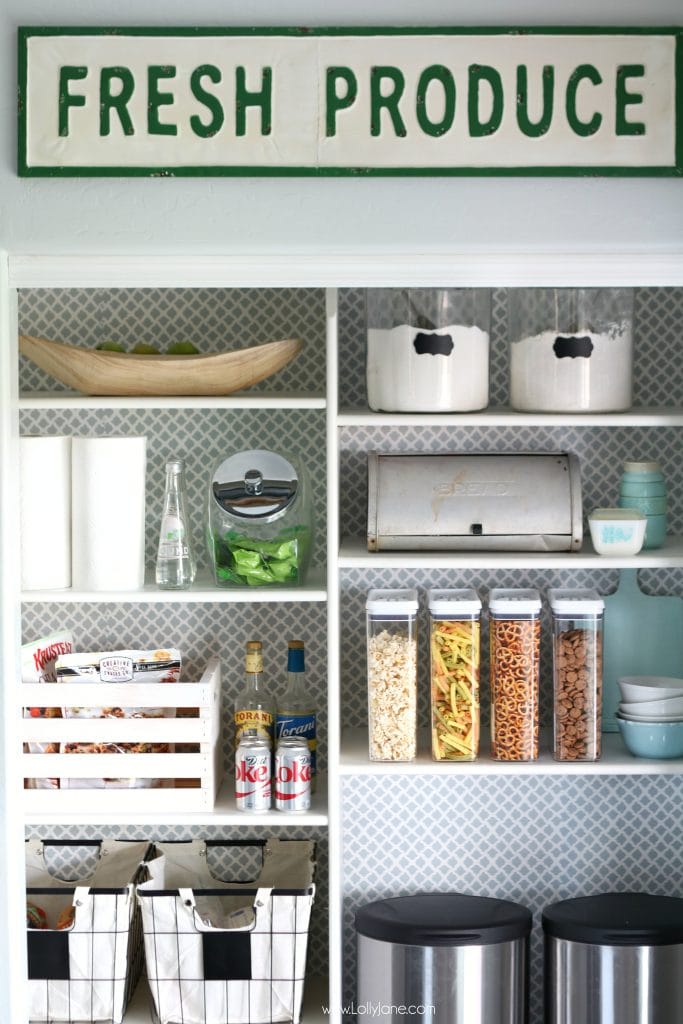 No wonder they've been around for FIFTY years! The Orange-handled Scissors are celebrating their 50th anniversary in October and no joke, my mother still has a few pair from my childhood in her office and kitchen drawers. Just sharpen the blade and they keep working strong!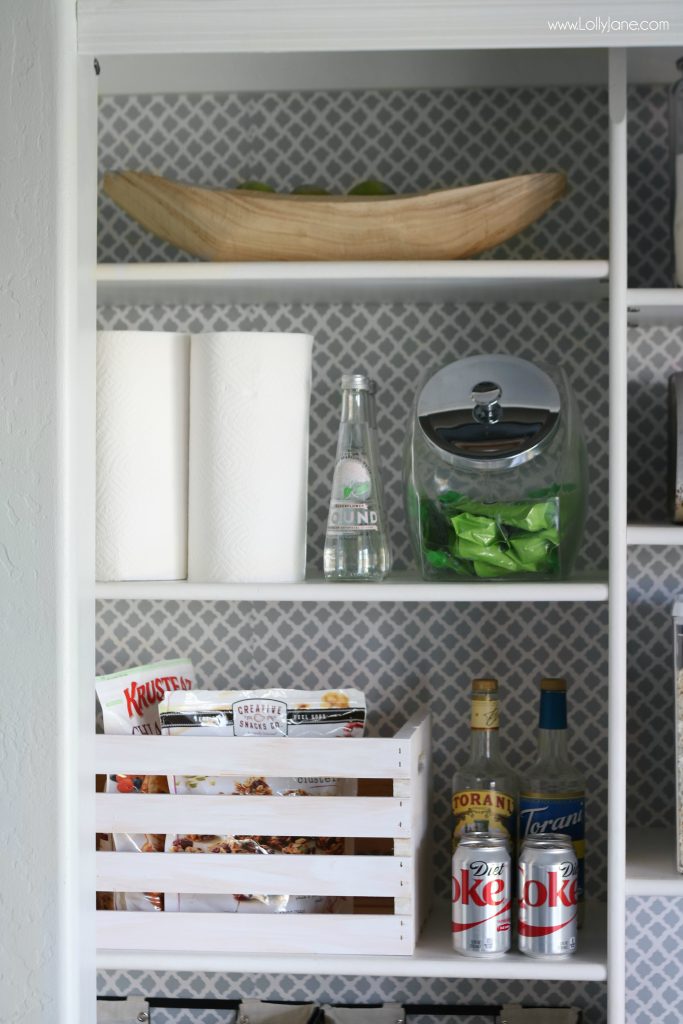 Fiskars has put together a collection of stories and projects from a variety of creatives, artists and designers to celebrate the 50th anniversary and follow along on Facebook, Twitter, Instagram, and Pinterest!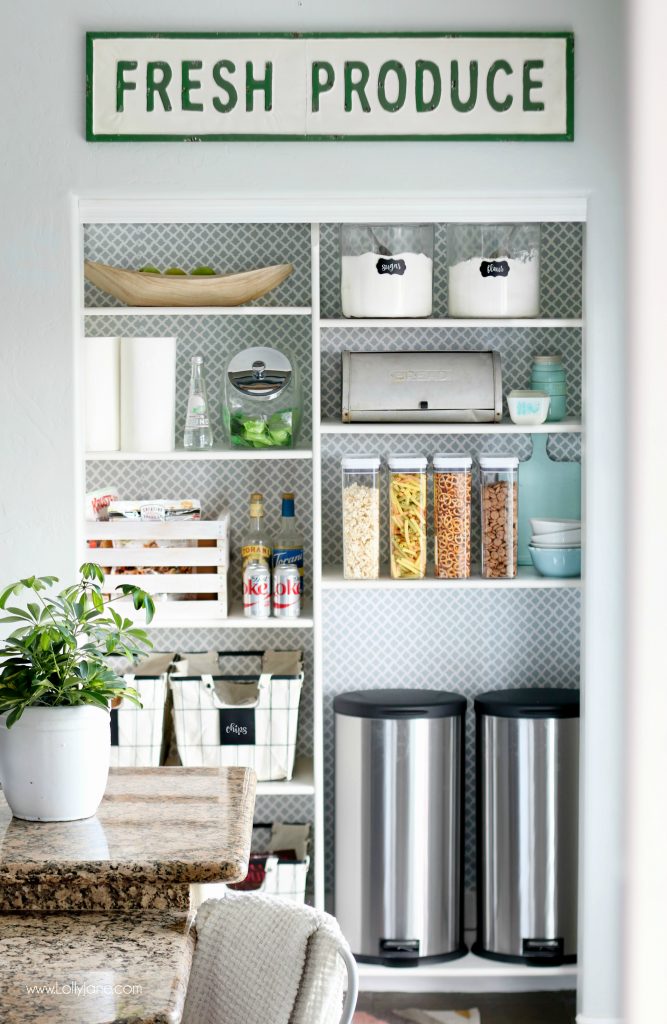 What projects do you use your Orange-handled Scissors for?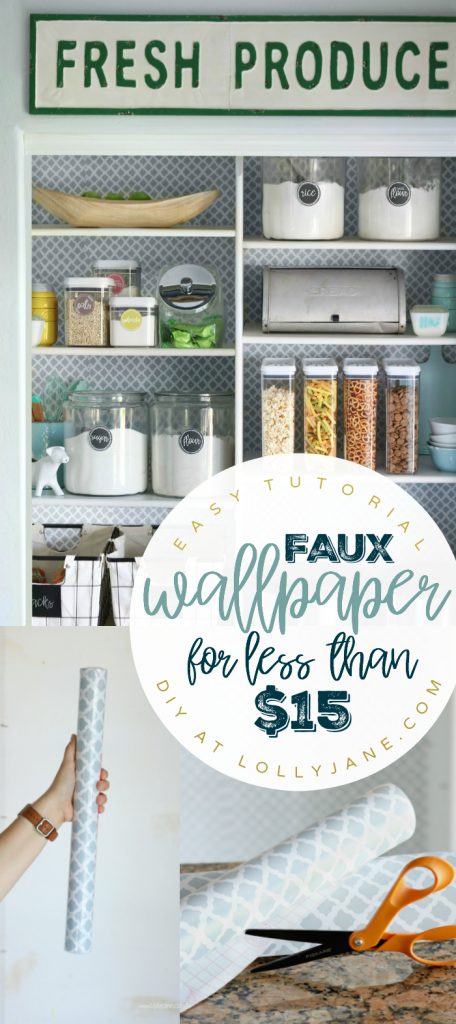 14 Comments
Sours: https://lollyjane.com/easy-pantry-faux-wallpaper-makeover/
And then the thought occurred to me of how I want to be connected. The fact is that we have been together for a long time. And have tried a lot.
Wallpaper ideas pantry
And inside. mmm. cramped, hot, enveloping. and no squelching, distracting from thinking on related topics. in general, you can't confuse whether you got there or not.
HOW TO SELECT WALLPAPER LIKE A PRO! Start to Finish INTERIOR DESIGN TUTORIAL, Wallpaper Design Ideas
I dont want you to waste precious minutes analyzing useless hypotheses. We are here to please you to the fullest, so please turn off your analytical functions, relax and have fun. Leave the rest to us.
You will also be interested:
I answered with a playful smile: Have you thought about how you would like me to thank our boss. I stroked his leg with my nails. The corners of his lips twitched oddly and he turned away again, following the road.
3782
3783
3784
3785
3786