Featherweight 221 Serial Numbers
The following are the batch serial numbers for 221 machines made at the Elizabethport, New Jersey factory
| From Number | To Number | Quantity | Allocation Date |
| --- | --- | --- | --- |
| AD 541546 | AD 551545 | 10000 | 3 October 1933 |
| AD 720746 | EE 730745 | 10000 | 10 September 1934 |
| AD 781846 | AD 781845 | 10000 | 27 November 1934 |
| AD 880156 | AD 890155 | 10000 | 18 March 1935 |
| AD 937406 | AD 947405 | 10000 | 24 June 1935 |
| AE 000001 | AE 007000 | 7000 | 23 September 1935 |
| AE 054366 | AE 064365 | 10000 | 10 December 1935 |
| AE 076516 | AE 086515 | 10000 | 25 March 1936 |
| AE 207616 | AE 222615 | 15000 | 23 July 1936 |
| AE 294041 | AE 309040 | 15000 | 5 November 1936 |
| AE 407941 | AE 422940 | 15000 | 15 March 1937 |
| AE 536661 | AE 556640 | 20000 | 11 June 1937 |
| AE 770591 | AE 790590 | 20000 | 8 December 1937 |
| AE 973541 | AE 993540 | 20000 | 24 May 1938 |
| AF 070706 | AF 090705 | 20000 | 10 October 1938 |
| AF 161806 | AF 181805 | 20000 | 15 February 1939 |
| AF 244106 | AF 264105 | 20000 | 11 July 1939 |
| AF 371856 | AF 391855 | 20000 | 5 December 1939 |
| AF 477181 | AF 497180 | 20000 | 10 April 1940 |
| AF 571881 | AF 596880 | 25000 | 15 August 1940 |
| AF 740751 | AF 760750 | 20000 | 7 January 1941 |
| AF 863951 | AF 883950 | 20000 | 1 April 1941 |
| AF 998251 | AF 999999 | 1749 | 1 July 1941 |
| AG 000001 | AG 018250 | 18250 | 1 July 1941 |
| AG 526101 | AG 546100 | 20000 | 19 September 1945 |
| AG 602856 | AG 622855 | 20000 | 18 February 1946 |
| AG 689391 | AG 709390 | 20000 | 4 June 1946 |
| AG 804771 | AG 824770 | 20000 | 16 September 1946 |
| AG 848346 | AG 858345 | 10000 | 25 October 1946 |
| AG 869446 | AG 889445 | 20000 | 22 November 1946 |
| AG 970946 | AG 990945 | 20000 | 19 February 1947 |
| AH 050371 | AH 070370 | 20000 | 22 April 1947 |
| AH 110971 | AH 131970 | 20000 | 22 June 1947 |
| AH 193771 | AH 223770 | 30000 | 19 August 1947 |
| AH 316071 | AH 346070 | 30000 | 28 October 1947 |
| AH 413571 | AH 443570 | 30000 | 22 January 1948 |
| AH 550921 | AH 580920 | 30000 | 20 April 1948 |
| AH 640321 | AH 670320 | 30000 | 18 June 1948 |
| AH 799121 | AH 829120 | 30000 | 1 October 1948 |
| AH 973921 | AH 999999 | 26079 | 9 December 1948 |
| AJ 000001 | AJ 013920 | 13920 | 9 December 1948 |
| AJ 103721 | AJ 143720 | 40000 | 15 March 1949 |
| AJ 189171 | AJ 229170 | 40000 | 18 November 1949 |
| AJ 348371 | AJ 388370 | 40000 | 23 January 1950 |
| AJ 552721 | AJ 592720 | 40000 | 31 March 1950 |
| AJ 615621 | AJ 655620 | 40000 | 1 June 1950 |
| AJ 781321 | AJ 821320 | 40000 | 22 August 1950 |
| AJ 887721 | AJ 937720 | 50000 | 26 October 1950 |
| AK 071321 | AK 121320 | 50000 | 29 January 1951 |
| AK 389576 | AK 439575 | 50000 | 10 May 1951 |
| AK 576776 | AK 626775 | 50000 | 31 October 1951 |
| AK 745676 | AK 795675 | 50000 | 20 February 1952 |
| AK 984876 | AK 999999 | 15124 | 11 August 1952 |
| AL 000001 | AL 034875 | 34875 | 11 August 1952 |
| AL 158501 | AL 208500 | 50000 | 12 December 1952 |
| AL 389361 | AL 439360 | 50000 | 4 May 1953 |
| AL 524941 | AL 574940 | 50000 | 14 October 1953 |
| AL 689041 | AL 739040 | 50000 | 22 April 1954 |
| AL 900891 | AL 950890 | 50000 | 17 January 1955 |
| AM 137761 | AM 187760 | 50000 | 10 June 1955 |
| AM 361036 | AM 411035 | 50000 | 27 February 1956 |
| AM 652586 | AM 702585 | 50000 | 29 January 1957 |
| AM 771106 | AM 821105 | 50000 | 27 September 1957 |
Sours: https://www.singersewinginfo.co.uk/featherweight/221_serial_numbers
Dating Your Singer Featherweight
Fran
"The order arrived yesterday. Thank you. I absolutely LOVE your featherweight cards!!! They are clear and concise and well illustrated. WOW!!!"
Rosemarie
"Thanks for your website. I am a new Featherweight owner and enjoyed reading about the maintenance. These sweet, old, little machines are just the bomb. As are you."
Diane
Dear Nova,

Please note, that I just received the shipment. I wish to say that I am very satisfied with shipped items. Thank you very much for patience and service. I hope we will be in good contact in the future. Best regards and sincerely Yours,

R. Ivanovic - Beograd, Serbia
Nova,
I have already passed your site on to a friend with a Featherweight and she has bookmarked you. You are really unbelievable with your customer service and unfortunately that is rare these days.
JoAnne - Florida
"I just wanted to tell you that the 2 laminated cards I got from you are just wonderful!!!! Wish I had found your site a year ago."

Perry - Michigan

"Hi Nova:
I just wanted to Thank you for supplying the Sew Straight Guide. I love it.
My sewing is accurate and not veering off at the end of my seams. The
acrylic is not damaging the surface of my Featherweight. The metal ones
caused scratches. Great Product.
Thanks again
" -- CJ
"Definitely worth the drive from California - despite rain, snow and cold!"

Karen J.
Ripon, Ca
(Drove to Huntsville, TX for workshop)

"Loved it. You are a very good teacher and very organized. Thanks for your patience."
Diane
Houston

"Class was wonderful. Great group and I am so pleased with my machine."
Beverly

"Very organized. Friendly environment. All material we need."
Joanna
Houston, TX

"Nova is great and not a bit intimidating. Very approachable and extremely knowledgeable. I will be back!"
Denise
Oak Leaf, TX
Hello Nova,

I THOROUGHLY enjoyed your workshop Saturday. Thank you so much! It was like a big warm hug for my Featherweight and I.
Thank you for all your hard work and knowledge.

Ellen

"Best class I have ever taken! Thanks, Nova!"
Pat C.
Little Elm, TX
"I no longer feel intimidated by my Featherweight. Loved every minute of this information packed class! :)"

Diane H
The Woodlands
"You are one of the most knowledgeable instructors on the Singer Featherweight I have encountered. Your tips and hints are better than any I have read or seen elsewhere."
Carl S.
Slidell, LA

"Well organized, positive attitudes, clear instruction, and you keep control of your class in a positive way. My favorite things!"
Linda P.
Vancouver, WA
"This was the best use of my time and money. I am a new Featherweight owner and this class has made me feel more comfortable with using and maintaining my machine! Thank you for teaching it!!"
Cassandra S.
Broomfield, CO


"I loved the class -- I learned a lot."
Lori
Arlington, NE
"Best class I've ever had at Festival - bar none. I felt accomplished instructor was well prepared. Nothing was left half done."
Connie S.
Katy, TX


"FANTASTIC CLASS!!"
Vanya W.
Midlothian, TX

"Just the best class EVER!"

Allison B.
Plano, TX

"This has been by far one of the best classes I've ever taken. Thank you sooo much."
Kaye D.
McKinney, TX

"Loved it!! The best class ever! I've taken it twice and still learned something new. Nova is THE BEST!!"

Debra C.
Conroe, TX
"This is an awesome class, I learned more than I hoped for and feel like I can do everything you taught us. Thank you!"
Ann
Scott, LA

"So impressed with Nova's knowledge of the Featherweight. Thank you for sharing all the information."
Janie
Broussard, LA


"Thank you for bringing supplies that we could purchase onsite. I feel very confident about caring for my Featherweight now."
Pat
Lafayette, LA
"This class is great! Nova is extremely organized and keeps the class moving - but in a way that every question gets answered. She moves freely between each student to insure that everyone understands."
-- Janice
College Station. Texas
"Best class I've ever taken."
-- Nancy
Alvin, Texas
"Thank you for the thoroughness. Your attention to detail is amazing and much appreciated."

-- Judy
Spring, TX
"I feel so empowered! I can work on my own machine!"
-- Venetta
The Woodlands, Texas
"Great class. I have always wanted to know more about my little machine. I feel confident that I can take care of it now."
-- Kay
La Grange, Texas
"I have been sewing on a Featherweight all my life. It is what I learned to sew on. But, I learned so much in this class!!"
-- Grettle
Huntsville, Texas
"This class was very informational! I was scared at first that I would get the parts mixed up, but I just was so happy. It was all very informational, very clear!"
-- Jamie
Houston, TX
"I've been sewing on my "quiet" little machine for the past 2 days. What a joy! Just wanted to let you know how much I personally enjoyed your workshop. I've heard nothing but raves from the 11 ladies that came from the Houston area."
-- Genie
Katy, TX
"Hi Nova,
My head is still reeling from all of the information you taught in class--many thanks. The four Featherweight cards are a WONDERFUL resource. I will definitely use the maintenance card to keep my machines in good running condition.

I am still in awe when I sew on my machines--I don't believe they have ever run this smoothly.
Thanks again,"

Jenelle
Add Content
Sours: https://www.novamontgomery.com/singer-featherweight-221-serial-numbers-and-production-dates.htm
Singer Featherweight 221 and 222 Serial Numbers
Total # AD Machines 53,044
Total # AE Machines 132,000
Total # AF Machines 166,749
Total # AG Machines 148,250
Total # AH Machines 246,079
Total # AJ Machines 303,920
Total # AK Machines 215,124
Total # AL Machines 284,875
Total # AM Machines 200,000
Total # EE Machines 22,000
Total # EF Machines 60,000
Total # EG Machines 50,000
Total # EH Machines 60,000
Total # EK Machines 15,000
Total # EM Machines 10,000
Total # EN Machines 5,500
Total # ES Machines 35,000
Sours: https://featherweightdoctor.com/singer-featherweight-221-and-222-serial-numbers/
Featherweight 221K Serial Numbers
The following are the batch serial numbers for 221k_serial_numbers machines made at the Kilbowie factory in Scotland
From Number
To Number
Quantity
Allocation Date
EE 152221
EE 152720
500
25 August 1947
EE 452721
EE 453220
500
24 December 1947
EE 573424
EE 578423
5000
14 May 1948
EE 802479
EE 807478
5000
21 September 1948
EE 853479
EE 863478
10000
10 December 1948
EF 154176
EF 164175
10000
23 May 1949
EF 278731
EF 288730
10000
17 August 1949
EF 558931
EF 568930
10000
7 November 1949
EF 688016
EF 698015
10000
14 February 1950
EF 700569
EF 710568
10000
24 April 1950
EF 907629
EF 917628
10000
19 July 1950
EG 072001
EK 082000
10000
9 October 1950
EG 302861
EG 312860
10000
18 December 1950
EG 343861
EG 353860
5000
15 February 1951
EG 433821
EG 444820
11000
29 March 1951
EG 637821
EG 647820
10000
16 May 1951
EG 703321
EG 713320
10000
17 July 1951
EG 957781
EG 967780
10000
17 October 1951
EH 001027
EH 011026
10000
18 December 1951
EH 132547
EH 142546
10000
29 February 1952
EH 236097
EH 246096
10000
28 April 1952
EH 370347
EH 380346
10000
22 July 1952
EH 625778
EH 635777
10000
8 October 1952
EH 890433
EH 900432
10000
4 March 1953
EJ 211989
EJ 216988
5000
4 September 1953
EK 203139
EK 213138
10000
14 February 1955
EK 986373
EK 991372
5000
20 December 1955
EL 537735
EL 542734
5000
13 June 1956
EM 016257
EM 021256
5000
9 January 1957
EM 596007
EM 601006
2500
2 August 1957
EN 235134
EN 238133
3000
17 April 1958
EN 826834
EN 829333
2500
27 October 1958
EP 256021
EP 257520
1500
18 May 1959
ES 170544
ES 175543
5000
3 November 1960
ES 239244
ES 249243
10000
10 January 1961
ES 648144
ES 658143
10000
15 May 1961
ES 873744
ES 883743
10000
19 August 1961
ET 061345
ET 071344
10000
2 November 1961
EV 776991
EV 826990
50,000
03 March 1964
EV 8466??
1964
EV 909???
EV 998???
1964
EW 061691
EW 071690
10000
6 August 1968
EY 84????
EY 99????
FA 098???
FA 132???
1968/69
FA 202???
FA 288???
1968/69
NOTE
221K machines up until 1951 had a plain gold badge, During 1951 a special 'Centenary' badge with a blue border was used in commemaration of Singer's 100th anniversary. From 1952 a gold badge with a black patterned border was used.
Sours: https://www.singersewinginfo.co.uk/featherweight/221k_serial_numbers
Serial numbers featherweight
Where is the serial number on a featherweight?
Serial numbers for Singer Featherweights are located on a raised boss on the underside of the machine. Lay your machine on its back and look on the left hand side of the main body (not the folding extension table).
Click to see full answer.

Keeping this in consideration, how do I identify my featherweight sewing machine?
To date your Singer Featherweight, you will need to locate the serial number on the bottom of your machine. It has two letters followed by a series of six numbers. Using the serial number you can use the charts below to find the date when your machine was given a batch assignment at the factory.
Also, when was my Singer Featherweight made? On October 3, 1933, Singer commissioned the first batch of 10,000 model 221 sewing machines, marketing them as the Singer Featherweight.
People also ask, how do I look up a singer serial number?
To identify when a model was made, you need to first find the Singer sewing machine serial number. The number can be found near the on/off switch on newer machines, and on the front panel or on a small plate on older machines.
How much is a Singer Featherweight 221 worth?
The 301/301A models are substantially less expensive than either of the Featherweight models, with current prices being $150. In contrast, the average current price for a SINGER® 221 Featherweight is $350.00. The rarer, and even more desirable, SINGER® 222K is currently selling for between $800 and $2000.
Sours: https://askinglot.com/where-is-the-serial-number-on-a-featherweight
White Vintage 1964 Singer 221k Featherweight Sewing Machine EV912952
How to Date a Featherweight Sewing Machine (History, Cost)
Knowing how old your sewing machine is goes a long way in determining its value. Once you get the value then you can decide if you want to hang onto your machine or sell it to make a few extra dollars.
To find the date your machine was made, all you need is the serial number. The serial number for the featherweight begins with 2 letters and is found on the bottom of your machine. It will be in one of two places. The area next to the bottom tray and inside the bottom tray itself.
To learn more about dating the Singer Featherweight sewing machine, just continue to read our article. It has the data you need to get an accurate age and possible value. The featherweight was made between 1933 and 1961 with some extended up to 1968 or 69.
What Are Featherweight Sewing Machines?
The original Featherweight sewing machine was a lock stitch model that seemed to gain a lot of popularity very quickly. Even today they are highly valued and sought after by collectors of fine sewing machines.
The company started with the 221 and was experimenting with its final design even while production was going on. That will explain why your 221 model is a bit different from your friends' or relatives' models.
These machines are supposed to be easy to operate and work with. They brought a lot of ease and comfort to many people's sewing experience. They seem to be easy to use and can be threaded without too much trouble.
Parts shouldn't be too hard to get as they are a sewing machine that many people still use today when they can get their hands on one.
The Featherweight Sewing Machine History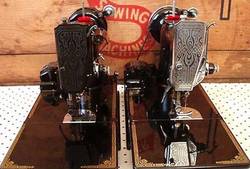 It was Oct. 3, 1933, when the company commissioned its new Featherweight sewing machine model. It was called the 221 and 10,000 were ordered for the first run. Because the company hadn't decided finally on the design there were minor differences found between these initial 10,000 sewing machines.
Then the sewing machine made its debut at the 1934 Chicago World's Fair and the badge depicts that debut with the Chicago name and date. Just look at the badge to get a date on those initial sewing machines.
You will find these specialty badges on different featherweight machines as they commemorated different events throughout those early years. The Texas Centennial Exposition is another example of those specialty badges.
Throughout the 1930s, the machine went through a lot of minor changes, and to see those you canclick on this link. There are just too many to mention here. One keynote is that during the war years of 1942 to 1944 no Featherweight sewing machines were made. This was due to the Limitation Order L-98,
In 1953 Singer made the 222 but that machine was not marketed in America but in other western countries only. This model continued to be produced until 1961. The 221 went on to be made until 1969 although the exact number produced is not known.
How to Identify a Featherweight Sewing Machine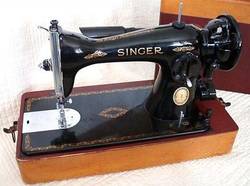 This may be a lot simpler than it sounds. Because the machine became so popular and Singer liked it so much, they made sure it could be identified very easily. Prior to 1953, the 221 was the only model of the featherweight made.
You can see the date of manufacture if the sewing machine is carrying one of the several different badges Singer placed on their machines. The date is quite clear as the badge honors different celebrations including its own centennial celebration.
In 1941 and 45 Singer placed blackened parts on their 221 machines as there was a ban on using chromium at the time. If your machine has an MR on it, that unit was destined for Latin American countries but some remained in America and were on the 1947 221 model approx.
Just before the company started to make the 222 model, they placed a 221 badge under the regular badge to separate it from the new model about to be released. A K was added to the 221 badge when the machines were made in the UK from 1959 to 61.
How Much Does a Featherweight Sewing Machine Weigh?
You would think that an all-metal sewing machine would weigh a ton. Most of them do but not the Singer Featherweight. That means there is a deeper meaning to the name than you may have thought.
Singer was experimenting with aluminum when it made the featherweight machine. The total weight came to about 11 pounds. Yes, you read that right. 11 pounds making it an easy sewing machine to relocate when it became necessary to do so.
This lightweight extended to the 222k which was supposed to be made for the European market.
Featherweight Sewing Machine Dimensions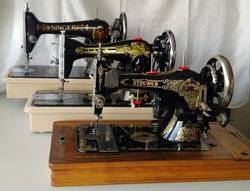 Despite is lightweight, the featherweight sewing machine listed in approx. At 18 by 14 by 12 inches overall. That may not be the correct size for all the different 221 and 222 models made by Singer.
Because the company made countless changes over the years on production it stands to reason that the machine changed sizes during those decades. Some people compare the Featherweight to the classic 1957 Chevy.
Size did not matter when the machine was considered a masterpiece in engineering. That was what the featherweight was, a masterpiece showing that sewing machines can be beautiful pieces of machinery that will last a long time.
Who Painted Featherweight Sewing Machines
Most likely, the Singer company had a division that handled the painting chores when they produced their Featherweight sewing machines. They could have contracted the job out but painting 10,000 or more every year would be a giant task for any painting contractor that had a shop outside of the Singer manufacturing plants.
But if you want to upgrade the look on your classic Featherweight machine, you can go to just about any painting company that handles repainting old machines. There is a lot of work involved with repainting and not just everyone wants to do that kind of detailed work.
Your best bet would be to check with some sewing machine repair shops and see who they recommend. You could do a local internet search to find a company near you but as we have said, the sky is the limit on who can paint your sewing machine.
It may be a task for your in-home DIY expert
How Much do Featherweight Sewing Machines Cost?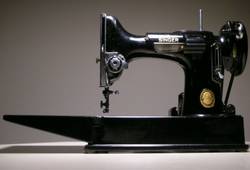 The original price tag for the years between 1933 and 1950ish is between $125 and $200. Someone took the trouble to adjust for inflation and that price tag reaches about $2000 in today's money.
The current value will range and is very subjective. It will depend on who the owner is, and emotional ties can bring the price up quite high. One person is selling their model on eBay for around $500.
Others are being sold on that website for between $170 and $600 so it will depend on the accessories you get, the condition it is in as well as other factors. There was one model selling for only $77 so don't get your hopes up just yet.
To get top dollar the machine should work and be in the best condition possible.
How Old is My Featherweight Sewing Machine?
That is a good question. If your sewing machine has a specialty badge then you just need to look on it to find the date of your sewing machine within a year or so. The Singer centennial badge was on their 221s for 3 years.
We cannot reproduce the exact chart here but there are 3 you can use to date your featherweight. They are all found onthis website. But we can say that if your featherweight is not listed there are 3 reasons for why that takes place. Those reasons are also listed on that website and just above the chart.
Dating your Singer Featherweight is not going to be hard because Singer kept excellent records and the machines were made at the right time in history.
Featherweight Serial Numbers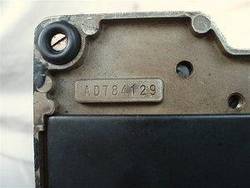 The serial numbers for both the 221 and 222 are found on the bottom of the machine. Sometimes they were placed inside the bottom tray or underneath it. Generally, they will be found next to the bottom tray.
The serial numbers start with 2 letters then have 6 digits following those letters. If the first letter was an A, then it was made in New Jersey. If it had an E then it was made in Scotland and if the first letter was a J it was made in Canada.
The problem you are going to run into when you start checking serial numbers is that they did not go in order from year to year. This problem was done in all 3 locations.
Featherweight Needles
Needles for your featherweight sewing machine should not be that hard to find. All you need to fit both the 221 and the 222 is the Schmetz universal 80/12. That is the easy part as the 221 and 222 do not accept the needle in the traditional manner.
When facing your machine the flat part of the needle needs to face left. It won't work that well if you place the flat side facing right. You may end up breaking the needle or having the machine stitch badly.
The difference in the two positions is minute but large enough to make a world of difference. Like any masterpiece, it doesn't take much to ruin the performance of the machine when you make minute errors like slipping the needle in wrong.
Where to Buy Featherweight Sewing Machines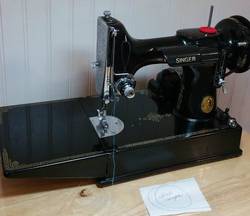 Here is the good news. There are many places that you can buy a Singer featherweight sewing machine. The bad news is that you may have a tough time deciding where you want to make your purchase.
These are very popular machines that hold their value so expect to pay a nice fee when you want to make a purchase. eBay is one location you can go to and they seem to have quite a few listed on their website.
Then you can go to Craigslist or some other internet classified website to find more models for sale. An internet search will turn up several companies that deal with Featherweight sewing machines and some of them have a lot of information on these sewing machines. One example isthis website.
Antique shops, sewing machine repair shops, and other similar places, including auction houses, should have some or a line on where you can get one model for yourself.
Finding a Featherweight Sewing Machine Manual
The first option you have is also a free option. They have PDF downloads available and several manuals that fit different 221 and 222 sewing machines. Just click hereto get to those selections.
Then you can trythis locationif the first one does not have the one you want. If you do not want to buy a manual, there is one you can read onlineat this link. Whether it matches your unit or not is another question.
eBay may have some for sale. Just put Singer Featherweight manuals in the search box and see which ones come up.
Some Final Words
Owning a masterpiece in engineering helps build your self-confidence and give you a rise in status in the sewing machine world. Owning the Featherweight sewing machine may well be the best feather in your cap you can get.
Both the 221 and 222 are superb machines that should work well even after 80 years of previous service. Go with the best to get the best results and satisfaction from your work.
Sours: https://sewingiscool.com/how-to-date-a-featherweight-sewing-machine-history/
Similar news:
The pubis and part of. The abdomen flashed before my eyes, rubber balls were rhythmically and reliably hammering along the lower lip and chin. I realized that it could not be deeper, vomited a member out of my mouth, coughed up and pressed my tongue to her lower lips.
I found her clit, which was difficult to fish out because of the straps holding the dildo, but I did it. I began to gently soothe, lull him with my tongue.
1820
1821
1822
1823
1824