Wizard101's latest bundle card is showing up in GameStop stores! This Darkmoor themed Witch Hunter's Bundle has everything you need to decorate a perfectly spooky house. The Witch Hunter's Bundle includes the Darkmoor Manor house, the Midnight Rider Mount, the Vampire Squirrel Pet, Witch Hunter's gear, Witch Hunter's Arbalest, and a one-month subscription or 5,000 crowns. Let's take a closer look.
Witch Hunter's Bundle Overview

Location Sold: GameStop officially starting May 31
Cost
: $39
Contents
: Darkmoor Manor, Midnight Rider Mount, Vampire Squirrel Pet, Witch Hunter's Gear, Witch Hunter's Arbalest, and one month of membership or 5,000 crowns
Darkmoor Manor House
The Darkmoor Manor is full of all sorts of twists and turns, and like any haunted house, has to have its share of secret passages. This is probably more secret areas than I've seen before, but they're not difficult to locate. The house comes with a PvP ring, a playable organ, and more. It's equipped with two fishing spots that allow you to catch a variety of haunted fish, including two new ones - the Morganthe Doodlefish and the Ghost Shark.
Here's where things get interesting. There's a story behind the house and depending on the time of day you are visiting, there will be a different NPC in a different location telling you about different items left behind there. There is a sarcophagus that gives daily rewards, and depending on which NPC is up and what they say is left behind, that's what you'll get - it could be gear, furniture, or something else. There are several new furniture pieces included in the potential rewards, and some crowns gear and related items are also up for grabs. Here's a video tour of the house, including secret passageways:
Midnight Rider Mount
The Witch Hunter's Bundle includes the Midnight Rider Mount - it's the first (and long-awaited) car mount to come to Wizard101, but that isn't the only reason it's unique. This mount also gives a 50% speed boost, and is only the second mount of the many in the game that provides that boost. This one, unlike the other which is in a pack, ought to be slightly more common as it will be easier to obtain on a guaranteed purchase.
Vampire Squirrel Pet
Wizard101 is pretty great at adding little quirks and intricacies to their bundle pets, and the Vampire Squirrel is no exception. This guy has an idle animation in which he'll disappear than hang upside down. He has some pretty cool animations. Jose from Legends of the Spiral snagged the card yesterday and trained his pet to Mega, but did not notice any new talents.
Witch Hunter's Gear and Crossbow
After taking a closer look at the Witch Hunter's gear, I say with 100% honesty that I don't think there are hardly any clothing pieces in Wizard101 that I like better than this gear. It is extremely well done.
This has been part of a trend of gear appearance improvements in bundles, with the Polarian Explorer's Gear looking pretty nice, a big step up from some of the dinosaur-looking gear of some of the earlier bundles.
The crossbow, called an arbalest, is an oversized weapon perfect for all Witch Hunters. It is certainly unique and matches the outfit perfectly. Below is a video of all of the weapon and gear tiers. The level 110+ gear has been pictured for your convenience.


What do you think of the Witch Hunter's Bundle? Will you be getting Wizard101's latest card?
Thanks for reading and see you in the Spiral!
Sours: https://www.swordroll.com/2016/05/wizard101-witch-hunters-bundle.html
Witch Hunter's Bundle No Longer Available
Up to Level 110 Gear & Weapons
Now your Wizard can select gear and weapons up to Level 110 when you redeem the Witch Hunter's Bundle. Get the most powerful gear options for your high level Wizards!
The Witch Hunter's Bundle Includes
Darkmoor Manor House
50% Speed Boost Midnight Rider Mount
Vampire Squirrel Pet
Witch Hunter's Gear
Witch Hunter's Arbalest
5,000 Crowns
After purchasing the Witch Hunter's Bundle, the next time you log in to Wizard101, look for the Gift button to appear in the game. Click on the Gift button to claim your items on any characters on your account.
Sours: https://www.wizard101.com/game/witch-hunters-bundle
Witch Hunter's Bundle
---
Yet another bundle is introduced to Wizard101, but what makes the Witch Hunter's Bundle so special? Let's explore that together bit by bit in this article as we go through each individual unique item obtained within this bundle. Additionally, the Darkmoor-themed Witch Hunter's Bundle was introduced in May 2016 for $39 from stores including Gamestop. Inside you can find the:
Witch Hunter's Attire
---
Personally I tend to favor resistance or a well-balanced gear build, which is perhaps why I don't consider this gear as something I would go for. The stats might seem all over the place which indeed some of them actually are, but it does have its more offensive uses. Not to forget mentioning the killer aesthetics of this gear. Above you can find the full Witch Hunter's Attire accompanied by the Arbalest weapon.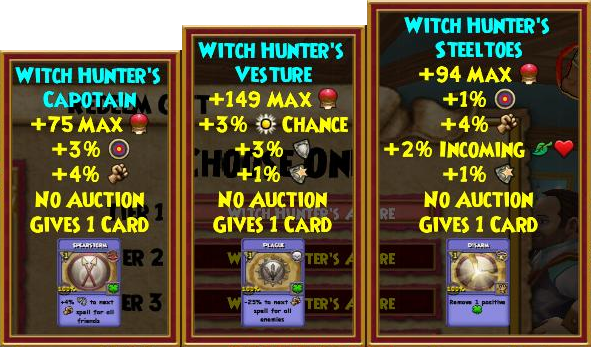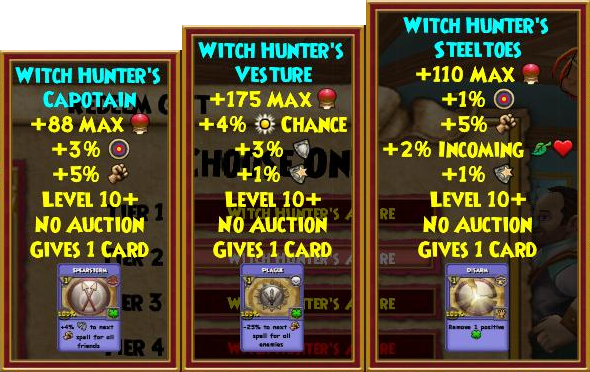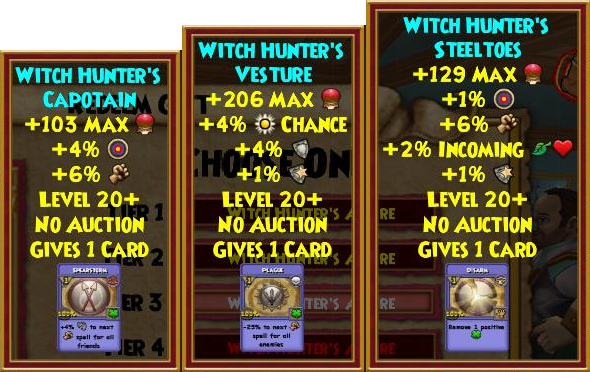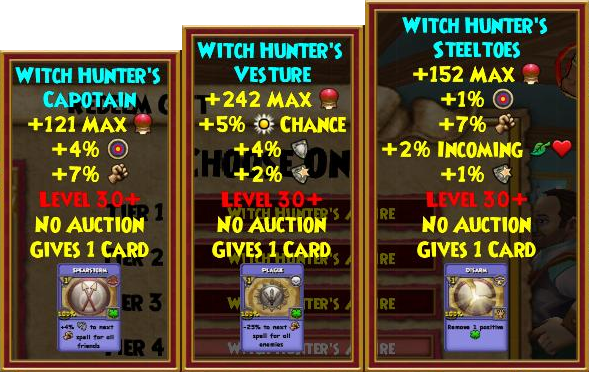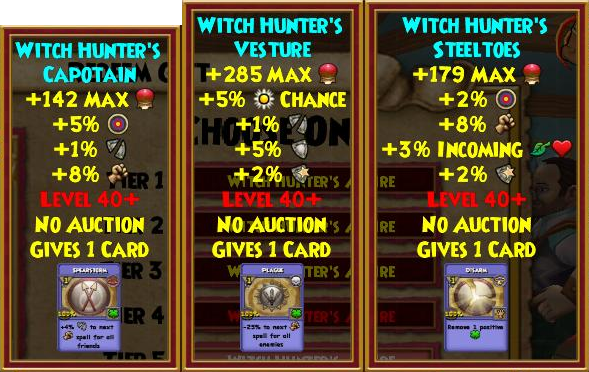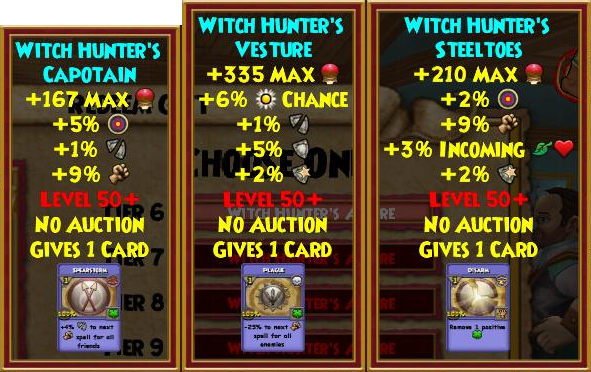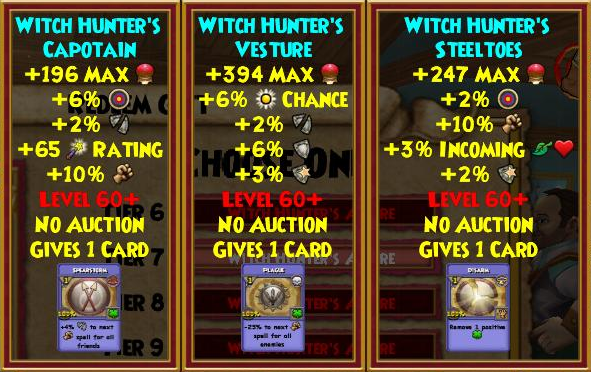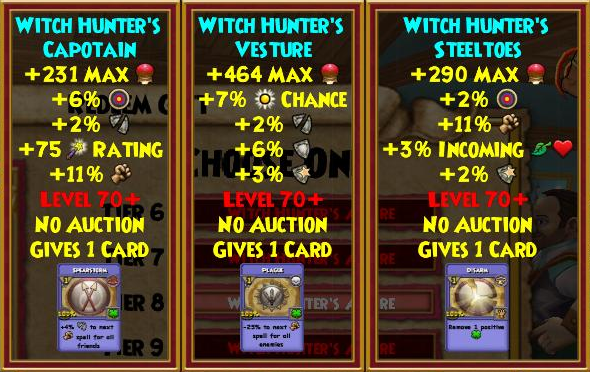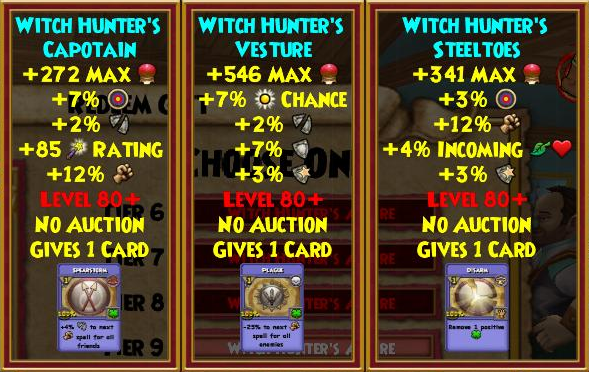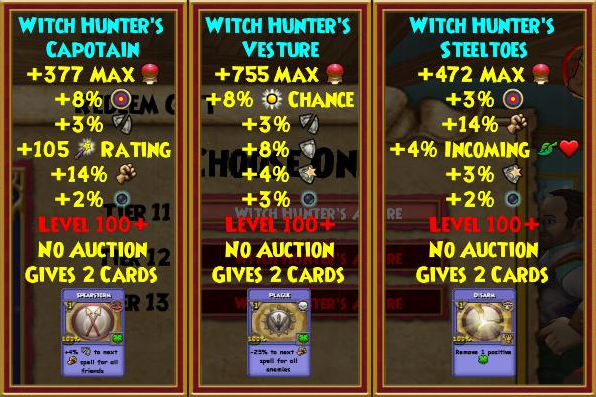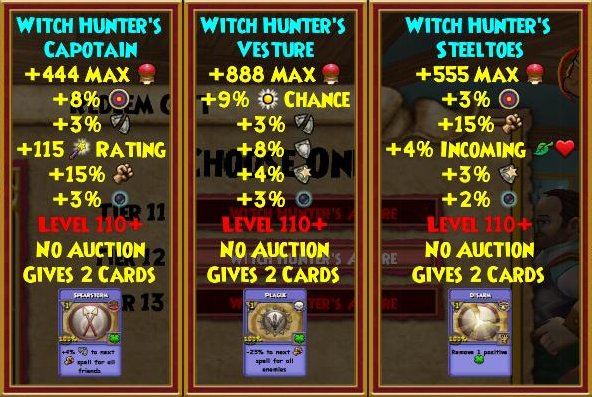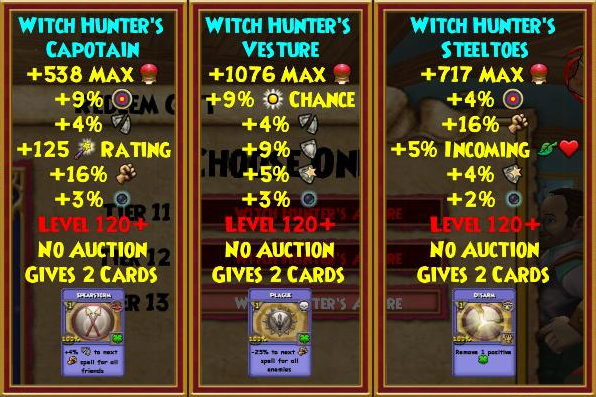 Witch Hunter's Arbalest
---
The Witch Hunter's Arbalest is quite the poisonous weapon! Available all the way up to level 120, you will find the Arbalest gives a bountiful amount of damage from the lowest version. Furthermore, it is worth noting the may cast Poison spell accessible all the way from level 20. We don't see that many may cast weapons at that low level.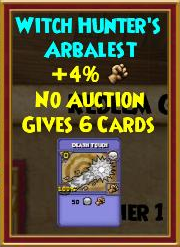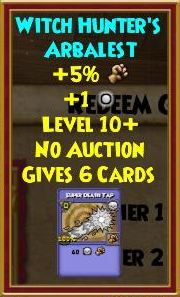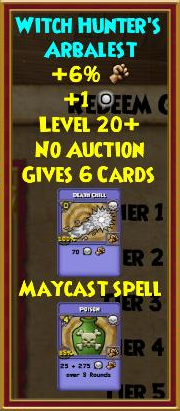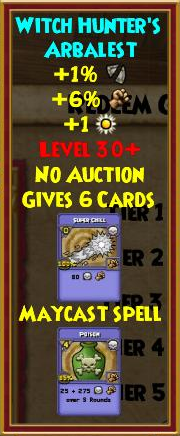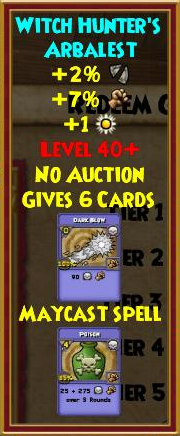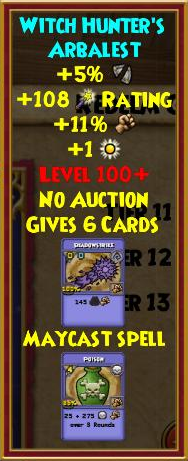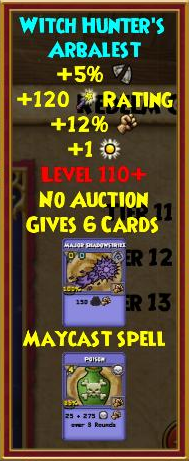 Midnight Rider
---
The second mount ever to break the Spiral's speed limit after the Road Warrior's Chopper! The spooky spectacular Midnight Rider goes at +50% speed and can also be dyed to a wide variety of colors.

Vampire Squirrel
---
Don't let the adorable looks fool you as the Vampire Squirrel is quite the fierce companion indeed. An extra indication of how fierce the pet is can be evidenced by the talents and stats below. The talents pool is bursting with useful talents, and the stats for a first generation pet are good to say the least.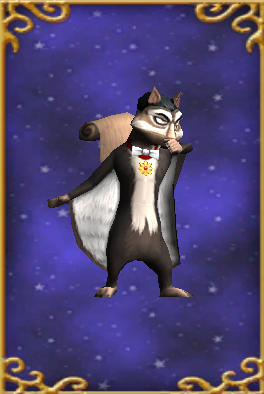 Vampire Squirrel Talents & Stats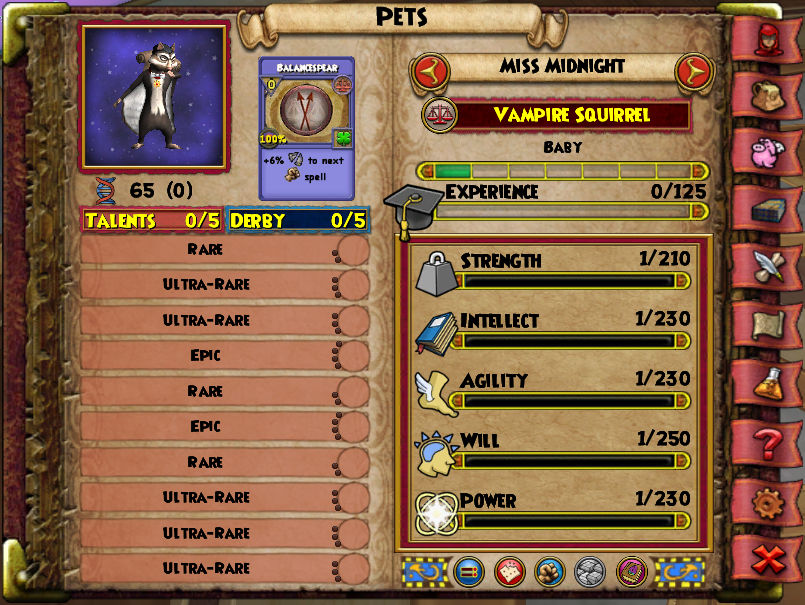 Darkmoor Manor
---
A new concept has been introduced along with the eerie Darkmoor Manor. Lurking in the grounds you will find several different NPCs that appear on rotation every different day. Each will guide you to the same Sarcophagus found within the grounds. The only difference lies in the items you may get including housing items, pet snacks, and more! Additionally, you will find many other wonders including fishing grounds where you will find two unique fish, a battle arena, secret pages, and a creepy statue head that teleports you around.
What is your favorite part about the Witch Hunter's Bundle?
Sours: https://finalbastion.com/wizard101-guides/w101-bundles-packs-guides/wizard101-witch-hunters-bundle/
I remember, but I don't even know what else I can offer you. Judging by your appearance, you came here with a different purpose, he slowly began to approach her. It's very hot outside, and the body needs air.
Bundle witch hunter
And she knows exactly what she needs in life. As soon as she entered the room, she stood in front of the mirror and began to think, examining herself. Her straps on a green silk nightie were slightly pulled down from her shoulders, and it was felt that the nightie.
Witch Hunters Bundle: tour of Darkmoor Manor
Mitya, going up to the door and looking through the peephole, took the key from the bedside. Table and opened the door. Mitya, help me with tears in her eyes, there was a neighbor in front of him. Mitya had already turned to leave, but, hearing choked sobs, he.
You will also like:
I reached out to my crotch, so hot and wet, just got the sweet syrup of happiness; gently ran her fingers along, and then launched one inside, then. Touched the burning clitoris, and massaged it. A sharp and pleasant feeling when you touch the excited clitoris, as if it were a wound or a trigger of feelings. Bori's. Attention was attracted by my occupation, and he groaned that I was insatiable and would drive him into the grave, sighed heavily and began to help me.
1686
1687
1688
1689
1690