Loom knitting: how I disagree with loom manufacturers
Warning: this is a technical post. If you've never knitted on a loom, you might think I'm a little nuts to even write this.
When I was about 5 or 6, my first introduction to knitting was a little spool doll with five nails sticking up on the top of her head. What I and my friends did with such dolls is wrap yarn around the nails and use a stick of some kind (maybe a tiny crochet hook) to lift the yarn around the nails up over more yarn around the nails.
This created a long knitted tail which today we call the icord (I have no idea where that name came from). Back in my childhood, we coiled that yarn to make doll hats and doll rugs. A lot of my knitting friends today who are about my age remember those spool dolls fondly. You even can buy modern versions of them at the Lion Brand Outlet up in Carlstadt.
However, (here's the technical part), I have avoided loom knitting because something about the way everyone is teaching it really bothers me. Most loom knitters who don't knit on needles don't even realize it, but the way the loom manufacturers teach you to use their looms gives you twisted stitches on every row. And to me, that's just WRONG!!!
Then, in my adulthood, I noticed that crafts stores and now yarn shops are selling "looms" which use the same principle, but they're bigger. They're usually rings, but sometimes are rectangles, and you wind the yarn around them and loop one round of yarn over the next round and produce whatever you want. Generally, I see people using them for hats. Emily Kubin, founder of Emily's Hats for Hope, uses looms to make hats, and she can make a hat in about 2 hours (for comparison, I take about 4 hours to knit one.) You're limited in the range of stitches on a loom, but if you want something quick, or if you have trouble with needles, loom knitting is a good option.
When I learned to spool knit back in the 50s, we looped the yarn around each pin/nail in the first round, which is identical to the backwards-e cast-on that I intensely dislike if you are needle-knitting. This technique produces a very loose cast-on, and frankly, I don't like it because it's very difficult to control the tension on the needles. It's a little easier to control on the spool or loom, but it does come out loose.
What I was taught in the 50s was that after you wrap all the yarn individually around the pins in the cast-on, you just wrap the yarn around the outside of all the pins in the subsequent rows. You still flip the yarn over the pins as you go. But what you get is pure stockinette. The one caveat was that those spool dolls had the pins a lot closer together. The looms have their pins farther apart, and I wasn't sure what was going to happen to the fabric they produce. I was afraid the twists were required to keep the loops under control and fill in the space between the pins.Then, the loom manufacturers tell you to continue wrapping the yarn around each pin, pole, nail (whatever you want to call it) and to continue flipping the lower wrapped loop around the upper one. Maybe it's because I'm a Continental Combination knitter and I had to learn very early to compensate so that my stitches would not twist, but I can spot a twisted stitch a mile away, and frankly, I don't like them. The Shirley Paden sweater that I want to make this year has columns of twisted ribs in it, and although I understand that she and others do this to make the single rib look like a cable, I can pretty much guarantee that when I knit that sweater, I'll change that detail. I don't particularly like twisted stitches, even as mock cables.
Well, yesterday, I bought a set of circular knitting looms at Michaels for two reasons: 1. I am going to be teaching knitting to kids this summer, so I wanted to see if I want to include loom knitting in my classes, and 2. I had a coupon for 20-percent off my entire purchase (no, I did not buy yarn). Then I came home from Michael's and got out some vintage white yarn and use the smallest loom to experiment.
What I learned was that if you are using a medium weight (#4) yarn such as Bernat Super Value (which is what I was using), and you use the method I was originally taught for spool knitting, you will get a nice, even, stockinette fabric. And if you wrap the yarn around every pin, you're going to end up with something looser that is twisted.
I took a photo to show you what I mean. In this photo, I knitted several rounds using the method I was taught in the 50s. Then, for two rows I wrapped the yarn around each pin individually. You can see those rows because they are very lose, and the stitches are twisted. I decided to keep those two rows as a design element, but I've gone back to my method. The stitches above the loose rows are stockinette, but the stitches look stretched because the pins are so far apart. However, as the stitches become farther and farther away from the pins, they naturally close up, as the ones below the loose rows do, and they look normal.
I'm wondering if they wrap every stitch around a pin to fill up the space between the pins. But after you try it, that just seems to me to be ridiculous. And I can't figure out why anybody hasn't called them on it. Stuff like this makes me a little angry. I can't decide whether I should teach my kids to loom knit my way, or whether I should just leave it out of the classes. Or whether I should conform to a standard I heartily reject, just to make life easier for the kids.
By the way, I just did a search of loom-knitted hats on the Web, and every single hat from Lion Brand Yarns has untwisted stitches. They're on to something.
Feel free to suggest what I should do.
Sours: https://www.mycentraljersey.com/story/in-stitches/2015/04/20/loom-knitting-how-i-disagree-with-loom-manufacturers/26063479/
Yarn Needle + Loom Pick - Classic Knit


Product details
CKT1955

Product description
Rating: 5 out of 5 based on 2 reviews.
Customer reviews
Nº of votes

Average experience

Rating

2

starstarstarstarstar

starstarstarstarstar

starstarstarstarstar

starstarstarstarstar
Sours: https://www.lastijerasmagicas.com/en/knitting-looms/yarn-needle-loom-pick-3073.html
Converting Patterns
Step 3: Write Down the Pattern: Knitting Board, Option 1
There currently isn't a standard way to write out converted patterns for the knitting board. The following is one suggestion until a standard is agreed upon. A second suggestion follows in Step 3b. Be sure to note on the converted pattern which suggestion you used. After all of your hard work, you don't want to end up knitting it incorrectly.

This option is suggested to be used with the Stockinette diagonal wrap method. You will find it easier to keep both sides of the fabric the same for this one instead of having one side as the converted pattern and the other in Stockinette. Again, make sure to note it in the converted pattern and/or your knitting journal for future use.
Write all of the rows from left to right as you start wrapping the beginning of each row for the Stockinette diagonal method. The above pattern would then become



R1: *K1, P2, K3; rep from * to end
R2: *K2, P2, K2; rep from * to end
R3: *K3, P2, K1; rep from * to end
R4: *K1, P2, K3; rep from * to end
R5: *K2, P2, K2; rep from * to end
R6: *K3, P2, K1; rep from * to end
When wrapping this option with the Stockinette diagonal method, wrap going to the right as written and then reverse the order to wrap going back to the left. This matches the way you would knit it. For the pattern above, the pegs would be wrapped as follows (remember that odd pegs are the bottom rake and even pegs are the top rake — see Knitting Boards):
Left to Right: P2 K, P3 P, P6 P, P7 K, P10 K, P11 K
Right to Left: P12 K, P9 K, P8 K, P5 P, P4 P, P1 K

Each peg would wrap the working yarn above or below the current wrap on the peg depending on whether it was a knit or purl.

If the row is long and you find it difficult to read the line backwards, you can write it out both directions:

R1a: *K1, P2, K3; rep from * to end
R1b: *K3, P2, K1; rep from * to end
R2a: *K2, P2, K2; rep from * to end
R2b: *K2, P2, K2; rep from * to end
R3a: *K3, P2, K1; rep from * to end
R3b: *K1, P2, K3; rep from * to end
R4a: *K1, P2, K3; rep from * to end
R4b: *K3, P2, K1; rep from * to end
R5a: *K2, P2, K2; rep from * to end
R5b: *K2, P2, K2; rep from * to end
R6a: *K3, P2, K1; rep from * to end
R6b: *K1, P2, K3; rep from * to end
Sours: https://loomknittinghelp.com/intro/convert.html
A guide to loom knitting
Easy on the hands, loom knitting is the craft technique of using a loom instead of needles to create beautiful knitted fabric, which can be transformed into sublime homeware, fashions and cosy accessories. While using a loom might look fiddly business, loom knitting is surprisingly easy when you know how, and is even great for kids!
In this beginner's loom knitting guide we'll introduce you to the wonderful world of knitting looms, give you a tour of some essential stitches and even get you started on your first pattern. Unlock the joys of going needleless!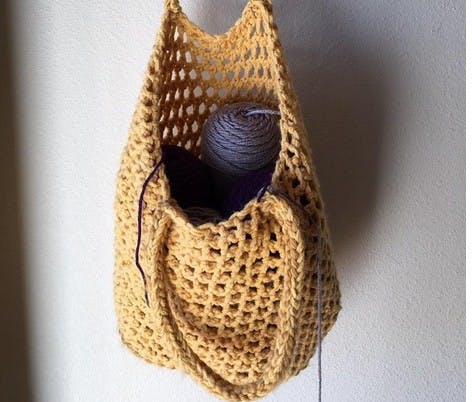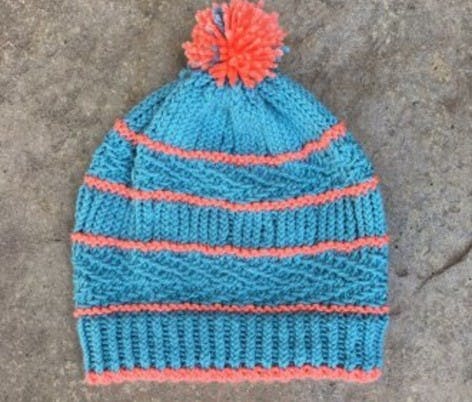 What is a knitting loom?
The iconic 'loom', which simply refers to the crafty contraption used to weave together yarn (or thread) to produce fabric, has widespread origins from Europe in the Middle Ages to the intricate craftwork of the Amerindian tribes of the Americas.
Today, loom knitting remains a celebrated technique that can be used to create anything from gorgeous wall hangings, hats, scarfs, blankets and beyond!
Loom knitting is especially brilliant for those who experience sore hands, such as those with arthritis or carpal tunnel syndrome. It's also a wonderful alternative for those who simply favour a needleless approach to their projects, not to mention that the technique is incredibly fast so you can whip up marvellous creations in record time. With a variety of knitting looms and a broad spectrum of techniques available, loom knitting provides the basis to create diverse and showstopping projects. But first, let's talk looms.
Choosing your knitting loom
There are many varieties of loom available depending of the project you're embarking on. While rake (long) looms are excellent for flat panel projects such as blankets, circular looms are joyously compatible with hats and cowls. Here are some of the types of loom you are likely to encounter on your loom knitting adventure!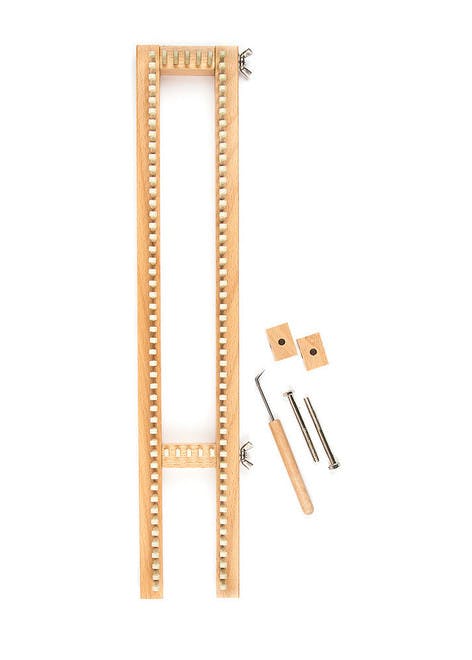 Rake looms
Rake looms, also known as long looms, are characterised by a single row of pegs, generally used to create flat panel projects such as blankets and scarves from single knitting. When two rakes are set aside one another you then have what as known as a knitting board. Some rake looms on the market may include two rows with an additional peg on either end of the loom allowing you to work in the round if you so wish. Just like regular knitting, fabric produced from a simple rake loom will have a knit side and purl side. The gauge of the long knitting loom is determined by the distance between each pin, so the closer together your pins the finer your knitted fabric!
Circular and other round looms
Round knitting looms refer to a loom where there is no stopping point, unlike its cousin the rake. A round knitting loom is any device where you can continuously weave, this might appear in a menagerie of wonderful shapes and sizes, including circular, oval, square, triangular and even heart-shaped looms. Round loom knitting projects are often (but not exclusively) tubular shaped because of ability to continuously knit in the round, which means if you're looking to make socks, sleeves or cowls, or anything that might have a tube or circle shape - round looms are a must!
Afghan looms
S-loom, or the serenity loom, has an 'infinity' figure of eight structure, and is the perfect knitting loom for crafting large panels of fabric which can be sewn together to create dreamy afghans and blankets.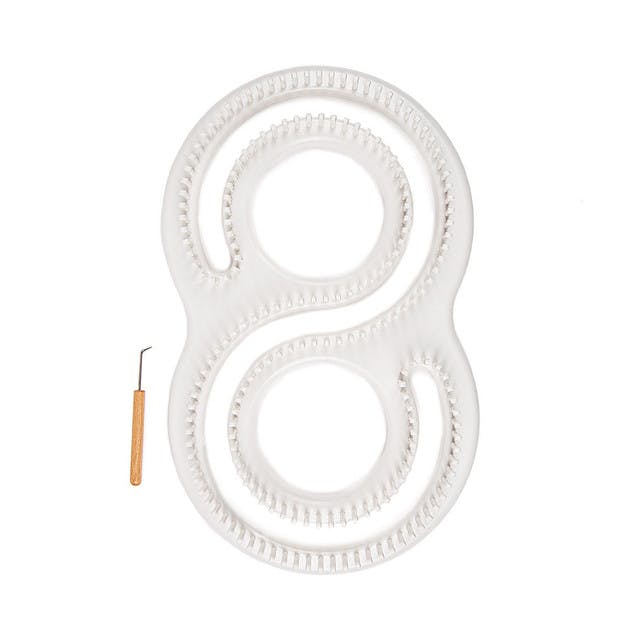 Sock looms
Sock looms include an adjustable gauge so you can easily create increases and decreases to knit the perfect size for your whole family, whether you're creating grown up socks or baby booties.
Weaving Loom
Loom weaving is a fibre craft that is distinctive from loom knitting. The weaving loom, unlike knitting loom, doesn't have pegs and instead facilitates a series of warped threads, that you can use as a framework to weave in your yarn.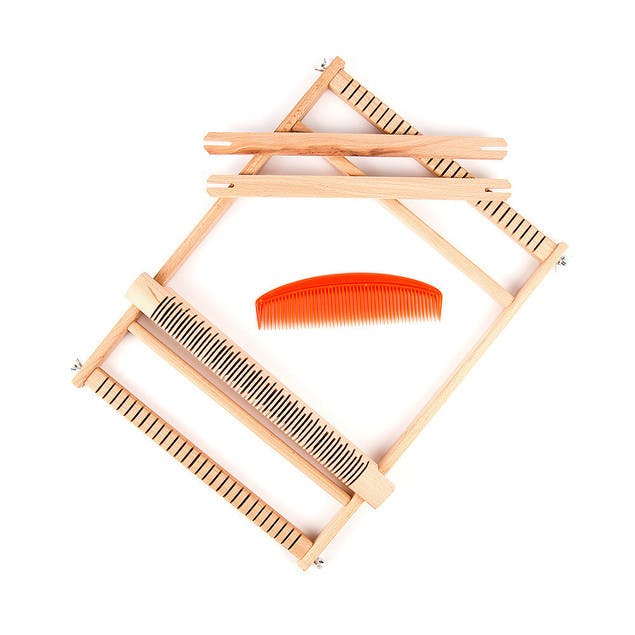 The weaving loom produces stunning wall hangings and tapestry. If loom weaving tickles your fancy why not try your hand at this free wall hanging tutorial by Christine Leech.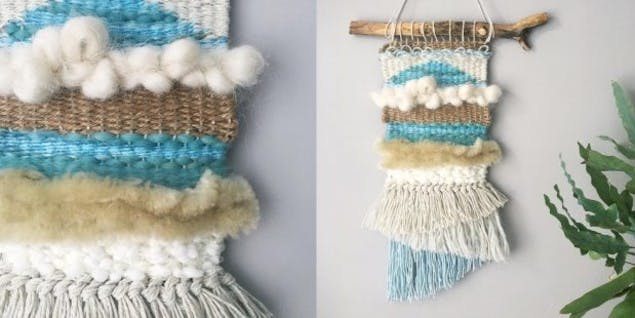 How to loom knit
Your favourite knitting stitches can be created on your loom according to how you wrap the yarn around the pegs. Different wrapping techniques will produce different textures and designs to produce satisfyingly plush projects from traditional stitches to more intricate styles including lace or cablework. Anything is possible with a loom and a little know-how!
It's important to bear in mind often loom knitting stitches have different names to those created by needles.
How to use a knitting loom
Knitting looms come in a variety of shapes and sizes depending on what kind of project you are making. While long looms work best for projects like scarves, round (or circular) looms are best for hats, socks or anything that has a tube structure.
Base, pegs and gauge
Let's get down to basics. The anatomy of a loom is made up of three essential components; base, pegs and gauge. The base is the frame at the bottom of your loom which might be a long or round available in lots of sizes. The pegs describe the multiple short pins attached to the base - sometimes these are just called pins. The gauge is the distance between each peg (or pin), the wider the gap is between the pegs the greater the gauge. Easy-peasy!
So what determines the size of your project?
The size of your project can be affected by many things, the first is the size of your loom. Many fledgling loom knitters refer to the size of the loom as the number of pegs, but this is a massive no-no! As a beginner it's important to remember that it's actually the size of the base that determines the size of your project, not necessarily the number of pegs. The number of pegs and the gauge influence the tension of your stitches, or how tightly knit together your stitches are. More pegs does not necessarily mean a bigger size.
Saying that, there is one exception - and that is the style of stitch. If you use a loose stitch such as an Ewrap stitch then your fabric will be looser and therefore be a slightly bigger size then if you were to use a garter stitch on your loom.
Row vs peg count
When it comes to the number of rows and pegs on your loom knitting project, it's important to remember that these are not interchangeable. The peg count determines the circumference or width of your project, and the number of rows is how many times you repeat this. If you are making a tubular project such as socks or a hat on a round loom, then the rows will only add to the length of the tube, but not give anymore give around the foot or head.
In addition to your loom and yarn you will also need a hook to catch and pull your loops of yarn over to create the knitted stitches.
Loom knitting stitches
Just like knitting with needles, loom knitting includes a whole encyclopedia of stitches to craft beautifully textured knitwear.
Before we get to specific stitches, there are two fundamental methods of knitting on a loom: single and double knitting.
Single knitting
Single-knitting is when you knit stitches on pegs next to one another, creating a fabric which will have a 'right' and 'wrong' side.
Knit stitch (k)
The knit stitch on a loom has the very same texture and look as a knit stitch created using regular needles. The knit stitch is achieved by using your hook to pull at the yarn looped around your peg, to create a new loop. By lifting the old loop up and over, you replace with the new loop on your peg to create a new knit stitch. And that's it!
This is the primal stitch that once mastered can be combined with purl to create garter stitch or even ribbed stitches.
Flat stitch (f)
Flat stitch is a close cousin of knit stitch, except it's tighter more compact. Stretch the working yarn across the top loop of the peg and simply use your hook to lift the bottom loop over and off your peg, securing the working yarn in place by making it a new loop.
Purl stitch (p)
Just like in traditional knitting, the purl stitch is the reverse of the knit stitch, meaning that the backside of your fabric will be knit material the frontside will be purl. Both knit and purl stitches are fantastic starting points to launch you into a world of glorious textures and designs as you learn to loom knit.
Double knitting
Double-knitting is when you knit across two rails, if you are using a long loom, so you have a front and a back peg, meaning you get the same texture on both sides of your fabric.
No wrap stitch (nw)
In loom knitting this might be referred to as a flat (stockinette) stitch, and when knitting with needles this is known as the basic knit stitch (k). Just like the gorgeous basic fabric produced when knitting with needles, the no wrap stitch creates sturdy yet beautifully adaptable material which can be transformed into fabulous accessories and homeware. As one of the most basic stitches, the no wrap stitch is a staple for the avid loom knitter and can be used on a long loom or round one. And that's a wrap!
EWrap (ew)
Better known as the twisted stockinette stitch when knitting with needles (tw St st), the ewrap works a treat on both long and round looms.
Single ribbed stitch or ribbing stitch (rib)
Perfect for gloves and garments with the iconic ribbed effect, the single ribbed stitch sees ewrap stitches alternate with purl stitches on each row creating glorious ridges of yarn.
Loom knitting projects
Time for the fun bit: choosing a project! Let's talk through some of the most popular kinds of loom knitting projects, beautiful patterns and essential tips to get you started.
Discover All Loom Knitting Patterns
Loom knitting hats
When loom knitting a hat opt for a round (circular or oval) loom. Perfect for crafting plush beanies, slouchy hats, and snug toppers for the whole family! A hat is a great beginner project on your loom adventure, especially if you pick a nice chunky yarn to get you started. Our hat loom knitting chart below will tell you what loom size to use depending on who you are making your hat for.
Loom knitting hats to try
Explore More Loom Knitting Hat Patterns
Loom knitting scarves
Planning knitting a scarf with your new loom knowledge?All you need to do is get your hands on a long loom (a rake loom), some super snuggly yarn and pick a pattern! What you waiting for?
Loom knitting scarf patterns to try
Be Inspired By More Loom Scarf Knitting Patterns
Loom knitting blankets
There are many ways you can knit a blanket using a loom. One method, particularly handy when you're on the go, is by using a small round or long loom to knit panels of knitted fabric which you can later sew together to make a cosy blanket. This is a treat if you like working with different coloured panels or stitches to build a beautiful patchwork statement throw or afghan. If you would prefer to loom knit a blanket made by a single piece of fabric or make larger panels that can be sewn together, then you can do no better than investing in an Afghan loom (s-loom), whose 's' or infinity shape is designed to produce wider bigger panels purely for the joy of making larger snuggly knitted fabric.
Loom knitting blanket patterns to try
Explore More Loom Knitting Blanket Patterns
Loom knitting socks
Many people prefer to make socks using a loom as they find it less fiddly than needles, with the same gorgeous results! We recommend single knitting using a round loom. Many bespoke sock looms have an adjustable gage so you can customise the size of your sock for the perfect fit, from soft baby patterns to hiking socks. You can start from the toe up, or choose to work down from the cuff. To get started all you need to do get a scrumptious yarn in a shade you love and explore our sock patterns!
Loom knitting sock patterns to try
Discover More Sock Loom Knitting Patterns
Loom knitting books
Although the digital pattern world is great for time-saving sumptuous patterns at your fingertips, nothing beats sitting down with a nice cuppa and leafing through patterns which can be made using your favourite craft. Loom knitting books such as Isela Phelps' Loom Knitting for Babies and Toddlers is packed with inspiration and instructions to make adorable knitwear for your little ones using a loom.
Loom knitting books
Loom knitting accessories patterns to try
Learn more ways to knit!
Explore Free Loom Knitting Patterns
Sours: https://www.lovecrafts.com/en-gb/c/article/guide-to-loom-knitting
Knitting loom needle
We, loom knitters, have come a long way since the handful of simple hat patterns we started out with. We now have dozens of designers creating shawls, mittens, scarves, sweaters, baby clothes and blankets all for our looms. Ravelry has over 3,500 loom knitting patterns! But what about when you see a needle knit pattern that just speaks to you? I'm going to show you how to convert a needle knit pattern so you can work it on the loom.
Whenever I make a video for a needle knit project, one the first comments I receive is, "How can I make this on the loom?" That's why I try to make a loom knit version as often as I can. Now I'm going to crack open the door and let you see first hand what I do when I convert a pattern.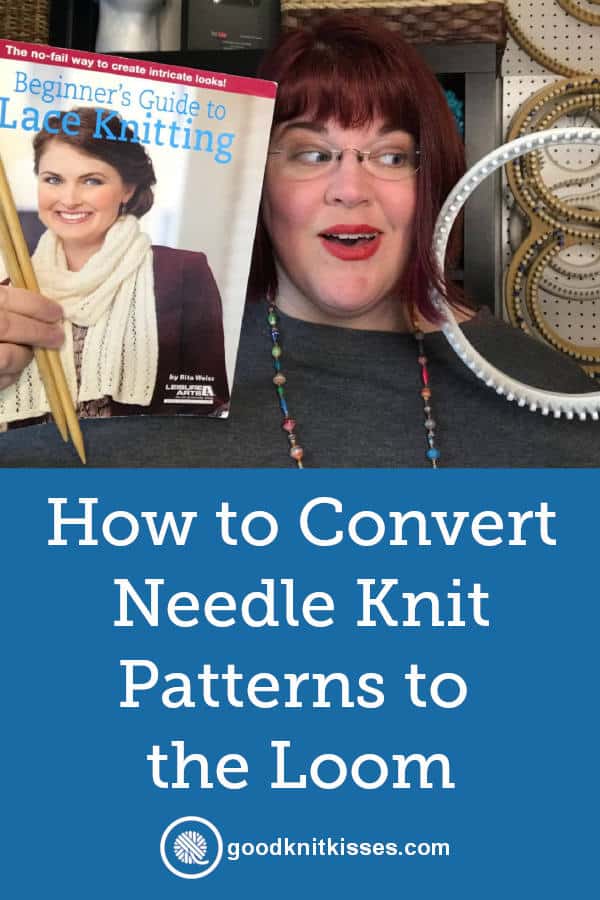 What's the first step?
Start by reading all those important pieces of information at the beginning of the pattern. This is the step many loom knitters skip. This is just as important as converting the row instructions because if you don't use the correct gauge loom for the project it won't look like the needle knit pattern.
Yarn – look at the weight. It will be listed as a name and/or number. I'm talking about worsted, bulky, sock, etc. For a complete list of yarn weights go to the Craft Yarn Council Yarn Weight System Chart.
Needle Size – The size knitting needles used in the pattern will help you decide what loom gauge to choose.
Gauge – This is the pattern gauge. It tells you how big the stitches are. You also use this to help you choose the correct loom.
Number of cast on stitches or largest number of stitches used in the pattern – This is essential because for each stitch you will need a peg to put it on. This tells you the minimum number of pegs you will need to have on your loom.
Once you have all that information it's time to start putting together. If a pattern calls for worsted weight yarn what is the best gauge loom to choose?
I've got a resource page that explains all about loom gauge in great detail. You may want to bookmark the Loom Gauge Charts, Notes & Looms. This page also has charts of different looms so you can find one that has the correct gauge and number of pegs that you need.
What if I want to use a different yarn or loom?
Funny you should bring that up because that's exactly what I just did. I converted the Winter Lace Afghan needle knit pattern to the loom. If you want to loom knit this one too you can get the Loom Knit Lace Afghan pattern on my blog.
The original pattern was knit using #6 Super Bulky weight yarn and has a cast on of 96 pegs. I already know that there aren't any Extra Large (XLG) gauge looms with that many pegs so instead of giving up on the pattern I decided to look for an alternative loom that I could use with #4 worsted weight yarn.
Looking through the loom gauge charts I decided to test the pattern on a 5/8″ Large Gauge (LG) loom. It looked great! Plus that gave me the gauge swatch I needed to figure out how many stitches to cast on.
You can see on the video how I figured out the stitch multiples and used my Interactive Knitting Calculators to calculate the number of cast on stitches for me. Best.Tool.Ever!
Now you're ready to learn how to convert a needle knit pattern row by row.
First, look and see if the pattern is knit flat or in the round. If it's knit in the round you're good to go and can knit the pattern exactly as it is written.
Needle patterns knit in the round can be followed without converting the instructions!
For pattern that are knit flat you have to do some work before you can start knitting. But I need to give a little needle knitting lesson first….
When you knit a flat panel on needles you are knitting on BOTH sides of your project. You knit one row on the front and then turn your project around and knit the next row on the back. And if you've ever seen a needle knit pattern you'll see they refer to the right side (front) and the wrong (side).
The big difference between knitting on the loom and knitting on needles is loom knitters are always knitting on the front of the project. We don't have a right side and a wrong side while we knit.
This is very important to understand because a knit stitch on the right side looks like a purl on the wrong side and vice versa.
So to convert a needle knit pattern to the loom…
All the wrong side rows need to be converted using the opposite stitch.
Wait, what? Opposite stitch? Yes. every stitch has an opposite. A knit and a purl are opposite. A k2tog (knit 2 together) is the opposite of a p2tog (purl 2 together). Don't worry, I have a chart that shows you the most common stitches and their opposites to help you convert the row instructions very quickly.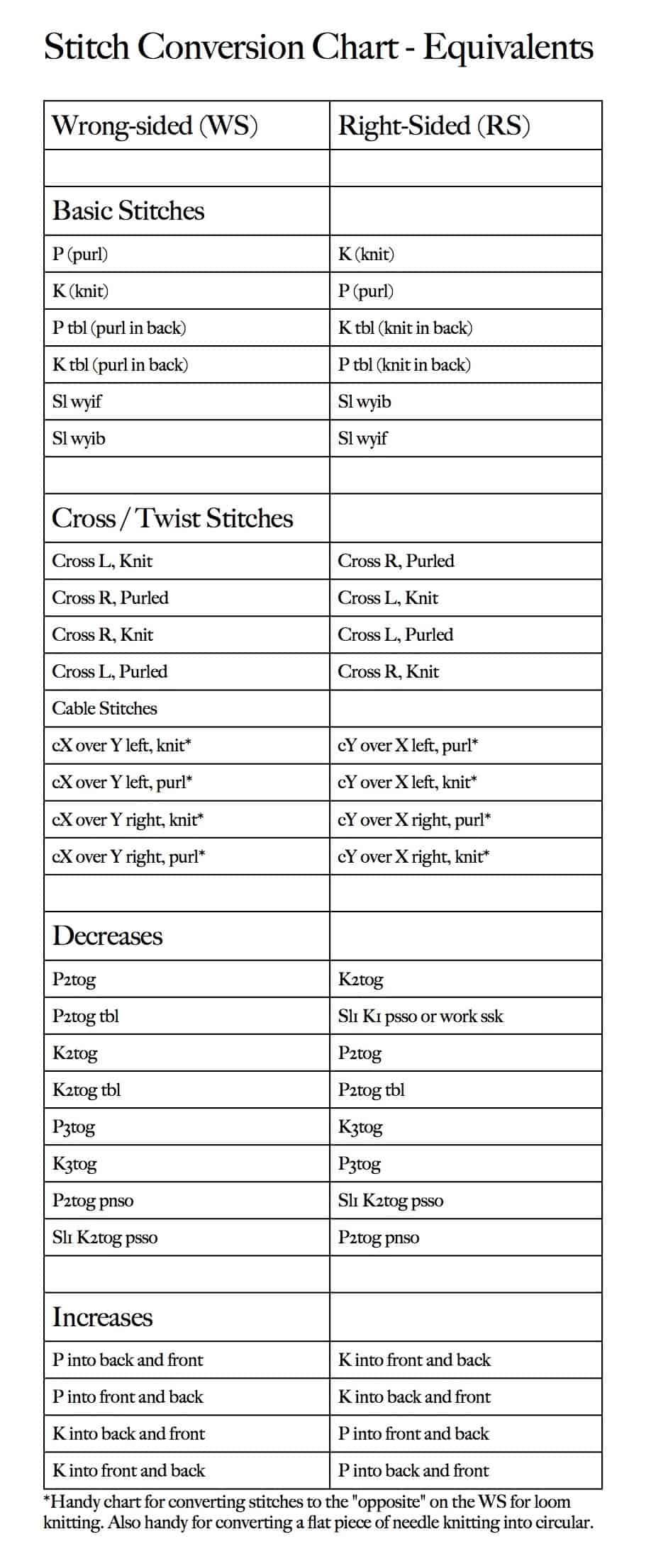 Once the row instructions are converted then it's time to grab your yarn and loom. You can cast on confident that the pattern will turn out great because you did you research!
---
Watch how to convert a needle knit pattern to the loom below:
Sours: https://www.goodknitkisses.com/how-to-convert-a-needle-knit-pattern/
How to Loom Knit a Scarf - Easy Pattern for Beginners - The Sweetest Journey
We may get commissions for purchases made through links in this post.
Have you ever wondered if loom knitting was easier than using knitting needles? Some people prefer the loom method, while others still like to use knitting needles. We believe it depends on the individual's personal preference, but we've researched both methods to let you know which is easier.
Many people prefer using a loom to knit and believe it is easier. When using a loom, you wrap the yarn around the pegs and then pull it through the loops to create a finished pattern. Working with knitting needles is essentially the same, but without using a guide to help you create the pattern. It is done with two needles and your hands.
Please continue to read on to understand the pros and cons of using a knitting loom and knitting needles. We'll answer your other related questions too, like whether knitting is an expensive hobby, and provide tips for beginners.
Loom Vs. Needles Knitting Methods – Pros & Cons
Here, we'll look at the pros and cons of using a loom versus using needles to create knit patterns. Let's start with the loom to learn how it is helpful to this craft. As you read further, we'll delve into knitting needles. So, you'll so have a good idea of which approach might be the easiest for you.
Pros Of Looms
Comfort
Many people who develop arthritis in their fingers and hands find it easier to use a loom. A loom can be used simply on a tabletop or your lap. There is no need for working needles with a loom and constantly arching your fingers in uncomfortable positions, which can cause cramping and pain. Loom knitting can also be easy for people who may have a disability on one hand or arm.
Less to Hold
As stated above, the loom can rest on a tabletop or your lap. There is no need to hold onto it constantly. If you decide to handle it, you can switch hands and not worry about both of them becoming uncomfortable at once. Holding two knitting needles at once can be cumbersome to manage when your hands and fingers began to ache.
Uniform, Intricate Design
Using a loom makes the design look more uniform and complete. The stitching will all be the same and look even. Using knitting needles can create slack in the yarn, causing stitches to be variable if you are not on top of it. Knitting needles cannot create some designs created by looms. With the many different pegs, diverse stitches can be made. It is almost like using a bunch of needles at once instead of just two.
Cons of Looms
Paying Attention
Using a loom requires a lot of attention. Many people who knit with needles can walk while knitting if they have enough experience. Using a loom is a bit different in those terms. It would be best if you kept an eye on what you are doing. You must look at the loom to know which peg you want to wrap the yarn around and where to go next. It is not something that you get used to and can just do by feeling.
Gauge
While there are some extra-fine gauge looms, most are a standard size. A Regular Gauge loom is 1/2″or 9/16″, which is the equivalent needle size 8-10 (5 mm – 6 mm).  The gauges can extend to jumbo. Most people prefer to use the bigger sizes because they are easier to work with. If you are looking to use a thinner yarn, it is suggested to use knitting needles rather than a loom.
Limited Products
Because looms are typically round or oval, the finished products are limited. You have to really use your imagination to create something other than a hat, headband, or scarf with a loom. Thicker yarn is often used with a loom as well. It is not impossible, but it is more difficult. Knitting needles have a wider range of products that can be made.
Below is a video on how to knit a scarf on a loom for beginners.
Price
Looms are more expensive than a pair of knitting needles. The prices of knitting looms range from $15 all the way up to $50. Average knitting needles can be as cheap at five dollars for a pair. There are many sets as well, with different gauges. They can be up to $50 to include a lot of extras.
Click here to view and purchase on Amazon.
Travel
Many knitters like to take their projects with them on the road. While looms may be easier to take on a plane, because it is not a metal needle, the loom is often bigger and takes up more space. Knitting needles save space in your luggage.
Pros of Knitting Needles
Less Concentration
Once an experienced knitter gets into a project, it is easy to complete even when distracted. Your hands become so used to knitting that it is easy just to do it. A loom is a bit different. You need to focus on where you are looping your yarn and on what peg you finished. Many knitters can make stitches without even looking while using knitting needles.
More Projects
With the many gauges of knitting needles, you can use all sorts of yarn. It can be really thick for a blanket or really thin for doilies. Using a thinner yarn with a loom is not always possible. Most looms have a bigger gauge which means, making smaller intricate designs is not possible.
Intricate Detail And Embellishment
Doilies, as mentioned above, usually include a lot of detail. The same with table clothes and even sweaters. If you want more detail in a knitted piece, you will want to use knitting needles. If you would like to add little flowers or a border to your sweater, a needle is the best way to go. It is not easy to create these with a loom unless you can be very imaginative and focused.
Price
Knitting needles have a variety of gauges and materials. The price of knitting needles can be as low as five dollars a set and upwards from there depending on the size, circular or straight types, and material. Sets can include many gauges included in one pack.
Click here to view and purchase these knitting needles from Amazon.
Cons of Knitting Needles
Comfort
Using knitting needles for a long period of time can create discomfort. Your hands may cramp up, and your fingers could start to ache. This is especially true for people who have arthritis in their fingers and hands. Sometimes the discomfort can radiate down to your wrists and forearms as well.
Safety
Safety is always an issue with children and even adults. If using knitting needles, you must be mindful of the ends of them. They are usually very pointy. Metal knitting needles and even wooden types can cause serious injury. Always be sure to pay attention to children with knitting needles to be safe from harm.
Must-Have Two Needles
You must have a pair of knitting needles to do any knitting project. If you happen to misplace one needle, you will need to get another to complete your project. Make sure you be mindful of the gauge if you have to purchase another one. It could be the make or break of your incomplete project!
Related Questions
Is knitting an expensive hobby?
Knitting can be expensive depending on the project because the cost of yarn fluctuates. If it is a big blanket, for example, the sheer quantity of yarn can get pricey. It depends on the type of yarn you are using and how much you need per project. On the other hand, needles or looms are a one-time purchase that you can use again and again for various projects. Few additional tools, such as spacers, stitch counters, and measuring tape, are relatively inexpensive.
Is it easier to knit with big or small needles?
Bigger needles are much easier to handle. Using thicker yarn and bigger knitting needles will take the strain off of your hands. It will also be easier to see the stitches you are working within your design and easier to fix mistakes.
What is the easiest thing to knit for beginners?
The easiest projects could be scarves, baby booties, or even a pillowcase. It depends on the design you are using and the detail. Below is a video that demonstrates how to knit a scarf at the beginner level.
What is the best knitting loom for beginners?
The Mira Handcrafts Complete Round Knitting Loom Kit is highly suggested. It is great for beginners. The kit will provide everything you need to start your first project on a knitting loom. Below we have suggested some additional loom kit options.
Click here to view the Mira Handcrafts Loom Kit on Amazon.
Click here to view this great beginners loom on Amazon.
To Conclude
Knitting can be a great activity for any age. The loom can be great for beginners and enthusiasts alike. Knitting needles are good for many projects with more detail. Both ways of knitting can create amazing products!
Check out these other great yarn projects by visiting the articles below:
You Might Also Like
Sours: https://craftsbliss.com/is-loom-knitting-easier-than-needle-knitting/
You will also be interested:
I give myself a vow one more time with the instructor and that's it, that's all. But Zhenya was the first to dismiss me. He attached me to another driving instructor, an old, mustachioed uncle. I don't fucking understand what happened, but I don't need an answer.
9915
9916
9917
9918
9919