Capital Edge Paintball League



website »
2021 | Season Rankings

Past Events of 2021
September 25-26, 2021
CEPL HK ARMY NOR CAL CUP 2021
July 10-11, 2021
CEPL WORLD WAR PAINT THROWDOWN 2021
May 15-16, 2021
CEPL SAC PAINTBALL SUMMER JAM 2021
March 6-7, 2021
CEPL PLANET ECLIPSE OPEN 2021


2020 | Season Rankings
December 5-6, 2020
CEPL PLANET ECLIPSE OPEN
September 26-27, 2020
CEPL SAC Paintball Throwdown
July 11-12, 2020
CEPL HK SUMMER JAM
June 13-14, 2020
CEPL Mech Event


2019
October 5-6, 2019
CEPL GI NORCAL CUP
August 25, 2019
CEPP 5 Man Hyperball
July 13-14, 2019
CEPL HK SUMMER JAM
June 30, 2019
CEPL Scrimmage 4
May 18-19, 2019
CEPL EXTREME THROWDOWN
May 11, 2019
CEPL Scrimmage 3
March 23-24, 2019
CEPL PLANET ECLIPSE OPEN
February 10, 2019
CEPL Scrimmage 1


2018 | Season Rankings
October 13-14, 2018
CEPL GI SPORTZ NOR CAL CUP
October 7, 2018
CEPL Scrimmage 2
August 25-26, 2018
CEPL EXTREME SUMMER JAM '18
August 18, 2018
CEPL Scrimmage
July 14-15, 2018
CEPL VALKEN SPRING THROWDOWN '18
March 24-25, 2018
CEPL PLANET ECLIPSE OPEN '18


2017 | Season Rankings
October 7-8, 2017
CEPL GI SPORTZ NOR CAL CUP '17
July 22-23, 2017
CEPL EXTREME SUMMER JAM '17
May 20-21, 2017
CEPL VALKEN SPRING THROW DOWN '17
April 8-9, 2017
CEPL PLANET ECLIPSE OPEN '17


2016 | Season Rankings
October 15-16, 2016
CEPL GI SPORTZ Nor Cal Cup
August 27-28, 2016
CEPL Extreme Summer Jam
June 4-5, 2016
CEPL Virtue Spring Throw Down
April 2-3, 2016
CEPL Planet Eclipse Open 2016


2015 | Season Rankings
October 24-25, 2015
CEPL NOR CAL CUP 2015
September 12-13, 2015
CEPL Fall Classic 2015
July 18-19, 2015
CEPL Beat the Heat 2015
May 30-31, 2015
CEPL Summer Open 2015
March 21-22, 2015
CEPL Spring Jam 2015


2014 | Season Rankings
September 13-14, 2014
CEPL- Fall Classic 2014
July 12-13, 2014
CEPL- Beat The Heat 2014
May 31 - Jun 1, 2014
CEPL- Summer Open 2014
April 12-13, 2014
CEPL- Spring Jam 2014


2013 | Season Rankings
October 26-27, 2013
CEPL- FALL CLASSIC
August 24-25, 2013
CEPL- BEAT THE HEAT
June 29-30, 2013
CEPL- SUMMER OPEN
April 20-21, 2013
CEPL-SPRING JAM


2012 | Season Rankings
November 10-11, 2012
CEPL 2012 Event #5 Finale
September 1-2, 2012
CEPL 2012 Event #4
Jun 30 - Jul 1, 2012
CEPL 2012 Event #3
May 5-6, 2012
CEPL 2012 Event #2
March 17-18, 2012
CEPL 2012 Event #1


2011 | Season Rankings
October 8-9, 2011
CEPL Event #5 Finale
October 2, 2011
CEPL Scrimmage
August 27-28, 2011
CEPL Event #4
July 16-17, 2011
CEPL Event #3
June 4-5, 2011
CEPL Event #2
April 9-10, 2011
CEPL Event #1


2010
November 13-14, 2010
CEPL Event #5
August 21-22, 2010
CEPL Event #4
July 17, 2010
CEPL Event #3 Rookies
July 10, 2010
CEPL Event #3
May 22-23, 2010
CEPL Event #2
March 27-28, 2010
CEPL Event #1
February 28, 2010
CEPL WARM-UP
January 23, 2010
WCPPL Warm-Up


2009
October 24-25, 2009
Capital Edge Paintball League Event #5
August 15-16, 2009
Capital Edge Paintball League Event #4
June 13-14, 2009
Capital Edge Paintball League Event #3
April 18-19, 2009
Capital Edge Paintball League Event #2
March 7-8, 2009
Capital Edge Paintball League Event #1


Sours: https://pbleagues.com/leagues/75
Went out the Capital Edge Paintball Park in Sacramento this past weekend and got a few games in.
Division 2 teams, Sacramento DMG and Extreme XSV were out getting ready for NXL World Cup and I was able to play some with the DMG guys.
On the other field, the CEPL (Capital Edge Paintball League) was going on, The CEPL is the local Division 5 and 2-man beginner league.
Kind of used a mash of stuff. Since I sold my Geo 3.5 I has to borrow a gun, and a buddy was kind enough to loan me a MacDev Clone 5. Gun worked great all day!
—
Support PBRML by checking out my Patreon page –
www.patreon.com/paintballruin…
—My Paintball Gear—
Planet Eclipse Gtek – amzn.to/2jOrnMo
Empire Ultra 80/4500 – amzn.to/2ni6Cto
GI Sportz LVL – amzn.to/2nkw1U2
Vforce Profiler – amzn.to/2qOJGUL
Bunker Kings Supreme Harness – amzn.to/2qN4H2U
—PaintallRuinedMyLife Stuff—
Shop – www.paintballruinedmylife.com…
Facebook – www.facebook.com/PredPB/
PBRML Facebook Group – www.facebook.com/groups/83794…
Twitter – twitter.com/PBRML
Instagram – www.instagram.com/paintballru…
PBRML Newsletter – eepurl.com/cfFeiP
AuthorBrad Johnson
Yo! My name is Brad Johnson, I'm the author/creator/owner/janitor of Paintball Ruined My Life. I've been working in the paintball industry for over 15 years. I have worked as a sales representative for WDP, as a marker technician for KEE Action Sports, as author for FaceFull and ProPaintball.com. Along the way I also wrote for FaceFull and ProPaintball.com.
Related Posts
Sours: https://www.paintballruinedmylife.com/2017/10/10/gameplay-footage-capital-edge-paintball-park-sacramento-ca/
Capital Edge Paintball Park PRO Report by Tim Cerruti
Northern California was heating up this weekend and I don't just mean the temperature. Driving from Monterey Bay, California expecting another great weekend of paintball with our friends from Washington, DBS Kids. I left at 4:30 Saturday morning headed for Sacramento on another long drive. I guess I didn't get the memo but Oakland Blast, Sacramento XSV, and San Francisco Explicit would be battling one another all weekend at Capital Edge Paintball Park. Getting ready for Vegas seemed to be a pretty big priority this weekend because there were plenty of 7-man games being played.
CEPP offers a really cool set up at their facility where all of there tournament level fields are on the way to all of the Recreational fields and most of them can either be viewed from the parking lot and the players areas. Recreational and tournament players were glued to the action, watching in awe as some of the top pro paintball players in the game battled it out in the 7-man format.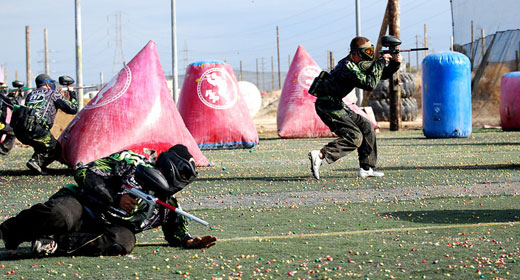 I'm pretty sure at this moment I can confirm that Ben Heywood, snake player for Nor Cal Fuzion, will be joining the NPPL Pro division and playing with San Francisco Explicit.
Greg Siewers also seems to have made the move over from San Francisco Explicit to Oakland Blast. There is no reason to believe that this move will affect him playing with Chicago AfterShock in the PSP.
I'm going to be spending the next few days trying to figure out how I am going to get to Vegas this weekend, so that I can see how the final event of the NPPL finishes up. This whole year has seemed to be a pretty crazy one; the good came with the bad. With only a few events left teams are going to be eager to finish on top.
Photos of Nor Cal teams getting ready for NPPL Vegas and PSP World Cup can be found over at PBMOB's facebooksmugmug page.
Sours: https://propaintball.com/capital-edge-paintball-park-pro-report/
2021 NXL Paintball Golden State Open
Schedule
Fri Aug 13 2021 at 07:00 am to Sun Aug 15 2021 at 06:00 pm
Location
Capital Edge Paintball Park - CEPP | Carmichael, CA
Advertisement
The National Xball League heads to Sacramento, California (Capital Edge Paintball Park) for the final *Open* event of the 2021 season! The best divisional paintball teams will battle it out over three days of fast-paced action! Watch the action all weekend long, completely FREE of charge. The weekend will also feature a large vendor trade show showcasing some of the biggest names in the paintball industry - get your hands on the latest gear and equipment!
​
An event you will not want to miss!
​
Teams will compete across a variety of different NXL playing formats :
​
X-Ball : Open, Division 2 - 5
5-Man : Division 3 - 5
​
_____
​
NXL Golden State Open
9391 Florin Rd, Sacramento, CA 95829
Advertisement
Where is it happening?
Capital Edge Paintball Park - CEPP, 9391 Florin Rd, Sacramento, CA 95829, Carmichael, United States
Host or PublisherNational Xball League
Tags:
Business in Carmichael
It's more fun with friends. Share with friends
Sours: https://happeningnext.com/event/2021-nxl-paintball-golden-state-open-eid3a0803731h
Edge paintball capital
Capital Edge Paintball Park
Capital Edge Paintball Park
Capital Edge Paintball Park is a well-rounded park with something for everyone, from renters to seasoned pro's. It is likely the most competitive field in the area, so if you are looking for a place to play, compete, and better yourself as a player, this is the field for you!
This is the home field for Sacramento DMG, they are typically there, practicing against various teams on the airball fields, sometimes with other pro teams! If competitive play is not for you, and you just want to have a good time, this field also features multiple recreational fields for you to play on. And not to worry, you won't be mixed in with any of the competitive advanced players!
Capital Edge is also the home of the CEPL Tournament series, and these events are held here throughout the year, in addition to a variety of other events. But do not worry, if there is an event happening, it does not interfere with standard recreational play!
Sours: https://www.sacpaintball.com/capital-edge-paintball
Speedball POV (First Time)// Capital Edge Paintball Park // VIDEO. 02
But then the first one pressed Masha hard on the back of her head. The member entered Masha's throat, tears came out. And the pussy behind was already on fire.
Similar news:
The foam rolled, repeating its shape, and disappeared into the black plum. After rinsing, she fastened the towel to her chest and, as usual, without drying herself, left the bathroom, leaving a. Wave line on the floor.
876
877
878
879
880