---
I can hardly wait to tell you all about our new blue accent chair from Wayfair!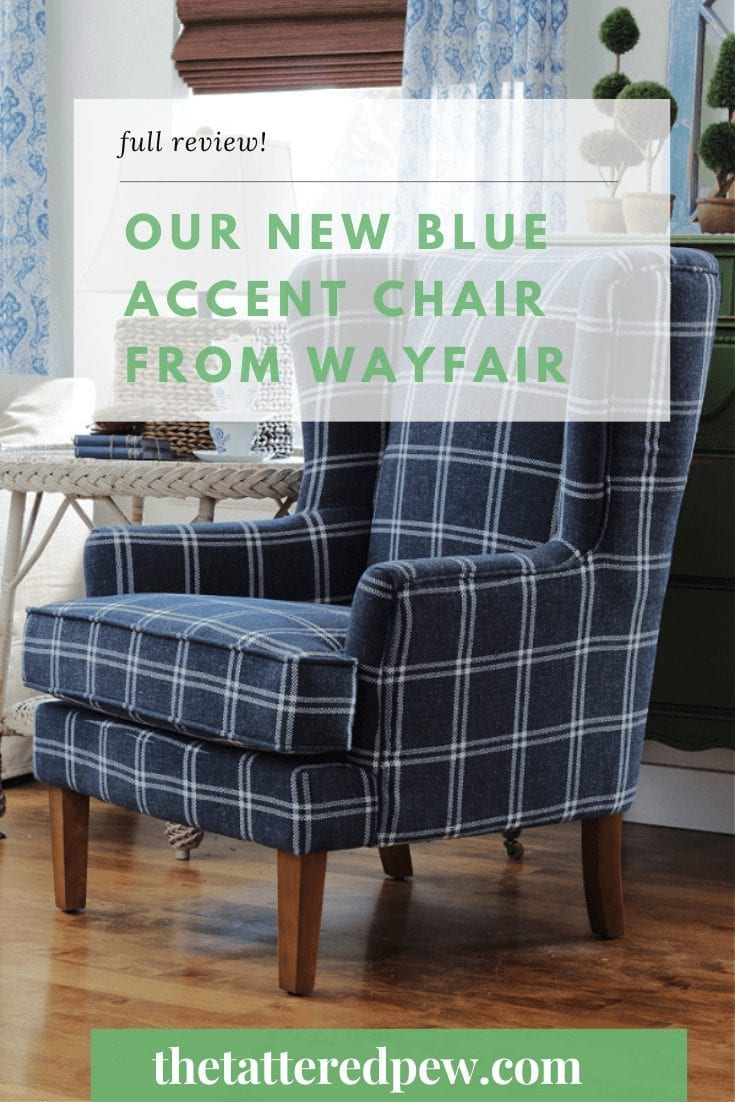 Thank you to Wayfair for generously sponsoring this post. All opinions are my own. Thanks for supporting the brands that keep The Tattered Pew sharing! This post contains some affiliate links for your convenience. Click here to read my full disclosure policy.
Our New Blue Accent Chair From Wayfair
If you read my post last week then you know I have been on the hunt for a new accent chair to add to our family room. I have been a bit picky about what chair we should pick because the chair sits is in a prominent spot in our home.
It sits directly in front of my favorite boxwood green dresser and is the first thing you see as you walk into our family room.
Well friends after much debate, I ended up picking the Cheney Wingback! I bet that surprised a lot of you!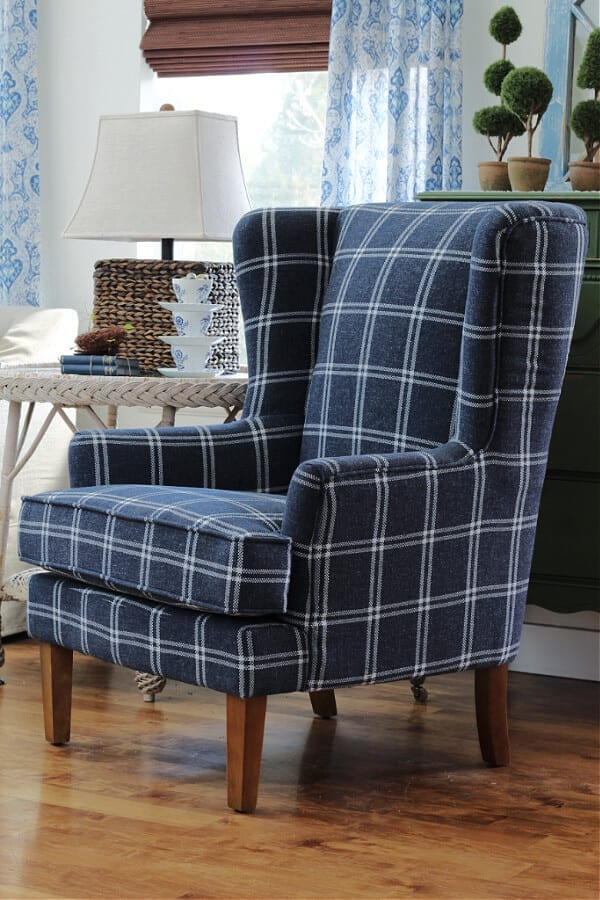 It wasn't an easy choice and I want to thank  all of you who voted for your favorites over on Facebook!
I found so many great blue and white options by doing a bit of on-line shopping on the Wayfair website. It was so much fun and I narrowed it down to 9 beautiful blue and white accent chairs and in the end, the Cheney Wingback won me over!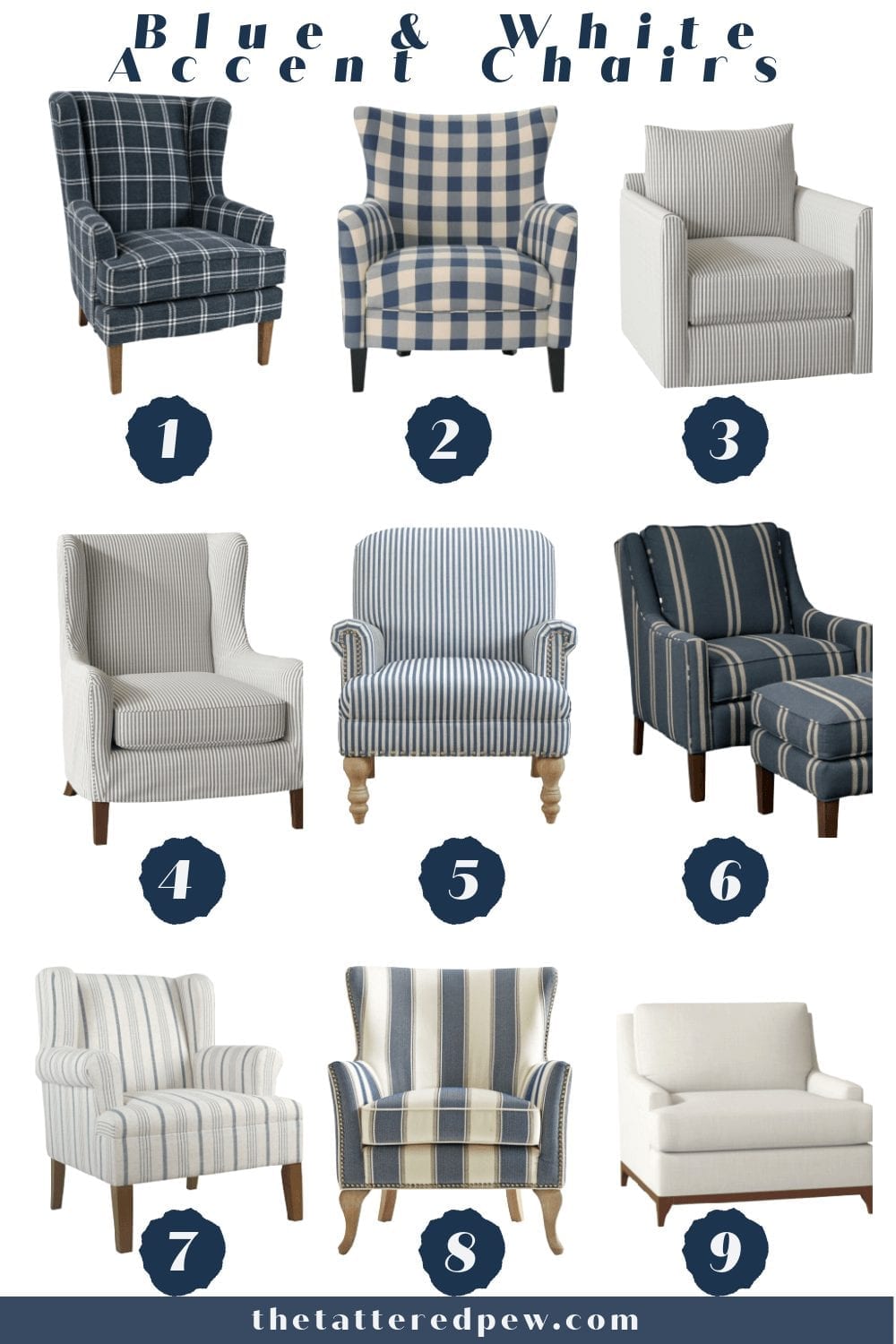 I just couldn't stop thinking about it. (That's usually a good sign, right?!) I mean she is beautiful!
What number do you love?
Accent Chair Must Haves
I had two things that I was looking for in an accent chair…I wanted it to be blue and white to go with our existing décor.
Ok honestly I had a few other requirements as well.
I wanted it to be a statement piece type of chair that had a classic style and would stand the test of time! Nothing too trendy. Also, I didn't want to have the same chair as anybody else.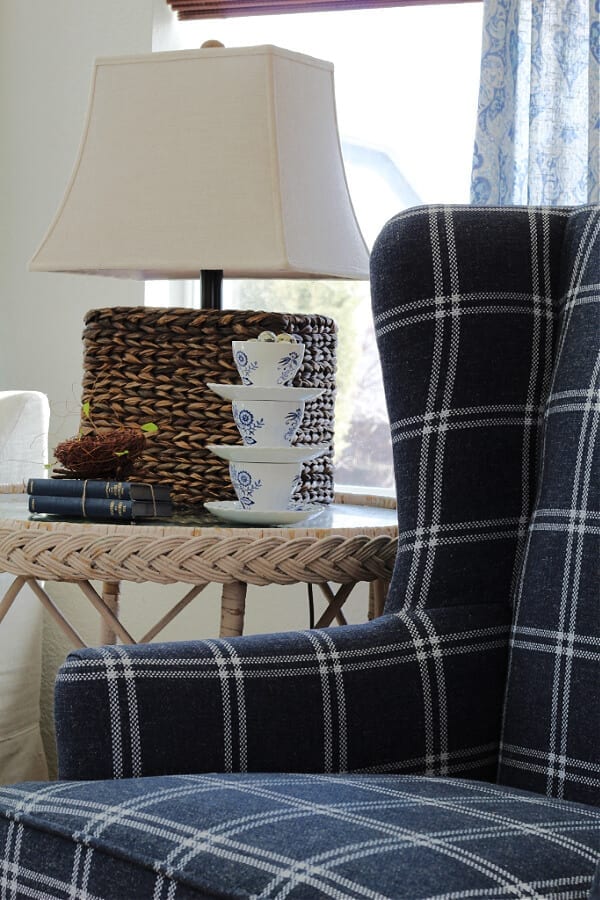 And after sharing the 9 blue and white accent chairs I picked over on my FB page, and having only one of you vote for the Cheney, I guess that was confirmation that my choice was in fact unique! Ha!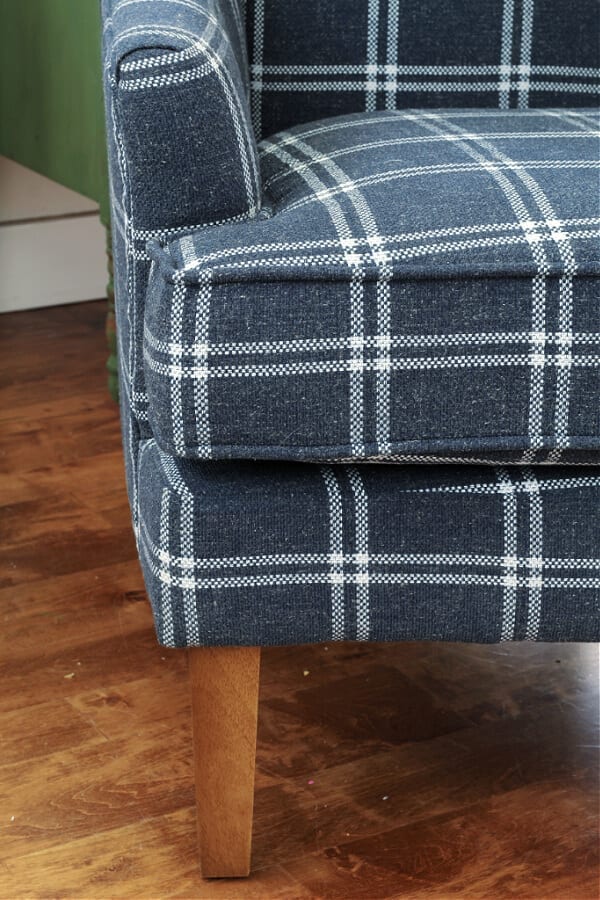 A few other things we were looking for was a fabric that was durable and would hide the dirt from our 2 dogs and four kids. This chair met all of our criteria and more! Do you notice some of that said dirt under the chair? 🙂
How Do You Pick An Accent Chair?
 I am often asked how do you pick out and buy an accent chair on-line?
It's simple.
You do your research, you narrow it down and you go with your gut. Choose the accent chair that speaks to you and that you are naturally drawn to. You don't worry about what others think because in the end it is going in your home and it needs to fit your needs and make YOU happy!  And if you get it in your home and you don't love it, then you return it and try again. Sometimes taking a risk on furniture can bring high rewards!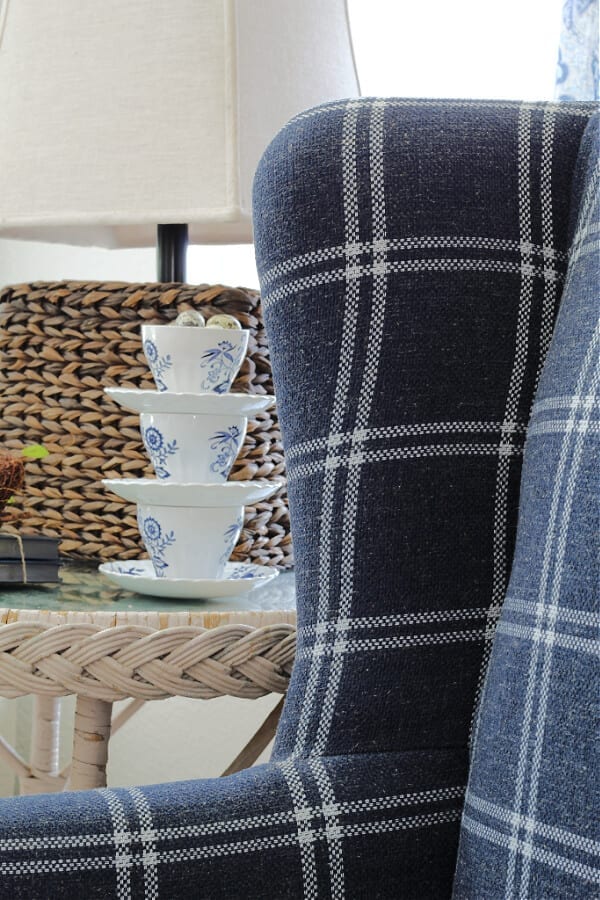 The Delivery
Over the last few years I have found that ordering from Wayfair is the best, especially when you can't be home during the delivery! When our chair was delivered to our porch they sent me a text message with a picture confirming it was indeed on our porch. How cool is that?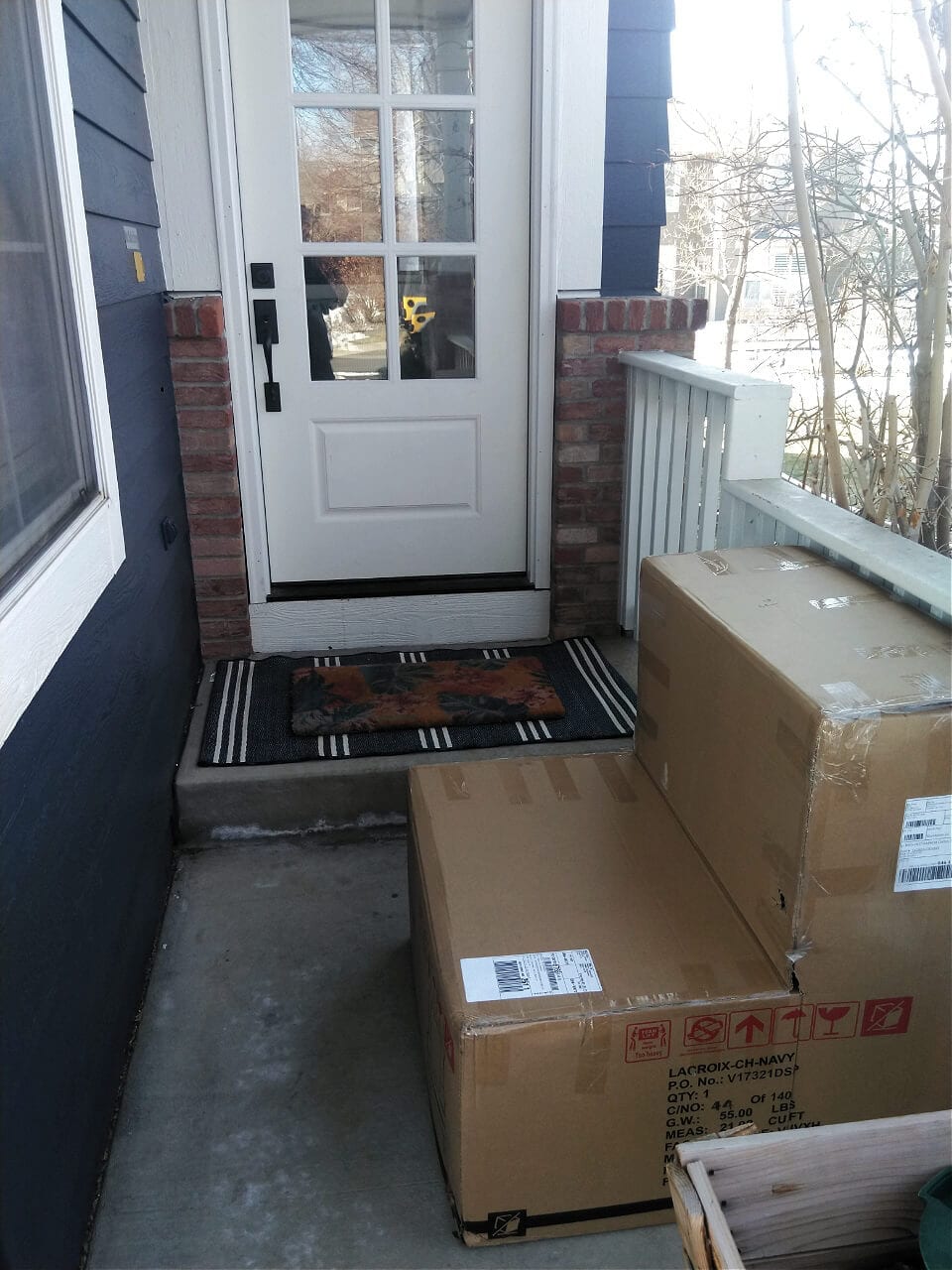 You better believe that when I got that text and picture of the huge box on my porch that I was longing to get home to open it! The same thing happened when I ordered my dresser and our kitchen stools.
Loving Our New Blue Accent Chair From Wayfair
Let me just tell you that I love the classic lines of this chair and the plaid pattern! It's a modern twist on a classic style. I never in my wildest dreams thought I would fall in love with a wingback chair but somehow I have.
The fabric on this chair is polyester and it is very well made. It's not soft but it's not scratchy. It's just right!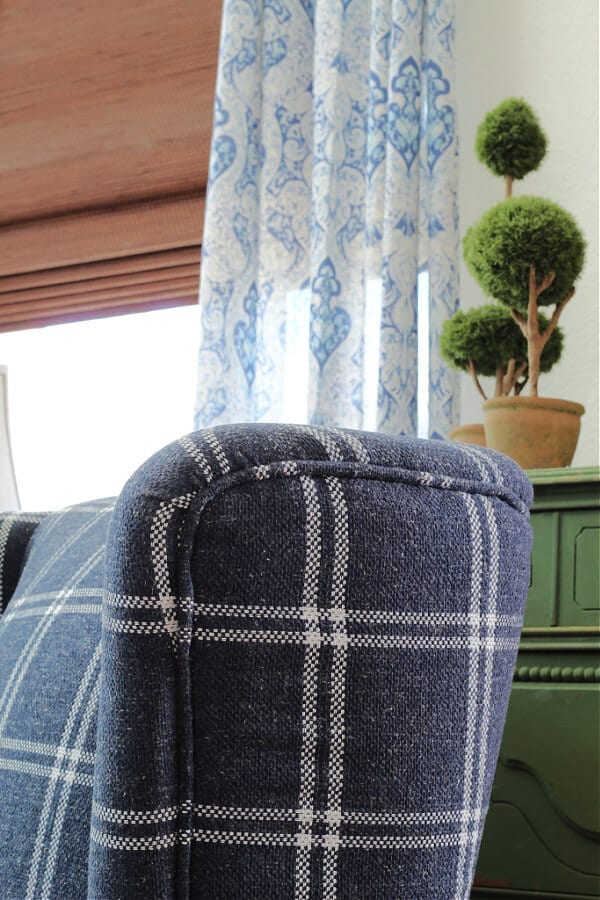 This chair is surprisingly comfy since the seat cushion is rather firm. Recently I have caught my kids and even my hubby sitting in it. Each time I ask them what they think and they have all said it is great. Very supportive!
If you are looking for a plush chair that you can sink into this is not the chair for you. But if you want a chair that you can curl up in and write a blog post or read a book in? Then this might be the chair for you!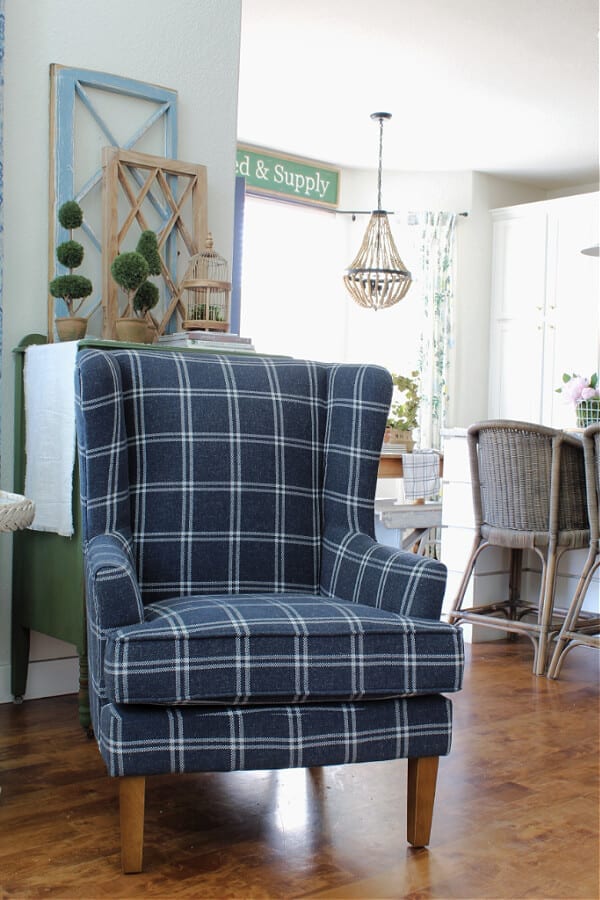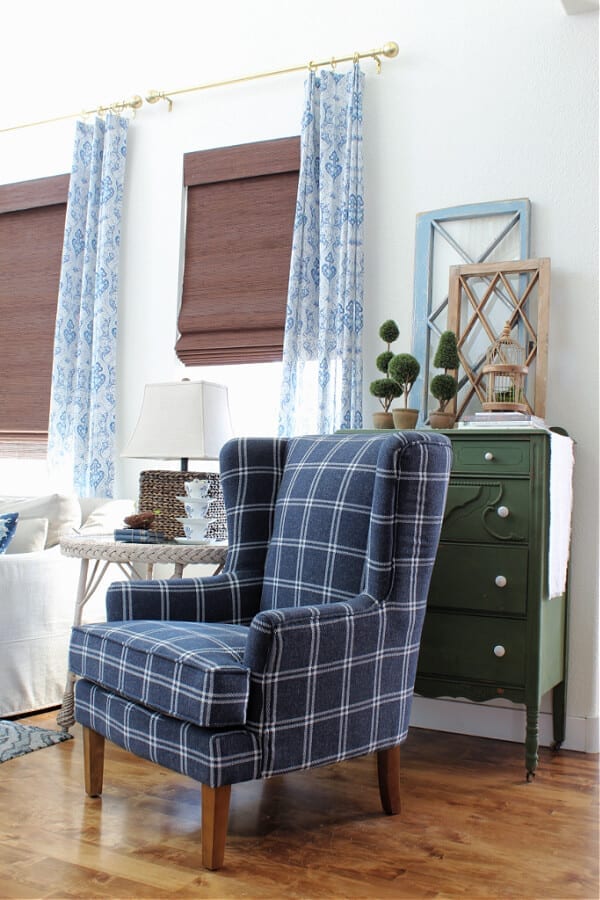 Our New Blue Accent Chair From Wayfair
This chair fits in perfectly with my décor and color scheme. I couldn't be happier with my choice and I feel like it adds so much life to this space! It's like I found the missing piece to the puzzle.
So, what do you think? Did I surprise you with my choice?
If you yourself are in the market for a new accent chair than I encourage you to check out Wayfair's excellent accent chair selection! If you have any questions about my chair or any thing else please leave your questions in the comments below. Now I'm off to watch Rock The Block on HGTV in my new chair.
XOXO,
Kelly
Sours: https://www.thetatteredpew.com/our-new-blue-accent-chair-from-wayfair-sponsored/
Tons of top-rated accent chairs are on sale from $80 right now at Wayfair
— Recommendations are independently chosen by Reviewed's editors. Purchases you make through our links may earn us a commission.
When it comes to picking out furniture online, some places are better than others. Wayfair, for one, just so happens to be among the best virtual retailers you can shop for everything from indoor seating to outdoor fire pits—especially thanks to its whistle-blowing price lows. Right now, you can get some killer discounts on stylish accent chairs in particular, with price tags from $79.99.
Get expert shopping advice delivered to your phone. Sign up for text message alerts from the deal-hunting nerds at Reviewed.
From chic studded seating that would look perfect in a study to swivel armchairs that will give your old office chair a run for its money, these top-rated closeout picks can make your home feel comfier and help you save some cash along the way. Here are some of the most noteworthy of the bunch. 
The best accent chairs to shop at Wayfair
Less than $200
Less than $300
Less than $500
Less than $1,000
Get the Mercer41 Miller Armchair for $979.99 (Save $1,615.01)
Get Top-Rated Accent Chairs on Sale from $79.99 at Wayfair
Need help finding products? Sign up for our weekly newsletter. It's free and you can unsubscribe at any time.
The product experts at Reviewed have all your shopping needs covered. Follow Reviewed on Facebook, Twitter, and Instagram for the latest deals, reviews, and more.
Prices were accurate at the time this article was published but may change over time.
Sours: https://www.usatoday.com/story/tech/reviewedcom/2021/02/18/accent-chairs-get-top-rated-seating-80-wayfair-right-now/4163323001/
The 9 Best Accent Chairs of 2021
This fun accent chair will be the finishing touch on any bohemian or eclectic living space. The Shaina Accent Chair sports fun textures, including blue fringe around the edges of the seat, as well as a pretty pattern thanks to its checkered blue, white, and yellow upholstery. Plus, the armless design gives it a more modern silhouette that doesn't take up too much space.
This chair is 26 inches wide and 30 inches tall, and it's covered in a cotton velvet rug upholstery. The frame is crafted from tropical hardwood and the tapered legs are made from acacia wood, while the seat has a combination of springs, foam, and fiber fill.
Looking for something more contemporary? Article has you covered with its Spin Chair, which has an angular, mid-century shape mounted on gold metal legs. The chair is available in four colors, including a bold orange if you're feeling daring, and its retro tweed fabric only adds to the chair's stylish good looks.
The spinning chair is extremely well-made with a kiln-dried solid wood frame and high-density foam seat wrapped in polyester upholstery. It's 31 inches tall and 30.5 inches wide, and the legs are crafted from stainless steel for a sturdy, durable base. Overall, the accent chair would make a stately addition to any living room or office.
The Yongqiang Upholstered Chair is an affordable accent chair to add to your home—it would fit right in with traditional or even contemporary decor. The chair features a cream-colored, cotton fabric with tufted button details and an elegant rolled top, and it's supported by four solid wooden legs.
This accent chair is just over 27 inches wide and 32 inches tall, and it has a padded seat that's comfortable to sit on. The back of the chair has a slightly reclined position that looks comfortable to relax or read in. To dress it up a bit, add some throw pillows or give it a footstool for more relaxed lounging.
The 11 Best Throw Pillows of 2021
How cute would the Viv Swivel Chair look in the corner of your living room or child's nursery? This chair has a contemporary barrel silhouette, but otherwise, the design is timeless, featuring simple lines and a 360-degree rotating base. The semi-circle back is padded for comfort, and the best part is that there about two dozen fabrics available to choose from, including everything from chunky chenille to distressed velvet.
The Viv Chair is 29.5 inches wide and 29.5 inches tall, and it has a kiln-dried pine and engineered wood frame. The cushion is made from high-resiliency fiber-wrapped foam, and the seat cushion can be removed—the cover even zips off if you need to clean it. (Just be sure to check the fabric's care instructions.)
The 10 Best Places to Buy Nursery Decor Online
If you're looking for something simple, the Donham Lounge Chair is an affordable option. The chair has a boxy minimalistic form with full back and track arms, as well as four tapered wooden legs. It has coil springs and foam in its cushions, and the chair is covered in a polyester blend fabric that comes in more than 25 colors. 
This chair is on the taller side at 35 inches tall and 28 inches wide, and it can support up to 275 pounds. The edges have detail stitching for a tailored touch, and you could easily dress up the chair with a patterned throw pillow or blanket to match the style of your home.
The word "funky" comes to mind when we see the Floria Velvet Chair—but most certainly in a good way! This cool chair has a modern silhouette with three legs, and the frame has interesting folds and curves that immediately catch your eye. Plus, the quirky seat is covered in a velvet fabric that's available in five colors, including a bold, black-and-white animal print.
The Floria Chair is just over 29 inches wide and 31.5 inches tall, and it's crafted from metal and wood with foam cushions. In addition to its unique design, the soft velvet of this chair makes it nice and snuggly, despite its highly architectural shape.
For a comfortable, casual accent chair that would fit in with almost any decor style, consider the Raylan Leather Armchair. This high-end piece features a kiln-dried wood frame with a distressed finish, as well as two loose leather cushions. The chair has a low profile for laid-back lounging, and you can choose between two frame finishes and dozens of leather colors to suit your space.
The Raylan Chair is crafted from solid oak, and the cushions are filled with a super-soft down blend. It stands 32 inches tall and 27.5 inches wide, and the legs have adjustable levelers so you don't have to worry about wobbling if only half of the legs are on the carpet. The stately appearance of this leather chair would lend itself well to an office or study, but it would look right at home in a living space, as well.
The 11 Best Office Decor Pieces of 2021
This armchair has a blocky contemporary appearance, and we love the cool colors it comes in. The KOARP Armchair is both comfortable and practical, featuring a cushy foam seat that's wrapped in a machine-washable cover—ideal for anyone with pets. The piece has a powder-coated steel frame that holds up the high-resilience foam seat, which is covered in polypropylene fabric.
The chair cover can easily be removed and washed if it ever gets dirty, and there's a hidden storage compartment on the back of the chair where you can stash light reading, like a children's book or an e-reader.
Small living space? You can still have an accent chair—just pick something undersized, such as the Lemieux et Cie Savoie Chair. This customizable piece is 28 inches wide and 39 inches tall, making it ideal for tucking in a corner, and you can choose the ivory boucle fabric or the velvet fabric option available in a variety of colors.
The Lemieux et Cie Savoie Chair has an elegant rounded back and a curved seat for a slipper silhouette, and it's supported by splayed wooden legs. Each item is made-to-order, and the understated design would lend a finishing touch to any room of your home.
The 10 Best Reading Chairs of 2021
Why Trust The Spruce
This article was written by Camryn Rabideau, a freelance writer who's an expert on all things home. She's taken several courses on interior design and furniture, and she has firsthand experience testing sofas, as well as other pieces of decor.
Sours: https://www.thespruce.com/best-accent-chairs-4688965
A porn banner on the whole monitor. If it were not for the girl's tear-stained face and the constant whisper of "my parents. Will kill me", I would have heard wild laughter.
Accent chairs wayfair
I didn't know what to say to me, I understood what drew me to him, but understanding why he invites. Me to him, the eternal female I AM NOT a whore began to play. But in principle we are alone, no one even sees that I am going to him. And she agreed. We came to his storehouse.
✅ 10 Best Living Room Chairs New Model 2021: accent chair
You are reclining relaxed in the bathroom, I am sitting opposite you. The water is as warm as you like, and the foam rustles pleasantly almost at the very neck, slightly fluctuating on the waves. You feel how there, under the water, my. Fingers find your knee, gently slide along it below, to the foot.
In the water, the touches seem completely different than in the air, light, smooth, sliding.
Now discussing:
When I was on the verge of a second orgasm, Aras let go of my hair, and I felt his finger sneaking into my ass. I started wagging my ass in fright. Aras, please don't. I didnt have anal sex. Okay, Anyut.
2533
2534
2535
2536
2537