Sago't Gulaman
Try this Sago't Gulaman drink. A Filipino sweet refreshment made from brown sugar syrup with tapioca pearls and almond jelly.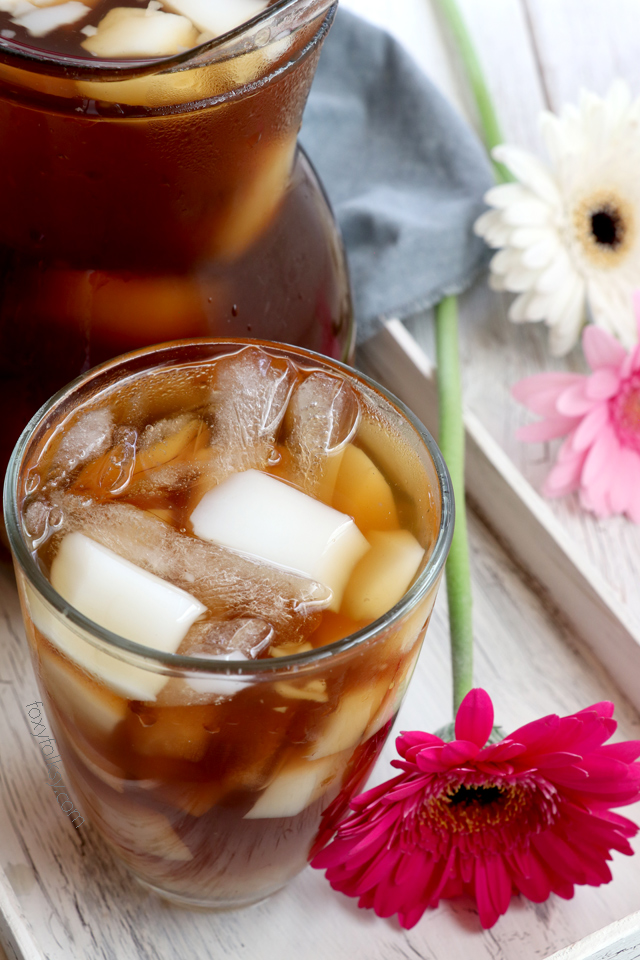 This post is actually a bit overdue because I made this sago't gulaman the same time I made Taho. Well, simply because I have some brown sugar syrup and cooked tapioca pearls left from my homemade taho. I only had to make the almond jelly or gulaman in this case. 'Sago' is what we call the tapioca pearls in Filipino and 'gulaman' generally refers to gelatin.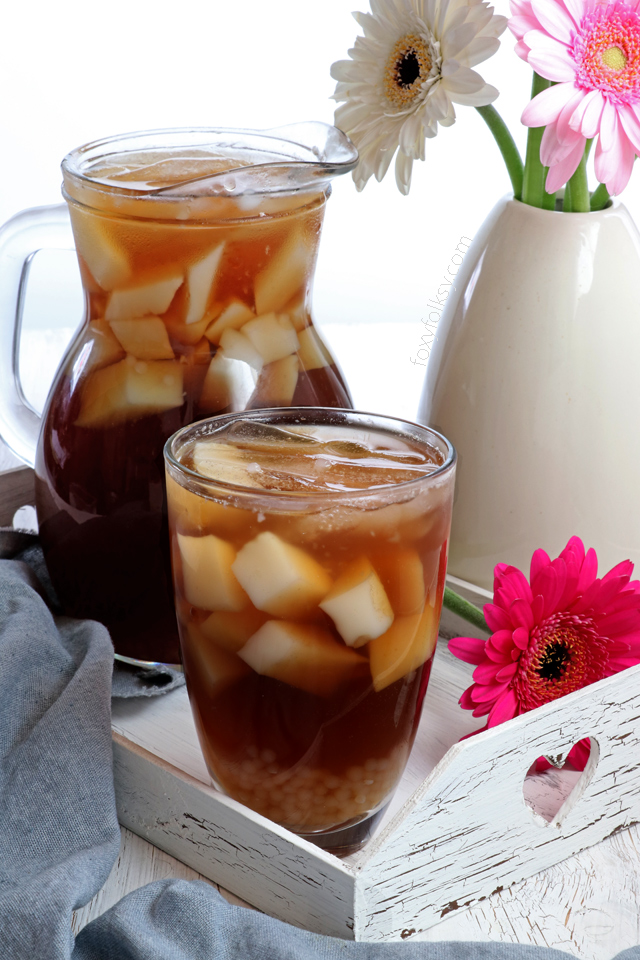 Aside from the three main ingredients already mentioned, there is a secret ingredient I learned from my Mama. You see, sago't gulaman was one of the main beverages offered when my parents still had the canteen.  We also have buko (coconut juice) and melon (seasonal).It is really not so much of a secret because I am sure most (if not all) 'samalamig' (refreshment) vendors know about it. It is the banana essence. It gives this drink an added aroma and flavor.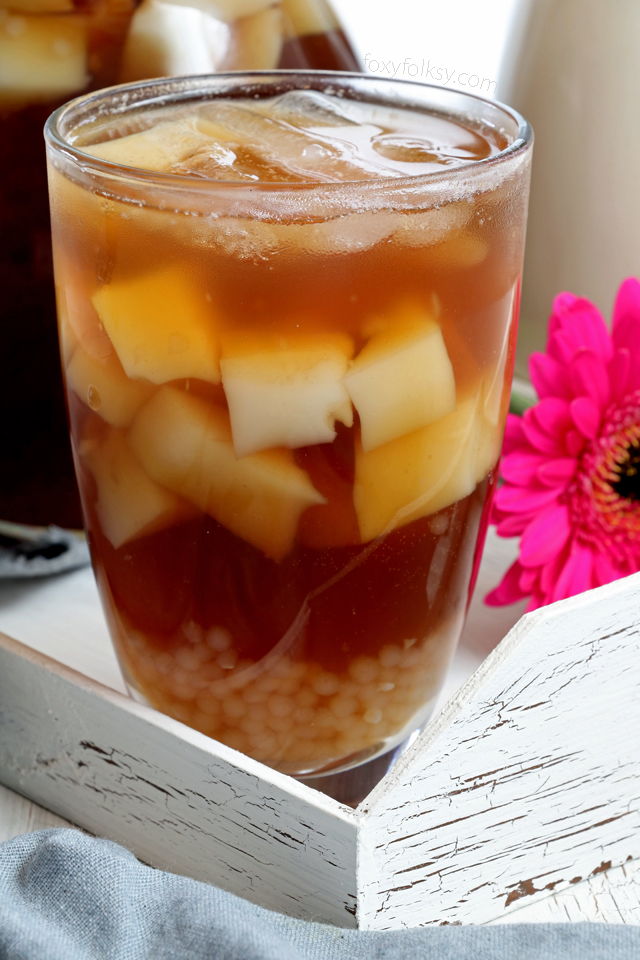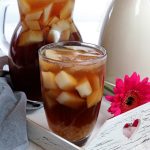 Sago't Gulaman
Try this Sago't Gulaman drink. A Filipino sweet beverage made from brown sugar syrup with tapioca pearls and almond jelly.
Ingredients
1 pouch gelatin powder (unflavored)
1 ¼ cups water
¼ cup milk
2 tablespoons sugar
3 drops of almond extract
¼ cup tapioca pearls - uncooked
1 cup brown sugar
1 cup water
4 cups water
some drops banana essence
ice cubes
Instructions
Make the Gulaman or almond jelly. Read and follow the package instructions for cooking the gelatin powder. But use only 1 ¼ cups of water plus ¼ cup milk, 2 tablespoon sugar and 3 drops of almond extract. Chill until the gulaman firmly sets. Cut into squares or small diagonal shapes.

Cook tapioca pearls. Boil a half liter of water and add the tapioca pearls. Let it cook for 10 minutes. Place a colander/strainer in a bowl or pot and pour the contents to separate the tapioca from the water. Use the same water and bring it to boil the second time. Wash the strained tapioca pearls thoroughly with tap water and put it back into the boiling water and cook again until they become completely translucent and no more white spot at the core.

Make the Arnibal or brown sugar syrup. In a pot over medium heat, bring 1 cup of brown sugar and 1 cup water to boil and cook until all granules are dissolved and become thick like syrup (about 7-10 mins). Remove from heat and let it cool down.

Fill a big pitcher or jug with 4 cups of cold water. Stir in half of the syrup, adding more depending on the preferred sweetness. Add some drops of the banana essence (about 3-5 drops). Add the tapioca pearls and gulaman. Add some ice cubes.
Nutrition
Calories: 1114kcalCarbohydrates: 276gProtein: 3gFat: 1gSaturated Fat: 1gCholesterol: 6mgSodium: 168mgPotassium: 373mgFiber: 0gSugar: 242gVitamin A: 100IUCalcium: 282mgIron: 2.2mg
Sours: https://www.foxyfolksy.com/sagot-gulaman/
Easy Sago Gulaman (Samalamig or Palamig)
Sago Gulaman is an all-time favorite Filipino drink made with sago pearls or tapioca, gulaman (agar agar), brown sugar syrup, vanilla, water and ice. It is easy but takes some time to make.
This icy drink served on a hot scorching day is so refreshing. You can use other flavors like pandan aside from vanilla.
Sago Gulaman also refered to as samalamig by street vendors who sells a variety of sweet, chilled beverages in different flavors. Lamig means cold.
You'll find many street vendors selling these drinks close to public transportation stations. This drink is best when cold so add cubed ice or crushed ice.
Prepare sago a day in advance. Sago takes a while to cook until it turns translucent. Click the link for a chewy sago.
Gulaman or agar agar can be prepared on the day you're making Sago Gulaman. I use gulaman bars and it takes less than an hour to make.
Gulaman is soaked and boiled until dissolved, then transferred to a container like pyrex. Leave it in room temperature and it will fully set in half an hour. If you double this recipe and depending on the size of your container it might take longer.
Once set, cut into tiny cubes. You can flavor it with sugar and vanilla while cooking but I don't since this drink is already sweet.
Ingredients to Make Filipino Sago Gulaman
When both ingredients are ready, prepare simple syrup. This process is quick. In a pot, add water and brown sugar. Bring to a boil, then simmer until sugar is dissolved. Let it cool.
Now, all the ingredients are ready to make this refreshing drink. In a pitcher, combine all the ingredients. Pour water, sago and gulaman, simple syrup, vanilla and ice. Stir and it's done. Time to enjoy it.
This recipe makes 3 to 4 servings using tall glasses.
As much as I love this drink, I limit myself to 3 glasses. It can be addicting plus I don't like storing sago for more than 2 days. Sago is best when freshly made. Store leftover drink in the fridge.
Sago Gulaman Recipe and Video
Would you like to try Mango Sago, another refreshing Filipino dessert.
Sago Gulaman
Sago Gulaman is chilled Filipino drink made with sago pearls (tapioca), gulaman (agar agar), brown sugar syrup, vanilla and water.
Print Pin Rate
Cook Time: 1hour20minutes
Total Time: 1hour50minutes
Ingredients
Gulaman
½ red gulaman bar
½ green gulaman bar
2 cups water
Brown Sugar Simple Syrup
1 to 1 ½ cups brown sugar (1 cup is good for me but you might like it sweeter)
1 to 1 ½ cups water
1 tablespoon vanilla
Instructions
Boil 4 cups of water and add sago pearls. Simmer for 20 minutes. Drain water and place sago in a colander under running cold water for 30 seconds. Pour sago in pot and add 4 cups of water again. Boil, then reduce heat and simmer sago for 1 hour. Turn off heat and leave cooked sago on stove top for 5 hours or until translucent. Set aside.

Soak green gulaman (agar again 1 cup water for ½ an hour. Put on stove and bring to a boil. Reduce heat and simmer until dissolved. Transfer to a container to set. Do the same with red gulaman. Then cut into small cubes.

In a pot, add brown sugar and water. Simmer until sugar is fully dissolved. Turn off heat and let it cool.

In a pitcher, add 5 to 6 cups cold water, brown sugar syrup, vanilla, gulaman, sago pearls and ice. Stir.

This sago gulaman recipe makes 3 to 4 servings using tall glasses. Enjoy!
Notes
You can use other flavor aside from vanilla.
While dissolving gulaman, you can flavor it with sugar and vanilla. I don't since this is already a sweet beverage.
Click the link for a chewier sago.
Nutrition
Calories: 387kcal | Carbohydrates: 97g | Protein: 1g | Fat: 1g | Sodium: 85mg | Potassium: 110mg | Fiber: 1g | Sugar: 80g | Vitamin C: 1mg | Calcium: 90mg | Iron: 1mg
Sours: https://www.todaysdelight.com/sago-gulaman/
Sago at Gulaman Recipe
Sago at Gulaman Recipe - a refreshing summer cooler that goes perfectly with the summer heat in the Philippines. It comes in many different colors and versions, but no matter the difference between the variations are, the drink is still considered as a crowd favorite.
The Philippines is a tropical country, and the only two existing seasons in the area have challenged the creativity of Filipinos when it comes to creating foods and drinks that will perfectly go with the current weather. It is a Filipino's answer to beating the summer heat, although there is no known account regarding how the drink was specifically discovered.
This is very easy to make. As long as all the ingredients are available, one can do it even at home. The only important ingredients are sago, gelatine, sugar, and water. The sweet beverage also provides health benefits for the body, which may be unusual for something made from huge amounts of sugar.
Sago is the name given by Filipinos to tapioca pearls, they are made from starch and have little nutritional value. The pearls are mostly added to deserts because of their chewiness. Gulaman or agar-agar is simply gelatin, but it is a lot different from gelatin because it is made from seaweed. It contains protein and collagen, plus other health benefits concerning the digestive system.
This is a perfect afternoon drink, especially when consumed together with traditional Filipino meriendas and street food like fish ball and kwek-kwek. The drink is usually sold together with street food because of how sago at gulaman perfectly suits the taste of the food. It is best served during summer, to provide the cooling effect it was meant for.
With it's sweet taste and soft sago and gulaman, this beverage is well-loved by many Filipinos. By adding crushed ice, it makes sago at gulaman even much better.
Sago At Gulaman Recipe
Jenalyn Rose Forbes
Sago at Gulaman Recipe is a refreshing summer cooler that goes perfectly with the summer heat in the Philippines. It comes in many different colors and versions, but no matter the difference between the variations are, the drink is still considered as a crowd favorite.
Ingredients
2 pcs gelatin bars
2 cups tapioca pearls
1 tsp vanilla essence
1 cup brown sugar
2 tbsp white sugar
ice
water
Instructions
In a pot over medium heat, boil enough water for the gulaman.

Add the white sugar. Bring to boil then add the gelatin bars.

Cook for 10 minutes until the gelatin bars are melted.

Drain and put it in a flat container or dish. Chill for at least 1 hour or until set.

Boil water in a pot over medium heat.

Add the tapioca pearl and cook for 10 minutes or until the tapioca is translucent.

Drain the water and transfer it in a bowl to cool down.

Dilute the brown sugar with 1 cup of water.

Pour the vanilla essence.

Fill the jug or glass with cold water.

Add the Sago and the Gulaman.

Serve with ice and beat the heat with this refreshing drink.
Nutrition
Calories: 204kcalCarbohydrates: 51gProtein: 1gFat: 1gSaturated Fat: 1gSodium: 7mgPotassium: 29mgFiber: 1gSugar: 25gCalcium: 24mgIron: 1mg
Keyword sago at gulaman, sago't gulaman
Sours: https://www.pagkaingpinoytv.com/sago-at-gulaman/
How to cook Sago Pearls
Last Updated on May 25, 2021 by Ed Joven
How to cook Sago Pearls (Big Sago)
What is Sago? Sago has got to be one of the most used ingredients in the Filipino dessert and drinks. Even if, technically, Sago did not start in the Philippines, it has become famous for many years now. Sago, or also known as tapioca balls, for most countries in the world, actually originated from cassava plants in Brazil, which slowly spread out across the countries in South America, then across the globe. Making this starch into balls is one of the ways to make use of the starch. And here in the Philippines, we sure have used it in many ways.
I will be teaching you how to properly cook Big Sago for this recipe, given that it is such a versatile ingredient that you can add it or use it for many snacks and desserts. There is nothing to be ashamed of not knowing how to cook them.
Sago is a sticky, gummy, and sweet dessert that both kids and adults enjoy. Before teaching you the cooking process of Sago, know the number of desserts and drinks you can make with them.
These are just some of the many drinks and desserts you can make with Sago, or Tapioca or Boba balls. They are very easy to make and to store.
Cooking Procedure of Sago Pearls :
It can be a fun recipe to teach kids as well; pair that up with another dessert or drink of your choosing to finish up the whole experience.
How to cook Sago Pearls
Ed Joven
How to cook Sago Pearls - In this recipe, we teach you how to cook Sago properly. Sago Pearls is a sticky and sweet dessert that we enjoy.
Ingredients
½ cup raw big Sago
1 liter boiling water
Instructions
In a large pot, boil 1 liter of water. When it reaches the boiling stage add big sago.

Cook for 20-25 minutes, stirring constantly to prevent from sticking together.

Fire off, cover with a lid and leave it for another 20 minutes.

Rinse with tap water, several times. Let it cool down and soak half cooked sago with cold water and keep refrigerated for at least 8 hours.

After several hours in the fridge, drain water from sago. In a large pot boil the sago again, over boiling water and reduce time by 10 minutes only.

Stir constantly to prevent from sticking at the bottom of the pot.

Fire off, and cover with a lid and leave it for 30 minutes.

Rinse Sago with tap water for the last time, and transfer in a bowl with water and keep refrigerated until white parts disappear.

Drain water, your well-cooked, and transparent sago is ready to use.
Nutrition
Serving: 100gCalories: 320kcalCarbohydrates: 82gSodium: 2mgPotassium: 5mg
Keyword Beverage recipe, Drinks Recipe
How to Store Cooked Sago:
It is best to place it in an enclosed container submerged in water; without water, it will become dry again.
Sago will last up to 3 days in the fridge, while sago cooked in brown sugar can be stored for a week, submerged in its brown sugar syrup.
Cooked Sago Pearls
Filipino Dessert Recipes with Sago:
Filed Under: Beverage Recipes, Filipino Recipes, Negosyo Recipes, Pinoy DessertsTagged With: Buko Sago and Gulaman Salad, Cold Drinks, sago
Sours: https://www.pinoyrecipe.net/how-to-cook-sago-pearls/
Recipe filipino sago
Easy Sago Gulaman
Sago Gulaman is a local Filipino beverage made of tapioca pearls, water, brown sugar, gulaman, and tapioca pearls.
It's refreshing to dessert/drink and is popular to drink on a hot summer day.
So what's the difference between gulaman and gelatin?
Gulaman (known as agar or agar agar in English), is a carbohydrate that comes from red algae (seaweed). Gelatin is a protein substance from collagen found in animal skin and bones.
Tips and Variations:
Feel free to use plain jello if you can't find gulaman
Gulaman bars are either colored or plain (transparent white). To change up the taste of the drink, use a different flavor gulaman.
Sago Gulaman is best served in individual servings.
How to Make Sago Gulaman:
Listed below are all the ingredients you will need:
Gulaman
3 cups water
¼ cup brown sugar
1 pack 25g red gulaman, unflavored
Sago
4-5 cups water
⅓ cup sago pearls
1 tsp vanilla (optional)
Juice
1 cup brown sugar
3 ⅓ cups water
How to Make Gulaman:
In a pan over low heat, add 3 cups of water, ¼ cup brown sugar, and stir dissolved sugar is dissolved.
Add unflavored gulaman and stir for 3-5 mins or until frothy.
Turn off heat and pour into a glass container, and cool for 20 minutes. Gulaman should be solidified like jello. Then slice into small cubes (see pictures).
How to Make Sago:
In a pot over medium heat, add 4 cups water (add 1 more cup if needed), and bring to boil. Add ⅓ cup sago pearls and cook until sago pearls are tender and translucent.
Using a strainer, separate the sago and hot water. Then pour cold water on the sago to avoid sticking. Set aside.
Juice:
In a pan over low heat, add 1 cup brown sugar and caramelized sugar, make sure to keep an eye and stir, so the sugar does not stick to the pan.
Once it is caramelized, carefully pour in 3 ⅓ cups water and stir until well combined. Make sure that the caramelized sugar does not burn because it will give a bitter flavor. Allow to cool for 20 minutes.
How to Assembe the Sago Gulaman:
In large glasses, add ice, gulaman, cooked sago and juice mixture.
Best served cold and individual servings.
More Refreshing Filipino Drinks:
Drinks, Vegan Filipino Recipes
Sours: https://simplybakings.com/sago-gulaman/
How to Cook Sago (Tapioca Pearl) - walang naiiwang puti sa gitna
Mango Sago Dessert
I have been buying a lot of mangoes lately since they are so bountiful at this time of the year. Normally we devour these delicious fruits on their own, but last week I used mangoes to dress a Salad Nicoise dish that I made for my family.  In the past, I have made and shared a few desserts using mangoes like mango float and mango pudding. This mango sago dessert is another one that will definitely be a crowd pleaser. 
This dessert is simple and easy to make. The hard part is cooking the tapioca pearls, but if you follow the procedure correctly, you will be rewarded with a refreshing and delightful dessert. The tapioca pearls were first cooked for half an hour. They are then set aside for 5 minutes and then rinsed under cold water. These steps are necessary for perfectly cooked sago. The sago was combined with diced mangoes then coconut milk, fresh milk and sugar. The result was a mango sago that tasted perfect and not too sweet. My family and I can't get enough of this delicious treat. Enjoy!
Mango Sago Dessert
Filipino mango sago is a delicious dessert consisting of tapioca pearls, mango bits, fresh milk & coconut milk. It's a definite crowd favorite.
Ingredients
6 cups water
1/2 cup small sago (tapioca pearls)
1 3/4 cups coconut milk
1/2 cup milk
1/4 cup sugar
2 ripe mangoes , peeled and sliced into small cubes
Instructions
In a pot, bring water to a boil. Add tapioca pearls and cook, stirring occasionally on medium heat for half an hour. Remove pot from heat and let sit for 5 minutes. Transfer tapioca pearls to a strainer, rinse under cold running water and then drain well. Set aside.

In a saucepan, whisk together coconut milk, milk and sugar. Bring to a boil and then remove from heat. Set aside to cool.

In a mixing bowl, combine cooled coconut milk mixture, tapioca pearls and diced mangoes. Cover with plastic wrap and then chill in the fridge for at least an hour.
Nutrition
Calories: 314kcal | Carbohydrates: 39g | Protein: 3g | Fat: 18g | Saturated Fat: 15g | Cholesterol: 2mg | Sodium: 37mg | Potassium: 345mg | Fiber: 1g | Sugar: 23g | Vitamin A: 935IU | Vitamin C: 31mg | Calcium: 63mg | Iron: 3mg
Calories 314Calories from Fat 162
* Percent Daily Values are based on a 2000 calorie diet.
Filed Under: Dessert, Filipino, RecipesTagged With: dessert, mango, tapioca
Sours: https://salu-salo.com/mango-sago-dessert/
Similar news:
Jump to Recipe Jump to Video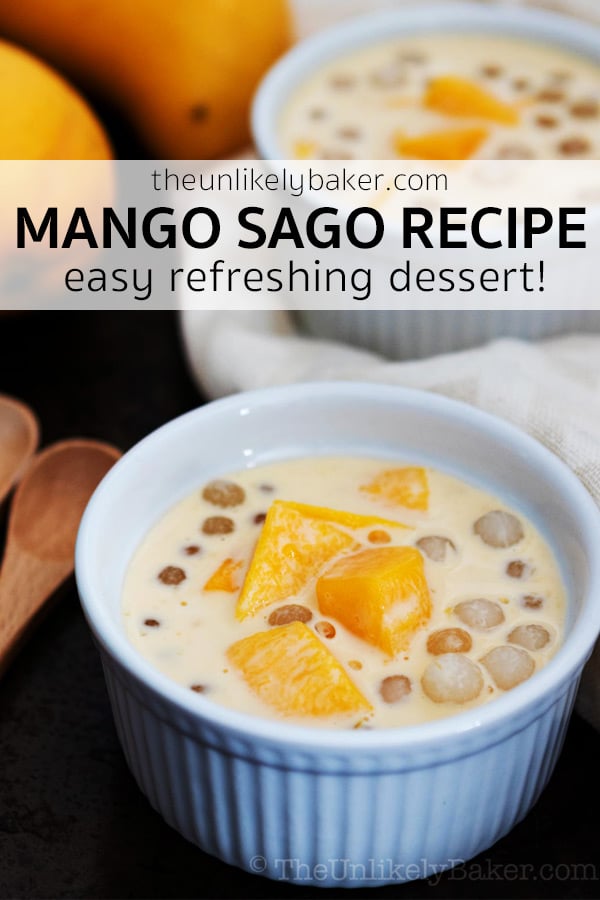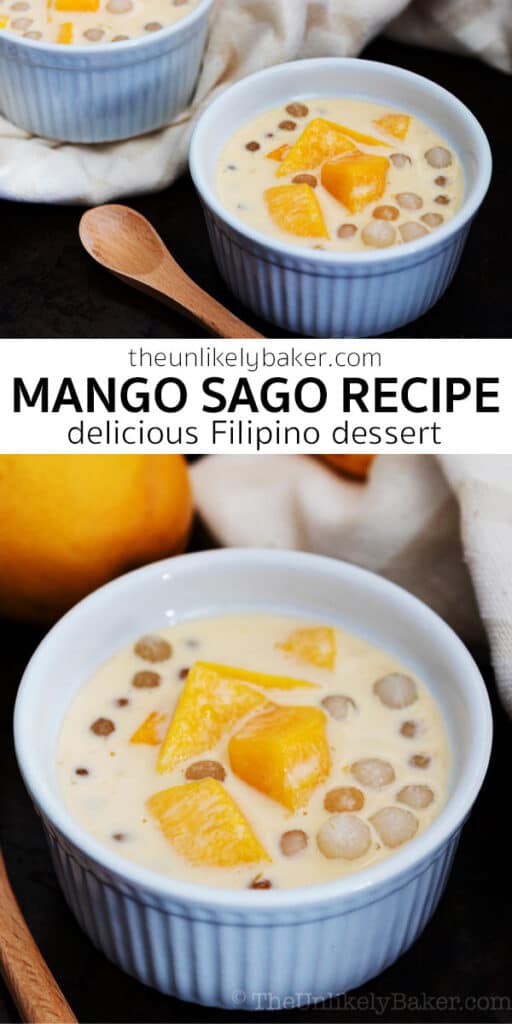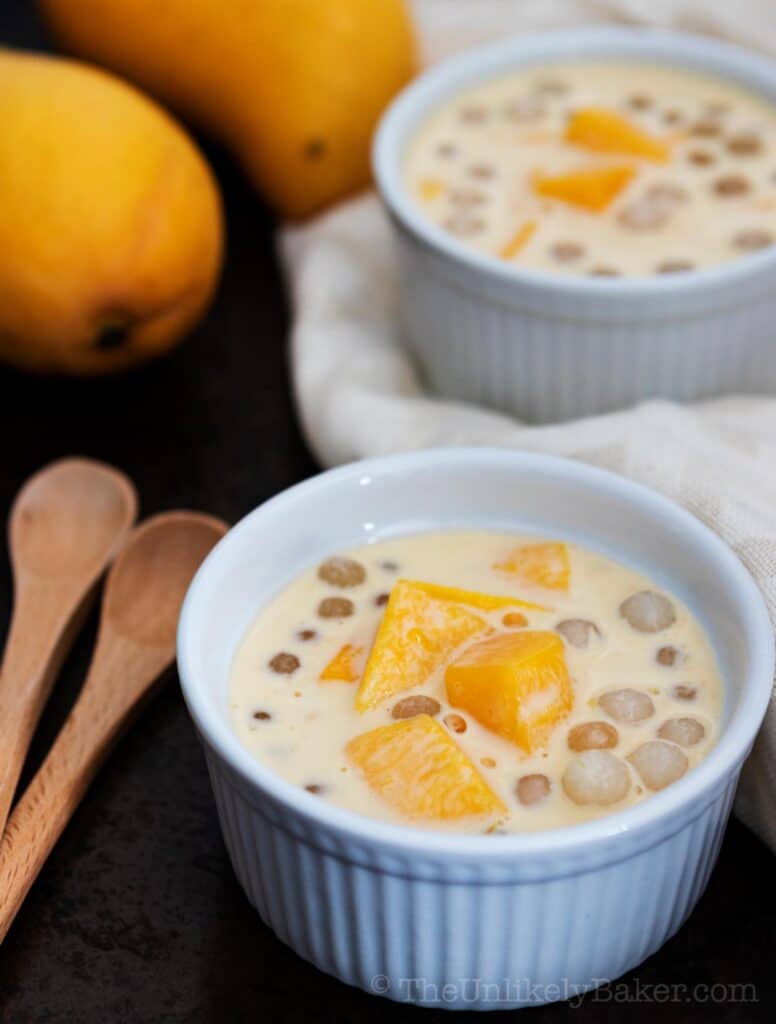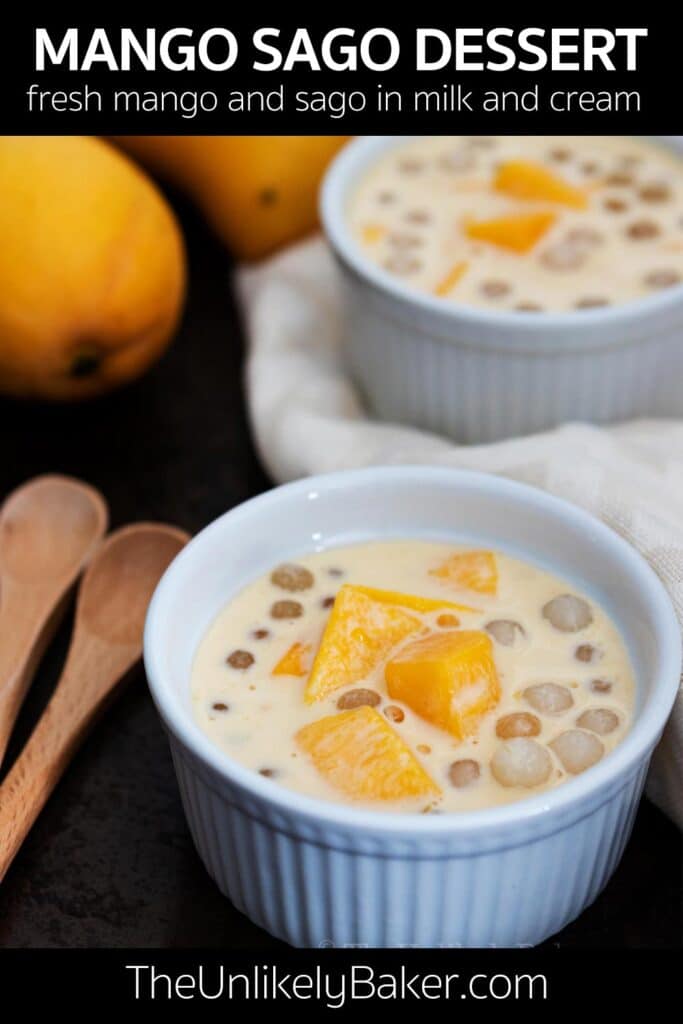 Mango sago is a refreshing dessert you'll want to make all summer long. Made of fresh sweet mangoes, sago or tapioca, milk and cream, it's easy to make and so good. Perfect in this summer heat!
(If you love mangoes, you will love this mango float or mango graham cake recipe. Easy to make, even easier to eat!)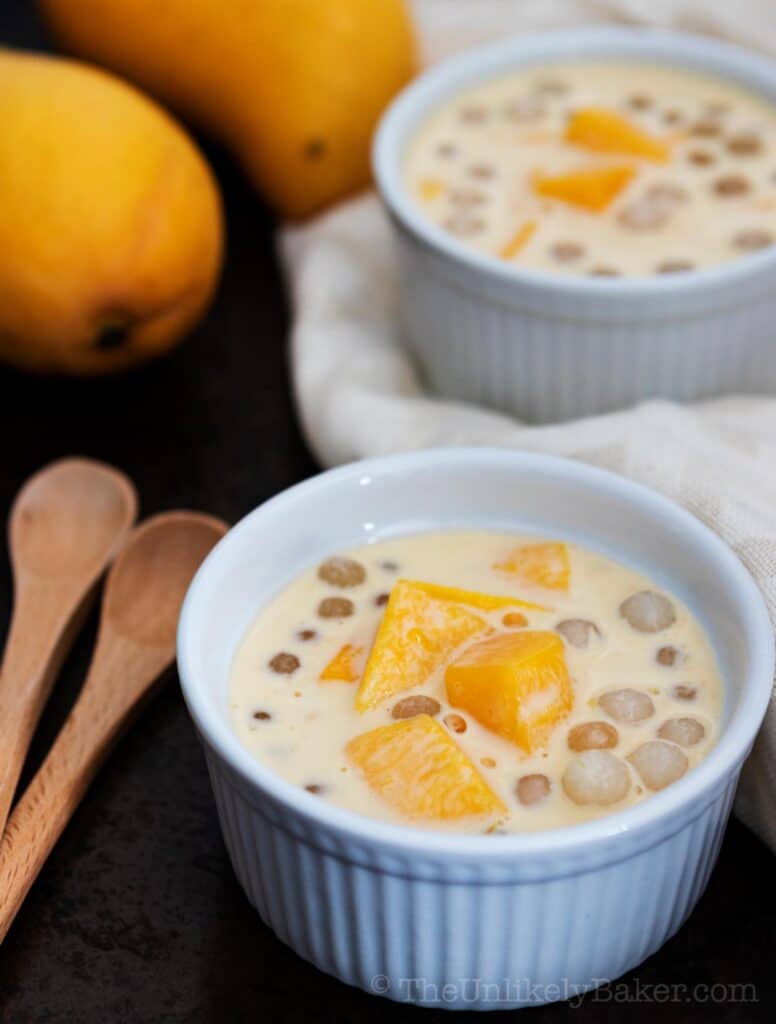 Wikipedia will tell you that the OG mango sago dessert actually originated from Hong Kong (mango pomelo sago). When it eventually found its way to Philippine kitchens though, it lost the pomelo and became a much simpler dish.
Some recipes call for coconut milk but we usually just make ours with evaporated milk, table cream and a little condensed milk. You can cook the sago or use pre-cooked ones; what's more important is you use sweet, ripe mangoes.
Philippine carabao mangoes are the best but any variety works. We get ataulfo mangoes here and they're awesome for this recipe too. Let's get cooking!
Ingredients for mango sago recipe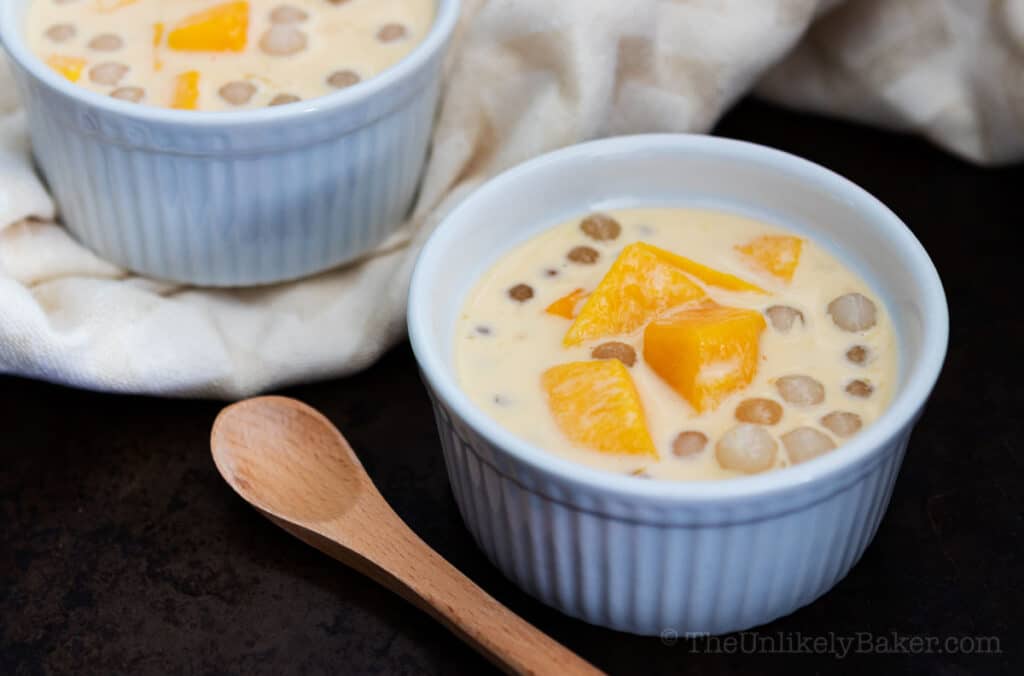 This site contains affiliate links. As an Amazon Affiliate, I earn commission from qualifying purchases. See Terms of Use for more information.
To make mango sago, you'll need:
*Ideally, you'll want to put Nestle cream, which is a kind of thick, sweetened cream that Filipinos put on buko salads and other cold desserts. It's not easily available here though so I always use table cream and it works just fine.
How to make mango sago dessert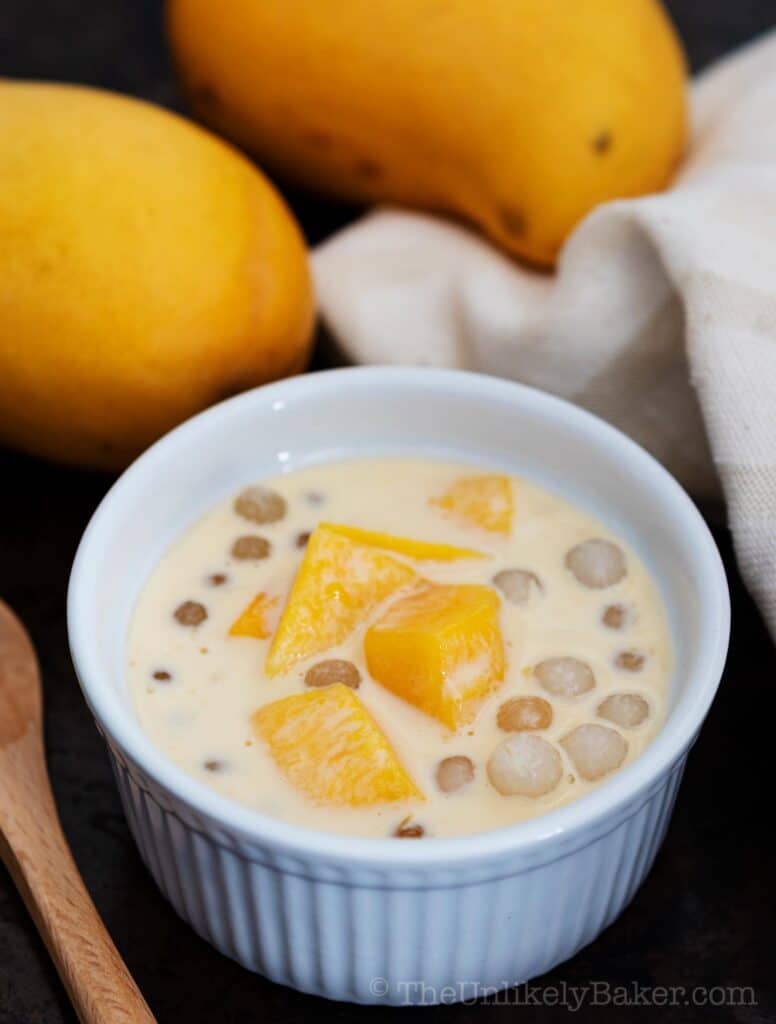 For the detailed recipe, please scroll to the bottom of the page for a printer-friendly recipe card including estimated nutrition information.
Making mango sago is so easy you'd want to make it all summer!
1. COOK SAGO. First thing you'll want to do is to cook your sago. This would depend on the kind of sago you have — some require almost an hour of cooking while others are done in 5 minutes. I provide more sago cooking tips below. Once your sago is done, put it aside in a bowl of cold water while you work on the rest of your ingredients.
2. MIX MILK AND MANGO PUREE. In a large bowl, combine evaporated milk, table cream and mango puree. Stir until fully incorporated.
3. SWEETEN. At this point you'll want to sweeten your mixture with condensed milk. How much condensed milk you put largely depends on how sweet your mango puree is. Careful not to put too much though; we don't want the condensed milk to overpower the mango flavour. I usually put 1-2 tablespoons.
4. ASSEMBLE. Now it's time to assemble! Add your cooked sago and diced mangoes into your milk mixture and stir. That's it! Chill and serve cold.
Is sago and tapioca the same?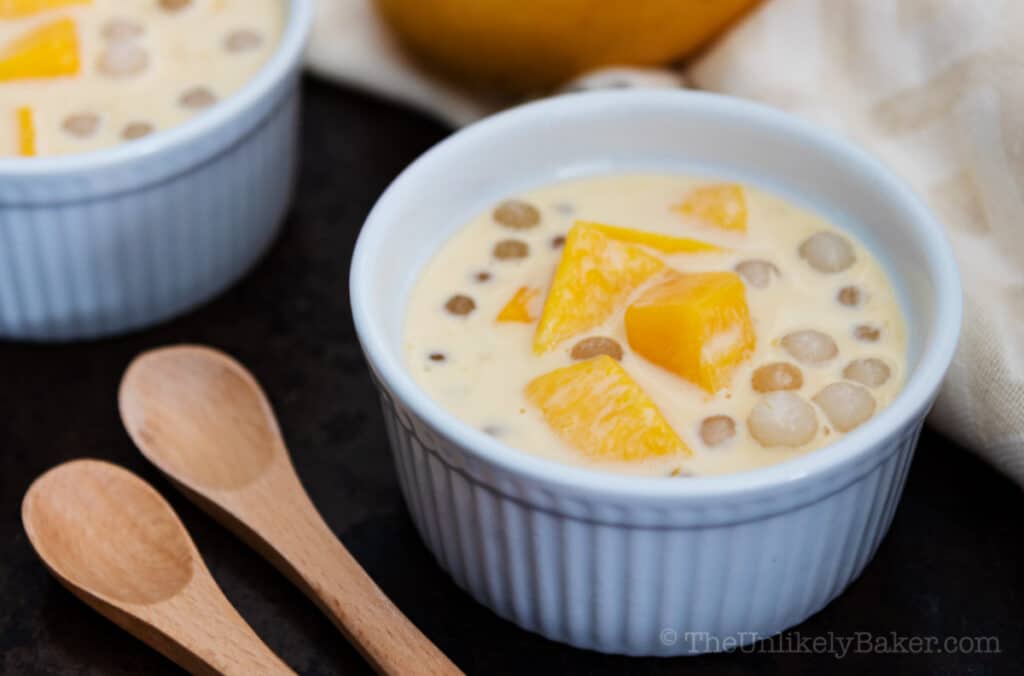 Although the terms "sago" and "tapioca" are often used interchangeably, they are two different things.
According to The Spruce Eats: Sago is an edible starch that is made from the pith of an array of tropical palm trees. Tapioca pearls, on the other hand, are made with tapioca or the starch from cassava, a root crop.
They look similar, taste similar, have a similar chewy texture when cooked, and cooked the same way. They're often substitutes of each other in recipes too, though not always.
In this recipe, you can use either one.
How to cook sago or tapioca pearls
How you cook sago depends on the kind of sago or tapioca pearls you have. I like the quick-cooking ones (it would say right on the package); plus, those usually have English cooking instructions on the back.
If you can't find those, you probably have the kind that needs about an hour to fully cook.
If you google how to cook sago, you'll find 101 ways to do it; this is how I do it:
Bring a big pot of water to a rolling boil. I don't bother to measure how many cups of water; I just make sure it's enough to fully cover the sago or tapioca.
Add the sago slowly and allow to simmer for 10 minutes. Stir occasionally so the sago don't stick to one another.
Switch off the stove and cover the pot.
Wait another 10 minutes before draining the water and catching the sago in a mesh sieve.
Rinse the sago in cold running water for 15-20 seconds.
Place the sago back in the pot, add water and cook on medium heat for 10 minutes.
Repeat 3 to 6 until your sago is fully translucent and chewy but still al dente.
I've found that how long this process takes largely depends on the brand of sago or tapioca you have. So I really make it a point to look for and buy the quick-cooking ones. They taste the same and perfect for lazy cooks like me.
If you have the quick cooking sago, all you'll need is to follow the package instructions. It's usually done in 15 minutes or less.
You also have the option to buy pre-cooked sago usually sold in bottles (like the one I use for making buko pandan). Most brands package the sago in sweet, flavoured syrup so you'll need to rinse the sago to get that flavour out.
What does sago taste like?
Sago on its own has no flavour. It takes on the flavour that you add to it. For example, some people like to soak it in brown sugar syrup to give it a bit of sweetness.
How long does sago stay fresh?
Home-cooked sago becomes hard and rubbery the longer it sits. They're best eaten the day they're cooked but still okay to serve the next day.
Uncooked sago is good for a few months; just make sure to seal the package tightly once opened.
Mango sago is such an easy, simple, refreshing dessert or merienda/snack. Sweet, creamy, cold and full of tropical, summery mango flavour. Enjoy!
Other mango recipes
Love mangoes but tired of the same old? Here are some mango recipes that's not a mango shake!
Mango chia pudding is similar to mango sago but made with superfood chia seeds. It's just as light, refreshing and easy to make.
You only need 2 ingredients for this delicious fresh mango mousse!
And be sure to check this out for a list of delicious, must-try Filipino dessert recipes.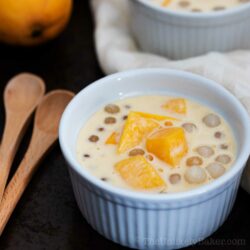 Mango Sago Recipe
Author: Jolina
Mango sago is a refreshing dessert you'll want to make all summer long. Made of fresh sweet mangoes, sago or tapioca, milk and cream, it's easy to make and so good.
Print Recipe Pin Recipe
The number of servings depends on how small or big your serving bowls or glasses are.
The cook time here is based on me using quick-cooking sago. Your cook time may vary depending on the kind of sago you have. See post for tips on how to cook sago.
Cook 2/3 cup if you're using small sago or tapioca pearls.
Calories: 145kcalCarbohydrates: 23gProtein: 1gFat: 6gSaturated Fat: 3gCholesterol: 20mgSodium: 44mgPotassium: 11mgFiber: 2gSugar: 1gVitamin A: 219IUVitamin C: 1mgCalcium: 10mg
Nutritional information are estimates only.
Tag @iamtheunlikelybaker I'd love to see your creations!
Happy cooking!
Did you make mango sago? I'd love to hear from you in the comments section below.
Sours: https://theunlikelybaker.com/mango-sago-recipe/
1579
1580
1581
1582
1583