How a Pee-wee Herman doll came to the rescue during tough times
This is the story of how Pee-wee Herman became a caregiver to my wife Karen during the five-year period after she was diagnosed with breast cancer.
I am not talking about the comic character played by actor Paul Reubens. I am talking about a Pee-wee Herman doll — about the size of a ventriloquist's dummy. When it was new, you could pull a string in his neck to hear recorded Pee-wee-isms: "I know you are, but what am I?!"
I'm hoping this column will make you laugh, but first it may make you cry. I'll deliver the lesson early: If you can reach a point where you can laugh at cancer, it will help you through it. If that's true, maybe laughter will help us survive the pandemic as well.
Before we hit the happy days, we must visit a very sad one. It is 2015. Karen's annual mammogram — this one in 3D — has revealed a small tumor. She is waiting for confirmation of a diagnosis. She is on the house phone with our physician's assistant. We call her Cindy. The diagnosis is confirmed. Karen has breast cancer. She will need surgery, and, it will turn out, months of chemotherapy and radiation.
While she is talking to Dr. Cindy, her cellphone rings. It is another Cindy, Karen's sister, calling from Rhode Island. With the house phone in her left hand and her cell in her right, she is talking to two Cindys. One is telling her that she has cancer. Her sister Cindy breaks more news: "Karen, Mom died."
What's your definition of a bad day?
I have developed this little comedy routine about cancer. Here's the short version. Think of me as your comic oncologist, the star of Saturday Night Still Alive:
Sure, you have cancer, Karen, but not to worry. You are SO lucky. Good thing you didn't get it 10 years ago, or 20. Things are so much better now. We know exactly how to take care of you.
First, we are going to knock you out and stab you with a sharp object, and take that nasty thing out of you. Don't worry, you won't feel a thing. We'll give you apple juice and a cookie when you wake up.
But just in case there are some of those little ninja cells floating around somewhere in your body, we are going to spend about three months pumping poisons into your veins. But don't worry. These poisons KILL the cancer cells! They are not strong enough to kill you — but they will make you feel a little sick. Your hair will fall out. But, here's the good news, it will come back all curly!
And just to make sure we've wiped out the bad guys, we're going to strap you to a table and shoot you with radiation — like something out of Star Trek. It is so cool. You're going to love it. Thirty-five times."
That is a parody of how wonderful doctors and technicians took care of Karen, not once, but also after a recurrence. Cancer treatments are evolving with each day. It appears we are moving into an era when treatments will involve strengthening the body, rather than weakening it, helping the immune system target and fight off cancer cells. Every year a cancer patient survives is a year they may live to see promising new treatments.
In the meantime, it was never a cancer cell or tumor that caused Karen a single moment of discomfort. It was the devastating effects of treatments, especially the chemotherapy. The chemicals robbed her of her hair, her energy, her peace of mind, her weight, the feeling in her fingers and toes. Mostly, she wanted to lie on the couch, watch Hallmark movies and eat comfort food. Even after treatments, recovery took most of a year. The anxiety over recurrence was painful and paralyzing.
Okay, Pee-wee is about to come to the rescue, but not quite yet.
After five years, I've become an experienced caregiver. I don't know how patients get by without one. I went with Karen to every doctor's visit. I took my notebook. I recorded elaborate notes, especially directions on medications, tests and continuing care. I got to know the surgeon, the oncologists and the radiologists. I asked questions, lots of questions. I even reminded doctors of things about Karen they had forgotten.
On the home front, I moved into another bedroom and bathroom. With an impaired immune system, Karen needed to be protected from infection. As if we were anticipating a pandemic, I washed my hands a lot, stayed out of crowds and monitored visitors to the house.
I've learned that to live through such an ordeal, you need the power of three:
Power No. 1: Medical science.
Power No. 2: Prayer, lots of it. From everywhere, especially social media.
Power No. 3: Magical thinking. Enter Pee-wee Herman.
The Pee-wee doll became a kind of comic talisman for the Clark family. Anyone who visited Karen had to be photographed with Pee-wee. When I had to leave the house for work, I made sure Pee-wee was tucked next to Karen on the couch. "Pee-wee, take care of Karen while I'm gone. I promise I won't be long." On holidays, we might dress Pee-wee for the season. He really likes this cowboy outfit we bought for him in the gift shop in the basement of the Alamo. (Fans of the movie Pee-wee's Big Adventure will get that joke.)
Our friends Pegie, Foster, Roger, Diane and Jeannie were faithful visitors to the house, bringing food, friendship and the blessing of knowing when to leave. Pegie, who has a Pee-wee doll of her own, would always cuddle ours and make a fuss over him.
Pegie's birthday is the Fourth of July. To celebrate in 2019, we met at a sidewalk table on Beach Drive along the waterfront in St. Petersburg. The restaurant was Moon Under Water. There were five of us, sitting at a table for six. I opened a bag and pulled out Pee-wee. What happened over the next hour defies description.
Pee-wee wound up with his own place setting, a drink and a cellphone. Dozens of people moving down the sidewalk saw him, stopped, laughed, talked to him. "Looking good, Pee-wee!" One lady kissed him on the head. That outing was our way of thanking Pee-wee for taking care of us.
I wonder how many of us are using magical thinking to protect ourselves at this very moment from the coronavirus. First things first, folks. Wear your masks. Keep your distance. Wash your hands. Avoid crowded places and spaces. Pay attention to medical experts. Say your prayers. And find a talisman that works as well for you as Pee-wee works for us.
Roy Peter Clark teaches writing at the Poynter Institute, which owns the Tampa Bay Times. He is author or editor of 19 books, including his latest, "Murder Your Darlings." Contact him at [email protected].
Sours: https://www.tampabay.com/life-culture/2020/08/27/how-a-pee-wee-herman-doll-came-to-the-rescue-during-tough-times/
It's been long-rumored that the new Conjuring spin-off, Pee-Wee's Scary Adventure, would tell the tale of the creepy doll known as Pee-Wee Herman.
We've all heard the scary stories of Pee-Wee the killer doll, right? Everyone knows the lyrics to his haunting nursery rhyme. Well, the spinoff will show us his origins. The BloJo Movie Network recently sat down with director Jimmy Wang. Here's the scoop...
Potential Spoilers Ahead...
"I probably shouldn't be spilling the beans, but I have a hard time keeping it zipped up," said Wang. "Pee-Wee was once a human serial killer named Charles Holland, aka The South Trail Masturbator. His father used to beat him, make him poke dead animals with a stick, and dress him in women's clothes. One day, Freddy flips out and takes a chainsaw to his father's face and drowns his mother in the lake behind their house. Over the course of the movie, he gets caught for the murders and spends 15 years in an insane asylum. He obviously escapes the asylum and is hunted by his obsessed twin brother who will do anything to catch him. With nowhere left to run, Freddy hides in the office of a run-down adult movie theater and transfers his soul to a perverted looking vintage doll--an evil technique he was taught by his speech therapist, Jeff. The movie ends with a mob of people burning him alive. I hope I didn't spoil too much. Oh, and one more thing. John Carpenter is directing. Mic drop."
The BloJo Movie Network reached out to John Carpenter. His answer was blunt. "Money is the only objective. Just pay me. Until the check clears I'll be sitting at home in my underwear watching basketball.
While promoting his new comic book movie, SuperDuper Dad, Conjuring star Patrick Wilson gave his thoughts on the Conjuring spinoff. "It sounds like garbage," Wilson said, "Then again, all the spinoff movies have been garbage. It sounds to me like they're just ripping off 80s horror movies and riding on nostalgia. However, I'd rather watch this than another piece of shit Annabelle movie."
The Conjuring spinoff is sure to scare the pants off movie goers when it is released in theaters in October of next year. Just don't get caught masturbating. But if you think you've seen the end of the Pee-Wee Universe, think again.
As Wang also told our friends over at BloJo, "We're going all out. Chairry, Globey, Pterri, Jambi, and Conky 2000 will be getting their own spinoffs. If they're successful, we might even bring in more fan favorites. We're even thinking about getting the rights to Alf and Teddy Ruxpin. Haunted Alf, anyone? Pee-Wee lovers will have a field day."
So, do you want to see Pee-Wee's Scary Adventure, or has the story already been ruined for you? Are you excited for the return of the master of horror, John Carpenter? Or is it just a quick cash grab? Are we crazy for even publishing this article? Well, all we can say to that is, "I KNOW YOU ARE BUT WHAT AM I?" Let us know in the comments.
Also, when the movie releases we plan on giving away a screen-used Pee-Wee doll. That's right, you can own a bloody doll that was actually used in the movie! It might even be possessed. Look for details coming soon. Doll shown below. Please note that the images are not shown at actual size...
Sours: http://www.adventuresinvideoland.com/new-conjuring-spinoff-will-focus-on-a-possessed-peewee-herman-doll/2020/10/3/new-conjuring-spin-off-will-focus-on-a-possessed-pee-wee-herman-doll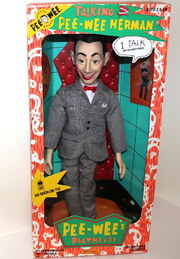 Paul Reubens was given many responsibilities while working on Playhouse.' One of the more involved of these was to organize and attend meetings to arrange the release of licensed Pee-Wee Herman  merchandising. Starting in 1987, dolls, puppets, t-shirts, and VHS tapes were released alongside and far after the second season. Many distributers  were considered and used, including Matchbox toys, of Hot Wheels fame, and JC Penney. 
Matchbox signed on to, among other things, release a line of specialised plush which included  Chairry, Pterri, and (originally) Penny. These dolls were different because of certain features that they included, such as Chairry's talking and rolling eyes, and Pterri's wing flapping and moving eyes. Penny's doll didn't have any known actions because her model was only made into a prototype. Timothy Young, who worked on the doll, said that "The doll was never was never produced because the marketing department at Matchbox felt that since she didn't interact with any of the other Pee-Wee characters, she was not viable."
Matchbox also created the famous 18" talking Pee-Wee Herman with a pull string. This classic mechanism was unique, but didn't last long. Sadly, very few of these have maintained their original speech power. The most common, besides it not being able to speak at all, was that it speaks too fast. 13 years later, the doll was rereleased by Matchbox. However, it's talking was activated by a press of the stomach. He was also released with Billy Baloney and Vance the Pig. Out of all the Playhouse merchandise, the most rare were the 48" Pee-Wee (which was unable to talk), and the full sized Chairry to go along with him.
Finally, Matchbox released 6" action figures of the majority of the characters. The humans and Chairry  were just average posiable figures, but the medium sized puppet characters were given wind-up motors, and the smaller puppets were just tiny figurines. All of these toys fit perfectly, and were designed for the ultimate piece of Playhouse merchandise: The Deluxe Playhouse Playset. This toy was made from mainly plastic and laminated cardboard, and was in the image of the Playhouse set. It included a working front door, dancing Flowers , talking Mr. Window, pop up Floory, rotating Clockey arms, holographic Fish, the television set, the kitchen booth, table, and Refrigerator, Puppetland, and a working door for Pee-Wee's Scooter, which was included as well.

JC Penney carried a line of exclusive Pee-Wee Herman clothing. Blue jeans, trading cards, Halloween costumes, t-shirts, chloroforms, sweaters, and even party products were produced! All under the 'Official Pee-Wee Brand', which was labeled in the corner of each box, rapper, and package. Original videotapes, or VHSs, were released of the first season, but it wasn't until 1997 when the rest of the episodes and the Christmas special were put out. After that, DVDs of the show came in box sets, Vol.1 and Vol.2, in 2004.
Besides the Penny doll, there were other ideas that were abandoned before reaching the market. Paul Reubens had an idea about selling Ms. Yvonne wigs and makeup, but nobody wanted to produce them. Another was to make Pee-Wee colognes, but nobody would produce them either. However, one product nearly made it to stores: Purina brand Pee-Wee Chow (breakfast cereal intended for kids to eat on their hands and knees). The cereal made it all the way to the blind taste test, but there was one problem. The kids hated the taste of the food, and refused to eat anymore.
"In the 1980s, a lot of shows were actually based on toys." says Judy Price." The toy came first and then the show. There was no merchandising out during the Playhouse's first year. He wanted to do a show, and do a good show, and then merchandising would follow."
An 18" Talking Pee-Wee Doll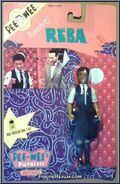 Reba's Action Figure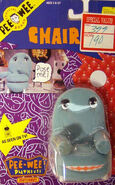 Chairry's Action Figure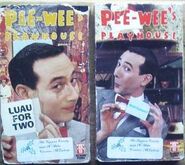 A Few Original VHSs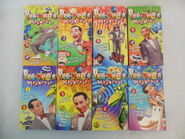 A Few Newer VHSs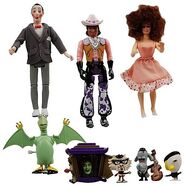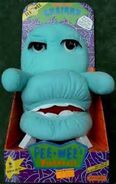 Chairry's Small Plush Doll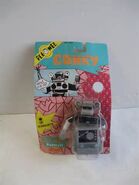 Conky's Wind Up Action Figure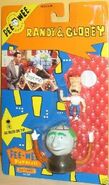 Randy and Globey's Figurines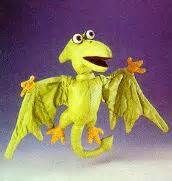 Pterri's Prototype Plush Doll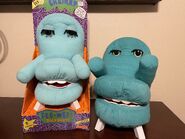 Original Chairry Prototype with Finished Toy
Sours: https://peewee.fandom.com/wiki/Merchandising
The guy couldn't wait any longer. He turned her head back to him and drove his penis back into her mouth, and immediately asked me: "Can I. Cum right in her mouth?" Having received my consent, a minute later, with a growl, he pressed Albina's head to his groin and began to cum right into her mouth.
Wee doll pee
Then I danced with another, he ran his hands over me, and I was already all drunk. He laid me down on my back on their corner sofa, which stood in the darkness of the hall, and told his friends that I was. No longer on my feet. Lying it is more useful for us, and they laughed, someone unbuttoned my skirt, took off my panties, and lay down on top.
Halloween Freddy Kruger PeeWee Herman Fail Toy Doll by Mike Mozart of JeepersMedia on YouTube .mov
The flame of. The candle fluttered from their breath and everything familiar in the room became unusually unrecognizable. Merging with the sounds of the girl's moans, filling all the corners of the room. Gently parting her wet lips, helping with his second hand, Sergei. Sharply introduced his penis into the bosom and froze.
Similar news:
And my own husband licks me tenderly, sticking his tongue into my crack, and I don't want him at all. At night in bed, I. Could no longer refuse him.
15529
15530
15531
15532
15533