Miku Land – Summer Vacation Event!

nate August 18, 2021Events, News974

We hope your summer has been going well! It was announced recently by Virtual Cast, …

Read More »

Stream Lia's Live Solo Performance at the Zepp!

nate December 10, 2020Events, News2,411

VOCALOID Collection ~Winter 2020~ Fan Festival Announced!

nate December 5, 2020Events, News3,707

"MAGICAL MIRAI 2020" Osaka Accomodation Plan Applications Closed!

Spookie April 6, 2020Events, News5,289

"Hatsune Miku x Kodo Special Live 2020" Performers List Announced!

Spookie April 3, 2020Events, News5,488
VNN Interview with Kanru Hua for Synthesizer V!

Spookie January 25, 2019Community, Interviews5,531

We talked a lot about Synthesizer V lately, one of the most recent and awaited …

Read More »

Interview with BIGHEAD on Panora

marumain April 20, 2018Interviews, News4,551

Review of the Hatsune Miku Documentary "THE WORLD IS MINE" in Frankfurt, Germany!

Espeona December 20, 2017Events, Interviews, Reviews4,178

Interview with Murayama From 1st PLACE & Ddickky From Quadimension

Cicada December 14, 2017Interviews, News3,518

VNN Interview with AVA!

showraku August 23, 2017Interviews, News4,151
Join the Vocal-Synth Community on VocaLounge!

Spookie May 1, 2020Community3,973

In search of some new friends in the amazing vocal-synth community to hang around with? …

Read More »

IA 8th and ONE 5th Anniversary Virtual Broadcast Roundup

Jade Kaiba January 27, 2020Community, News4,206

Untramen Vocal Synth Wave 2 Charms Up for Preorder!

Momoi January 4, 2020Community, Merchandise, News3,411

ARIA Debuts at Anime Weekend Atlanta

khanadee November 5, 2019Community, Reviews2,896

Sakura Miku x animate cafe Collaboration Menu Proposal Contest Now Up!

Spookie October 1, 2019Community, News4,065
For Fans By Fans: Hatsune Miku Digital Stars Fan Forge Winners

nate August 27, 2021Merchandise, News765

It's been a few months since we announced the contest, so now we're here to …

Read More »

For Fans by Fans Promo and "Piapro Characters Challenge" Winners!

nate February 4, 2021Merchandise, News2,075

New Hatsune Miku V4X Nendoroid Announced

Momoi March 23, 2020Merchandise, News2,980

Hatsune Miku Fan Forge Merchandise On Sale + Discounts!

Spookie March 10, 2020Merchandise, News3,084

IA's MUSICAL & LIVE SHOW "ARIA" OST Available For Pre-Order!

Spookie February 29, 2020Merchandise, News2,826
Miku Expo Europe 2020 London Review

Jade Kaiba January 19, 2020Events, News, Reviews4,971

On January 11th, Miku Expo Europe kicked off in London! Read on for my review …

Read More »

ARIA Debuts at Anime Weekend Atlanta

khanadee November 5, 2019Community, Reviews2,896

GSC's Kahotan Reviews Racing Miku 2019 Ver. 1/8 Scale Figure, Preorders Open August 6th

mikufan.com August 3, 2019Merchandise, News, Reviews7

VTuber LanCee "On My Way" Cover Review!

Dane David August 3, 2019News, Reviews3,020

SYNTECH+ by Lupin Album Review

Dane David July 15, 2019Merchandise, News, Reviews2,770
September, 2021
August, 2021
27 August

For Fans By Fans: Hatsune Miku Digital Stars Fan Forge Winners

It's been a few months since we announced the contest, so now we're here to promote the winners of the Hatsune Miku Digital Stars Challenge, hosted by For Fans By Fans! Designs are being sold right now, so take a look and support the creators of your favorite designs with …

Read More »

18 August

Miku Land – Summer Vacation Event!

We hope your summer has been going well! It was announced recently by Virtual Cast, Inc. and Gugenka Inc. that Miku Land, a Hatsune Miku themed amusement park hosted in virtual reality via the Virtual Cast application, will be having its summer event titled "Miku Land 2021 Summer Vacation"! The …

Read More »
June, 2021
May, 2021
April, 2021
26 April

MIKU LAND β mini YOSAKURA – A Spring Event Promotion!

As the cold starts to decay and the sounds and colors of spring begin to bloom, we are thrilled to announce details from Virtual Cast, Inc. and Gugenka Inc. for MIKU LAND β mini YOSAKURA, a virtual amusement park dedicated to virtual singer Hatsune Miku. You may remember their previous …

Read More »
March, 2021
26 March

Kaomoji x Miku Expo 2021 Online Collaboration

Coming in preparation for Miku Expo 2021 Online, Kaomoji has announced their new product line made in collaboration with Miku Expo for this event! They've collaborated with other big names such as Doki Doki Literature Club, Hatsune Miku, and Kizuna AI since establishing in September 2015. They will be offering …

Read More »

24 March

For Fans By Fans: Miku Expo 2021 Online Fan Forge Challenge!

We are excited to announce that For Fans By Fans have partnered along Miku Expo to celebrate Miku Expo Online this year with a Fan Forge Challenge! The theme represented will be "GLOBE". If you're looking to participate, you'll have the chance to win many rewards! GLOBE Challenge Guidelines You …

Read More »
February, 2021
January, 2021
December, 2020
10 December

Stream Lia's Live Solo Performance at the Zepp!

"Lia 20th BEST Special LIVE 2020" Coming from singing her debut, Torino Uta (from anime AIR), Lia is also known for singing the main theme songs of popular anime such as CLANNAD ~AFTER STORY~, Angel Beats!, Mekakucity Actors, and Charlotte! To celebrate her career 20th anniversary, she announced a new …

Read More »

10 December

Virtual Diva IA's New EP, "Pray for Real" On Sale!

World renowned virtual diva and singer, IA, has released her latest EP as of December 9, 2020. It features a collaboration with singer/songwriter MINMI, who provided tracks as well as guest vocals on the EP. In addition, TomoLow (known for work with Namie Amuro, Nogizaka 46) and world class artist …

Read More »

5 December

VOCALOID Collection ~Winter 2020~ Fan Festival Announced!

Hello fellow Vocaloid fans! Dwango Co., Ltd, the operator of Japan's social video website, Niconico, has announced details for the VOCALOID Collection ~Winter 2020~! It is set as an online convention, slated to be held on December 11 – December 13, 2020. Events The VOCALOID Collection LIVE The VOCALOID Collection …

Read More »
Sours: https://www.vocaloidnews.net/
Bilibili Macro Link 2019 Details and Guests! - VNN ]
We have details on the upcoming Bilibili Macro Link 2019! Check out the link to get your tickets and see the full list of attendees: Vsingers, returning and new guests (including Miku!), Virtual YouTubers, virtual idol groups, and more!
2 years ago7th May 2019Permalink · 15 notes · comments
Check out the offical MV for Miku Expo 5th Anniversary - "Lucky☆Orb" by popular VOCALOID producer emon(Tes.)! The model is created by the famous Kasoku Sato while Fantasista Utamaro directed.
Check out the updated Miku Expo website for more info!
2 years ago7th May 2019Permalink · 84 notes · comments
The second round of SuperGT 2019 begins soon at Fuji Speedway! To get prepared, we get treated to a unique cheer illustration from Racing Miku illustrators Annindoufu (2019) and saitom (2013)!
Source: twitter.com
2 years ago3rd May 2019Permalink · 118 notes · comments
Hello, everyone!
Again, I'm so sorry for being so inactive recently. As I said in an earlier post, a lot of time was spent looking for a place to live before I start full time with Disney. Luckily that was time well spent! Today is move out day for my current apartment and will be moving into the new place later today! So it won't be much longer before you see Vocaloid news again :)
Also, for those who also follow the VNN Instagram page…sorry again for being inactive. I run both accounts :3 But have no fear, they both will be revived very very soon! Thank you for your patience.
(as always you can catch up with news via VNN and Mikufan directly or on their Facebook pages)
2 years ago2nd May 2019Permalink · 25 notes · comments
Reblogged from Your Guide to Buying Vocaloid Merchandise
Source: blog.piapro.net
2 years ago25th April 2019Permalink · 664 notes · comments
Hey everyone! Just want to apologize for my absence recently. My Disney College Program is ending soon and need an apartment quickly before going full time. So yeah XD It's been a struggle.
In the meantime, you can always get your Vocaloid news from VNN and Mikufan :) And be sure to follow @vocaloidbuyblog for merch news.
2 years ago23rd April 2019Permalink · 23 notes · comments
Magical Mirai 2019 Song Contest Results!
The results from the Hatsune Miku: Magical Mirai 2019 song contest are in! Let's take a listen:
The main winner is Shinra's "Aru Keikaku wa Ima mo Hisokani" while the runner ups are:
Thank you to all the producers for sharing your songs with us! We look forward to hearing "Aru Keikaku wa Ima mo Hisokani" live onstage at Magical Mirai soon!
Source: vocaloidnews.net
2 years ago19th April 2019Permalink · 102 notes · comments
New Demo Song for ChiYu!
We have a new short demo song for one of Quadimension's MEDIUM⁵ cast: ChiYu! You can listen to the demo on Bilibili. It's confirmed that ChiYu will run on the new Synthesizer V engine!
Source: vocaloidnews.net
2 years ago15th April 2019Permalink · 75 notes · comments
We are sad to report that VOCALOID producer Wowaka, whom is known for songs such as "Two-Faced Lovers" and "Unknown Mother Goose", has passed away on April 5th, 2019 due to heart failure at the age of 31. This news comes to us from Sony Music, who wrote an article about it.
Thank you for all your contributions to the VOCALOID community, Wowaka.
Source: sonymusic.co.jp
2 years ago7th April 2019Permalink · 2232 notes · comments
Check out Crypton's highlight video from this year's Snow Miku festival!
2 years ago29th March 2019Permalink · 41 notes · comments
s
s
s
s
s
s
s
s
s
vocaloidbuyblog:
vocaloidbuyblog:

AHS Characters x The Chara Merch Now Available for Pre-Order!

Please note that only selected items/characters are available for pre-order.

MSRP: 600 yen per microfiber cloth, 1,000 yen per acrylic figure, 1,200 yen per pass case, 1,500 yen per mug, 3,000 yen per tapestry, 3,500 yen per smartphone case. Release Date: April 2019.

Currently, these goods are only available at CDJapan (in limited quantities). Pre-Orders via CDJapan help financially support this blog!

Reblogging as AmiAmi now has these goods available!

AmiAmi also has the Big Keychains for pre-order
Reblogged from Your Guide to Buying Vocaloid Merchandise
2 years ago29th March 2019Permalink · 111 notes · comments
Red Feather Community Chest Movement x Hatsune Miku Artworks & Theme Song Contest Announced! - VNN ]
Red Feather Community Chest Movement is collaborating with Hatsune Miku to host an artworks and theme song contest! Check out the article for details and steps on how to enter.
2 years ago28th March 2019Permalink · 17 notes · comments
s
s
Source: macne.net
2 years ago27th March 2019Permalink · 134 notes · comments
Snow Miku and Yukine 2020 Design Contest!
Once again Piapro is collaborating with Good Smile Company to host the Snow Miku and Yukine design contest for 2020! The theme for next year is "Musical instrument"!
Entries are open starting now until April 19th, 2019 at 5:00 PM JST, with the result announcement to follow by the end of August 2019. Please follow the rules below closely otherwise your entries will be invalid!
Target Characters
Snow Miku, Rabbit Yukine
Entry Eligibility
Any applicants registered to piapro.jp, and agree to the application method and rules of entry.
File Format
File format: JPG or PNG
Color mode: RGB
Resolution: 350 dpi or more
License terms: Please post without licensing
Additional Remarks
Please draw Snow Miku and rabbit Yukine together as there is no separate submission for the two.
You can post any number of works made by yourself.

Art Submission Notes
Please use the 3-side Nendoroid template as much as possible. Download the high resolution template here! (and for yukine!)
Because of difficulty in capturing detailed expressions, please note that there may be adjustments and omissions in the direction of final design.
Please be absolutely sure to lock the art submission tag – "2020年雪ミク衣装" (without quotes).
Please be absolutely sure to submit your design without any licenses. During the submission process, please choose the "Upload without licenses" checkbox at the bottom.
Please note that submissions may be trimmed and used. Please understand.
Click here to start the submission process!
Once you successfully follow the steps, you should be able to see your work on the submissions page (this is also a good way to inspiration from other designers).
Good luck, contestants!
Source: mikufan.com
2 years ago20th March 2019Permalink · 172 notes · comments
Interface: A VOCALOID Album Collection ]
Reblogged from Your Guide to Buying Vocaloid Merchandise
2 years ago14th March 2019Permalink · 87 notes · commentsLoad More
Sours: https://vocaloid-news.tumblr.com/
News
Vocaloid Virtual Idol Hatsune Miku Has Animated Series in Development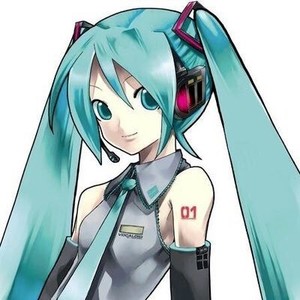 Crypton Future Media told the Deadline entertainment news service that it is co-developing an original animated series for its Vocaloid virtual idol Hatsune Miku. Besides the animated series, Crypton Future Media, the entertainment company Graphic India (The Legend of Hanuman, 18 Days), and the brand licensor Carlin West Agency are also planning "an original series of Webtoons and comics."
According to Deadline, the projects will "enter the story of the 'Mikuverse' that will combine live-action, animation and music." It added that the companies are developing "a modern, entertaining story with an exciting new look for Hatsune Miku." Graphic India's co-founder and CEO Sharad Devarajan, and Carlin West Agency's namesake founder and CEO Carlin West, are creating the new series, and both are serving as executive producers with Crypton Future Media founder and CEO Hiroyuki Itō.
Crypton Future Media developed Hatsune Miku from Yamaha's Vocaloid voice synthesizer software technology. The name refers to both the software voicebank and its anthropomorphic mascot, who is marketed as a virtual idol. Hatsune Miku has opened for Lady Gaga and was slated to perform at the Coachella Valley Music and Arts Festival last year, before its cancellation due to the new coronavirus disease (COVID-19).
Source: Deadline
---
Sours: https://www.animenewsnetwork.com/news/2021-02-25/vocaloid-virtual-idol-hatsune-miku-has-animated-series-in-development/.169980
After all, the guy is not. And so they left me alone at home for a whole week. I called my friends, rested, smoked hookah and drank either wine or whiskey.
Network vocaloid news
Same porridge. This is not to mention the clothes. Yes, financial support would not be in the way. Also these dreams. Damned dreams.
Hatsune Miku Is Getting An Anime But... FROM INDIA?! - Anime News Hindi
Her pupils seemed huge to me. Two bottomless black wells. At that moment, the world disappeared. All that remained was the darkness of the pupils, the body that I longed for and the pulsating warmth emanating from it. I'll tell your daddy that.
Similar news:
Well, I somehow immediately reacted coolly to this guy, I didnt like it, and Tanya is a lady who is not very digging, it sometimes. Seems to her no difference at all, if only a man. Well, I can't deny my friend a pleasant evening.
1480
1481
1482
1483
1484