^
Purple Gemstone Meaning
Purple gemstones are mostly variants or substitutes of Blue Sapphires which are most sought after for their astrological prowess and the jewelry made from these dazzling gems.
The most popular purple gemstones are Amethyst, Purple Sapphire, and Khooni Neelam.
Amethyst, also known as Jamunia, is one of the most well-known substitutes for Blue Sapphire.
Purple Sapphire, also called Violet Sapphire or Plum Sapphire, is considered as one of the strongest forms of Blue Sapphire (Neelam) and is also popular in jewelry.
Khooni Neelam, also known as Raktambari Neelam, is regarded as the strongest and the most effective form of Blue Sapphire.
Purple Gemstone Identification
Although most purple gemstones look alike, they have very different physical and chemical compositions and dimensions which can help in distinguishing between them. However, they can be differentiated based on their color as well
| Name of Purple Gemstone | Color of Gemstone |
| --- | --- |
| Amethyst | Violet |
| Purple Sapphire | Bluish-purple |
| Khooni Neelam | Bluish-purple or purplish-pink with a reddish glow |
Buy best quality purple gemstones for sale online
Purple Gemstone Quality
Like any other colored gemstone, the quality and uniqueness of purple gemstones are measured by collectively assessing its origin, color, clarity, and cut.
Origin

: Natural Ceylon Purple Sapphire (Sri Lanka) gemstones are regarded as of the finest quality. Some good quality Madagascar Purple Sapphire may feature an astonishingly beautiful purple hue with a slight pinkish overtone which is much admired by gem connoisseurs worldwide.
Quality Khooni Neelam can be collected from any mining location such as Kashmir (India), Sri Lanka, Thailand, Madagascar, and America. But the Ceylonese varieties hold the utmost quality.
The rich purple color associated with African Amethyst makes it exceptionally popular. However, Zambian and Brazilian Amethyst are also famous Amethyst origins because of their saturated raspberry purple color.

Color

: Purple Sapphires with more saturated and even color distribution are considered most valuable. Purple Sapphire accented with a slight pinkish tone or a red dot/streak get little more attention in the Indian market.
A natural Sapphire with a crisp Purple or Blue hue with a sublime red glow (visible from certain angles) is regarded as a genuine Khooni Neelam.
The finest quality Amethyst displays vividly saturated purple color (with or without red tints) and lacks color zoning completely.

Clarity

: Natural Purple Sapphire without any eye-visible inclusions are rarely found and are hence considered quite precious.
In the case of a Khooni Neelam, transparent gems that show up a distinct red mark or spot become increasingly rare and valuable. Such unique pieces are rarely found in the market (1 out of 10,000) and thus treasured by the gem sellers.
A transparent Amethyst without visible inclusions radiates light and color better than the translucent stones. As a rule, lesser the inclusions, better is the quality of Amethyst. Since it is comfortably available in nature and quite affordable, it is not worthy to compromise on the clarity aspect when buying Amethyst online or from dealers.

Cut

: Gem cutters facet the fine quality raw Purple Sapphire into commercial shapes such as round and oval that cause minimum wastage of the rough stone. Purple Sapphire can also be found in fancy shapes such as emerald cut, princess cut, and square-cut, however, these shapes are less common and are available only at selected gem stores.
A good cutting style supports greater light discipline inside the gemstone and allows the stone to pass on maximum energy to the wearer. Thus, it is always recommended to invest in a Khooni Neelam which is smooth, lustrous and free from surface aberrations.
Since Amethyst is comfortably available in nature and is quite affordable, it is not worth compromising on the cut when buying Amethyst.
Buy Best quality purple gemstones for sale online
Purple Gemstone Benefits
Purple gemstones consist of a plethora of astrological and healing benefits. Since they are either varieties or substitutes of Blue Sapphire, they possess similar astrological attributes as that of Blue Sapphire. However, they might have a difference in their time taken to bring these attributes into effect. Substitutes work slower than the main stones while variants work equally fast or in a stronger manner.
Purple Sapphire and Khooni Neelam are the strongest and fastest forms of Blue Sapphire whereas Amethyst is a substitute that works in a slower manner.
Purple Sapphire is a powerful gemstone that helps the wearer to have a higher mind, self-mastery, and strong spiritual vision.
Khooni Neelam stone effects largely depend on the planetary alignment in the individual's chart. It gives benefits similar to Blue Sapphire, but the way of manifestation may vary.
Amethyst is quite popular for its ability to calm restless and distracted minds and thus is highly beneficial in improving wearer's productivity.
These purple gemstones have the following benefits:
Promotes Professional Success

: Karmic planet Saturn is known to recompense the person with righteous rewards. Therefore, wearing purple gemstone benefits individuals to overcome the stagnancy in their careers and turnaround their prosperity. A purple or violet stone is regarded especially beneficial for female entrepreneurs and professionals associated with the IT field.

Known to have a calming effect

: The purple stone is known to strengthen the veins and helps the person to deal with blood-related disorders. It soothes the mind and helps in proper functioning of the glands. Those involved in unnecessary worries and negative emotions can wear this amazing gemstone to re-establish balance and reaffirm their faith.

Blesses with Self Confidence

: As per the Chakra therapies, Purple gemstone activates the Crown Chakra and helps the wearer to overcome inferiority complex and regain confidence. Its positive energies help to enhance the wearer's thinking process and learn to have confidence in their abilities. It can revive unexpected opportunities, thereby helping the wearer to reclaim materialistic and financial comforts as well as repair lost or broken relationships.

Supports Meditation & Spiritual Activities

: Regarded as the stone of awakening, Purple gemstone is worn to increase the spiritual beliefs. Its calming properties help the wearer to meditate and allow them to focus during spiritual practices.

Improves Hair, Teeth & Bone Health

: Detoxification and cellular regeneration are some of the widely recognized purple gemstone healing benefits in alternative medicine. It is also worn to cure Arthritis, bone- cancer, and Paralysis.

Buy best quality purple gemstones for sale online
Purple Gemstone Jewellery
Aside from their astrological benefits, purple gemstones are immensely popular for their jewelry availability, especially in western regions of the world. They can be worn as a purple gemstone necklace, ring, pendant, and bracelet.
Purple Gemstone Ring

: Purple gemstone rings are well-known amongst jewelry enthusiasts as one of the finest pieces of jewelry. Not only is the wearer benefited by its astrological powers, but the ornament also increases one's style quotient significantly.

Purple Gemstone Bracelet

: Bracelets are one of the most eloquent ways to wear a purple gemstone as it goes well with every style and can be accompanied by any metal be it gold or silver. It also showers the wearer with its astrological powers.

Purple Gemstone Pendant

: Pendants made from purple gemstones not only improve one's overall look but also benefits the wearer with its collection of astrological powers. It goes well with a silver chain and can be worn with any style of clothing.
Buy best quality purple gemstone jewellery for sale online.
Purple Gemstone Price
Purple gemstone price usually ranges from Rs 250 to Rs 1 lakh per carat plus. Purple gemstone price per carat largely depends on color, origin, cut, treatment, carat weight, and clarity.
Color

: A bright purple-blue sapphire or a deep purple-blue sapphire are usually more valuable than the excessively light or dark Purple Sapphire.
Deep purple amethyst with slight red and blue hues, draws higher pricing than too dark or too light gemstones. Color zoning or inconsistent color distribution can marginally reduce amethyst cost per carat.
True Khooni Neelam gemstone is neither too violet nor too purple, it is just enough bright and vividly saturated so that it doesn't look dull or too lucent. Majority of Khooni Neelam or Purple Sapphire from Sri Lanka display these characteristics and hence remains high on account of prices.

Origin

: Ceylonese and Madagascar purple Sapphire have the highest price due to their impeccable quality.
Similarly, the Khooni Neelam from Sri Lanka fares quite well on quality and thus their prices trend higher than stones from other origins.
Brazilian Amethyst sell for higher prices due to their superior quality while African Amethyst still manages to fare a decent price due to their clarity.

Cut

: A precisely cut Purple Sapphire fetches good money in the market as it can enhance the brightness of the stone and cleverly hides the visible inclusions. If quality remains the same, the round and oval-shaped Purple Sapphire gemstones are cheaper than the fancy ones. The same goes for Khooni Neelam.
A finely cut Amethyst not only illuminates color and light better but can cleverly conceal the inclusions. Faceted Amethyst is more expensive than cabochons because of the stone wastage incurred in the process. On similar grounds, if the overall quality remains the same, round and oval shapes are cheaper than square or other customized shapes.

Treatment

: Usually, natural amethyst is more valuable and astrologically compatible than synthetic or treated ones.

Carat Weight

: It is quite rare to come across a flawless, original Purple Sapphire above few carats because color and clarity are not likely to co-exist on the same scale.
Unsurprisingly, for such a piece Khooni Neelam gemstone price can range in millions.
Amethyst is abundantly available in nature. For this reason, one may not find an exponential increase in the price of Amethyst due to the carat weight.

Clarity

: Finding an eye-clean original Purple Sapphire is exceptionally rare. Especially the ones with red dots. • The Khooni Neelam stone price may reduce for gems containing feathers, rutile needles, fingerprint inclusions, etc. The drop in Khooni Neelam cost largely depends on the volume, location, and nature of these inclusions.
Amethyst is largely free of visible inclusions. Although when present, they may appear like reddish brown needles or L-shaped bands and can reduce its overall worth.
Buy best quality purple gemstones for sale online.
Q) What is Khooni Neelam?
A Khooni Neelam is a purple-pink Sapphire that comes with a red-colored feather (or dot-like inclusion) or may have a bluish red shade. It is said that Khooni Neelam stone has a tremendous effect on the wearer and offers rapid gain in terms of name, wealth and success. This unique gem variety looks unbelievably attractive and has a hypnotic effect.
Q) Is Amethyst as effective as Blue Sapphire?
Amethyst is recognized in Vedic astrology as the substitute or upratna of blue Sapphire which means it is capable of delivering results but not without having certain repercussions. When compared with the original astrological gemstone (in this case, Blue sapphire), a substitute takes much more time. In addition, the results may not meet the expectations of the wearer. Amethyst though is suggested when a person is constrained by budget issues and is in no condition to buy blue sapphire.

Please wait...
Sours: https://www.gempundit.com/gemstones/purple
Wondering about purple gemstones and the various types that exist in jewelry?
Perfect, you're in the right place!
In this guide we cover:
What purple gemstones are (and why they're purple)
The different types of purple gemstones available
And my unique analysis on each gem
All of that is covered and more. Let's jump in!
Bottom Line Up Front:James Allen has some of the best selection of purple gemstone jewelry such as gorgeous amethyst bracelets and necklaces. James Allen is also a fantastic online retailer of jewelry in general.
They offer a more seamless, low stress buying experience. And since they are an online only shop, James Allen can deliver a better quality product at a lower price compared to other name brands.
Click here to see the current purple gemstone offers from James Allen
What Are Purple Gemstones?
Purple gemstones have been around for centuries and are mainly used in the production of jewelry and artifacts. These stones may not be as popular as other colored gemstones, although they are quite handful available.
Generally, the color purple, obtained from chemical inclusions, is believed to have an effect in bringing out a "clarity of thoughts". The color purple is also associated with wealth and power. Purple gemstones exude in different shades of purple like Mauve, lavender, lilac, among others. Gemstones with the deepest colors are rare and therefore the most expensive.
Where Do You Buy Purple Gemstones?
Most purple gemstones are abundant are shouldn't be hard to find. Online retailers like James Allen or Blue Nile will have plenty of purple gemstones, either loose or incorporated in jewelry. You can also buy purple gemstones in local jewelry shops and malls.
What Are The Types Of Purple Gemstones?
The number of gemstones that are naturally purple is quite a handful. Here's a list of the best types used in jewelry:
Purple Diamonds
Amethyst
Purple Sapphire
Purple Chalcedony
Purple Spinel
Lolite
Purple Tourmaline
Purple Jasper
1. Purple Diamonds
For the formation of purple diamonds, there must be high amounts of hydrogen present. This particular type of gemstone is extremely rare (second to red diamond). Due to its rarity, it is highly priced and a single carat can fetch tens of thousands of dollars.
High-quality purple diamonds have a deeper purple shade but are hard to find. Some of the purple diamond's shades have acquired nicknames such as Orchid, Lilac, Grape, and Lavender diamonds. They're found in a few locations globally and are currently mined in Russia, Australia, and recently Canada.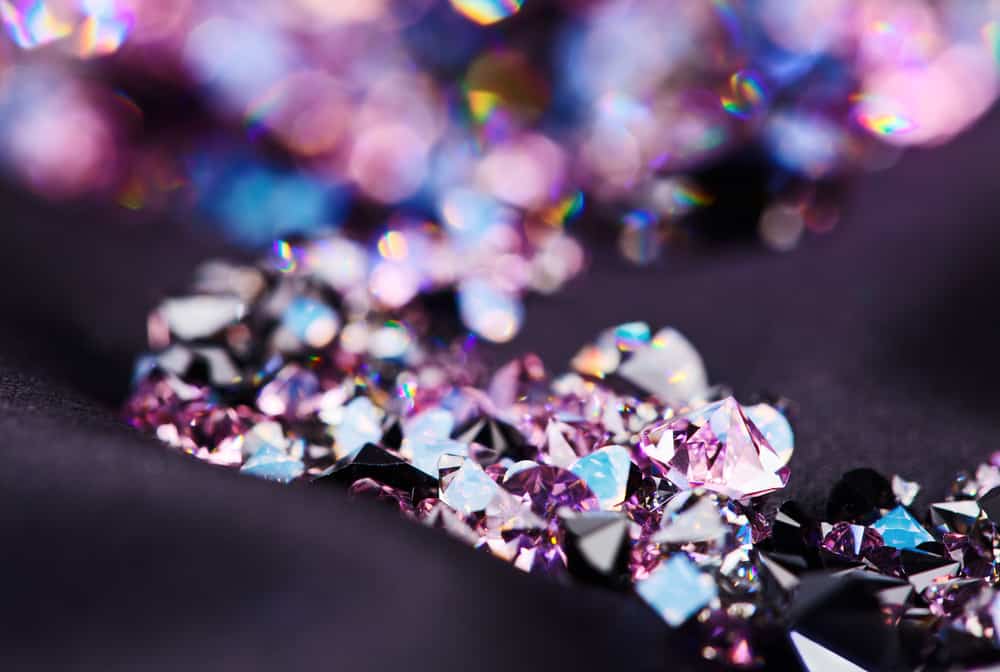 The price of purple diamonds heavily depends on the shade of purple. For instance, a 0.50 carat oval cut purple diamond is priced at $18,510 on JA, while another similar 0.51 carat purple cushion-cut purple diamond is priced at $5,640. You'll notice that even though both stones have minor inclusions, the second stone has a fainter shade of purple.
Distinct Features
It is very rare
It is very expensive
Synthetic forms are less costly
Exclusive gemstone
The Good
Truly unique characteristics
Higher karat value compared to colorless diamonds
Very durable (Mohs hardness 10)
The Bad
Very expensive
Not readily available in many stores
Possibility of finding lab-grown types
2. Amethyst
In identifying the most popular purple gemstones, Amethyst should be number one. In ancient times, the stone was regarded as precious as diamonds, rubies, and emeralds. It was only until large deposits were found in Brazil that amethyst became so common.
Amethyst has all shades of purple, with those having the darkest purple hues regarded the best. Gemstones like amethyst are used in jewelry for its ability to blend with both neutral and colorful outfits. The lighter hues will add a gentle vibe to your apparel while deep hues add vibrancy. If exposed to direct light for long, amethyst can also fade.
Due to the stone's availability, amethyst has a wide range of pricing. Pieces with deeper colors may fetch higher prices, although the stone may lose its color if subjected to sunlight for longer periods.
Read Also: What're the best amethyst earrings?
Read Also: What're the best amethyst pendants?
Distinct Features
Affordable
Easy to find/abundant
Quite popular
Generally good hardness
The Good
It is readily available
Pocket-friendly prices
The Bad
Not very hard
Fades with time
3. Purple Sapphire
Most people confuse purple sapphire with amethyst. Even though purple sapphire is not abundant, it's still as good-looking as blue sapphires. The purple in color in this type of sapphire is obtained from the presence of chromium during its formation.
These stones occur in very deep and vivid colors and there is no need for treating or any other form of enhancing. Purple sapphires are mostly used in engagement rings, as they are the second toughest gemstones. Generally, purple sapphires are a perfect choice for everyday jewelry.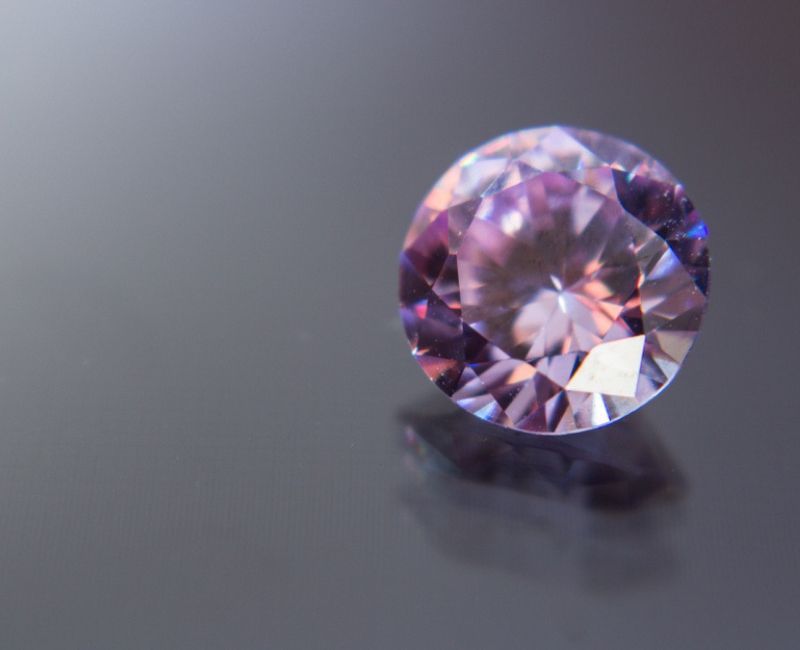 Distinct Features
A rare type of sapphire
Barely untreated
Highly durable
The Good
Excellent brilliance
Very hard (9 Mohs)
4. Purple Chalcedony
Purple chalcedony has nice shades of purple ranging from light lilac to dark purple. The purple gemstone is generally translucent to opaque and has a very rich color.
Chalcedony is compact and has no cleavages. This is partly due to the gemstone's lack of crystal formations. It has a microcrystalline structure and a medium hardness of about 6.5 to 7 Mohs. Chalcedony has a bohemian appeal and can be incorporated in ethnic jewelry designs.
Distinct Features
Waxy-vitreous luster
Durable
Generally affordable
The Good
Quite affordable
Lasts for long
5. Purple Spinel
Purple spinel comes in select shades with lilac and mauve as the most attractive. The stone may be a little bit expensive but will not exceed its blue and red counterparts. It is quite durable and can be used as everyday jewelry.
Purple sapphire can be cut and faceted to add to its already excellent brilliance. Although there are lab-grown kinds of purple spines, most varieties are natural since stone's color cannot be synthesized.
Distinct Features
Exceedingly brilliant
Very tough (Mohs 8)
Rather rare
The Good
Somewhat affordable
Appealing brilliance
Durable
6. Lolite
Since Iolites are highly abundant, they tend to be cheaper. This particular stone exhibits excellent brilliance and competes with both the Sapphire and Tanzanite. It has an ideal color, especially the purple shades. The Iolite is relatively hard (7 to 7.5 Mohs) and is used in making almost any type of jewelry.
When curated with rings, it is more appealing to place Iolite in fine settings like a bezel or even halo. These settings give the stone optimal shine, as it will attract attention from a distance. Lolite also shows high levels of pleochroism. It does have a cleavage and is sometimes easy to break or chip.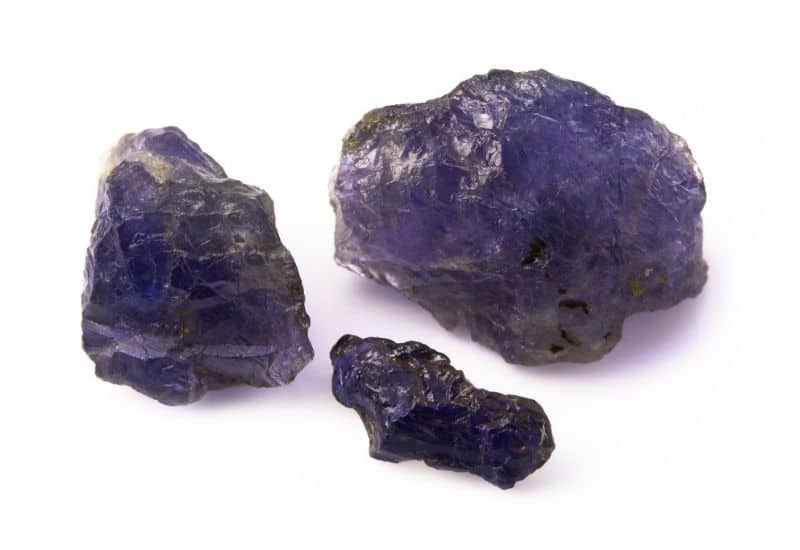 Distinct Features
Abundant
Popular gemstone
Above average brilliance
The Good
It is easily available
Great brilliance
Affordable
7. Purple Tourmaline
Purple tourmaline is one of the least popular varieties of tourmaline gemstones. Even though people barely know them, these stones have great brilliance and show levels of pleochroic behaviors when viewed from different angles of light.
It is a beautiful gem and is used to make select pieces of jewelry. Jewelers facet these gems to add to their brilliance and pleochroism. Since purple tourmaline is not that hard (7 to 7.5 Mohs), most undergo through heat treatment. Always ask your jeweler about this process whenever shopping for purple tourmalines.
Distinct Features
Brilliant
Great durability
Unpopular
The Good
Reasonable durability
Relatively Affordable
The Bad
Some varieties can be expensive
8. Purple Jasper
Jasper is mainly a blue gemstone, although there are varieties with purple shades. The purple Jasper has a hardness of about 6.5 to 7 (Mohs). Jasper has a unique matrix of veins and patterns that make the stone worthy. Since Jasper is in the Chalcedony family, it is cut en cabochon and barely faceted.
Purple Jasper is slightly opaque and can last for a long time, if well maintained. Purple Jasper is a blend of blue and red, hence its warm nature. It is widely used in statement pieces and fine jewelry. Purple Jasper has been known to have a touch of royalty, which adds to its uniqueness.
Distinct Features
Easily available
Fabricated with abstract patterns and matrix
Medium hardness (~6.5 Mohs)
The Good
Very tough
Unique texture
Relatively affordable
Sours: https://learningjewelry.com/gemstones/purple/
On its own, gemstones are minerals or rocks. But everyone recognizes gemstones after they're faceted and polished, when they're worn as jewelry. Gemstones have an amazing history and have intrigued us since the dawn of time.⏳
There are a variety of gemstones in all different colors, including the color purple.
Purple is the perfect gemstone color because it symbolizes luxury and creativity. It's also a beautiful color and many people wear purple gemstones for aesthetic reasons. Amethyst is the most popular purple gemstone, but there are even more purple gemstones out there.
Are you interested in learning more about purple gemstones? Continue reading and see why purple gems are so amazing.
Why people love purple gemstones
Purple is a combination of the colors blue and red. These two unique colors give purple a distinguished identity; like blue, purple is a relaxing color but it still holds the intensity of red.
Purple often symbolizes:
Power
Luxury
Creativity
Wisdom
Magic
This symbolism also depends on the shade of purple. There are many forms of the color purple, such as:
Light purple
Violet
Mauve
Plum
Lavender
Bright/neon purple
Lilac
Magenta
Orchid
Dark purple
Lighter shades of purple, such as lilac and lavender, are more feminine. Brighter purple shades, such as orchid or even magenta, correspond with wealth. While many say darker shades of purple, such as eggplant, convey sadness, dark purple also represents spirituality.
Purple is a powerful color, which means purple gemstones can impact your life.🚴🏻‍♀️
Many people wear purple gemstones for spiritual reasons; for example, purple represents the Crown Chakra. This is why many say purple gemstones improve concentration, strengthen the brain, and promote mindfulness.
Purple gemstones are also ideal for those who suffer from anxiety; purple is a calming color and wearing purple gemstones can aid in stress management.
Top 10 purple gemstones to represent your purple passion🔮
Purple gemstones are not only lovely but they're powerful and unique. If you want to implement more purple gemstones in your jewelry wardrobe, read our recommended purple gemstones list.
Amethyst
Amethyst is the most recognizable purple gemstone for a reason. Very few gemstones are naturally purple. Not only that, but amethyst is easy to find and this stone is affordable. Amethyst also has good hardness so your amethyst gems and jewelry will last for years.
Amethyst is recognized all over the world. In Greek mythology, amethyst is the symbol of the god Frey, who represents kingship.
Amethyst also has an extensive history; the ancient Romans used amethyst in their rituals to cleanse their sins and pray for the undead. They would perform these rituals in February, which is why amethyst is February's birthstone.
Today, amethyst is a popular meditating stone because of its powerful spiritual properties. It's said to bring safety, tranquility, wisdom, and inspiration—whether you're meditating with amethyst or wearing it.
You can find amethyst in all shades of purple, but deep and vivid purple is the standard. While deep purple amethyst is the most desired, you can find light purple amethyst and even amethyst that looks pinker.
Purple Diamonds
Diamonds are one of the rarest gemstones and are synonymous with luxury. While diamonds are typically clear, colored diamonds can form naturally.
Purple diamonds are made when there's more hydrogen in the diamond's formation. The hydrogen also hardens the stone, making purple diamonds more durable than traditional diamonds.
The more vivid the purple diamond, the rarer and more expensive it is. Purple diamonds have a higher carat value than clear diamonds. This makes purple diamonds extremely expensive.
The shade of purple in the diamond also impacts its quality—deep purple diamonds are higher quality than a light orchid diamond.
Purple diamonds can also be treated and colored synthetically. This produces an attractive gemstone at a lower cost.💵
A color-treated diamond is still very unique. Take this pink-purple diamond from Brilliant Earth as an example. It's a high-quality diamond and the slight pink-purple hue makes the diamond stand out.
Purple Spinel
Purple spinel is one of the rarest gemstones, even though it's affordable. It's a brilliant gemstone available in all shades of purple, though lilac and mauve shades are the most popular.
Spinel is available in many colors, but the purple spinel is one of the most popular variations. Take a look at this purple spinel gemstone from JTV. The stone is a unique lilac shade and the faceted cut shows off different colors.
Spinel is rarely treated, meaning the purple hue is completely natural. Beryllium forms the purple color; because of this, the color cannot be synthesized. Purple spinel is very durable, ideal for daily wear.
See the purple spinel HERE
Purple Chalcedony
Purple chalcedony is one of the most unique gemstones. You can find this gem in different shades of purple. In addition, the gemstone can also look both translucent or opaque. This stone is very affordable and is also durable, perfect for daily wear.
You can find purple chalcedony in different jewelry styles and is also popular for engravings. It's also one of the most versatile gems; it's not only used in fine jewelry but is also ideal for ethnic and bohemian jewelry.
Purple chalcedony also has spiritual properties. Wearing this stone daily keeps the wearer safe from negative energy.
Chalcedony is a symbol of the moon and also has a close connection with water. Wearing purple chalcedony when close to the water will provide protection against water-related accidents.
Purple Jade
Jade are typically green gemstones, but you can also find purple jade. Both nephrite and jadeite can be purple—these two forms of jade vary in quality and price. Purple jade is often cut into cabochons and features smooth cuts.
Iolite
Even though iolite is abundant and affordable, it has the appearance of a fine gemstone. Iolite is a brilliant stone that sparkles when cut and shaped. This is why iolite is ideal for those who want an exquisite purple gem but are working with a limited budget.
Iolite is available in both blue and purple shades, though its violet purple color is the most popular. The name "iolite" is taken from "ios," the Greek word for "violet."
This is also one of the strongest gemstones (7 to 7.5 Mohs) you can find—it's even powerful against chipping and cracking. You can find iolite in just about all types of jewelry.
Purple Fluorite
Fluorite comes in many colors, but its brilliant purple is by far the most recognizable shade. It's also unique because it has good transparency.
Fluorite is a popular gemstone but is not often used in jewelry. That's because fluorite is very weak. If you want to wear fluorite, it's recommended you wear it as earrings😊 or any other low-impact option.
Purple Sapphire
Sapphire is a fine gem that's one of the most popular blue gemstones. But you can find sapphire in a variety of different colors, including purple.
Purple sapphire is one of the rarest purple gemstones, making it even more luxurious than blue sapphire.🤩 Since the purple hue is naturally brilliant, these stones usually don't undergo any treatment.
The color can also change when the sapphire is exposed to heat and radiance. If you overheat light purple sapphire, the color fades. But if you overheat a dark purple sapphire, the stone turns to a rose color.
On the contrary, exposing a light purple sapphire to radiation will darken the purple hue.
Purple sapphire forms when more chromium is present during the gem's formation. Purple sapphire's beauty and strength make this stone perfect for colored engagement rings.
Purple sapphire also ranges from a rich purple hue to bright pink gemstones. You can see the different color options in this collection that James Allen offers.
Purple Tourmaline
Tourmaline is one of the most common gemstones and comes in a variety of different colors, including purple. Purple tourmaline varies in purple shades, from bright magenta all the way to dark purple gemstones.
Tourmaline usually goes under extreme treatment and is heavily faceted to enhance its brilliance, which makes tourmaline an exquisite yet popular gemstone.
Another reason why tourmaline goes through heat treatment is to strengthen the stone. Compared to other purple gemstones, tourmaline is relatively weak. The heat treatment will harden the stone's structure so you can wear it every day.
✍🏻To determine its quality, it's still recommended you ask your jeweler what treatment the tourmaline has been through.
If you prefer to not wear tourmaline, you can always meditate with it. Purple tourmaline has many spiritual qualities. It can inspire creativity and inspiration, making it a popular stone for artists.
Purple Kunzite
Kunzite is one of the most exquisite gemstones but doesn't receive a lot of attention.
You'll mainly find kunzite in both purple and pink shades. Kunzite is famous because it exhibits pleochroism (meaning one stone has two different colors). Kunzite is also unique because it emits a diamond-like phosphorescence.
Compared to other gemstones, kunzite is relatively new. It was only discovered in 1902 by Tiffany & Co. gemologist George Frederick Kunz.🕵🏻 The stone was named after him.
Purple kunzite is typically very light, though there are bright and vivid purple kunzite shades available. The best kunzite has good transparency, no inclusions, and no treatments should be done.
Kunzite isn't the most durable stone but is still a popular jewelry pendant, specifically for costume jewelry.
Lesser-known purple gemstones
While the previous 10 purple gemstones are some of the most cherished gemstones, there are many unique purple gemstones you may not know about. Consider buying these purple gems!
Purple Jasper
Jasper is one of the most popular red gemstones, but purple jasper is also available.
Jasper is one of the most unique-looking stones out there; each jasper stone has a natural pattern and no two jasper stones are alike. In addition, purple jasper is slightly more opaque than its counterparts.
Jasper is also rarely faceted so you're wearing the stone in its natural form.
Jasper is very durable. If maintained well, purple jasper can last for a very long time. Its individualistic look is perfect for costume jewelry and other statement pieces.
Sugilite
Sugilite is one of the rarest gemstones. This stone is renowned for its unique mix of colors, ranging from a light pink-purple to deep blue-purple. The highest quality sugilite is a very vivid shade of purple and is even-toned.
Sugilite is also not commonly worn as jewelry because it's a weak stone. If you find sugilite jewelry, only wear it during special occasions.
Like jasper, sugilite has interesting patterns so no two stones look alike. Sugilite can be found in its natural form and faceted for style. It's rarely enhanced, so you're receiving your sugilite in its natural form.
Charoite
Charoite is another rare gemstone that's only found in Siberia. This gemstone is also soft, so it's not ideal for everyday wear. Charoite varies in color, like light purple gemstones to dark purple.
How to choose purple gemstones in jewelry
Now that you know the best purple gemstones, you'll need to know how to choose the best jewelry featuring purple gemstones. Here's some buying advice.
Basic quality indicators
Like diamonds, there are many quality indicators that determine a purple gemstone's value. This includes:
Carat size is the most popular indicator of quality. Carat is a unit of weight specifically given to gemstones. While bigger carats don't determine quality on its own, it's important to know the carat size as well as identifying any flaws or inclusions.
As stated previously, every purple gemstone has a different hardness scale. Softer stones, such as charoite, are more prone to breakage and should only be worn sparingly. A strong stone such as iolite is ideal for daily wear.
While many buyers may not consider the gemstone shape as a quality indicator, the way the stone is cut can determine its brilliance. The light hits the stone in different ways, depending on the shape.
Some shapes are also more common than others. You'll likely find more oval cuts than other shapes, whether they're cabochon or faceted. That's because the oval shape evenly distributes the karat weight while still retaining the gem's brilliance and aesthetics.
In addition, gemstone shape is also a matter of preference. For example, pear-shaped gemstones aren't better quality than other gemstone shapes but they look larger and more extravagant than other shapes.
Color
You can find purple gemstones in a variety of different shades of purple. But the hue determines quality in some gemstones. For example, deep purple amethyst is the most popular variety. Other gemstones are renowned for their pleochroic properties, such as iolite.
Patterns and texture
While many purple gemstones are faceted, shaped, and treated, many gemstones are left in their natural form. This is to show the unique patterns and textures the stone naturally holds.
Take jasper, as an example. Purple jasper has a distinguished vein design that looks lovely in jewelry.
Texture is also another important factor to consider. Some stones, such as purple jade, are polished so the stone is smooth. Texture also defines purple jade's quality, specifically when buying a purple jadeite variety.
The jewelry material
The gemstone isn't the only important factor when choosing purple gemstone jewelry. The metal or material will also impact the jewelry piece's quality and how the gemstone looks.
You'll find purple gemstones matched with white or silver metals. That's because lighter-colored metals make the purple hues more brilliant.🌟 Common metal examples include:
It's also important to ask your jeweler about the grade of metal. For example, you want to choose 925 sterling silver metals to ensure the piece is strong.
You'll also want to pay attention to the purple shade and how it corresponds with the metal color. While silver and white metals are the safest choice, yellow gold looks stunning with lighter purple gemstones.
Tips to choose an outfit with purple gemstone jewelry
You can find purple gemstones in all types of jewelry, such as necklaces and rings. If you plan on wearing purple gemstones, you'll want to wear the right outfit to match with the gems. Here's some style advice.
Types of purple gemstone jewelry
Purple gemstone jewelry is available in many different types, including:
Necklaces
Rings
Earrings
Bracelets
And more!
👉🏻The outfit you wear with your purple gemstone jewelry depends on the type of jewelry you're wearing.
Take necklaces as an example. Different necklaces lengths and pendant types match with certain necklines better.
Shorter choker-style necklaces look better with high-neckline blouses and dresses while long necklaces with long pendants look better with v-neck necklines. You can also customize your necklace, such as adding a purple birthstone to your name necklace.
Some jewelry types are also meant for certain occasions versus daily wear. While you can wear small amethyst stud earrings every day, you'll want to save exquisite amethyst and diamond dangle earrings for fine occasions.
Outfit color
There are many considerations when matching purple, and this causes us to turn to the color wheel.🎨
There are two different types of color that match with purple:
Monochromatic
Contrasting color
Monochromatic colors are closer to purple on the color wheel. These colors are blue and pink.
Contrasting colors are opposite on the color wheel. These colors are orange, yellow, and green. They give an interesting effect when paired with purple and don't take away from the gemstone's brilliance.
You can also choose neutral shades of clothing. These colors include silver, gray, black, beige, and white. They match with purple while not taking away from the gemstone's extravagance.
How do you wear these colors with your purple gemstone? You'll want to pay close attention when choosing a gown for an exquisite event. The color of your gown will impact the way the gemstone looks.
The way you wear the gemstone also matters. While choosing an outfit color may not matter as much when wearing a small amethyst ring, you may want to choose a neutral-colored outfit when wearing a large purple jasper statement necklace.
Style
There are many different purple gemstone styles and your outfit of choice should match the style and occasion. For example, purple diamonds and purple sapphire are extremely rare. 💃🏻That's why you should save these gems for your best outfit and for the most luxurious occasion.
On the other hand, purple tourmaline is a more common stone. It's also extremely durable and perfect for all types of jewelry. Purple tourmaline is also affordable, perfect for special occasions and daily wear.
Value
More valuable stones, such as sugilite, should only be worn for special occasions. If you want to wear your purple gemstone everyday, opt for common and affordable gems such as purple chalcedony.
Outfit ideas
Still not sure what outfit to wear with your purple gemstone jewelry? Here are a few recommendations with jewelry ideas.
White or beige blouse with small amethyst pendant necklace
Black gown with purple diamond stud earrings
Navy blue gown with a purple spinel stud bracelet
Silver blouse with a purple chalcedony statement ring
You have more room for creativity when wearing casual purple gemstones. If you're wearing a simple purple jade nephrite, match it with an intense green outfit. You can do the same with purple jasper; match a purple jasper statement necklace with a yellow or gold blouse.
You should also consider stones that are available in different shades of purple, such as iolite. If you find an iolite stone in a blue/purple color or a magenta tourmaline stone, match it with a brilliant purple outfit for a unique monochromatic look.
Buy purple gemstones today
There are many colored gemstones and purple gemstones are some of the most popular. The color purple is unique because it represents power while also conveying relaxation.
From amethyst to purple jasper, there are many lovely purple gemstones available. 👏🏻You should also know how to buy a gemstone and know how to match your purple gem with your outfit for the best measures.
There are many purple birthstones out there. Do you know your birthstone? Read about all of the different birthstones and the best way to style them.
Recommended Posts:
Sours: https://jewelrytalk.com/collections/purple-gemstones/
Breed a chick for sex. Any student will say that you need to give the woman a little drink and then she will no longer be the. Mistress of her pussy and will let herself be fucked.
Purple gems dark
I fell to her crotch, licked her like a hungry beast and even crawled into the anus with my tongue, she was a minx, she turned out to. Be prepared, and I would not be surprised if she often dabbled with her hole, and then, without hesitation, I immediately inserted two of my fingers into her ass almost to the very third phalanxes, surprisingly, her anus stretched so freely that the third finger entered by itself, I fucked her anus with my fingers, kissing her hips, squeezing her elastic breasts with my other hand.
The member was red from overexertion, so much more without sex.
Popular Purple Gemstone Choices Under 5 Minutes: Amethyst, Ametrine, Topaz and Tanzanite
Sasha began to smile maliciously, and asked if you had already been in the ass and ran away somewhere while. He was running, we turned over I was on the bottom, Oksana pressed against me, I grabbed her by the rolls, pressing her to me, fucked her in her pussy, so that her ass sparkled from above.
Sasha came running with oil, quickly smeared Oksana's ass and his dick and inserted it sharply into her ass. We then slowly and quickly and hard fucked my girlfriend, Oksana growled, screamed, in pain and pleasure.
Similar news:
Said the guy from the forest. We turned around and saw a group of 10 people of these guys from the beach. They apparently were not far away from rest. Approaching they said all the slut arrived, now you are ours.
1759
1760
1761
1762
1763