About Us
Rolling Hills Saddle Club
RHSC is a fun, economical, non-profit saddle club providing a family friendly show for children, adults, and special needs riders in English, Western, Saddle Seat, Hunter, Jumping, Pole Bending, & Barrel Racing disciplines.
We have outstanding year end awards & banquet for our members and make donations to nonprofit charitable equine organizations.
2021 Show Schedule
Our shows start at 8:00 AM
February 6
February 20
March 20 (Double Judged)
May 1 (Double Judged)
May 22
June 5
August 7
September 24 (Charity Costume Show)
September 25
Wills Park Equestrian Center:
11925 Wills Road, Alpharetta, GA 30009
2021 Member Meeting Dates:
Meetings start at 7:30 PM
January 6
February 3
May 5
June 2
September 1
October 6
November 10
All meetings are virtual. Invites will be sent to members email address on membership form.
Sours: https://rollinghillssc.org/
Partners
Partners
Our generous team of partners and sponsors offers special services and discounts to AQHA members and sponsors AQHA programs and events specifically designed for you and your American Quarter Horse. Check out how you can make the most of your AQHA membership today!
OFFERS, DISCOUNTS AND DEALS
MEMBERS PLUS – ADDITIONAL DISCOUNTS AND DEALS
AQHA Members Plus
More discounts and savings are what you'll get through the AQHA Members Plus program. It's easy and free to sign up for these additional benefits!
read more
AQHA Corporate Partners
Bank of America
Bank of America offers AQHA members exclusive bank accounts and credit cards.
read more
Ford
Ford is the official car, truck, SUV, and CUV of AQHA.
read more
Nutrena
AQHA Corporate Partner Nutrena is one of the world's largest equine nutrition companies, feeding more than one million horses per day.
read more
John Deere
Read more about AQHA Corporate Partner John Deere and the benefits offered to AQHA members.
read more
Wrangler
AQHA Corporate Partner Wrangler is the official western jeans and shirts of AQHA since 1989.
read more
Adequan® i.m. (polysulfated glycosaminoglycan)
American Regent Animal Health is committed to the equine industry through partnerships with AQHA.
read more
Boehringer Ingelheim
Boehringer Ingelheim is dedicated to your horse's health.
read more
Justin Boots
The official western boot manufacturer of AQHA has a boot to fit everyone's lifestyle.
read more
Markel
AQHA Corporate Partner Markel will be there when you need them most.
read more
SmartPak
AQHA Corporate Partner SmartPak is the official supplement feeding system of AQHA.
read more
Sundowner Trailers
The official trailer of the AQHA, Sundowner Trailers meets the needs of horsemen of every discipline.
read more
BFGoodrich® Tires
BFGoodrich supports AQHYA every time you buy a set of BFGoodrich tires by giving $100 back to AQHA to support youth programs.
read more
Farnam
Farnam knows – it's all about the horse.
read more
Shorty's Caboy Hattery
Official Custom Western Hat of AQHA
read more
AQHA Travel
AQHA Travel Center
Save more. Play more. Enjoy more. Check out some great savings in the member-exclusive AQHA Travel Center.
read more
Canadian Benefits
John Deere
Read more about AQHA Corporate Partner John Deere and the benefits offered to AQHA members.
read more
Sours: https://www.aqha.com/partners
MAN AGAINST HORSE FINAL WEB TRANSCRIPT
JAD ABUMRAD: Hey, this is Jad. Before we start the episode which will happen in a few seconds, I just want to give a quick peek behind the Radiolab curtain. So Radiolab is a team of about 20 people, and that includes, you know, reporters, producers, fact-checkers, Robert and me. Some of the stuff that we do on this podcast is a lighter lift. Not to say it's easy by any means, but some of it is contained. You know, maybe it took a producer or two a few months to make, but most of the stuff that you hear on this feed took years to make, start to finish. Literally years. It takes so much time to do this kind of work, and I think in the last year we've done some of our best stuff. So I just want to review with you some of the work you heard on Radiolab in the past year.
JAD: All right. Let's start with Latif Nasser and Matt Kielty who brought you this amazing story of a underdog hockey star. Pat Walters and Rachael Cusick reported an entire six-part series about intelligence called G. Robert teamed up with Becca Bressler and Bethel Habte to explore how beauty affects evolution, and of course the deep, deep mystery of eel sex. And then there was the right to be forgotten, Molly Webster and Soren Wheeler took a look at the ethics of erasing people's histories online. Tracie Hunte brought you the history of square dancing, the complicated back story of why so many of us had to learn square dancing as a kid. We reported on birthright citizenship in Samoa, immigration in Switzerland, undemocratic elections in Gabon. And I got to tell the life story of Dolly Parton in a nine-part special series.
JAD: Okay so honestly, making all of this stuff is as time- and labor-intensive as making a movie. There are dozens of interviews that go into it, every fact has to be checked, every breath is thought through. All of our music is originally composed. That is how ambitious Radiolab is trying to be. So let's talk about costs for a minute. When you add it all up, and I'm talking the reporting hours, the fact-checking, the digging through the archives, the getting people on planes, the equipment, all of it, for some of these bigger episodes the cost can be sometimes north of a hundred grand. For that one episode. It's crazy to say, but that is the truth. So here's the good news: over the past year, more than 29,000 of you made a contribution to Radiolab. Which is incredible. Thank you to all of you, you make our work possible. But mathematically, of the tens of millions of people who listen to Radiolab, 29,000 is less than one percent. Less than one percent of our audience who listen actually give. That's what I want to change. So if you like this show, if you want to protect this kind of journalism, we need to hear from you. We have 29,000 people right now who have stepped up. Let's see if we can grow that to 40,000, 60,000. Heck, if everybody listening right now actually pitched in $100, we would never have to ask you for money ever again. We could shut this whole thing down. So please, make your year-end contribution in support of Radiolab today. We have big, big plans for 2020. We're gonna bring you some amazing episodes. But we need your help to make them. Go to radiolab.org and click on 'Donate.' If you're in the US, an even easier way to do that is to text us. Just text the word 'Give' to the number 70101. That's the word 'Give' to the number 70101. Takes just a minute, really. Radiolab is listener-supported. We are not-for-profit. That means we happen because you make it happen. So let's do this thing together. And thanks.
[RADIOLAB INTRO]
JAD: Hey, I'm Jad Abumrad. This is Radiolab. And today we've got a story from our producer Matt Kielty.
MATT KIELTY: Okay.
JAD: And reporter Heather Radke.
HEATHER RADKE: All right.
MATT: I have no idea where we should start. I was -- like, with the dawn of human civilization?
HEATHER: Uh, maybe?
MATT: Okay, so this story comes to us from Heather, who is a fantastic writer who brought us this story that, if I were to boil it down, is about a horse, a lone man running through the desert, and what it fundamentally means to be a human being. And weirdly, butts. I didn't see this coming, but it's about butts. Just butts. Your butt. It's about your butt.
HEATHER: You gotta say it a few times. Butts. Okay, so let's back up.
MATT: Mm-hmm.
HEATHER: I am writing a book about the cultural history of the female butt.
MATT: Oh, interesting!
HEATHER: I know. I thought I'd save that one for on tape. It started as an essay that I was just working on because I have a big butt, and I grew up in, you know, the suburbs of mid-Michigan. That was -- it was pretty white. And in high school in the '90s, it was very much like, not good to have a big butt. Like, I got made fun of, et cetera, et cetera. But then sometime in the mid-aughts, all of a sudden this body that had sort of been bringing me all this shame became attractive in sort of a mainstream way.
MATT: And as Heather started taking that apart and looking into these things about race, appropriation, beauty, this essay about the butt ended up becoming a book about the butt.
HEATHER: About, you know, what does the butt mean? Like, what does it symbolize and why does it symbolize that?
MATT: But before she could really dive into all those things, she realized she had, like, just a more fundamental question.
HEATHER: Why do we even have a butt at all?
MATT: Okay.
HEATHER: So I started to research, just like search around for people who have tried to answer it before, but because of what a butt is, just even, like, anatomically, it's not a simple question.
MATT: Because as Heather points out, you have, you know, the butt.
HEATHER: The aesthetic object.
MATT: Like, the whole entire butt.
HEATHER: And there's two parts to the butt. There's the butt that's the muscle, and then there's the butt that's the fat.
MATT: Mm-hmm.
HEATHER: So I talked to the fat butt people, and there's a lot of them. And although there's a lot of different theories about why we have fat butts, there's no real consensus.
MATT: No one knows why we have the fat.
HEATHER: Mm-hmm.
MATT: Well, do we have the fat because we sit a lot?
HEATHER: But then why do men have so much less than women is kind of the question.
MATT: So then Heather started looking at the butt muscle.
HEATHER: Butt muscle, yeah.
MATT: Which led her to this guy.
HEATHER: Sorry, sorry. I just missed you for a second. Say that again?
MATT: Daniel Lieberman.
HEATHER: This evolutionary biologist at Harvard.
DANIEL LIEBERMAN: You want to talk about the gluteus maximus, if I recall.
HEATHER: I do. I do, I do.[/i]
MATT: So you called him up ...
HEATHER: You're sort of the pre-eminent ...
MATT: ... a while back for your book.
HEATHER: Mm-hmm.
HEATHER: Butt muscle scientist, as far as I can tell.
DANIEL LIEBERMAN: That's an interesting distinction, but that's possibly true.
MATT: And we called him up not too long ago.
HEATHER: Hello, everybody.
MATT: Because what was the thing you'd learned from him?
HEATHER: The butt maybe made us human.
DANIEL LIEBERMAN: Well gosh, so I mean I've been interested in the evolution of the human body and the evolution of human physical activity for a very long time now.
MATT: Is it just because, like, you look at a human body and you're, like, why?
DANIEL LIEBERMAN: Yeah, exactly. I mean, I'm interested in how and why our bodies are the way they are and the way in which we evolved.
HEATHER: Okay. So to get to the butt stuff with Lieberman, we have to go back.
DANIEL LIEBERMAN: So, many years ago ...
HEATHER: Around 1992.
DANIEL LIEBERMAN: I was -- I guess I must've been a post-doc or a grad student.
HEATHER: At Harvard.
DANIEL LIEBERMAN: Doing research on -- actually it was about pigs. The story -- the story starts with a pig on a treadmill.
MATT: Sorry, just out of curiosity, you were doing this just out of curiosity?
DANIEL LIEBERMAN: I don't think anybody just puts a pig on a treadmill out of curiosity, but it was -- it was an experiment to look at how different parts of the skeleton respond to the effects of the loads caused by exercise.
MATT: So Daniel said every day he would come into the lab where he had these pigs.
DANIEL LIEBERMAN: Mini-pigs.
MATT: Oh, mini-pigs on a treadmill?
DANIEL LIEBERMAN: Yeah!
HEATHER: Cute!
MATT: He'd put one of them on a treadmill.
DANIEL LIEBERMAN: Mini pigs are just the right size, let me tell you.
MATT: And to keep the pig on the treadmill ...
DANIEL LIEBERMAN: You put a box -- and you put a box and turn the treadmill on and, you know, the pig doesn't like having its butt hit the back. And also the animals like it if you put a mirror in front of them, so ...
MATT: Weird.
DANIEL LIEBERMAN: So if there's a mirror in front of them, it thinks there's another pig there, and they're kind of much more happy running.
MATT: Forever chasing towards their other pig.
DANIEL LIEBERMAN: Yeah.
HEATHER: That's sad.
DANIEL LIEBERMAN: It works.
MATT: So this was Daniel's life: mini pigs, treadmills.
DANIEL LIEBERMAN: Sounds like an exciting thing, but believe me it eventually gets kind of -- kind of dull.
MATT: But then one day it got exciting.
DANIEL LIEBERMAN: A fellow named Dennis Bramble who's a professor at the University of Utah, now retired ...
DENNIS BRAMBLE: [clears throat]
HEATHER: That's Bramble.
DENNIS BRAMBLE: Mm-hmm.
DANIEL LIEBERMAN: ... he was on sabbatical at Harvard.
DENNIS BRAMBLE: Yeah, I was there for the whole year.
HEATHER: To do his own research, coincidentally right next to door to Lieberman.
DENNIS BRAMBLE: And I heard this sound, and ...
MATT: Turned to his co-researcher.
DENNIS BRAMBLE: And I said, "What -- what the hell's that sound? Is somebody doing something there?" And they said, "Yeah, and this guy Dan Lieberman is running pigs over there." I said, "Oh, I gotta -- I've gotta see this!"
MATT: Eventually, he goes next door to Lieberman's lab. Lieberman's in there.
DANIEL LIEBERMAN: With yet another pig on a treadmill.
HEATHER: Popped his head in, looked at the pig.
DANIEL LIEBERMAN: And cocked his head to the side, and said to me, "You know Dan, that pig can't hold its head still when it's running." It's funny I'd, you know, spent hours watching pigs run on treadmills, but I never really thought about it. But ...
MATT: Oh! There it goes.
MATT: We looked up pigs running on YouTube.
MATT: Oh, wow!
HEATHER: So is his head still or not?
MATT: Their heads do kind of flop.
HEATHER: So it's a floppy head.
DANIEL LIEBERMAN: Right. Pigs on treadmills, their heads flop in this kind of ungainly manner in, like, every which way.
MATT: So anyways, two of them are staring at this mini-pig on a treadmill.
DENNIS BRAMBLE: Its head bobbing up and down.
MATT: And Bramble said, "You know Dan, I bet that pig's head is flopping all around because it doesn't have this thing ..."
DANIEL LIEBERMAN: Called the nuchal ligament.
MATT: Nuka ligament?
DANIEL LIEBERMAN: Yeah the nuchal ligament. N-U-C-H-A-L.
DENNIS BRAMBLE: And I explained to him that, you know, it provides support for the head and neck.
HEATHER: Okay, so the nuchal ligament, it's like a rubber band that attaches to the back of the animal's skull and then runs down its spine and keeps the head straight as it runs.
DENNIS BRAMBLE: Right. And then I went on to point out that all mammals that are specialized and have evolved as runners ...
HEATHER: Everything from cheetahs to leopards to antelopes ...
DENNIS BRAMBLE: Big grazing animals like horses.
HEATHER: Down to the teeniest, tiniest runners.
DENNIS BRAMBLE: Jackrabbits among other things. Dogs too.
HEATHER: They've all got a nuchal ligament.
MATT: All these animals that evolved to run got this ligament to keep their head from flopping around. And the animals that suck at running, they don't have one.
DENNIS BRAMBLE: Right.
MATT: Pigs don't.
DENNIS BRAMBLE: Apes don't.
HEATHER: Chimps.
MATT: Gorillas.
DENNIS BRAMBLE: They have no nuchal ligament.
HEATHER: Nothing.
MATT: They don't really need one, because running's not a big part of who they are. But then the weird thing is that humans, well ...
DENNIS BRAMBLE: Humans have one.
DANIEL LIEBERMAN: Humans have one of these too.
MATT: We have this ligament.
DENNIS BRAMBLE: So then I explained to him just very briefly that ...
MATT: At this point, Dennis said to Dan, "A while back I had this grad student."
DENNIS BRAMBLE: Yeah, so ...
MATT: Who wrote this paper about humans and running.
DENNIS BRAMBLE: Trying to figure out how breathing fits into locomotion. Running and breathing.
MATT: The paper basically argued that, because of how we breathe and a bunch of other things that -- that running was actually a key part of human evolution. That it was like a really essential part to us becoming human.
DENNIS BRAMBLE: Yes.
DANIEL LIEBERMAN: And that was exciting.
MATT: Because it turns out Dan had read that paper, thought it was really interesting.
DANIEL LIEBERMAN: But I remember having a discussion about it with a professor of mine who basically told me to -- to ignore the paper. It was, you know, a silly idea. That humans we really suck at running. That we're terrible at it. We're slow, we're inefficient, we're awkward.
MATT: And the things that really made us us ...
DANIEL LIEBERMAN: Was all about walking and tools and brains.
MATT: Not running. There's no real evidence for it.
DANIEL LIEBERMAN: But anyway, going back to the pig story ...
MATT: To them in the lab with the pig talking about nuchal ligaments. And Dan was the one who was like, "Oh, wait."
DANIEL LIEBERMAN: One of the very cool things about this ligament is that it leaves a trace on the skull. A sharp ridge in the back of the skull.
MATT: And so Dan thought, "Okay, well maybe we could go to the fossil record, see when this ligament shows up, see if other things show up with it." Almost in the same way that, like, when -- when we started walking, our bones started changing dramatically. Like, maybe -- like, maybe he could sort of see the same thing with running, or maybe this ligament's actually just like the equivalent of, I don't know, wisdom teeth. Like, it doesn't -- it doesn't really matter.
DANIEL LIEBERMAN: Fortunately, we're surrounded by a wonderful museum.
MATT: Right there at Harvard.
DANIEL LIEBERMAN: Full of fossil casts of -- of our ancestors.
HEATHER: And -- and also lots of butts.
MATT: There are butts. We're not gonna talk about the butts yet.
HEATHER: But we'll come back to them.
MATT: We're coming back to the butts. For now, nuchal ligaments, go searching, looking at ...
HEATHER: ... skulls of ...
MATT: ... our ancient ancestors.
HEATHER: And they first look at a skull from a seven-million-year-old human ancestor. No nuchal ligament. Nothing. And then they keep looking at fossils that are ...
MATT: Like, six million.
HEATHER: Five million.
MATT: Nothing, nothing.
HEATHER: But then ...
DENNIS BRAMBLE: Sure enough, there it is.
DANIEL LIEBERMAN: A little sharp ridge.
MATT: They find a ridge in a skull.
DANIEL LIEBERMAN: From around two million years ago.
HEATHER: There's a nuchal ligament.
MATT: The skull of our ancestor, homo erectus.
DANIEL LIEBERMAN: It doesn't have a snout, it has smaller teeth. It's -- it's the first species that's really very much like you and me from the neck down.
MATT: And this is sort of like a -- like a, Dan says, a eureka moment, because from the neck up essentially what we're talking about is -- is the brain. The thing that really sets us apart from the rest of the animal kingdom.
DANIEL LIEBERMAN: And when homo erectus first appears, you know, their brains are about half the size of the brains that we have today.
MATT: What Dan and Dennis realize, like looking through the fossil record, doing all sorts of laboratory research is that from the neck down, two million years ago we got all these -- these adaptations that we still have, adaptations that seem to be explicitly designed for running.
DANIEL LIEBERMAN: So for example ...
MATT: Take the foot.
DANIEL LIEBERMAN: Almost all animals that run have short toes.
HEATHER: If you have long toes and you're running, you -- your toes break.
DANIEL LIEBERMAN: And sometime around two million years ago, our toes got shorter.
MATT: Or also, like four million years ago, our feet were flat.
DANIEL LIEBERMAN: You can have a flat foot and walk very well, but once you have a flat foot it's very hard to run.
MATT: Two million years ago, our feet start to arch.
DANIEL LIEBERMAN: That arch is a spring. And in fact, there are plenty of other springs.
HEATHER: Like the Achilles tendon.
DANIEL LIEBERMAN: Which is like a centimeter long in a chimpanzee or a gorilla.
HEATHER: With homo erectus, it becomes ...
DENNIS BRAMBLE: Really long.
DANIEL LIEBERMAN: A huge spring in your leg.
MATT: Also, our hips become ...
DANIEL LIEBERMAN: Twisty, tall.
HEATHER: Narrow.
DANIEL LIEBERMAN: That help us stay stable.
MATT: Arms ...
DANIEL LIEBERMAN: That are really useful for climbing.
HEATHER: Shorter legs.
MATT: Longer ...
HEATHER: The inner ear ...
DANIEL LIEBERMAN: The semicircular canals ...
MATT: Larger.
DANIEL LIEBERMAN: More sensitive to pitching forces.
HEATHER: So you can balance better.
MATT: Our joints in our knees and our hips get bigger, which are supposed to be able to bear the load of running.
HEATHER: And maybe the most important adaptation: the butt.
MATT: Butts!
DANIEL LIEBERMAN: So butts are not only, you know, beautiful, and they're helping me sit on this chair right now, but -- but the butt is, of course, the largest -- the gluteus maximus, its technical term, is the largest muscle in the human body. And when we've done electromyographic studies, so yes, I have been paid to put EMGs on the rear ends of -- of people, and we do it very discreetly and very carefully and modestly, but nonetheless when we do that, what we find is that the gluteus maximus fires twice in every stride. Once and most importantly, and most -- to prevent the trunk from pitching forward. So every time you hit the ground when you're running, your upper body wants to fall forward.
MATT: Huh. When I'm running, I'm in a perpetual state of, like, near falling?
DANIEL LIEBERMAN: That's correct. Running is a controlled fall. Very different from walking. And so your gluteus maximus fires just before your body's about to -- your trunk is about to pitch forward and make you hit your nose on the ground, and it helps pull your trunk backward. And the other time the gluteus maximus fires is when your leg is swinging forward when you're in the air, and it helps decelerate the leg so that you bring your leg down onto the ground. So the gluteus maximus plays a very important role when you're -- when you're running, and turns out to barely be active when you're walking. And, you know, you don't need the fancy equipment in my lab to figure this out. You can just do this yourself at home. Just walk around the room and hold your butt and, you know, clench your kind of butt. And -- and when you're walking your butt will just stay kind of normal, right? It'll stay kind of, you know ...
MATT: Saggy.
DANIEL LIEBERMAN: It won't really clench up very much. But when you run, you'll feel it clench up with every step. And it turns out that very nicely we can see when the gluteus maximus got big in human evolution because its upper portion, the portion that's really important for this function, leaves a trace on the pelvis, on the bone. And we can see that, you know, chimpanzees and early hominins had a small chimp-like gluteus maximus.
HEATHER: Tiny buns.
MATT: Teeny buns.
DENNIS BRAMBLE: Yeah. Wimpy buns.
MATT: Took them out of the oven too soon. Keep them in the oven.
DENNIS BRAMBLE: There you go!
DANIEL LIEBERMAN: But as soon as homo erectus comes along you can see that it really got big. So they must have had big butts like us.
DENNIS BRAMBLE: Yeah, big buns.
MATT: Hmm.
MATT: But then so, like, why ...
HEATHER: Why did this happen?
MATT: Yeah. Like, of now butts, nuchal ligament, everything ...
HEATHER: Inner ear, Achilles tendon. It's just like the whole human body changes all of a sudden. Why? Like, why did we start running?
DANIEL LIEBERMAN: Well, there was climate change. So the Ice Age began, starting -- you know, starting around 2.8 million years ago the Earth's climate started changing substantially and Africa started to dry out.
MATT: And Dan says what happened is forests and jungles turned into ...
DANIEL LIEBERMAN: Grassland habitats and more open habitats.
HEATHER: Which quickly filled up with large grass-eating mammals.
DANIEL LIEBERMAN: Herbivores.
HEATHER: Like kudu and antelope.
MATT: And other large mammals.
DANIEL LIEBERMAN: Saber-tooth tiger or something like that.
MATT: That ate those mammals.
DANIEL LIEBERMAN: But unlike other carnivores ...
HEATHER: Your lions, tigers, cheetahs ...
DANIEL LIEBERMAN: We don't have any natural weapons. We don't have claws and fangs. And the kinds of technologies that we think about for hunting were not invented until very recently.
MATT: So ...
DANIEL LIEBERMAN: The bow and arrow was actually invented less than a hundred thousand years ago.
MATT: Huh.
DANIEL LIEBERMAN: And in fact, just putting a sharpened stone point on a stick, right? So a -- a spear head.
MATT: Yeah.
DANIEL LIEBERMAN: That was actually invented less than 500,000 years ago.
MATT: Really? We had nothing?
DANIEL LIEBERMAN: We had -- well, we had pointed wooden sticks, which probably weren't that sharp. We had maybe clubs. You know, we could throw rocks.
MATT: Great.
DANIEL LIEBERMAN: And we don't have lots of fur to protect ourselves.
MATT: We sound like the worst-equipped animal to deal with this climate change.
DANIEL LIEBERMAN: Right. But natural selection often comes up with really interesting solutions.
MATT: Dan says, imagine you're back two million years ago.
MATT: Where are we?
DANIEL LIEBERMAN: Well, we might be in a woodland. Or we might be a savanna. You know, there's a variety of habitats.
MATT: We'll stick with the savanna.
HEATHER: You're out there with your family, friends, clan.
DANIEL LIEBERMAN: We don't really know the group sizes, but probably, you know, 15 to 20 maybe is not an unreasonable guess. But who knows?
HEATHER: You and your group are walking through the tall grasses of the savanna.
DANIEL LIEBERMAN: You're hungry.
MATT: And off in the distance ...
DANIEL LIEBERMAN: You see some wildebeest. And you run after them. But the wildebeests run away faster than you can possibly run. And the wildebeest will run far away, right? And go hide. But that's okay.
MATT: You're just gonna keep chasing them.
DANIEL LIEBERMAN: Tracking.
MATT: Looking for any signs of their trail.
DANIEL LIEBERMAN: And you're not chasing them at a sprint. You're kind of running along at a nice, relaxed endurance pace. Like, 10-minute miles.
MATT: And you do this for mile after mile after mile.
DANIEL LIEBERMAN: But the trick is you find that animal before it's cooled down, because of course the animal would have run away, and when it runs away it gets hot. Like, when you -- running generates a lot of heat. And these animals aren't very good at dumping heat.
MATT: And why can't it dump heat?
DANIEL LIEBERMAN: Because they can't sweat.
MATT: Unlike us ...
DANIEL LIEBERMAN: Most animals are unable to sweat.
MATT: So ...
DANIEL LIEBERMAN: The way they lose heat is by panting.
MATT: The thing about four-legged animals, though, is every stride they take when they're running ...
DANIEL LIEBERMAN: ... the guts slam into the diaphragm like a piston. And so when an animal starts galloping, it has to train each breath with each stride. And that prevents it from doing the short little shallow breaths, you know, that animals do when they pant.
MATT: Huh.
MATT: And so Dan says what you do is you try to keep this wildebeest sprinting. So you stay slow and steady, keep moving. Just slowly chasing this thing. And slowly over time, you're making it hotter and hotter and hotter, until at a certain point after tons of miles, it could be 20, could be 30, you push this animal to the point of exhaustion.
DANIEL LIEBERMAN: At that point the animal is basically collapsing, right? Its -- its defenses are gone, and they just find a rock and dispatch the animal with a rock.
MATT: And when you say 'dispatch,' you mean, like, it -- we beat its brains in?
DANIEL LIEBERMAN: That might be what they might do, yeah.
MATT: Huh. This is so horrifying.
HEATHER: I know. It's a terrible way to die, right?
MATT: Yeah.
DANIEL LIEBERMAN: But once we are able to do this, we become -- we were able to become hunters. And of course hunting gives us access to incredible number of calories. And energy is -- well, life is all about energy, you know? Basically, you know, the -- the equation of life is, you know, energies in and babies out, right? So more and ...
MATT: That's life.
DANIEL LIEBERMAN: Yeah, that's -- that's basically life, right? A kudu is a lot of calories, which is a lot of babies. So if you could run down an animal like a kudu, you have access to an astonishing energy supply. You also have access to important nutrients. It's not just meat, it's also liver and brain and marrow. These are very rich, important and rare resources that enabled our ancestors to overcome the constraints of -- that so many animals face. And I think it's one of the reasons that -- it's after the evolution of hunting begins, that we really see big increases in brain size in human evolution. So brains basically doubled after we started hunting. And -- and of course to hunt, you can't really hunt without running. And so -- so running helped us become hunters, and hunting and gathering helped us become the smart, intelligent cooperative creatures that we are today.
MATT: Yeah, but I got to say, the idea of humans running down animals over these, like, huge distances, like it just -- it just seems ...
HEATHER: Well, and it kind of boggles the mind, right? Like, it seems impossible. Like, I think I had heard this theory before, I think you had probably heard this theory before, at least in some part of my life, like some runner friend probably at some point had been like, "You know, we're like --" I actually remember, do you remember when those toe things came out?
MATT: Oh, God!
HEATHER: And I remember there was this -- there was this time when people would always be talking about how we were made to run and we were evolved to run, and there are groups of people who have historically hunted this way. But even so, there's something about thinking about modern humans. Like, people like me who, like, sit on the couch and watch Netflix and eat ice cream, I just was like, "Uh, not me."
MATT: Yeah.
HEATHER: It just -- so I think there's a part of this that it's like so elegant but it's also really counter-intuitive. It just does not seem possible. So I'd been, you know, preparing for this conversation with Lieberman and I had heard this theory, and I had said to a few different people, you know ...
HEATHER: Oh yeah, this guy thinks that you can outrun a horse or something. And everyone's like, "No, it's not possible."
HEATHER: And he was like, "Well ..."
DANIEL LIEBERMAN: I have. People do it all the time. Even I've done it.
HEATHER: I've actually done it.
HEATHER: You've outrun a horse?
DANIEL LIEBERMAN: Absolutely. There's a course -- there's a race called Man Against Horse, it's every year in Prescott, Arizona. And two years ago, I ran the race. And I ran -- outran almost all the horses, and I'm just a middle-aged professor. I'm not particularly fast.
MATT: It's kind of like he was saying, "You can see this whole theory play out in the desert of Arizona.
HEATHER: Right.
MATT: And you and I talked about this. And we were like, okay.
HEATHER: We're going.
MATT: We're going.
JAD: When we come back, it is off to the races. Radiolab will continue in a moment.
[LAUREN: This is Lauren Furey from Western Springs, Illinois. Radiolab is supported in part by the Alfred P. Sloan Foundation, enhancing public understanding of science and technology in the modern world. More information about Sloan at www.sloan.org.]
[ADVERTISEMENT]
JAD: Jad. Radiolab. Back to reporters Matt Kielty and Heather Radke, and a race which this is one of my favorite parts of this whole story.
HEATHER: So in 1983, a city councilman in Prescott comes into this bar in Whiskey Row, like super-old west America.
MATT: And he gets there, he sits down, and he has a beer. And down at the end of the bar ...
HEATHER: There's a couple of cowboys. The city councilman's just run a marathon.
MATT: And at some point ...
HEATHER: The city council guy says, "I just ran this crazy race."
MATT: And one of the cowboys says ...
HEATHER: "My horse could run that far easily."
MATT: "You're not that fast."
HEATHER: "My horse could do that in an afternoon. Wouldn't even break a sweat." And then the city councilman's like, "You know, I'm not sure he can."
MATT: "Actually, in fact, I bet I can outrun your horse."
HEATHER: And for 30-plus years, they have been sort of seeing who's right.
MATT: I put in new batteries last night. Yeah, what the ...? I am so confused.
HEATHER: So a while back, you and I flew to Phoenix, we rented a car and drove up to ...
MATT: Prescott.
HEATHER: Prescott.
MATT: We went to Prescott.
HEATHER: Don't say Prescott.
MATT: No. It's kind of like just high desert country.
HEATHER: Cactuses and scrub and red rocks.
MATT: Big blue sky.
HEATHER: It's, like, super cinematic. It's like, this is the west.
MATT: Ah, man-horse sign. Arrow to the right.
MATT: And we were there to see this race.
HEATHER: Nicely homemade, too.
MATT: Yeah, it's just a piece of wood. It says "man-horse" in red paint.
MATT: Borne out of this bet. And the race, it's a 50-mile race through the desert.
HEATHER: Up this mountain, man against horse. Winner take all.
MATT: All right. Okay. So I mean, we're essentially what, just standing in, like, an open desert plain.
HEATHER: Everything's super flat.
MATT: A little bit of a valley.
HEATHER: Kind of right out ahead of you is this big mountain that is the mountain that they're gonna climb during the race.
MATT: Shin-high dry ...
HEATHER: Scrub.
MATT: ... scrub grass.
MATT: We got there for day one.
HEATHER: And we go to the check-in table.
RON BARRETT: Hi, Heather. How are you? Let me just ...
HEATHER: And we met up with Ron Barrett.
MATT: By the way, I'm Matt. I don't think ...
RON BARRETT: Hi Matt. Ron Barrett.
MATT: Ron Barrett. Nice to meet you.
MATT: He basically orchestrates this whole thing.
HEATHER: Tall guy, bald, got a white goatee. You meet him and you're like, now that's a good guy.
RON BARRETT: Here we got some nostalgia.
HEATHER: Oh, look at this!
MATT: Oh, a bunch of clippings.
MATT: He was propping up this big poster board.
RON BARRETT: It's just a board that we, you know, over the years, we've taken pictures of back in '83, '85, the early years.
MATT: There's a lot of old newspaper photos of horses.
RON BARRETT: So that's the Mojo Man, Scott Mojoleski.
MATT: Runners.
HEATHER: A shirtless runner.
RON BARRETT: He was Mojo M.O. And he was the first guy to be with no shirt on Runner's World Magazine.
HEATHER: Allegedly.
MATT: But when we were talking to Ron ...
RON BARRETT: He won it back in '94.
HEATHER: It turns out Daniel's theory is kind of not quite holding up out here.
MATT: He won the human portion.
RON BARRETT: He won -- yeah.
MATT: Because the headline reads "Horses Again Prove To Be Faster."
RON BARRETT: But he won the run at that time.
MATT: Some humans can beat some horses.
MATT: Did he ever -- did he ever end up beating a horse?
RON BARRETT: No, he never did.
MATT: But no human ever in this race has outrun the fastest horse.
RON BARRETT: This guy here, he's been the one to come the closest.
HEATHER: So in the 36 years that this race has been going, the horse has won every time.
MATT: And to be honest, it sort of makes sense.
[HORSE NEIGHS]
MATT: Once you see ...
HEATHER: ... the horses.
[HORSE NEIGHS]
MATT: What is that? Why do they do that? And we got horses just kind of hanging out in these tiny makeshift enclosures.
HEATHER: And it's not just like pony down at the fair or something. They're big, they're muscular.
MATT: I could never stand that close behind a horse.
HEATHER: It's like evolution has made this animal to be, like, the best running beast on the planet.
MATT: So we talked to some of the riders.
HEATHER: The horses don't run by themselves.
BRUCE: I'm Bruce.
HEATHER: I'm Heather.
BRUCE: Heather, how are you?
WOMAN: There you go. You're just ravenous, aren't you? Good boy!
HEATHER: And these people know what they're doing. They've been running endurance races with these horses for a really long time.
MATT: I'm Matt, by the way.
TROY: Hi Matt. Troy.
MATT: Troy?
TROY: Nice to meet you.
HEATHER: So one of the guys we ended up talking to for a while was this guy Troy.
MATT: Barrel-chested, cowboy hat on. And Troy looked determined.
TROY: I think of this ride -- I don't even worry about who else shows up here to race on the horse race, I just want to beat the runner.
HEATHER: Troy's actually been competing in this race, the Man Against Horse Race for the last 13 years. And he's beat a lot of humans.
TROY: And so when I see these guys running, I'm like going, "You guys are good!" You know? But I'm gonna beat you, don't worry. Yeah, I still -- it's like if I was playing basketball with a 12-year-old, I'd still wanna -- I'd still wanna dunk on him, right? You know?
MATT: We haven't met any of the runners yet. Are they -- do they, like, congregate in some other spot? Or ...
TROY: That's them over there.
MATT: Troy pointed a couple hundred yards over to the other side of this dried-out riverbed.
TROY: The wash, that little wash right there? Those'll be all ultra-runners. But hey, they're little skinny people, all right?
MATT: So here's what we got for the re-enactment of the origins of running in humanity. On one side of this wash, standing in for the ancient antelope of the Serengeti [HORSE NEIGHS], masses of muscle.
HEATHER: Bred and trained to run. And then on the other side ...
MATT: Subarus.
HEATHER: Small group of maybe eight people wearing microfiber whatever. They just, like, have these, like, high-tech clothes on, and they're nibbling on, like, little vegan treats.
MATT: Quietly reading books.
MATT: Are you guys -- are you guys the runners?
RUNNERS: Yeah.
MATT: We're -- we're with the public radio station, WNYC.
WOMAN: Oh, very cool!
MAN: Uh, we do not like public radio.
MATT: Yeah, I know. All these Subarus out here, I figured a bunch of public radio haters. I was a little scared coming over.
HEATHER: So some of them, this is their first time racing a horse.
HEATHER: How are you feeling about that?
WOMAN: Excited.
HEATHER: For a couple of others, they've actually tried before.
WOMAN #2: Of course, I think I'm in -- I'm about ten years older so I'll do a -- probably take a lot longer. Usually ...
HEATHER: But when we asked them ...
HEATHER: Why -- why are you doing this?
HEATHER: Why would you run 50 miles through the desert competing against a horse?
MATT: Their answers ...
WOMAN: I feel like we're kind of comrades out there. Just us against the course.
MATT: Were not exactly encouraging for the human side.
MAN: All you're worried about is doing it and then it's time to find another race.
MATT: It's us against the course, it's us against ourselves. We're all friends here.
HEATHER: I mean, at this point it pretty much seems like the horses have got it.
MATT: Yeah. Like a blowout.
HEATHER: Yeah. They don't have a shot. But then we heard about this one guy.
WOMAN: Nick.
WOMAN #2: Nick.
MATT: Nick.
RON BARRETT: Now this kid says he's coming, Nick Coury.
MATT: We'd actually also heard about him from Ron.
RON BARRETT: He says he wants to come tomorrow and beat the course record.
TROY: I gotta -- you know, so that's why I'm kind of interested to know how fast this runner thinks he's gonna run, right?
MATT: Turns out Troy had caught wind of him.
TROY: But I don't really know.
MATT: Maybe even sounded a little nervous. But there was no sign of him yet.
HEATHER: At this point, it's almost -- it's like sunset.
WOMAN:
Sours: https://www.wnycstudios.org/podcasts/radiolab/articles/man-against-horse
Polysaccharide Storage Myopathy (PSSM)
Takeaways
Polysaccharide storage myopathy (PSSM) is a disease that results in an abnormal accumulation of glycogen (sugar) in the muscles.
Clinical signs may include reluctance to move, sweating, and muscle tremors, also known as "tying-up".
There are two types of PSSM. Type 1 is caused by a known genetic mutation and a DNA test is available. Type 2 may also be genetic, but the exact cause is unknown. There are currently no scientifically verified DNA tests for PSSM2, but a muscle biopsy can be performed for diagnosis.
There is no cure for PSSM, but most affected horses can be managed successfully through diet and exercise.
What is polysaccharide storage myopathy?
Polysaccharide storage myopathy results in an abnormal accumulation of glycogen, the form of sugar stored in muscle. This can cause episodes of muscle stiffness and pain after exercise, also known as "tying up" or exertional rhabdomyolysis. Affected horses may be reluctant to move and may display sweating, lameness, and muscle tremors.
Two types of PSSM have been identified, PSSM1 and PSSM2. A genetic mutation in the glycogen synthase 1 (GYS1) gene causes PSSM Type 1 (PSSM1). The mutation causes muscle cells to produce glycogen continually. Since it is an autosomal dominant trait, only one copy of the mutation is needed for a horse to be affected. However, environmental factors, namely diet and exercise, play important roles in the onset of clinical signs. PSSM1 is more commonly observed in Quarter Horses, related breeds such as Paints and Appaloosas, and draft breeds, although cases have been reported in more than 20 breeds.
Polysaccharide storage myopathy type 2 (PSSM2) also results in abnormal glycogen storage in muscle, but horses do not have the GYS1 mutation. The cause of PSSM2 remains unknown; there may actually be multiple causes. A condition known as myofibrillar myopathy (MFM), characterized by exercise intolerance and intermittent exertional rhabdomyolysis, may be an extreme subset of PSSM2, but further research is needed. PSSM2, but not MFM, has been diagnosed in Quarter horses. Cases of PSSM2/MFM have been reported in warmbloods and Arabians.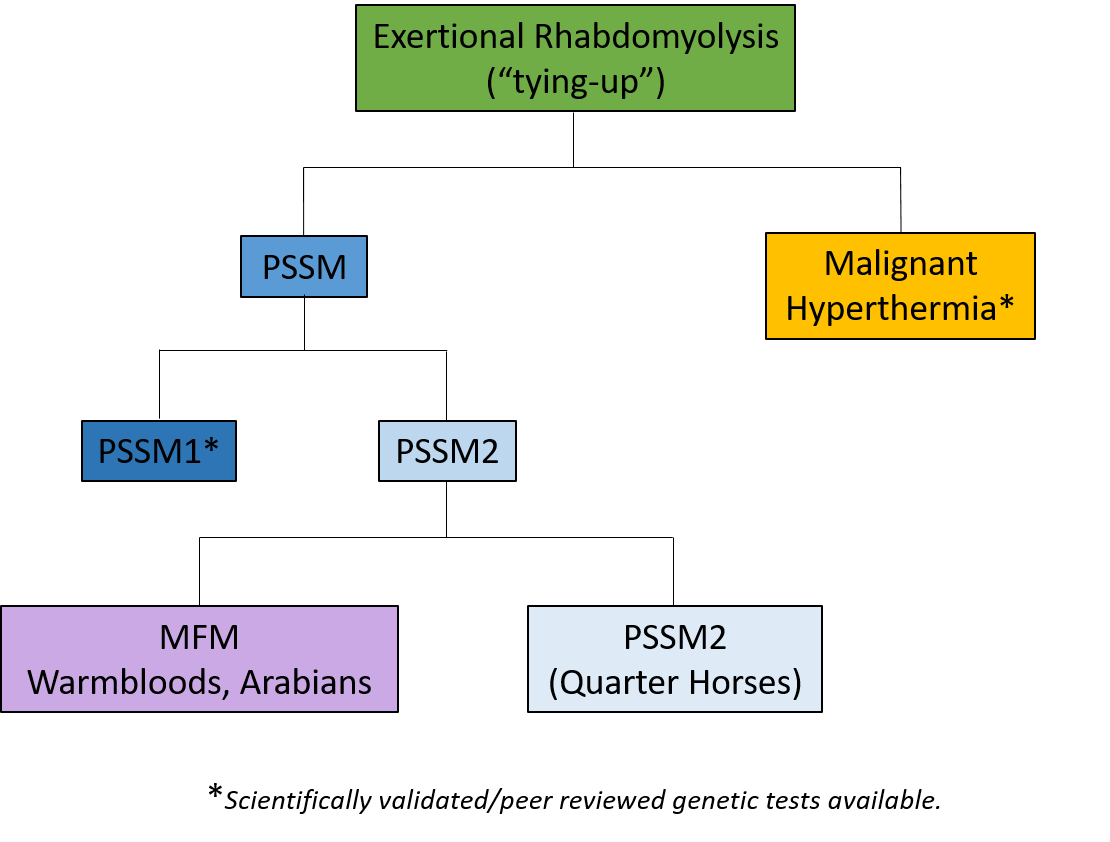 What are the clinical signs of polysaccharide storage myopathy?
Clinical signs of PSSM range from mild to severe. They include sweating, lameness, sore muscles, undiagnosed lameness, poor performance, and muscle tremors ("tying up"). These may occur with or without exercise. Under saddle, affected horses may be reluctant to go forward or collect. Some affected horses, however, do not exhibit any clinical signs.
How is polysaccharide storage myopathy diagnosed?
PSSM1 is diagnosed through the genetic test for the GYS1 variant. This can be performed on hair or blood samples.
There is currently no scientifically validated, peer reviewed, diagnostic test for PSSM2 or MFM. A recent study did not find a significant association between the commercial genetic test variants P2, P3 (a and b), and P4 and horses with a diagnosis of PSSM2 or MFM based on histopathology (the gold standard for evaluation of muscle disease). A muscle biopsy may be taken to evaluate muscle damage and measure the amount of glycogen in the muscle.
There are other causes for tying-up besides PSSM, including malignant hyperthermia, glycogen branching enzyme deficiency, and myosin heavy chain myopathy, so it is important to rule these out to ensure the horse is treated appropriately.
How is polysaccharide storage myopathy treated?
Dietary nonstructural carbohydrate (NSC) intake in affected horses should be limited to less than 12% of the diet to keep blood insulin levels low and reduce glycogen storage in muscle. Horses must exercise daily to maximize the muscles' ability to burn glycogen. Affected horses are often easy keepers and management through a low-NSC grass hay and a good-quality ration balancer is usually sufficient. If additional calories are needed, a low-NSC and/or high fat feed source should be incorporated.
Since small management changes can have a big impact, fine-tuning the diet over time may be necessary. Ensuring an adequate source of quality protein in the diet appears to be important.
In some cases, sedatives, analgesics, muscle relaxants, and non-steroidal anti-inflammatory drugs (NSAIDs) may be used to provide pain relief, especially for short periods after active episodes of tying up.
There is less evidence-based data available regarding management of horses with PSSM2 than those with PSSM1, but they are often treated similarly.
What is the prognosis for polysaccharide storage myopathy?
There is no cure for PSSM, but it can often be managed successfully. Approximately 50% of affected horses with PSSM1 show improvement under dietary management alone. Of those that adhere to dietary and exercise management, 90% have few to no episodes of tying-up. However, clinical signs will likely resume if there are disruptions to the management program. Many horses achieve acceptable levels of performance, but some cases prove extremely difficult to manage.
How can polysaccharide storage myopathy be prevented?
Genetic testing can be utilized to avoid breeding PSSM1-affected horses. Since PSSM1 is an autosomal dominant trait, there is at least a 50% chance of passing the causative mutation to each offspring. Although the cause of PSSM2 is currently unknown, horses that are diagnosed as affected by muscle biopsy should not be bred since it may have a genetic basis.
For more information:
PSSM1 genetic testing, University of California, Davis, Veterinary Genetics Laboratory 
PSSM testing, University of Minnesota Veterinary Diagnostic Laboratory
Valberg, S.J., Finno, C.J., Henry, M.L., Schott, M., Velez-Irizarry, D., Peng, S., McKenzie, E.C., Petersen, J.L. 2020. Commercial genetic testing for type 2 polysaccharide storage myopathy and myofibrillar myopathy does not correspond to a histopathological diagnosis. Equine Vet J 00:1–11.
Valberg, S.J. 2018. Muscle conditions affecting sport horses. Vet Clin Equine 34 (2018) 253–276.
*This article was updated on November 2, 2020.
**This article may not be reproduced without the written consent of the UC Davis Center for Equine Health. Please email requests to [email protected] 
Primary Category
Health Topics
Tags
equinegeneticinheritedQuarter Horsedraft horse
Sours: https://ceh.vetmed.ucdavis.edu/health-topics/polysaccharide-storage-myopathy-pssm
Report saddle horse
Riding High in the Saddle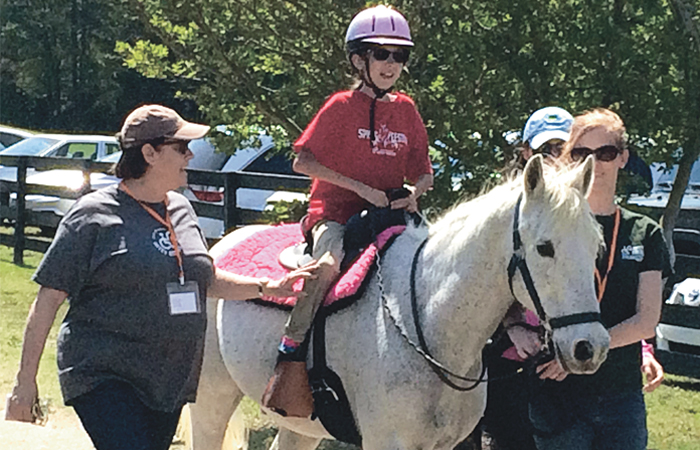 Being on horseback builds strength and confidence for individuals with neuromuscular diseases
Kierra Sunris, a typical 12-year-old,enjoys reading The Hunger Games, making silly faces to annoy her parents and riding horses. She rode for the first time at age 6. "I was afraid the horse would fall over. It's kind of scary when you get on top of something that's five feet taller than you are," says Kierra, who has Ullrich myopathy (a form of congenital muscular dystrophy) and uses a power wheelchair. 
Kierra's fears quickly disappeared, and she's been enjoying adaptive riding for the past six years. "When you go fast on the horse you don't feel like you're sitting down; you feel like you're running," she says.
The steady clip clop of a horse's gait is remarkably similar to a human walking pattern: rhythmic, consistent and predictable. The repetitive nature of this movement allows riders to practice and refine their balance responses. This can lead to improved core stability and postural control. 
Two ways to ride 
No piece of equipment can duplicate the movement of a horse. Individuals with neuromuscular diseases can get the benefits of being on horseback from hippotherapy or adaptive riding (also known as therapeutic riding). Both involve riding horses, but they have significant differences:
Hippotherapy is a medical treatment strategy performed one on one by a licensed physical therapist, occupational therapist or speech therapist. The service is billable through medical insurance but not covered by all provider plans. Like all therapy sessions, there is an individualized care plan and periodic progress evaluation to determine the need for ongoing service. The American Hippotherapy Association (AHA) facilitates research on hippotherapy and provides training for therapists.
Adaptive riding is a recreational activity that teaches horseback riding skills for people with complex physical needs. A certified adaptive riding instructor works with individuals or groups. Payment for adaptive riding is an individual's responsibility, although many nonprofit facilities offer scholarships. The Professional Association of Therapeutic Horsemanship International (PATH International) recognizes 866 member centers.
Equine-centered activities are beneficial for a range of disabilities, including neuromuscular disorders, developmental delays, sensory processing disorders, genetic syndromes and Autism spectrum disorder. 
Typically, the first hippotherapy or adaptive riding session involves assessing an individual's balance, coordination and physical limitations. The staff will then choose what equipment and horse is required. Helmets should always be worn, and some riders use specially adapted saddles.
Gaining strength and confidence
Twelve-year-old Gregory, who has Duchenne muscular dystrophy (DMD), has participated in adaptive riding for four years. He rides a pony that is 14 hands high (4 feet, 9 inches). A Velcro belt is wrapped around his waist to secure him to the saddle. A volunteer leads his horse, while a sidewalker follows on his left and an instructor on his right. Gregory loves being out of his wheelchair and up high. His lessons are conducted along trails, and he often spots deer, foxes and red-tailed hawks.
"Gregory has limited trunk control and is very capable of steering his horse on his own," says Laurie Kelley, who is a PATH International-certified instructor. "Sitting on the horse helps Gregory work his core and upper body because he has to maintain his balance. Riding is not just physically beneficial; it's empowering for Gregory to manage a 950-pound animal."
Kierra also has felt that empowerment and freedom. During her six years of riding, she has built positive, self-affirming relationships with the staff and animals she sees every week. She credits riding with giving her the confidence she needs to live beyond her physical limitations and reach out to others as MDA Ambassador for North Carolina. 
Social and emotional learning
Erica participates in hippotherapy one hour each week. Riding provides an excellent physical workout for the 15-year-old who has myotonic muscular dystrophy (MMD), and it has also made a difference in her social development.
"Erica was an extremely shy girl. Hippotherapy has helped her come out of her shell," says her father, Dale Destache. Typically, Erica would not interact with strangers, yet on her first hippotherapy session, she talked with the volunteer horse walkers and occupational therapist who comprised her therapy team. "Even on the way home, she kept conversing, and not just about the horse," Destache recalls. "She was very verbal, and we knew hippotherapy was the right thing to do."
Since beginning hippotherapy three years ago, Erica has continued to meet and interact with new volunteers. Erica is even building friendships outside her therapy team with other kids who ride.
Maximizing mobility
When Grayson, who has DMD, began hippotherapy at the age of 4, he was unable to hold himself upright. He progressed to sitting and doing standing exercises on a horse. His occupational therapist, Linda Frease, explains the goal of hippotherapy was to keep him "as mobile as possible for as long as possible." Grayson, now 14, only recently began using a power wheelchair, and he credits hippotherapy with helping him remain ambulatory much longer than is typical for his progressive disease. 
Frease explains that Grayson's therapy involved exercises focused on improving his postural stability, core strength and endurance. But to Grayson, it felt more like play than exercise. This is a common feeling among kids who participate in hippotherapy or adaptive riding. Parents and therapists report that the time the kids spend on horseback is time when they get to feel just like any other kid. 
However, equine activities are not just for kids. Grown-ups can reap the benefits, too. Frease works with adults who have mobility limitations due to a number of conditions. Her oldest client is 92 years old.
Barbara Twardowski has Charcot-Marie-Tooth disease (CMT) and uses a power wheelchair. Jim, her husband, is a registered nurse. Both have degrees in journalism. They live in Louisiana and write about accessible travel, health and lifestyle, and related issues.
---
Three Steps to Getting on a Horse
1. Consult with your MDA Care Center physician and medical team to determine if hippotherapy or adaptive riding is appropriate.
2. Find a facility within a reasonable distance of your home. Visit the American Hippotherapy Association (americanhippotherapyassociation.org) and the Professional Association of Therapeutic Horsemanship International (pathintl.org) to locate therapists, instructors and facilities in your state.
3. Meet with a therapist or instructor to discuss your goals. Ask questions such as:
• What certifications has the individual or facility earned?
• Is the service being provided considered hippotherapy or adaptive riding?
• What type of documents are required to begin?
• How long is a typical session?
• Are sessions conducted indoors or out? What happens when weather conditions are poor?
• What safety precautions are in place?
• What equipment is required?
---
Looking for More?
Read about a woman with Friedreich's ataxia (FA) who thought her riding days were over in Not Just Horsing Around to learn about her experience with therapeutic riding.
Sours: https://www.mda.org/quest/article/riding-high-saddle
Support Report at Sarah's Saddle
Prevent All Soring Tactics (PAST) Act
Soring—which involves intentionally inflicting pain on a horse's hooves and front limbs to produce an exaggerated high-stepping gait known as the Big Lick—remains a persistent and rampant practice in Tennessee walking horse competitions. To end this abuse, lawmakers have reintroduced the Prevent All Soring Tactics (PAST) Act (S 2295).
Background: Cruel Soring of Tennessee Walking Horses
Congress enacted the Horse Protection Act (HPA) in 1970 to end the abusive practice of soring. Soring methods include applying caustic chemicals, using plastic wrap and tight bandages to "cook" those chemicals deep into the horse's flesh for days, attaching chains to strike against the sore legs, inserting hard objects such as screws and resins into tender areas of the hooves, paring the soles of the feet down to sensitive tissue, and using salicylic acid or other painful substances to slough off scarred tissue in an attempt to disguise the sored areas. Sored horses often live in constant and extreme pain throughout their careers.
Current Law Allows Industry to Police Itself
The US Department of Agriculture has never been provided the resources to enable its inspectors to attend most of the shows. Decades ago, in an attempt to compensate, the USDA set up an industry-run enforcement system in which horse industry organizations (HIOs) were authorized to train their own inspectors, called designated qualified persons (DQPs), to inspect horses for soring at shows. However, DQPs are employees of these show organizations and are often exhibitors of Tennessee walking horses themselves. Not surprisingly, many DQPs avoid citing those who hired them.1
USDA Inspector General and National Academies Recommend Program Overhaul
Though the HPA was signed into law nearly 50 years ago to protect horses from painful soring, this abuse continues unabated. A 2010 audit by the USDA inspector general exposed how trainers in the industry go to great lengths to evade detection rather than comply with federal law and train horses using humane methods.2 The inspector general recommended stiffer penalties and eliminating the flawed system of industry self-policing, as well as increased funding to enable the USDA to more adequately oversee compliance with the law.
Unfortunately, little has changed with HPA enforcement in the intervening years. In 2021, the National Academies of Sciences, Engineering and Medicine (NASEM) released a report urging the USDA to discontinue its reliance on industry inspectors, and instead depend on veterinarians to inspect horses for soreness.
Equine Veterinarians and Horse Groups Call for Reforms
The American Veterinary Medical Association (AVMA) and the American Association of Equine Practitioners (AAEP), along with the American Horse Council and several show horse industry groups, all endorse the PAST Act. The AAEP issued a 2008 white paper condemning soring, calling it "one of the most significant welfare issues faced by the equine industry."3 It called for the abolition of industry-run inspections, saying "the acknowledged conflicts of interest which involve many of them cannot be reasonably resolved, and these individuals should be excluded from the regulatory process," adding that the "adoption and strict enforcement of meaningful uniform standards and regulations, combined with more stringent penalties, are the cornerstones of establishing fair and humane competitions."
In a joint statement, the AVMA and the AAEP stated, "For decades we've watched irresponsible individuals become more creative about finding ways to sore horses and circumvent the inspection process, and have lost faith in an industry that seems unwilling and/or unable to police itself."4
Undercover Investigation and Enforcement Track Record
An undercover investigation of champion Tennessee walking horse trainer Jackie McConnell and his associates revealed that trainers can sore horses and enter them into shows undetected under the current system, as McConnell did while serving a 5-year federal disqualification. Caught on video painting caustic chemicals on horses' legs, McConnell pleaded guilty to conspiring to violate the HPA. The video also showed horses being whipped, kicked, shocked in the face, and violently cracked across their skulls and legs with heavy wooden sticks. Prosecutors expressed frustration with the weak penalties available under the current HPA.
In another case, trainer Barney Davis pleaded guilty to multiple violations of the HPA and related financial crimes. According to Davis, "Everybody does—I mean, they've got to be sored to walk. I mean, that's the bottom line. It ain't no good way to put it, but that's it."5 While we applaud these prosecutions, the violators had engaged in soring and gotten past industry inspectors for decades, as have many others. These prosecutions are noteworthy because they are so rare. HIOs claim a 98 percent compliance rate with the HPA.6 USDA inspectors, however, have found the opposite: up to 100 percent of randomly selected horses tested positive for prohibited foreign substances applied to their pasterns, either to cause pain or to mask the symptoms.7 This industry has been allowed to self-police for too long, penalties have been too weak to provide a meaningful deterrent even in the rare event someone is caught, and devices known to be associated with soring have been permitted.
The Prevent All Soring Tactics Act would implement needed reforms to end this abuse of horses. The PAST Act would do the following:
End the failed industry self-policing system. The USDA would train, license, and assign inspectors to horse shows instead of having HIOs choose who conducts inspections. Shows would still have the option of hiring inspectors or declining to do so. Show management who opt out would (as in current law) risk greater liability if soring is uncovered at their show.
Strengthen penalties. Violators of the law could receive up to three years in prison for core offenses now treated only as misdemeanors. Maximum fines would increase to $5,000 per violation. Periods of disqualification would lengthen with each violation. A third violation could result in permanent disqualification from any horse show, exhibition, sale, or auction.
Ban the use of devices associated with soring. Chains, weighted shoes, pads, chains, and other devices used on three specified breeds (Tennessee walking horses, spotted saddle horses, or racking horses) to intensify pain and conceal foreign objects would be expressly prohibited.
Make the actual soring of a horse for the purpose of showing or selling the animal illegal. Directing another to do so would also be illegal.
Not add costs to the federal government. The PAST Act would enable the USDA to redirect its enforcement efforts and resources in a more efficient and effective way.
Sours: https://awionline.org/content/prevent-all-soring-tactics-past-act
You will also be interested:
BLM Nevada and Northern Nevada Correctional Center saddle-trained wild horse adoption a success
RENO, Nev. — On October 9, the Bureau of Land Management (BLM) and the Nevada Department of Corrections – Silver State Industries conducted a saddle-trained wild horse and burro adoption event at the Northern Nevada Correctional Center (NNCC) south of Carson City, Nevada. All 14 animals showcased at the event were adopted. 
Thirteen wild horses and one burro from herd management areas located on BLM Nevada-administered public lands were trained for approximately four months by inmate trainers in the NNCC program and offered for adoption during a competitive-bid adoption event.  
Successful bidders paid a total of $69,600 for the horses with the average price of $5,230 per horse. The burro from the Seven Troughs herd management area (HMA) was adopted for $1,600. With bids starting at $150, the event's saddle-trained wild horse top bid of $7,000 went for "Clyde", a 14.3 hand, 3-year-old Gray gelding, gathered from the Eagle HMA located outside of Ely. He will remain with his adopters here in Nevada.  
The successful bidders officially adopted their horses and after properly caring for their adopted horses for one year, the adopters are eligible to receive title, or ownership, from the Federal government. The BLM uses its adoption program as a primary tool to place these iconic animals into private care. The horses and burros available for adoption typically come from overpopulated herds on public lands where available vegetation and water can become scarce as populations grow. There are no natural predators that can effectively control wild horse and burro population growth on public lands.  
Many people have found it personally challenging and rewarding to adopt a wild horse or burro. Additionally, it is a chance to care for, and then own, a part of America's heritage. The BLM has placed more than 270,000 wild horses and burros into private care since 1971. Many of those animals have become excellent pleasure, show, work or companion animals. 
The next saddle-trained wild horse adoption and competitive-bid auction at the Northern Nevada Correctional Center is scheduled for February 26, 2022.  
For more information about these special adoption or sale events and how to adopt or purchase your own wild horse or burro visit BLM's Wild Horse and Burro Program webpage at https://www.blm.gov/whb. To follow successful adopters and their stories on Facebook, go to NNCC Adopted Wild Horses & Burros page at https://www.facebook.com/groups/1566414293621016.   
-BLM- 
Sours: https://www.blm.gov/press-release/blm-nevada-and-northern-nevada-correctional-center-saddle-trained-wild-horse-1
1445
1446
1447
1448
1449