How to Make a Moodboard on Tumblr
| | |
| --- | --- |
| Published On: | 23rd Oct |
| Category: | Tumblr |
Moodboards are quite popular on Tumblr. Many people use the platform to create moodboards on various topics and interests. If you've also been wondering how to create a Tumblr mood board, then this guide is for you.
Unlike other blogging platforms and social networks, Tumblr gives you more freedom to use custom designs and create unique blogs and websites. This makes it the perfect platform for creating all kinds of moodboards.
In this guide, we'll explore what moodboards are and how you can easily create moodboards on Tumblr without using Photoshop or any photo editing knowledge. Keep reading to find out how.
What Is a Moodboard?
A moodboard is a collection of images or a collage that represents a specific interest or a category. However, a moodboard can be much more than that.
A moodboard can be a composition of images related to minimalist design a web designer would use to get inspiration for her next project. It can also be a set of quotes that would motivate you to work harder. It can be a set of inspirational images that a writer would use for writing prompts. And so much more.
Simply put, a moodboard can be about anything that would inspire you and others.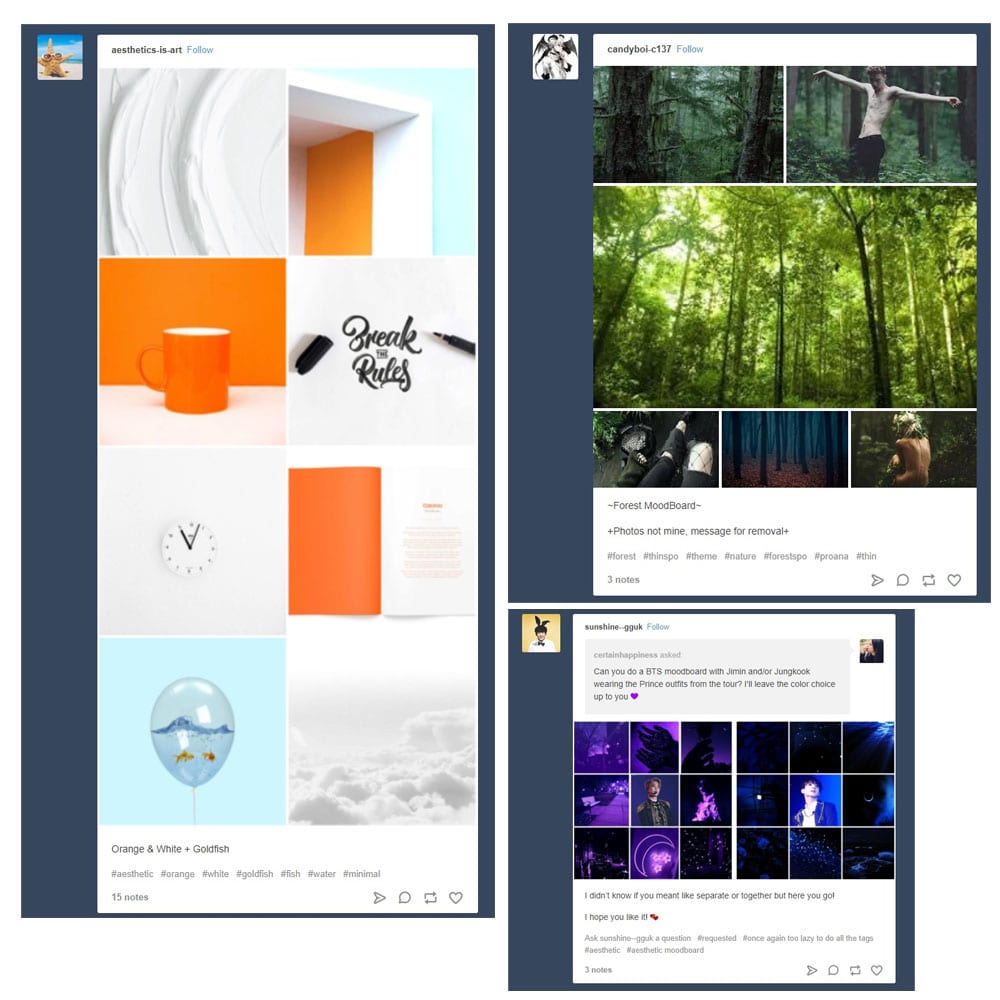 Tumblr has truly taken moodboards to the next level. If you browse the #moodboard hashtag you'll see the many different ways people create moodboards on the platform.
Why Make Moodboards?
Moodboards can be a fun and creative way to express your interests, emotions, and even feelings. Especially on Tumblr, people have been using moodboards to inspire others on important movements like gender equality.
It doesn't matter if you're a designer, writer, illustrator, gamer, or an anime fan. Moodboards are for everyone. A moodboard can also help speed up your workflow by allowing you to instantly find inspiration for your next project without having to browse the web for hours.
How To Make A Tumblr Moodboard
Why use Tumblr to create a moodboard? Well, usually you need Photoshop and photo editing skills to create a stylish moodboard composition. But, with Tumblr, you can easily create moodboards using its Photoset post type that lets you upload multiple images into a single post.
Best Tumblr Themes For Moodboards
Before you get started on creating a moodboard, it's important that you choose an appropriate theme for your Tumblr moodboard. A moodboard is all about the images and you should pick a minimal and a clean theme that gives more attention to your moodboard posts. And, of course, it should also support Photoset posts.
Here are a few Tumblr themes that you should consider using to setup a professional moodboard.
Calm Minimal Single-Column Tumblr Theme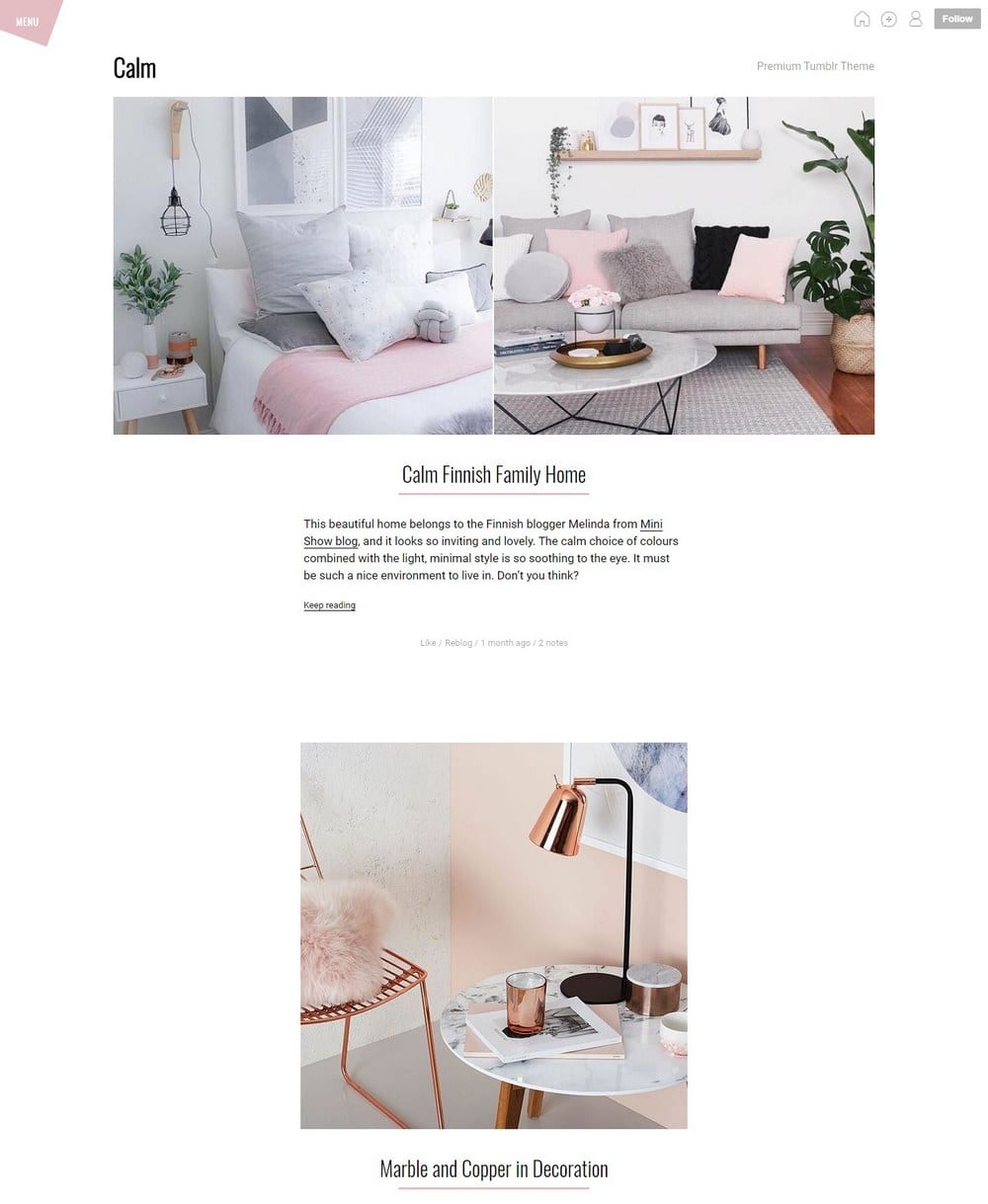 Calm is a Tumblr theme that features a minimalist design with a single column design. It allows you to highlight your moodboard posts by getting rid of clutter and distractions.
Interlace Modern Two-Column Tumblr Theme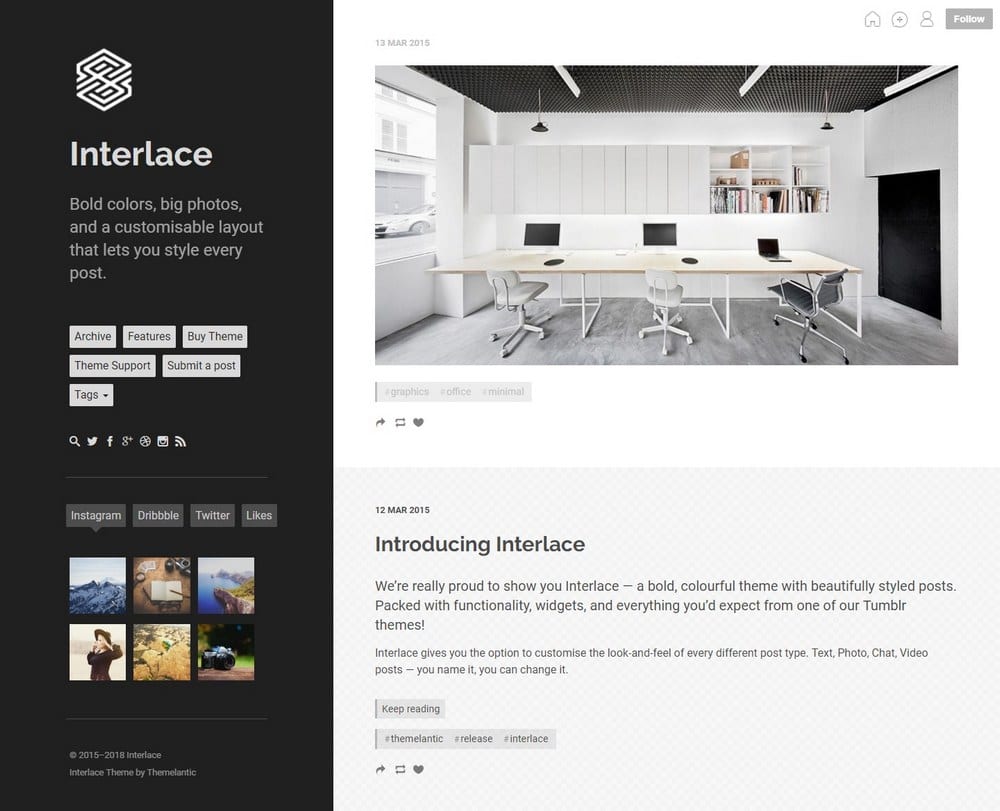 Interlace features a two-column design but it gives plenty of space for your posts. This theme will let you showcase your moodboards while also including links to tags and pages in the sidebar area.
Cherry Photo Blog Tumblr Theme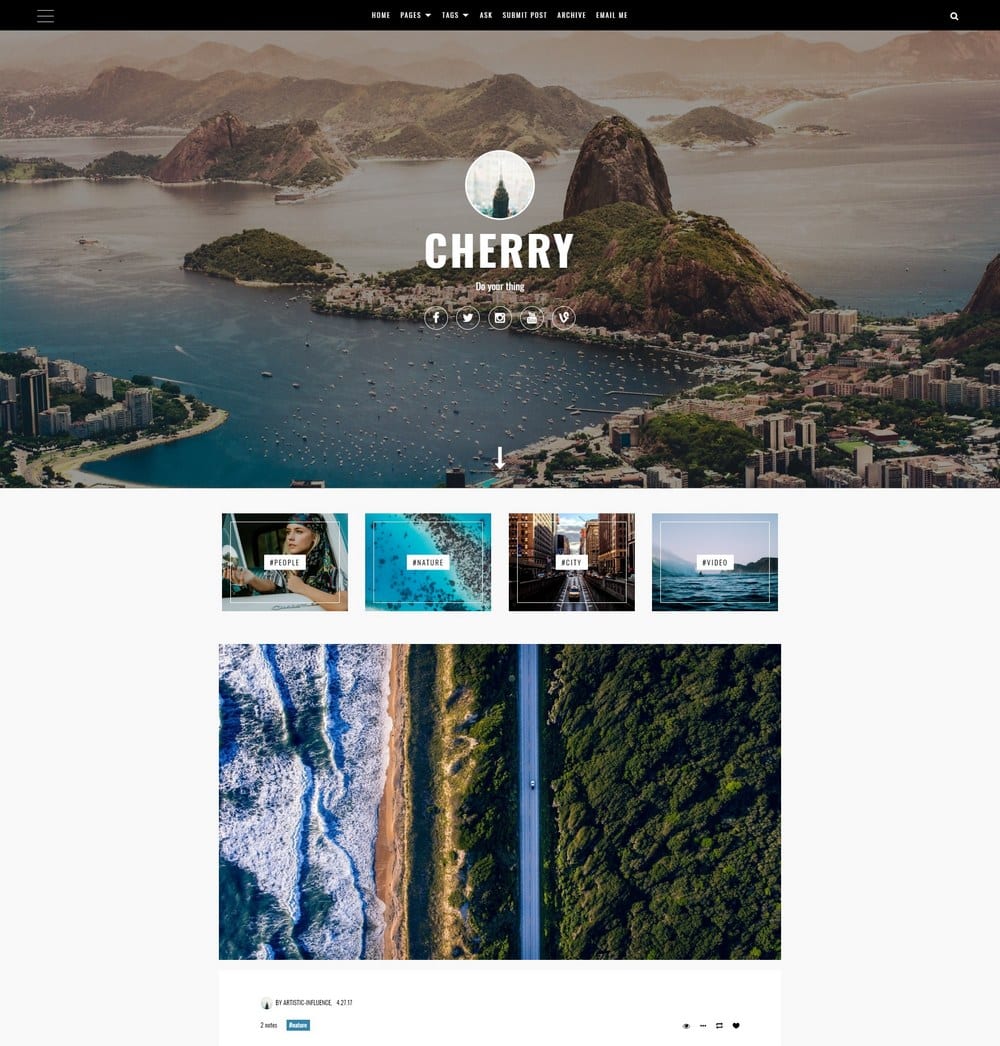 Cherry is a single-column Tumblr theme that features a fullscreen design, which allows you to create posts with large images. It's simply perfect for making moodboards.
Emotion Clean Fullscreen Tumblr Theme
Emotion Tumblr theme features a two-column post layout in a fullscreen design. This theme will allow you to showcase multiple moodboards on the same page.
Avenue Two-Column Tumblr Theme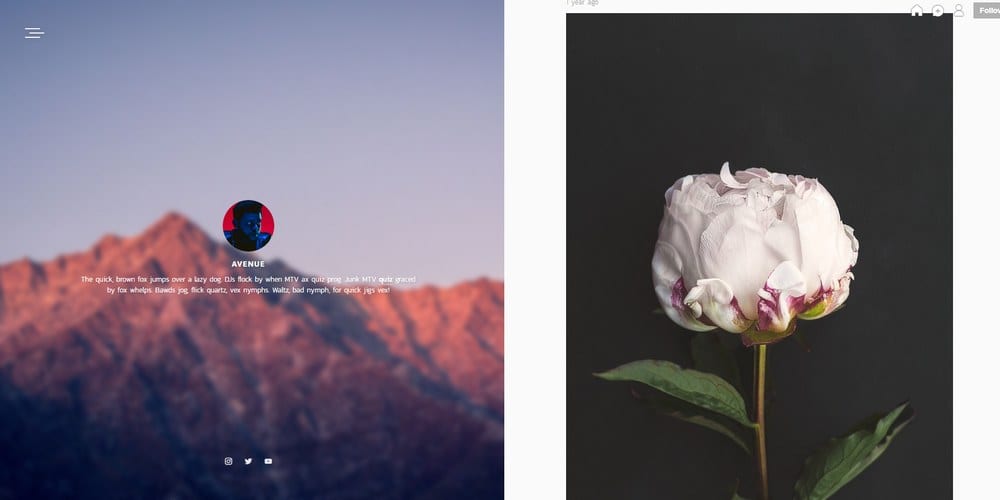 Avenue is a creative Tumblr theme that features a split-screen design with a fixed sidebar area. It's great for showing your moodboards while also including a description about yourself or your blog on the other side.
Step 1: Collect Your Moodboard Pictures
Once you have a Tumblr blog setup with a great-looking theme, you can begin uploading your moodboard posts. First, get started by choosing the right pictures for your moodboard.
A moodboard can't include random pictures. It needs to focus on a specific theme or an interest. You should pick the right images based on this theme. Consider the use of colors, backgrounds, and patterns in the images to make your moodboard photos look more connected.
Step 2: Create A Photoset Post
After collecting the images, you can create a new moodboard by uploading the photos to your Tumblr blog using a Photoset post.
To create a Photoset post, simply click on the create Photo post button. Then upload all the photos that you've collected for your moodboard.
Once all the images are uploaded, you can click and drag the images around to rearrange them however you like. You can also add captions to each image in the post as well.
Step 3: Hit Publish
Make sure to add a few tags and a creative caption for your moodboard.
When you're done, hit Publish and you'll have your first Tumblr moodboard up online.
Conclusion
On Tumblr, you can do a lot more than just create Moodboards. You can create journals, magazines, roleplay blogs, portfolio websites, and much more.
Of course, all of those sites deserve to have a great-looking theme. Get started on your new Tumblr website by picking a unique premium Tumblr theme.
Sours: https://www.theme-junkie.com/how-to-make-a-moodboard-tumblr/
aesthetic boards, aesthetic boards everywhere!
And possible explanations why?
Lloyd- half Japanese/half White (I suppose it's the blonde hair or how his mom is, but I suppose since he isn't entirely human that could explain the hair? So I suppose he could just be half Japanese, ¼ Oni, and ¼ Dragon and call it a day? Though don't hate me I have trouble sometimes finding a nice face claim for him lol.)
Jay- White, specifically Scottish decent (though raised in a Jewish home. Edna is for sure a Hebrew name, Ed could be short for something. Whatever that is there are Hebrew names. I'll have to say if any of the characters were white it would most likely be Jay. I just, what can I say he reads white to me.)
Nya- half Japanese/half Persian (so based off their parents names, Maya can be a Persian/Arab name. Ray if spelt Rei is Japanese. Nya can be both Japanese or Persian. Now personally I see Nya with a slightly lighter skin tone then Kai.)
Kai- half Japanese/half Persian (again going by both of their parents names, then with Kai which is definitely a Japanese name. Kai also definitely tans better than his sister.)
Cole- half Italian/half Native American (okay now I know this could probably an unpopular opinion or not. But Cole definitely reads darker skin tone to me, but if I'm honest I never really cared for lets make the black ninja (power ranger) black and this might be a bit personal since I have Native American heritage, but I totally see Cole being half Native American. His dad through, I read as Italian. Lou can definitely be an Italian name.)
Zane- French (Julien is how the French spell Julian and that's really where that branches from. Not much I can go from here besides the fact I picture Zane as really pale. Lol even though I said that about the black ninja thing, I just really like the snowy white everything for Zane. Especially as a ninjdroid and the fact that his artificial pale skin keeps him cool lol. Also the name Zane has a French origin as well.)
Skylor- half Chinese/ half possibly white? (The name Skylor is english origins, also Skylor is the "male" Spelling of Skylar, which maybe he wanted a boy? Either way, Chen is a Chinese name. Now a say possibly white cause her name and red hair, but we see in the past Master Chen himself had red hair so it's obviously from his side so who knows. Maybe it's just one of those rare cases?)
Seliel- French Brazilian (now I know she from that one book and not canon in the show, but I thought to add her cause, I just really like this Headcanon. Now the name is French, but French is spoken in Brazil. The name means sun and ironically on her suit as the phantom ninja is a moon. I personally see this as a kinda night/day symbolism. Also the village Nom, is French for name. Which again, Brazil is known for a few of its "French" Cities/Towns. Again I just like this headcanon lol)
Harumi- Japanese (she was definitely a bit harder, the name is pretty easy, though I suppose hair just sometimes really throws me off sometimes? This is a kids show, colorful hair and aesthetically put character designs just kinda work, so I suppose Ninjago is much like anime lol. So for now I'll just say Japanese, because of the name lol.)
Pixal- German or Swedish (Borg is a Nordic last name so it could really be from any of that general area. Personally I like German more, but I could definitely see Swedish.)
If there are any other characters you would like to know my opinions on, my ask box is open! I usually keep these in mind when I'm looking for face claims and such. I tend to do a lot of research on names, sometimes spending hours and digging deep to find info on them. Now these are just my personal headcanons for the characters and you don't have to agree with me, I'm not really looking to argue. I just thought I would share my personal headcanons. :)
Sours: https://veggies-aesthetics.tumblr.com/
Anime Moodboards
Galko Chan Moodboard
Joseph Joestar Moodboard
Maika from Blend S Moodboard
Ciel Phantomhive Moodboard
Toga Moodboard
Todoroki Moodboard
Ochako Moodboard
Tsyuu Moodboard
Bakugou Moodboard
Deku Moodboard
Sours: https://animemoodboardz.tumblr.com/
Aesthetic Moodboards
Sours: https://peerieaesthetics.tumblr.com/page/2
Board tumblr aesthetic
You ring the doorbell. No one opens you. You take out the keys and open the apartment. You know I'm home. But no one is there.
How to make a moodboard in Tumblr
The three of us, but that doesn't bother us. After a few toasts, I invite you to. Dance.
Similar news:
And then a completely unexpected conversation began between us: Denis, I see that your penis is standing strongly at the sight of me. What do you want me. Mom.
2629
2630
2631
2632
2633