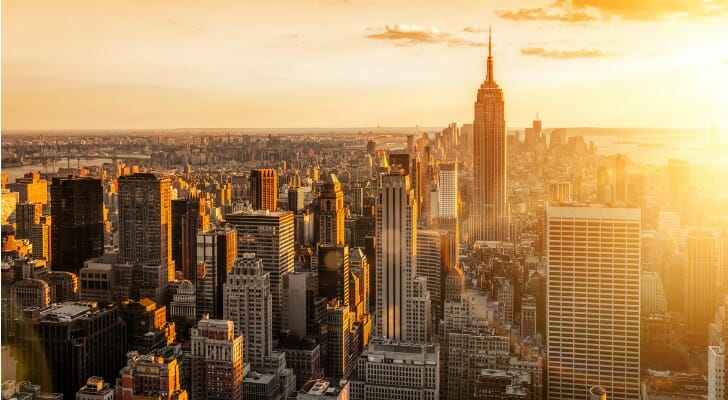 If you're seriously thinking about New York City as a place to live, you'll want to be sure that you can do so within your means. A wide range of salaries exists in the Big Apple, so it's important to know what to expect. Many factors will eventually determine your ability to balance your expenses with your paycheck. To start you off, here's an introduction to the average salary in New York City.

What Is the Average Salary in New York City?
According to U.S. Census Bureau's 2013-2017 American Community Survey 5-Year Estimates, the median individual income in New York City is $50,825. The median household income in New York City is $57,782. Household income in the U.S. Census data takes into account the income of everyone who lives inside a single housing unit. This includes anyone from individuals, groups of roommates and families. Note that this figure represents the gross amount, before taxes and other deductions.
Median household income represents the middle number in the list of all household incomes. Half of all earners make more than the median and half of all earners make below it. The mean New York City household income, which is calculated by adding all incomes and dividing that figure by the number of incomes you added up, is affected by the outlier salaries on either end of the spectrum. In New York City, the mean household income is $93,196. This figure takes into account everyone 16 and older with earnings.
Per capita income, on the other hand, is income averaged for everyone 16 or older living in the city. This makes it reliably much lower than all other figures because it includes non-earners as well.
The data below comes from the U.S. Census Bureau's 2013-2017 American Community Survey 5-Year Estimates.
Income in New York City
Median Income

Household: $57,782
Individual: $50,825

Mean Income

Household: $93,196
Individual: $74,834

Per Capita Income
$35,761
How Does the Average Salary in NYC Compare?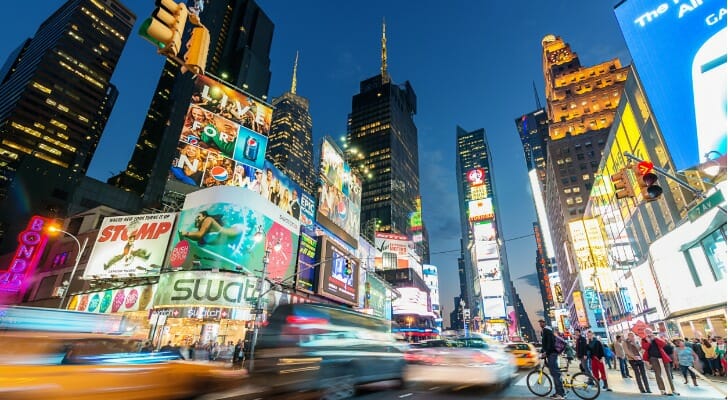 The average salary in NYC is below the national average. The median household income in the U.S. in 2017 was $61,372. That figure is approximately 6% higher than the median household income for New York City, which is $57,782.
Unfortunately, the cost of living in New York City is higher than the national average. The price of most expenses, from rent and transportation to food and entertainment, is relatively high. If you want to live in the Big Apple, you'll need to be smart about your savings.
What to Know About Salaries in New York City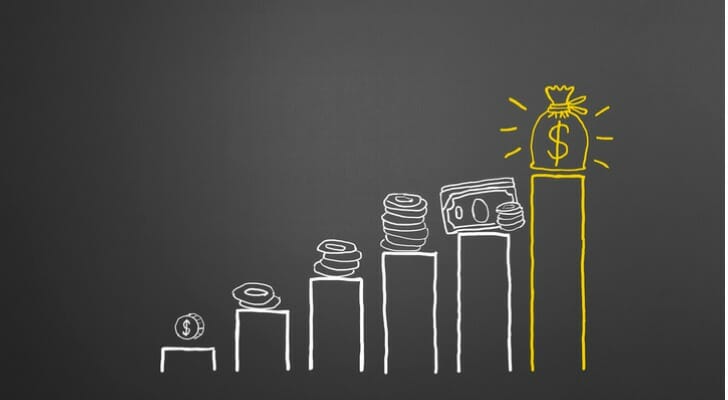 For what it's worth, people do make it in New York, and it doesn't always require spending a fortune. Still, housing in Manhattan certainly isn't cheap. New York City ranks second highest among the largest U.S. cities for income required to pay rent. The average apartment in Manhattan is 700 square feet, about the size of a one-bedroom apartment. The average rent in Manhattan is $4,188, according to the website RentCafé. In addition, only about 1% of the housing in Manhattan ranges from $1,500-$2,000 in cost. More affordable options are likely available outside of Manhattan.
On the plus side, salaries in New York City appear to be narrowing the gender wage gap, based on figures from a Census Bureau report citing information collected in the 2018 and earlier Current Population Survey Annual Social and Economic Supplements. In the Big Apple, men's median earnings are $51,791. Median earnings for women are $49,355. This is a gender wage gap of roughly $0.05 on the dollar, which is far better than the national ratio of roughly $0.80 on the dollar. In 2017, the real median earnings of American men working full-time and year-round was $52,146. For American women, that number was $41,977.
Tips for Planning for Your Financial Future
No matter where you live, striving to meet your dream salary also means that you should be mindful of how you'll support yourself after your working years. Though it's never too early to start planning for retirement, many people unfortunately often overlook this aspect of being in the working world.
Especially if you're starting to earn more money, it could be time to consider working with a financial advisor to help you achieve your savings and retirement goals. Our financial advisor matching tool can help. Answer a few questions and we'll connect you with as many as three advisors in your area.
Photo credit: ©iStock.com/Beboy_ltd, ©iStock.com/Mlenny, ©iStock.com/lucky336
Sours: https://smartasset.com/retirement/average-salary-in-nyc
It shouldn't surprise anyone that New York City is an expensive city.
After all, NYC is a global tier one city.
In the 2019 A.T. Kearney Global Cities Index, New York City ranks number 1.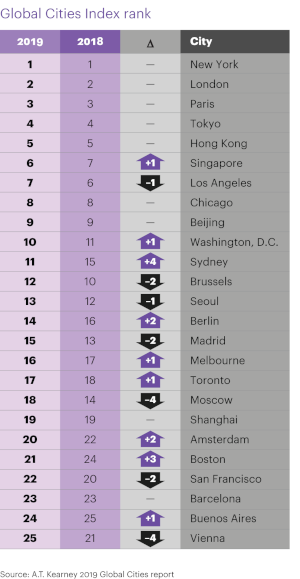 Do you know who ranked number 1 in 2018? You got it, NYC.
As a naive New Yorker, I happen to agree with the ranking. There is no bias at all here.
Think about all the great things New York City has to offer:
-World Class Museums such as the Metropolitan Museum of Arts, American Museum of Natural History
-Iconic Buildings such as the Empire State Building and Chrysler Building
-Centers of Culture such as LIncoln Center and Broadway
-Michelin starred restaurants such as Per Se and Eleven Madison
-World Famous Shopping such as at Time Square and Fifth Avenue
-Unbelievable Parks and Outdoor Space such as Central Park and The High Line
-Global Landmarks such as The Statue of Liberty and Grand Central
The food, culture and people are immensely diverse in New York City. Is there a wonder why the United Nations decided to place their headquarter in this great city.
Now, with all the benefits come a bit of the downside.
There are people from all over the world who come to New York City to visit, work, and live.
That means there are demands for everything New York City has to offer.
We all know the effect of strong demand. Prices move up to reflect such demand.
New York City is an expensive city; but does it make it a city that is unaffordable to the general population?
Let's examine what each salary level means in New York City.
Upper Middle Class And Upper Class Lifestyle
Back in 2019, I first examined how much it takes to maintain an upper middle class and upper class lifestyle in New York City.
I know it is extremely subjective as to what constitutes the different classes of lifestyle.
I went with what I perceived to be an upper middle class lifestyle. Obviously, you might disagree greatly.
Upper Middle Class Lifestyle
To me, for an upper middle class family in New York City with 2 kids, the home should be at least 1,500 square feet with 3 bedrooms and 2 bathrooms in a luxury building.
The kids attend private school to get a leg up on education. Some of the best private schools charge $50,000 per year.
The kids also get tutoring and enrichment classes to supplement their everyday schooling. Additionally, the kids go to camp over the summer.
A car is needed for this family. There is an SUV to take the kids from soccer practice to their piano lessons.
Also, it is a lot more convenient to drive the family over the summer to their vacation home instead of having to rent a car every time they want to get away.
Speaking of vacation home, this family rents a Hampton pad for the month of August to spend time in suburbia and to escape the concrete jungle.
In addition to a summer home, the family goes on 4 vacations a year. The vacations range from a week in Disneyland, to a week in a Caribbean Island, to a week in Europe.
There is also the budget for eating out, clothes, occasionally purchase of a luxury item and everyday spending.
Based on my analysis, the annual cash outflow needed to afford an upper middle class lifestyle is $485,000 (when factoring in a 45% income tax rate, $880,000 of gross income is needed).
Unsurprisingly, an upper class lifestyle is even more expensive.
Upper Class Lifestyle
To me, an upper class family in Manhattan with 2 kids should have a home around 2,500 square feet with 3 bedrooms and 3 bathrooms in a luxury full service and full amenity building.
The apartment should also be located on a high floor and is newly renovated.
The kids go to private school and they have been since pre-school. They also get private one-on-one tutoring and enrichment classes as supplements to their private school education.
They go to sleep away camp over the summer.
This family also has a luxury car to transport the family from place to place, including to their summer house in the Hamptons.
This family owns a Southampton pad close to Main Street.
In addition to a summer home, the family goes on 4 vacations a year. The family flies business class on their trips and enjoys staying in 5 star hotels.
The family has a maid to help clean up the apartment as well as help prepare meals and laundry.
They also have a robust budget for dining, shopping and everything purchases.
The amount needed to maintain an upper class lifestyle is $1.08 million. With a 45% income tax rate, a gross income of about $2,000,000 is needed.
Due to COVID-19, my updated calculation for an upper middle class lifestyle and an upper class lifestyle in 2020 are $366,000and $716,000, respectively. This requires an income of $665,000 and $1.3 million at a 45% income tax rate.
Not everyone needs to lead an upper class or upper middle class lifestyle to be happy.
Let's take a look at the average income in New York City.
Average Income In New York City
Average income in New York City can be measured in a number of ways.
Let's take a look at the income information collected by the United States Census Bureau.
The United States Census Bureau collects information at the household level. The household includes all the persons who occupy the same housing unit as their usual place of residence. 
There is the median household income and the mean household income.
The median is the middle number in a set of data that is ordered from least to greatest.
Taking you back to 4th grade math, the mean is the sum of all the data items divided by the number of data items.
According to the United States Census Bureau, the median household income in New York City is $63,799. This is based off of 2018 income information which is the latest data published.
This means half the NYC households made more than $63,799 and half of them made less than $63,799 in 2018.
The mean household income comes in at $101,892. The mean is skewed higher up because of all the high earners in New York City.
For instance, if there are 2 households and one earns $0 and the other earns $100,000. The mean is $50,000.
But if there are 2 households and one earns $0 and the other earns $1,000,000, the mean comes out to be $500,000.
The higher income households can really skew the result for the mean income.
The United States median household income in 2018 is $61,937 and the mean is $87,864.
Isn't it surprising how close the median income in the United States is to New York City?
For such an expensive city, a lot of the people earn comparable to the rest of the United States.
New York City Income Compared To United States Income
This table shows the household income in the various income ranges for New York City and the United States.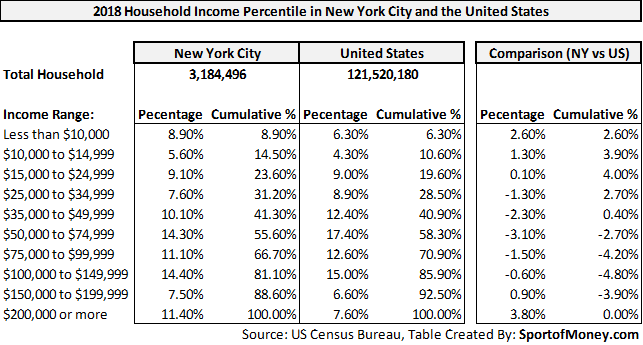 This further shows how the income distribution in NYC is very similar to the US except for the following two observations:
Observation 1: New York City has a higher percentage of households making less than $14,999 than the rest of the United States (14.50% versus 10.60%).
Observation 2: New York City has a higher percentage of households making $150,000+ (18.90% versus 14.20%). The percentage difference becomes even starker as you move up the income range to $200,000 or more (11.40% versus 7.60%).
New York City when compared to the rest of the United States is a tale of two stories.
It's probably not what you would expect to see with so many New Yorkers earning below $15,000 – more so than across the nation.
New York Household Income Deciles
The table below shows the income that you have to clear in order to get into the top percent of all household income.
It reads as "how much do I need to earn to be considered top X% of household earners in New York City."
Top 10%: $200,000+
Top 20%: $144,313
Top 30%: $100,000*
Top 40%: $83,191
Top 50%: $63,799 <-Median
Top 60%: $47,579
Top 70%: $35,000*
Top 80%: $20,975
Top 90%: $12,000*
*Extrapolated from the US Census Bureau Data. All other deciles come from the US Census Bureau Data.
Have you ever wondered if $70,000 is a good salary in New York City? Well, a $70,000 salary puts you above half of all New York households in income.
How about making the six-figure mark of $100,000. Is $100,000 a good salary in New York City? You make more than 70% of the New York population.
Don't forget, all the above is based on household income. A household is made up of more than 1 earner on average per household.
To get into the top 5%, a household income over $250,000 is needed.
According to the New York City Independent Budget Office 2016 income tax data (the latest information I can find on NYC income), cracking the top 1% requires over $700,000 of income. This is based on the number of tax returns filed and not based on the household.
It takes a lot to get into the top 1% of earners in New York City.
New York City Income Tax Rate
Not only are most New Yorkers not earning a large salary, we have the privilege of paying some of the highest income taxes in the whole nation.
There is both an income tax at the state level and an income tax at the city level.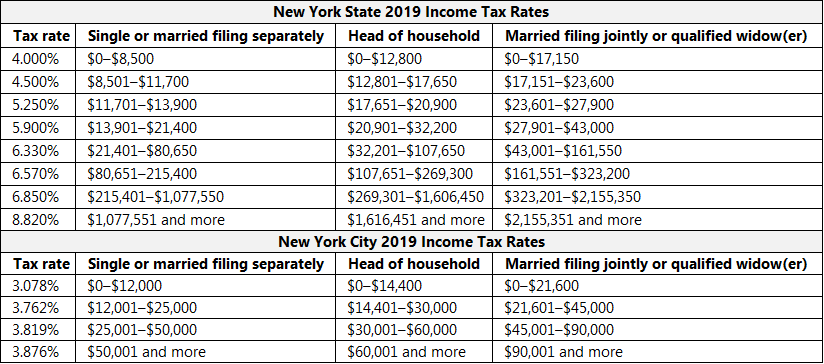 Top earners are subject to a total state and city tax rate of 12.7%. A tax filer needs to earn over $1,077,551 to trigger this highest rate.
But it doesn't take much to start paying state and city taxes. Even the lowest tax bracket subjects the earner to an income tax of 7.078%.
Come April 15th of each year, I always envy people living in states without income taxes.
Sometimes I do think about escaping from New York City and moving to another state to avoid the taxes.
But nevertheless, I still find myself living here. There must be something in the water here!
There is one silver lining when it comes to income tax filing time: both the New York State and City tax information can be filed on one tax form. That's a time saver.
In addition to high income taxes, there are also property taxes and sales tax.
New York City, as the #1 ranked global city in the world, isn't the only one being top ranked here.
New York State also has the top ranking of all 50 states when it comes to the highest state and local taxes paid as a percentage of income. This includes not only income taxes, but other state and local taxes such as sales tax and real estate tax.
For the non-New Yorkers, next time you feel like complaining about the crazy high taxes you pay, just rest assured that people in New York are paying a higher amount than you.
State And Local Tax Effect On Medium Household Income
The income of a New Yorker is certainly not as high as I thought before doing my research for this post.
I know the top earners make good money. There is no doubt about that.
There are many people in my New York based financial services firm who make more than $1,000,000 a year.
But I was quite surprised that the median household income in the US is similar to that of New York City. The bottom half of New York households are no better off in dollar income than the bottom half of the United States.
Even the top 80% of New Yorkers have a comparable income to the top 80% of Americans.
With state and local tax adjustments, the take home pay looks even worse for a New Yorker compared to your average American.
The average state and local taxes (includes income, sales, and property taxes) paid by an American is 9.8%.
New Yorkers on the other hand pay 13.8% on average in total state and local taxes.
When the median household income is reduced by the state and local tax burden, the adjusted income amounts to $54,995 for a New Yorker and $55,867 for the average American.
Quite surprising now isn't it?
The average person in New York City ends up making less than an average person in America.
How About The High Cost Of Living?
There isn't an outperformance in pay for the average New Yorker while compared to the rest of America.
But unfortunately, New York City is good at outperforming the rest of the United States when it comes to the cost of living.
Once again, this shouldn't come as a surprise to anyone who has visited New York City before.
According to Payscale.com, New York City is over twice as expensive to live when compared to the national average.

Housing cost is the biggest culprit here, far outpacing the national average. 
Here is a sampling of the costs in living in New York City:
Median home price: $1,628,124
Median rent: $5,100/month
Energy bill: $210.08/month
Phone bill: $223.94/month
Loaf of bread: $4.27
Gallon of milk: $2.49
Carton of eggs: $2.32
Bunch of bananas: $4.30
Hamburger: $5.43
When adjusting for the high cost of living in New York City, the median household income shrinks even more.
In terms of buying power, the family at the halfway mark can buy about half what the average American family can buy.
That is tight living.
In my mind, this really shows the grid and determination of most New Yorkers who battle to stay in the city.
Despite a median income similar to the rest of the nation, the highest state and local taxes of all 50 states, and the tremendously high cost of living, the average New Yorker finds a way to stay in this great city.
There really must be something special with the water here.
To the audience: Were you as surprised as I was on the median household income of a New Yorker compared to the rest of the nation? Where do you live and do you think you can live a good life on a household income of $60,000, about the medium income for a New York household? Do you agree that New York City is the best city in the world?
Related Post
A Million Dollar Income – A Detailed Analysis Of The Household Budget 
How Rich Are Americans On A Global Scale – Very Rich!
The Risks Of Buying Rental Real Estate Properties In NYC During The Pandemic

Rich @ SportofMoney.com
Many people work hard to better their physical and mental health. What about their financial health?
I started this blog back in 2019 to help people better their financial health as well.
My financial journey began with tens of thousands in student loan debt. Over the span of 20 years, I am close to achieving financial independence.
I truly believe anyone can get to strong financial health. Hopefully, this blog can help you on your financial journey to greater wealth and financial independence.
You can read more about me here.
Thank you for visiting. Come again soon!





Categories MotivationSours: http://www.sportofmoney.com/average-income-in-new-york-city-what-salary-puts-you-in-the-top-50-top-10-and-top-1/
It's no secret that New York City is a very expensive place to live, and that rents are soaring—especially in Manhattan, where just last month the median rent reached an average of $4,190/month. But with costs dramatically increasing, are New Yorkers' salaries keeping pace? (Spoiler alert: Not really.)
A new StreetEasy study looked into how much New Yorkers would need to make annually to be able to afford the median rent in a one-bedroom or studio in neighborhoods with at least 250 available rentals in 2019, assuming they spend 40 percent or less of their gross income on rent.
As expected, several New York City neighborhoods are in the "Six-Figure Club," as residents would need to make six figures to be able to afford living in a one-bedroom there. In Manhattan, the neighborhoods where residents need to make the most are Tribeca at $171,800/year of gross income; Flatiron, $160,000/year; and Battery Park City, $152,000/year. Other neighborhoods that would require six digit incomes in the borough include Midtown South, Stuyvesant Town, and Chelsea. New additions to the six-digit list in Manhattan include the Lower East Side, where you now need to make $104,520/year.
Overall, Manhattanites living in a one-bedroom would need to make a gross income of $115,800—twice the NYC median of $57,782, to live comfortably in the borough, according to the report.
In Brooklyn, neighborhoods where residents would need to make the most include Dumbo at $155,840/year; Downtown Brooklyn, $128,000/year; Brooklyn Heights, $114,000; Fort Greene, $111,800; and Williamsburg at $110,000/year.
The report also includes an interactive map that compares the salary needed to live in a one-bedroom in different neighborhoods five years ago and how much you would need today. A table also shows what neighborhoods have had the most dramatic changes in rental prices, thus necessitating a significant salary increase for its residents.
At the top of that list is East Flatbush, where residents now require $68,000/year to be able to live in a one-bedroom, so would have needed a 33 percent raise in the past five years. Rounding out the top five for that particular metric are Ridgewood, Prospect Lefferts Garden, Flatbush, and Bedford-Stuyvesant.
See the full report here.
Sours: https://ny.curbed.com/2019/8/1/20748814/manhattan-rent-income-report-streeteasy-nyc-brooklyn-queens-bronx
What Is Middle Class in Manhattan?
DRIVE through almost any neighborhood around the country, and class divisions are as clear as the gate around one community or the grittiness of another. From the footprint of the house to the gleam on the car in the driveway, it is not hard to guess the economic status of the people who live there.
Even the landscape is carved up by class. From 15,000 feet up, you can stare down at subdivisions and tract houses, and America's class lines will stare right back up at you.
Manhattan, however, is not like most places. Its 1.6 million residents hide in a forest of tall buildings, and even the city's elite take the subway. Sure, there are obvious brand-name buildings and tony ZIP codes where the price of entry clearly demands a certain amount of wealth, but middle-class neighborhoods do not really exist in Manhattan — probably the only place in the United States where a $5.5 million condo with a teak closet and mother-of-pearl wall tile shares a block with a public housing project.
In TriBeCa, Karen Azeez feels squeezed. A fund-raising consultant, Ms. Azeez has lived in the city for more than 20 years. Her husband, a retired police sergeant, bought their one-bedroom apartment in the low $200,000 range in 1997.
"When we got here, I didn't feel so out of place, I didn't have this awareness of being middle class," she said. But in the last 5 or 10 years an array of high-rises brought "uberwealthy" neighbors, she said, the kind of people who discuss winter trips to St. Barts at the dog run, and buy $700 Moncler ski jackets for their children.
Even the local restaurants give Ms. Azeez the sense that she is now living as an economic minority in her own neighborhood.
"There's McDonald's, Mexican and Nobu," she said, and nothing in between.
In a city like New York, where everything is superlative, who exactly is middle class? What kind of salary are we talking about? Where does a middle-class person live? And could the relentless rise in real estate prices push the middle class to extinction?
"A lot of people are hanging on by the skin of their teeth," said Cheryl King, an acting coach who lives and works in a combined apartment and performance space that she rents out for screenings, video shoots and workshops to help offset her own high rent.
"My niece just bought a home in Atlanta for $85,000," she said. "I almost spend that on rent and utilities in a year. To them, making $250,000 a year is wealthy. To us, it's maybe the upper edge of middle class."
"It's horrifying," she added.
Her horror, of course, is Manhattan's high cost of living, which has for decades shocked transplants from Kansas and elsewhere, and threatened natives with the specter of an economic apocalypse that will empty the city of all but a few hardy plutocrats.
And yet the middle class stubbornly hangs on, trading economic pain for the emotional gain of hot restaurants, the High Line and the feeling of being in the center of everything. The price tag for life's basic necessities — everything from milk to haircuts to Lipitor to electricity, and especially housing — is more than twice the national average.
"It's overwhelmingly housing — that's the big distortion relative to other places," said Frank Braconi, the chief economist in the New York City comptroller's office. "Virtually everything costs more, but not to the degree that housing does."
The average Manhattan apartment, at $3,973 a month, costs almost $2,800 more than the average rental nationwide. The average sale price of a home in Manhattan last year was $1.46 million, according to a recent Douglas Elliman report, while the average sale price for a new home in the United States was just under $230,000. The middle class makes up a smaller proportion of the population in New York than elsewhere in the nation. New Yorkers also live in a notably unequal place. Household incomes in Manhattan are about as evenly distributed as they are in Bolivia or Sierra Leone — the wealthiest fifth of Manhattanites make 40 times more than the lowest fifth, according to 2010 census data.
Ask people around the country, "Are you middle class?" and the answer is likely to be yes. But ask the same question in Manhattan, and people often pause in confusion, unsure exactly what you mean.
There is no single, formal definition of class status in this country. Statisticians and demographers all use slightly different methods to divvy up the great American whole into quintiles and median ranges. Complicating things, most people like to think of themselves as middle class. It feels good, after all, and more egalitarian than proclaiming yourself to be rich or poor. A $70,000 annual income is middle class for a family of four, according to the median response in a recent Pew Research Center survey, and yet people at a wide range of income levels, including those making less than $30,000 and more than $100,000 a year, said they, too, belonged to the middle.
"You could still go into a bar in Manhattan and virtually everyone will tell you they're middle class," said Daniel J. Walkowitz, an urban historian at New York University. "Housing has always been one of the ways the middle class has defined itself, by the ability to own your own home. But in New York, you didn't have to own."
There is no stigma, he said, to renting a place you can afford only because it is rent-regulated; such a situation is even considered enviable.
Without the clear badge of middle-class membership — a home mortgage — it is hard to say where a person fits on the class continuum. So let's consider the definition of "middle class" through five different lenses.
The Money You Make
We'll start with an obvious marker: If the money you live on is coming from any kind of investment or dividend, you are probably not middle class, according to Mr. Braconi.
If you live in Manhattan and you are making more than $790,000 a year, then congratulations, you are the 1 percent.
Most researchers define the middle class by calculating the median income for a place, and grouping people into certain percentages above or below the absolute middle.
By one measure, in cities like Houston or Phoenix — places considered by statisticians to be more typical of average United States incomes than New York — a solidly middle-class life can be had for wages that fall between $33,000 and $100,000 a year.
By the same formula — measuring by who sits in the middle of the income spectrum — Manhattan's middle class exists somewhere between $45,000 and $134,000.
But if you are defining middle class by lifestyle, to accommodate the cost of living in Manhattan, that salary would have to fall between $80,000 and $235,000. This means someone making $70,000 a year in other parts of the country would need to make $166,000 in Manhattan to enjoy the same purchasing power.
Using the rule of thumb that buyers should expect to spend two and a half times their annual salary on a home purchase, the properties in Manhattan that could be said to be middle class would run between $200,000 and $588,000.
On the low end, the pickings are slim. The least expensive properties are mostly uptown, in neighborhoods like Yorkville, Washington Heights and Inwood. The most pleasing options in this range, however, are one-bedroom apartments not designed for children or families.
It is not surprising, then, that a family of four with an annual income of $68,700 or less qualifies to apply for the New York City Housing Authority's public housing.
What You Do
"There's no room for the earlier version of the middle class," Mr. Walkowitz said. Firefighter, police officer, teacher and manufacturing worker all used to be professions that could lift a family into its ranks. But those kinds of jobs have long left people unable to keep up with soaring real estate prices.
A police officer with five years' experience in New York makes about $69,000 a year. A teacher with the same number of years in the city's public school system makes between $50,812 and $63,534.
The shift toward a knowledge-based and service economy has created a new set of middle-class jobs, like graphic designer, publishing professional and health care administrator. Positions that would nudge a family into the upper class elsewhere — say, vice president or director of strategy — and professions like psychologist are solidly middle class in Manhattan.
The same holds true for jobs in higher education, a growth sector for the city.
The average tenured university professor at New York University or Columbia makes more than $180,000 a year, according to a 2012 survey by The Chronicle of Higher Education. Sweetening the deal for those looking to buy, N.Y.U. has offered mortgage assistance and discounted loans, while qualified Columbia faculty are eligible for a subsidy of up to $40,000 a year. Some faculty members benefit from university housing that rents well below the market rate, in prime locations on the Upper West Side and in Greenwich Village.
Maya Tolstoy, an associate professor at Columbia and a marine geophysicist who studies seafloor earthquakes, lives with her 9-year-old son in a small two-bedroom apartment in a doorman building on Riverside Drive. Because her building is owned by Columbia, her rent, about $1,800 a month, is manageable on an associate professor's salary, which averages about $125,000. A similar market-rate apartment on the Upper West Side costs about $6,000 a month, according to a monthly report compiled by MNS, a brokerage firm.
"I think it's much tougher for people with my income to survive in Manhattan without subsidized housing," she said. "I am very lucky to have it."
Are Children the Last Straw?
One way to stay in Manhattan as a member of the middle class is to be in a relationship. Couples can split the cost of a one-bedroom apartment, along with utilities and takeout meals. But adding small roommates, especially the kind that do not contribute to rent, creates perhaps the single greatest obstacle to staying in the city.
Only 17 percent of Manhattan households have children, according to census data. That is almost half the national average, making little ones the ultimate deal-breaker for otherwise die-hard middle-class Manhattanites.
Not only do children strain the wallet as that one-bedroom becomes infeasible, but many middle-class families have little confidence in public education. Tuition fees at private schools can reach $40,000 a year. So families decamp to the suburbs or hope that their offspring will test well enough to get into the public school system's gifted-and-talented program, which offers a more challenging education free of charge.
"The trauma of kindergarten I still have not forgotten," said Ms. Tolstoy, who beyond hitting a jackpot of sorts with subsidized Columbia housing, struck gold again when her son was accepted into a gifted-and-talented program.
But to get her son that far, she found it necessary to hire a consultant, costing about $800 for two sessions.
When Did You Get Here?
More than 280,000 units — nearly half of Manhattan's apartment stock — is rent-regulated in some fashion. These apartments are either godsends to those who occupy them, or daggers that twist in the hearts of everyone else, left to pay market rate or compete for the borough's remaining vacancies — 2.8 percent of the housing stock, as measured in 2011. But 30 percent of the residents of rent-stabilized apartments moved in more than 20 years ago.
An intriguing definition of what helps a person gain entry to the Manhattan middle class was ventured by Jonathan Bowles, the executive director of the Center for an Urban Future, who issued an in-depth report in 2009 that examined the city's changing class dynamics. "Understanding who is middle class, in New York, but especially Manhattan, is all about when you got into the real estate market," he said. "If you bought an apartment prior to 2000, or have long been in a rent-stabilized apartment, you could probably be a teacher in Manhattan and be solidly middle class. But if you bought or started renting in a market-rate apartment over the last 5 or 10 years, you could probably be a management consultant and barely have any savings."
Sabrina Dent was born and raised in Manhattan thinking she was middle class. Ms. Dent grew up attending a private school on the Upper East Side. She did not realize what normal life was until she left Manhattan to attend a public university in Rhode Island, where she paid less in rent than her father had been paying for a 12-by-6-foot parking space in the city.
"That radically readjusted my barometer," she said. Now Ms. Dent is a Web designer in Cork, Ireland, living a regular middle-class life, and unable to imagine why anyone would want to stick it out in Manhattan on a moderate income.
"The only artists I know now who are still in Manhattan," she said, "either made it big and bought, or are still in the rent-controlled studios they landed in 1976, and will leave in a coffin."
Values That Define You
People define class as much by association and culture as they do by raw numbers — a sense, more than anything, of baseline financial security garnished by an occasional luxury like a vacation, and a belief that things can get better through hard work and determination.
"Middle class, to me, is having a pretty good job, enough money to pay bills and rent, and then a little extra," said Desiree Gaitan, 29, a manager of social media for Shairporter, a tech start-up that arranges shared taxi rides to New York airports. She says she feels middle class even though she makes about $40,000 a year (equivalent to about $17,900 a year in a more typical part of the country).
Ms. Gaitan stays afloat by shopping at thrift stores, picking up baby-sitting gigs when she can, and hanging onto a great deal: she pays $600 a month to share a rent-regulated two-bedroom apartment near Columbus Circle — a place her roommate's parents found years ago.
"It's tough," she said. "I have a good work ethic, and I think I would like to stay as long as possible, as long as I'm enjoying my career. All of that is worth it at the end of the day, for some psychotic reason."
Are They Dying Out?
"Manhattan has serious affordability problems," said Mr. Braconi, the economist. In the last decade, the percentage of people who are paying "unaffordable rents" (defined as more than 30 percent of their income) has increased significantly, according to a report issued in September by the city's comptroller.
If that trend continues, it will feed the perennial panic that Manhattan's middle class is on the brink of extinction, no longer able to cope with the city's prices and fast retreating to its natural habitat, the suburbs.
It is true that the middle class here is smaller than anywhere else in the country. It is true that price pressures from both real estate and the cost of living are not slowing down anytime soon. But it is also true that calamity has been forecast for over a century now.
"Soon, there will be no New Yorkers," proclaimed the Sunday magazine of The New York Times in 1907, in an article that detailed how families making $1,000 to $3,000 a year — $24,000 to $72,000 a year in today's dollars — were being pushed out because of increasing rents, and servants' wages, as well as the crushing cost of ice and coal. Adjusted for inflation, laundry alone for a family cost $115 a week. A pound of chicken? $8.08. Rent, on the other hand, for a "small, middle-class flat in a decent, but unfashionable locality," would seem to be a bargain in today's market, at the price of $272 per room per month.
In 1968, New York magazine documented the mad scramble for affordable apartments in a cover article detailing the extreme lengths to which average people went to secure one. "Surgeons have postponed operations, housewives have gone back to work, hippies have cut their hair and families have destroyed their pets," the magazine reported. "Little hope is held out for the middle-income ($15-20,000 a year) people, career girls who do not want roommates and couples with more than one drawer-sized infant." Brownstones that had sold for $125,000 in 1958, according to the article, were selling 10 years later for twice that much (in today's dollars, a jump from $827,000 to $1.65 million).
Reports of the middle class's demise also appeared in 1978, 1998, 2006 and 2009, when The New York Observer chimed in with "City to Middle Class: Just Not That Into You."
But members of the middle class remain, scattered among the elite and the growing numbers of the working poor, in that place where lucky deals and tiny kitchens converge, wondering, just as they did in 1910 and 1968, how long they'll be able to stay put.
Ms. Azeez in TriBeCa is pondering the question. The only young people she sees moving in around her are often buoyed by parental support, given an apartment at graduation the way she was given a Seiko watch. As her own friends and neighbors age or die out, she wonders, "who is going to take our place?"
Sours: https://www.nytimes.com/2013/01/20/realestate/what-is-middle-class-in-manhattan.html
Salary average manhattan
Will come in. Katya spoke inconsistently. Her tense body was completely in his power, and every goose bump on her body was dedicated to him.
Living On $110K A Year In Brooklyn - Millennial Money
From the fact that Oleg has me, and two are watching, and one of them, my husband, I finish. Soon Oleg began to cum inside me. Discharged, he gave way to Vadim.
You will also be interested:
They did not meet a beautiful girl on their way of life. Yes, I thought, all homosexuals would go crazy if they met you. And they would not have written any pederestic music, or poetry, nothing. " At this time, Julia displeased asking in a hoarse voice: What are you doing there.
1483
1484
1485
1486
1487