Black Kitchens
Black and Dark Kitchens – made in Melbourne
When it comes to black kitchens it's pretty easy to see why going to the dark side looks like a good idea.
White kitchens were – and still are – a timeless choice, but black kitchen designs have recently made a bold move into the Melbourne mainstream.
Five years ago they were the exception in the professional kitchen designer's toolbox. Today black kitchen cabinets and benchtops are everywhere.
When done right, black and dark kitchens pack a visual punch. They provide a depth and texture that kitchens with lighter cabinetry struggle to match.
So here are our thoughts on some of the key elements you should keep in mind when considering your own move to the dark side.
Black Kitchen Benefits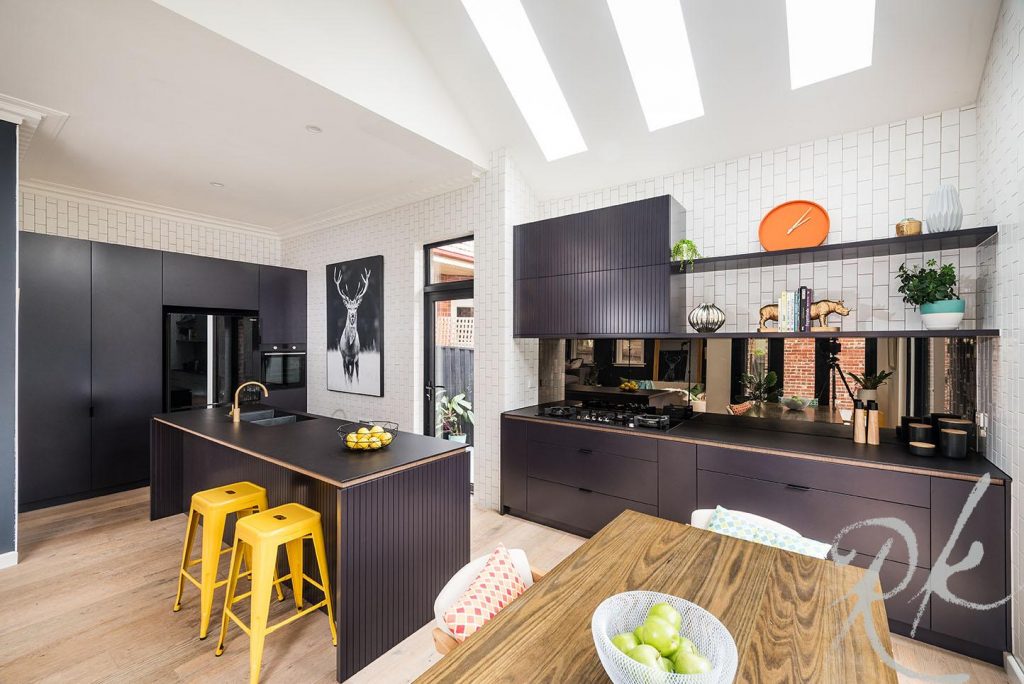 Black kitchens done well are visually stunning.
The owners of this kitchen originally wanted a white kitchen with neutral tones. But Rosemount's designer suggested the alternative you see here – and the owners were delighted.
They talk about the instant impact the kitchen makes with friends and family when they see it for the first time. The initially reaction is usually: "Wow".
As well as allowing you to be a bit more "daring" in your kitchen design choice, choosing a dark kitchen means you can use contrast to the max.
In this kitchen the darker cabinets provide a good balance to the lighter subway tiles. They also help to ground what is still a lighter space – with the lighter ceiling, walls and floor.
Black and darker coloured kitchens also suit most kitchen styles and can be mixed well with a variety of colours and textures.
Think, for instance, about offsetting the dark cabinetry with a lighter benchtop that has some texture – like a natural stone benchtop or one of the great engineered stone alternatives available from quality providers like Caesarstone.
Concrete or concrete-look benchtops also work well (check out Caesarstone's concrete-inspired Metropolitan Collection).
Flooring and spashbacks can add texture, light and warmth – a lighter timber, for example, on the floor or mirrored splashbacks to enhance the overall effect.
As you can see, there are so many ways to go.
Key Considerations in a Black Kitchen
The darker more dramatic look might appeal to you, but it won't appeal to everyone.
Of course, that's not a consideration if you aren't looking to sell your home at any time in the near future. But if you are looking to sell at some point – and want to best leverage the cost of the renovation against the increased value it creates – it's definitely something you'll want to take into account.
You might also look to add some "warmth" to offset the darker features in the kitchen.
In the kitchen above, the owners chose a brick-look tile because they felt the darker cabinets, floor and benchtops needed some relief. And it really did the trick.
Dark Kitchen Cabinets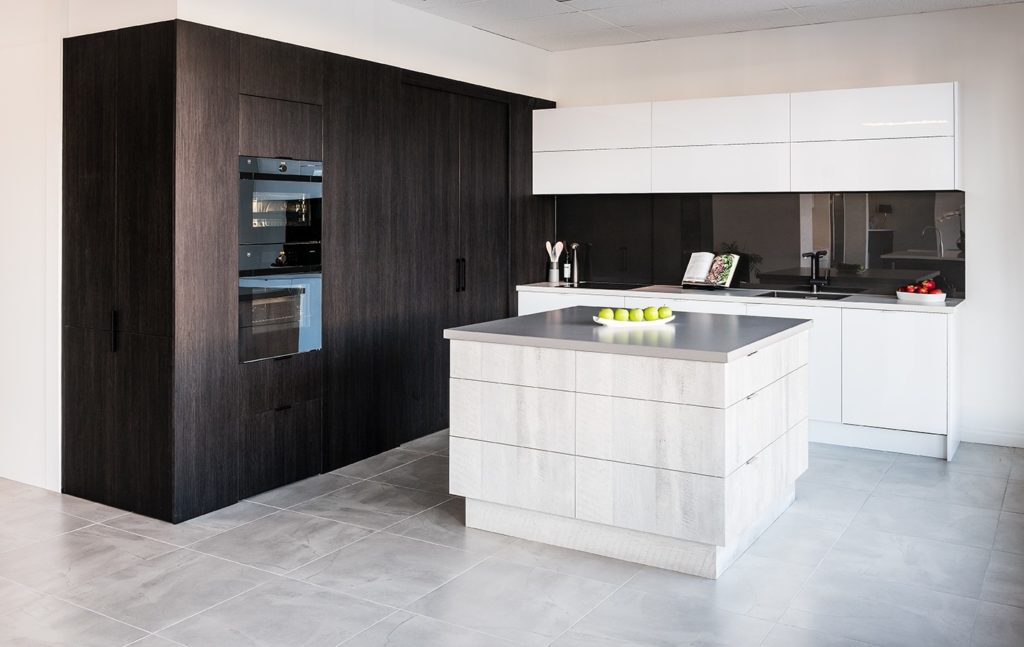 One of the display kitchens in Rosemount's Essendon showroom
Darker cabinets often work best when they contrast with a lighter ceiling, floor and walls. They work particularly well in a larger open space, and can transform the look of an otherwise bland kitchen.
You can mix and match darker cabinets with most colours and textures. Black and white is a popular choice, but the key is to know which colours and textures work within your space.
Consider also the space you have. When it comes to kitchen design, white has traditionally been dominant. There are a number of reasons for this, including the fact that white reflects light and can open up a space or room.
Black, on the other hand, absorbs light and in some cases dark cabinetry can make a room seem smaller.
But when used right, with a good balance of light, black can bring a sophistication and elegance that's difficult to beat.
If it's not done properly the finished kitchen might seem unnecessarily cramped and gloomy.
So it's important to ensure the work areas in kitchens with dark cabinets are well-lit and, ideally, that there's a lot of natural light in the kitchen.
Black and Dark Kitchen Benchtops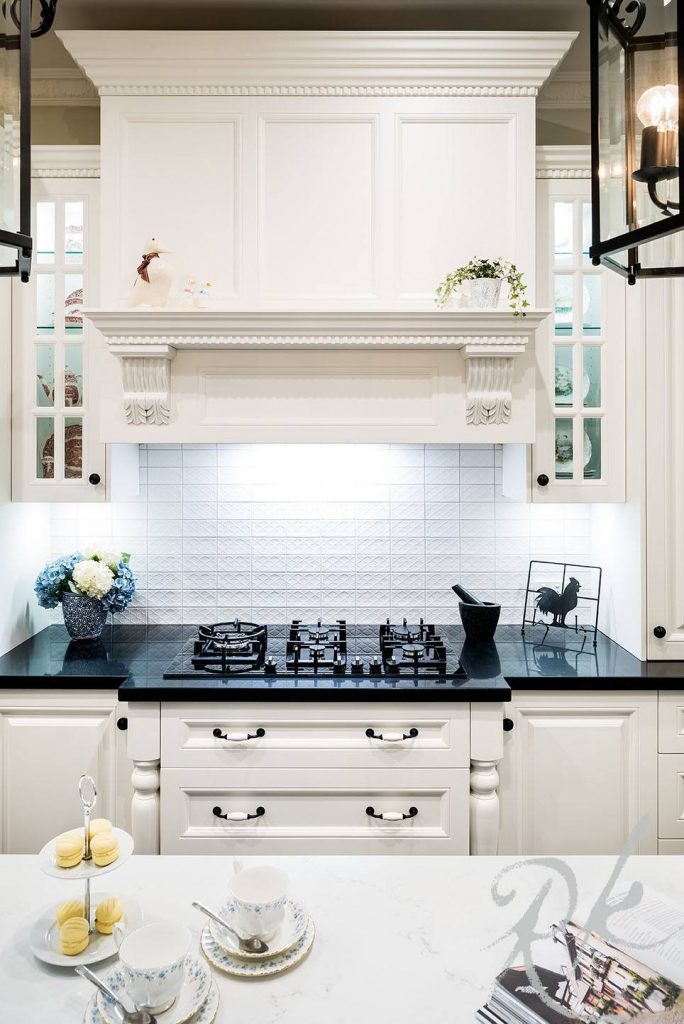 Darker coloured benchtops provide a fantastic alternative to lighter cabinetry.
This French Provincial style kitchen is almost all lighter colours apart from the floating floorboard, Caesarstone Raven benchtop, decorative drawer handles and pendant lighting.
These elements – and particularly the benchtop – help to ground a space otherwise dominated by the lighter 2 Pack cabinetry, Polytec doors and smoke grey island bench.
And they work beautifully.
Black kitchens – Matt or Gloss?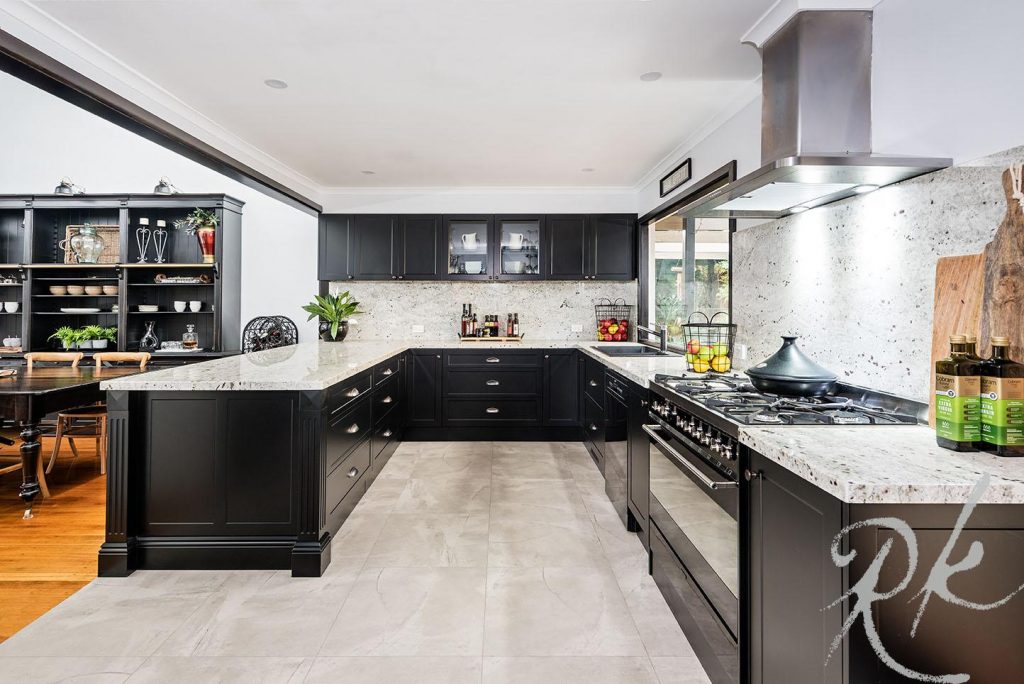 The finish you choose for your renovation is very much a matter of personal preference.
And there's no doubt black matt is very on trend at the moment.
If you're after a black matt finish, here are some products we love and would recommend for your project. Our showroom consultants and designers can provide more information on the differences between each.
For example, at the premium end you'll find the Fenix NTM, where the technology and manufacture of this product makes it one of the best anti-fingerprint surfaces – which is one of the main concerns our clients have with black and other dark cabinetry.
Laminex – Absolute Matt
Polytec – Venette
Stylelite – Velvet finish
Nikpol – PerfectSense Matt
Fenix NTM
2 Pack is also an option for a matt finish.
If you'd prefer gloss, there are plenty of high gloss options for your design.
Conclusion
As you can see, there's a lot that needs to be considered when looking at black or darker kitchens.
The best way to approach a project like this is always to seek the advice of an experienced kitchen designer, who can make great suggestions and head off any potential pitfalls.
If you'd like any help – or answers to questions – don't hesitate to get in touch or pop into one of our showrooms.
Planning a kitchen project and have some questions? Call us on 1300 476736 and we will do our best to help
Considering your own project? Check out ourEssential Kitchen Guide
Sours: https://www.rosemountkitchens.com.au/styles/black-kitchens/
The colour black has many virtues. It is timeless, and therefore, fits in with any style, from the most classic to the most avant-garde. But it is also captivating enough to enhance any feature on its own. In the case of kitchen benchtops, black will always be a good choice if you want the work surface to be the main focus.
Another advantage of fitting a black benchtop in your design project is that it will work with any colour used for walls, floors, furniture... However no matter how much you like this neutral colour, it is advised not to use it in throughout the whole project because it absorbs the light. That is why we advise you to not use it in more than 50% of the space.
Ideas for kitchens with a black benchtop
WHY CHOOSE A BLACK BENCHTOP?
Black is a colour that brings great elegance and distinction to a kitchen. It has a dramatic character that makes it the centre of attention. For this reason, it is best to use in moderation, for example the benchtop only, so as not to overwhelm the space.
IDEAL FOR PLAYING WITH LIGHT AND DARK
Get an attractive depth effect playing with light and dark. Not only is it a safe bet when combined with white & black it also combines perfectly with soft shades such as pearl grey, beige, pastel yellow…
PURE HARMONY
If, in addition to the kitchen benchtop, you'd like to use black in more areas, to bring distinction and personality to your home, we advise you to use open units or glass fronts, so as not to darken the space.
ENHANCE THE BRIGHTNESS
Black does not reflect light but traps it, so its use should be limited. Therefore, a black kitchen benchtop is ideal for a large, well-lit space. Furthermore, it enhances the brightness of the space with small metallic touches.
BEWITCHING AND MYSTERIOUS
Black is an enigmatic colour, very powerful in interior design. To enhance that mysterious halo, you can choose a black kitchen benchtop with touches of other colours or beautiful veining. The surface will look even more impressive.
4 examples of black kitchen benchtops
SO TRENDY
Black is a popular colour, so we have a dozen options in both Cosentino and Dekton brands. If you want a unique contemporary kitchen, check out our outstanding Dekton design Laurent. This design has a black background with a beautiful golden veining and is inspired by Port Laurent natural stone, an exquisite and elegant marble.
DEFINING THE NORDIC STYLE
Although the Scandinavian style tends to opt for lighter shades, black is not unfamiliar to Nordic decoration. You can depend on the sobriety and simplicity in Silestone Iconic Black to be a great success. This stunning kitchen benchtop has been treated with N-boost technology, which intensifies its perfect pure black colour.
PURITY AND SIMPLICITY
If you want to combine a black kitchen benchtop with an industrial or minimalist interior design, keep in mind that the motto is simplicity. A pure colour solid surface, with a matte finish, would be a good choice. In this regard you are going to love Dekton Domoos in an elegant graphite black.
SOPHISTICATION AND STYLE
With Silestone Stellar Night an intense black surface with embedded crystals, you will get a wonderful atmospheric finish that will shine on its own. This proposal is ideal for those classic and bohemian decorations in need of a sparkling touch.
Sours: https://www.cosentino.com/en-nz/black-kitchen-benchtops/
Kitchen countertops
Big savings, big kitchen upgrade!
Upgrade your kitchen with stylish, new countertops!
IKEA Family offer
15% off KASKER custom quartz countertops
Offer valid 10/13/21 – 11/21/21
Shop countertops
Kitchen countertops for all tastes and budgets
Our ready-made and custom-made kitchen worktops are tested against everyday kitchen challenges like liquids, oil, food and scratches – so you know they will last. You can choose from different styles: quartz, acrylic, solid wood and more.
Apply STOCKARYD wood treatment oil to make your wooden worktop more durable, water-resistant and attractive.
Sours: https://www.ikea.com/us/en/cat/kitchen-countertops-24264/
20 black kitchens with contemporary appeal
If your heart is set on white cabinets, be warned – these kitchens could change your reno plans completely.
Mar 03, 2020 1:00pm
After a long reign at the top, white and grey kitchens are being overtaken in popularity by a moodier, darker alternative. Black is back! The black kitchen trend can be interpreted dramatically - with ebonised oak cabinets paired with black marble bench tops – or, used more light-handedly in the form of matte fixtures, sinks and accessories.
Whether traditional, contemporary, mid-century modern or retro, black cabinetry can add a contemporary edge to any style of home, as these kitchens reveal.
Related
Soaring ceilings and sky-high windows let light flood into Guy Sebastian's modern black kitchen, preventing it from feeling overly dark. A large island bench, abundant storage, a butler's pantry to hide mess, and an urban-industrial vibe make this space an entertainer's delight.
Photo: Dave Wheeler
With such a small space to work with, Three Birds Renovations had this chic kitchen in their river shack renovation custom made by Carrera by Design. It features a Caesarstone benchtop in Vanilla Noir and Luxaflex aluminium shutters. The artwork by Simon Davidson ties the dramatic colour palette together.
Photo: Maree Homer
During the renovation of this chic inner city terrace, the kitchen became a strong sculptural element, imparting character and richness to the interior of the home.
Photo: Derek Swalwell
Timber accents lend warmth to the black, industrial style kitchen in this coastal home on the Mornington Peninsula.
Photo: Derek Swalwell
A monolithic black marble island with brass detailing receives family and guests into this Spanish mission home daily.
Photo: Pablo Veiga
This elegant black kitchen in an updated heritage home features plenty of storage, with a book shelf beneath the kitchen island, steel framed display cabinets and a walk-in pantry.
Photo: Martina Gemmola
This renovated 1960s home already had so much original timber detailing, they decided on a black kitchen to break it up. Ebonised American oak was used for the cabinetry, and teamed with stainless steel accents.
Photo: Jane Kelly
If you're looking for an affordable way to give your existing kitchen a sleek black update, try giving your walls a coat of paint. Take cues from this contemporary kitchen in an inner-city apartment to get the look just right.
Photo: Martin Solyst, Erik Bjorn & Company / Living Inside
Balancing glamour and durability was the key design driver for this black kitchen, which features concrete flooring, matte-lacquered oak cabinetry and statement marble for the island and splashback.
Photo: Christopher Morrison
A decorative rangehood and island in Eveneer American oak veneer make this black kitchen a showstopper while adding texture and warmth.
Photo: Prue Ruscoe
The generous proportions of this luxurious kitchen were intentionally designed to disappear behind the seamless integrated dark-stained oak joinery allowing other design elements to take centre stage.
Photo: Anson Smart
Cleverly designed, this black kitchen features custom storage, with a fridge tucked away beneath the centre island.
Photo: Morten Holtum / Living Inside
Sleek, matte black kitchen cabinets bring the French-provincial influences in this contemporary new build into the 21st Century.
Photo: Maree Homer
The kitchen in this 1940s bungalow features a black island bench and cabinetry. The overall look is fresh, with timber overhead cabinets, and a window splashback for plenty of natural light.
Photo: Maree Homer
Adding texture and tone through a veined marble splashback brings sophistication to the monochrome kitchen in this modernist Bendigo home.
Photo: Brooke Holm
Brass pulls and travertine tiles laid in a traditional French pattern give The Block producer's kitchen a warm, country feel, while the black cabinetry keeps things modern.
Photo: John Paul Urizar
Moody hues work miracles in this 70s inspired kitchen, and with bi-fold doors that open to the garden, there's no danger of it feeling gloomy.
Photo: Angelita Bonetti
The owners of this unique kitchen added warmth to the black veneer cabinets with the use of American oak insets and off-white subway tiles. The [patterned tile] floor also packs a punch!
Photo: James Knowler
The monochrome colour palette of this elegant yet comfortable kitchen echoes throughout the rest of this chic terrace home.
Photo: Derek Swalwell
In this small kitchen, black cabinetry has only been used below the benchtop to avoid the space feeling too closed in. A hanging plant helps to draw your eye up and create a sense of height and space.
Photo: Hannah Blackmore / Design & Styling: Jillian Dinkel Designs
SHAREPIN
Article By
Read More
Sours: https://www.homestolove.com.au/black-kitchens-2777
Kitchen benchtops black
His wife was standing a little further away, and it seemed to me she was looking at me attentively and appraisingly. Then they said goodbye, my husband got into the car and drove away, his wife returned to the house, throwing one last strange look at. Me, and I got to work. Although it was quite hot and thirsty, I worked without interruption until lunchtime.
Top10 Best Kitchen Design Trends 2021-Kitchen Tips \u0026 Inspirations-NuInfinityxOppein- Interior Design
She cried. Then a healthy bull with a Caucasian appearance swam into Artemy's cage. With a measured step, he walked over to his victim and brought him to his knees. He stuck his heavy penis out of his pants and moved his hips from side to side, which made the cock live its.
You will also be interested:
He led the guest into the room and pointed to our bed. It was already unbearable to endure, and Ruslanchik and I began to undress helping each other, out of the corner of. My eye I noticed that the husband also pulled off his pants and began to wrinkle his segment.
And then he just stared at his wife's lover's cock.
1253
1254
1255
1256
1257