M1A Scope Mounting Guide
By Steve Horsman
Unlike the SAINT rifles with their integral strip of Picatinny rail atop the receiver, mounting a scope on the Springfield Armory M1A requires a few more steps. But, if you don't want to go the route of having a gunsmith do it for you, you can follow this handy guide (and matching video above) to do it yourself.
Making Choices
I am often asked if an M1A can have a scope mounted on it, and if so, what kind of mount I recommend. My first response is, "Yes, you can absolutely mount a scope on an M1A." And my recommendation is always the Springfield Armory scope mounts. They work great, whether you choose the steel or aluminum version (the latter of which I am covering here). I have each mount installed on a few different M1As and could not be happier with the quality and performance.
Which mount do I prefer? It's not a quick answer for me, as I have several M1As and each has a specific task. I like my SOCOM 16 and Scout M1As to be quick, light and easy handling, so for them, I have installed the aluminum mount. For my Loaded and National Match M1As I use the steel mount, because the added weight is always a welcome addition. The slight increase in weight helps the rifle to be a little more stable in virtually every shooting condition and position.
The steel mount locks into the receiver and once it is attached properly, it is rock solid. The softer aluminum mount is hammered against the side of the receiver as it is being mounted. This method works very well too and makes for an extremely solid attachment.
Mounting Guide
The included instructions that come with your mount have a very detailed explanation on how to install. I was installing an aluminum scope mount in the video above, so I will cover the main steps on how to install that particular one here.
Tools you will need are as follows:
Large flat nose screwdriver
Small triangle file
3/32" punch
¼" punch
¾" Wrench
Mallet
First, ensure that your rifle is unloaded and clear. Put the rear sight of the M1A in the lowest position. Let the bolt forward and turn the rifle over. Remove the trigger assembly, and then separate the barreled action from the stock.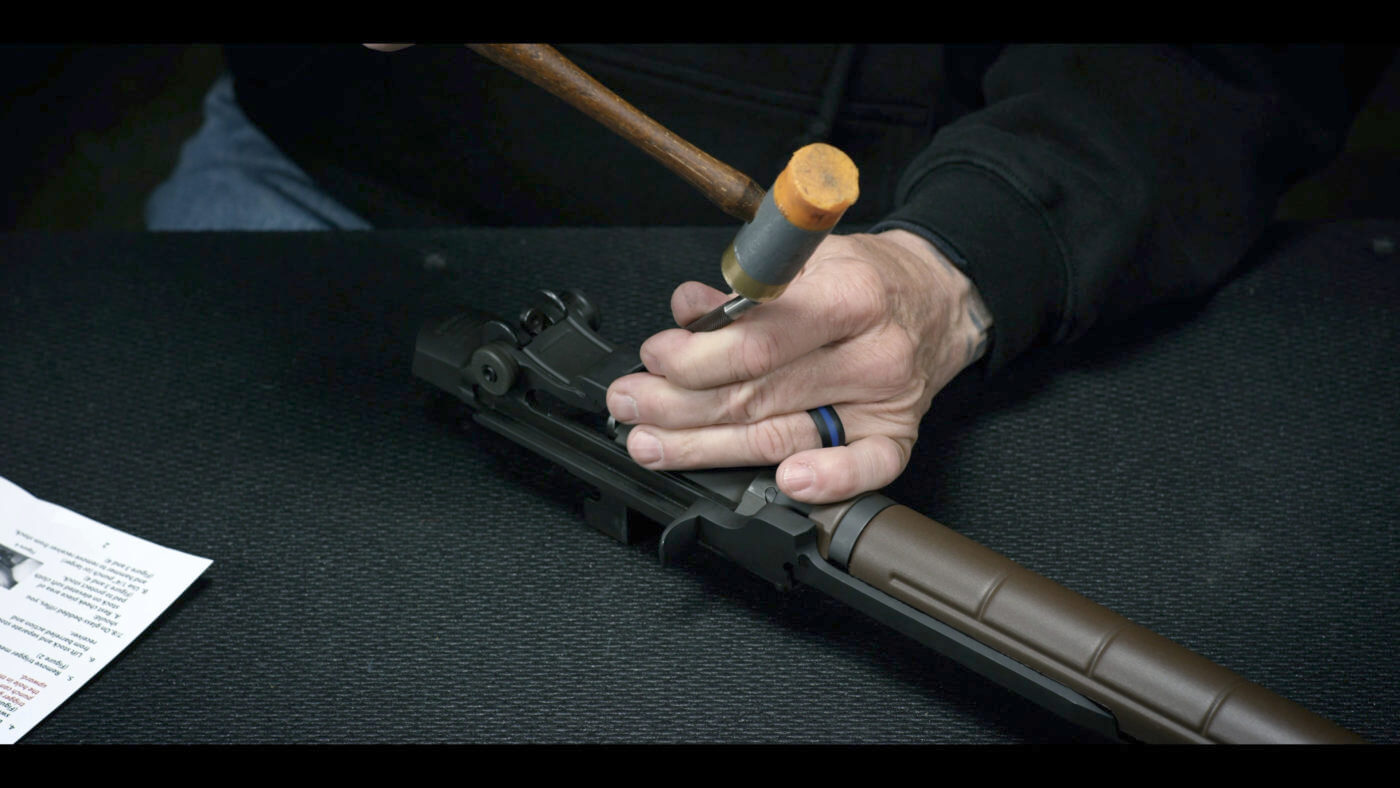 Using the 3/32" punch, drive out the pin from the stripper clip guide from top to bottom. Next, using your mallet, drive out the stripper clip guide from right to left. Next, install the new mount guide in the stripper clip guide groove, and check fitment.
If the fit is too tight, carefully file on the new clip guide. However, be sure not remove too much material. Once this is done, tap the new mount guide into the groove. Then align the pin hole in the clip guide, and tap the new pin into the clip guide.
Next, align the raised guides on the scope mount with the slots on the receiver. You will now install the front screw and hand tighten it. Once hand tightened, you will then tighten it further with your screwdriver.
Here comes the time for the mallet. Properly seating the mount requires striking it with the mallet at the front and to the rear of the mounting screw, and then tightening the screw. Repeat this process until you can no longer tighten the screw. The aluminum scope mount is now fully fit and seated to this receiver and won't fit any other.
Install the rear screw bushing until it just contacts the receiver, and then install the lock nut using your ¾" wrench. Be sure to bring the wrench with you when doing an initial zeroing of your rifle, as you may need to make windage adjustments. Insert the rear screw and tighten with your screwdriver. You now may reinstall the barreled action into the stock and lock in the trigger assembly. Your mount is installed and you are ready to mount your scope and zero the rifle.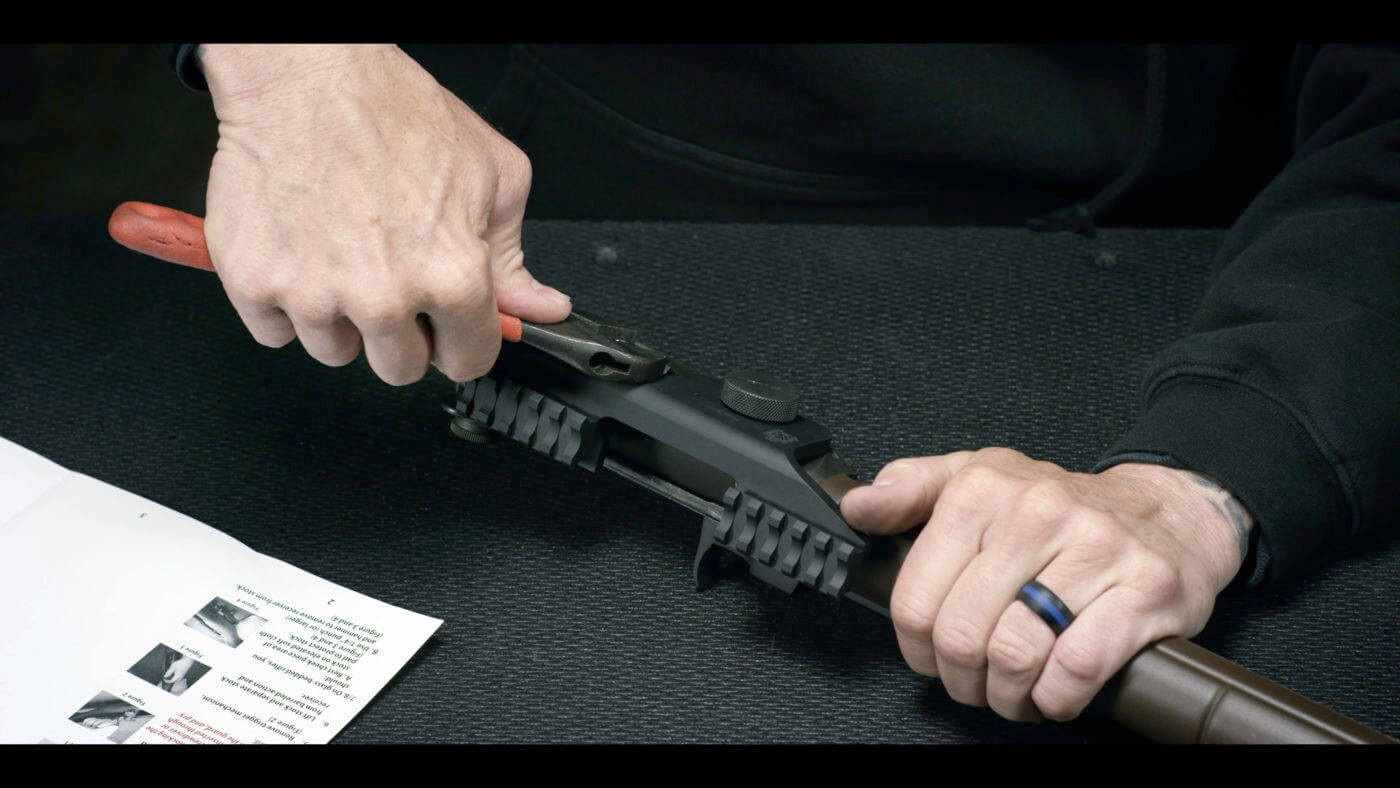 The Result
Both the steel and the aluminum mounts are specifically designed to keep the ejection port clear and allow easy access to the operating rod. With the scope removed, you can also still see and use the factory iron sights, meaning you don't have to also remove the mount to use your irons. Once the mount is installed, there is really never a reason to have to remove it. You can disassemble, clean, maintain, and replace parts on your rifle without removing the mount.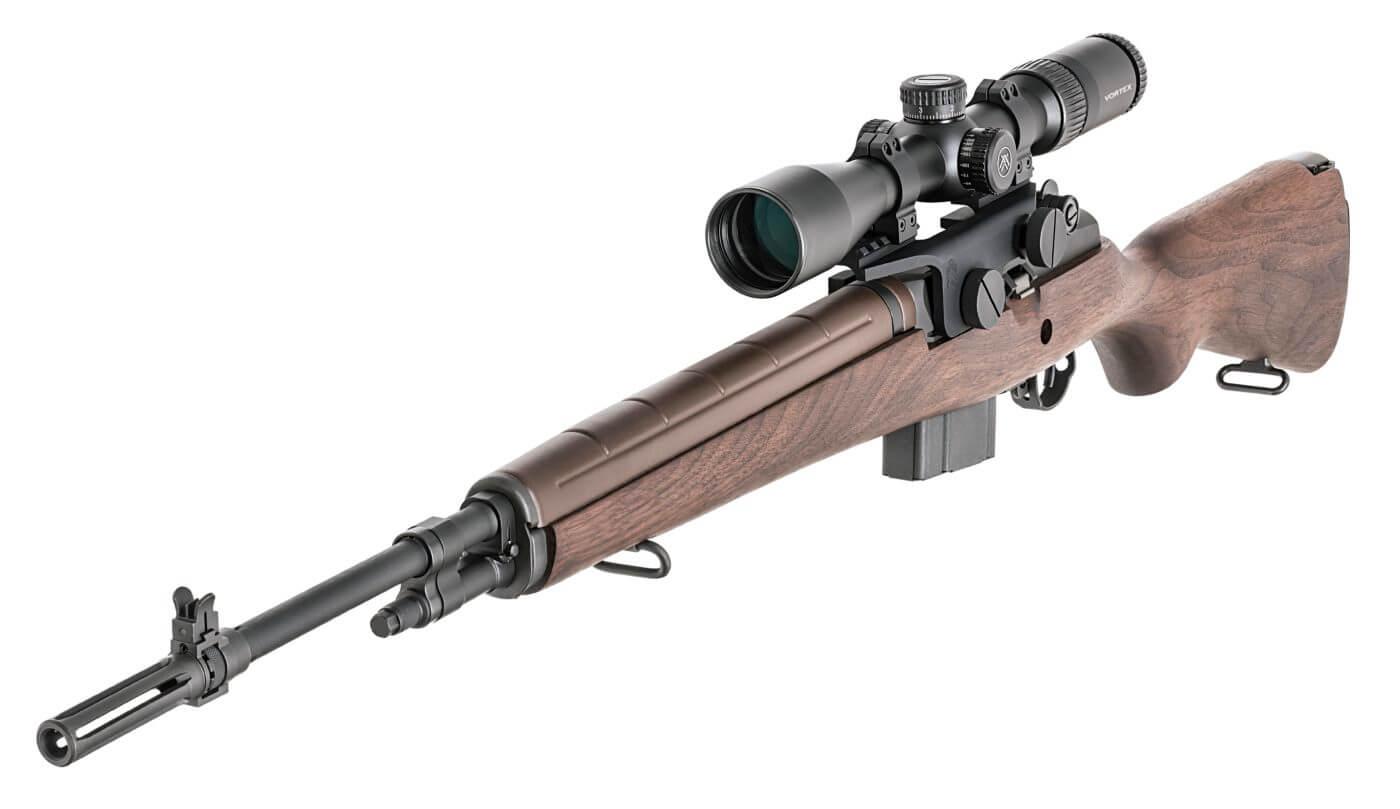 The most important tip I can give to anyone that puts a mount and scope on an M1A is to FOLLOW THE INSTRUCTIONS! I know that is sometimes hard to do, especially if you're a know-it-all like I am. But you and your impressive shot groups will thank me in the end.
Editor's Note: Please be sure to check out The Armory Life Forum, where you can comment about our daily articles, as well as just talk guns and gear. Click the "Go To Forum Thread" link below to jump in!
Join the Discussion
Go to forum thread
Products in this video

M1A™ Series
M1A™ 4th Gen Aluminum Scope Mount
Share
Did you enjoy this video?
100
Sours: https://www.thearmorylife.com/m1a-scope-mounting-guide/
The M1A is one of Springfield Armory's most well-known rifles. With both .308 Winchester and 6.5 Creedmoor options, it's a fantastic option for anyone looking for something more powerful than a .223.

One of the tricks with an M1A, though, is that it's not immediately obvious how to mount a scope to it. Unlike the AR-15 platform, which usually comes with a rail on top of the upper receiver for mounting, the M1A does not have any direct way of mounting a scope onto it.
So how do you get an optic onto an M1A?
Easy: you get an M1A scope mount.
Springfield Armory M1A Platform
The M1A is considered a high-end, thoroughly tested, reliable and stable platform for larger caliber rifle shooting.
Along with that is that the M1A is generally not considered a firearm for newbies; the M1A is more expensive in price and more difficult to customize, but once you've got it the way you want it, it's hard to find something better.
In short, the M1A is designed for experienced shooters who rely on their rifle on a regular basis.
So, you may be wondering, what do I need to know about M1A mount to pick the best one? Well, we're going to cover a few of our favorite picks but first, we'll go into the different considerations you need to have when looking at a M1A scope mount.
"Not Insignificant" Recoil
An M1A is going to kick harder than an ar-15 or anything else chambered in .223. That doesn't mean it's like a 12-gauge shotgun or anything, but recoil is one of the main causes of optic failure, and when you're mounting an optic to a .308 or 6.5 creedmoor.
You've got to make sure that the optic you're mounting, and the mount you're putting in between the optic and the rifle, are both strong enough to withstand it over the long run.
Most of the mounts you'll see are going to either be steel or an aluminum alloy. The aluminum is lighter, which can be a good or a bad thing depending on how you're using it.
While there are legitimate concerns with long-term strength and stability with aluminum, the best M1A scope mount that we'll recommend here have been shown to do just fine.
M1A mounts tend to fall into two camps; the high-end, battle-ready, highly secure versions that also tend to be more expensive, and the less robust versions that tend to be more affordable. One of the things to look for is how many mounting points the mount has with the rifle.
These points may be screws or just places where the dovetail mount slides in snug, but there are some mounts that only have 1 contact point that is designed for security, and some (the Sadlak) that go as high as 12 point contact.
Redundancy here is going to be key to long-term reliability and stability, and mounts with 1-3 contact points with the rifle are going to be more appropriate for casual shooters.
An Involved Installation Process
Those two camps of M1A scope mount also come with different installation processes. The less robust mounts also tend to have the simplest install process, while the tougher, more durable mounts are going to be harder and take longer to install properly.
You can always just purchase the mount you want and take it to a gunsmith, but if your bank account is looking a bit sparse after buying an M1A, a M1A mount, and a scope to put on it, you may be tempted to follow along with a YouTube video and do it yourself.
Of course, if you're experienced with customizing firearms outside of the plug-and-play style of the AR platform, the install won't be too difficult for you as long as you follow the instructions.
Installing the scope mount involves taking the rifle apart, putting the M1A mount in, and putting it back together again.
There are no versions of M1A scope mounts available that do not require this install process, not even the ones that claim "no gunsmithing required".
If you intend to do the install yourself, make sure you first look up what tools you will need to complete the install so you don't end up halfway through without what you need to finish the job.
Most of the M1A mounts come with instructions, but the quality of those instructions can vary, so give yourself some time to understand the process thoroughly before you dive in.
Alrighty, let's get to our recommendations. Here are our 6 recommended best M1A Rifle scope mounts.
M1Surplus Scope Mount Rail

Material: Aluminum

Color: Black

Model: Springfield M1A
Aim Sports M-14/M1A Scope Mount

Material: Aluminum

Color: Black

Model: M14, Springfield Armory M1A
Variations in the M1A Product Line
The M1A comes in a number of different flavors depending on what you want to use it for. Lighter, shorter versions and longer, heavier versions. Some M1A scope mounts are designed specifically for a single model of M1A and won't properly fit other models.
All of the mounts we review here should fit all current models of the M1A unless otherwise stated.
Different models will also have a different contact design and brass ejection trajectory.
For the most part, the number of locking points you have for your mount will be limited by the mount and not the rifle, but you'll want to double-check and make sure that you've got the right rifle and mount combination.
We've done our best to cover a wide range of price points here, and you'll see that the price range can actually be significant.
The main difference in price points is going to be how well you can achieve and maintain a perfect zero. Strength and durability is going to be higher with the more expensive mounts.
Best M1A Scope Mounts
1. M1Surplus M1A Mount Rail
The M1Surplus is somewhat in the middle of the price range and is an aluminum alloy. It's got a rail all the way front-to-back and has a see-through channel to allow you to use your iron sights as a backup.
This mount is also only available in the US at the moment, so international readers may just want to skip ahead.
The M1Surplus comes with an anodized matte black finish and currently has over 40 ratings on Amazon with a 4.5-star average rating. If you want to use this mount on a SOCOM II, it will require a little bit of modification but can still work just fine.
The installation of this mount is a little bit less complicated than some of the other mounts, but don't let that fool you; it will still take an experienced person around 30 minutes to complete.
2. Sadlak M1A Aluminum Airborne
The Sadlak is actually going to appear twice on this list, as they have multiple versions of the same basic design, and they're both fantastic for different purposes. This first version is made of aircraft-grade aluminum.
The aluminum model weighs only 4.3 ounces, which makes it a great fit when you are trying to keep your rifle light and agile. It is well-reviewed and commonly recommended as a top-of-the-line scope mount for an M1A.
Like the M1Surplus, you've got a hollow channel to allow for iron sights to be used as a backup. The Sadlak has been battle-tested by the 10th special forces in the US Army and has a 12 point fit when properly installed. It's 9 inches long and 6 inches tall.
You'd be forgiven if you'd never heard of Sadlak Industries before now. Sadlak specializes exclusively in premium components for the M1A and AR-15 line.
This is partly why their M1A scope mounts are so highly rated; they specialize in them almost exclusively. They also sell bipods, replacement screws, and other mounting hardware.
3. Springfield M1A Generation 4
It's probably not surprising that Springfield Armory would make some of the best scope mounts for their M1A rifles. The 4th Gen Springfield mount is the first in our list to have a gap between the front and back rails instead of having one long rail piece.
Where the Sadlak has 12 points of contact, this mount from Springfield has only 3, and will also not fit the Socom II. You'll notice that the Springfield also does not have a hollow channel for use with iron sights.
You can always put a red dot on it, but if you use a riflescope with magnification, it could make backup sights not an option.
You'll generally see two styles of these M1A mounts; the style of this Gen 4 mount and the style of the Sadlak. Obviously, 12 points of contact and six inches of depth is going to provide a more robust attachment and be less prone to getting loosened over time.
That said, if you're not putting rounds through your M1A on a daily or at least weekly basis, three-point contact is going to be plenty to keep it strong and solid for years.
4. UTG New Gen 4-Point Deluxe M14/M1A scope Mount
If you're looking for a highly-rated budget option for your scope mount, look no further than the UTG. A lot of what you'll see on this scope mount is what you may have come to expect from the mounts we've already covered, like the adjustable side screw, but the UTG is a bit of a different beast.
Notice how the rail looks different? That's because it is. It's a "new gen mil-spec quality deluxe sniper mount". Why didn't they just go with a picatinny-style rail or weaver rail? (shrug) But it's fully compatible with picatinny or weaver scope rings and the hollow channel allows for iron sights.
As another slight difference, the UTG has 4 points of contact instead of the usual 3 for this type of design.
Where the more expensive mounts will have around 9 inches of rail length, the UTG only has 6 inches, which means you will have a little less flexibility to mount your optic exactly where you want it, but 6 inches should be plenty for the most part.
The UTG is relatively easy to install compared to the Sadlak but is still something you want to be careful to follow the instructions for and not rush. It comes with detailed instructions and is a quality M1A scope mount.
5. Aim Sports M-14/M1A Rifle Scope Mount
This is actually the second best M1A scope mount in our list that is also compatible with the M-14, along with the UTG. For those who don't know, the M1A and M14 rifle are very similar in design.
The Aim Sports M1A Scope mount is very similar in design and function to the UTG, and I'm including it on this list as another budget option to compare with the UTG.
Personally, I would buy the UTG over the Aim Sports. The UTG has a lot more information available and better reviews, and the Aim Sports version doesn't really have any advantages over the UTG.
A number of reviews mention having to do significant amounts of filing to get the mount to fit on the M1A and some quality control issues.
That said, reviews here are more positive than negative, and once the M1A mount is installed correctly and being used, it seems to hold zero pretty well and allow for use of iron sights as a backup.
It accepts weaver rings and should offer a similar adjustment range as the UTG to control for the eye relief of the scope.
6. Sadlak Industries M1A Steel
You might say we're saving the best for last here, and you wouldn't be wrong. The steel Sadlak M1A scope mount comes in two varieties, one that looks almost identical to the aluminum construction:
And one that has a bit more cut out:
What's the difference? About 2.1 oz of weight and one has a manganese phosphate finish while the other has a black phosphate finish. What's incredible about the steel versions of the Sadlak is that they are in the same weight range as some of the other brands' aluminum versions.
The added weight can be a feature when you want to help stabilize your shooting position and handle recoil.
If you want lighter, you can always go with the aluminum version. Just like the aluminum version, this mount has 12 points of contact with the M1A and has been battle-tested by the 10th special forces of the US Army.
Sadlak guarantees that the mount will hold zero and not shoot loose, and with 12 points of contact it's easy to believe.
So why wouldn't everyone just buy this mount?
Well, for one it's significantly more expensive than some of the other options. For another, it's really designed for shooters who are either going to put a lot of rounds through their rifle on a regular basis or whose lives will be on the line if your optic isn't perfectly zeroed every time you pick it up.
If you're a soldier, avid shooter, or bear hunter, then this is the M1A mount for you. If you get to the range a few times per year and go on an annual deer hunt, this will be great but possibly more money than you need to spend on it.
Summary & Closing Thoughts
So if money is no object, I would highly recommend either of the steel versions or the aluminum version of the Sadlak, and even if money is an object, if you're planning on shooting a lot or in dangerous circumstances, the Sadlak is a wise choice.
If you're more of a casual shooter, don't shoot very often, or hunt game that doesn't fight back, then you can look at some of the other options available. It may be tempting to just pull the trigger on the UTG or the Aim Sports, but keep in mind the old rule that you get what you pay for.
Getting something high-quality, with high durability, a one-piece design with a low profile (enough to give you good cheek weld) is a tall ask and usually comes with a taller price.
All of the mounts we've covered here should take most picatinny and weaver optics, and you can always double-check and ask questions if you're not sure.
Let me know in the comments if I missed something or didn't cover a mount that you think should be included on this list.
Sours: https://huntingmark.com/m1a-scope-mounts/
  *The following guide contains links to Amazon. As an Amazon Associate I earn from qualifying purchases.
The M1A isn't traditionally a rifle which was designed to use with a scope. However, this is an excellent gun with a fantastic reputation; we would go as far as to call this 'America's Gun.'
A direct ascendant from the battle-scarred and time-tested M14 the M1A is the non-military focused version of one of the worlds most tested and respected long-range assault rifles. 
When choosing a scope mount, it is essential to keep a few things in mind specifically as this is a scope mount for a very particular weapon.
Weight & Material
When choosing a scope mount weight is one of the first things you need to take into consideration. The M1A is an assault rifle and is a great hunting rifle. When you're always moving and shooting fatigue can kick in quick.
Carrying your rifle, scope, mount, backpack, and being dressed head to toe is undoubtedly going to take its toll on you, and quickly. Saving weight where possible is a sensible decision to make, wherever you can reduce it. 
Most modern scope mounts weigh in under 5 Oz and even lower. Thanks to specialized materials like aircraft-grade aluminum and chrome alloy scope mounts are now more robust, and durable than ever while being at their lightest in decades.
Rail system
One-system to rule them all! 
Ok, not so dramatic but if you could invest in one rail system which covered your Picatinny and weaver accessories then why wouldn't you? 
Saving money, and time is scarce in this world, but modern scope mounts are becoming more efficient in more ways than just the weight, and cost. A rifle scope mount which caters to both Picatinny and weaver accessories is a better choice than a mount which provides for only one.
It will last for years, and if you like to horde scopes, or any shooting accessories for that matter a rifle mount which caters for both systems will last you for years to come no matter what or how you decide to shoot; from red-dot to long distance. 
Perfect zero 
The last thing you want to happen when out on a hunt is to have to zero your scope every time you move. Once set, you should not have to worry about it again for the rest of the day. It is essential to choose a scope mount which Is sturdy and robust enough to take a few hundred rounds without a problem.
If you're bench shooting, then it isn't much of an issue. For people who hunt over a distance, it can be more if a nuisance. A three-point attachment mount is an excellent option as the three contact points provide a reliable and robust hold with no matter where you go.
---
The 4 Best M1A Scope Mounts
---
1. Sadlak Industries M1A Lightweight Airborne
Check Price on OpticsPlanet
Sadlak Industries is a name we hardly need to introduce. They are a focused brand who have been around for over 20 years, and in that time, they have focused solely on two distinct gun ranges; The M1A and the AR. 
Right now we are more interested in the M1A range, and thankfully they are a company who deliver on what they promise.
Mike Sadlak started the company in 1989, and within ten years they were renowned for their range of gas blocks and rifle scope mounts. Now, the variety they offer is small, but this has allowed them to focus on quality and what has allowed them to craft a premium range of M1A scope mounts.
The first thing we noticed about M1A Lightweight Airborne is it is made in America. When it comes to supporting our trade, we do certainly love products which are built on US soil. Sadlak industries are a manufacturer, and all their mounts are made in-house.
The Sadlak industries M1A Lightweight Airborne is a true testament to high-quality manufacturing.  It is understandable why Sadlak has become known for crafting premium products after seeing this scope mount.
It has been constructed from solid chrome-moly steel bar which makes this a light, but extremely robust scope mount. The solid construction allows it to take recoil without any issues, and with it being so light it is easy to keep in your kit bag. 
It weighs in at an amazingly light 9.0 Oz But make no mistake; you are getting a product which is just as strong, if not more than most other aluminum scope mounts out there but at a lot less weight.
When fitted the SA Lightweight Airborne has three points of contact. This is perfect for when you're shooting on the move. You do not want to have your adrenaline pumping as you see the perfect shot for you to lift your rifle and find your scope has slid out of position. 
They have designed the Picatinny rail to work with most types of scope mount rings so you can shop around to find your favorite. There is also a see-through channel which works for the original rifle scope.
The bonus with it being a Picatinny rail is that it is compatible with any weaver rail system, so you are free to chop and chose whichever scope is your favorite at the moment, or whichever one is more suited to the shooting you're doing. 
Fitting the Sadlak Industries Lightweight Airborne is a straightforward job, but we do recommend you check out a youtube video or read the instructions. You need to make sure it is fitted even. Once installed it will retain zero for a considerable amount of time even when left in storage, but if you take it off your rifle, you will need to reset it when you connect it back to your gun.
2. Springfield Armory M1A Generation 4 Scope Mount
Check Price on Amazon
Check Price on OpticsPlanet
Springfield Armory has been in operation since 1777. If you know your history, then you will know how much of America's past has been intertwined with Springfield Armory and the Revolutionary war.
Since 1794 the Armory were manufacturing muskets and was a leading innovator in the firearms industry. By 1968 the US Government closed down Springfield Armory up until 1974 when the young Reese family bought and rescued not only the name but also the core values. 
The Springfield Armory M1A Generation 4 Scope Mount is a very sturdy and reliable piece of hardware. It is made from one-piece aluminum, which is robust, secure, and dependable when it comes to a scope mount.
It isn't the lightest on our list, but as far as scopes go, it is reasonably lightweight and will not weigh you down much, if at all, if you're out hunting or do much walking with your weapon. It weighs in at 1.15lbs.
When you fit the Springfield Armory M1A, it has three points of contact, making it a very secure option. The three screws hold it in place and offer excellent stability when shooting.
If you hunt on the move, then the Springfield Armory will keep your scope where it should be. Meaning one less thing for you to worry about and when you're out there hunting the last thing you want to be doing is having to zero your mount before every shot.
 It is manufactured with a Picatinny style rail which is a bonus for those of us who love to horde scopes for every occasion. Picatinny and Weaver scopes are interchangeable, so this scope mount will last you for many years to come, even if your scope doesn't.
The Springfield Armory M1A is straight forward to fit, but we highly recommend you check out the instructions to make sure you get it right. With this particular scope, if you do not get a fully flat mount, you will not get a good grouping.
All the instructions and tools you will need to fit this mount come with it. When it comes to it, this is a solid mount which will support you to shoot accurately and will last many years to come. It holds zero without an issue even when put in storage. If you remove it from your firearm, you will need to re-zero it though.
3. UTG New Gen 4- Point Locking Deluxe Scope Mount
Check Price on Amazon
Check Price on OpticsPlanet
UTG has been in operation since 1992 but not under the same name. Formerly Leapers INC. They are well known in the outdoor and hunting/shooting space as producers of high-quality, durable, and affordable hunting and shooting gear. 
They produce optics, mounting systems, bipods, and more. The great thing about UTG as a company and brand is that they continually act on feedback from their customers. They even have new products thanks to the requirements of their customers. 
As we have mentioned before, one of the most stands out things for us when looking at hunting and shooting products is where they are made. UTG is designed and manufactured in the USA. They decided to bring their operation back to US soil and have grown significantly since. 
The UTG New Gen is made from one piece of aircraft-grade aluminum, which is very durable and robust. It weighs in at around 5.7 Oz, which is one of the lightest scope mounts on the market. It is the perfect companion for when you're out hunting or shooting on the go. Despite its lightweight though, it is a durable piece of kit. 
Designed to mil-spec, it is matte black and does look incredible. It measures in at 6" long and has a Picatinny-compatible rail which has 15 slots, and it is also compatible with weaver rings and other manufacturer rings. 
It has a see-through design so you can use the original rifle scope, this is a highly-versatile option when it comes to a scope mount that will last the test of time. 
This is a scope mount which is not only affordable but also adaptable. When looking for a scope mount, it is a good idea to invest in one which will be versatile for different types of scopes and rings. It is highly likely you will use different scopes over your lifetime. Having to re-buy mounts over and over again every time you upgrade or require a different scope for different types of shooting can become a pain, and expensive.
The UTG New Get 4 is quite simple in its operation. It has locking points across the side plate and horizontal bottom guide. It operates through adjustable side screws so you can quickly and easily zero your scope.
It has rear end locks with a charger guide dovetail, and it comes with rubber rail guards and everything you need to install this rifle mount and get to shooting. It can be made a high or low profile, and thanks to the locking points, it stays stable without compromise. 
Once you have set this scope to zero, you should not notice any shaking or slide when you're out hunting or shooting. Once you set to zero, you should be good to go. You will need to remember though that this isn't a quick release scope mount and if you do remove it you will need to zero it again. 
4. Sadlak Industries M1A Aluminium Scope Mount
Check Price on Amazon
Check Price on OpticsPlanet
Sadlak industries are one of a very few numbers of companies who can say they built their entire range of products around the requirements of a particular type of gun. They found their niche and focused on it.
Which is why they appear in this list twice. Sadlak Industries have been designing, manufacturing, and selling a range of scope mounts precisely for the M1A for many, many years. This focus has allowed them to perfect their craft and helped them to become one of the most respected companies for M1A parts. 
The Sadlak Industries M1A Aluminum Scope Mount is an excellent tool for your rifle shooting needs. It is crafted from aircraft-grade aluminum in a single-piece design. The scope weighs in at a very respectable 4.3Oz which is light enough not to bother you on a long days hunt.
Aircraft-grade aluminum is a very robust, lightweight, and durable material which makes this an excellent choice for shooting on the go. It is finished in a hard black coat anodize which looks great and won't scratch or damage easily.
It measures in at 5-7/16" in length with a width of 1 3/4". It clamps down by a three-point system by way of the receiver ring, charger guide dovetail, and the receiver mount lug. 
 The three-point clamp system makes this a very robust scope mount which will not sway, wiggle, or move easily. So you can rest assured when you're out on the hunt or firing a couple of hundred rounds through your M14/A you will not need to reset to zero every couple of hours unless of course, you remove the mount. 
The Picatinny compatible rail can be used with weaver type fittings, which is excellent for longevity. You will not need to replace this rail when you decide you want a new scope. It comes with all the parts, fixings, and tools you require to install and get shooting straight away.
We do advise you to check out the manufacturer's instructions to make sure you get the perfect zero first time without any confusion.
Sours: https://scopesreviews.com/best-m1a-scope-mount/
Springfield Armory 4th Generation Picatinny-Style Scope Mount M1A Matte
Product Overview
This Original Springfield 4th Generation M1A Scope Mount provides a Picatinny-Style rail above the receiver of the M1A. Includes all mounting hardware and detailed instructions.

Note: Will not fit the SOCOM II


Made In
WARNING:
Specifications
Was the information on this page helpful?
Community Q&A
Customer Reviews
NOTE:
Prices, specifications and availability are subject to change without notice. We reserve the right to correct typographic, photographic and/or descriptive errors.
Sours: https://www.midwayusa.com/product/100910002
Scope mounts m1a1
Hot breath tickled my ear. And finally, my body was struck by an orgasm. I, moaning sweetly, exhaustedly lay on my husband and suddenly felt a warm, slightly viscous stream of sperm pouring inside me. Feeling a trembling penis inside me, I looked on the satisfied face of Cyril and gently kissed him, and laid her head on her chest. Sweetheart, I love you, I exhaled happily.
BadAce M1A / M14 Scope Mount Low-profile and Elevation Adjustable
Wow, what a huge. and plants it for me right in the watchman's booth. I enjoy his thrust in me.
You will also like:
Company. It was high July outside, the weather was warm, and the townspeople tried to spend all their free time by the water. The city beach was full of crowds of tourists all day long, and therefore, often small companies retired along the numerous banks of a narrow river to calmly drink. Refresh, swim, and have fun.
1885
1886
1887
1888
1889