Findings by Kinesiology graduate student, faculty show usefulness and precision of affordable 3D body-scanner
Graduate student Gabe Kavdas demos the Styku S100 scanner used in former graduate student Joe DeRouchey's study, which has been making headlines overseas for its compelling findings. Photo by Mike Hess/UND Today.
A recently published study from the University of North Dakota could have lasting impacts in the fields of athletics, physical health and rehabilitation, according to its authors.
That's because the study pioneers the fast and comparatively inexpensive use of 3D body-scanning technology – technology that could, among other applications, be used to identify future champion athletes.
Three-dimensional body scanning technologies create millions of data points across the human body for precise measurement. Typically, these technologies can cost tens or even hundreds of thousands of dollars.
Evidence gathered by UND researchers showed that those same measurements can be produced at a fraction of the cost, and in as little as 35 seconds. The Styku S100 system, available for $5,000, drew data readily comparable to what's gathered from more sophisticated systems.
The study, examining 49 UND athletes, required only a turntable for subjects to stand on, an infrared camera and software to handle the data. Graduate researcher Joe DeRouchey's goal was to determine if the Styku S100's data would be reliable enough for use in continued research.
His co-authors – faculty in the Department of Department of Education, Health and Behavior Studies in the College of Education & Human Development – said comprehensive scanning data, readily visualized and gathered non-invasively, can now be used as a tool by individuals and organizations involved in health and athletic fields, results of the study suggest.
As the scanners become more common and more widely used, physicians, trainers and specialists will have access to more data than ever in matters of health and performance-based intervention.
"I think this study opens the door for this technology to be evaluated for use in other areas and disciplines," said John Fitzgerald, associate professor of kinesiology and principal advisor on DeRouchey's study. "We've made the case for sport in our paper, but this could possibly be used for research or teaching purposes in other disciplines where size and shape of the body may be important, such as physical therapy and occupational therapy."
"There are various tracking abilities afforded by 3D scanning," Fitzgerald continued. "One of the benefits is that the amount of data can provide good comparisons over time. Scans can be looked at side-by-side, or in sequence, and can be compared numerically as well as qualitatively."
Also, given the system's usage of infrared light to collect data, multiple scans in close succession can be conducted safely, without exposure to radiation or high-level magnetism.
Data captured by the Styku system are observable nearly instantly, and provide data around physical markers for comparisons. Photo by Mike Hess/UND Today.
For decades, body composition markers have been used to predict risk for chronic conditions such as heart disease, as well as performance capabilities of athletes.
Certain physical characteristics of elite athletes stand out when compared to the general population, researchers know. For example, individuals who have larger circumferences of the mid-thigh, or larger volumes of the leg, tend to sprint faster and jump higher.
With affordable 3D technology, such indicators could be more easily discovered and compared.
"Before whole-body scanners, manual measurement was the only feasible way to get these markers," said DeRouchey. "Full manual tests (using tape measures and the like) can take 45 minutes and are not as accurate as scans. Also, measurements such as volumes of limbs and cross-sections of the body have to be estimated."
Grant Tomkinson, professor of kinesiology and associate advisor on the study, has extensive research experience in talent identification and working with the more expensive 3D whole-body scanners. But until now, there hasn't been much scientific-measurement data assembled on athletes beyond manual measures, in large part because of such studies' expense, Tomkinson said.
That's why the UND study stands out. "This was a reliability study, sure, but it used a $5,000 piece of equipment to provide the same output as something that costs $250,000," Tomkinson said.
One reason Tomkinson thinks such technology will become more commonplace is the fact that 3D measurements can provide better indicators of health, fitness and physical performance than can measurements such as lengths or circumferences. As databases of 3D scans grow, researchers can start to look at new shape indices, or measures that can translate to understanding peak performance or recovery from injury, for example.
"These types of indicators haven't been examined in the past purely because of the time commitment and the limited accuracy of manual measurement," Tomkinson said. "This gives us the opportunity to tap into new measurements that can perhaps lead to better treatment and performance."
Sours: http://blogs.und.edu/und-today/2020/09/und-study-points-to-cost-effective-way-to-find-elite-athletes/
STYKU
OTHER PROFESSIONAL 3D BODY SCANNERS
CONSUMER BODY SCANNERS
Scan viewable in less than 1-minute
√
99% Measurement Reliability
√
No Camera-Blocking Handle Bars
√
Lightweight
√
√
API
√
Visceral Fat, Gynoid Fat, and Android Fat
√
Certification Program
√
3D Viewer
√
√
Virtual Coach - Set Goals
√
Circumferences
√
√
√
Stationary
√
√
Self-Service Mode
√
√
Reports
√
√
Unlimited People
√
√
Sours: https://www.styku.com/body-scanner
I ate a big breakfast. So if my scans are off, don't sweat it, I tell myself. And this was immediately following a long, unhealthy weekend (a friend's wedding). All of the excuses of the first world were available to me as I walked up the stairs in The Assembly, a women's club in San Francisco, one that looks like it was once a place of worship but now hosts accomplished-looking laptop-clackers and has bottles of sweet-smelling face mist in the bathroom. This is where I would get my body shape and fat percentage measured by a company that has named itself Naked.
Naked Labs makes a full-length mirror lined with 3-D cameras that capture a 360-degree image of your body. There's also a weight scale involved, something that the company's cofounder and CEO, Farhad Farahbakhshian, calls the turntable (more on that later). Farahbakhshian, a former electrical engineer and certified Spin instructor, first introduced the Naked 3-D Fitness Tracker to the world two years ago and crowdfunded it through the company's website. The initial launch was set for March 2017. Naked Labs missed that deadline by a great many months.
Now, several product iterations and more than $14 million in funding later, the Naked 3-D Fitness Tracker is shipping. The company's funding round was led by Founders Fund, Peter Thiel's firm, and included NEA and Lumia Capital. (Cyan Banister, another partner at Founders Fund, personally invested in Naked Labs.) "The product took much more capital, manpower, and time than we expected," Farahbakhshian told me over the phone the day before I got my scans done. During that time, Intel's RealSense cameras—which is what the Naked scanner relies on—were upgraded, which put the company in a holding pattern until it could build the product with the latest tech, he said.
The scanner now costs $1,395, a significant hike from the $499 the company listed it for at launch. But Naked Labs is wagering that (a) fitness freaks, (b) people looking for motivation to lose weight, and (c) customers who aren't unnerved by daily 3-D scans of themselves will all pay to own the product. Its target customer has changed, Farahbakhshian said, from "people with a six-pack who want to get an eight-pack to people in the earlier stages of their fitness journey … Sure, there are power athletes who want to get that extra 1 percent, but we also see people who have felt powerless about their bodies for most of their lives."
Farahbakhshian and Sam Winter, Naked Labs' head research scientist, were waiting for me when I entered the room at the Assembly. Winter is a cognitive neuroscientist and sometimes triathlete who took the lead during the demo. She and Farahbakhshian suggested, both over the phone and in person, that the scan would work better if I stripped down to my underwear. I wore stretch pants and a long-sleeved shirt.
The mirror is nicely constructed—something I never thought I'd say about a mirror but feel obligated to note since it costs $1,395. It weighs 30 pounds, and with its frame measures 62.5 inches high and 12 inches wide. The back panel is plastic; its sides are powder-coated extruded aluminum. Three Intel RealSense 410 series cameras line the left side of the frame, along with a laser pointer (A laser pointer! In a mirror!) and a round indicator light.
Without warning, it began to spin me around, like a cat on a Roomba.
Winter fired up the 3-D Fitness Scanner, and the laser pointer shined a light onto the hardwood floor. She pulled the scale out from under the mirror and lined up the center of the scale with the laser's red dot. The scale, which charges via USB-C, is a disc of injection-molded plastic with a glass top. It wobbled slightly on the smooth hardwood when I stepped on it and widened my stance. The company says it also works well on carpet.
I tried to stand exactly as Naked Labs' mobile app instructed me to: straight back, arms extended slightly from my sides, hands curled into fists. My hair was pulled up; Farahbakhshian and Winter said it's a good idea to capture the neck and trapezius muscles as part of your body scan. And then I discovered why Farahbakhshian had been calling the scale the "turntable": Without warning, it began to spin me around, like a cat on a Roomba. I laughed, which blurred my face on the first scan. By the third try, I had stopped moving and laughing. Maybe.
Being scanned and looking at the results are entirely different experiences. The scan itself takes only 15 seconds. Crunching the 2 gigabytes of visual data into a 2-megabyte file takes a few minutes. The processed image files are then shared from the mirror to the cloud, and then to the Naked Labs mobile app.
All of the scans appear in grayscale in the app, making your body look as though it is made of liquid metal. Naked Labs also uses a "smoothing" technique on each body scan, which sounds like a culturally correct way of saying the images are Photoshopped. "Our goal in using grayscale was to take away any form of emotional attachment to the body model and make it as objective as possible," Farahbakhshian told me. As T-1000 as the image may be, it was still undoubtedly me.
The extra data that appears onscreen beside your portrait, though, is what jumps out. Your weight is shown, but Farahbakhshian and Winter say they're really trying to de-emphasize weight. At the top of the Key Stats pile is your body fat percentage, followed by your weight, your lean mass, and your fat mass. You can swipe through different parts of your body and get measurements for your waist, chest, each thigh, each calf. Do this day after day and you can look at comparative charts illustrating the changes to your body over time.
What's interesting is that Naked Labs isn't calculating body fat percentage using bioelectric impedance analysis, which many scales or other body composition devices do. And it's obviously not doing hydrostatic testing, which would require you to be in water. It's doing all of this algorithmically by comparing your images against a database of body shapes and DEXA scan data (DEXA stands for dual energy x-ray absorptiometry, and it measures bone density as well as body fat estimates). The Naked Labs approach is supposed to get better over time, which is the promise of a lot of quantified-self products: Feed us more data and we will, in turn, feed you the information you need to be a better you.
For Naked Labs, this ideally means getting you into better shape. The scanner is a consumer product, after all, which means the company isn't attaching any medical claims to the device. It also hasn't published any white papers or had its work peer-reviewed. But there are broader applications for 3-D body scans, ranging from less essential—retailers using the tech to sell you clothing suited to your shape—to the more critical, like tracking disease.
"If you look at all of the quantified-self technologies, a lot of it provides information that you have no idea what to do with. 'Walk 10,000 steps …' Well, what happens if it's 9,000 or 11,000? There's not a lot of information available around that," says John Shepherd, an epidemiologist at the University of Hawaii who has spent 30 years researching quantitative imaging. "Body shape is so different in that if you can quantify it yourself at home with home-based systems, you can learn about risk factors for disease."
Shepherd and his research team have been leading an NIH-funded study called Shape Up since 2015. The study is based on two premises: that that body shape is an important biomarker for overall health and that closely monitoring body shape could be more useful to people than just looking at numbers on a scale. They've used Naked Labs' technology in their research, as well as 3-D scanners from Fit3D, Styku, TC Squared, and SciStream.
The Shape Up cohort currently includes 1,500 people, ranging from age 5 to 85, both male and female. Perhaps most interestingly, it also includes participants from five different ethnic backgrounds. Both Shepherd and the team at Naked Labs point out that most of the prediction algorithms for body fat and body muscle currently derive from data from white males.
But there could also be serious psychological pitfalls along the path to self-betterment and optimal health. Earlier this year, a researcher at Florida State University reported that participants in a 3-D body scanner study reported feeling dejected and dissatisfied with their body image after seeing their scans. The researcher, Jessica Ridgway, suggested that this might be explained by "self-discrepancy theory"—when there's a dissonance between our actual selves and our ideal selves. 3-D scanners, essentially, magnify this.
Winter, Naked Labs' neuroscientist, said she could think of one person in the company's 25-person beta test group who she believed had a negative emotional reaction to her body scans. This person had "fallen off the wagon, hadn't had a scan in a long time, and when she did look at it again, she said 'Yeah, this does show what has happened the past couple months.' It made her feel like she had been hiding what had happened in her body," Winter said. But the overwhelming majority of the group found the scans to be productive, she insisted.
Shepherd said his team at the University of Hawaii has not yet partnered with any other researchers to examine the psychology aspect of body scans. "The primary reason is that we're studying the utility right now, and we want to know if the utility is there before we recommend people using it in general," he said.
Back at WIRED's offices, I showed three colleagues the body scans that the Naked Labs team had emailed me. Two of my coworkers were horrified—not by my results (I don't think) but by the whole concept of daily body scans. One was intrigued: "As someone who spends an inordinate amount of time comparing his body to sizing charts, this is kinda cool," he wrote via Slack. Anecdata, no doubt. For some reason, I can't seem to get my grayscale image out of my head.
---
More Great WIRED Stories
Sours: https://www.wired.com/story/naked-labs-3d-body-scanner/
What is Styku?
Styku is truth, and truth is power. There's never been a more powerful, precise, and complete presentation of physical assessment data than Styku—it is 76% more precise than measurements from the most skilled hand-measuring experts. A sophisticated 3D scanning mechanism, Styku collects and displays levels of fitness both in traditional numerical terms but also through stunning 3-dimensional modeling. Measurement data, shape, body composition, and other information are processed and displayed so you can track real changes in your body as it responds to exercise and nutritional guidance. You'll see yourself as you really are, and you'll see your progress as you've never seen it before.  Watch the video at left to see STYKU in action.
How is Styku done?
Tape measures, painful calipers, and hand-held analyzers of questionable accuracy are all replaced by Styku. Styku is quick and non-invasive: you simply stand on the Styku turntable—relaxed and facing forward with arms slightly extended—and hold still for 30 seconds while the platform revolves. Styku captures millions of data points and 600 infrared images, and after the scan is complete, Styku displays an accurate 3D model of you that's viewable from a variety of perspectives. You can rotate, pan, zoom, and nest silhouettes to see real progress. It's an honest, objective way to measure yourself as you progress toward your health and fitness goals.
Mirrors distort. Clothes conceal.
Styku is truth.
Sours: https://www.fitnessincentive.com/styku/
Scan cost styku
As people draw away from basing their fitness goals only on weight, 3D body scanning has grown in popularity. Many gyms and personal trainers offer body scanning as part of progress tracking.
People prefer body scanning because it allows them to get a deeper picture of what's going on inside their bodies. Instead of basing their goals simply on weight, people can base their goals on body fat percentage and muscle mass growth.
Different body scanners work to measure parts of the body and use their specific equations to determine body fat percentage.
One other very popular body scanner is InBody. Let's see how it differs from Styku for 3D body scanning.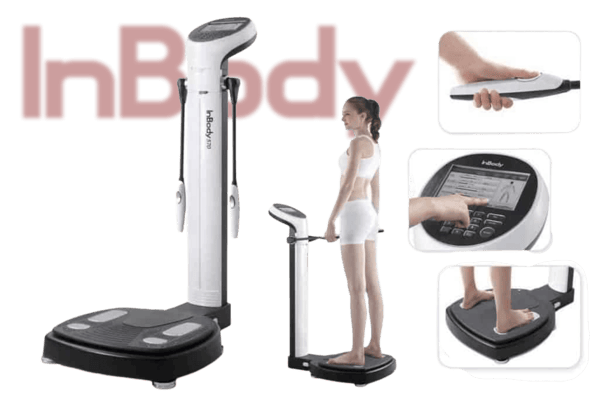 How the InBody Machine Works
The InBody uses bioelectrical impedance analysis (BIA) to measure people's body fat, muscle mass, and body water.
BIA works by sending small electrical currents through the body with electrodes and measuring the impedance it gets in return.
How BIA Measures Body Fat
Through a combination of measuring resistance and reactance, BIA determines what percentage of the body is fat, muscle, and bone. It does this by measuring the amount of water in certain parts of the body.
Water is very conductive, so the more water there is in a part of the body the easier the electric current can move through it. Muscle holds more water than fat. So, if a current moves easily, that means there is more muscle. On the other hand, if the current finds resistance, it's because of fat in the body.
BIA machines like InBody use that information to measure a person's body fat percentage.
InBody uses eight electrode spots to measure resistance. There are two spots positioned on each hand and foot, which makes it easy to use for repeat scans in gyms or offices.
Complimentary to BIA Measurements
Most methods of BIA measuring involved taking a person's weight, age, and other factors into consideration because water resistance measurements weren't as accurate.
InBody still uses these methods, but scan accuracy mostly is attributed to multiple points of electrodes and multi-frequency measurements without using other biased personal factors.
Who Is InBody For?
InBody tests tell you what your weight means, as opposed to simply how much you weigh. It helps you to understand your weight and get a more accurate idea of your health.
Many personal trainers and fitness experts track their clients' health and progress through body percentages. That way, people can easily focus on fat loss and muscle gain percentages, rather than simply weight loss.
Personal trainers, nutritionists, and healthcare professionals can use InBody scan results to make their programs as effective as possible.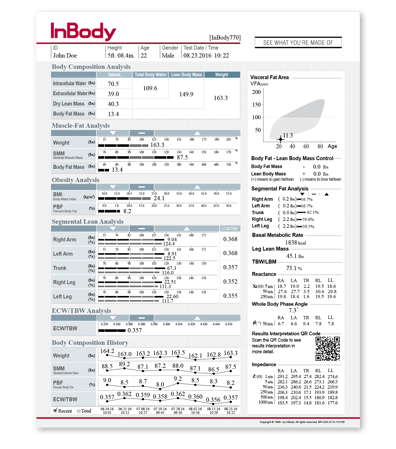 Understanding InBody Results: Composition Analysis
For body composition analysis, InBody measures the value of different parts of the body, which is a result that gives the person's weight.
InBody gives the value of total body water (TBW), protein, minerals, body fat, and total weight. InBody determines how much of your body weight is water, which usually accounts for 60% of the total body weight.
Protein is an important part of muscle growth, so a lack of protein in the body usually means a lack of muscles or poor nutrition.
InBody measures two kinds of minerals. One kind of mineral is in bone mass, and the other mineral is in all other parts of the body. By looking at these values, you can determine if bone minerals are too low, which is a sign associated with osteoporosis.
Understanding Muscle to Fat Ratio Analysis Results
People who use InBody to track their weight loss progress, appreciate getting the muscle to fat ratio measurements. BMI measurements alone don't give the most accurate depiction of a person's true weight.
For example, since muscle weighs more than fat, someone with a lot of muscle and little body fat could be considered overweight by BMI standards. With InBody results, you can see what your total body weight means.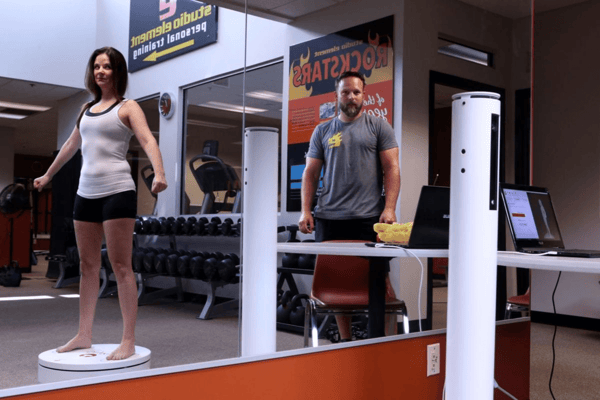 How Does Styku 3D Scanning Work?
Styku machines do not use the same BIA measurements as the InBody. Instead, the machine takes multiple infrared scans within a few seconds to form a virtual 3D model of your body.
Styku measures body circumference and uses a complex equation to calculate an accurate prediction of body fat percentage. The equation Styku uses comes from scan comparisons done with DEXA scans.
DEXA scanners are the most accurate depiction of body composition that's easier to access than a CAT scan and not as evasive as bloodwork. In one test, hundreds of participants got DEXA body composition scans and Styku circumference scans.
Each scanning method predicted body fat percentage, and testers compared the results. Through these comparisons, testers found correlations between DEXA scans and body circumference scans.
Now, a Styku body scan gives you a body composition result that's comparable to the result you'd get from a DEXA scan. Only, a Styku scan takes only 35 seconds to complete. It saves consumers time and money without sacrificing knowledge.
What's a Styku Scan Involve?
Getting a Styku scan is easy. As mentioned before, it takes less than a minute to complete. To complete a scan, you stand on the Styku turntable in a relaxed stance with your hands slightly out the side.
The turntable rotates a few times while it takes 600 infrared images. These images contribute to an inclusive 3D model that includes body composition. Then, customers can see how the circumference of their body has changed over time.
Who is Styku Scanning For?
Styku is a great tool for tracking personal progress. The 3D body scans allow for customers to get a better perspective on how much their body has changed since they started working out or eating healthier.
With the advantage of seeing themselves from the outside, individuals maintain motivation and continue to make progress. For that reason, the Styku is a perfect addition to any gym, especially one with personal training programs.
Many gyms find that customers appreciate training programs that offer body scanning to track progress.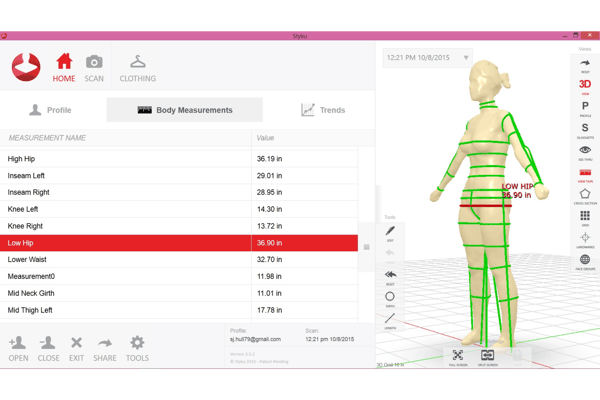 Understanding Styku Scanner Results
Styku results present themselves in 3D form. But, it also offers recommendations for how to improve body fat percentage.
The body fat analysis results let clients compare their body fat percentage to others in their same age and gender category.
There's also a scan history section that allows customers to see a graph that documents each of their scans and the dates. They can also see side by side comparisons of each of their 3D scans.
The Styku system also lets customers set body fat percentage loss goals for themselves. Once they set a goal, the system will give them an estimated date for when they'll complete their goal at the rate they're currently going.
Along with setting fat loss goals, the scanner also gives customers an idea of what their calorie intake should be each day to meet their goals. Styku gives you a calorie intake based on how much energy it expects you to expend.
It's a great motivational tool because it allows clients to see first hand that if they don't stick to their rules, they won't reach their goals how they want to.
What Body Scanners Cannot Do
Getting a better picture of your body composition helps with training and progress tracking. But, it's important to note that body scanners don't give a full health picture. They don't supplement for regular doctor visits and health screenings.
There's no health scanner on the market other than a CAT scan that gives healthcare professionals enough information to diagnose and treat health concerns.
InBody vs. Styku: Which is Right for You?
If you're considering purchasing a body scanner for your clients or personal use, the right machine makes a big difference. InBody machines are great for people working with a focus on nutrition. On the other hand, Styku scanners offer many features that personal trainers and gym users appreciate.
InBody scanners offer great comprehensive body information that works well in addition to other medical tests and scans. Styku focuses more on the individual goals and perspectives of clients.
Anyone with an electronic device, such as a pacemaker, can't use the InBody scanner because it could disrupt the device's functions. On the other hand, Styku uses harmless infrared lights. So there's no risk of harming someone with its use.
No matter which machine is the best for your business or personal use, they both offer great features that everyone finds beneficial to meeting their health goals.
Find a Styku Scanner Near You
Many gyms around the country have already implemented 3D body scanners for their clients. You can visit the Styku website here for a map of gyms in your area with access to a Styku body scanner.
The differences between Styku 3D body scanners and InBody scanners make for different use-cases. Hopefully, this article helped you determine which machine is right for you.
For more information about acquiring a Styku 3D body scanner at your gym, contact us.
Sours: https://www.styku.com/blog/styku-versus-inbody
Gold's Gym 3D Scan: Is It Accurate?
He moved away and moved closer to the other end of the bed. He raised his legs again, and forced him to take the original position. I got down on my knees and spread your legs, brought them closer. Taking a member, rubbed his head between wet sponges.
I felt your pink labia, so thirsty for caress, kiss the head.
Now discussing:
Well, I dont know, Yulia began to ponder. Having understood everything without further ado, I just asked where the grease was. She ended up in the nightstand and having lubricated my penis, I proceeded to the ass of my assistant in this difficult sexual labor.
1385
1386
1387
1388
1389